If you are looking for a quick, healthy, and delicious weeknight meal then look no further. Sheet Pan Chicken Fajitas are so easy to make, have the quickest clean up ever, and need to be added ASAP to your weekly rotation.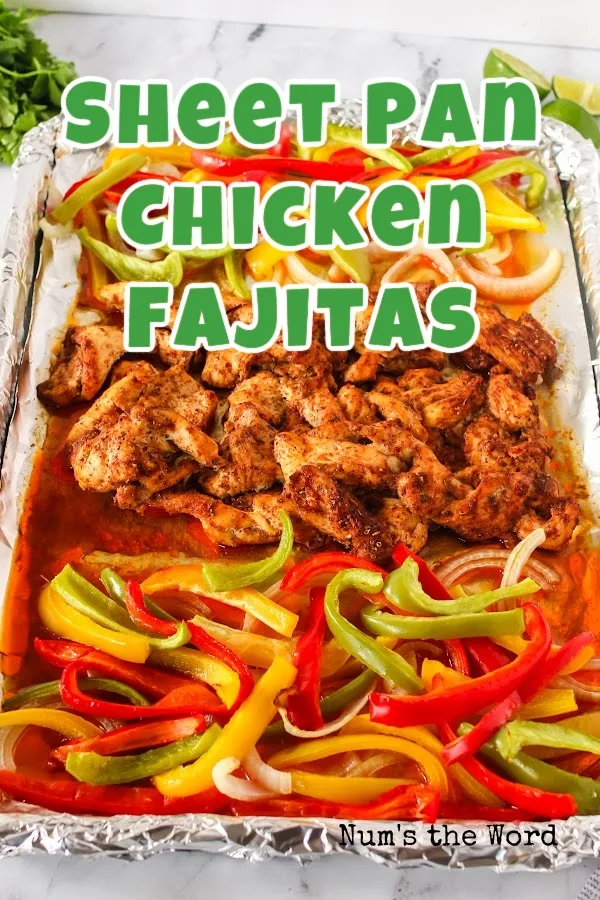 These baked chicken fajitas are full of tender, flavorful chicken and the vegetables are crisp and tender.
We've found this to be a great recipe when guests come to dinner because it's an easy meal to toss together and cook while entertaining.
I love how easy the clean up is for easy chicken fajitas. I mean EASY. One pan is it. Whenever you can use just one pan, you are winning at life.
Single Sheet Pan dinners really do make life easy because all you need in single rimmed baking sheet.
Sheet pan fajitas are such a lazy dinner but also a crowd pleaser. My husband and each little kid totally gobble this up.
Company coming? No need to slave away. Wow them with this incredibly delicious dinner that took you no effort at all.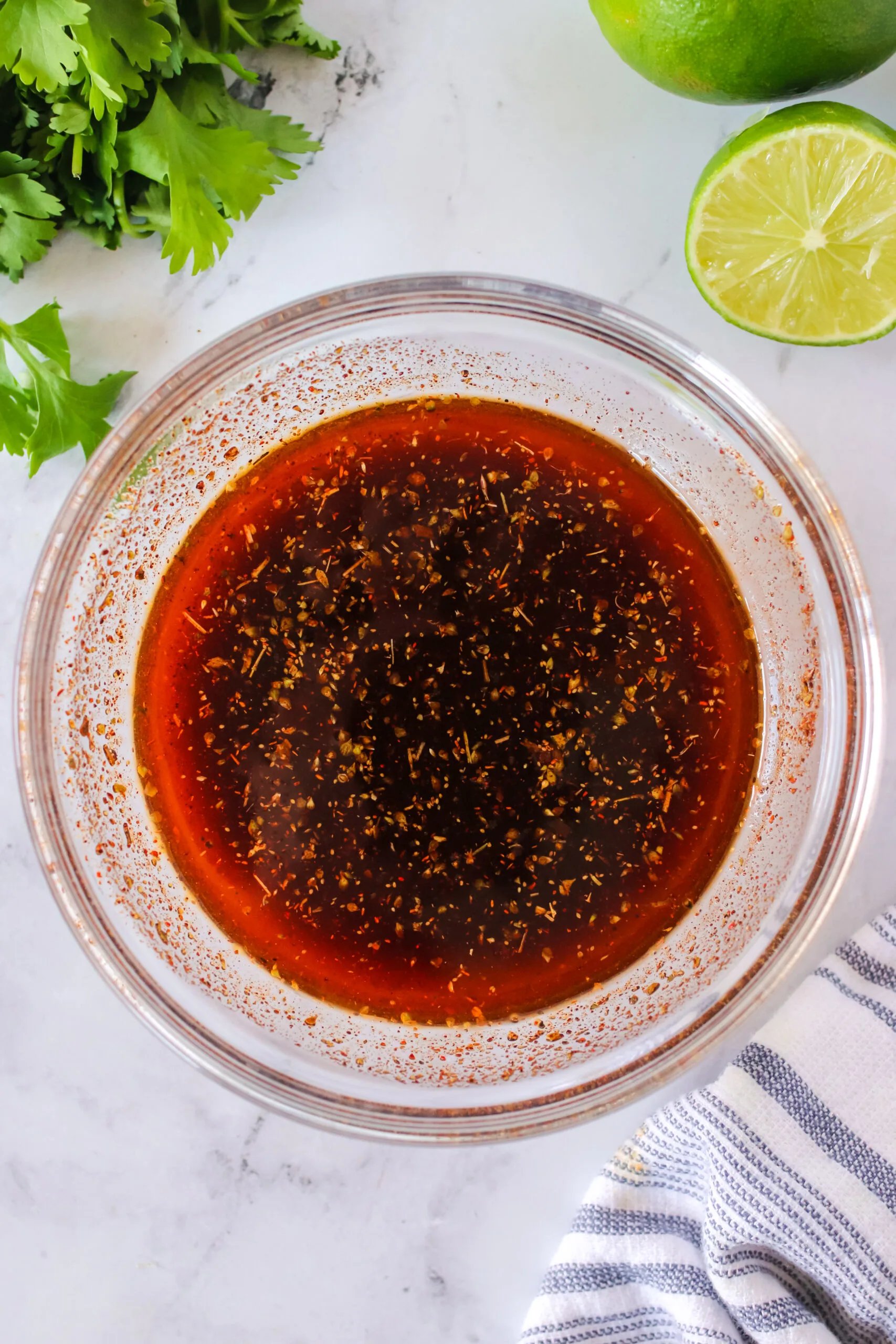 What is Chicken Fajita?
Chicken fajitas are a combination of chicken and vegetables that are cooked and seasoned.
They are typically served in either a flour or corn tortilla. Then they are loaded with tex-mex toppings like avocado, cilantro or lime.
The chicken and vegetables can be cooked in a variety of ways. Sheet pan chicken fajitas cook them in the oven and at the same, making cooking and cleaning a snap.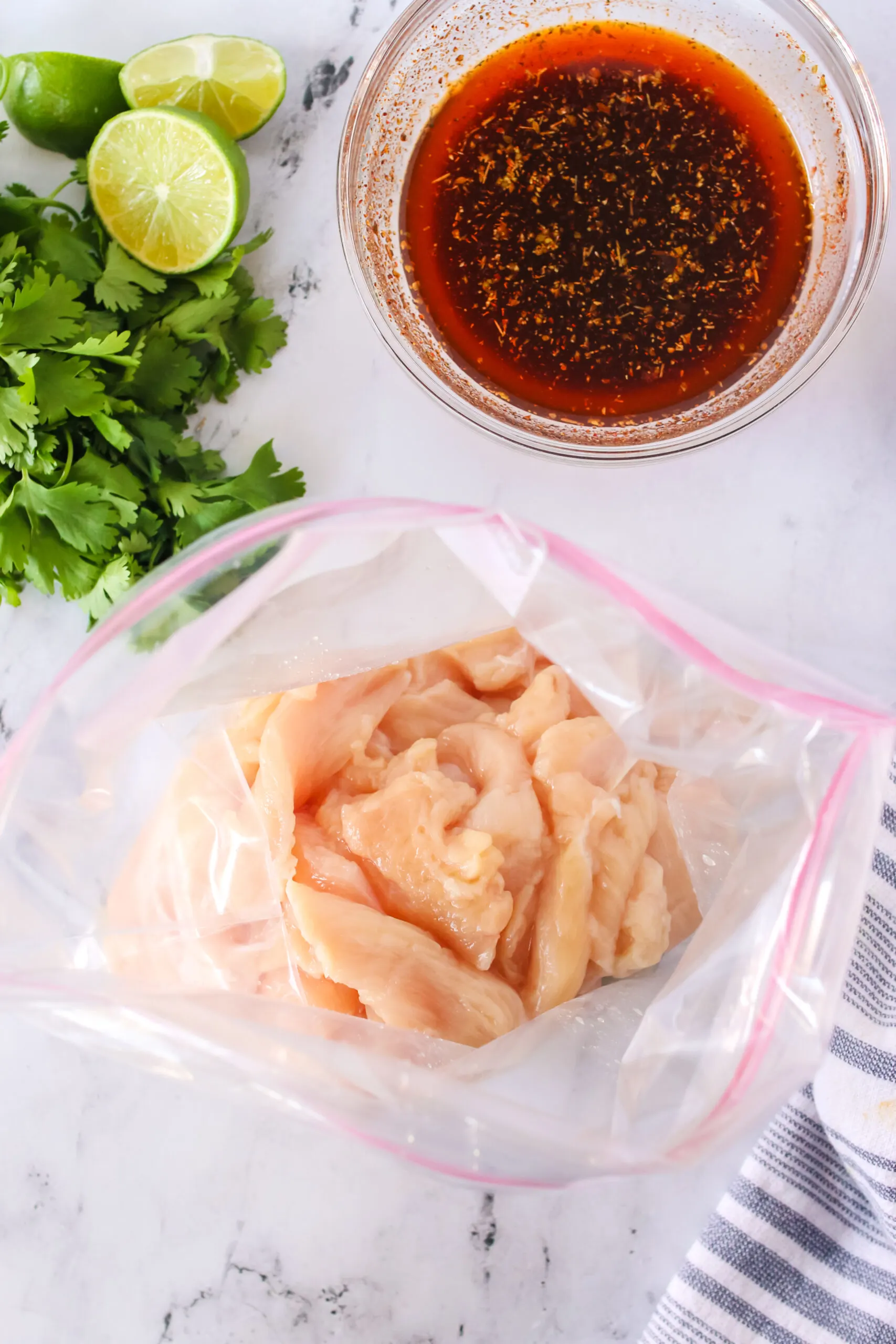 Are Chicken Fajitas Healthy?
Absolutely! Loaded with protein, vegetables, and healthy carbs, this sheet pan chicken fajitas recipe are super healthy.
I don't typically worry about diet or following any specific protocols. But, I love knowing that I can serve this to my family and they are getting so many healthy foods that are delicious too!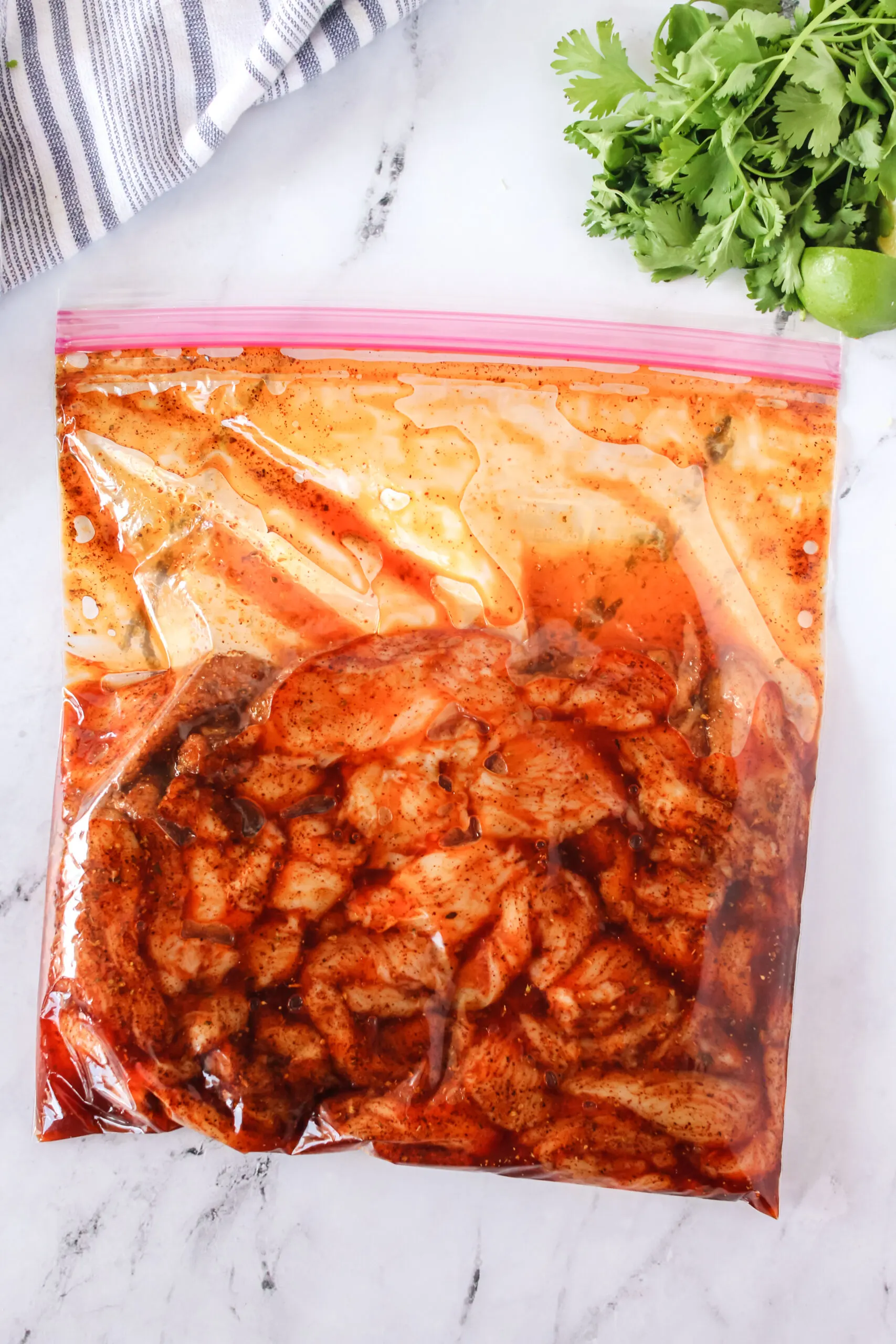 How to Season Chicken Fajitas
Here is the seasoning you are going to need to create the chicken fajita marinade.
Olive Oil: You could also substitute this with avocado oil.
Chili Powder: I love chili powder! You could always add less or more according to taste but I think the amount is just perfect.
Oregano: Gives the chicken fajitas a warm, earthy kind of taste.
Garlic Powder: Don't use garlic salt as the recipe already has salt in it.
Onion Powder: This adds a spicy, onion flavor to the dish.
Cumin: Native to the middle east, cumin is a wonderful addition to chicken fajitas.
Salt and Black Pepper: For flavoring.
Chicken: Use boneless skinless chicken breast sliced into thin strips.
Tortillas: You can't eat a fajita with out warm tortillas. We prefer flour tortillas, though you could definitely use corn tortillas.
Pro Tips:
If you don't keep spices around, you can always use your favorite fajita seasoning mix or in a pinch your favorite taco seasoning.
You can always swap the chicken breasts with chicken thighs or chicken tenders if you prefer – both work great.
You'll mix all of the ingredients together in a large bowl and let it marinade. I like to leave it overnight as it makes it really easy to whip up when I'm ready.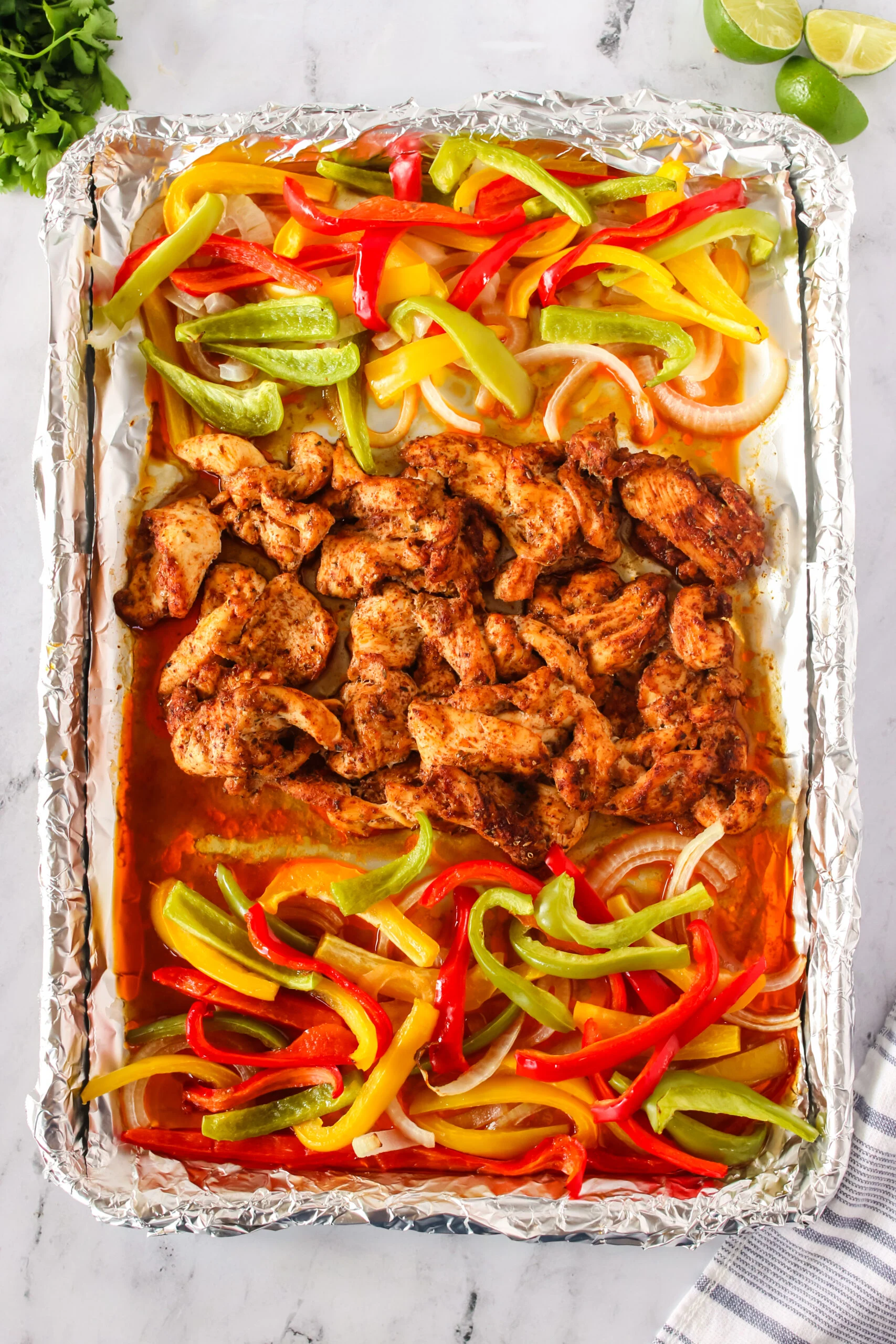 Vegetables in Sheet Pan Chicken Fajitas
Bell Peppers: Three different colors are not only flavorful but beautiful too. We use red bell pepper, yellow bell peppers and green bell peppers.
Large Onion: Sliced into thin strips – we prefer yellow onions, though you could use white or red onions too.
Although those are the vegetables typically used in chicken fajitas, feel free to mix up with your favorites.
Pro Tip: Prep these vegetables the night before if you're going to let the chicken marinate overnight. Then you can dump them all straight from the fridge to the pan.
How To Make Sheet Pan Chicken Fajitas
Marinate: Marinate the chicken.
Cook: Cook the chicken together with the vegetables on a large sheet pan in an even layer.
Eat: Serve with a warm corn or flour tortillas and your favorite toppings. If you're going carb free, try making lettuce wraps.
Pro Tips:
Use a baking mat, non-stick foil or parchment paper. It makes your clean up so much easier.
You'll know the chicken is done when it reaches an internal temperature of 165.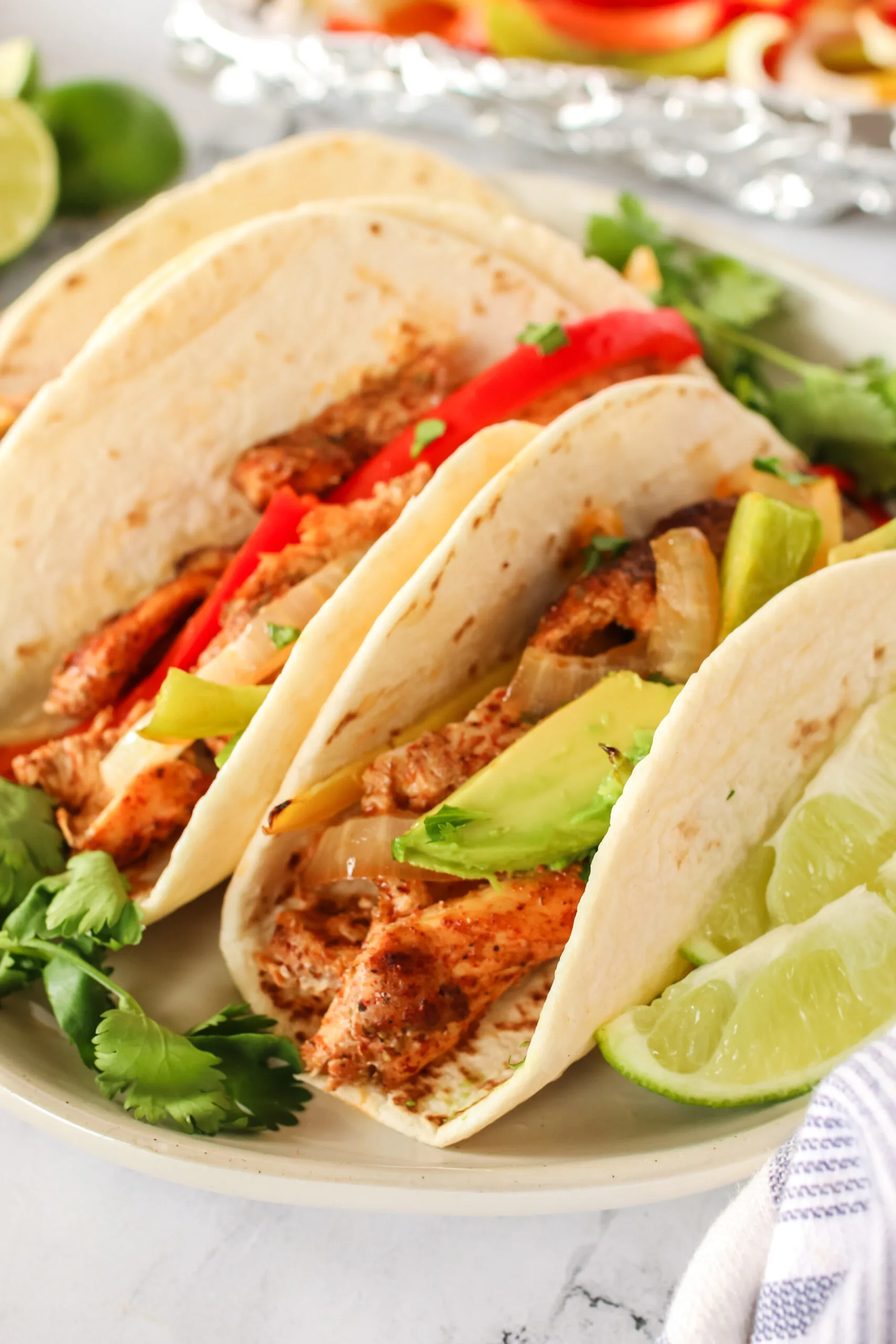 What's in Chicken Fajitas?
In addition to the vegetables and chicken, serve your sheet pan chicken fajitas with these toppings:
Fresh Cilantro
Fresh lime juice – we serve with lime wedges.
Avocado
Pro Tip: While I love a good prep session, don't prep the avocado ahead of schedule. It goes brown very quickly. Prep instead your limes and cilantro to make your meal even more of a snap.
You could also consider these great options as they are popular easy chicken fajita toppings:
Cheese
Sour Cream
Tomatoes
Beans
Green Onions
Guacamole
Pico de Gallo
Salsa or Hot Sauce
Poblano Peppers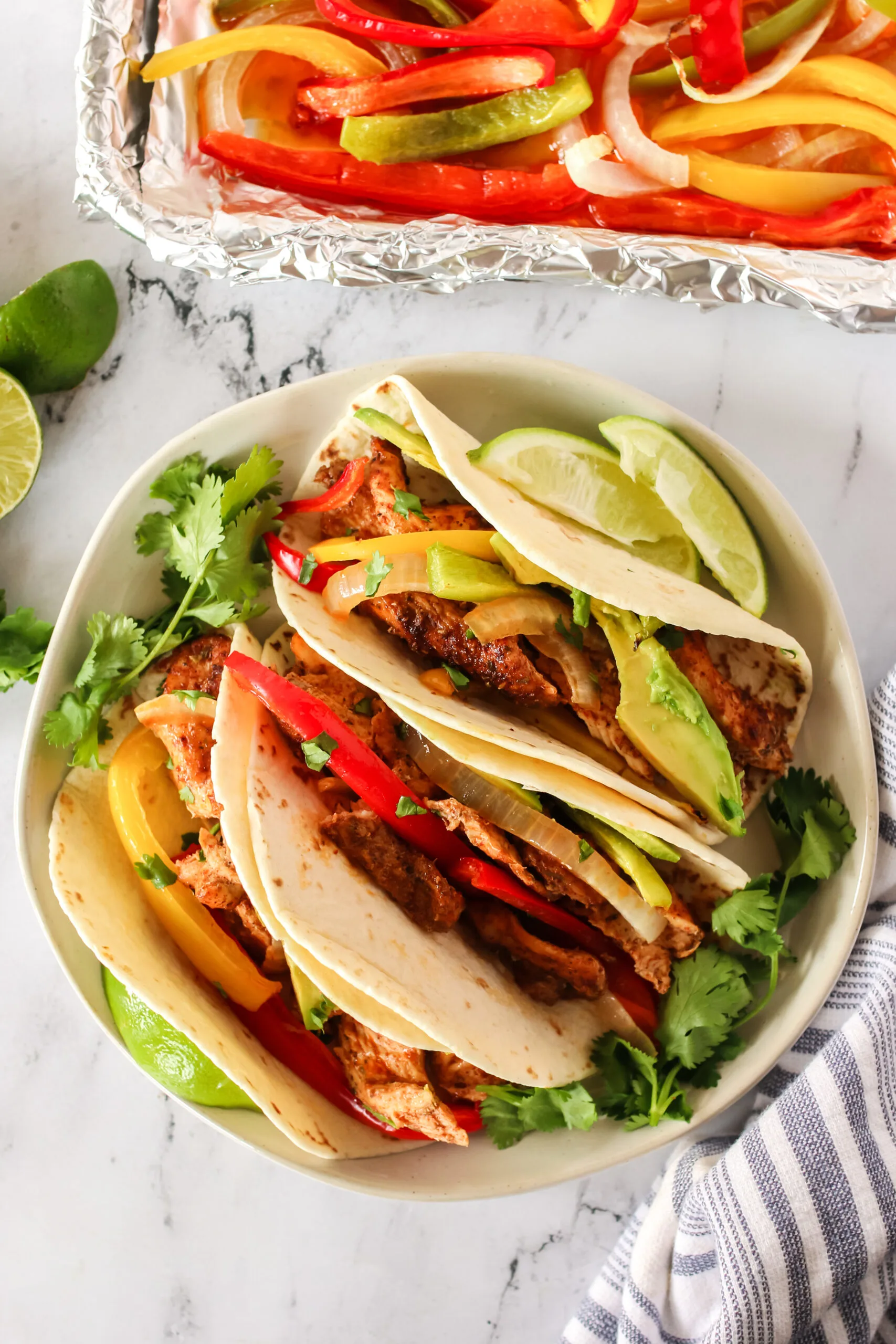 What to Eat with Chicken Fajitas
Sheet pan chicken fajitas are a meal unto themselves. With chicken, vegetables, toppings, and tortillas, you've got everything you need to stuff yourself silly.
If you've got super hungry eaters or lots of company, try these yummy side dishes!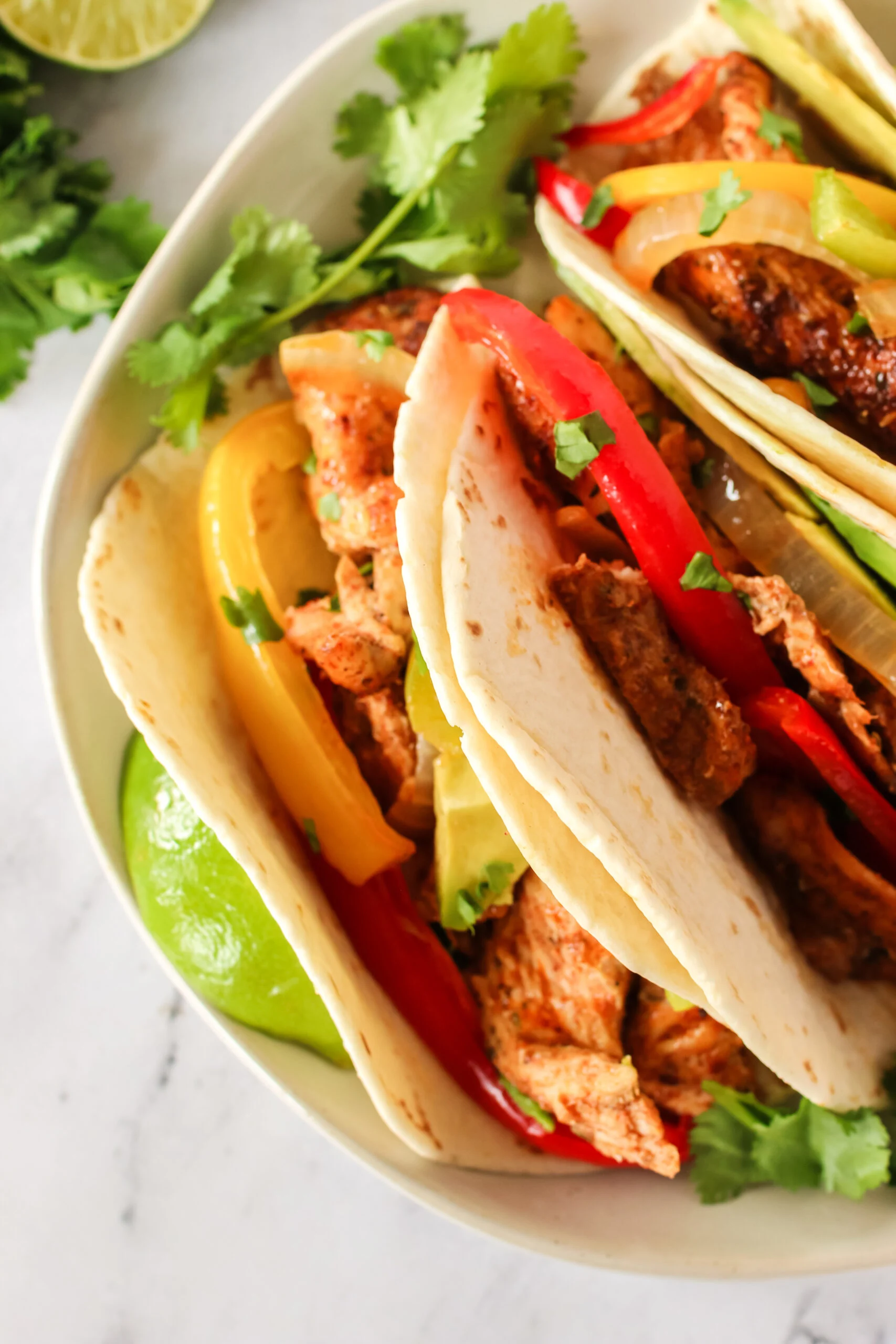 How Long Do Chicken Fajitas Last?
If properly stored and refrigerated in an airtight container, sheet pan chicken fajitas will stay good for up to 5 days after you've cooked them.
When you're ready to reheat them, reheat them on a skillet on the stove or a pan in the oven. Be careful not to burn them, just heat them through.
Do not reheat them in the microwave as it tends to turn your vegetables soft and mushy. They'll taste much better reheated another way.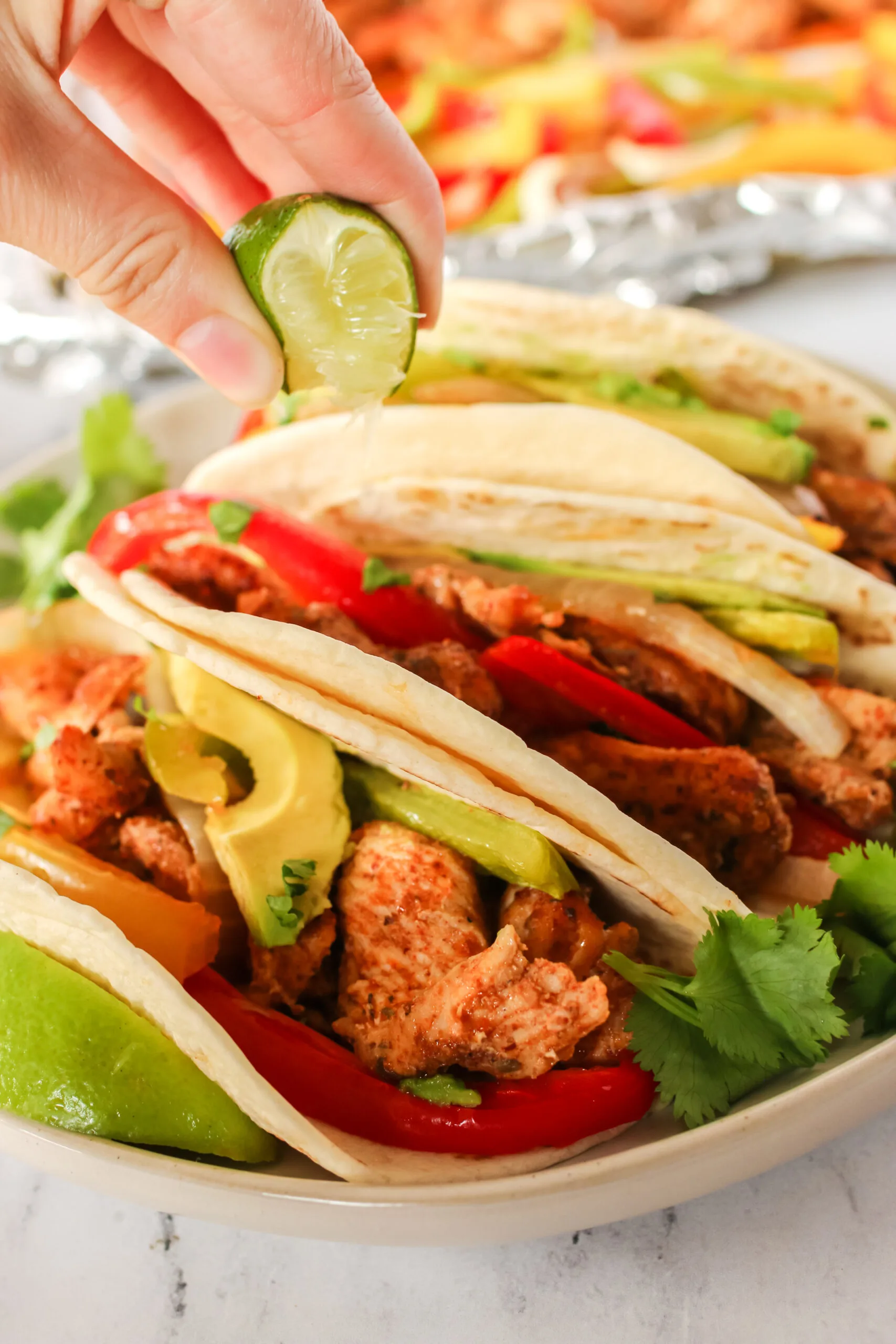 Can I Freeze Chicken Fajitas?
Sheet pan chicken fajitas make a wonderful freezer meal! To freeze chicken fajitas, follow these simple steps:
Prep the chicken fajita marinade and chicken. Place them together in a well sealed ziploc bag.
Prep the vegetables. Place them in another ziploc bag.
Lay both ziploc bags flat and store them together in the freezer.
When you are ready to cook, remove both from the freezer and let them thaw overnight in the fridge.
Toss the chicken and vegetables onto a sheet pan and cook as directed.
You can also sheet pan chicken fajitas after they are cooked. The only problem is that chicken tends to dry out when being reheated.
If you want a fresher flavor, freeze before cooking and then cook the meal only once.
Pro Tip: Write the date and directions on the ziploc bag. Then you won't need to go looking for them when you're ready to eat some delicious chicken fajitas!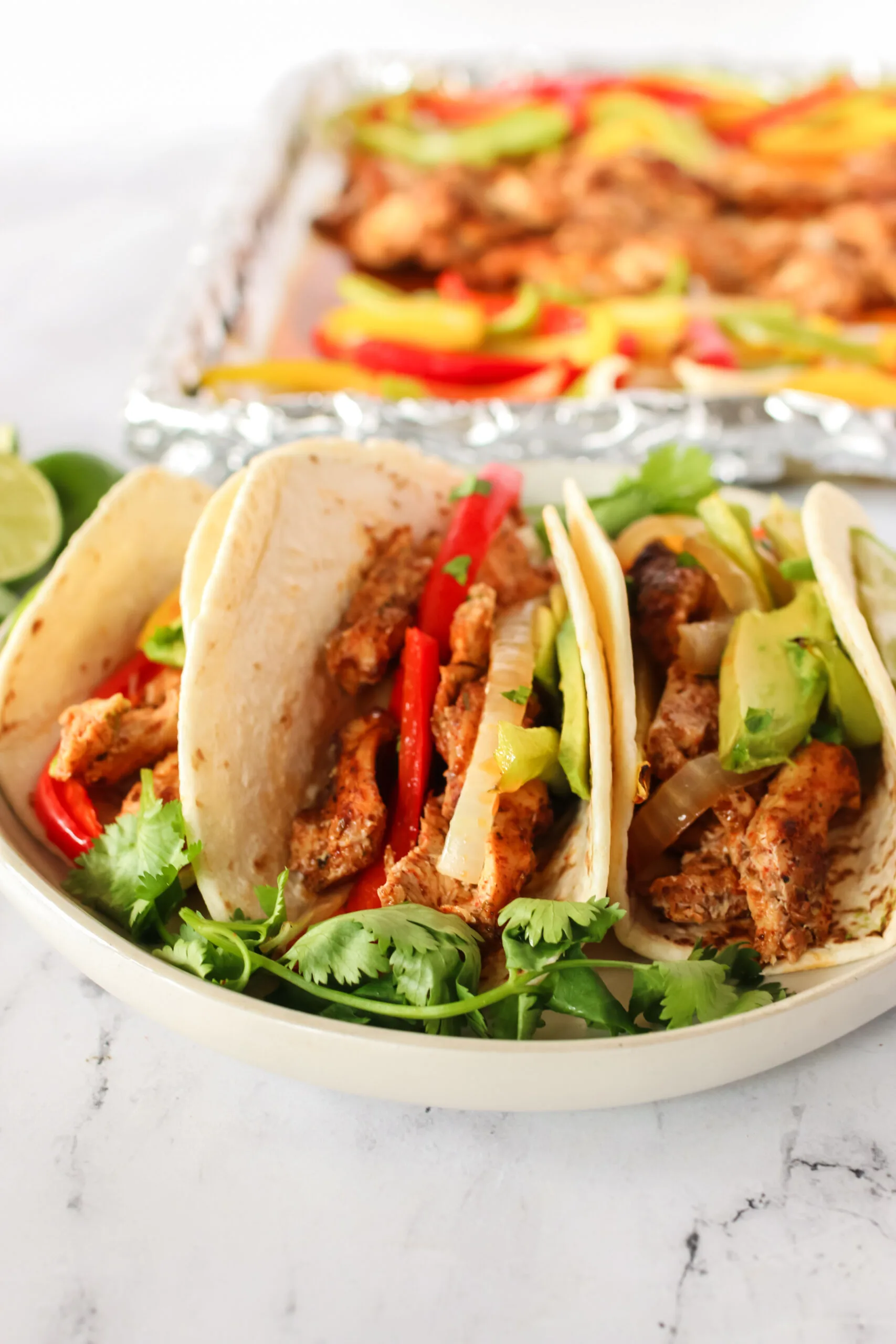 Sheet pan chicken fajitas have become a family favorite. It is a perfect food for weeknights, company, holidays, and parties. Bursting with flavor, I can't wait to hear about how you and your whole family enjoy these easy chicken fajitas! Enjoy!
Sheet Pan Chicken Fajitas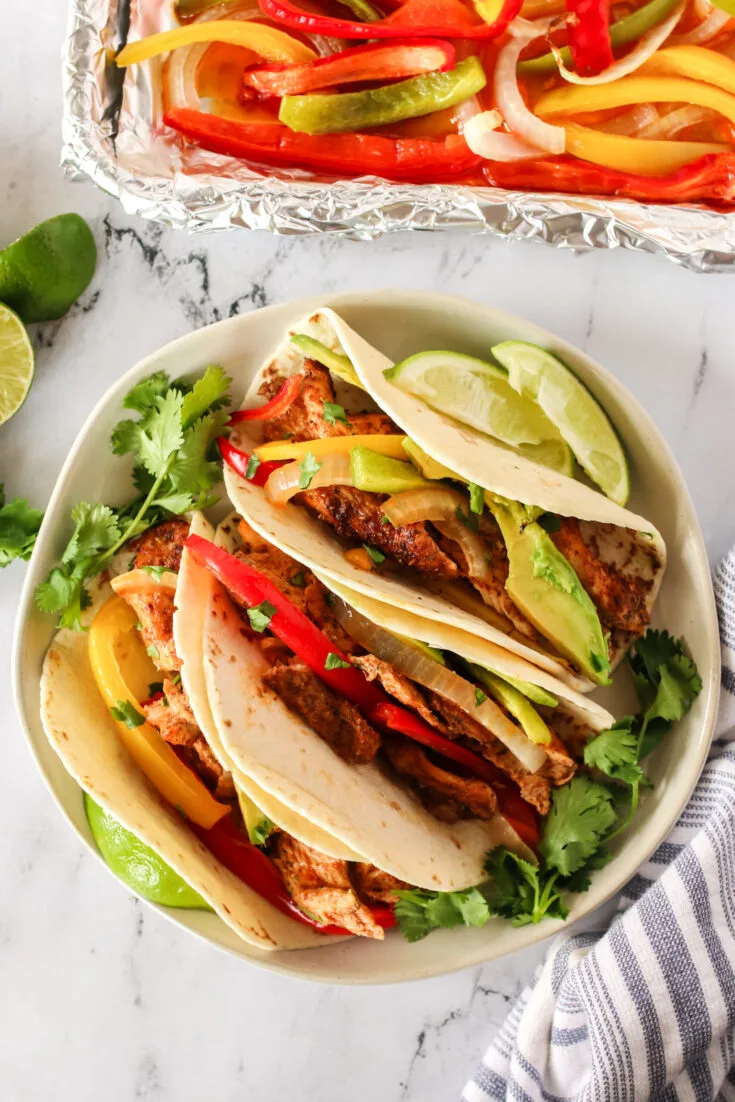 If you are looking for a quick, healthy, and delicious weeknight meal then look no further. Sheet Pan Chicken Fajitas are so easy to make, have the quickest clean up ever, and need to be added ASAP to your weekly rotation.
Total Time
1 hour
5 minutes
Ingredients
2/3 cup olive oil
4 teaspoons chili powder
2 teaspoons dried oregano
1 teaspoon garlic powder
1/2 teaspoon onion powder
1 teaspoon cumin
1 teaspoon salt
1/2 teaspoon black pepper
2 pounds boneless, skinless chicken breasts, sliced into thin strips
3 bell peppers, yellow, green and red
Cilantro (optional)
Limes (optional)
Avocado (optional)
Instructions
In a bowl, combine olive oil, chili powder, oregano, garlic powder, onion powder, cumin, salt and black pepper. Set aside.
Place sliced chicken breasts into a zipper bag.
Pour marinade over chicken. Remove air from bag and seal up.
Squish bag around until all chicken has been coated. Refrigerate for 30 minutes - 24 hours.
When ready to cook, preheat oven to 400F.
Line a rimmed cookie sheet with non-stick foil or a baking mat.
Place chicken in the center of the sheet and spread bell peppers and onions along both sides.
Sprinkle olive oil over bell peppers and toss to coat.
Cook in oven for 15 - 20 minutes, until chicken reads 165F on a digital thermometer.
Serve in a warm tortilla with avocado, cilantro, and limes.
Nutrition Information:
Yield:
8
Serving Size:
1
Amount Per Serving:
Calories:

410
Total Fat:

26g
Saturated Fat:

4g
Trans Fat:

0g
Unsaturated Fat:

21g
Cholesterol:

96mg
Sodium:

391mg
Carbohydrates:

7g
Fiber:

3g
Sugar:

2g
Protein:

37g