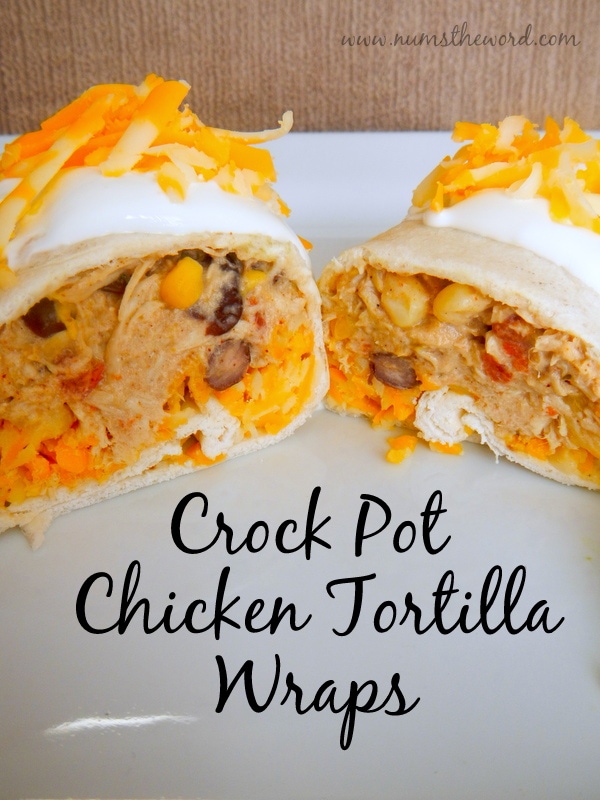 Have you ever had a meal that you could eat over and over again and was great reheated?
These crock pot chicken tortilla wraps are one of my favorite meals. They are so easy to make and taste amazing.
I love just about anything that requires the crock pot. Especially ones that require no prep work. With these Chicken Tortilla Wraps, you just toss in all the ingredients, set the timer and walk away. I LOVE IT.
Then right before serving shred the chicken, mix it all together and serve. Yum Yum!
This recipe is great because you can add all the toppings you want to create a custom burrito! I love to add avocado, sour cream and cheese. However hot sauce, salsa or a queso cheese would also be fantastic on this as well! Or you can eat them just the way they are.
Really you can't go wrong with this simple and delicious Crock Pot Chicken Tortilla wrap meal!
Now if you really want to have fun, you can play the table game that my husband likes to play every time we eat this. The game is who can keep a clean plate while eating this? Who ever has the cleanest plate at the end of the meal wins. It's a simple game but quite difficult for people like me.
If you are looking for a quick and tasty meal to feed your family, try this! You wont be disappointed!
This post contains affiliate links as a free service to you!
Follow us on Pinterest HERE!
Yield: 6 Servings
Crock Pot Chicken Tortilla Wraps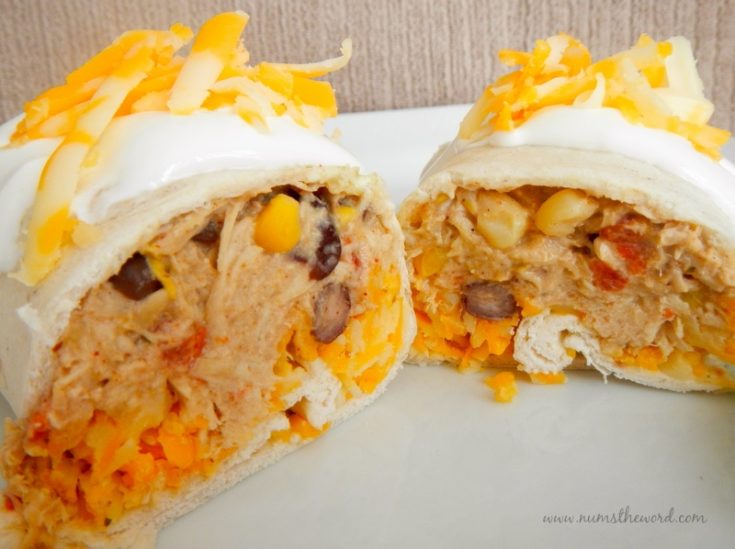 Total Time
6 hours
10 minutes
Ingredients
2 large frozen chicken breasts
1 can of Rotel, mild (if you want a kick, go with original)
1 (15.25 ounce) can of corn, drained
1 (15.5 ounce)can of black beans, rinsed and drained
1 (8 ounce) cream cheese
1 packet of dry ranch dressing (or 3 Tablespoons of seasoning)
1 Tablespoon of cumin
1 teaspoon of onion powder
1 teaspoon chili powder
Flour Tortillas
Cheese (optional)
Sour Cream (optional)
Avocado (optional)
Instructions
Place frozen chicken breasts, Rotel, corn, black beans, cream cheese, ranch seasoning, cumin, onion powder & chili powder into crock pot set on low heat.
Cook for 6 hours or until chicken is done, stirring every hour or so.
Remove chicken breasts and shred then return back to mixture and stir.
Serve immediately.
Place chicken mixture onto tortilla. Add cheese, sour cream, avocado or any other desired toppings.
Notes
This meal works well for a freezer meal. Place chicken, Rotel, corn, black beans, cumin, onion powder, chili powder into a gallon size freezer bag. When ready to eat, put frozen ingredients into crock pot set on low. Add cream cheese. follow above directions.