Filling, delicious, and sinfully easy to make, these Crock Pot Chicken Wraps are destined to become one of your go-to weeknight or busy weekend meals.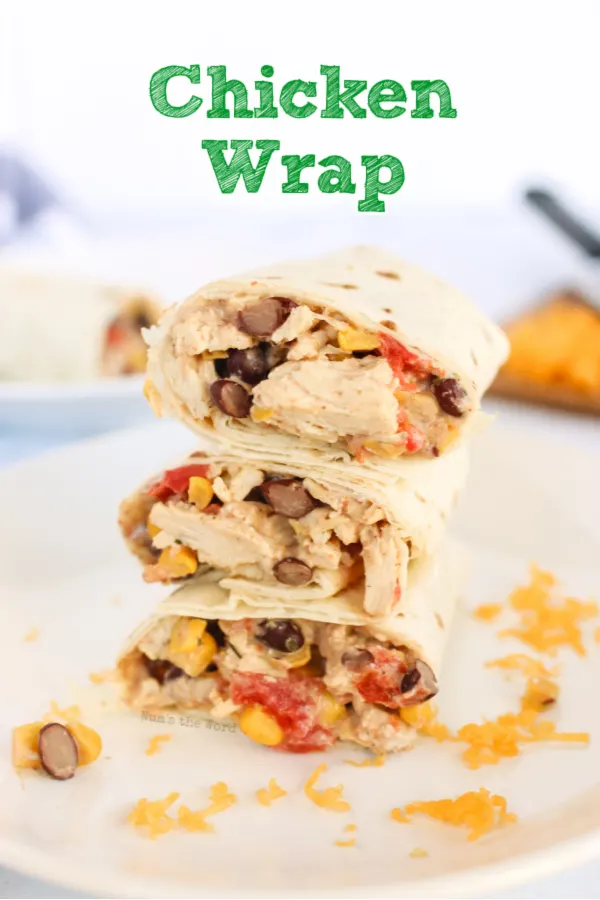 One of the great things about slow cookers is they typically require minimal effort (as long as you remember to get them started in the morning!), which is fantastic for those busy days when you know cooking dinner will be a struggle.
Using the crock pot makes this the most easy chicken burrito recipe EVER!
The best thing about this chicken tortilla wrap recipe is that it can be an entire meal in itself, or you can customize it to your liking/heat preferences using various toppings!
It's easy to please even your picky eaters at the table when you have burrito filling as delicious as this.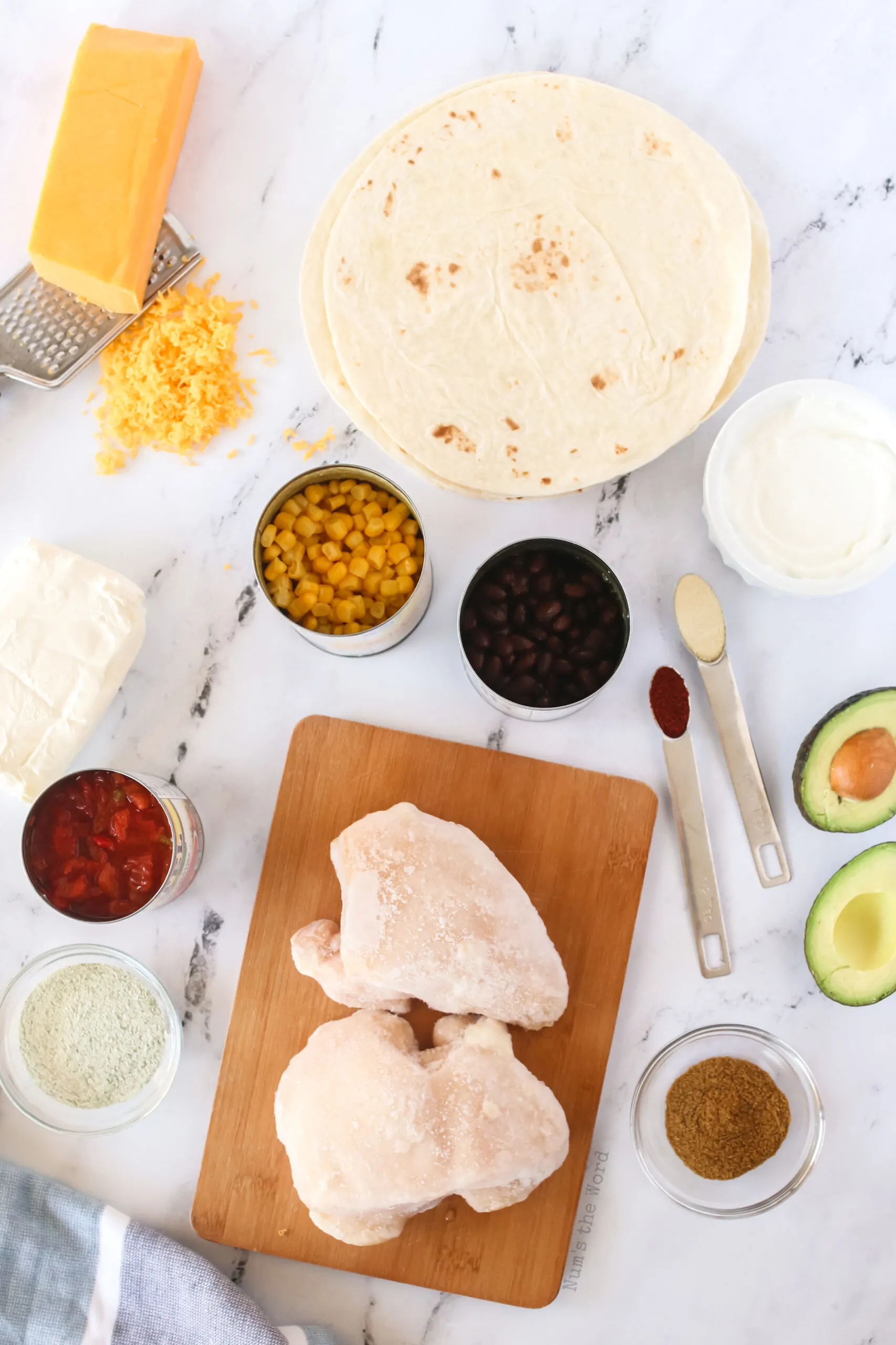 What ingredients are in crock pot chicken wraps?
To make these tasty crock pot chicken burritos, you'll need the following ingredients (most of which you probably have on hand in your pantry!):
Chicken breasts

– I usually use frozen chicken breasts in these wraps, which makes this recipe even EASIER! I love being able to use frozen chicken in the crock pot.

Rotel

– mild or original, depending on how much spicy kick you prefer.

Corn

– I typically use canned corn, but frozen or fresh works just as well. Corn adds a nice bit of color, flavor, and crunch.

Black beans

– extra filling and extra protein; black beans really help elevate this shredded chicken burrito.

Cream cheese

– cream cheese provides the perfect creamy texture and rich flavor for your chicken burrito.

Ranch dressing

– one packet from the supermarket will do, or use 3 Tablespoons of our Ranch Seasoning recipe (made with pantry-staple spices!).

Cumin

– a common ingredient found in Mexican-inspired dishes, cumin adds a lot of depth of flavor!

Onion powder

– onion powder gives you all the great flavor of onions without the chunks of onion or the extra liquid they provide.

Chili powder

– another great seasoning that will amp up the flavor of your tortilla filling recipe.

Flour Tortillas

– can't rightly have a tortilla chicken wrap without the tortillas!

Optional toppings

– our favorites are cheese, sour cream, and avocado. Other ideas include salsa, cilantro, enchilada sauce, jalapenos, bell peppers, and onions.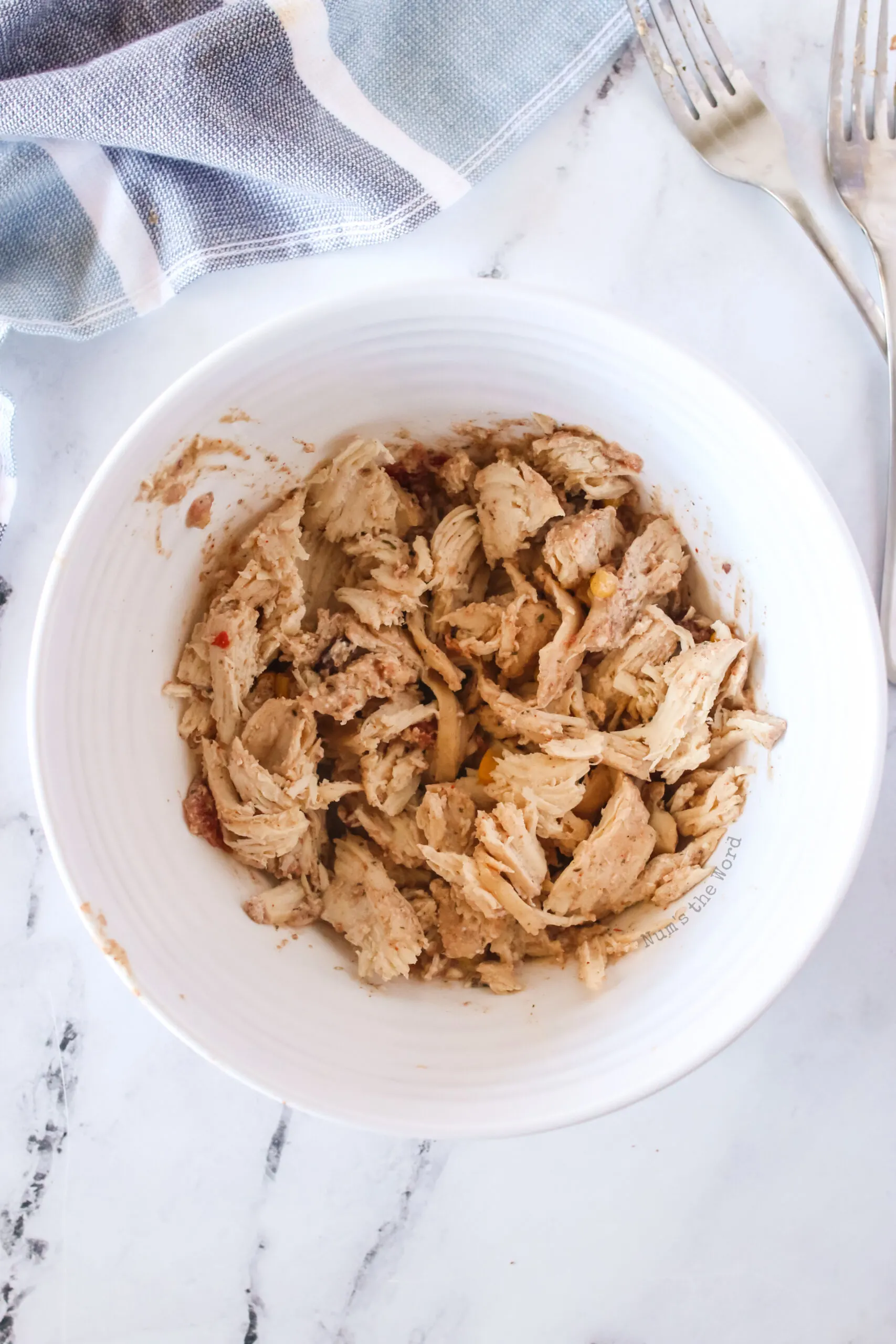 How to make crock pot chicken wraps?
Once you have all the ingredients you'll need for this recipe, the rest is just about as easy as it gets! Minimal prep work, almost zero hands-on-time, and delicious results that are sure to please the entire family:
Place

chicken, beans, corn, Rotel, and seasonings in the crock of your slow cooker.

Set

the crock pot to low heat for 6 hours.

Shred

the chicken breasts.

Stir

shredded chicken back into the crock pot.

Serve

on tortillas and topped with your favorite toppings!
Does it get any simpler? Dump, leave, shred, serve! I love slow cooker chicken burritos!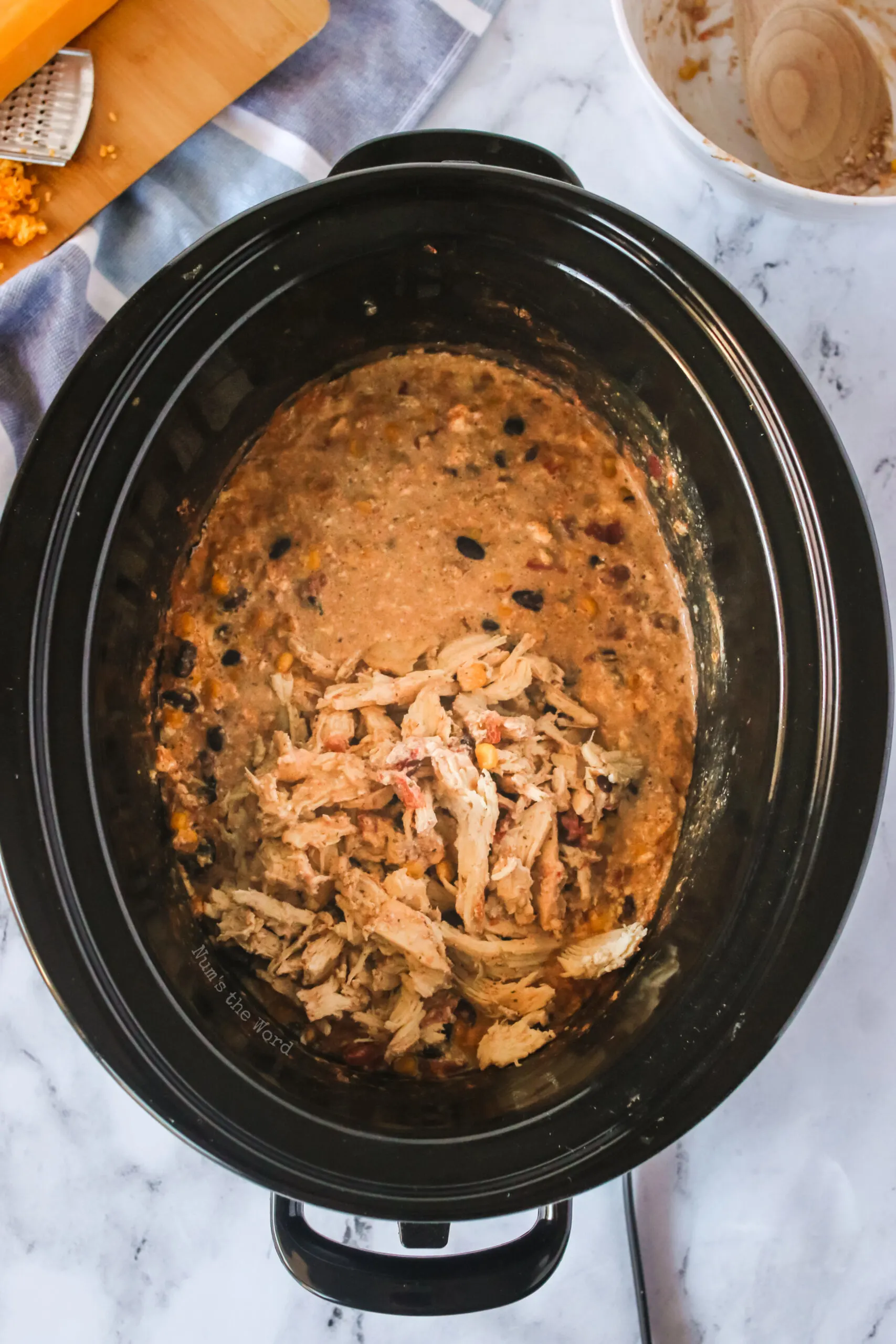 How to fold a chicken wrap?
This really depends a bit on your preferences. In our household, we have kiddos who like to eat their "wraps" taco style, another who must have the wrap perfectly folded with ZERO leaks, and another who prefers to eat everything separately, including the tortilla!
There's really no wrong way to fold these tortilla wraps, but I can help you out with the most common way to fold a burrito/wrap:
Place filling and toppings in the center of your tortilla. This will be MUCH easier if you're using a LARGE tortilla. Smaller tortillas mean smaller wraps and less filling.

Fold up the bottom flap of your tortilla (the one closest to you) partway. Try to cover all the filling and sort of tuck the edge of the tortilla under it.

Fold the two edges toward the center, and while holding them in place, roll the tortilla the rest of the way. The rest of the tortilla should help keep the folded sides in place.
That's really about it! If your wrap is on the more full side, you can try folding the edges first, though it's slightly harder to keep it in place while you roll up the rest when you do it that way.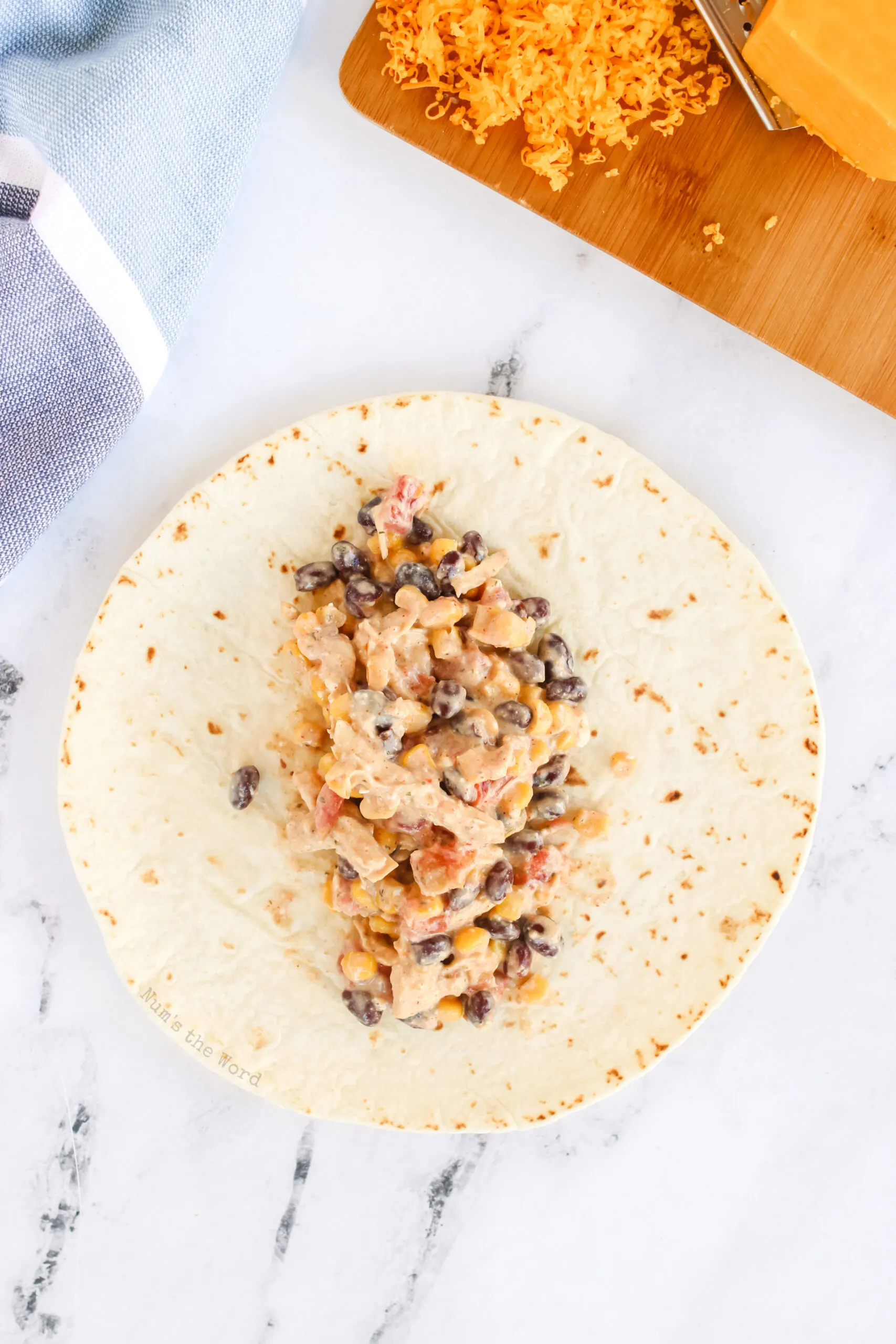 What to serve with chicken wraps?
There are so many great things you can serve with these tortilla wraps. Part of what makes this the BEST chicken burrito recipe is how easy it is to customize it using different toppings and sides.
Some recommended additional fillings or toppings are:
Jalapenos

Cheese

Sour cream

Avocado or guacamole

Lettuce

Salsa

Grilled/sautéed veggie strips (mushrooms, bell peppers, and onion slices are great!)

Cilantro

Limes

Enchilada sauce (for smothered or wet burritos)

Queso
Easy side dishes to serve with these Chicken Wraps: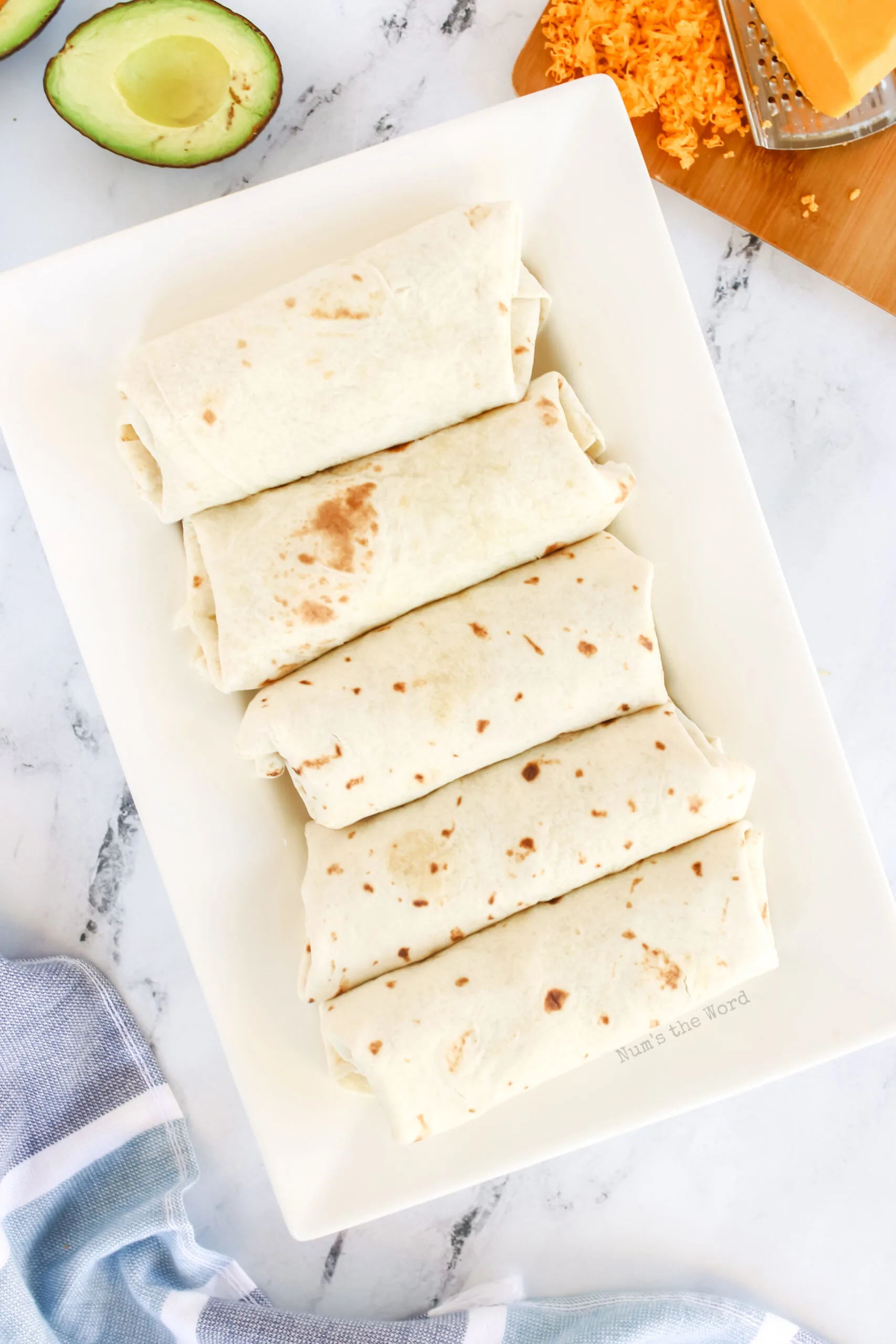 Can you freeze chicken wraps?
While I don't recommend freezing the chicken wraps once they're cooked and assembled, this DOES make a great make-ahead freezer meal!
All you need to do is place the chicken, black beans, corn, rotel, spices, and seasonings in a gallon-size freezer bag (DO NOT ADD THE CREAM CHEESE YET).
Store the ingredients all combined in the freezer for up to 3 months. When you're ready to cook, dump the contents of the bag into the crock of your slow cooker, add the cream cheese, and follow the typical directions above!
It's that quick and simple to have a delicious freezer meal with nearly ZERO day-of prep work!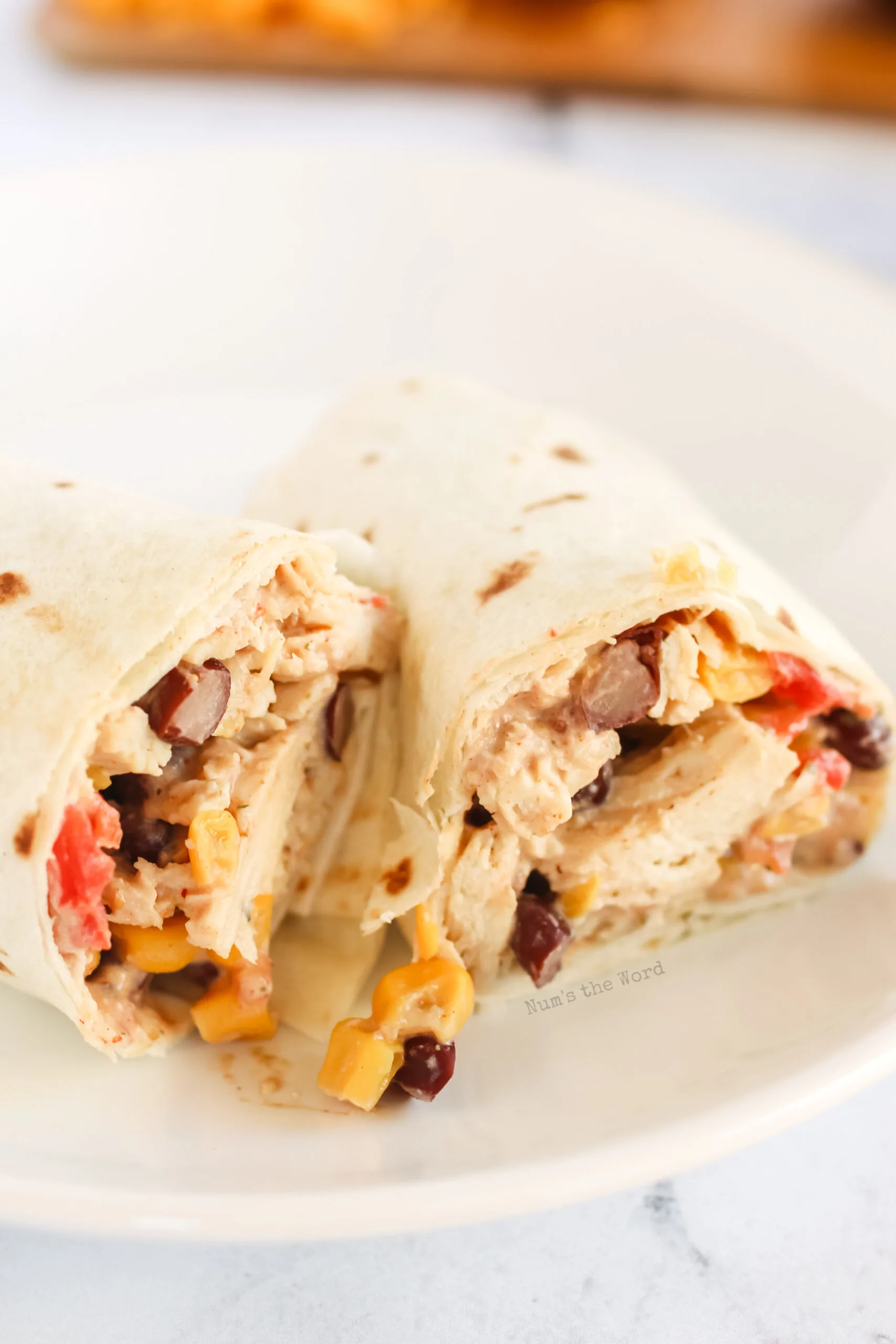 I'm sure this crowd-pleasing, flavor filled, gut sticking meal will become one of your family's favorites, just as it has in ours! I love how very easy it is to prepare and serve, but especially how delicious the results are! You can't go wrong with these crock pot chicken tortilla wraps!
Yield: 6 Servings
Crock Pot Chicken Wraps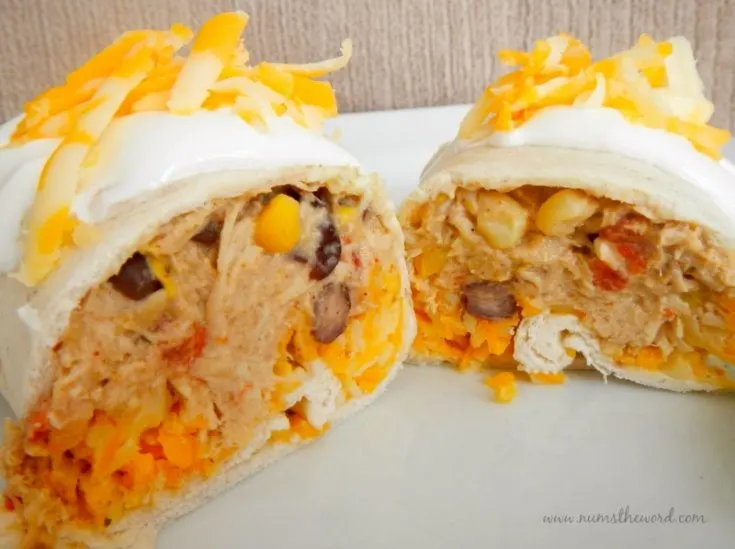 Filling, delicious, and sinfully easy to make, these chicken wraps are destined to become one of your go-to weeknight or busy weekend meals.
Total Time
6 hours
10 minutes
Ingredients
2 large frozen chicken breasts
1 can of Rotel, mild (if you want a kick, go with original)
1 (15.25 ounce) can of corn, drained
1 (15.5 ounce)can of black beans, rinsed and drained
1 (8 ounce) cream cheese
1 packet of dry ranch dressing (or 3 Tablespoons of seasoning)
1 Tablespoon of cumin
1 teaspoon of onion powder
1 teaspoon chili powder
Flour Tortillas
Cheese (optional)
Sour Cream (optional)
Avocado (optional)
Instructions
Place frozen chicken breasts, Rotel, corn, black beans, cream cheese, ranch seasoning, cumin, onion powder & chili powder into crock pot set on low heat.
Cook for 6 hours or until chicken is done, stirring every hour or so.
Remove chicken breasts and shred then return back to mixture and stir.
Serve immediately.
Place chicken mixture onto tortilla. Add cheese, sour cream, avocado or any other desired toppings.
Notes
This meal works well for a freezer meal. Place chicken, Rotel, corn, black beans, cumin, onion powder, chili powder into a gallon size freezer bag. When ready to eat, put frozen ingredients into crock pot set on low. Add cream cheese. follow above directions.
Nutrition Information:
Yield:
6
Serving Size:
1
Amount Per Serving:
Calories:

280
Total Fat:

13g
Saturated Fat:

4g
Trans Fat:

0g
Unsaturated Fat:

8g
Cholesterol:

46mg
Sodium:

468mg
Carbohydrates:

22g
Fiber:

6g
Sugar:

2g
Protein:

20g
Originally Posted: January 27, 2014
Photos & Text Updated: October 14, 2021