For the spookiest Halloween party, be sure to whip up an easy batch of Band Aid Cookies! They are sure to be the easiest food you make but a huge hit!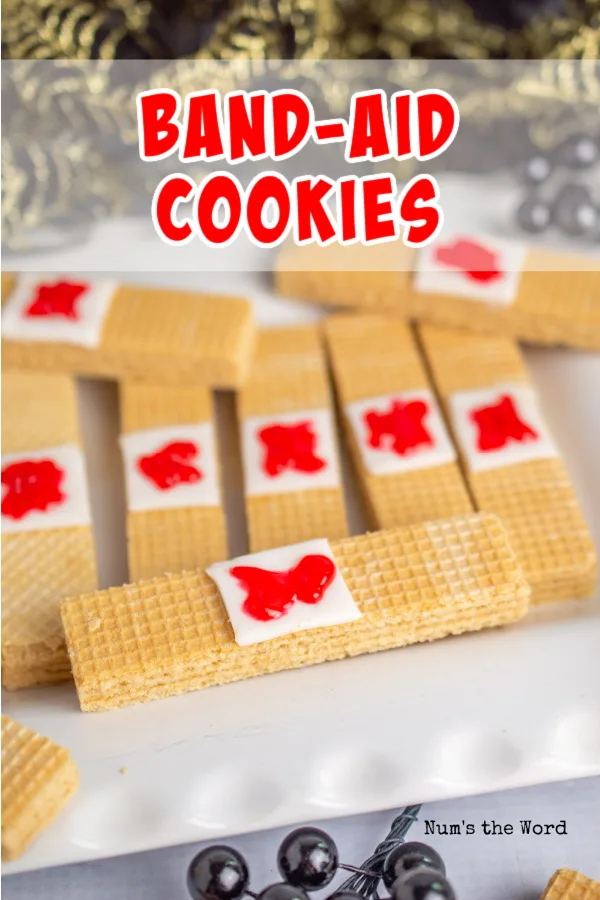 Okay, normally I'll tell you my cookies are yummy. Because they are.
And actually, these bandaid cookies are yummy too! But they're also really gross cookies!
When it comes to Halloween gross equals really cool so I guess gross looking cookies are in!
You're going to love these band aid cookies because they're so easy to make.
They take mere minutes to throw together and can be on the table in no time.
Bloody Band Aid cookies only use a few ingredients that you can find at your regular grocery store.
And they're great for potlucks! Need something for your neighbor's Halloween party? These gross Halloween cookies fit the bill!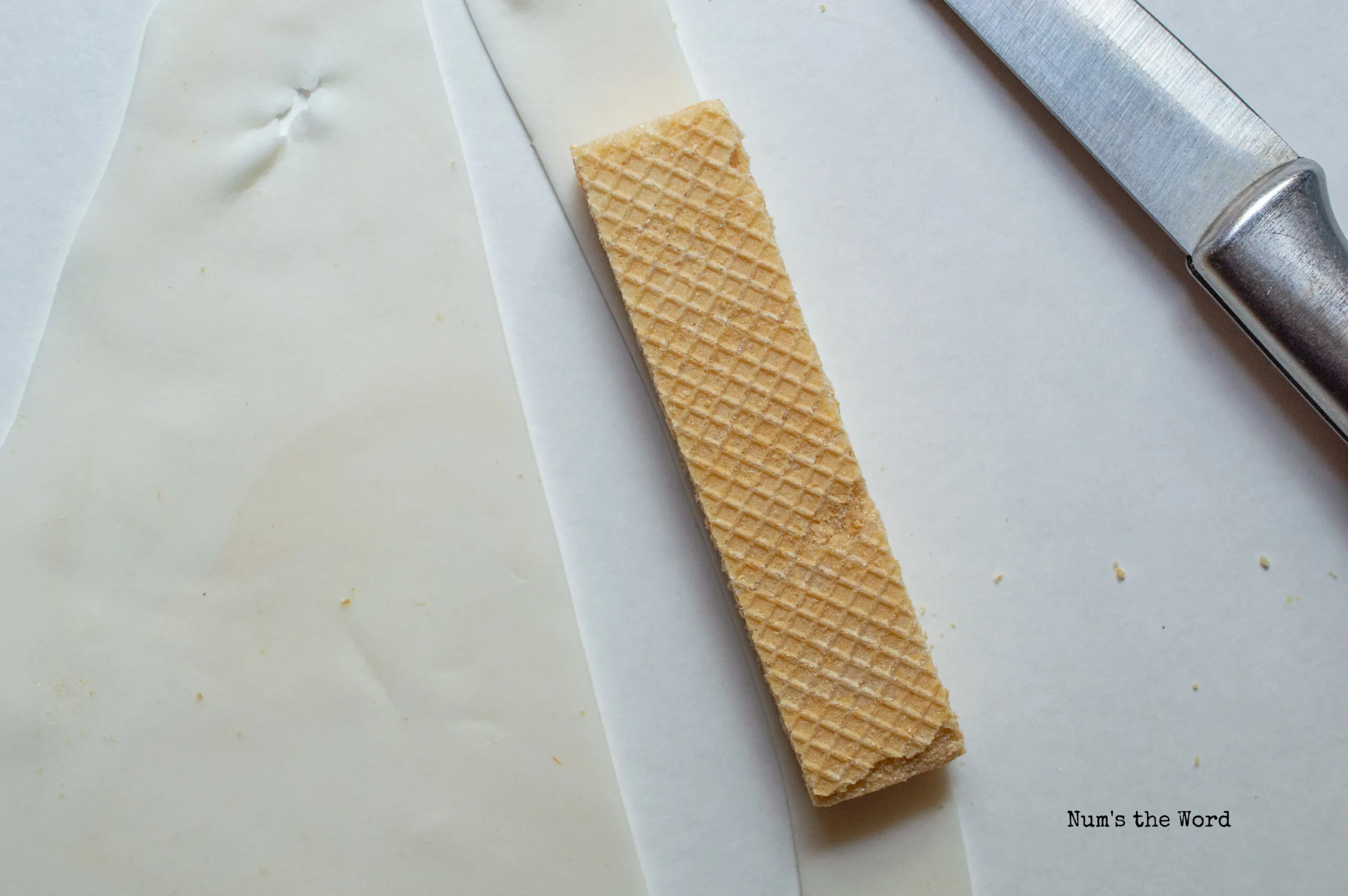 What are Band Aid Cookies?
Okay Halloween is the time to test out eating foods that resemble something rather…unpleasant.
It's kinda fun to dare yourself to just try it…if you can get over the gag factor!
Halloween band aid cookies are cookies that resemble bloody bandages. So icky!
They're a simple treat to make and it's so fun to watch everyone try to get them down!
That being said, I should tell you…they actually taste great! But can you get past the mental game?!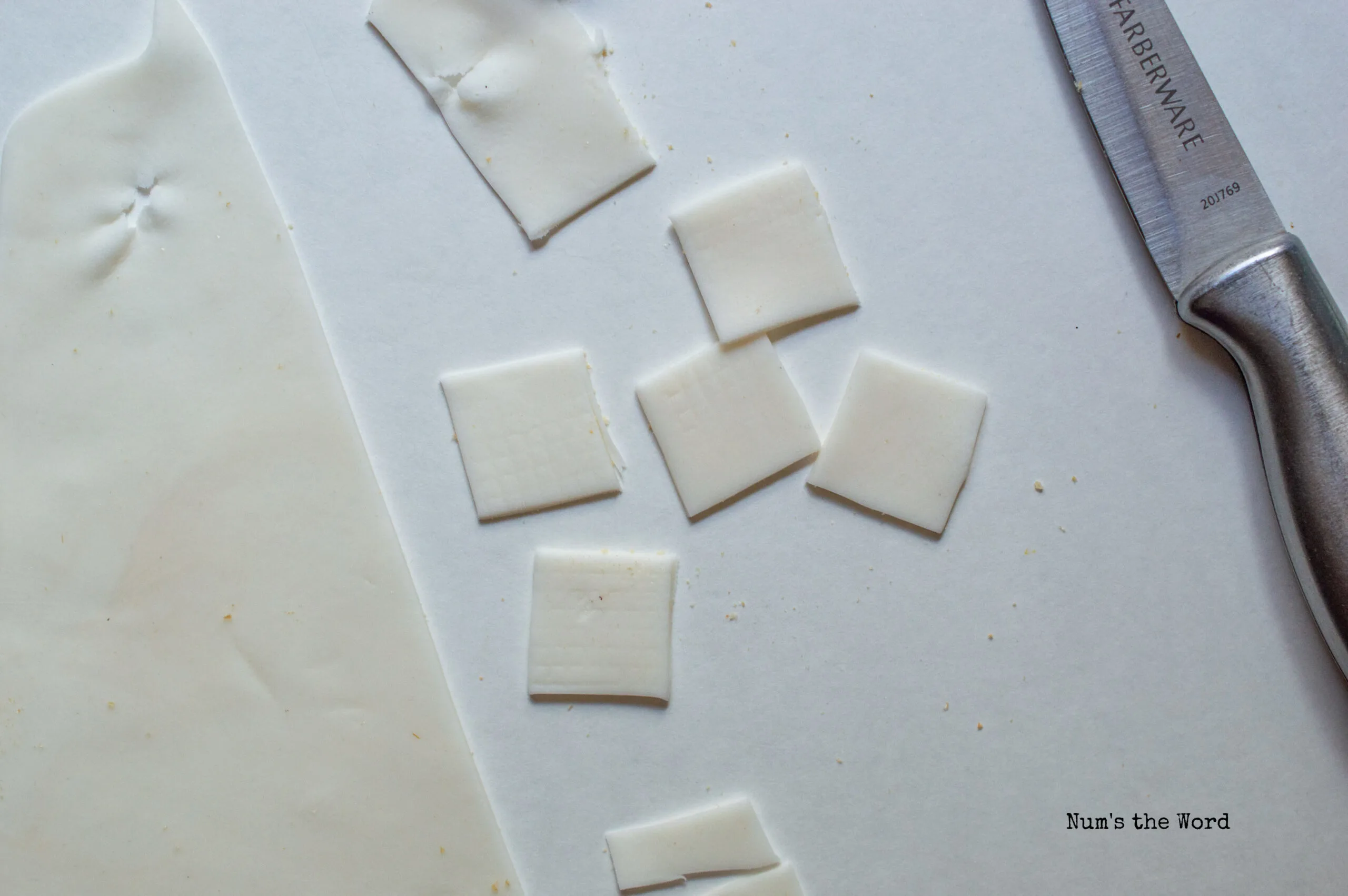 What Ingredients are in Band Aid Cookies?
A little gross for this time of year but a delicious treat! Happy Halloween!
Vanilla Flavor Wafers: Sugar wafers come in all different flavors. But the vanilla wafers look most like a band-aid.
White Fondant: This creates the center of the band-aid, that little gauze spot that goes on the wound.
Red Food Writing Gel: For the blood! You can usually pick this up near the cake decorating supplies.
Water: Use the water to adhere the fondant to the vanilla cookie wafers.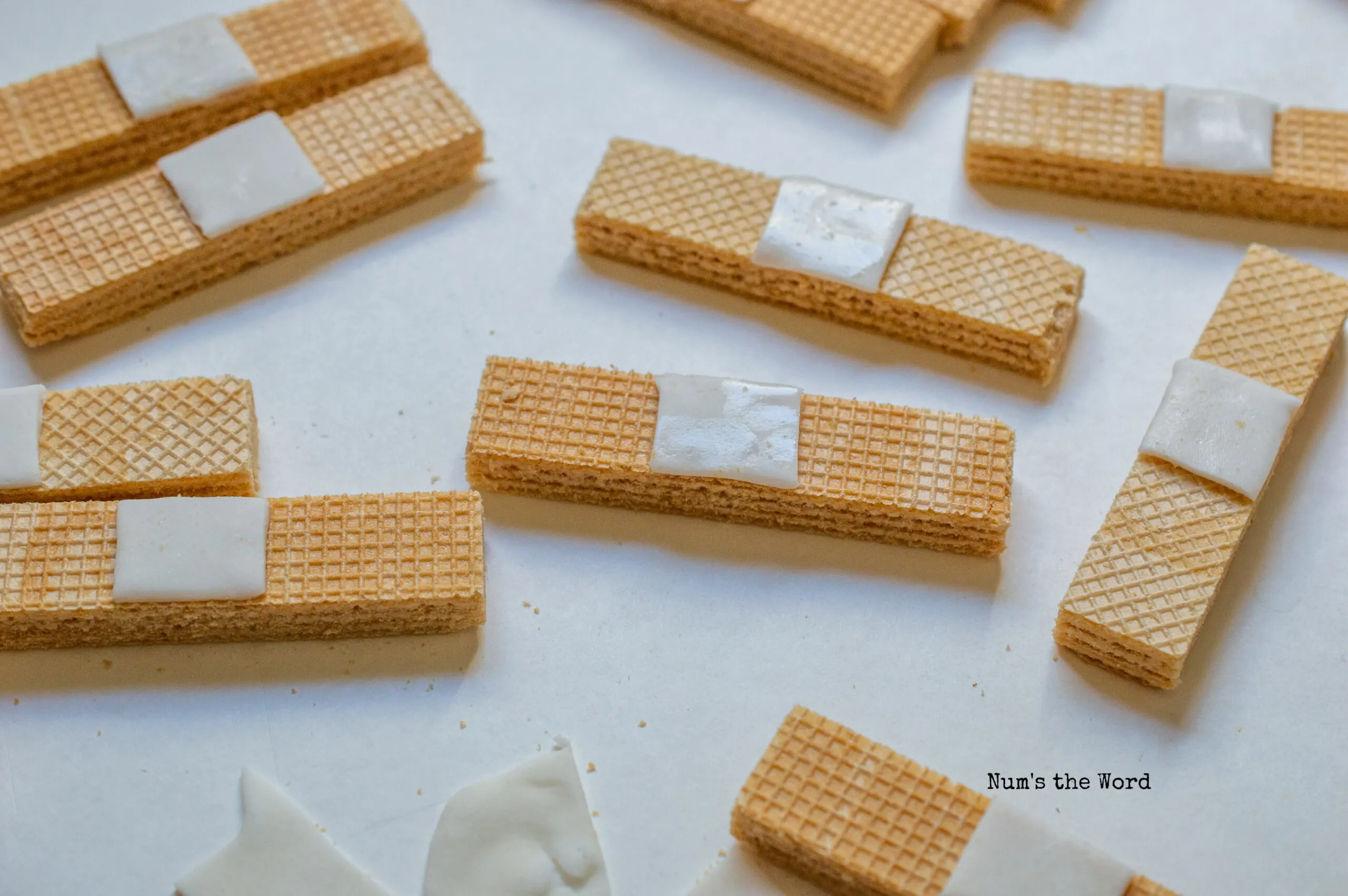 How to Make Band Aid Cookies
Bloody band-aids are a great idea for Halloween food that are easy to make!
Shape the Fondant: Roll the fondant around until it becomes soft like play dough. Then cut to size.
Assemble: Layer the vanilla wafer cookie, fondant, and then food writing gel. Done!
Pro Tips:
Don't use too much water on the fondant or it may get sticky.
To measure the square fondant more accurately, place a wafer on top of the fondant and cut along both sides of the fondant with a knife, into strips. Then turn the wafer sideways across strips and cut into squares.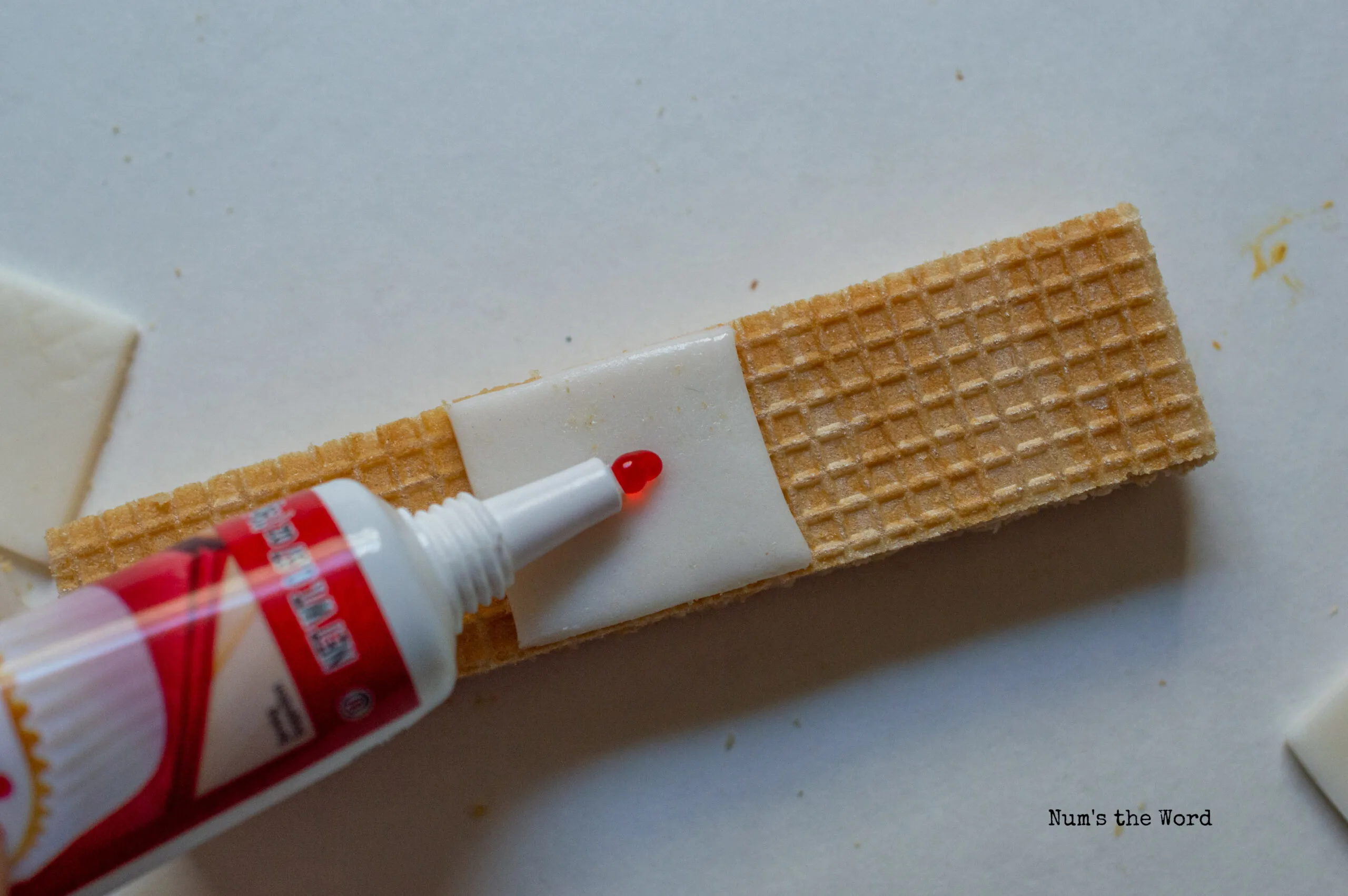 Ingredient Substitutions
If you'd like to make bloody bandaid cookies but are trying to use up what's in your house, it may be useful to make some substitutions.
Here are some easy changes.
Vanilla Wafer Cookies:
Try chocolate wafer cookies instead for a darker colored band aid.
Break graham crackers carefully so they maintain their rectangle shape.
White Fondant:
White frosting will work! Use a piping bag to get the lines as even as possible.
White icing would also work as it usually comes ready to squeeze out.
Marshmallow fluff is another white yummy treat that can be a substitution.
Melted white chocolate melts also work and taste great. Use a piping bag again!
Red Food Writing Gel:
Jam! Strawberry jam or raspberry jam would work the best.
Red food coloring can be mixed with melted chocolate or white frosting.
Candy Melts would also work. Use red or mix with red food coloring.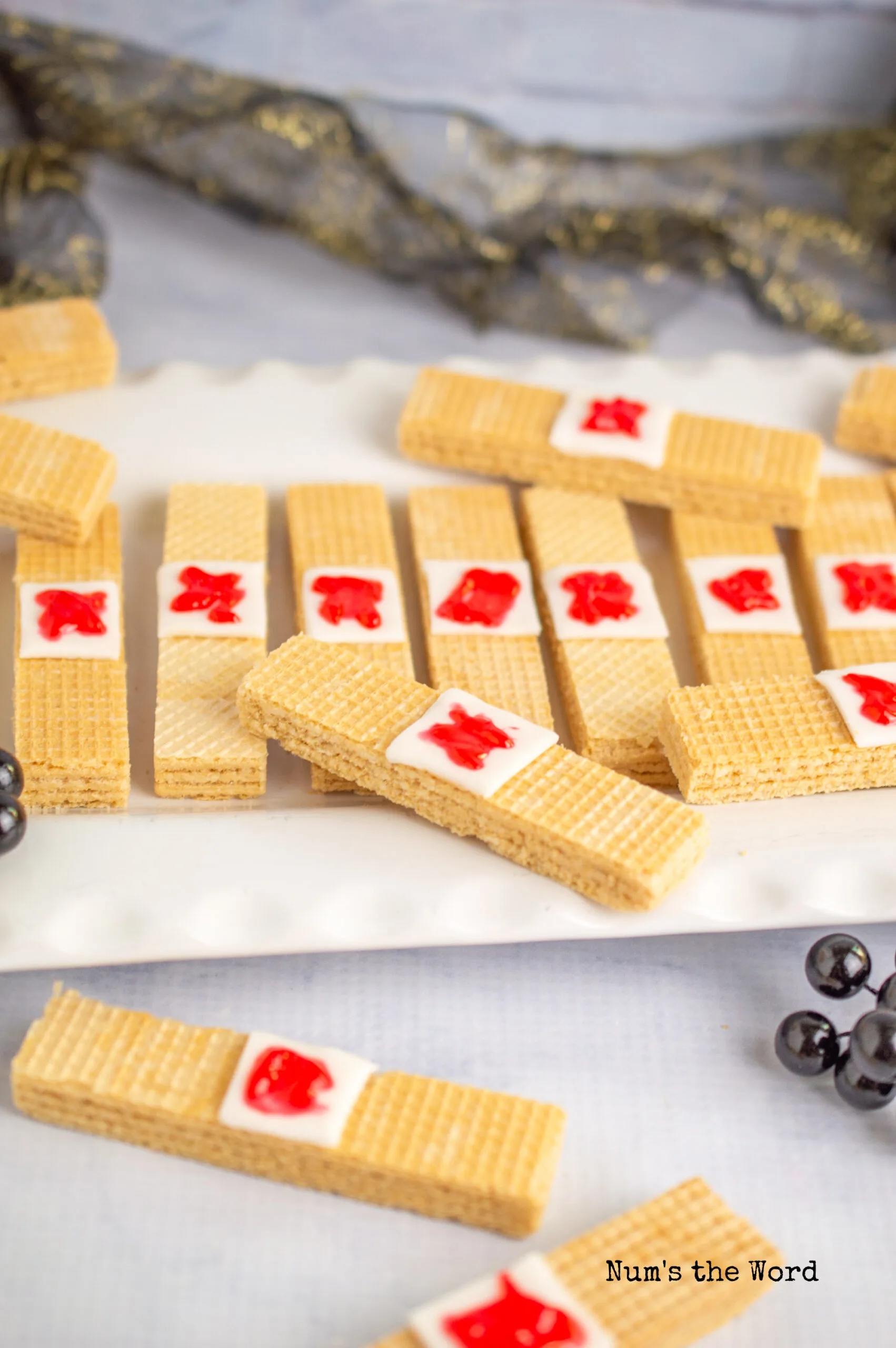 What to Serve with Band Aid Cookies
Gross! Think gross and you'll have a winning hand when it comes to Halloween treats!
Here are some other Gross Halloween Recipes: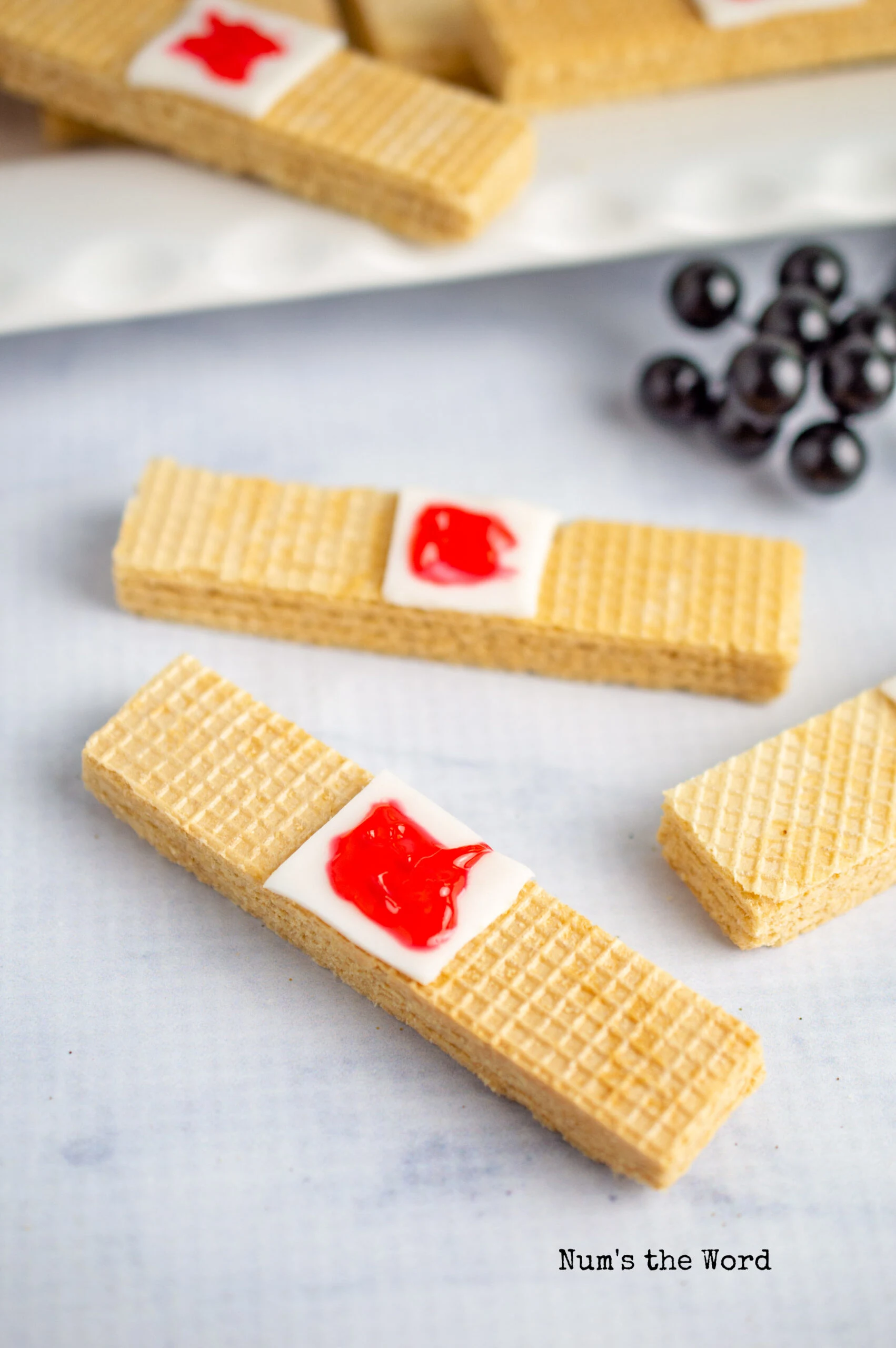 Can Dogs Eat Band-Aid Cookies?
There's nothing toxic in band aid cookies that would require a visit to the vet.
However, most candies, treats, and sugar, shouldn't be eaten by dogs.
In the long term, they can cause health problems down the road.
And in the short term, they can cause upset stomachs.
Be especially careful if you make any substitutions with chocolate as those can be particularly harmful to dogs.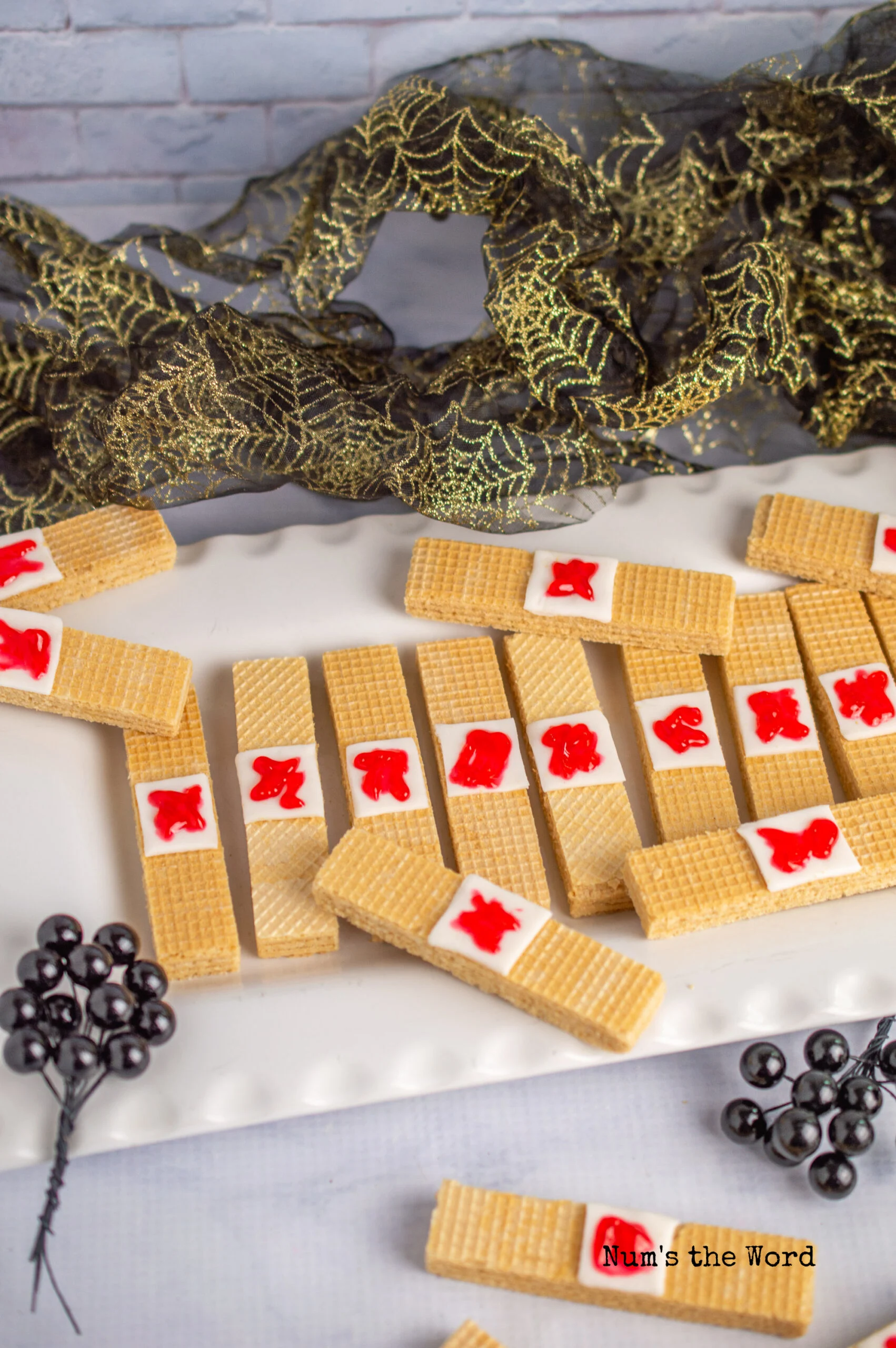 How Long Do Band-Aid Cookies Last?
You can expect band-aid cookies to last for a few days after they've been made.
The vanilla wafers will begin to absorb moisture and soften when left out, and that'll be your biggest issue.
Though the fondant and food writing gel will also dry out and not be quite so good looking.
However, the cookies are still safe to be eaten for up to 4 days after you've made them.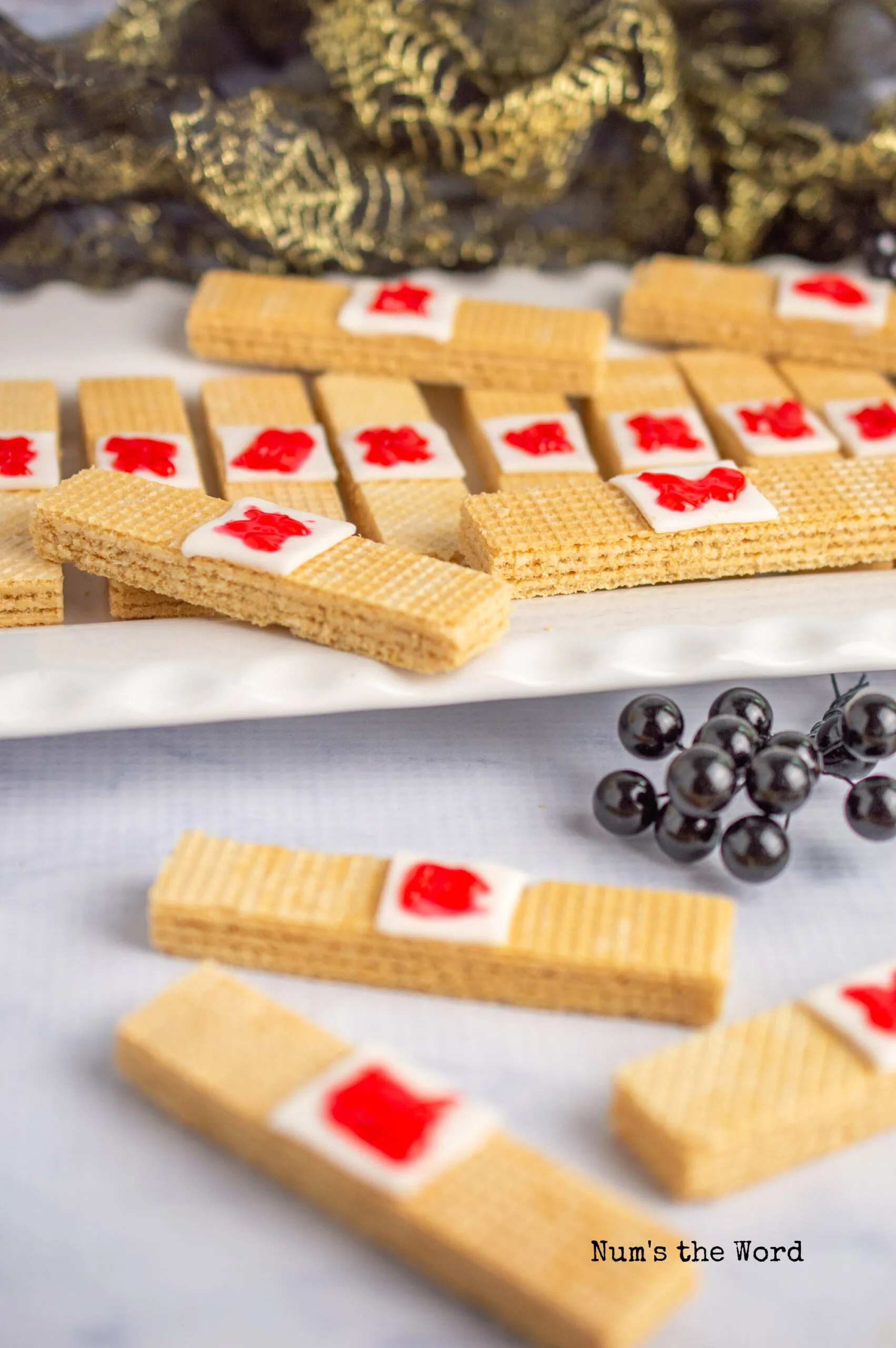 How to Store Leftover Band-Aid Cookies
Any leftover band-aid cookies should be stored in an airtight container or bag.
They don't need to be kept in the fridge, unless it's really hot in your house, as the fondant could possibly melt.
However, if you put the band-aid cookies in the fridge, the fondant will become hard and will need to be left out for a little while for best texture.
Just keep them covered on the counter and pop one out when you want it.
Can I Freeze Band Aid Cookies?
I haven't tried freezing band aid cookies myself, but I'd hesitate to do it.
I'm not sure upon freezing and thawing what it would do to the texture of the wafer cookies.
I feel like it would probably soften the cookies too much, though again I didn't try it!
I did try and look it up for you, but couldn't find anything conclusive!
So if you do end up freezing the band-aid cookies, please let me know how they turned out in the comments!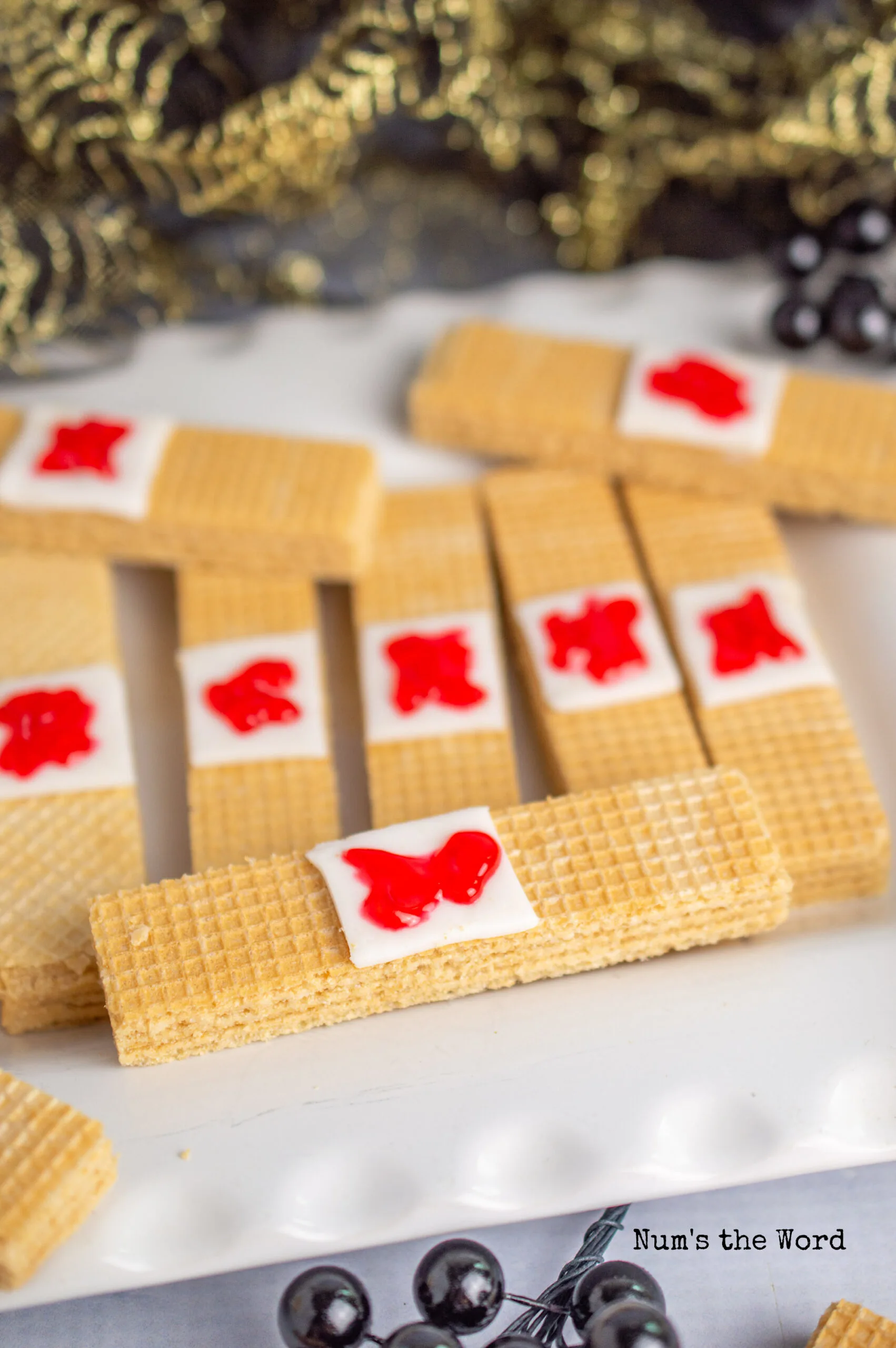 Can I Make Band Aid Cookies Ahead of Time?
Band-aid cookies can usually be made up to 24 hours ahead of time.
If you make substitutions with wet ingredients such as jam or frosting, that time may be shortened.
The cookie will become wet and soft when left with wet ingredients too long.
Fondant should be okay for that amount of time as it is a more solid frosting.
However, the closer you make these to party time, the better they're going to be.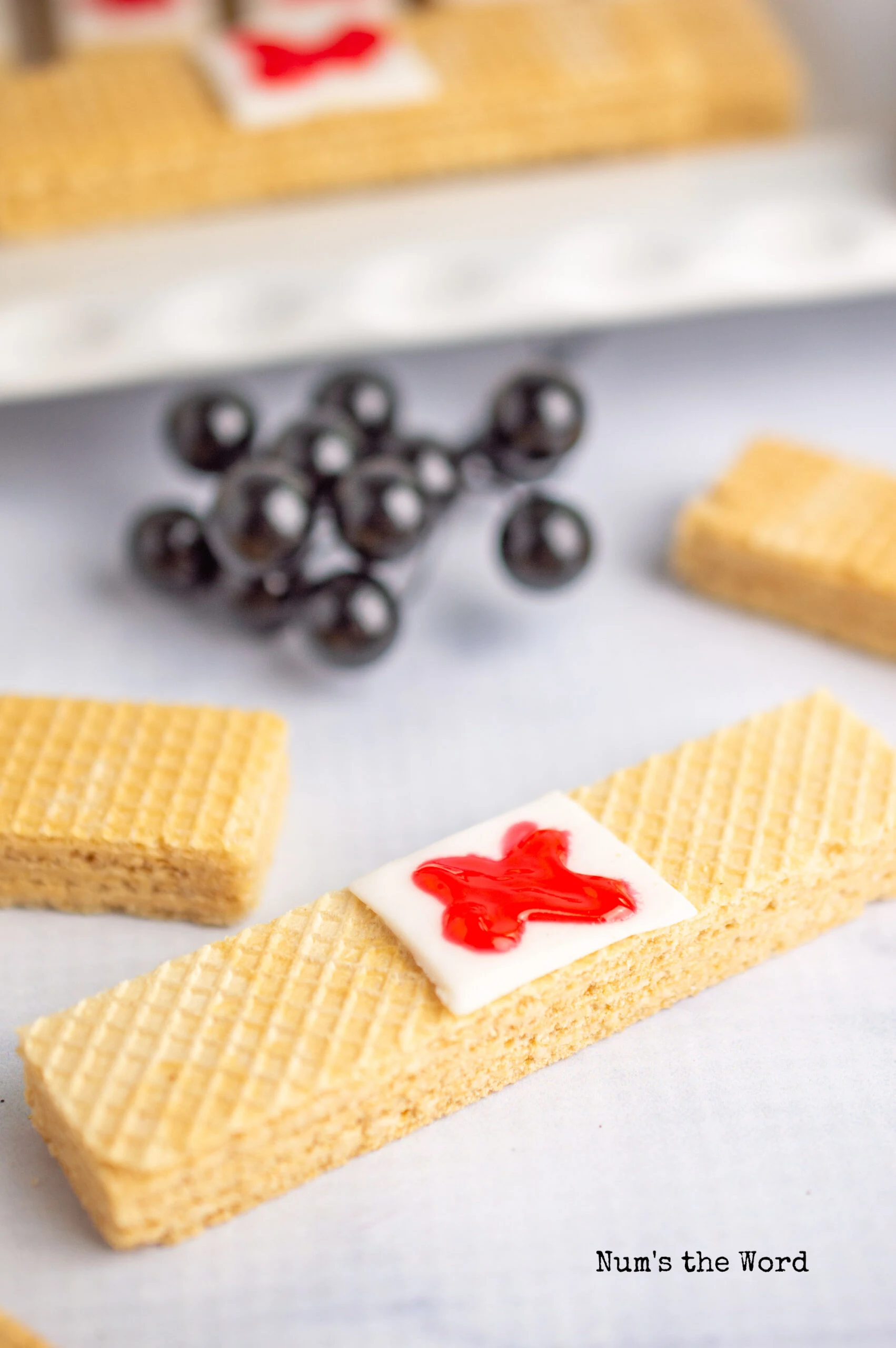 More Fall Recipes You'll Love…
Band Aid Cookies are a simple and easy treat for Halloween. They come together quickly and taste great (even if they don't look like it)! Enjoy them at your next holiday party!
Yield: 28 Cookies
Halloween Band Aid Cookies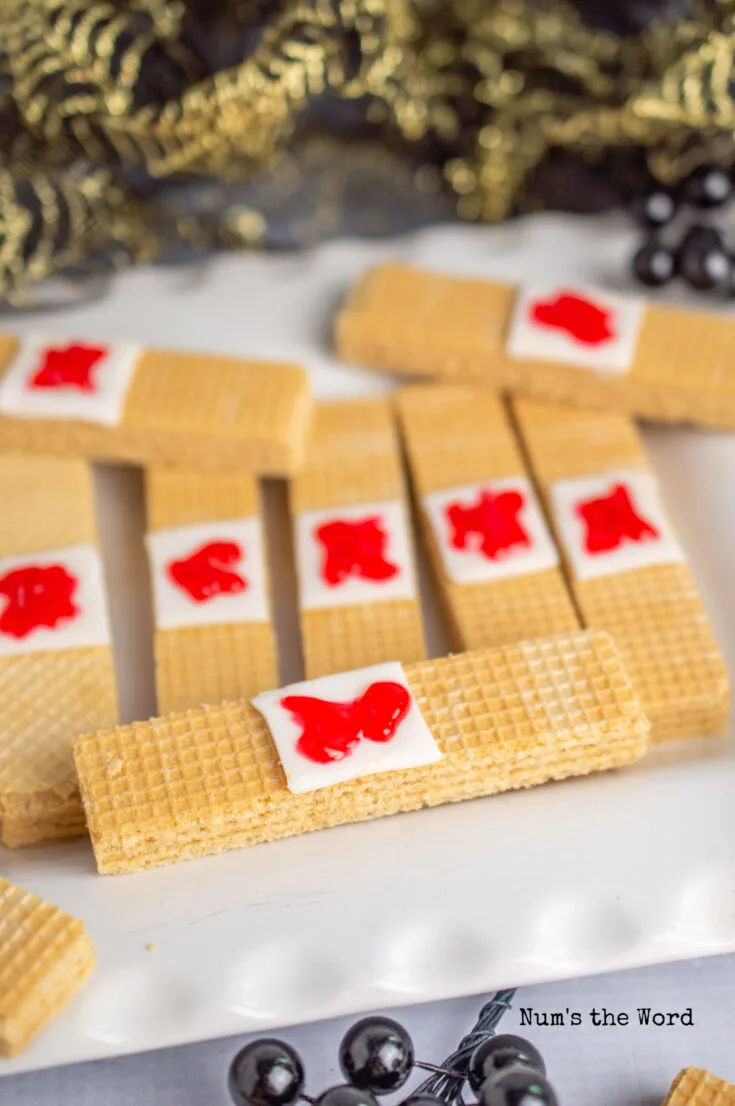 For the spookiest Halloween party, be sure to whip up an easy batch of Band Aid Cookies! They are sure to be the easiest food you make but a huge hit!
Ingredients
1 (8 ounce) package vanilla flavor wafers
1 package (8.8 ounce) White Fondant
1 (6.7 ounce) Red Food Gel
1 teaspoon water
Instructions
Take a piece of fondant, about the size of a golf ball and knead it for a while until it turns pliable like playdough.
Roll out with a rolling pin to 1/8" thick.
Lay out a wafer onto the dough and cut fondant the width of the wafer
Remove wafer and cut the fondant strip into squares.
Wet your finger or a pastry brush with the water and apply it to one side of the fondant.
Stick the wet side of the fondant onto the wafer and "glue" it in place.
Squeeze a little red gel on top to look like blood and set aside.
Repeat steps 5-7 for remaining cookies.
Serve or store for later.
Nutrition Information:
Yield:
28
Serving Size:
1
Amount Per Serving:
Calories:

9
Total Fat:

0g
Saturated Fat:

0g
Trans Fat:

0g
Unsaturated Fat:

0g
Cholesterol:

0mg
Sodium:

4mg
Carbohydrates:

2g
Fiber:

0g
Sugar:

1g
Protein:

0g