These No Bake Mummy Cookies have only 3 ingredients and take 10 minutes to whip up! Nutter Butter Ghosts and Nutter Butter Mummies are a fun Halloween treat that even the smallest of kids can help make.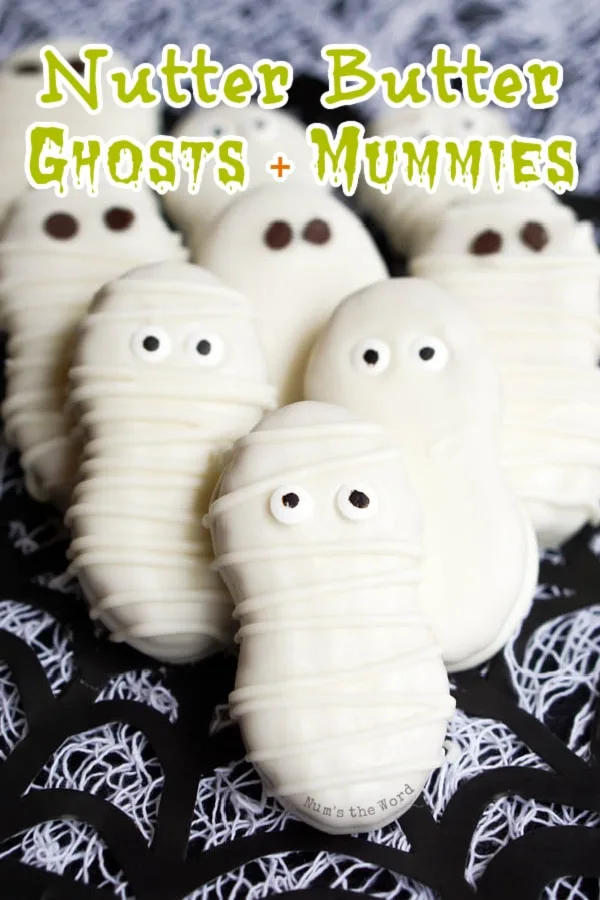 I'm am a huge cheerleader when it comes to playing with your food. The more fun you can have the better. My kids also agree. They especially look forward to each holiday to see what new and fun thing Mom will create.
This year for Halloween we're making these Nutter Butter Ghost Cookies and Mummy Cookies. Both are SO EASY to whip up and as long as you use a high quality white chocolate your results will look professional!
Playing with your food may not be a great idea at the diner table, unless your serving these Mummy Hot Dogs. However playing with your dessert should always be encouraged for a really fun time!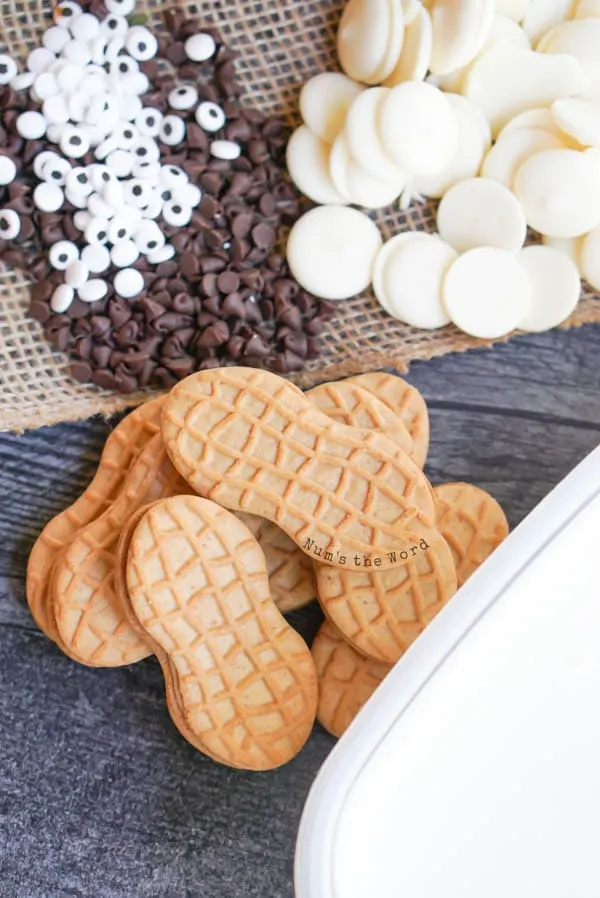 How to make Nutter Butter Ghost Cookies?
Nutter Butter Ghosts are so easy to make! Just follow these THREE steps and you'll find yourself a ghost expert!
Melt down your chocolate. I prefer to use almond bark or high quality white melting chocolate. Both of these will result in smooth, beautiful ghosts.
Dip your cookies. Simply use a fork to dip your cookies, shake off any excess chocolate and then place them on wax paper to dry.
Add your eyeballs. You can use mini chocolate chips or candy eyeballs. Place these on your ghosts while the chocolate is warm so they stick.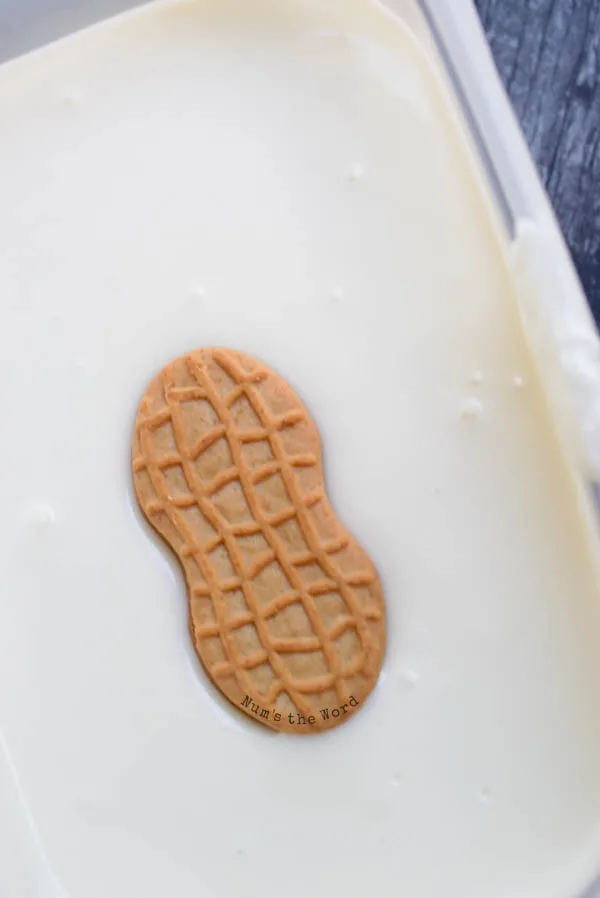 How to make Nutter Butter Mummies?
Making Nutter Butter Mummies is easier than you think! Simply follow the steps above to create Nutter Butter Ghosts.
Then pour your remaining chocolate in a plastic zipper bag. Warm the bag for 10 seconds in the microwave, snip off a tiny tip on your bag and squeeze your chocolate over your ghosts, creating a mummy look.
Once dry, chip off any excess chocolate around the edges and eat or give away!
Can dogs eat Nutter Butter?
Though it's a well known fact that dogs can eat peanut butter, these cookies do contain a good amount of sugar, which is not healthy for your dog. Having said that my research shows that dogs can have Nutter Butters, but it's best if they don't.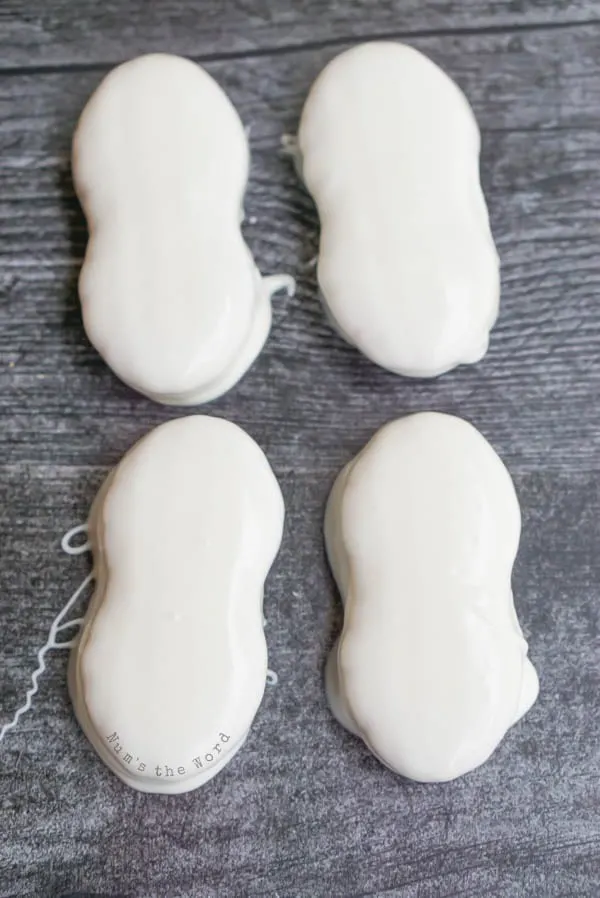 What is a Nutter Butter?
Nutter Butter is a brand of cookie that has a yummy peanut butter filling between two crunchy cookies.
It's signature look is in the shape of a peanut shell, with a similar pattern printed on the outside of the cookie.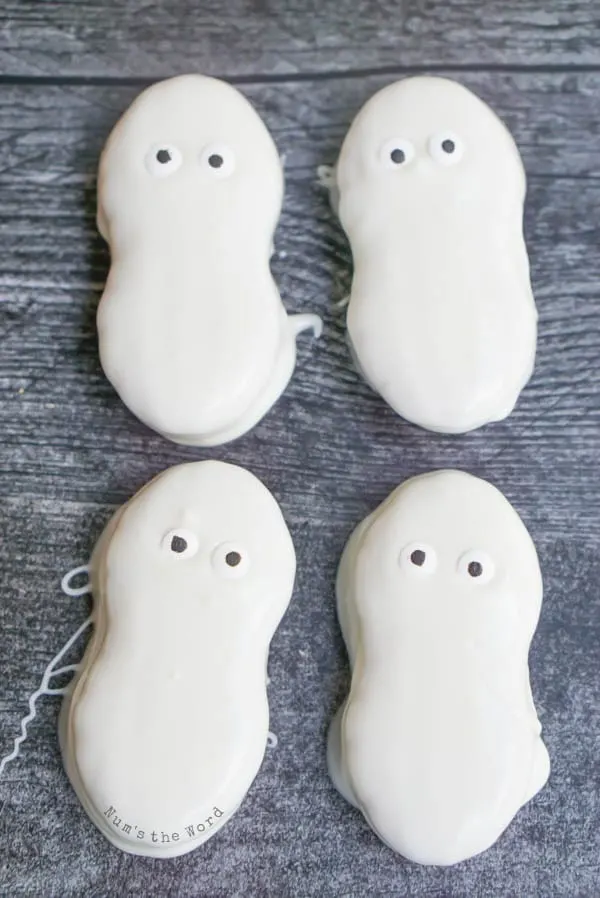 Who makes Nutter Butter?
Nutter Butter Cookies are an American cookie produced by Nabisco, the same makers of Oreo and Chips Ahoy!
With an estimated BILLION being eaten every year, it's no wonder these cookies are so popular to use in creating new and fun designs like these Nutter Butter Mummies & Ghosts!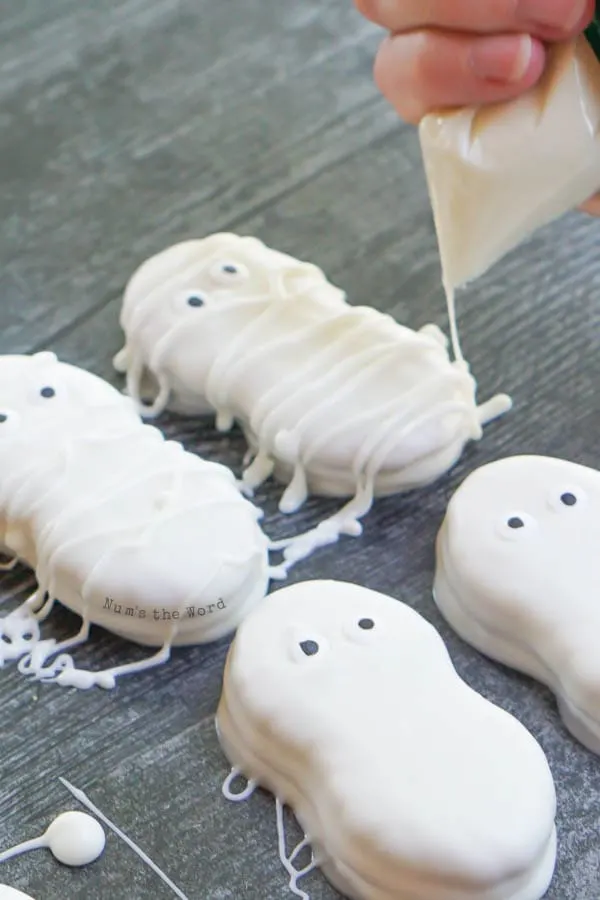 Is Nutter Butter Vegan?
Believe it or not, just like their sister cookie, the Oreo, Nutter Butter Cookies ARE vegan! They contain zero dairy in the cookie and filling as well as no eggs. This is good news for those who are looking for a quick sweet treat but are avoiding animal products.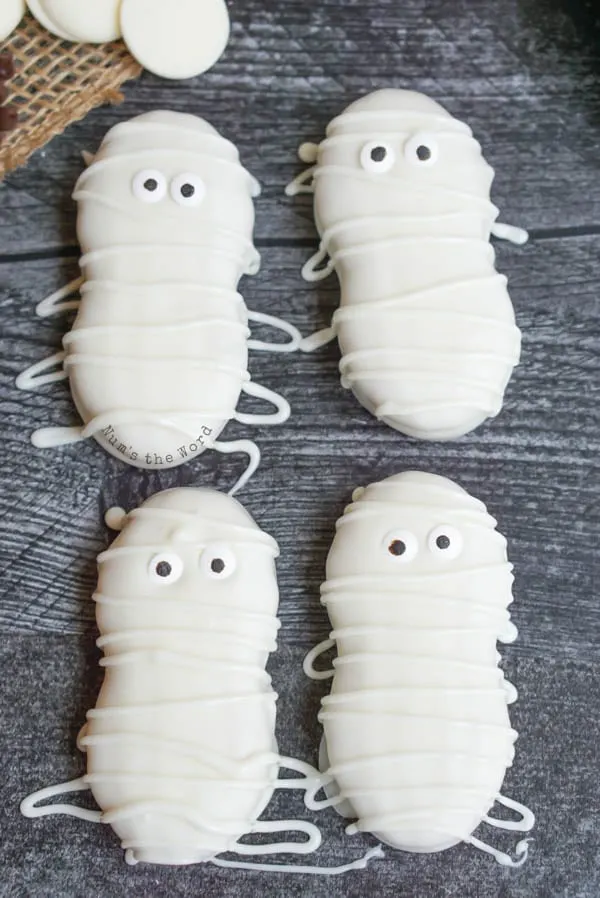 Spooky Halloween treats your guests will love…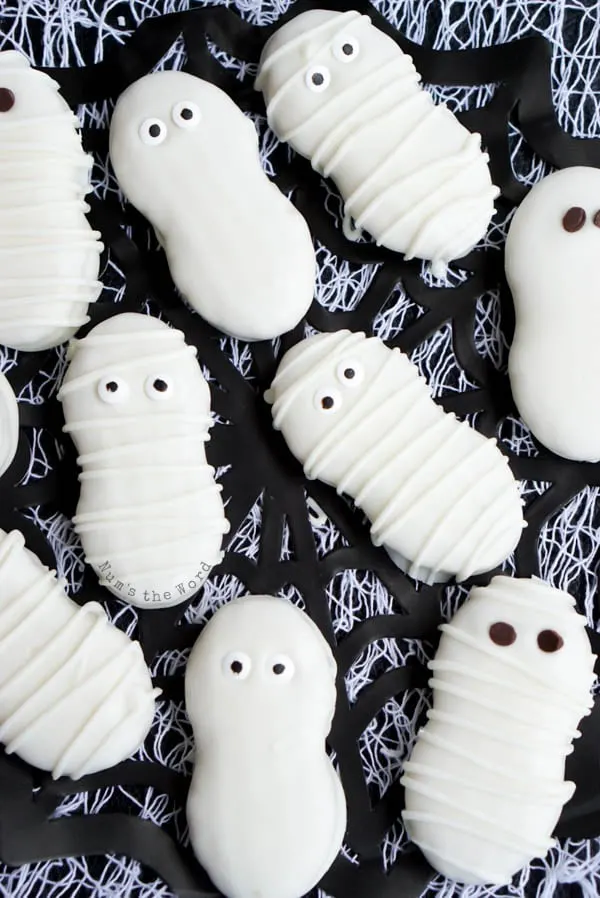 More tasty ways to enjoy white chocolate…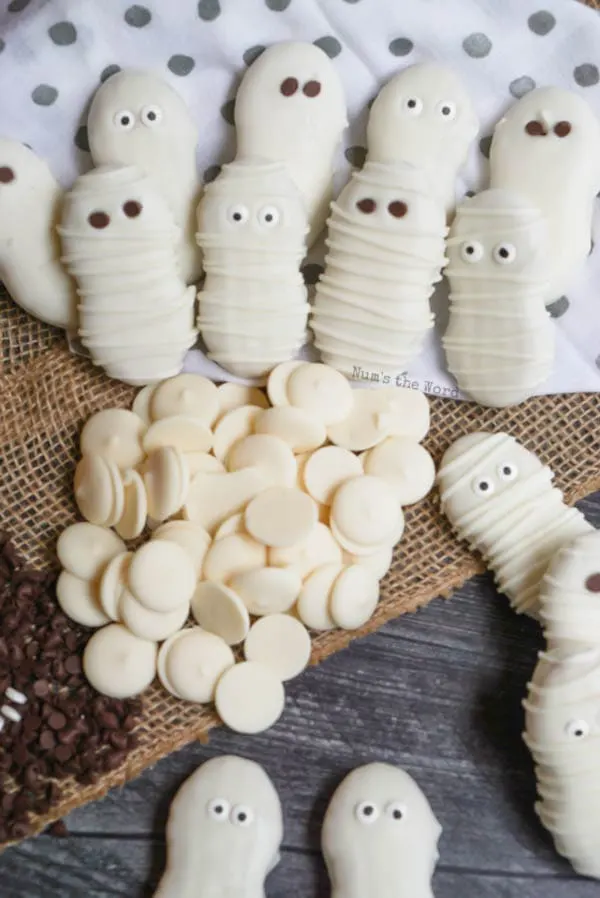 Creating these easy 3 ingredient Mummy Cookies is a fun Halloween activity you entire family can enjoy! Playing with your food is encouraged with this simple chocolate covered Nutter Butter recipe.
Yield: Cookies24
Mummy Cookies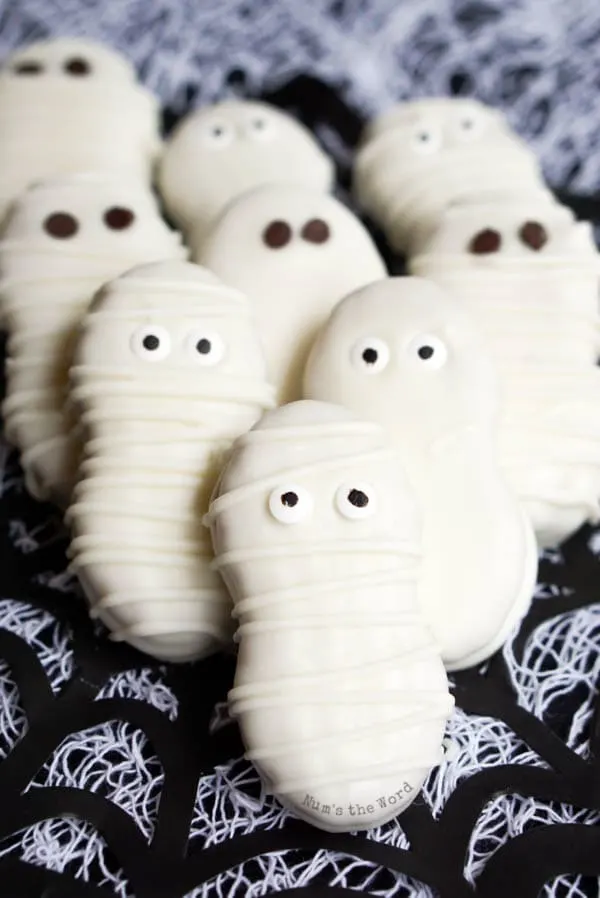 These No Bake Mummy Cookies have only 3 ingredients and take 10 minutes to whip up! Nutter Butter Ghosts and Nutter Butter Mummies are a fun Halloween treat that even the smallest of kids can help make.
Additional Time
20 minutes
Ingredients
24 Nutter Butter Cookies
2 cups white melting chocolate wafers or 24 ounces almond bark
Candy eyeballs or mini chocolate chips
Instructions
Place a large piece of wax paper on counter.
Place chocolate in a microwave safe bowl.
Heat chocolate in 30 second increments, stirring well after each time.
Once chocolate is fully melted, place one cookie into chocolate and press down with a fork, submerging cookie.
Using same fork, scoop up cookie and gently tap fork on side of bowl to tap off excess chocolate.
Gently slide chocolate covered cookie off fork onto wax paper.
Gently place eyeballs onto cookie.
Repeat until all cookies are covered in chocolate and look like ghosts.
Pour remaining chocolate into a plastic zipper bag - any size.
Heat for 10 = 15 seconds to ensure chocolate is nice to runny.
Snip off a TINY corner of the bag. The larger the corner, the larger the mummy wrap will be.
Starting at the top, gently squeeze chocolate bag so that chocolate comes out of snipped end and zig zag over ghost to create a mummy look.
Let dry completely.
Pic up each mummy and gently break off excess mummy bandage chocolate.
Store in an air tight container until ready to eat.
Notes
These will last approximately 2 weeks in an air tight container on counter.
These mummy cookies also make for a great Halloween treat for friends and neighbors.
Nutrition Information:
Yield:
24
Serving Size:
1
Amount Per Serving:
Calories:

386
Total Fat:

24g
Saturated Fat:

6g
Trans Fat:

0g
Unsaturated Fat:

17g
Cholesterol:

35mg
Sodium:

281mg
Carbohydrates:

38g
Fiber:

4g
Sugar:

15g
Protein:

9g