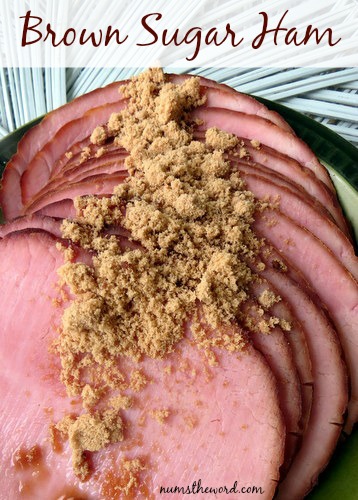 I don't know about you, but we tend to make a ham several times a year.  There are the traditional times like Thanksgiving, Christmas and Easter, but in our house there are also the times that the kids and husband are craving ham.
My favorite part with ham is all the leftovers.  My daughter LOVES ham.  If given the opportunity, she'd eat it for breakfast, lunch and dinner and loves to have it in her lunch!
And I like to play with the leftovers to create new tasty dishes.
I also love how ham freezes really well.
This crock pot brown sugar ham is absolutely simple and delicious.  Some may think it's TOO easy.
If that's you, then don't worry, we have plenty of other ham options for you like our Maple Brown Sugar Ham, which is also crock pot or even our Honey Baked Ham, which gives the most delicious, crunchy coating you'll love!
However don't dismiss this simple brown sugar ham.  It's a classic that wont be going out of style any time soon!
We loved this ham and you and your crock pot will too!
This post contains Amazon affiliate links as a free service to you!

Ingredients
1 (8 pound) bone in picnic ham or any kind EXCEPT smoked. DO NOT USE SMOKED. OR 6 pound boneless pre-cut ham works too!
2 cups brown sugar
Instructions
Place 1 cup brown sugar on bottom of crock pot.
Place ham inside crock pot on top of brown sugar.
spoon remaining 1 cup of brown sugar on top of ham, rub around ham and between each slice if presliced.
Cook on low for 8 hours.
Remove and serve immediately!
Notes
Keep in mind the size of your crock pot when buying your ham. Not all hams (especially bone in) will fit in a crock pot. If you are having issues, place foil over ham and crock pot to act as lid if need be, but try to buy a ham that will fit in it.
https://numstheword.com/brown-sugar-ham/
Items recommended for this recipe include…
Another Recipe We Think You'll Love…