These Leftover Cranberry Sauce Roll Ups have 3 ingredients and take 20 minutes or less to toss together! Perfect use for your any flavor leftover cranberry sauce!
This post contains affiliate links.  If you click on an affiliate link and make a purchase, I will make a small percentage on your purchase. This helps keep this website running! Thank you!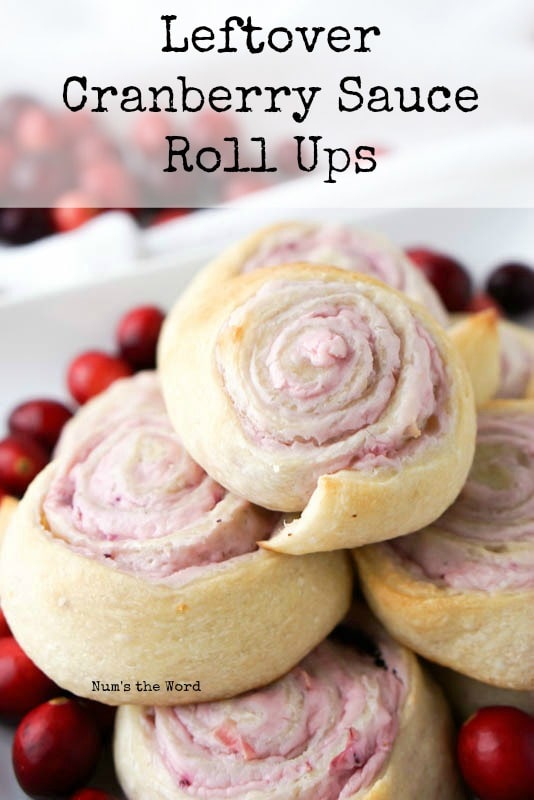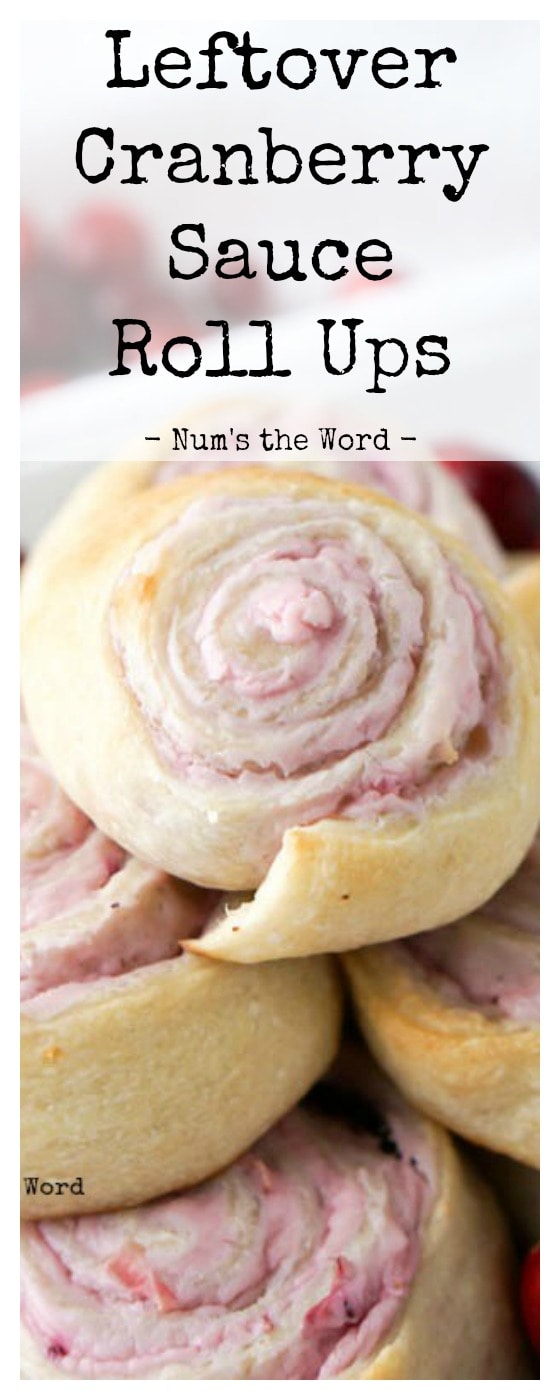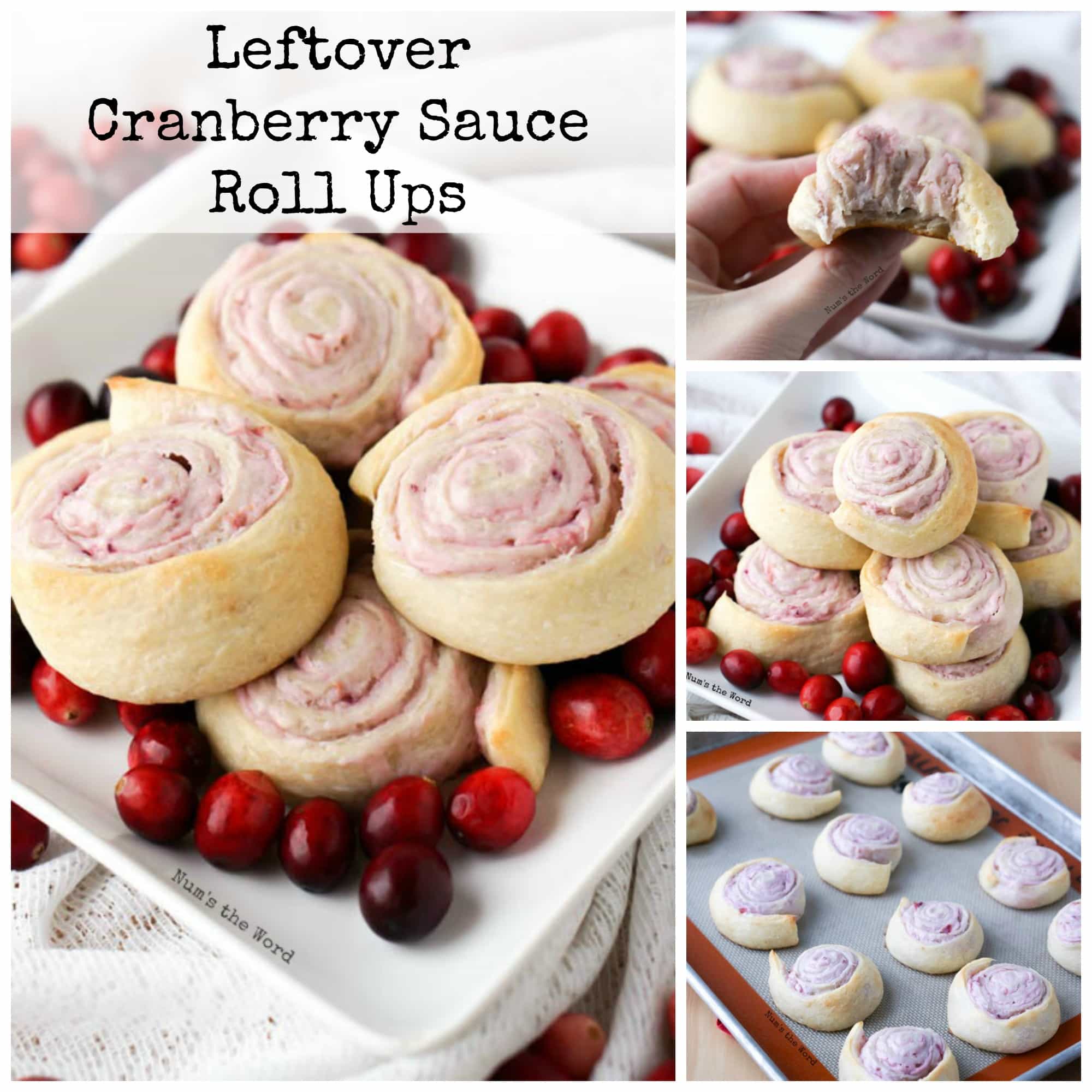 One of the biggest issues with Thanksgiving or Christmas dinner is what to do with the leftovers.
Sure we can eat the same meal two, maybe three times but then what?
I'm a huge fan of mixing it up and re-purposing the leftovers into new and tasty dishes.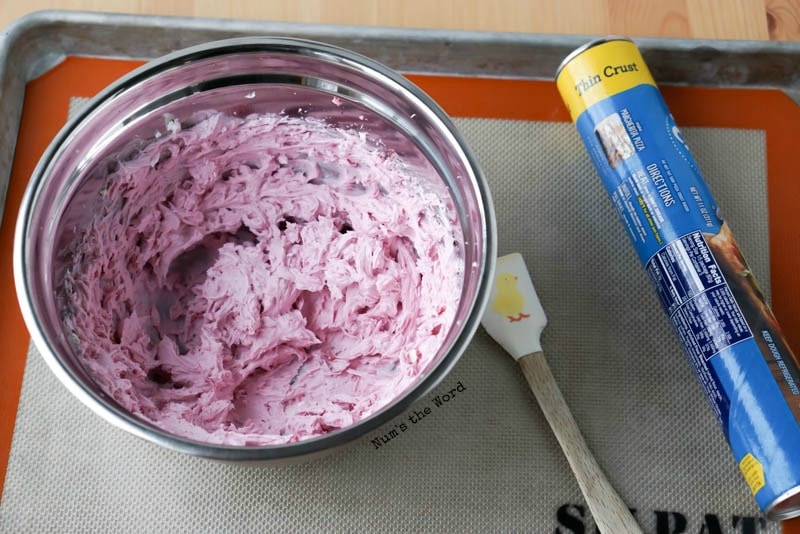 These Leftover Cranberry Sauce Roll Ups are a big hit in our family.
There is always too much cranberry sauce at our table.
My kids wont touch the stuff and only half the adults will.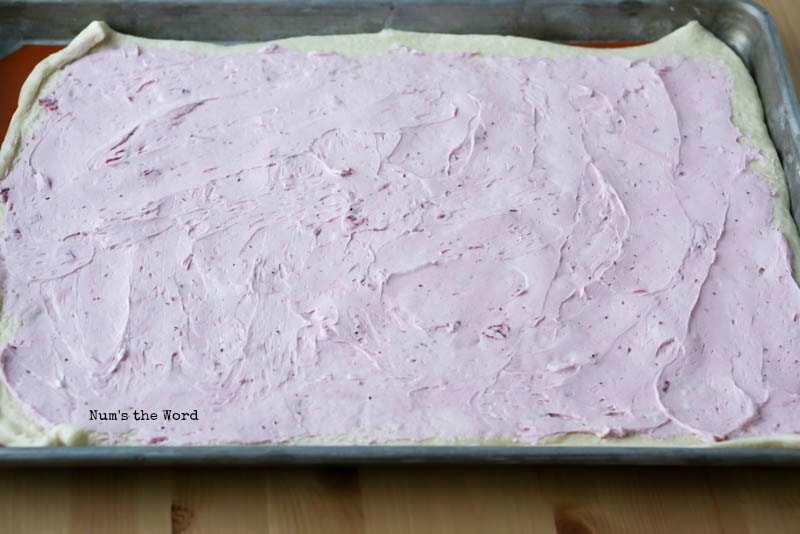 Cranberry sauce is a finicky food.
People either love it, hate it, or have never had it before and are scared to try it.
And sadly, when they do attempt it, it's generally store bought.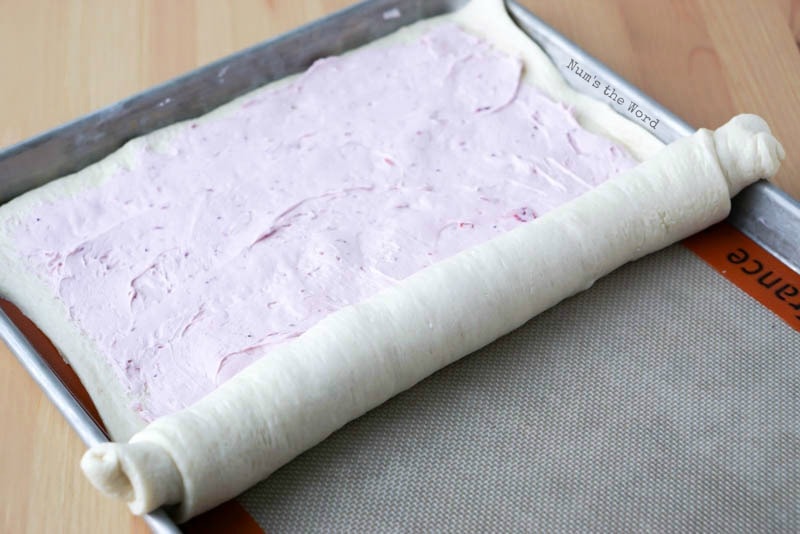 As with all things, homemade is always tastier, however this recipe doesn't care if your leftover cranberry sauce is homemade or store bought.
What I have learned though, is that even those adults who don't like cranberry sauce, like these Leftover Cranberry Sauce Roll Ups.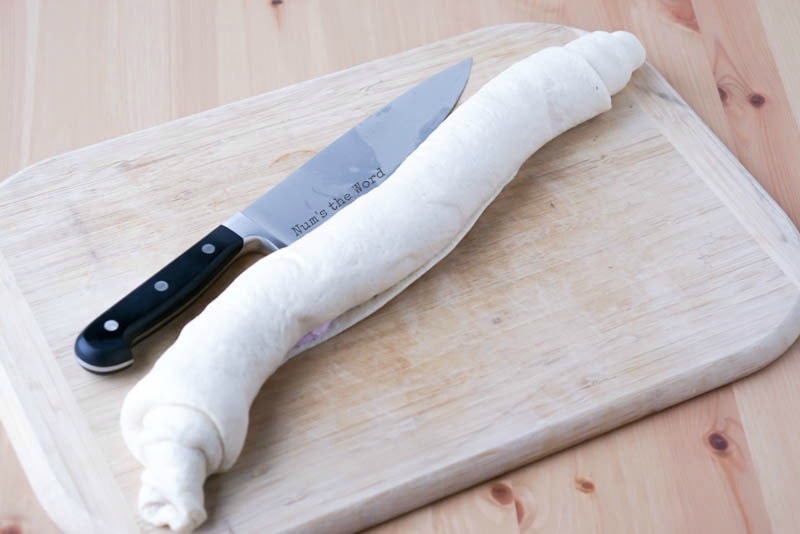 Perhaps because they look like a cinnamon roll.
Or maybe it's because it looks like a treat with the cranberry sauce hidden in a mixture of cream cheese.
Whatever the reason may be, non cranberry sauce lovers, like these!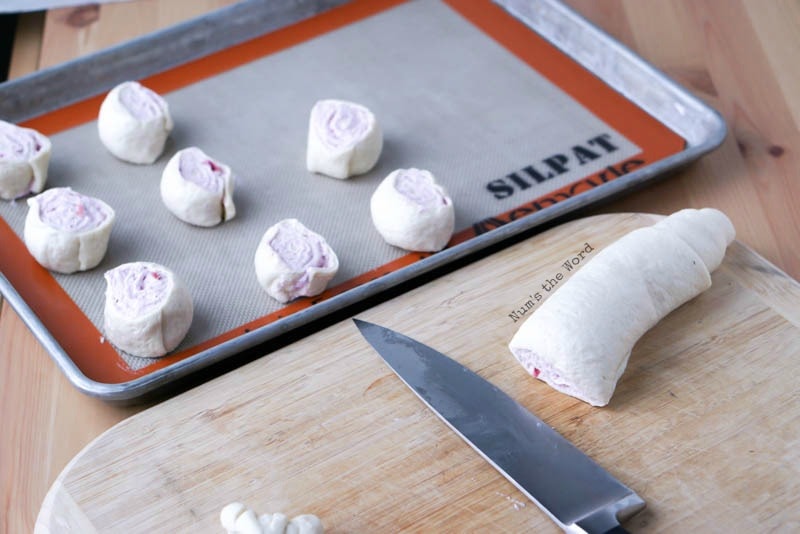 Rather than tossing out leftover cranberry sauce because there is always too much at the table, we like to reuse it.
These Leftover Cranberry Sauce Roll Ups are just one of the many ways my kids will consume cranberry sauce!
We enjoy eating these for breakfast, but they would make a great brunch, snack or even dessert item.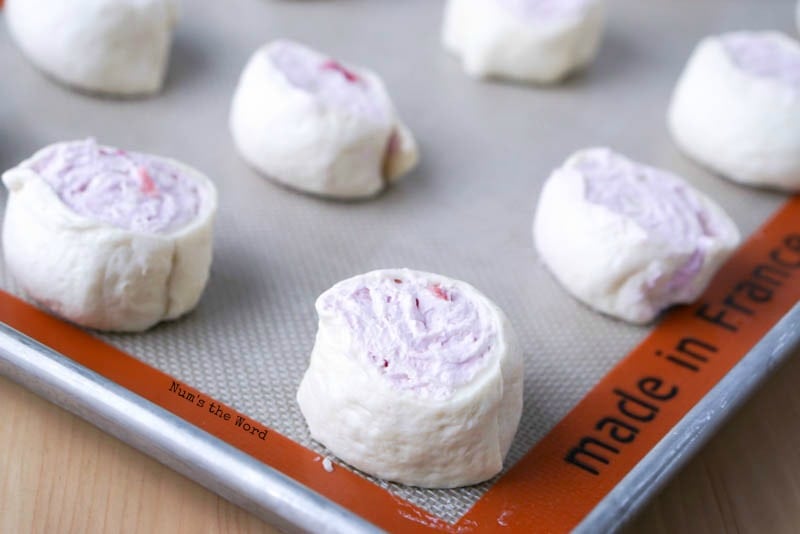 There are only 3 ingredients and in 20 minutes or less you've got a tasty snack that doesn't taste like Thanksgiving.
Of course, you don't need leftover cranberry sauce to make these.
You can whip up a fresh batch of cranberry sauce or use the canned stuff.  Doesn't matter.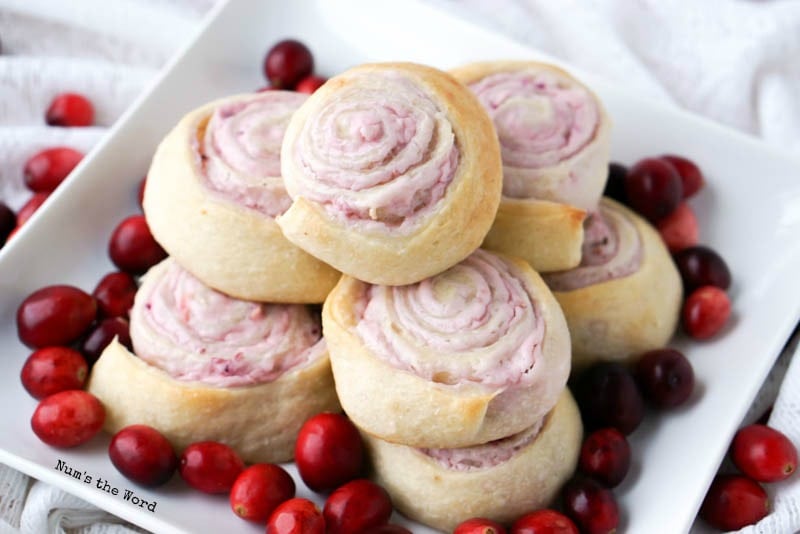 Our favorite is this Raspberry Cranberry Sauce.
I'm a HUGE lover of raspberries so a Raspberry Cranberry Sauce is right up my ally!
It's homemade, fresh tasting and oh so yummy!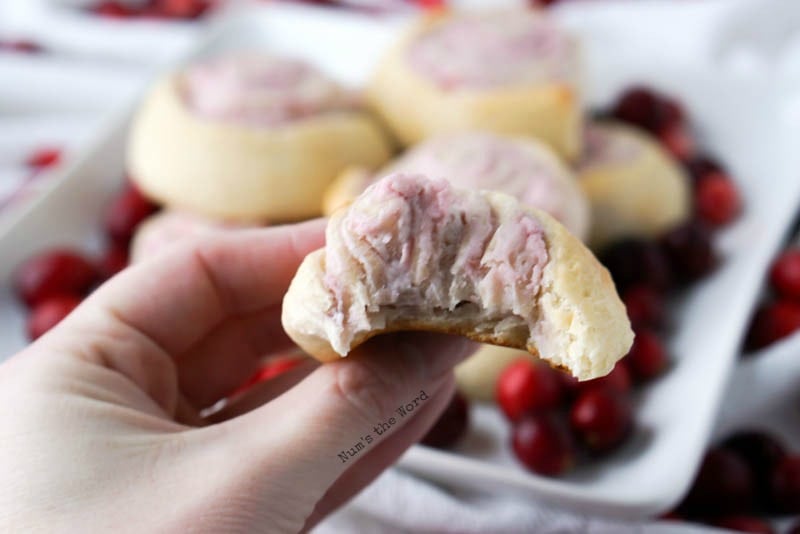 My Raspberry Cranberry Sauce also works great in these Leftover Cranberry Sauce Roll Ups.
But like I said, any flavor or style of cranberry sauce will work.
Yield: 12 Roll Ups
Leftover Cranberry Sauce Roll Ups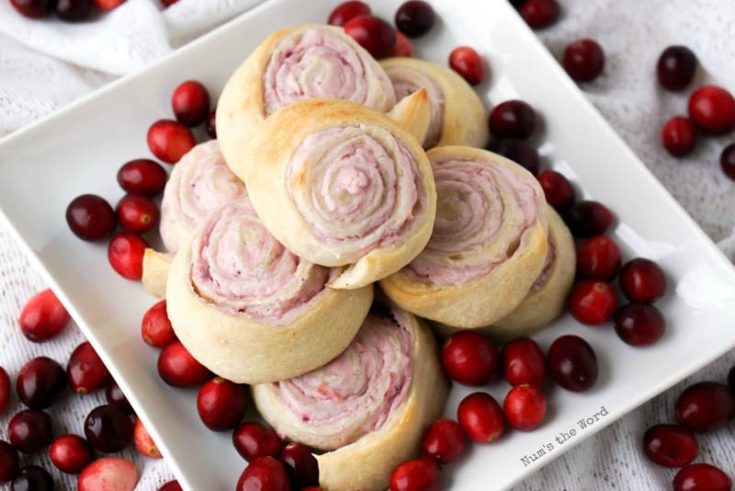 Ingredients
8 ounces cream cheese, room temperature
1/2 or 3/4 cup leftover thick cranberry sauce (depending on how much flavor you want) - IMPORTANT SEE NOTE!!
1 tube of store bought pizza crust or crescent roll dough
Instructions
Preheat oven to 350*F
Prepare a jellyroll cookie sheet with a baking mat, cooking spray or non-stick foil. Set aside.
In a medium bowl combine cream cheese and cranberry sauce. Mix well, scraping sides as needed.
Roll out pizza dough or crescent roll dough. If using crescent roll dough, pinch seams together.
Gently spread cream cheese mixture on top of dough, leaving 1/4 inch around edges.
Roll up like a cinnamon roll but short side to short side.
Cut into slices like you would a cinnamon roll.
Bake for 12 - 15 minutes or until edges are golden but not burnt.
Let cool for 5 minutes then serve!
Notes
If your cranberry sauce is runny, it will make these a soggy mess. Your cranberry sauce needs to be thick. To thicken up your runny sauce, pour sauce into a pot. Heat it up to almost boiling. In a small dish, add 2 teaspoons of cornstarch and 2 teaspoons of water. Mix well and pour into cranberry sauce. Stir well. If sauce is still runny, repeat, until sauce is thickened up enough to easy coat a spoon with a thick amount of sauce. If you don't want to do this, then only add a few tablespoons of cranberry sauce to the cream cheese as you want your cream cheese to still be thick and spreadable, not runny.
Other Cranberry Recipes You'll Love...