This Pumpkin Fudge Recipe takes 15 minutes to make and an hour to chill before you can sink your teeth into it. Everyone who tries it raves about how creamy and smooth the texture is and asks for the recipe!
This post contains affiliate links.  If you click on an affiliate link and make a purchase, I will make a small percentage on your purchase, which helps keep this website running! Thank you!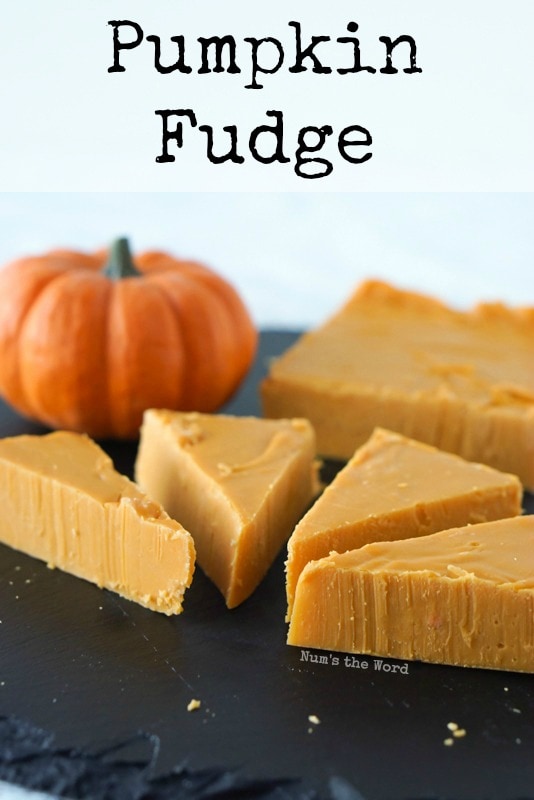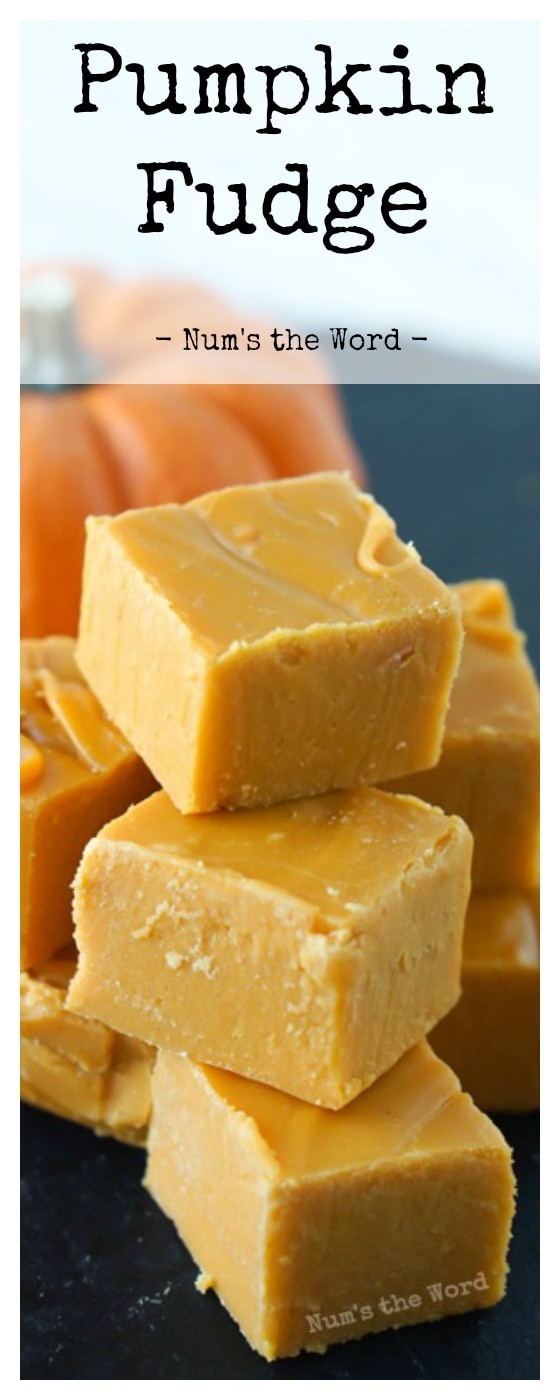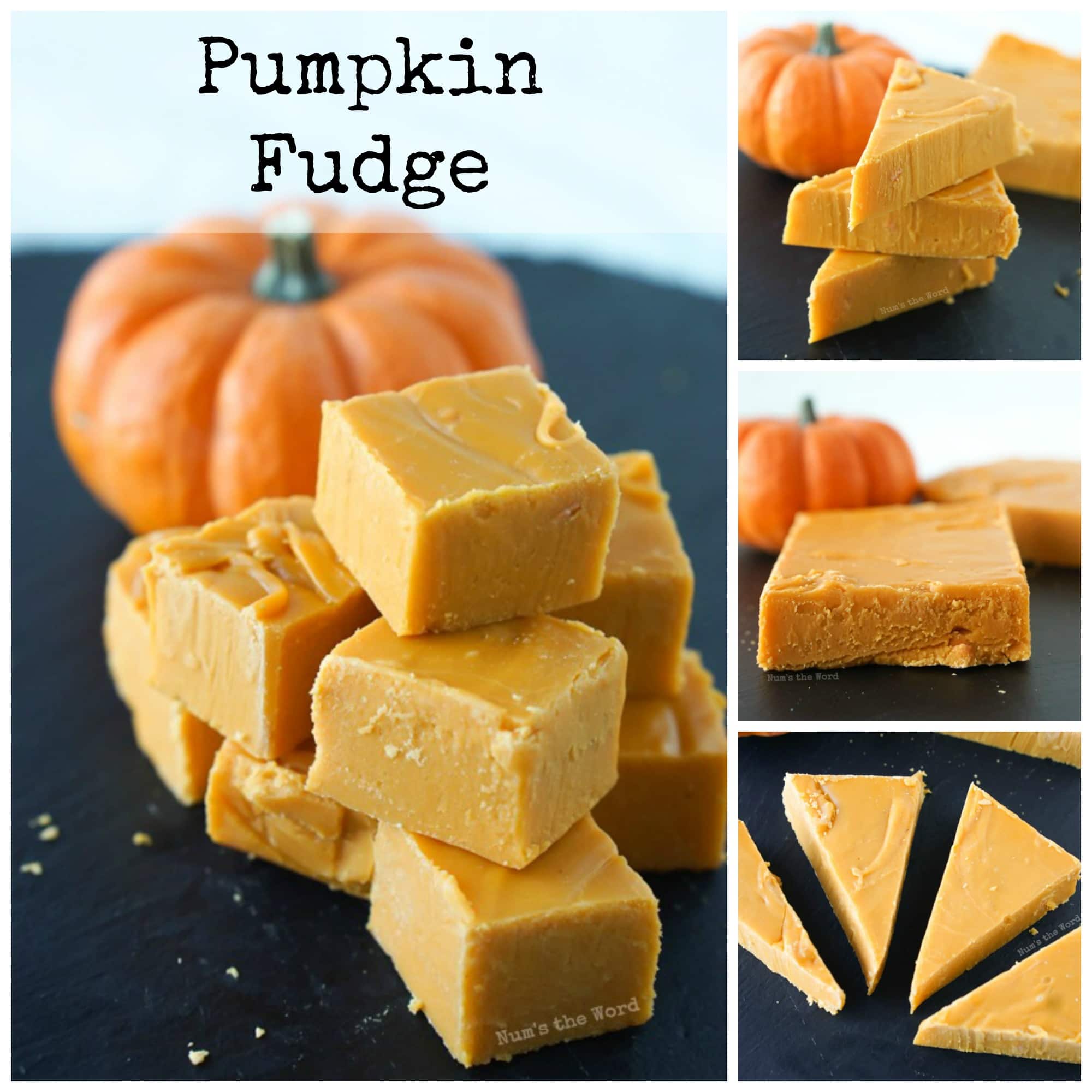 Last year I recipe tested a LOT of fudge recipes.
We had fudge coming out of our ears and couldn't find enough people to pass it along to as I couldn't stop playing with recipes.
In the end I fell in love with my See's Fudge Copycat Recipe.
It's creamy, smooth and not gritty at all.
So now I've taken that base recipe and tweaked it to make Pumpkin Fudge!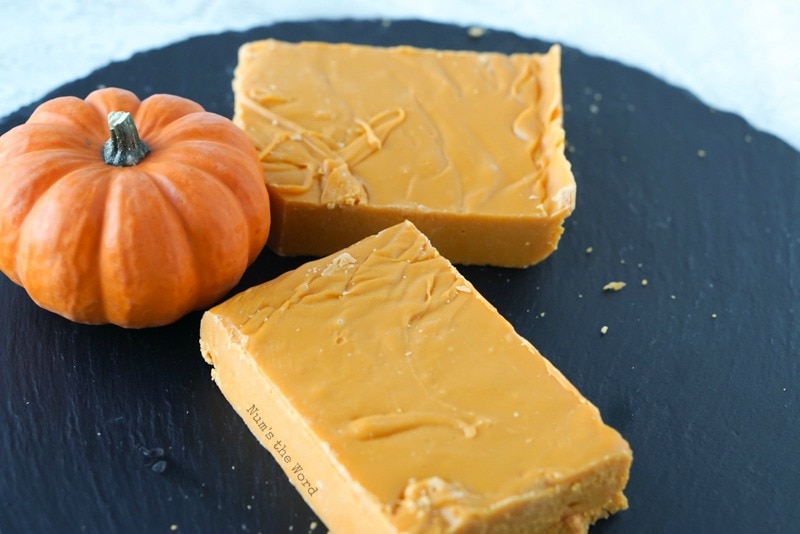 I've got to tell you that this Pumpkin Fudge does not disappoint!
Luckily, whipping it up was a breeze because I could use pumpkin spice flavored marshmallows AND pumpkin spice chocolate chips!
Because of this, I didn't have to change my original recipe much and the results were fantastic.
Now if you've not tried my See's Copycat Fudge Recipe, and don't want to hear what I think of it, how about I tell you what others said about it?
I've been asked for the recipe by just about everyone who has tried it.  I'd say that by itself is a pretty good compliment.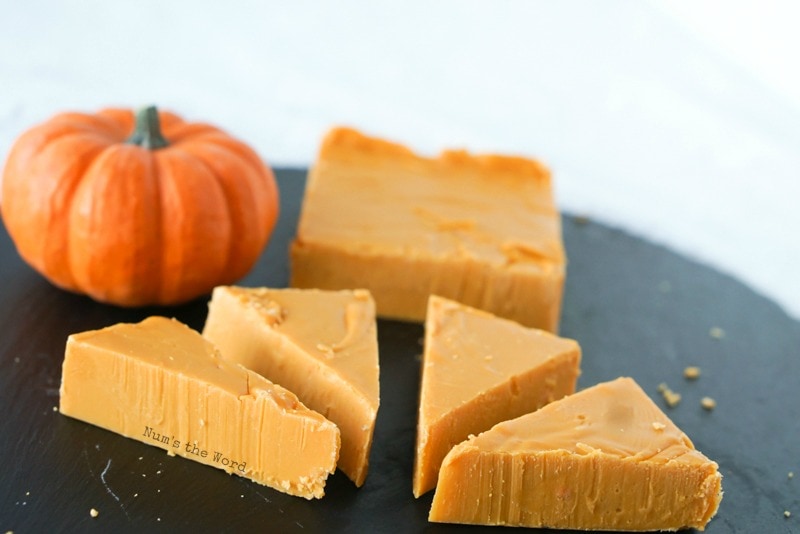 I've been told that it's better than "Mom's" Fudge recipe (not my mom) which the individual didn't think was possible.
How about that the fudge was melt in your mouth creamy and they couldn't stop eating it.
Ok that last one could be seen as both a positive and negative.
Yes you want melt in your mouth creamy fudge.
No, you do not want to have it be so good you can't stop eating it.
Ok, you do, but at the same time, you don't.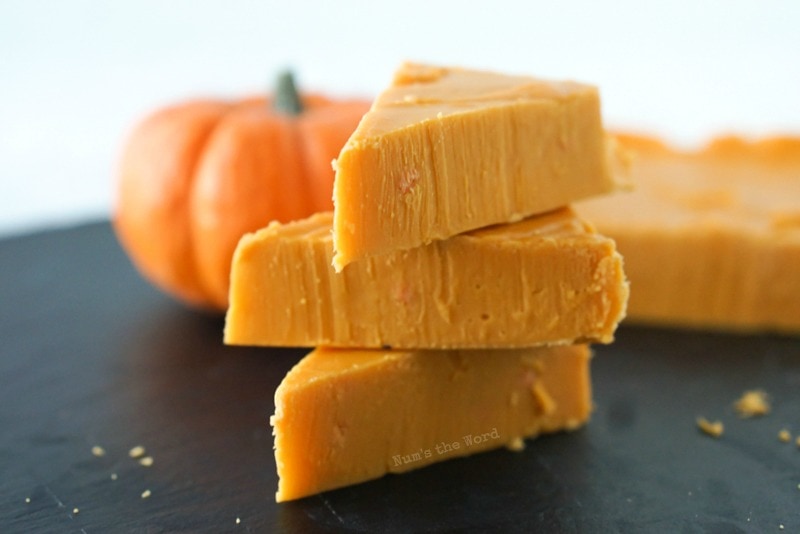 These reactions are by real people and when many of them tried this Pumpkin Fudge, they were just as excited.
I especially loved that those who don't care for pumpkin anything, actually liked this fudge.
And of course, those who love pumpkin everything, LOVED this fudge.
You'll also love this fudge because it's so easy and quick to make!
This Pumpkin Fudge works great as gifts for neighbors, friends, teachers and even the mail person.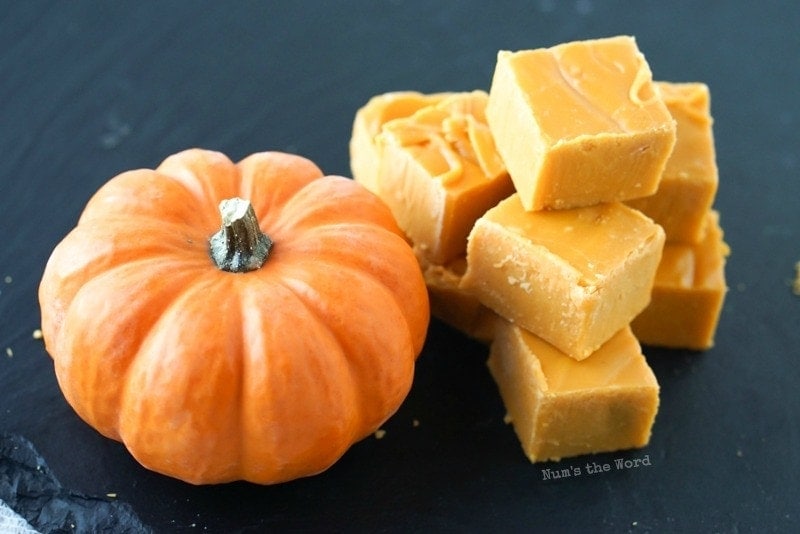 It's gluten free so no need to worry about whether or not your child's teacher has a gluten intolerance!
And everyone loves homemade treats because it's hard for some to find the time to make them themselves.
I hope you love Autumn as much as we do and especially hope you love this easy Pumpkin Fudge as much as my family did!
Ingredients
6 Tablespoons Salted Butter
1 teaspoon Vanilla
1 cup Pumpkin Spice Chocolate Chips
2 cups Sugar
1 (5 ounce) can Evaporated Milk
20 Pumpkin Spice Marshmallows
Instructions
Line a 8x8 baking dish with parchment paper or non stick foil, making sure to cover edges. Set aside.
In a large bowl add butter, vanilla and chocolate chips, set aside.
Put sugar, milk and marshmallows in a heavy 6 quart sauce pan.
Over medium heat, bring mixture to a boil and boil for 5 minutes, whisking continuously.
Pour mixture over chocolate.
Using a spatula, mix together until butter and chocolate is melted and mixture is well blended.
Pour fudge into prepared dish.
Allow fudge to set for 1 hour or until it is hard and no longer soft. This will depend on where you live. You can place it in the fridge to speed up the process.
Remove from pan and slice up.
Store extras in an air tight container.
https://numstheword.com/pumpkin-fudge/
Other Pumpkin Recipes You'll Love…