Rolo Turtle Bites – Nothing beats these 10 minute Simple Homemade Turtles. Sweet, Salty, Gooey – they have it all and are irresistible!
This post contains affiliate links.  If you click on an affiliate link and make a purchase, I will make a small percentage on your purchase, which helps keep this website running! Thank you!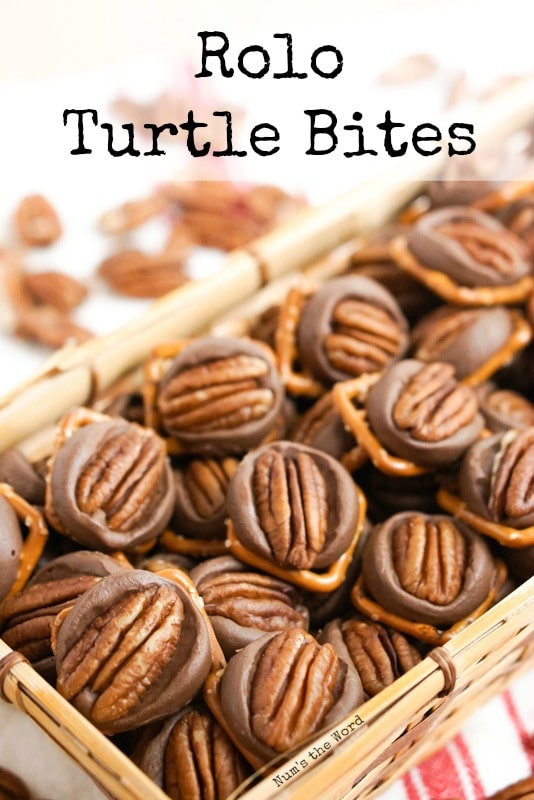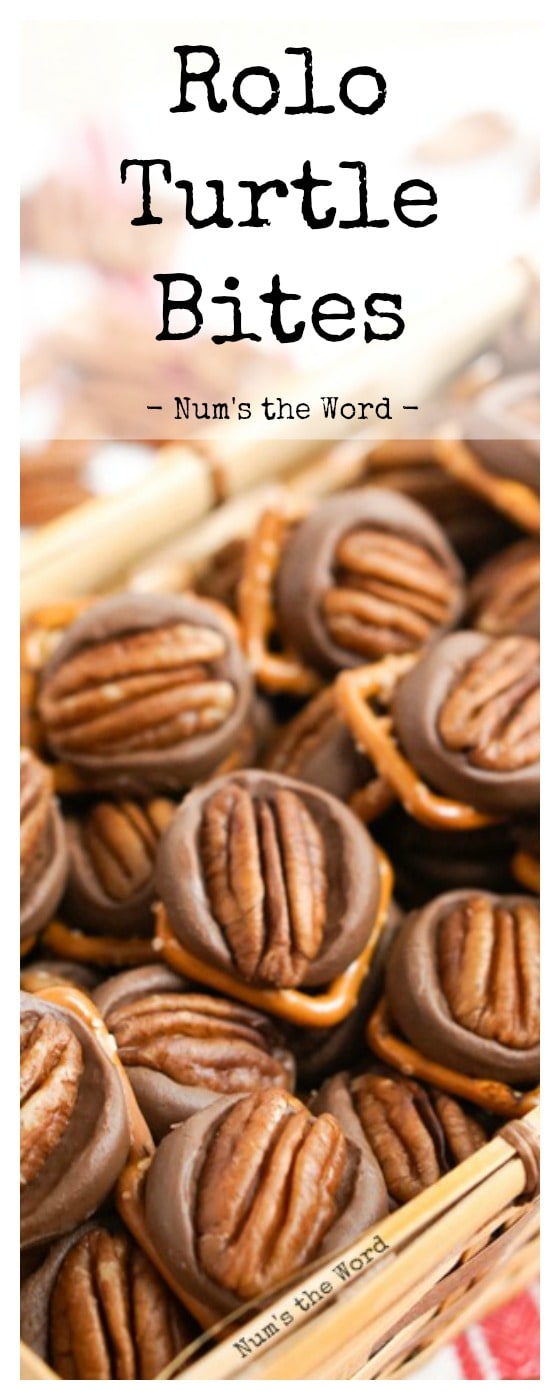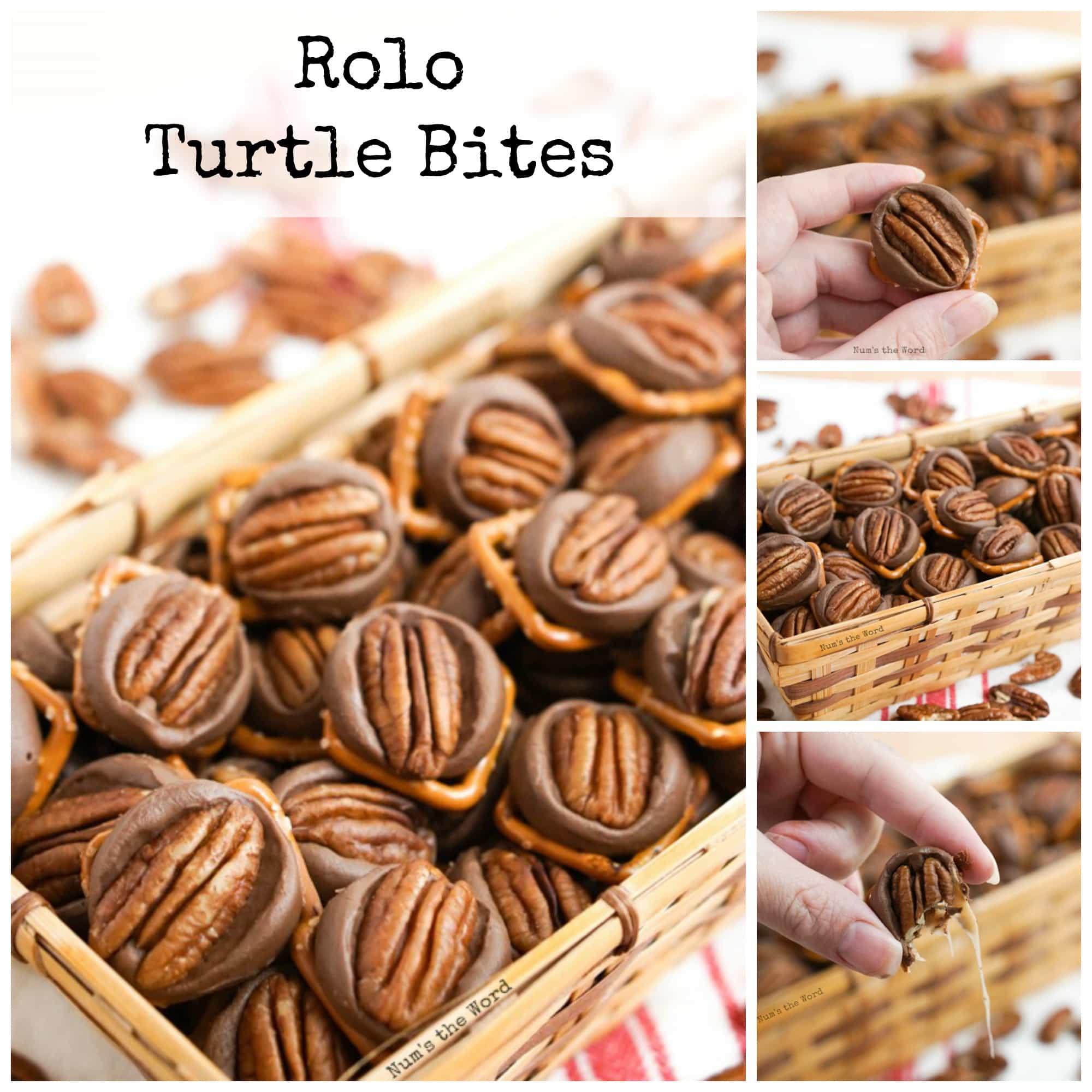 Do you ever find yourself in need of a quick homemade treat to take to a friend, teacher or neighbor?
Do you ever find yourself in need of a quick tasty treat yourself?
I sure do!  That's why I love these Simple Homemade Turtles.
I find that these Simple Homemade Turtles are so easy to create!
My kids, as helpers, have become EXPERT rolo unwrappers.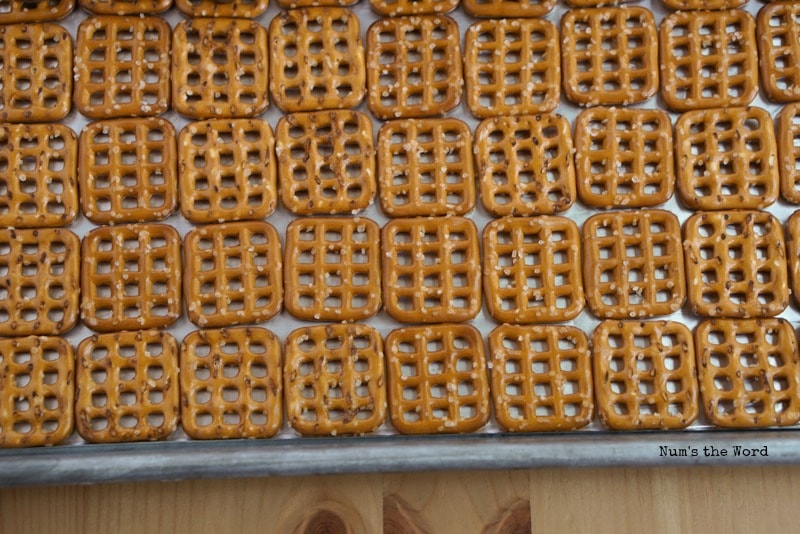 As their reward we always have to taste test at least one Rolo to make sure it tastes right.
Once my kids peel the rolo's, these Simple Homemade Turtles really only take 10 minutes to make from start to finish.
And if we are going to be honest with ourselves, you're going to want to make a double batch.
You'll want to take one batch to your friends, neighbors or co-workers.
The second batch of these Simple Homemade Turltes will somehow disappear as soon as the pecan is squished onto the Rolo.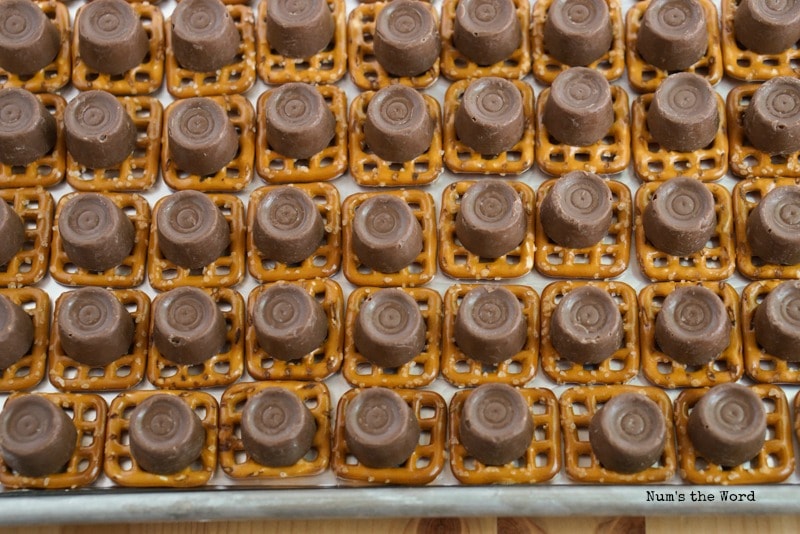 I'm not sure really how it happens.  One minute you have a pan full of these gooey bites and the next, the entire pan of treats is missing!
Good luck resisting the urge to snack on these right out of the oven!
I certainly don't have that kind of willpower!
You'll have more will power than me or my kids!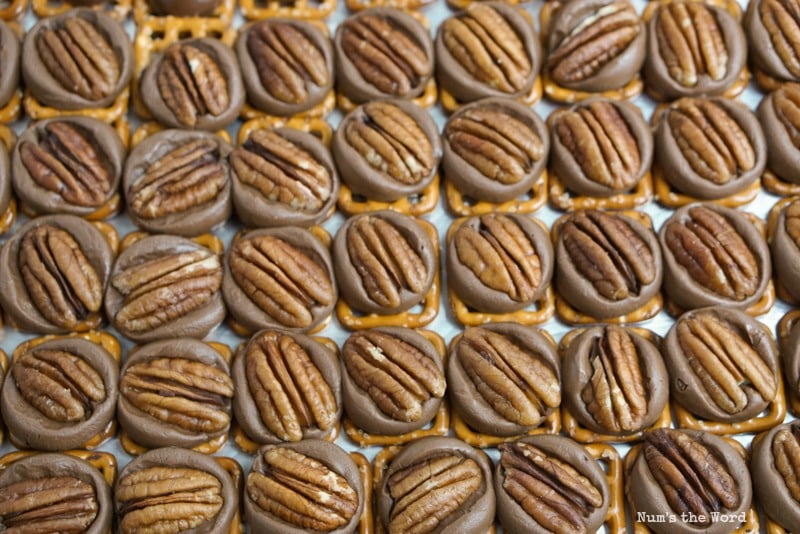 You'll start with one – just to see that it tastes ok (wink, wink).
Then another because the results were inconclusive.
You'll have to really watch yourself at this point.
10 of these candies will be gone from the pan before they have even had time to set.
Then once they are set, as you are filling the goody bag or basket, a few more might vanish before your very eyes.
And that is just YOU.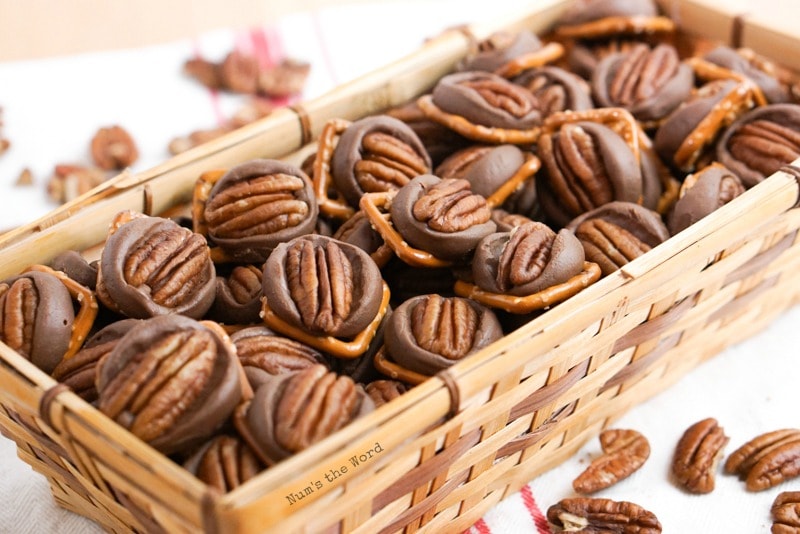 Add a spouse or a child into the equation and you might just need to make a triple batch.
If you've never tried these, then you really should.
And if you have tried them, then you know how addicting they are.
One family relative is obsessed with these Simple Homemade Turtles and requests a batch every year for Christmas.
Now you'd think she would just make them herself.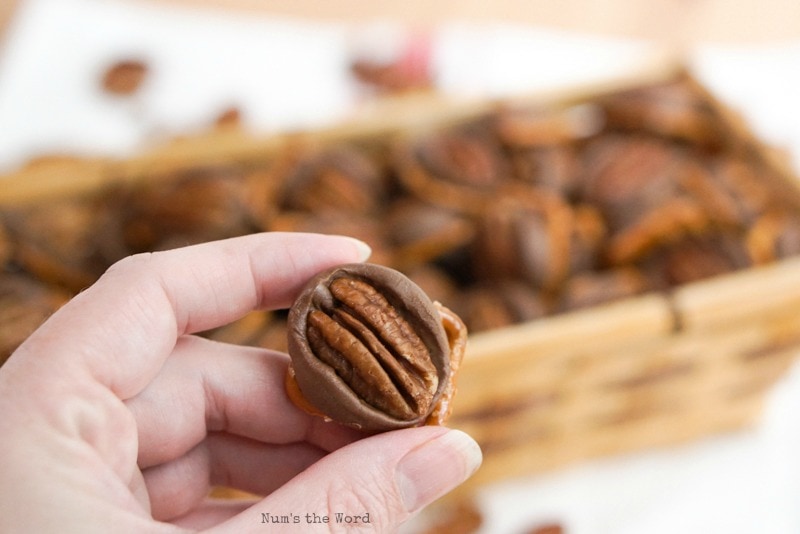 However, she like the rest of us, have zero self control and prefer for someone to give them to her as a gift in a portion control sized tin.
This is one of our favorite goodies to put in a Christmas cookie basket or in a Thank you gift for all the many teachers and helpers my daughter has at her school.
If you've never had these Simple Homemade Turtles, then you are truly missing out.
Ingredients
1 Bag of Butter Snap Pretzel Squares
1 Bag of Rolos, unwrapped
1 Small Bag of Whole Pecans
Instructions
Preheat oven to 200* F
While oven is heating, spread pretzels out on a jelly roll cookie sheet (one with edges).
Place one unwrapped Rolo in the center of each pretzel.
Put pan into oven and bake for 3 minutes.
Remove from oven and immediately squish pecan onto rolo.
Pop into fridge for quick chill OR allow to sit out until cool and dry.
Resist the urge to eat them all!
https://numstheword.com/simple-homemade-turtles/
Other Caramel Treats You'll Love…
Originally published: March 26, 2014
Photos updated: September 11, 2017