Welcome to the wonderful world of Instant Pot cooking where today we're exploring the delicious Instant Pot Tuscan Chicken.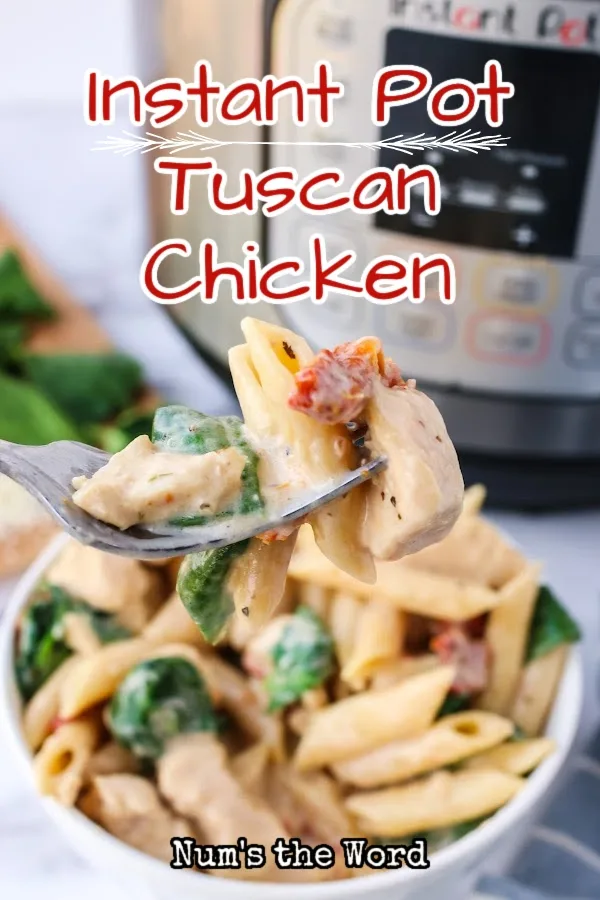 With just simple ingredients, this recipe transforms everyday chicken into a rich, creamy, and flavor-packed dish that screams comfort.
The luscious sauce clinging to tender chunks of chicken and perfectly cooked penne noodles will transport you straight to the heart of Tuscany with every bite.
Instant Pot Tuscan Chicken is easy to prepare, making it perfect for busy weeknight dinners.
The flavor combination of sun-dried tomatoes, Italian seasoning, and Parmesan cheese is undeniably delicious.
The creamy sauce is perfect for serving over pasta, making the dish a complete meal in itself.
With the Instant Pot doing most of the work, this recipe is almost hands-off.
This recipe provides a perfect way to use boneless, skinless chicken breasts, elevating them to a whole new level of yumminess.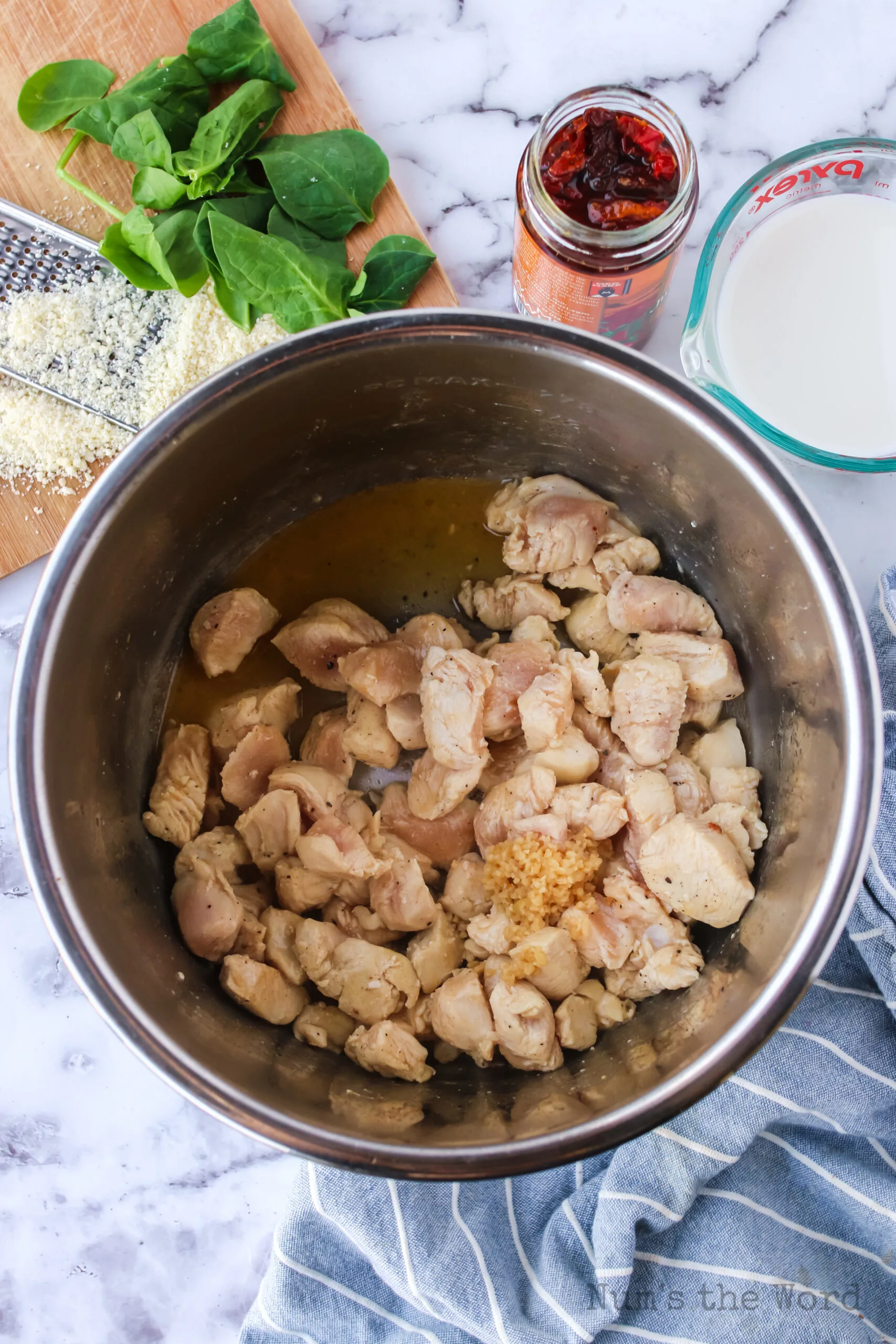 What are the Ingredients for Instant Pot Tuscan Chicken?
Here's the complete list of ingredients you'll need to make this Tuscan chicken instant pot pasta recipe:
Sun Dried Tomato Oil and Butter: These give the chicken a rich, hearty flavor.
Chicken Breast: This is the main protein of the dish, cut into smaller pieces for quick and even cooking.
Seasonings: Salt, black pepper, and Italian seasoning add depth and flavor.
Garlic: This aromatic is a staple in Italian cuisine, providing a pungent kick.
Chicken Broth: This creates the liquid base needed for pressure cooking.
Penne Noodles: These are cooked directly in the pot, absorbing the flavors of the dish.
Sun Dried Tomatoes: These provide a tangy, umami flavor.
Heavy Whipping Cream and Parmesan Cheese: These create the rich, creamy sauce.
Baby Spinach Leaves: These add a pop of color and some extra nutrition.
Pro Tips:
You'll get the tomato oil from a jar of sundried tomatoes.
I like to use fresh spinach, though you can use frozen if desired, just remember to thaw and drain first.
I recommend boneless chicken breasts. They're easy to cut and taste good.
For some extra spice you can also add chili flakes! Spicy and delicious!
Pick high quality chicken stock. It adds a lot of flavor.
How to Make Instant Pot Tuscan Chicken
Instant pot Tuscan chicken pasta is sure to be a hit with the whole family!
Here's how to make it:
Sauté the chicken in sun dried tomato oil and butter using the saute function of the Instant Pot.
Add garlic, seasonings, and chicken broth.
Add the penne noodles on top and pressure cook.
After quick releasing the pressure, stir in the sun dried tomatoes, heavy cream, Parmesan cheese, and spinach.
Let sit for a few minutes to thicken the creamy garlic sauce and then serve.
Pro tip:
Be sure to cut the chicken into even-sized pieces to ensure even cooking.
Remember to deglaze the bottom of the pot before pressure cooking to avoid the burn notice.
Remember to do a quick release! A natural pressure release will overcook the noodles.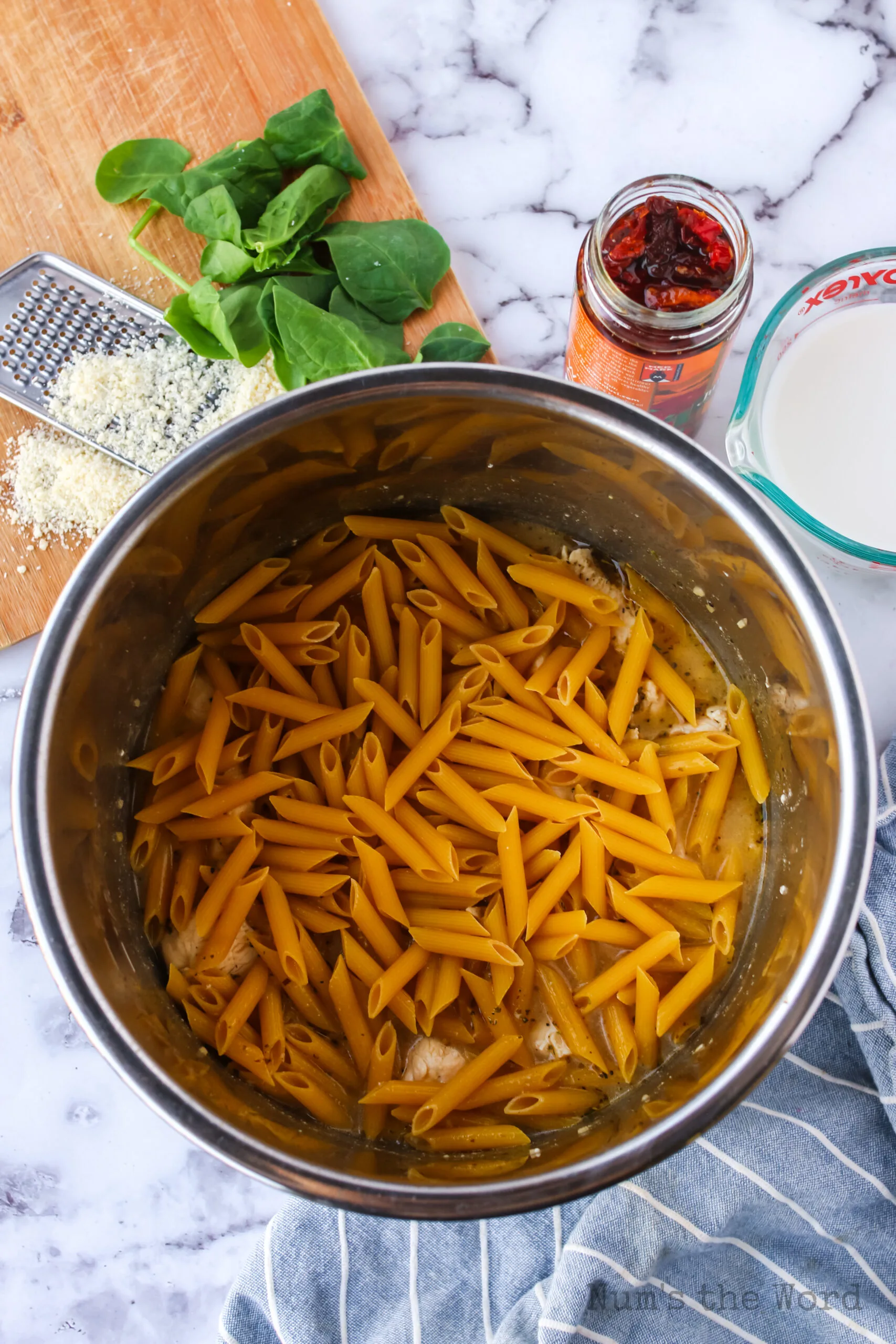 What is Instant Pot Tuscan Chicken?
This delicious recipe is brought to you straight from the heart of Tuscany!
Instant Pot Tuscan Chicken is a creamy, flavorful dish made with simple ingredients like boneless chicken, sun-dried tomatoes, Parmesan cheese, and baby spinach.
Cooked under high pressure in the Instant Pot, it's a delicious meal that comes together quickly and effortlessly.
Can I Use Frozen Chicken for Instant Pot Tuscan Chicken?
Yes, you can use frozen chicken for this Instant Pot Creamy Tuscan Chicken recipe.
However, it's important to note that you will need to increase the cooking time to be sure the chicken is fully cooked.
Also, frozen chicken will release more liquid, which may dilute the flavors of the sauce.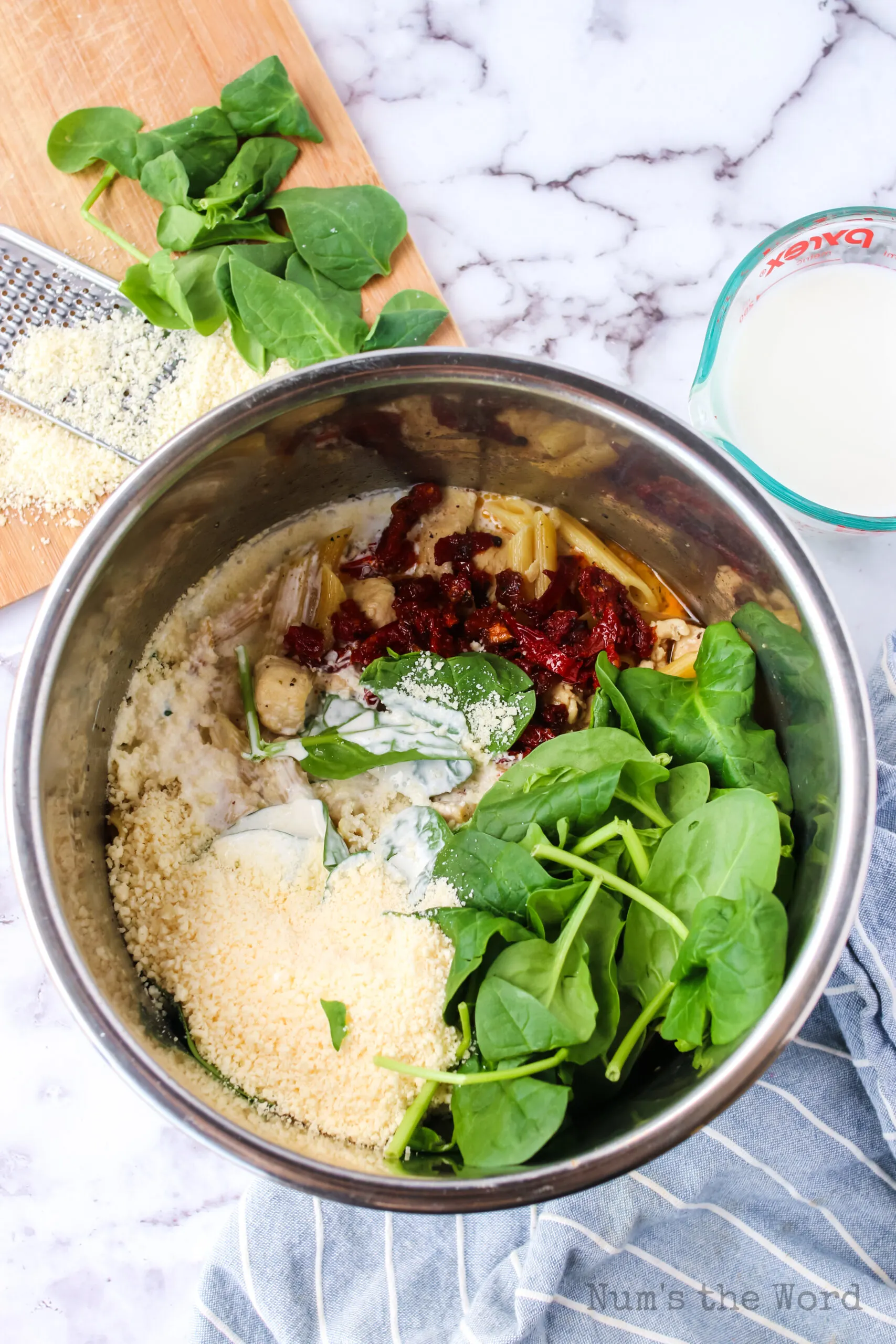 How Long Does It Take to Cook Instant Pot Tuscan Chicken?
The actual pressure cooking time for Instant Pot Tuscan Chicken is just 8 minutes.
However, keep in mind that the Instant Pot will need about 7-8 minutes to come to pressure before the cooking time starts.
Including the sautéing and pressure release steps, the entire cooking cycle will take around 30 minutes.
How to Thicken Instant Pot Tuscan Chicken Sauce?
There's no need to thicken the sauce! It'll thicken on its own!
After the pressure cooking cycle, adding the heavy cream, Parmesan cheese, and allowing the dish to sit for a few minutes will naturally thicken the sauce.
As it cools, it will continue to thicken, creating a luscious, creamy sauce perfect for coating the chicken and pasta.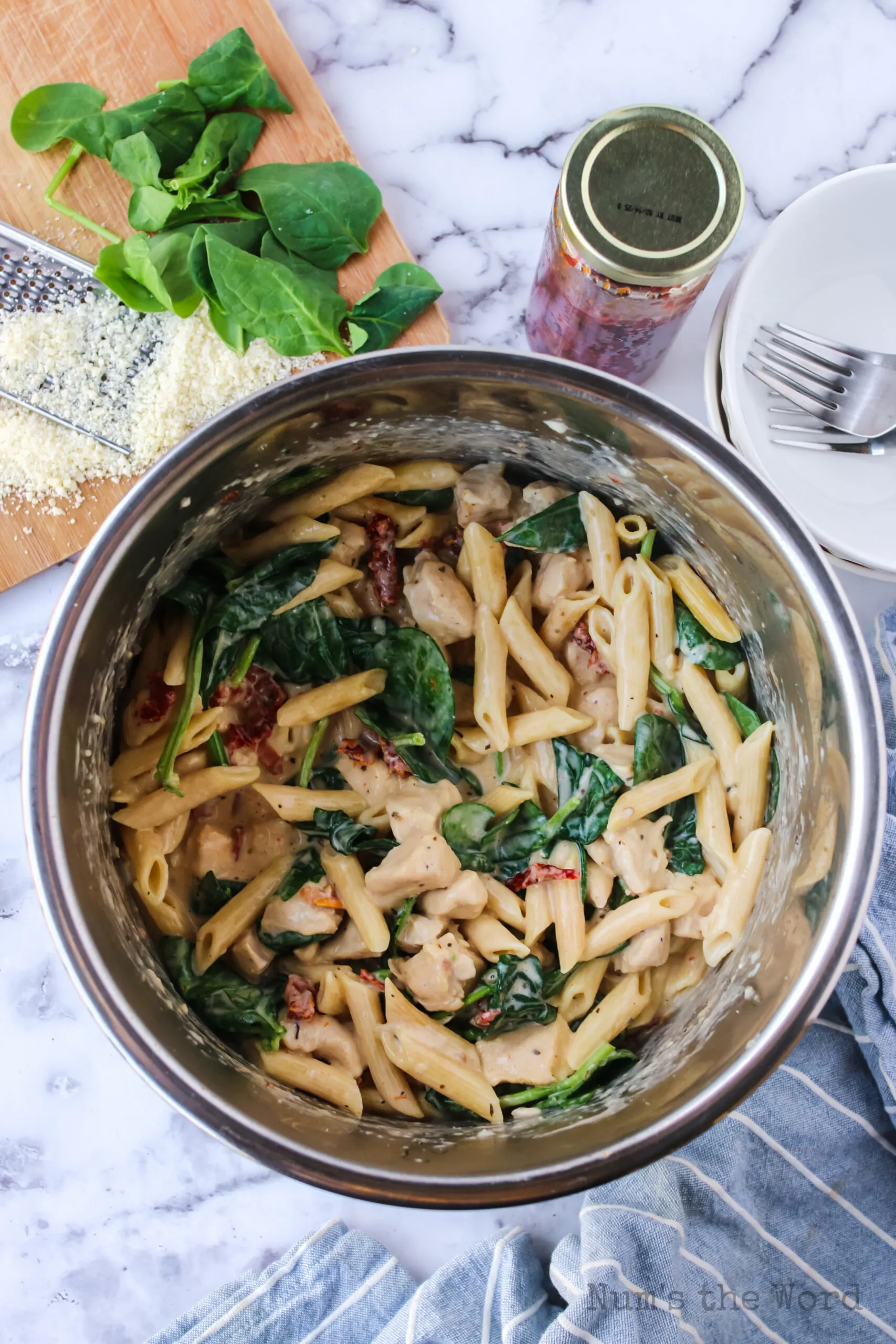 What to Serve with Instant Pot Tuscan Chicken?
Instant Pot Tuscan Chicken is a complete meal on its own, but it pairs well with a simple side salad or some roasted vegetables.
Here are some of my favorite recipes to get you going:
How to Store Instant Pot Tuscan Chicken Leftovers?
Instant Pot Tuscan Chicken leftovers can be stored in an airtight container in the refrigerator for up to 3 days.
The flavors meld together over time, making the leftovers just as delicious, if not more so, than the freshly made dish.
They can even be the best part about your meal prep! Easy to make, quick, and tastes great days later!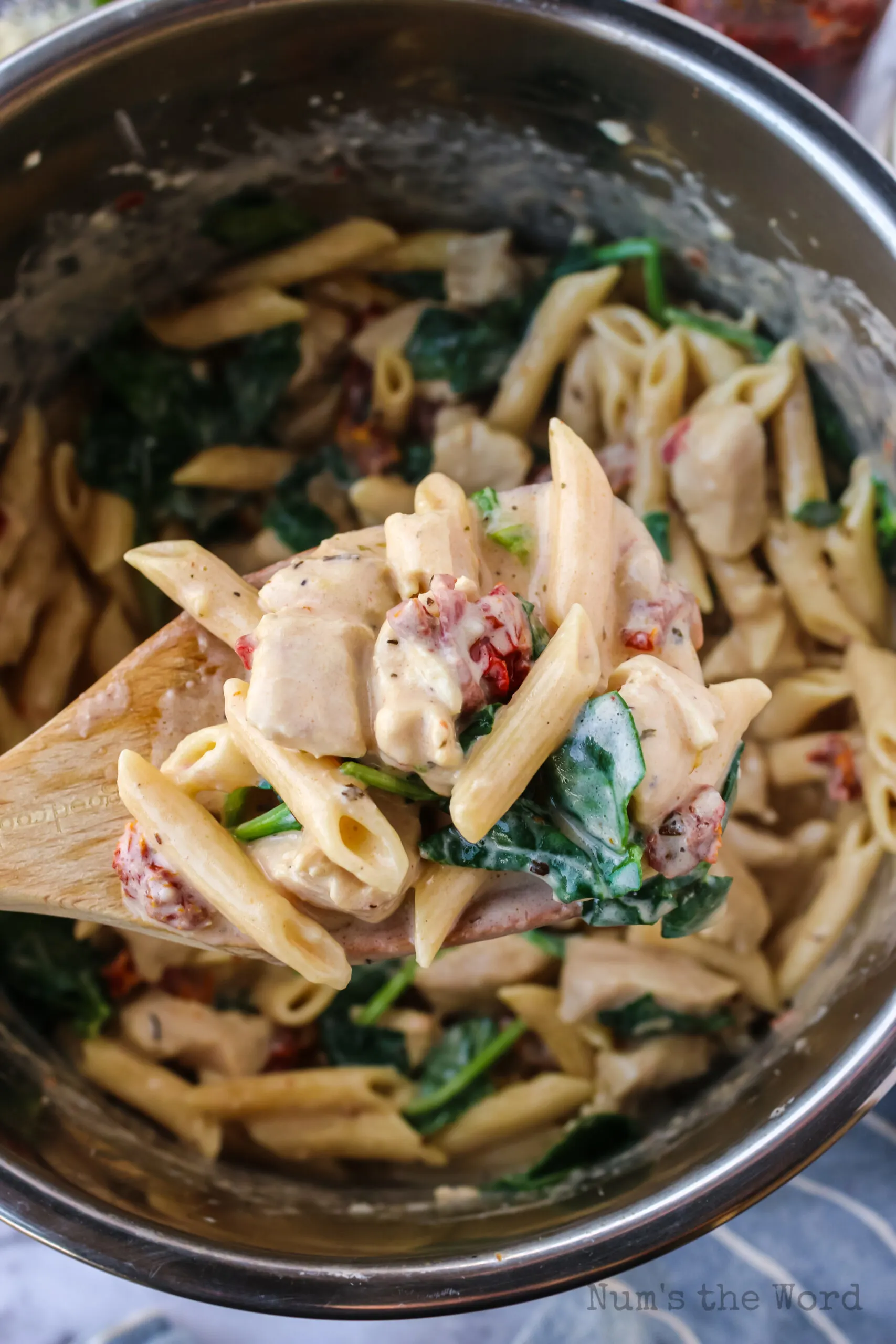 Can I Freeze Instant Pot Tuscan Chicken?
Yes, this creamy chicken freezes well.
Just allow it to cool completely, then transfer it to freezer-safe containers or heavy-duty freezer bags.
It can be frozen for up to 3 months.
How to Reheat Instant Pot Tuscan Chicken?
You can reheat Tuscan chicken pasta instant pot in the microwave, stirring occasionally, until heated through.
If frozen, it's a good idea to let it thaw overnight in the refrigerator before reheating.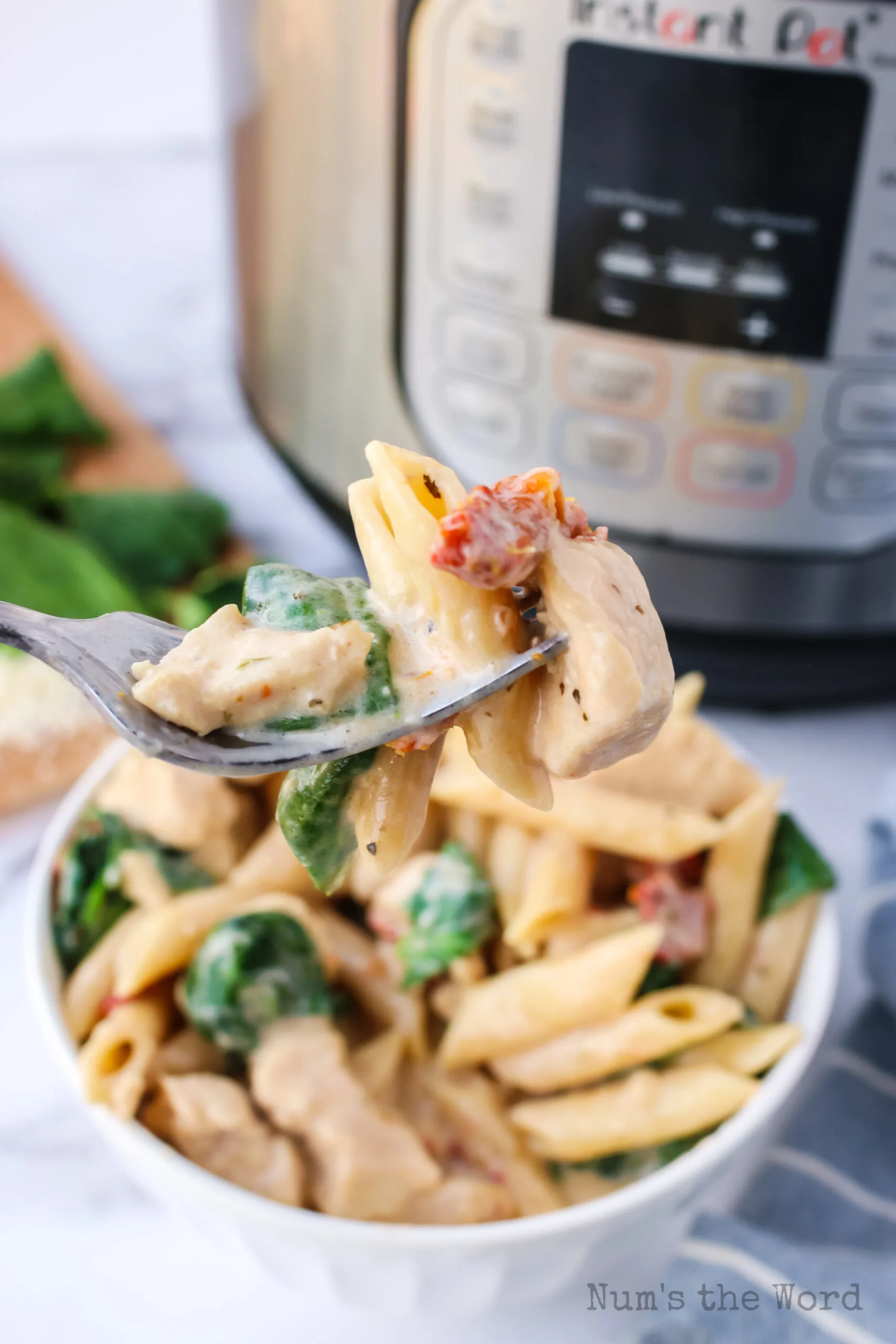 Instant Pot Tuscan Chicken is a recipe that's sure to become a family favorite, providing restaurant-quality flavor from the comfort of your own kitchen.
Yield: 6 Servings
Instant Pot Tuscan Chicken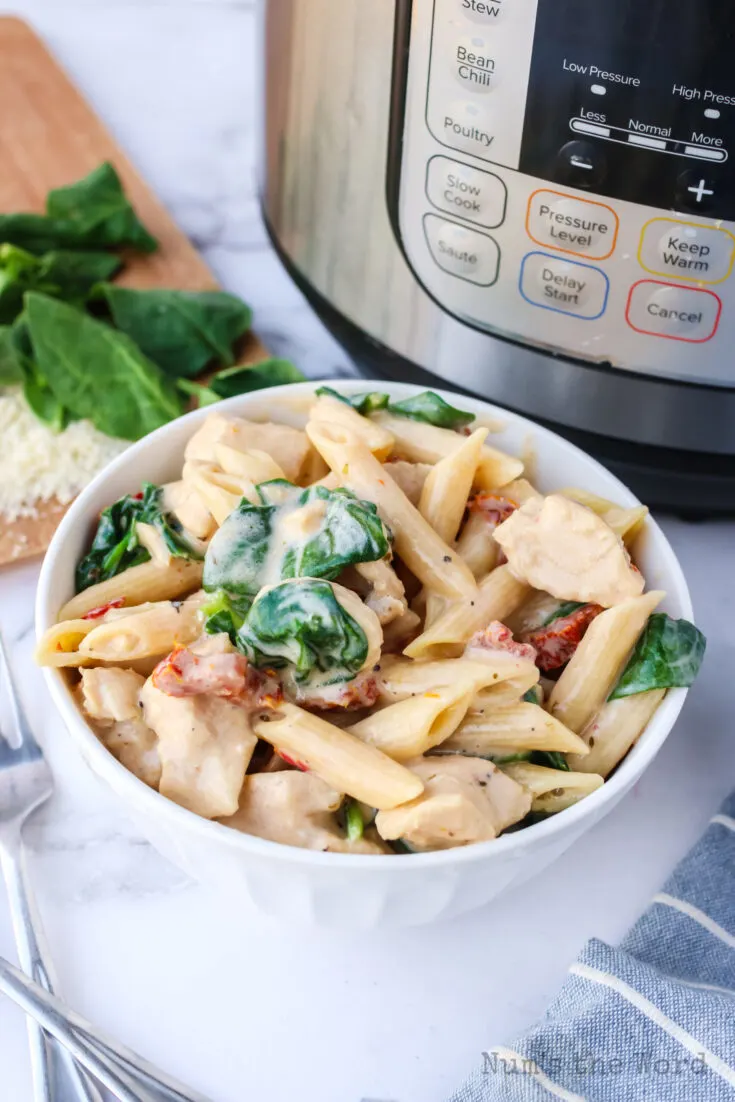 Learn how to make mouth-watering Instant Pot Tuscan Chicken – a creamy, flavorful dish that's ready in no time, perfect for any day of the week!
Additional Time
15 minutes
Ingredients
1 Tablespoon Sun dried tomato oil (found in jar of sun dried tomatoes)
3 Tablespoons butter
2 pounds boneless, skinless chicken breast, cut into 1 inch pieces
1/2 teaspoon salt
1/4 teaspoon black pepper
5 cloves garlic, minced
1 1/2 cups chicken broth
1/2 teaspoon Italian seasoning
8 ounces penne noodles
5-6 sun dried tomatoes, diced
1 cup heavy whippin gcream
1 cup parmesan, shredded not powdered
2 cups baby spinach leaves
Instructions
Turn the sauté function on the instant pot.
When the instant pot says hot, add sun dried tomato oil and butter.
Add chicken, then season chicken with ½ teaspoon salt and black pepper. Sauté for 2 minutes, giving each side a quick sear.
Add garlic and cook for 1 more minute.
Add chicken broth, Italian seasoning and ½ teaspoon salt. Mix well.
Add penne noodles on top but do not mix in.
Hit cancel and turn off sauté function.
Close lid and flip venting valve to close.
Cook on high pressure for 8 minutes. Instant Pot will take 7-8 minutes to come to pressure, then will start cooking.
Once the timer goes off, flip the venting valve for a quick release and let the pressure release from the instant pot.
Once the pressure valve drops, open the lid and stir.
Add sun dried tomatoes, heavy whipping cream, parmesan cheese and spinach. Mix well.
Let sit for 5 minutes then serve. Sauce will thicken as it cools.
Nutrition Information:
Yield:
6
Serving Size:
1
Amount Per Serving:
Calories:

464
Total Fat:

18g
Saturated Fat:

8g
Trans Fat:

0g
Unsaturated Fat:

8g
Cholesterol:

155mg
Sodium:

836mg
Carbohydrates:

17g
Fiber:

3g
Sugar:

2g
Protein:

57g