This Easy Greek Salad Recipe is a light and refreshing simple side dish! This traditional greek salad is perfect for a cool salad for a hot summer day!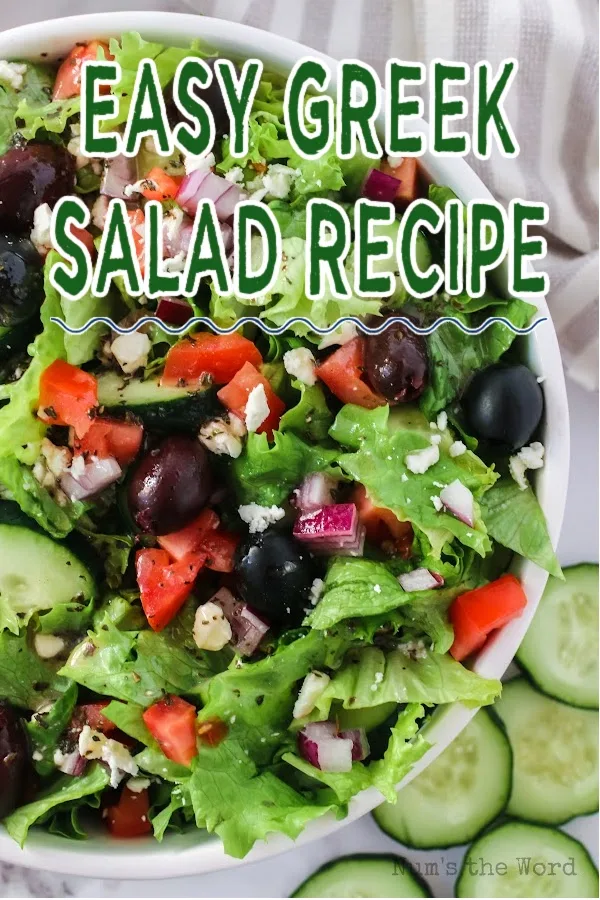 Mmmm… Greek food! They know how to eat simply and it's so lovely! Each bite of delicious greek salad is covered in a yummy vinaigrette that you're going to love!
I love this greek salad with lettuce because it only takes a handful of ingredients to create!
I also love this easy greek salad because it's full of healthy nutrients but still tastes delicious! Looking at you kale chips!
This easy greek salad is quick to make! Which is especially important when I don't want to be in the kitchen all day!
Plus this is probably the Best Greek salad recipe around! A lot of greek salad doesn't have enough substance to it. But this has substance without being too heavy.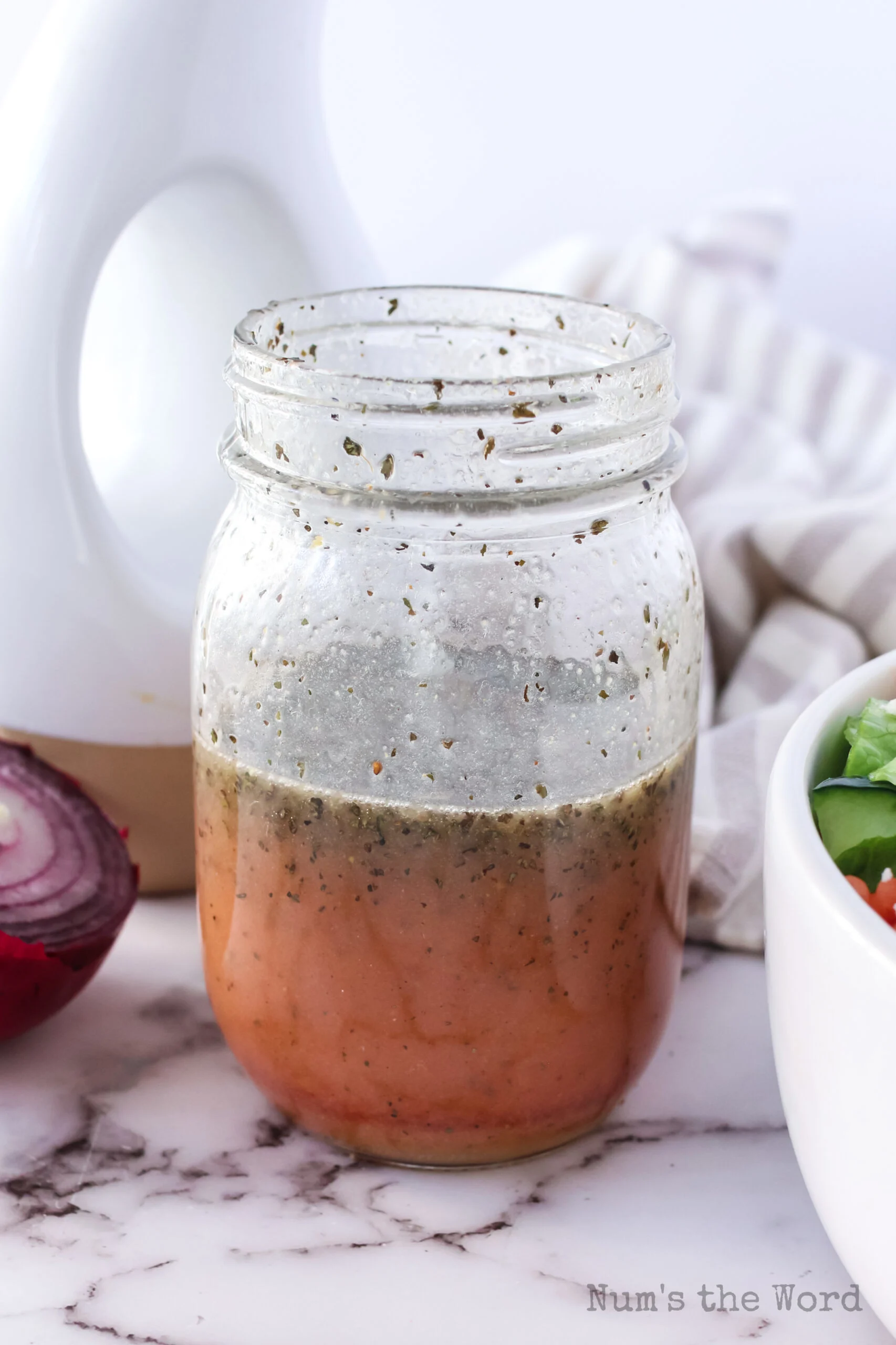 What Ingredients are in Greek Salad?
A few key fresh ingredients make a delicious traditional Greek salad recipe with fresh flavor!
Lettuce: I recommend chopped romaine lettuce.
Cucumber: Chop the crisp cucumbers down to small bites.
Tomatoes: Roma tomatoes are easy to cut down to the right size.
Onion: Red onion is sweeter than other varieties, and since the onion is raw, I recommend red.
Olives: Grab both kalamata and black olives! You'll love the combo of both.
Feta Cheese: Either buy the crumbled feta cheese or crumble it yourself.
Pro Tips:
Some salad ingredients can be easily swapped like grape tomatoes or cherry tomatoes for large chunks of juicy tomatoes.
I personally don't like bell peppers in my Greek recipes but you can try green peppers if desired.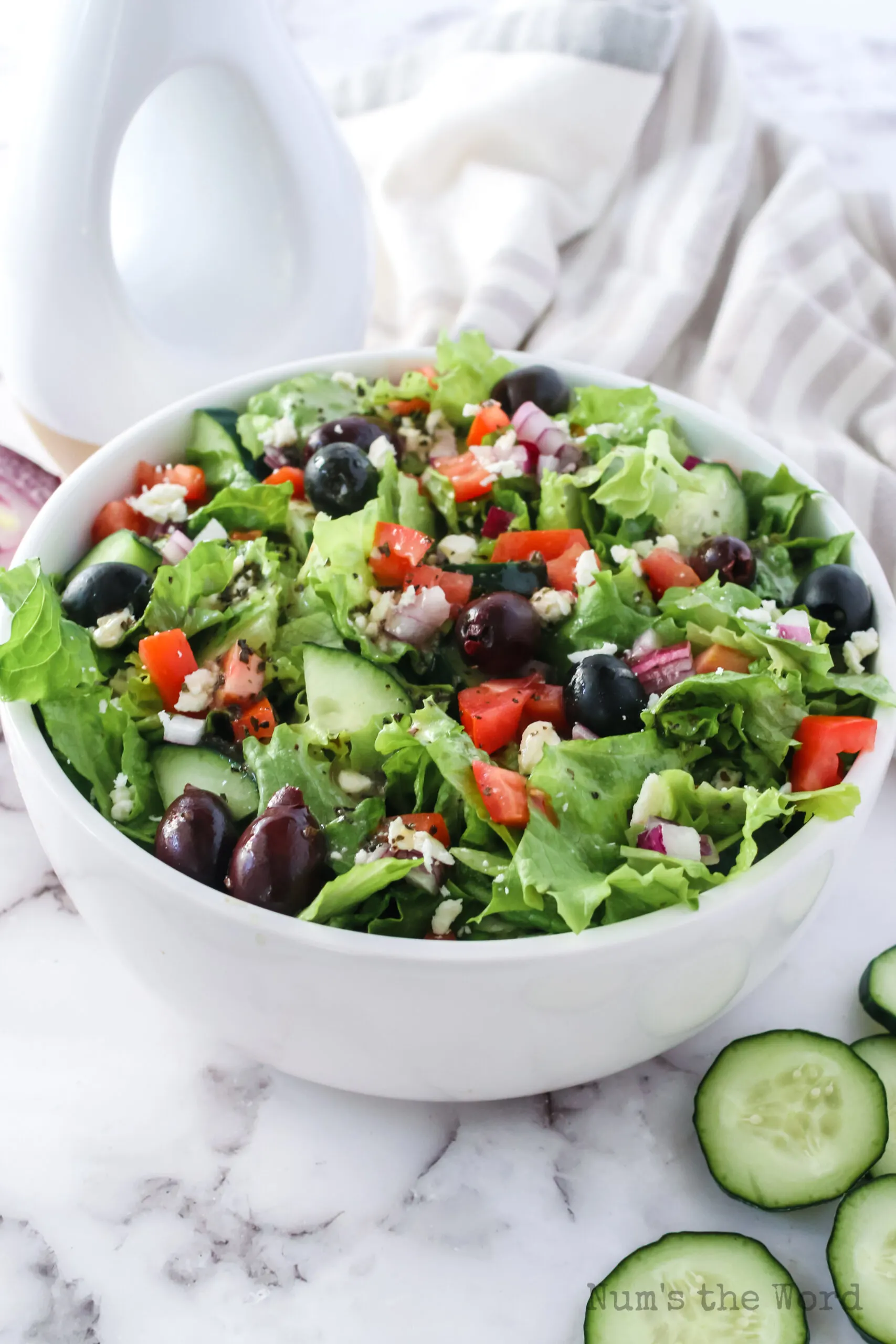 How to Make Greek Salad
Greek salad is easy to make! All you need to do is toss the ingredients together! So simple!
Pro Tips:
Make sure all of your ingredients are bite sized and cut up before tossing.
Use a large bowl so you don't lose ingredients all over the counter.
What Kind of Dressing Goes on a Greek Salad?
Vinaigrette is the way to go with greek salad. Because it's a light salad, you don't want to cover it with a heavy dressing.
The yummiest vinaigrette for greek salad is simple to make using olive oil, vinegar, and some key seasonings.
And let's be honest, homemade salad dressings are way better than store bought!
Here's the simple ingredients you need for homemade Greek salad dressing.
Olive Oil
Red Wine Vinegar
Garlic Powder
Oregano
Basil
Black pepper
Salt
Onion Powder
Mustard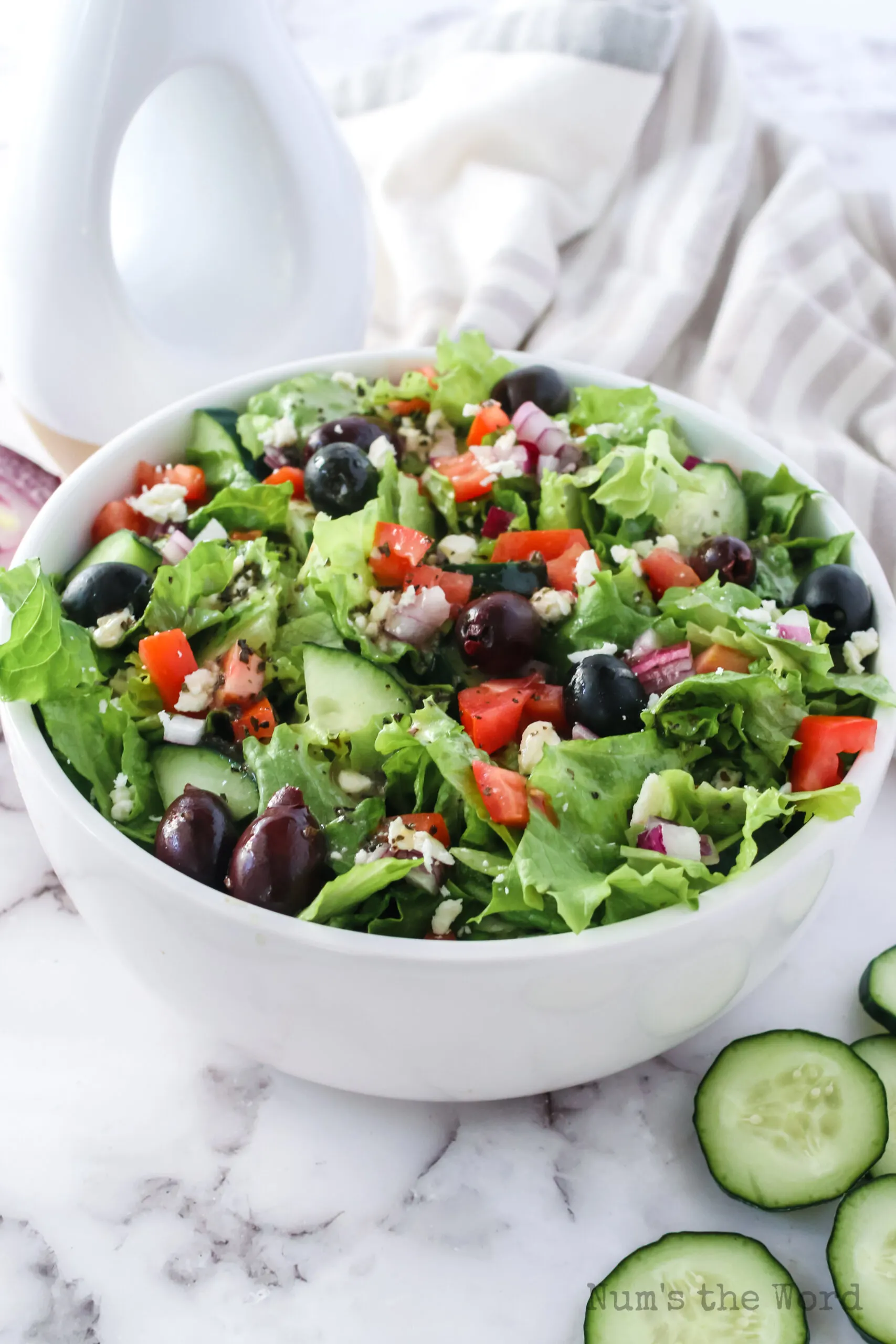 Is Greek Salad Healthy?
Absolutely! Authentic greek salads taste light and healthy and they ARE light and healthy!
Full of vitamins, minerals, and even some protein, it's a great snack, lunch, or side dish.
It's very easy to meet your needed daily values when you eat this simple salad even as a main course!
If you eat summer fruits and vegetables, expect to reap all the healthy rewards of doing so!
What to Serve with Greek Salad
You've got your veggies completely covered in this great salad, so opt for your heavier options when choosing a main dish.
Slow Cooker Roast
Crockpot BBQ Beef Brisket
Slow Cooker Sweet Chile Hot Wings
Flat Bread on the BBQ
Crock Pot Jamaican Jerk Pulled Pork
Caribbean Beef Stew
Kettle Corn Grilled Sweet Potatoes
BBQ Sirloin Tips over Mashed Potatoes
Shrimp and Scallop Boil in Foil Packets
Grilled Pineapple and Chicken Kabobs
Sweet and Spicy Orange Meatballs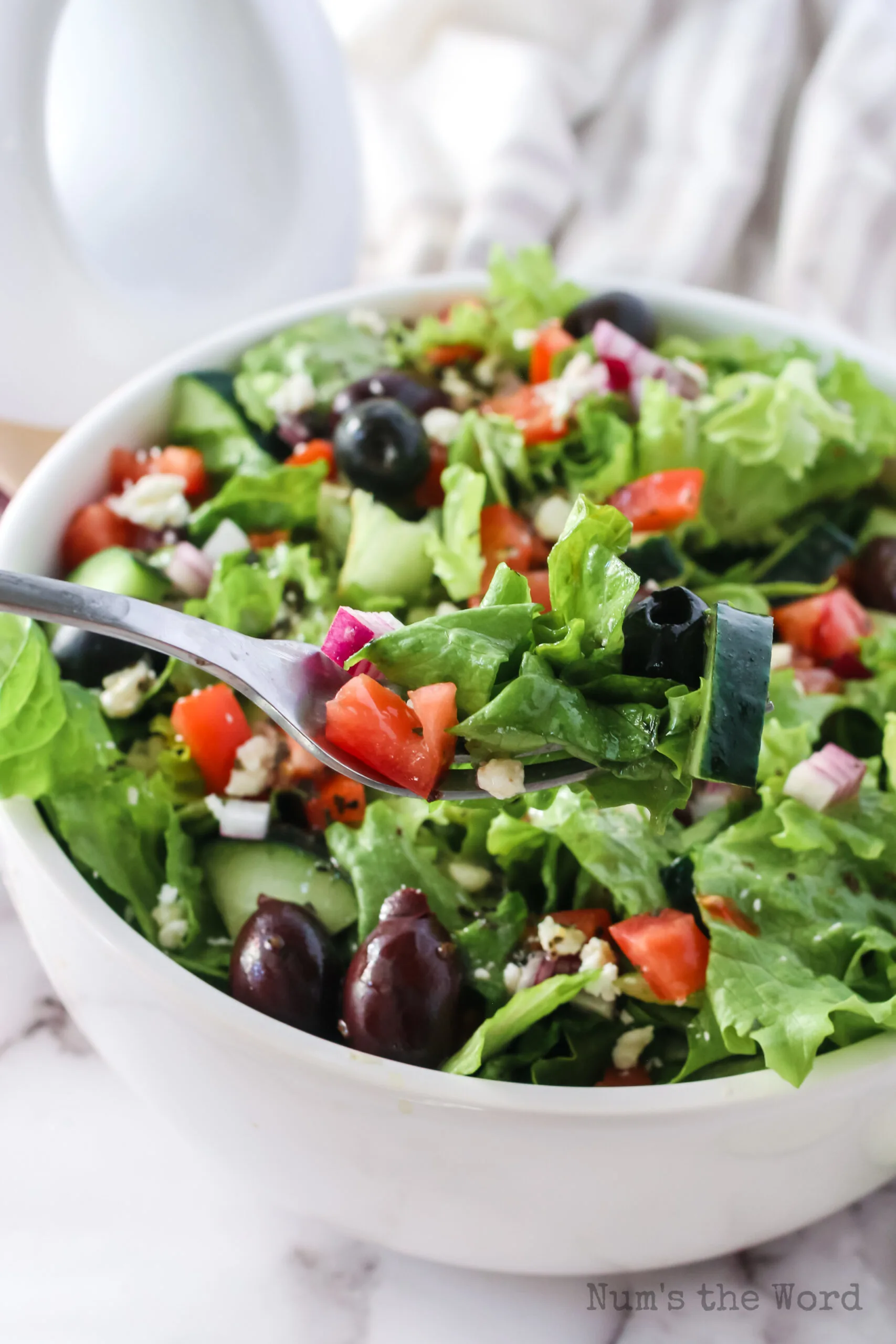 Is Greek Salad Keto?
The main tenant of the keto diet is low carb. And lucky for you, this good greek salad is totally low carb and therefore keto!
To be a true keto meal you'd also want high fat. And you've got some healthy fats in there too with the Greek dressing.
Choose to not go light on the extra-virgin olive oil and you've got your healthy ingredients and healthy fats!
Is Greek Salad Vegetarian?
Yes! Greek salad is completely vegetarian. It contains no meat at all.
It isn't vegan though, since it contains cheese, but you can choose to leave the feta off and make it vegan as well.
Since you won't be eating any grilled chicken on a vegetarian diet, serve instead with pita chips.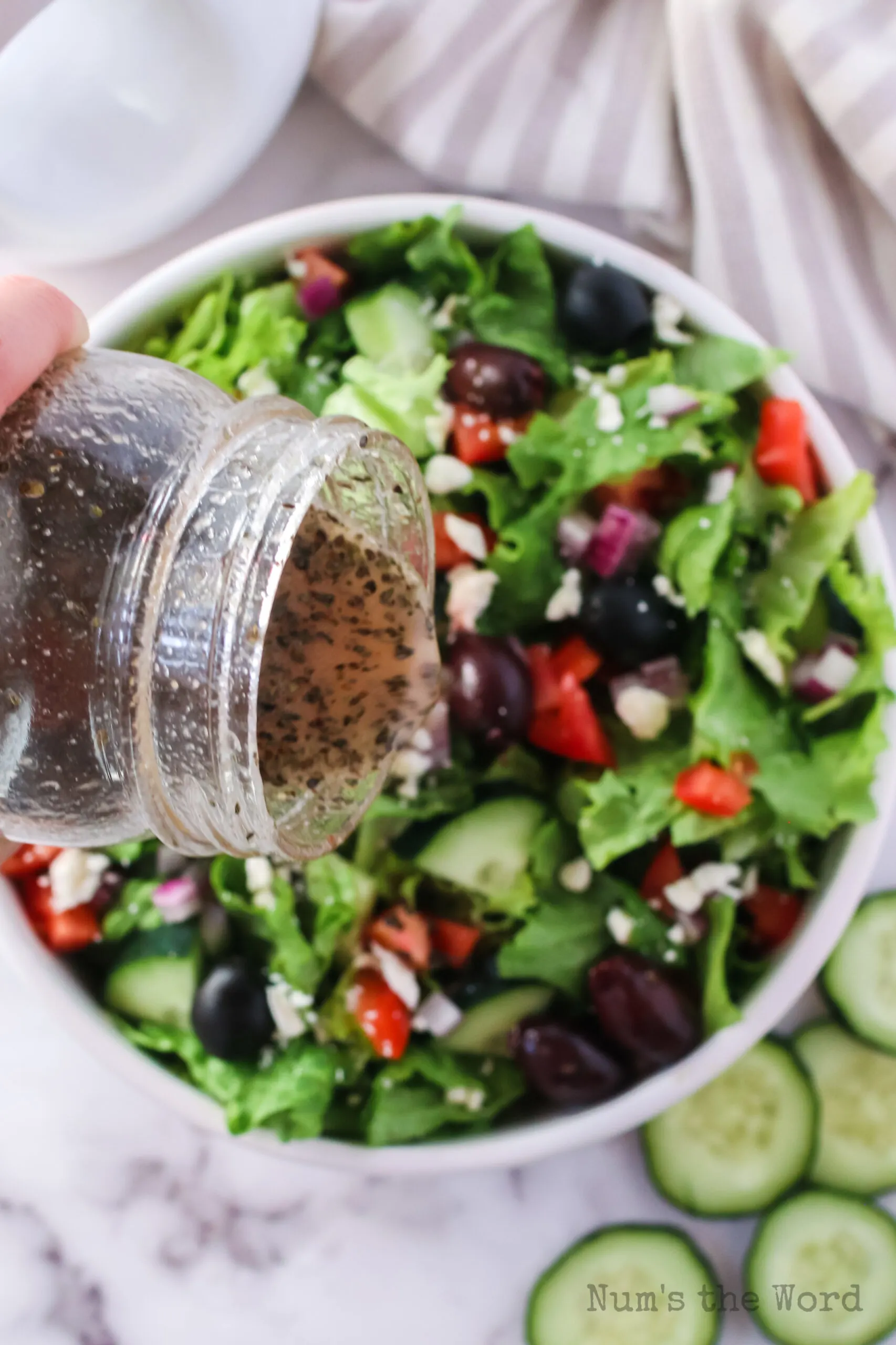 How to Store Leftover Greek Salad
Any leftover greek salad should be stored in the fridge in an airtight container.
The lettuce will wilt pretty quickly so I recommend eating it within a day or two.
Never store the salad on the counter as it will go bad quickly.
What Olives are Used in Greek Salad?
In most greek salads you'll find kalamata olives. And that's probably because they're Greek olives!
Kalamata is a city in southern Greece and it produces olives that are large and dark with a meaty texture.
I've also added the addition off black olives in this salad. I really like the flavor combo with both of them.
It kinda gives you a different flavor with each bite without being totally overwhelming.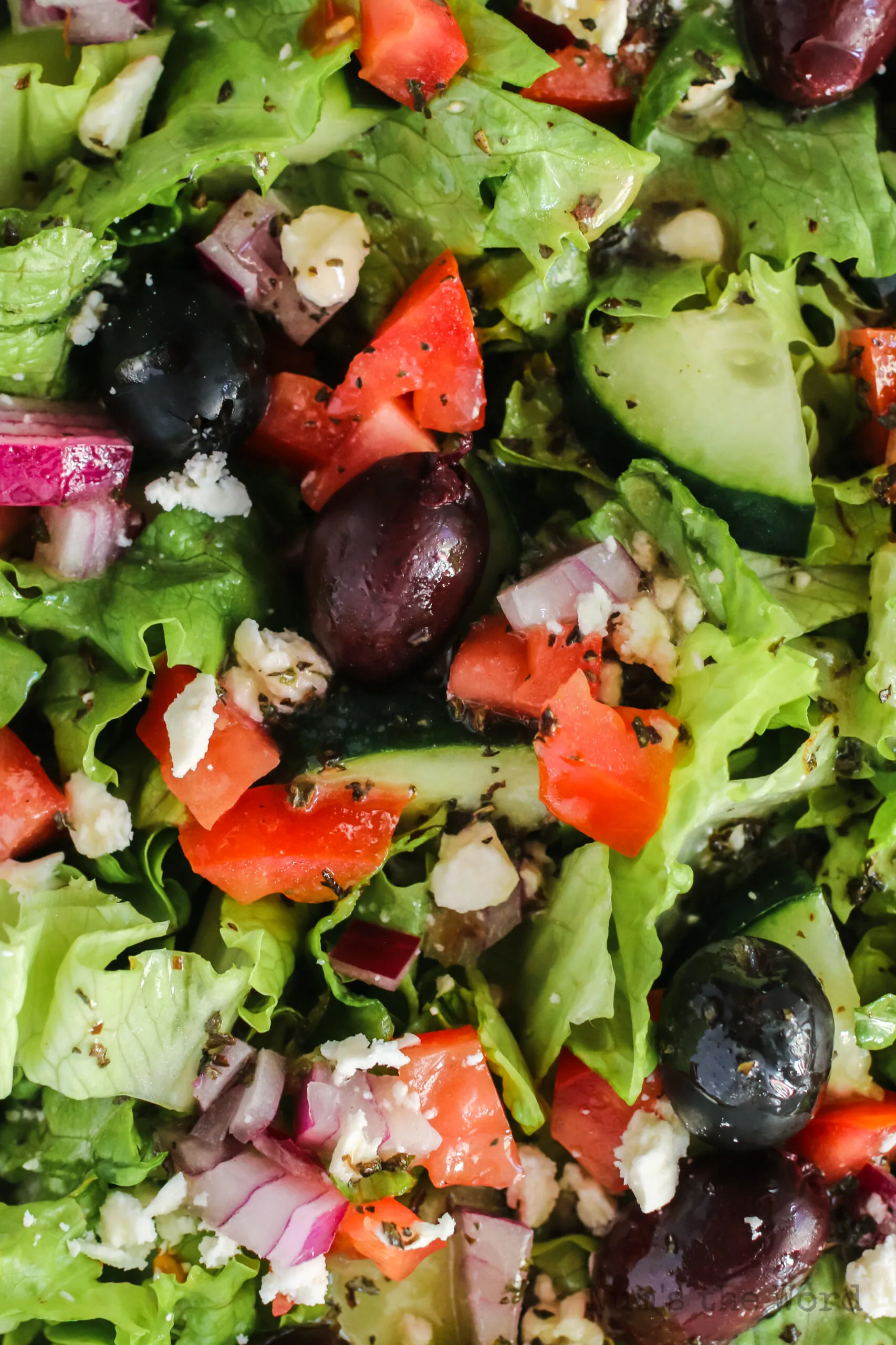 Can I Make Greek Salad in Advance?
Greek salad should not be completely assembled in advance. The vegetables and dressing will quickly wilt the salad and make it less enjoyable.
I recommend not making it more than 3 hours before serving.
If you want to make it any further in advance, choose to chop the vegetables and store them separately.
Then when you're ready, put everything together and you've got a fresh salad ready to go!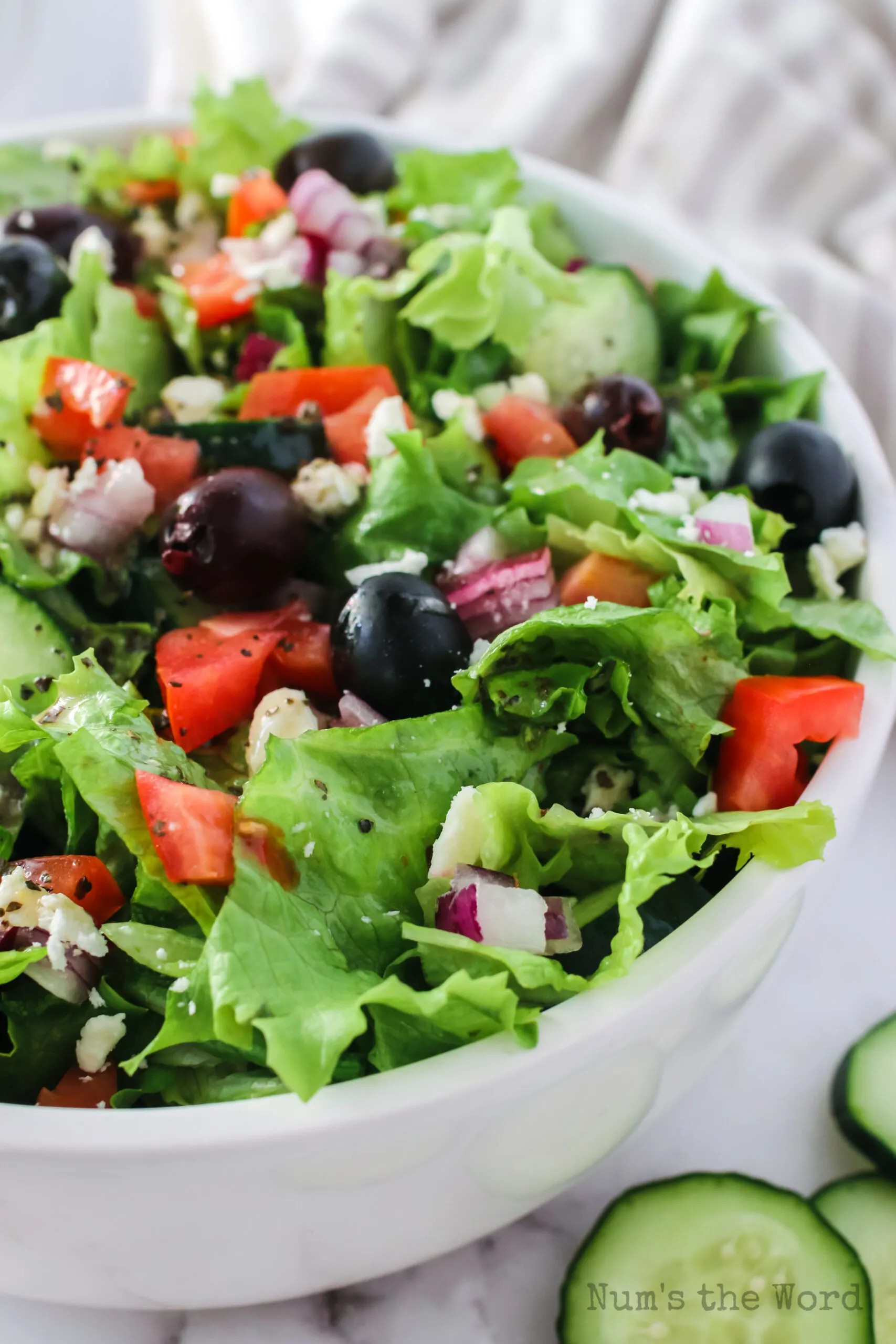 This easy Greek salad recipe is a quick and easy, light and refreshing summer salad. It tastes so delicious and is perfect for picnics, bbqs, and your everyday lunch! Enjoy!
Yield: 5 Servings
Easy Greek Salad Recipe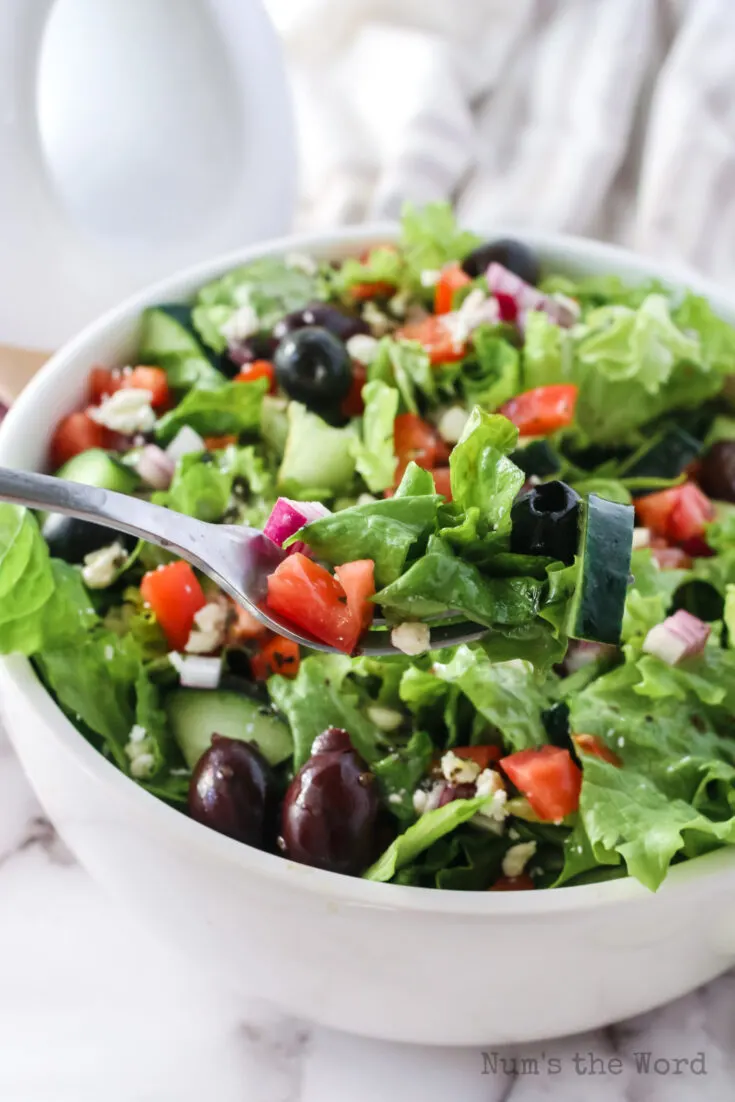 This Easy Greek Salad Recipe is a light and refreshing simple side dish! This traditional greek salad is perfect for a cool salad for a hot summer day!
Ingredients
5 cups romaine lettuce, chopped
1 cucumber, sliced and quartered
2 roma tomatoes, chopped
1/2 red onion, diced
1/2 cup Kalamata olives
1/2 cup black olives
1/4 cup feta cheese, crumbled
1/2 cup olive oil
1 teaspoon garlic powder
1 teaspoon oregano
1 teaspoon basil
1/4 teaspoon black pepper
1 teaspoon salt
1 teaspoon onion powder
1 teaspoon prepared mustard
2/3 cup red wine vinegar
Instructions
In a serving bowl add lettuce, cucumber, tomatoes, red onion, olives and cheese. Mix well.
In a jar with a lid, add all dressing ingredients except for the red wine vinegar.
Add lid and shake well.
Add red wine vinegar to the jar.
Replace lid and shake again until incorporated.
Serve immediately.
Nutrition Information:
Yield:
5
Serving Size:
1
Amount Per Serving:
Calories:

288
Total Fat:

28g
Saturated Fat:

5g
Trans Fat:

0g
Unsaturated Fat:

22g
Cholesterol:

7mg
Sodium:

695mg
Carbohydrates:

8g
Fiber:

3g
Sugar:

3g
Protein:

3g