Baked Potatoes in the Air Fryer have perfectly crispy skins, fluffy insides, and are so easy to whip up! They can be made as an easy side dish or even main dish!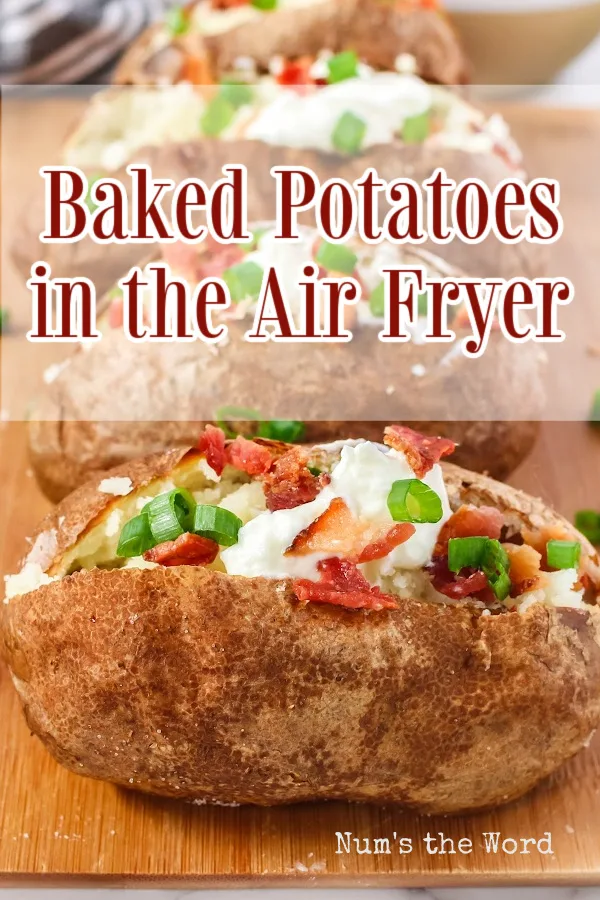 You know the perfect baked potato? The crisp skins, the soft, warm insides, coated with a slather of butter? This is that potato!
I love making a baked potato in air fryer because it takes a fraction of the time as a regular oven.
Plus, you don't have to wait for the oven to heat up. Just toss them in the fryer and let it cook!
Also making baked potatoes in the air fryer doesn't heat up the whole house. And during the summer? You can bet I'm not turning that oven on!
Because you're using an air fryer, baked potatoes are also super energy efficient. Which is easier on the wallet!
And finally, this results in the perfect baked potato! Pressure Cooker Baked Potatoes are wonderful too but sometimes it's really that crispy skin I'm after.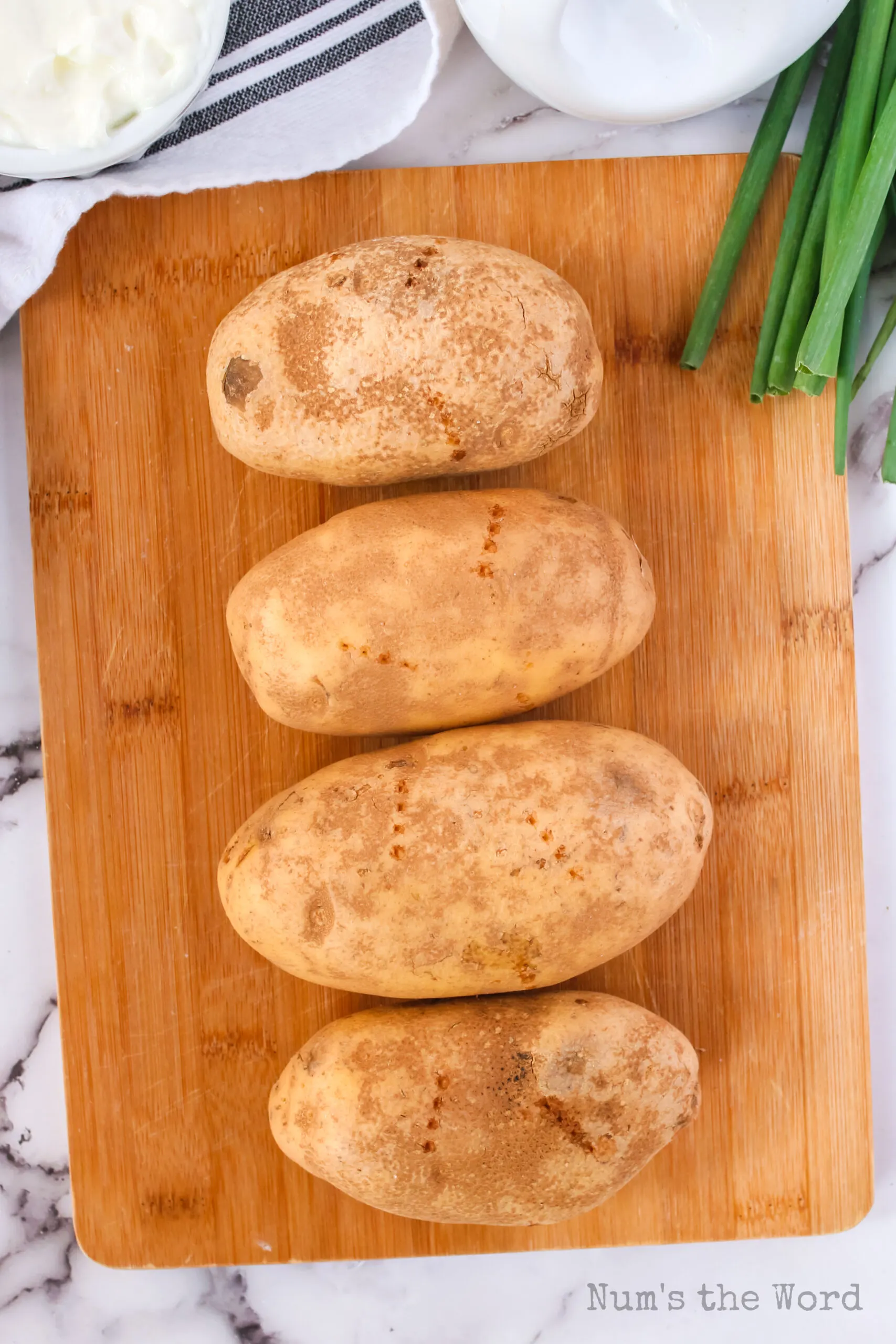 Can You Bake a Potato in An Air Fryer?
Absolutely! And as I said above, there are a ton of benefits to making them in an air fryer too!
Faster cooking time, less energy and heat, and a delicious golden brown potato as a result!
However, you'll want to know that there is a limit to how many potatoes can cook in an air fryer.
If you cram too many potatoes in the air fryer, it won't crisp the skins and it'll take much longer to cook.
If you're baking potatoes for a party and need A LOT of potatoes, then I still recommend Oven Baked Potatoes.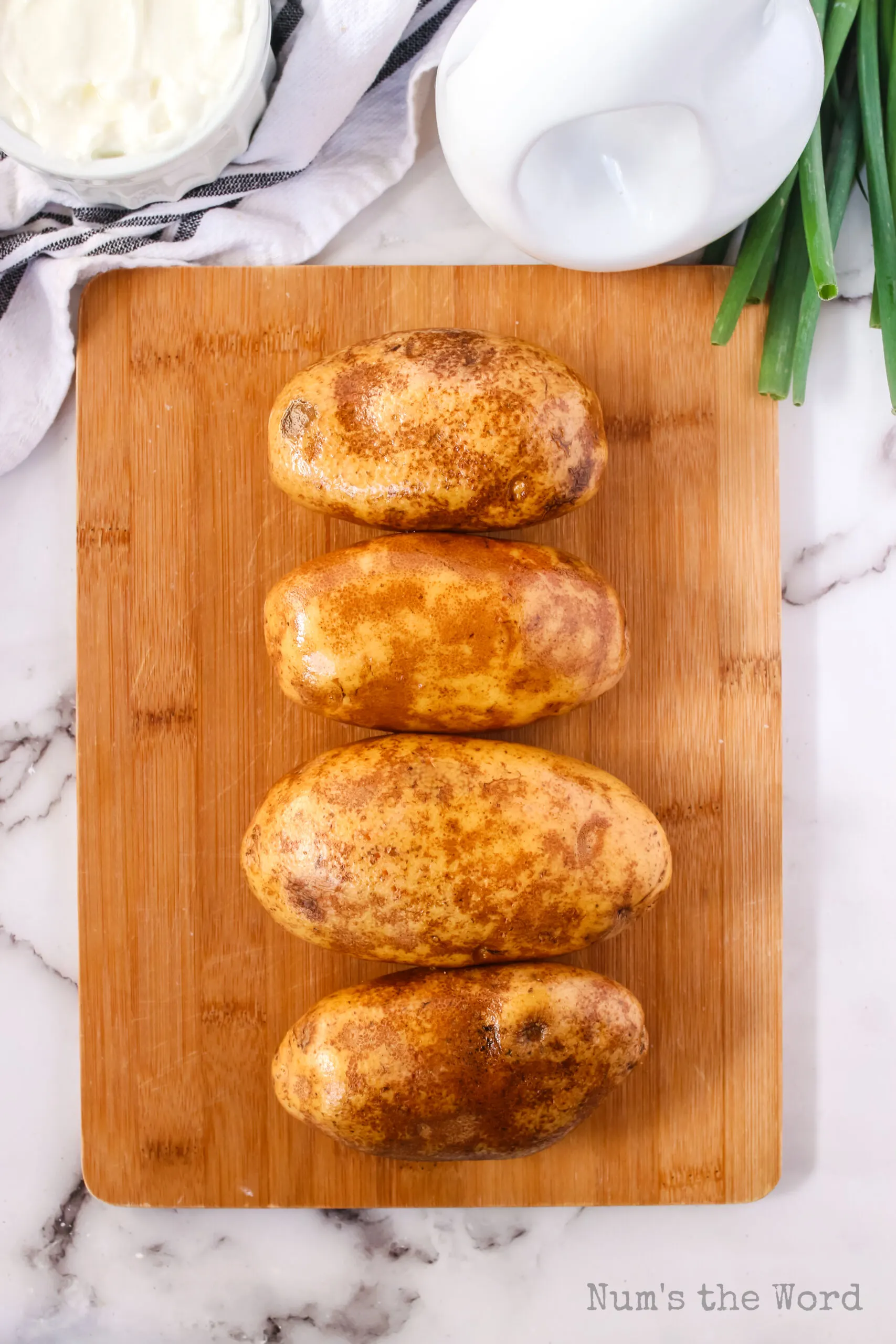 How to Cook Baked Potato in Air Fryer
This easy recipe for air fryer potatoes can be on your table in less time than ever before! Enjoy!
Prep Potatoes: Wash those potatoes! Because yuck! And poke holes with a fork to help them cook well.
Season: Cover each potato lightly with olive oil and sea salt and place potatoes in whichever air fryer model you have.
Bake: Bake until golden brown perfection.
Pro Tips:
Potatoes are done cooking when they can easily be pierced with a knife or fork through the center.
Don't put too many potatoes in the air fryer basket! This can cause some of the potato skins to be soft and not crispy.
Carefully use tongs to flip the potatoes halfway. Don't burn yourself!
You can also use avocado oil or cooking spray in place of olive oil.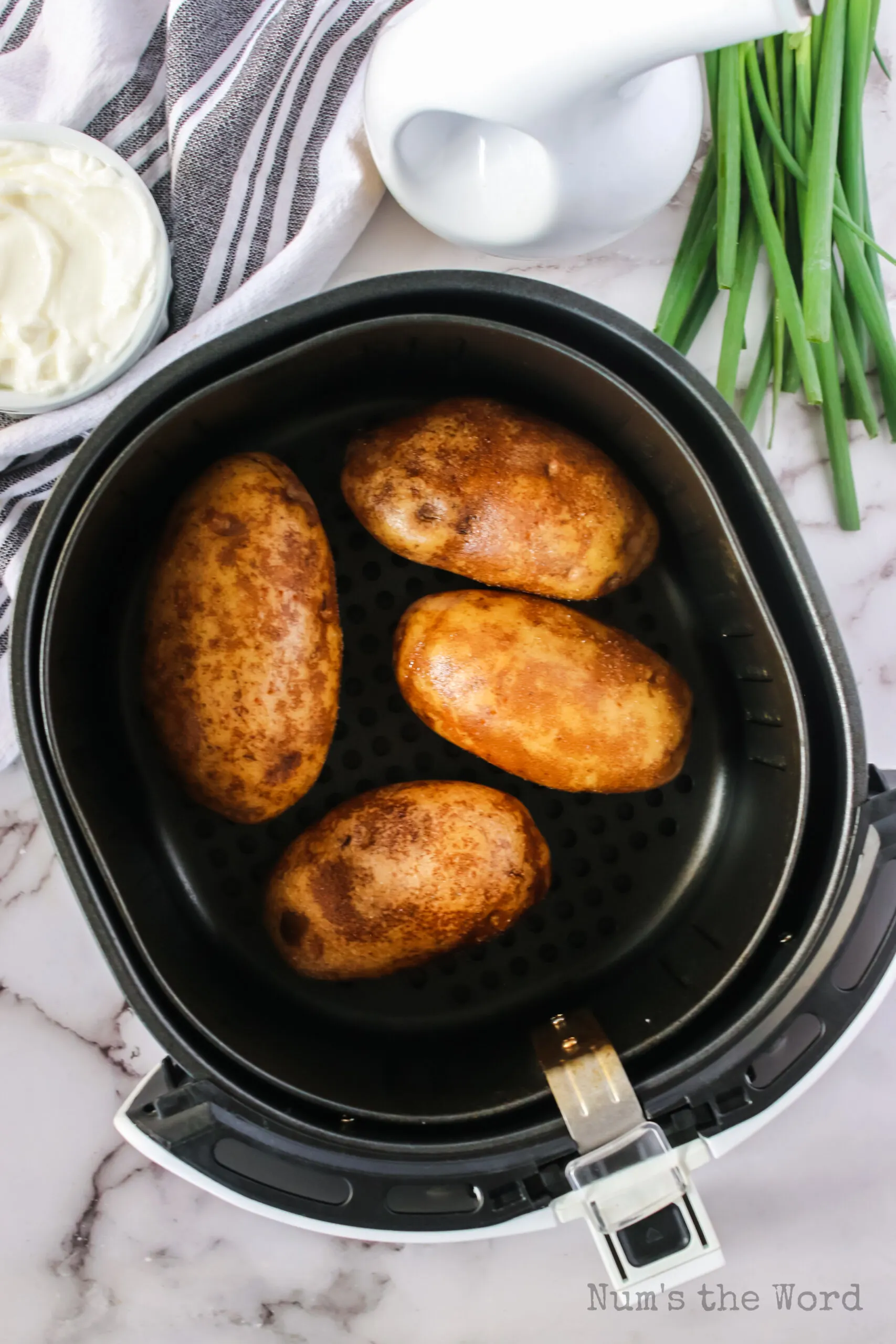 Do I Need to Wrap Potatoes in Foil Before Cooking in an Air Fryer?
Definitely not! Actually, wrapping potatoes in foil is never really a great idea.
The reason people like to wrap baked potatoes is because it helps keep the skins from burning while the insides cook.
However, this can result in soft and soggy skins, which is always a disappointment.
The perfect side dish has perfectly crispy skin!
If the skins are burning and the insides haven't cooked yet, your oven or air fryer is too hot!
400*F is perfect for cooking both the insides and outsides.
The only time I recommend using aluminum foil for baking potatoes is if you're camping and baking them next to the hot coals of your fire.
Then the aluminum foil will keep them clean and help them bake.
Are Baked Potatoes in the Air Fryer Healthy?
Baked potatoes are very healthy. Potatoes are high in vitamins, minerals, and protein.
And if you eat the skin of a baked potato you're also getting a healthy dose of fiber too!
You may find more antioxidants or different vitamins in different potatoes.
But there's absolutely nothing wrong with including baked potatoes in your diet for most people.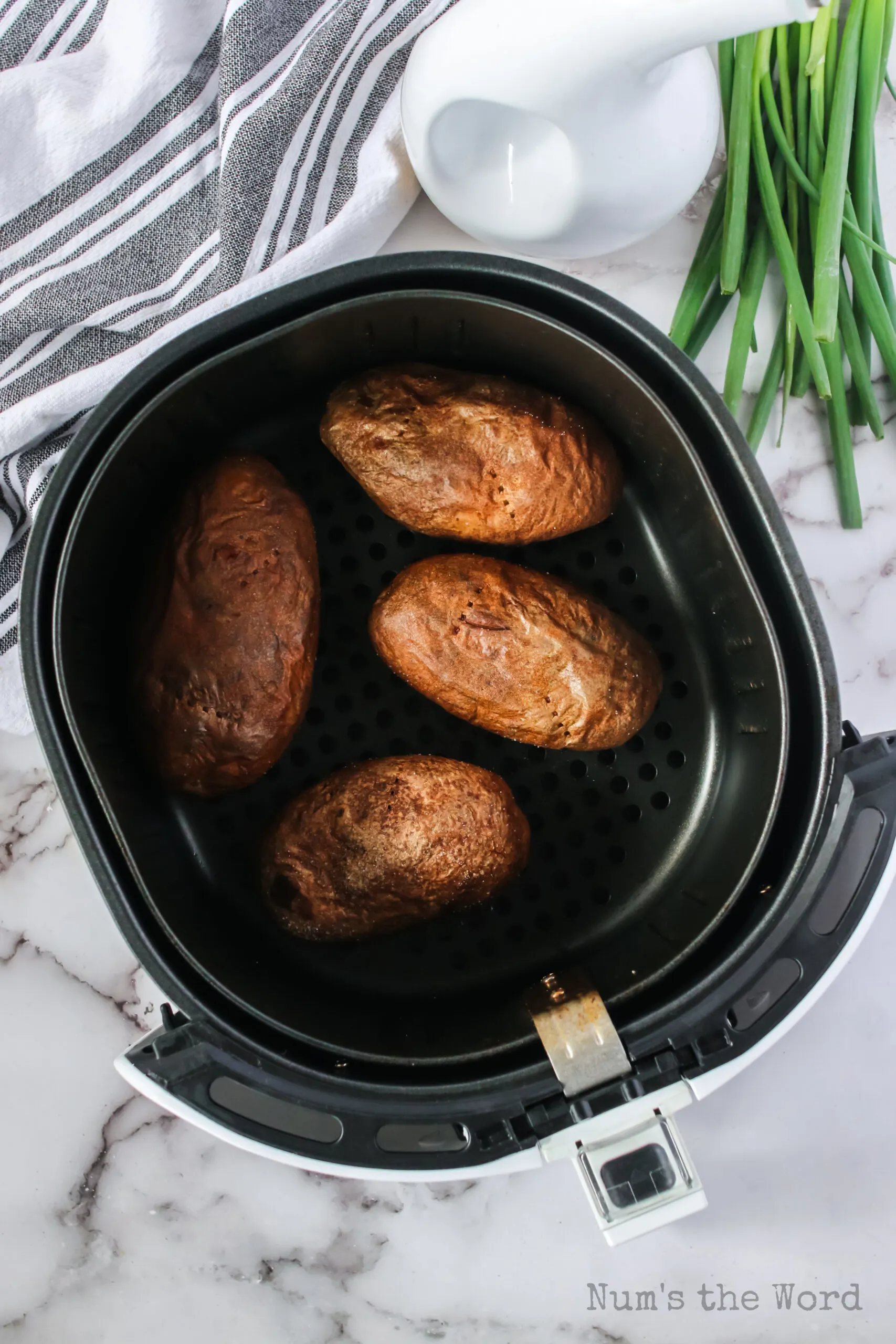 What Toppings Do You Put on Baked Potatoes in the Air Fryer?
The best baked potatoes are not complete without your favorite toppings! However always add topping AFTER the potatoes are done cooking.
Butter: A pat of butter! Slather it all over the potato or wait until the end and let it melt over everything.
Salt: The skins are already salted but if you'd like to salt the flesh you can do that too!
Black Pepper: Also a great option for adding a little spice.
Sour Cream: A classic for any loaded baked potato.
Greek Yogurt: Some people like to swap out sour cream for Greek yogurt. Just use an unflavored one.
Bacon: Use bacon bits from a jar or chop the bacon yourself and sprinkle on top.
Shredded Cheese: Use cheddar cheese or Mexican blend cheese for delicious flavor.
Broccoli: For some people this is a no brainer! Broccoli, cheese, and baked potatoes just jive well.
Jalapenos: Probably best to let each person decide on their own spicy comfort level with this one!
Chives: Another classic for baked potatoes! Use dried or chopped up fresh chives.
Green Onions: Green onions will add the perfect bite to the top of the baked potato pile.
Chili: This Chili Cheese Dip will absolutely make your baked potato come alive.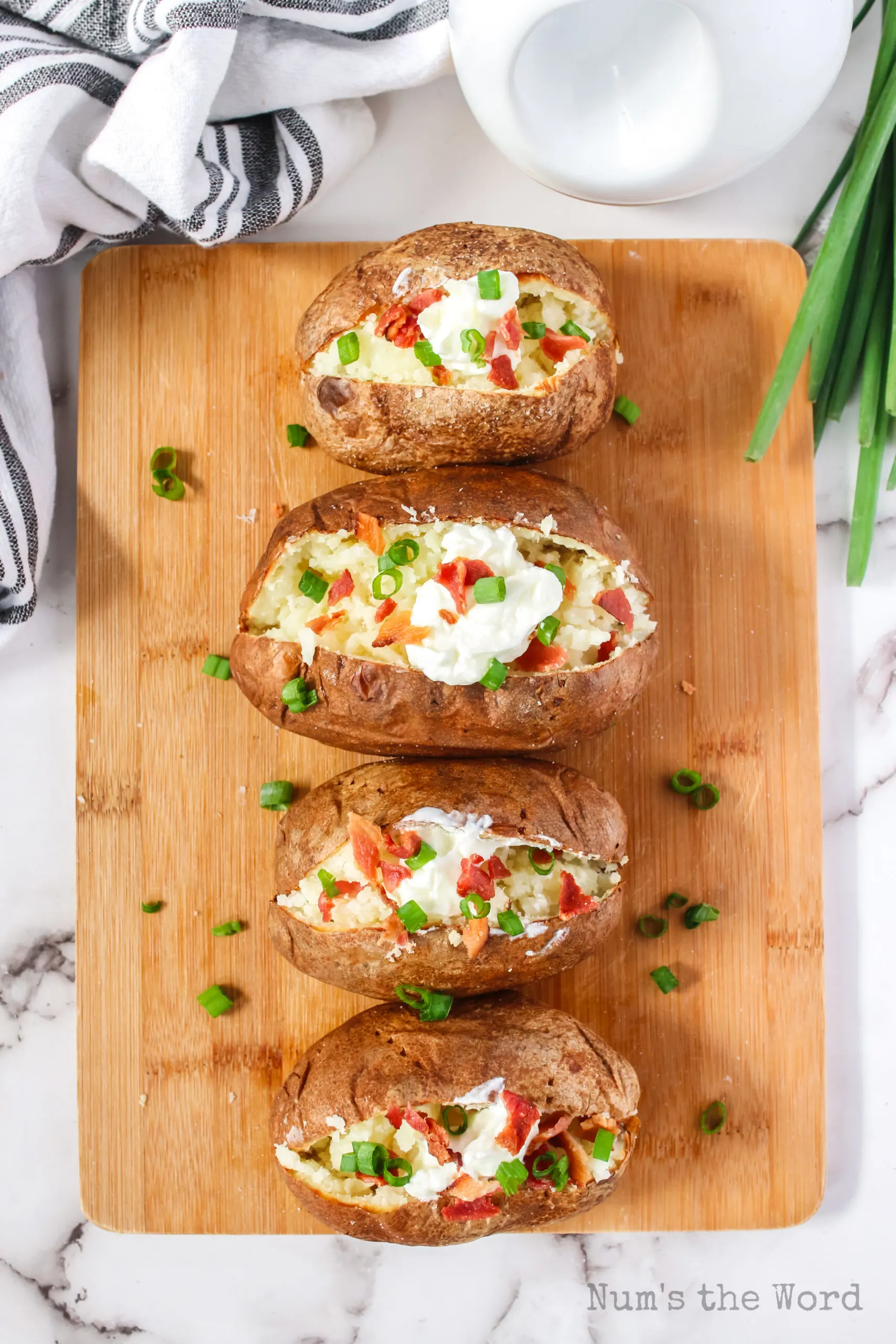 What to Eat with Baked Potatoes in the Air Fryer?
Air fryer baked potatoes also make an excellent side dish. Serve with any of these dishes for a delicious meal!
What is the Best Baked Potato to Bake?
Hands down, the best type of potato you can use when making baked potatoes are the russet potatoes.
They are the best potatoes because have a thicker skin, so they crisps up nicely.
They're also high in starch and low in moisture too, which means they become soft and fluffy.
Other good potatoes are Idaho potatoes, which is very similar in taste and texture.
You'll also want to watch out for different sized potatoes.
Large potatoes will all bake around the same time while medium potatoes or small potatoes will all take less time.
Try to keep the size of your potatoes the same so they all get done at the same time.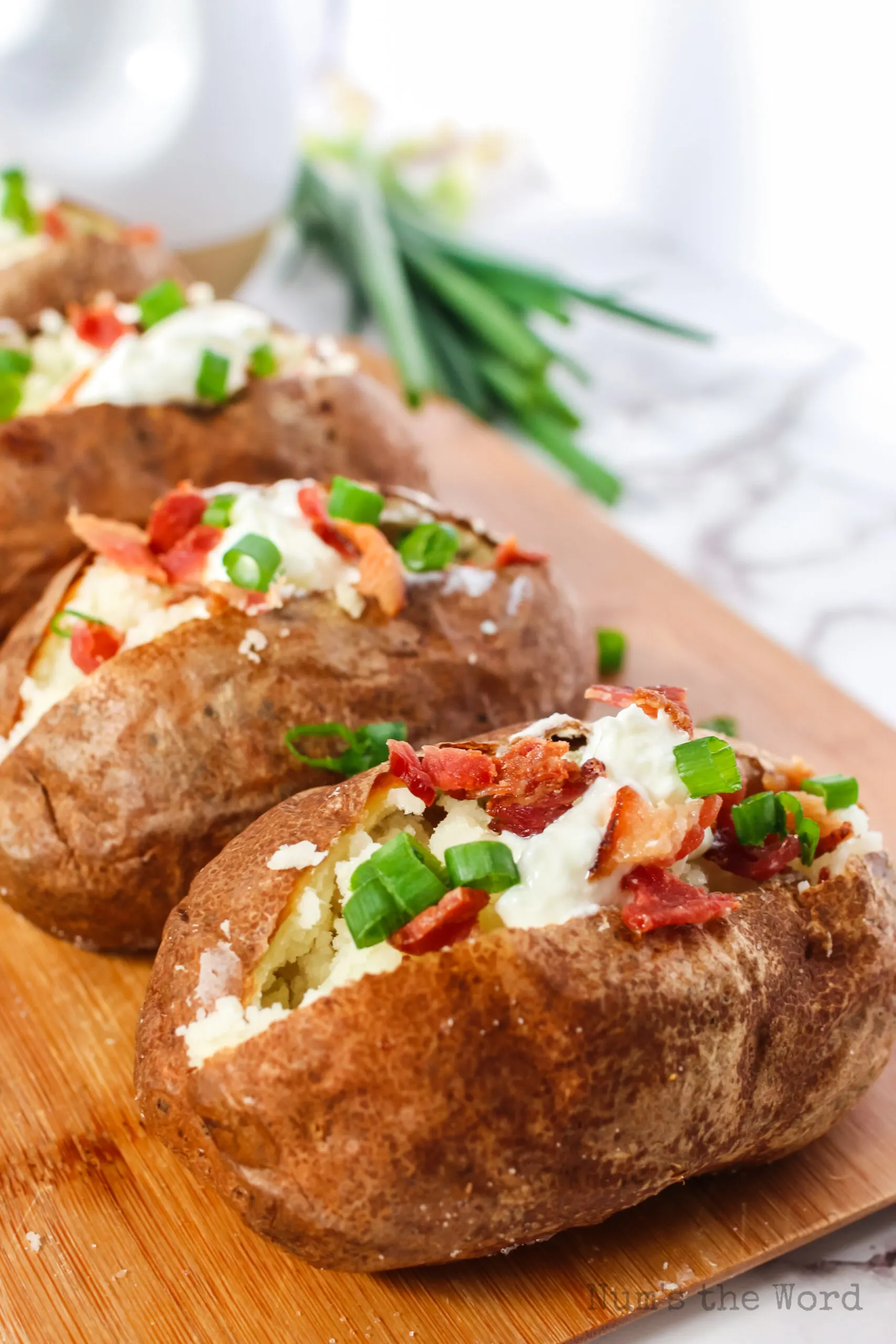 Can Dogs Eat Air Fryer Baked Potatoes?
Dogs shouldn't eat raw potatoes as they're not good for them and can make them sick.
However, they can eat a baked potato, with a few caveats.
The potatoes should be plain, not coated with anything else like butter, salt, or oil.
If you're making a potato for your dog be sure to treat it differently than your other potatoes, even while cooking.
Dogs don't need the extra fats, salts, or anything else you may add to your baked potato.
Stick with the basic ingredients for your dogs. They'll still love them just as much.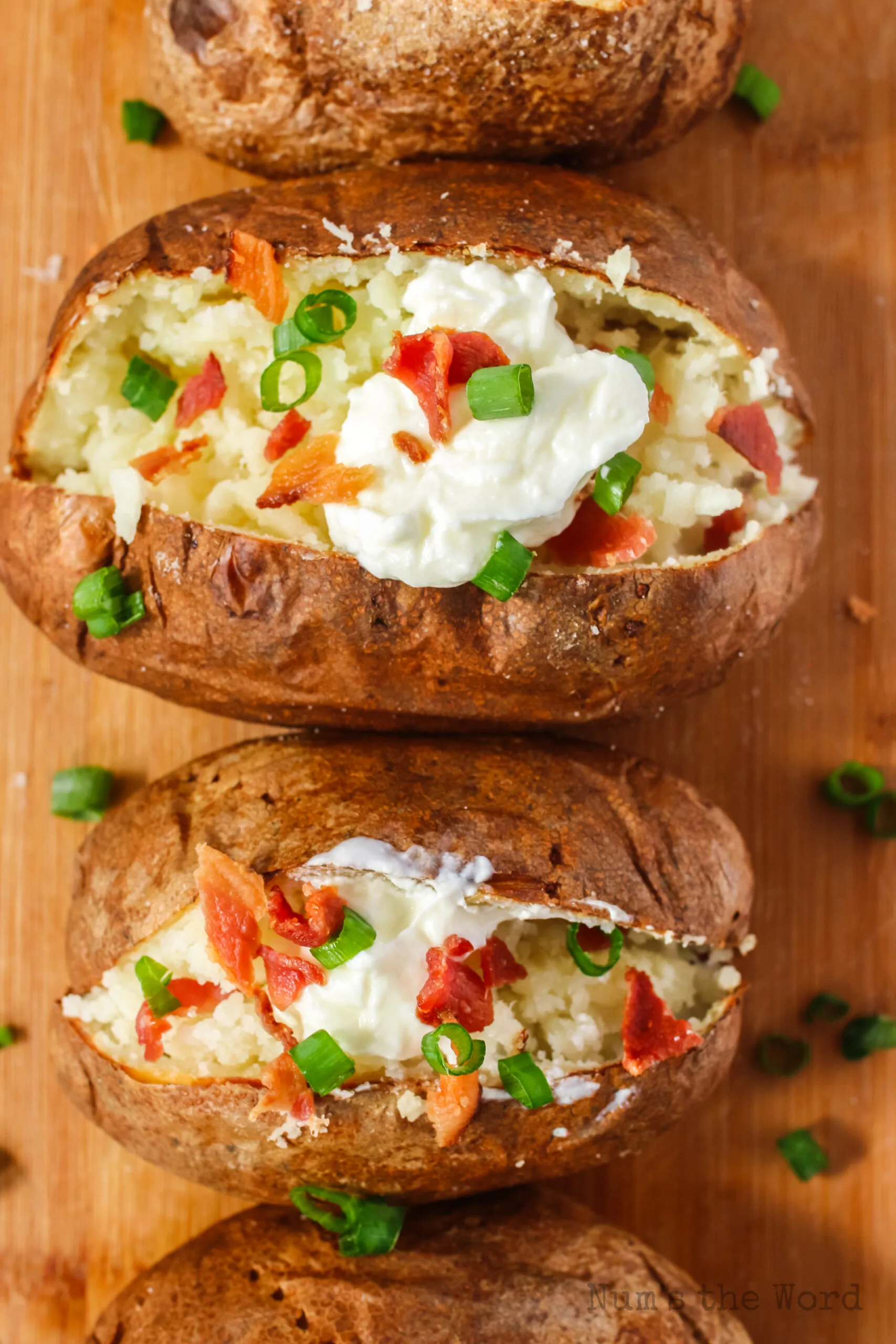 Yield: 4 Servings
Baked Potatoes in the Air Fryer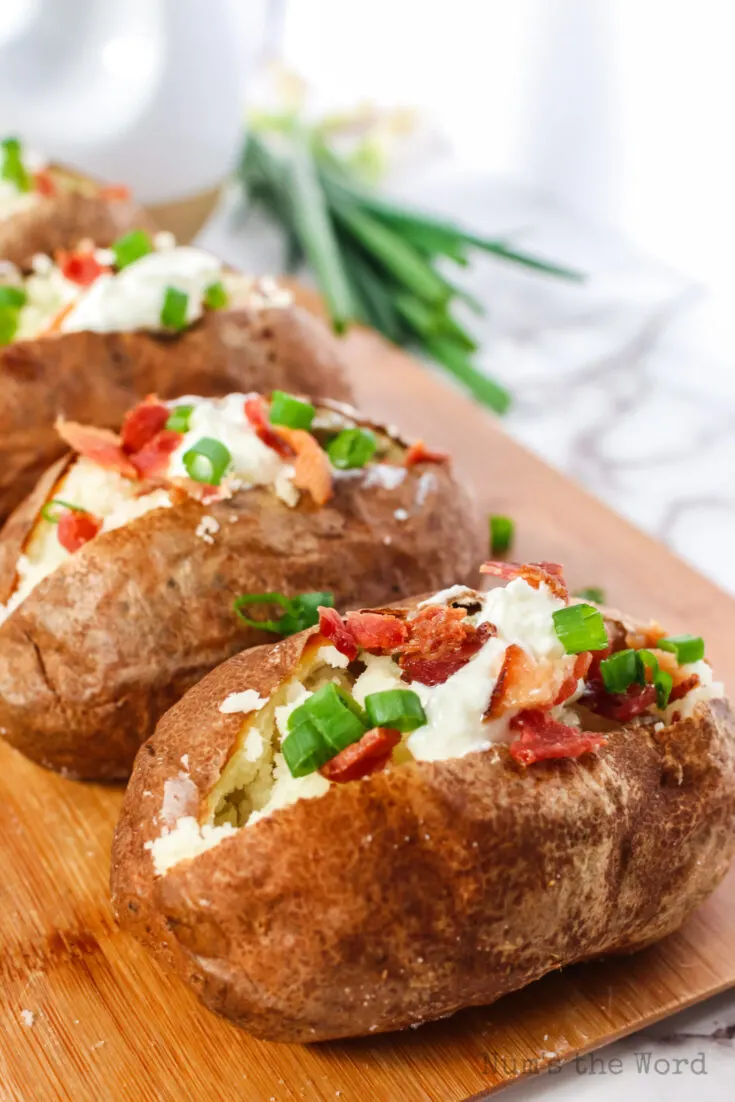 Baked Potatoes in the Air Fryer have perfectly crispy skins, fluffy insides, and are so easy to whip up! They can be made as an easy side dish or even main dish!
Ingredients
Instructions
Wash each baked potato.
Prick each potato 5 times with a fork all around the potato.
Cover each potato in olive oil.
Place potatoes in air fryer.
Cook at 400*F for 30 minutes in the air fryer.
Open air fryer, flip potatoes and bake at 400*F for an additional 15 minutes.
Serve immediately with your favorite toppings.
Nutrition Information:
Yield:
4
Serving Size:
1
Amount Per Serving:
Calories:

274
Total Fat:

11g
Saturated Fat:

2g
Trans Fat:

0g
Unsaturated Fat:

8g
Cholesterol:

10mg
Sodium:

171mg
Carbohydrates:

37g
Fiber:

4g
Sugar:

2g
Protein:

8g
Baked Potatoes in the Air Fryer are a quick and easy side dish or main dish. Super crispy, super fluffy, and super delicious! Enjoy them whenever you need a perfect baked potato!