This Black Bean Salsa Recipe is delicious, easy to make, and the perfect addition to any Mexican-inspired dish! It's hearty, healthy, and full of flavor the whole family is sure to love.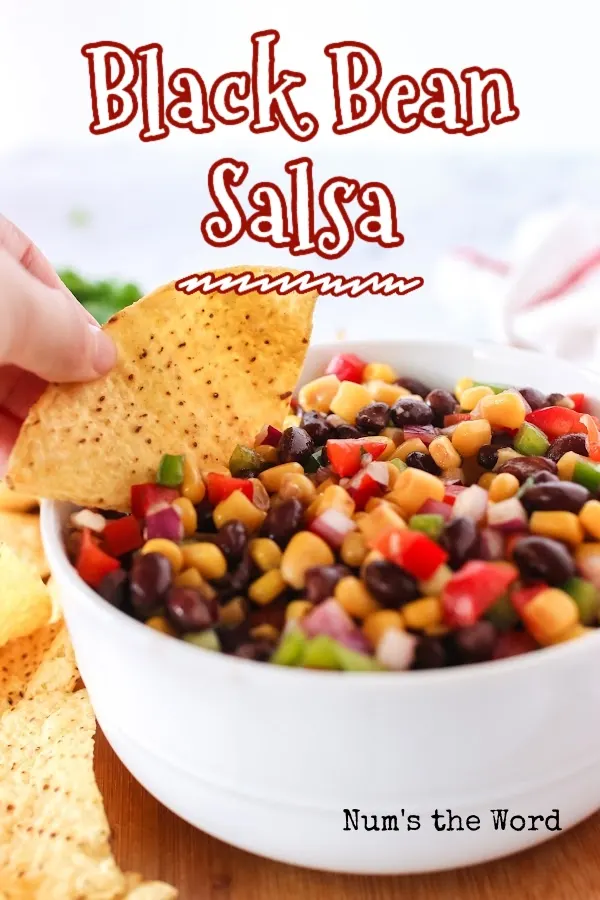 For me, this recipe is a must-have whenever I'm making grilled chicken kabobs.
There's something supremely appetizing about a bed of fluffy rice, homemade black bean salsa, and freshly grilled chicken kabobs that is IRRESISTIBLE.
But don't let my preferences limit you on the many possibilities to be had with this recipe — this goes great with a variety of main dishes, both Mexican food and not!
Black bean salsa also makes a great dip, is a quick and healthy lunch served over rice, and compliments so many other meals!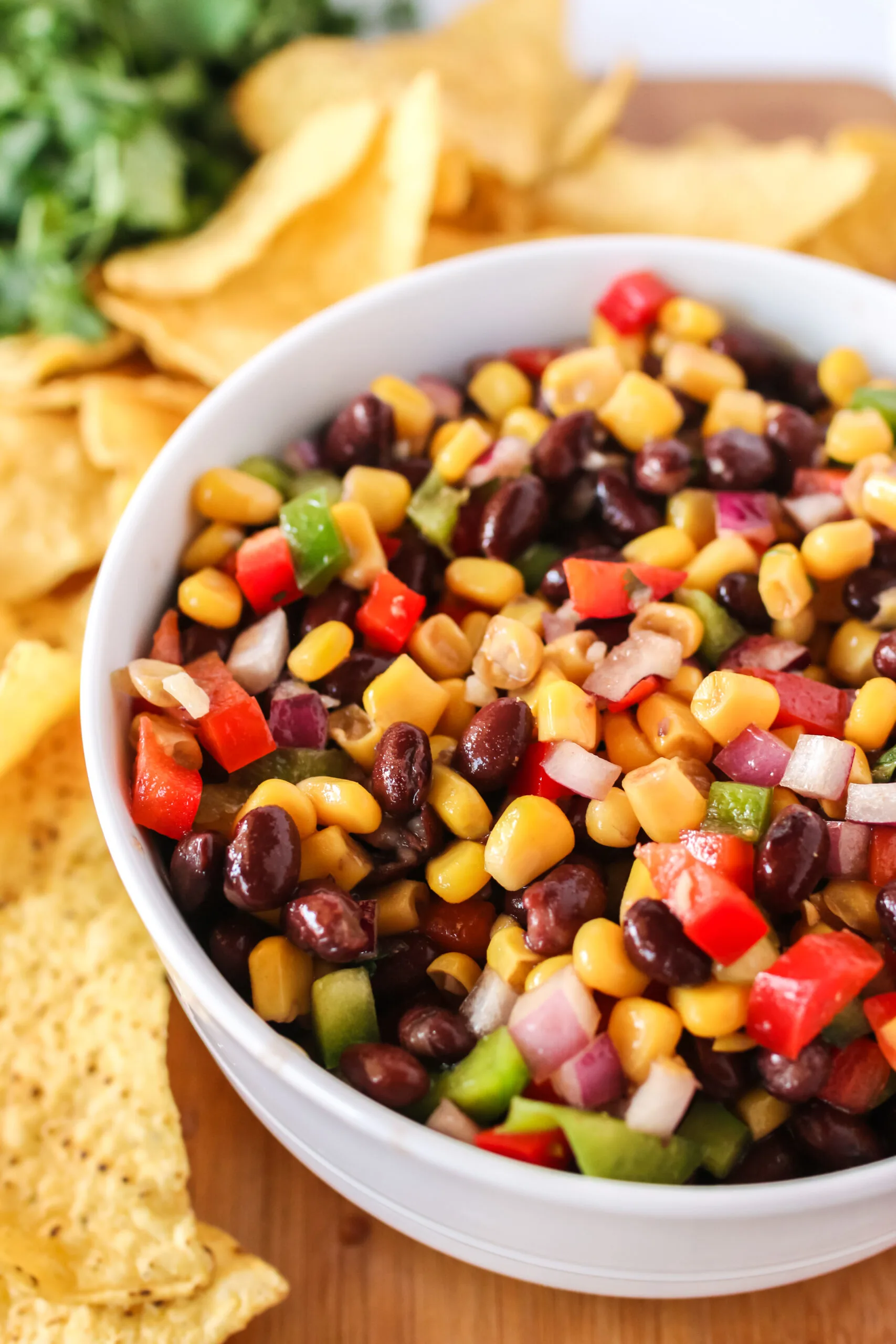 What Ingredients are in this Black Bean Salsa Recipe?
This salsa recipe is super easy to put together. It's really just a matter of opening a few cans and combining ingredients!
It's also great because you can make it the day before, so the flavors have time to marry and settle AND it's one less thing to prepare day-of!
For this black bean corn salsa recipe you'll need the following ingredients:
Hearty black beans – a couple cans, rinsed and drained, make this recipe even easier to execute! You can also use prepared dried black beans — a heaping cup of dry bean or about 1 ½ cups cooked beans.
Bell peppers – any color will work, so use your favorite! I like to dice my bell peppers so they're about the same size as the beans.
Red onion – red onion adds great flavor. You can also use sweet, yellow, or white onion. Check out our page All About Onions.
Corn – canned corn, drained, keeps this recipe quick and easy to assemble.
Olive oil – just a little olive oil helps the other dressing ingredients evenly coat the other salsa ingredients.
Red wine vinegar – I love the blend of flavors in this salsa from the three different vinegars! It adds a lot of depth.
Balsamic vinegar – balsamic vinegar has sweet undertones and is a great flavor enhancer.
Apple cider vinegar – sour with fruity and woodsy undertones, this vinegar is another great addition with its own unique flavor!
Salt – the age-old flavor enhancer.
Ground cumin – a little cumin is a warm and flavorful spice and a common ingredient in Latin cuisine, among many others.
Fresh Cilantro – whether you love it or think it tastes like soap, this bright and citrusy herb is a common addition to salsas and Latin cuisine!
Garlic – a mighty seasoning vegetable with a bold flavor.
Pro Tips:
If you use fresh corn from ears of corn because it's in season, you may need to precook the corn.
I don't prefer spicy black bean salsa but green chilies, chipotle pepper, jalapeno peppers or other spicy peppers are an option if you do.
Garlic powder will work if you don't have fresh garlic on hand.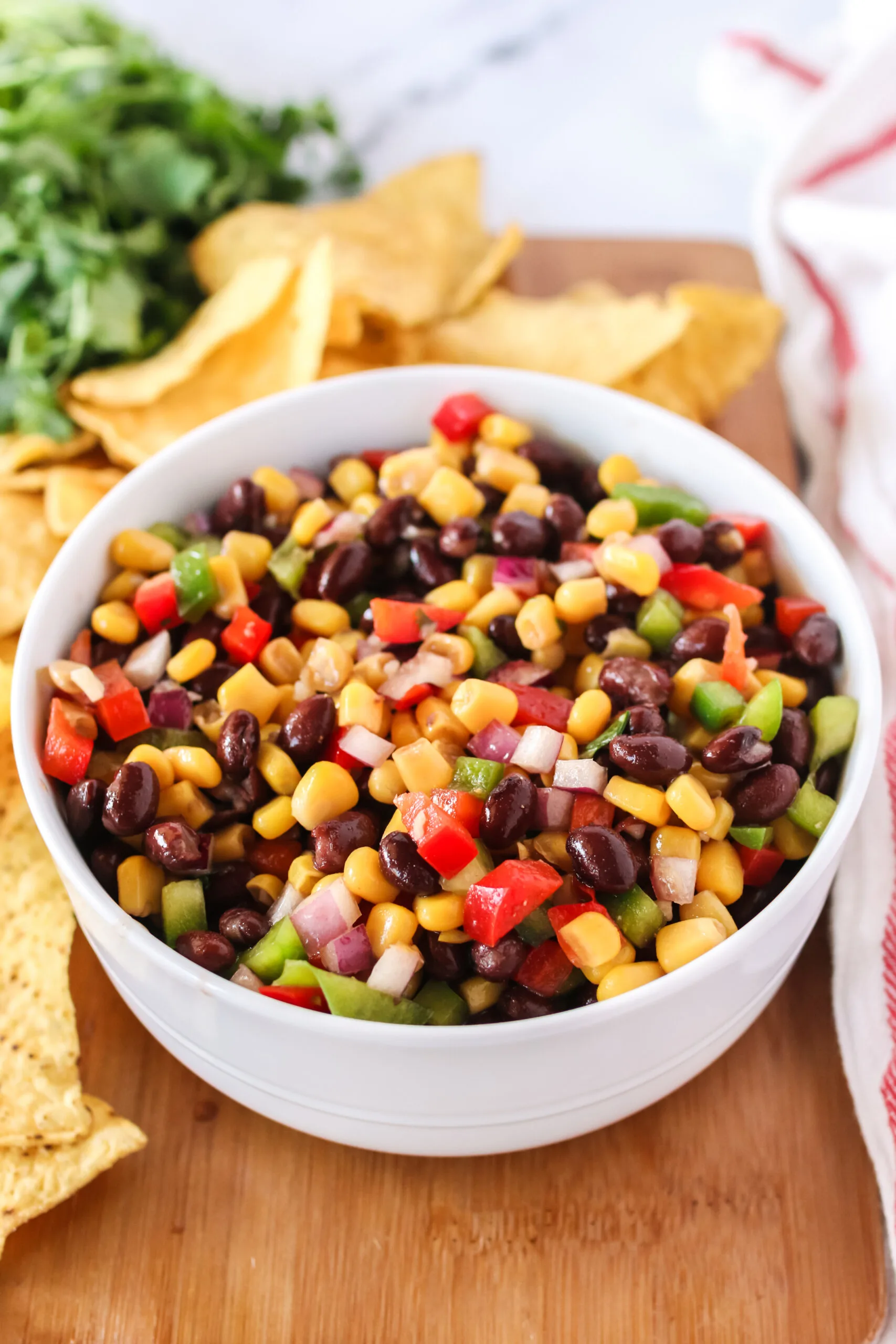 How To Make this Black Bean Salsa Recipe?
Once you have all the ingredients you need, the rest is super easy! Seriously!
Check out the steps below for this easy black bean salsa recipe:
Combine salsa ingredients
Mix well
Marinate overnight
That's it! You're ready to enjoy your homemade black bean salsa dip.
Serve it with crunchy tortilla chips or take your crowd pleaser as a potluck dish.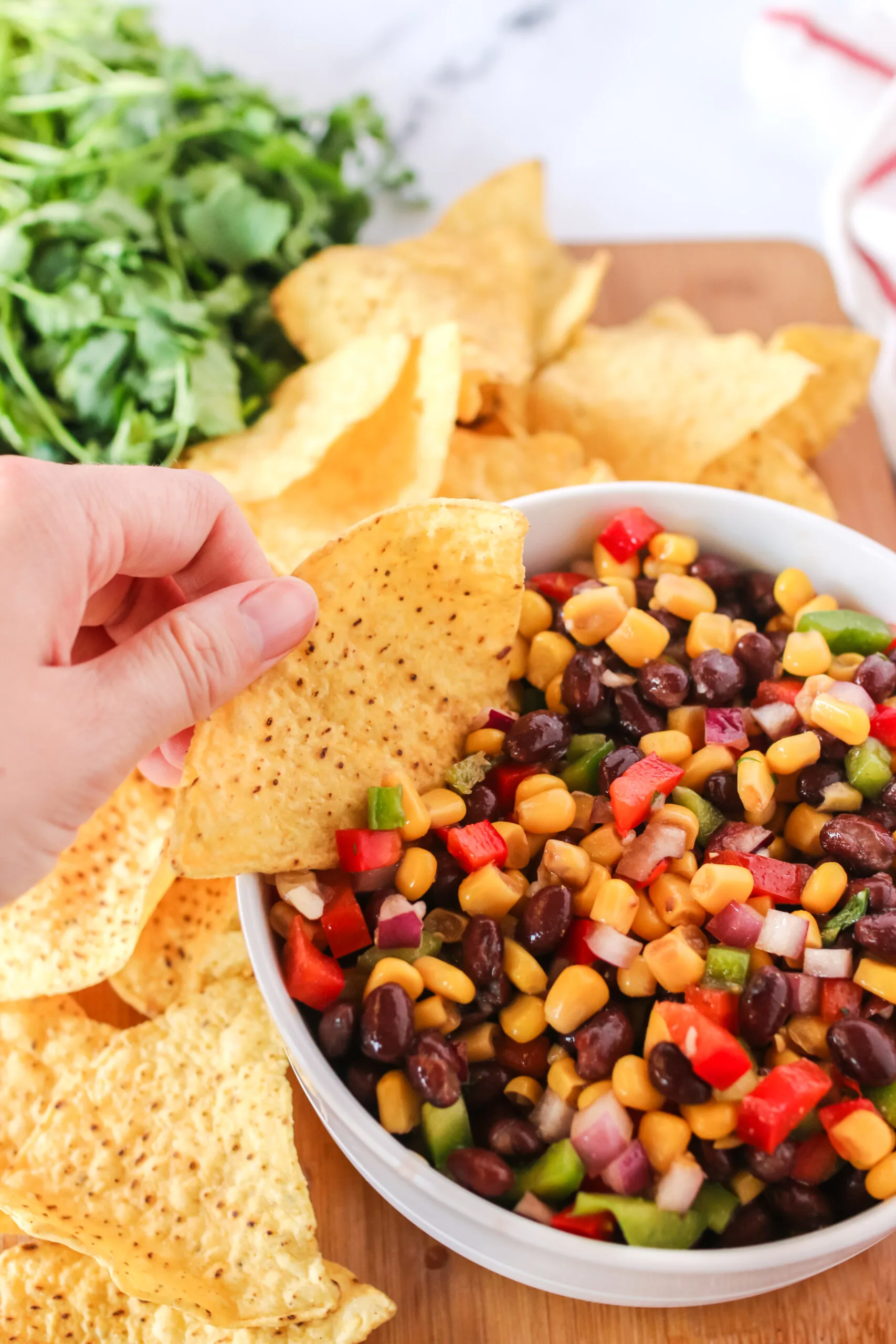 Can I Make Black Bean Salsa in Advance?
Absolutely! While you can serve this salsa sooner, I recommend preparing it about 24 hours in advance to allow the flavors to really marry and marinate.
It's also great to get one item off the to-do list for dinner prep!
It's also a great make ahead option for parties and picnics.
How Long Does this Black Bean Salsa Recipe Last?
Black bean salsa will last up to 5 days in the fridge if stored in an airtight container.
I generally prefer to eat it within 3 days for optimum freshness of the fresh ingredients (bell pepper, onion, cilantro).
Luckily, the vinegar acts as a preservative, keeping this salsa fresher for longer!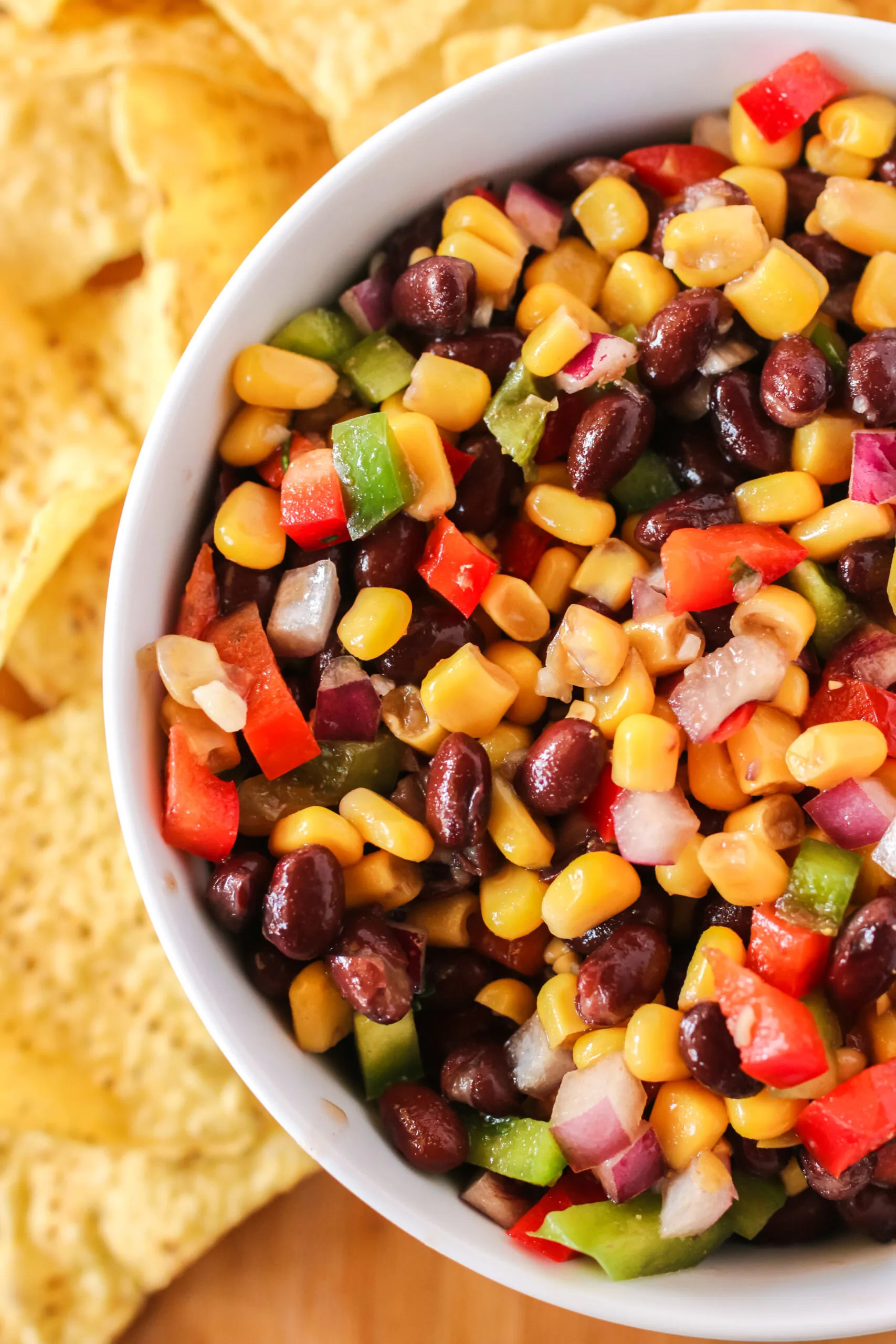 Can I Freeze Black Bean Salsa?
While technically you can freeze this black bean salsa recipe, I wouldn't recommend it.
I've found that the herbs and fresh vegetables have a noticeable decline in texture when frozen and thawed.
The bell peppers and onions tend to get mushy and the cilantro becomes discolored and wilted.
Freezing is a great option for veggies you're planning to cook later, though!
Can You Heat this Black Bean Salsa Recipe?
Yep! Some people prefer their black bean salsa dip warm, and that's just fine with this recipe.
You can heat this on the stove top over medium heat prior to serving. Stir occasionally until heated through.
I would recommend leaving out the cilantro until the other ingredients are heated to avoid over cooking and wilting it.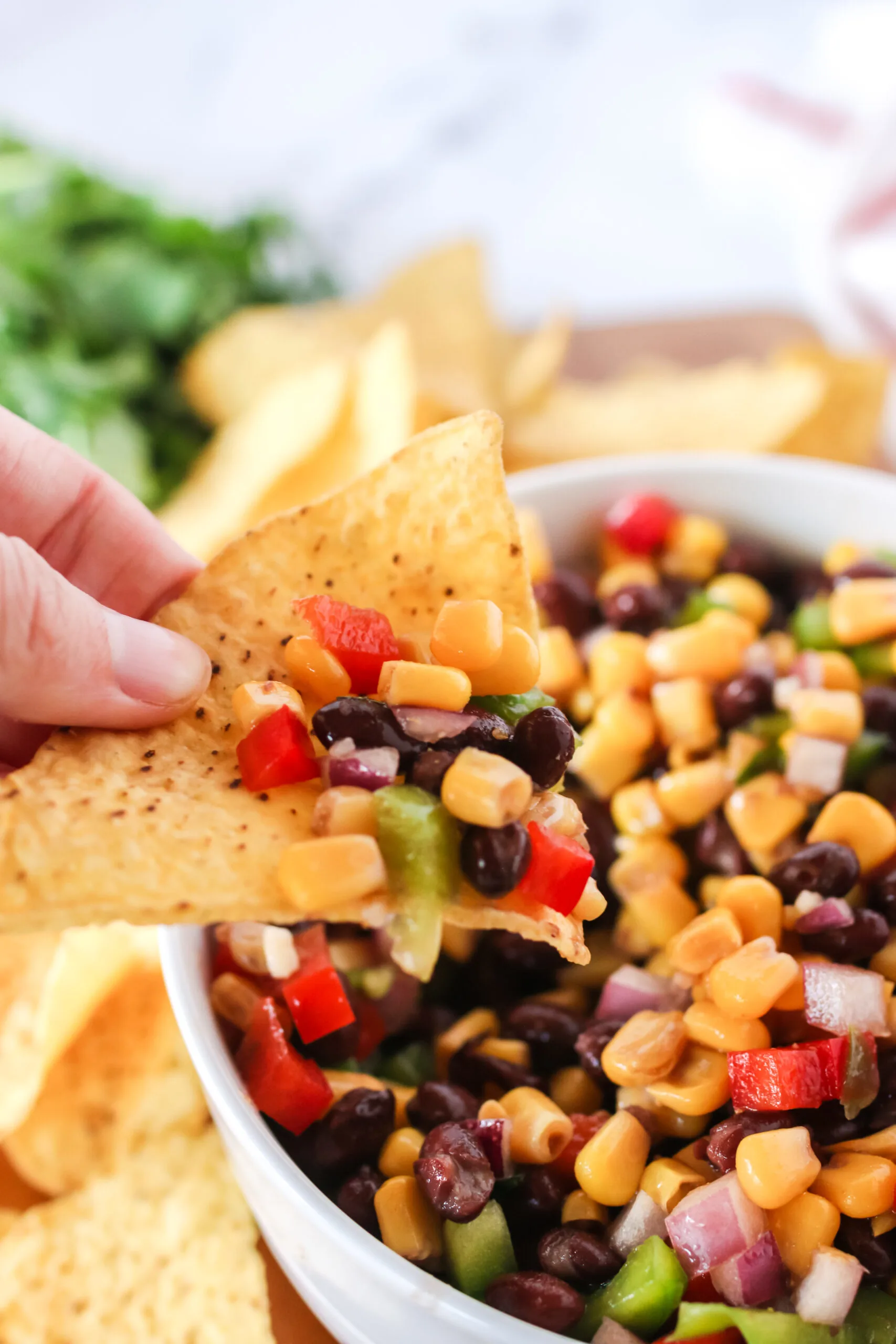 Is Black Bean Salsa Healthy?
This recipe has very little added fat, no added sugar, and is high in vitamins, minerals, and plant based protein … so I would certainly give it the "healthy" stamp of approval!
It will obviously be higher in calories than traditional salsa, but because of the beans it will also be more filling and higher in protein.
I like serving it on game day as I know that my serving bowl will be empty by the end of the day and it's full of all sorts of good foods!
Is Black Bean Salsa Vegan?
If you're looking for a vegan black bean salsa recipe, this one fits the bill!
It does not include any animal products in the ingredients. Check your labels to confirm, but this recipe should be vegan!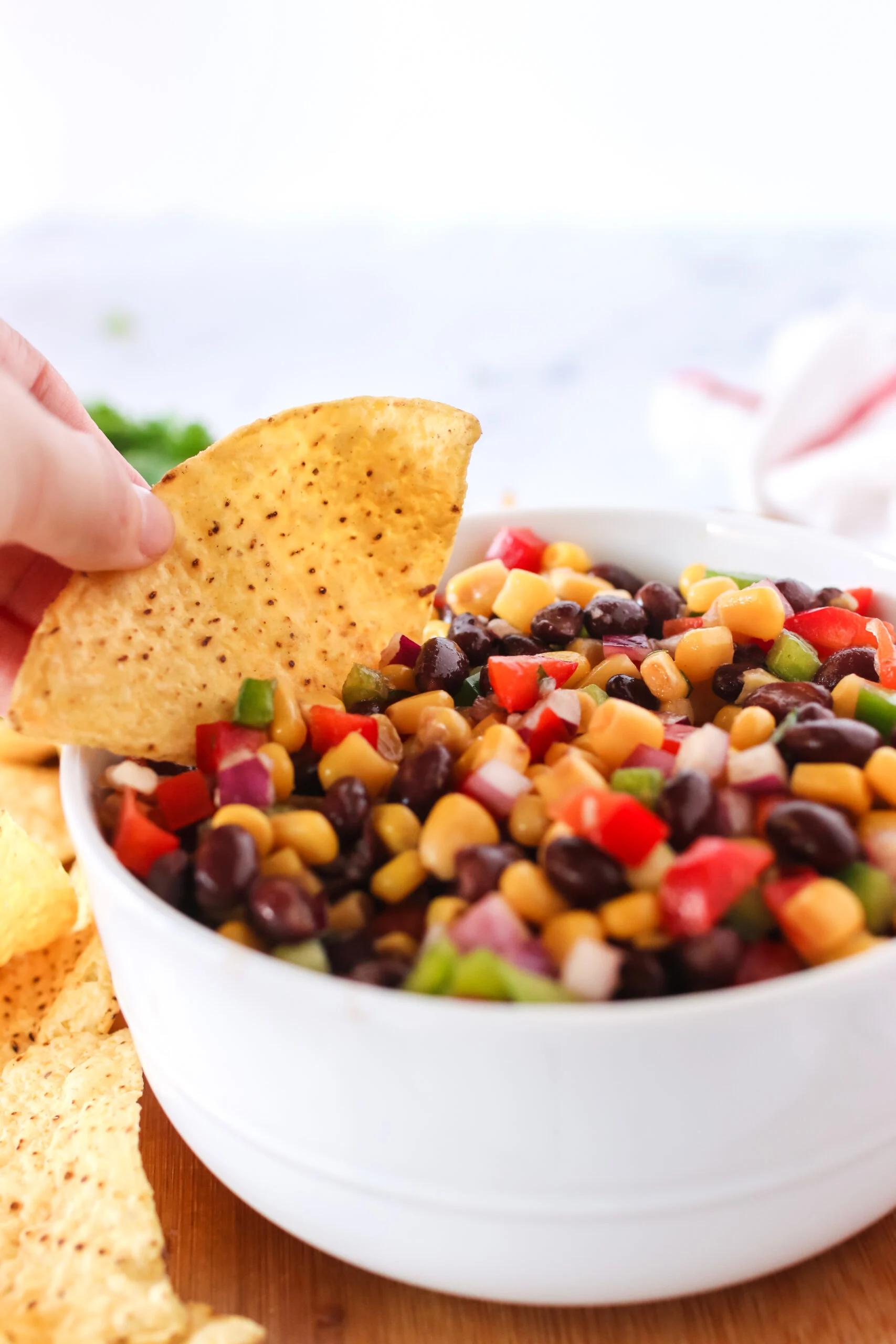 Is Black Bean Salsa Keto?
While I've never professed to be a keto expert by any stretch of the imagination, when it comes to this recipe, I haven't the slightest idea.
Check the ingredients with whatever resources you typically use to calculate carbs and keto-worthiness!
What Goes with this Black Bean Salsa Recipe?
So many things! As I mentioned before, I especially love this delicious black bean salsa recipe with Grilled Chicken Kabobs.
Below are some other ideas from Num's the Word: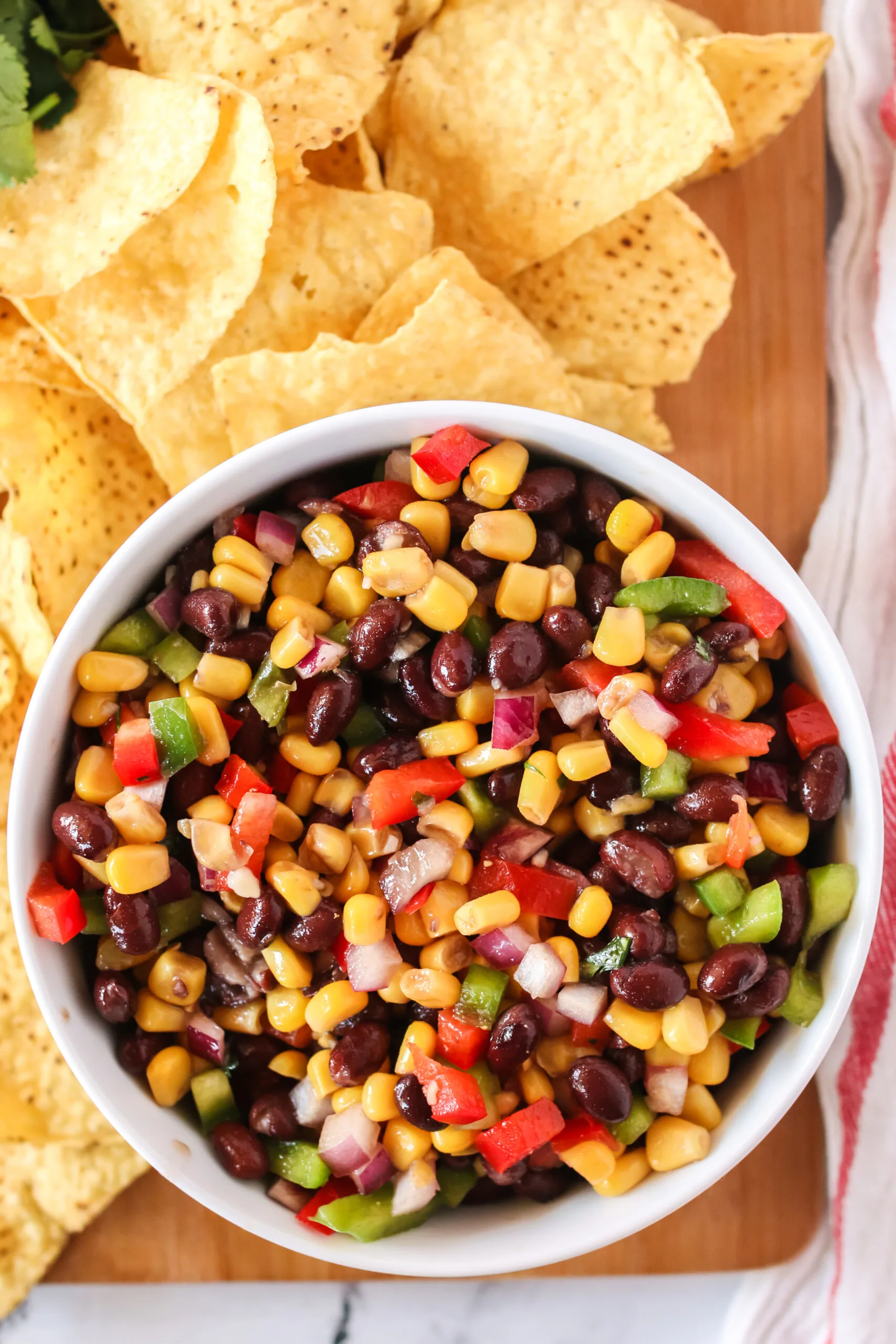 More Delicious Dips You'll Love…
Whether you're looking for the perfect dip to bring to a potluck, a colorful and tasty topping for your favorite Mexican dish, this black bean salsa recipe is for you!
It's the perfect addition to any meal and is super easy to make! You can't go wrong with this homemade black bean salsa.
Yield: 8 Servings
Black Bean Salsa Recipe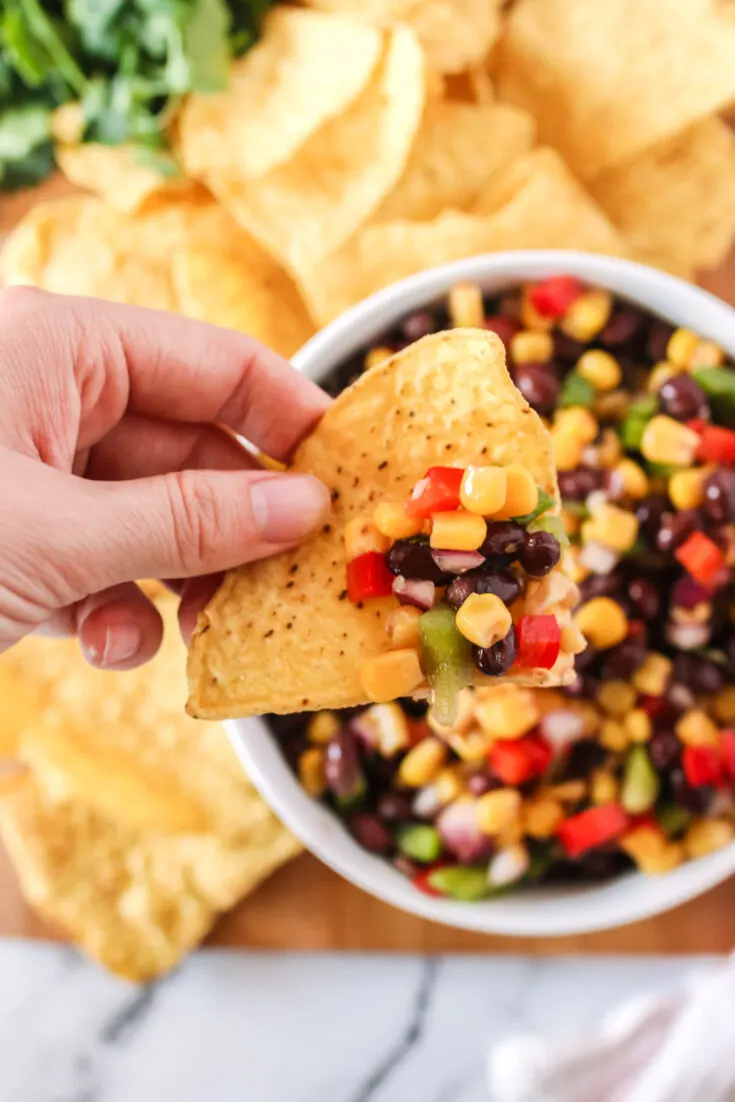 This Black Bean Salsa is delicious, easy to make, and the perfect addition to any Mexican-inspired dish! It's hearty, healthy, and full of flavor the whole family is sure to love.
Total Time
2 hours
20 minutes
Instructions
Combine black beans, bell peppers, red onion, corn, olive oil, red wine vinegar, balsamic vinegar, apple cider vinegar, salt, cumin, cilantro and garlic.
Mix well.
Cover and allow to marinade 2 hours or longer to allow flavors to meld.
Once chilled and ready, serve.
Nutrition Information:
Yield:
8
Serving Size:
1
Amount Per Serving:
Calories:

71
Total Fat:

2g
Saturated Fat:

0g
Trans Fat:

0g
Unsaturated Fat:

2g
Cholesterol:

0mg
Sodium:

134mg
Carbohydrates:

11g
Fiber:

3g
Sugar:

2g
Protein:

3g