If you're looking for a crowd-pleasing appetizer that's easy to make and sure to disappear fast, these Mozzarella Pepperoni Bites are the answer!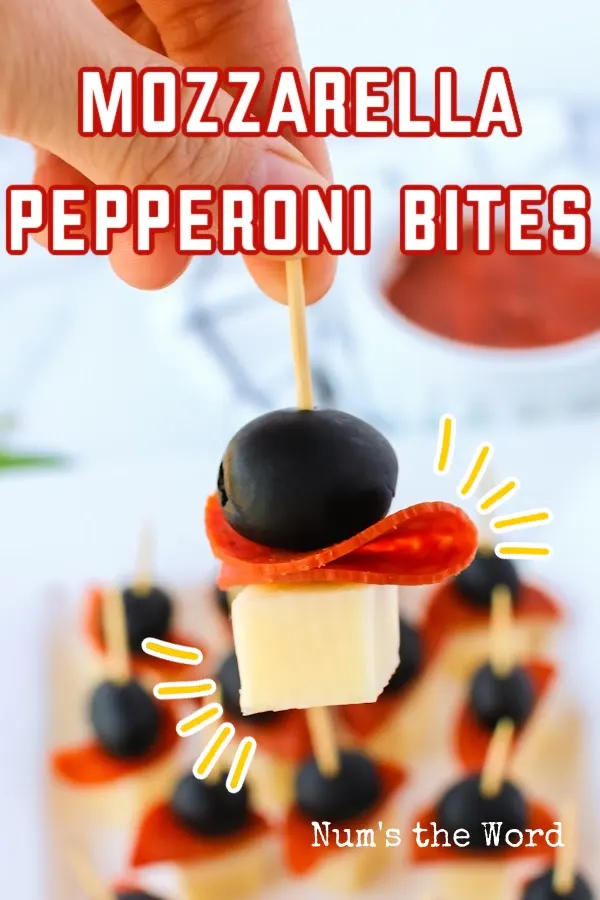 These bites are a delicious blend of salty and creamy, with a little kick from the pepperoni. Plus, they're super easy to put together, making them perfect for any party or get-together.
I love that these bites are quick and easy to make. A must for any party!
These mozzarella pepperoni and olive bites also only require a few ingredients to make.
They are absolutely crowd-pleasing and kid-friendly too! My kids gobble them in no time flat!
I also love that these can be made ahead of time. You know how important that is for sporting events!
And this pepperoni appetizer is perfect for any occasion. I mean any occasion! Fancy, casual, you name it!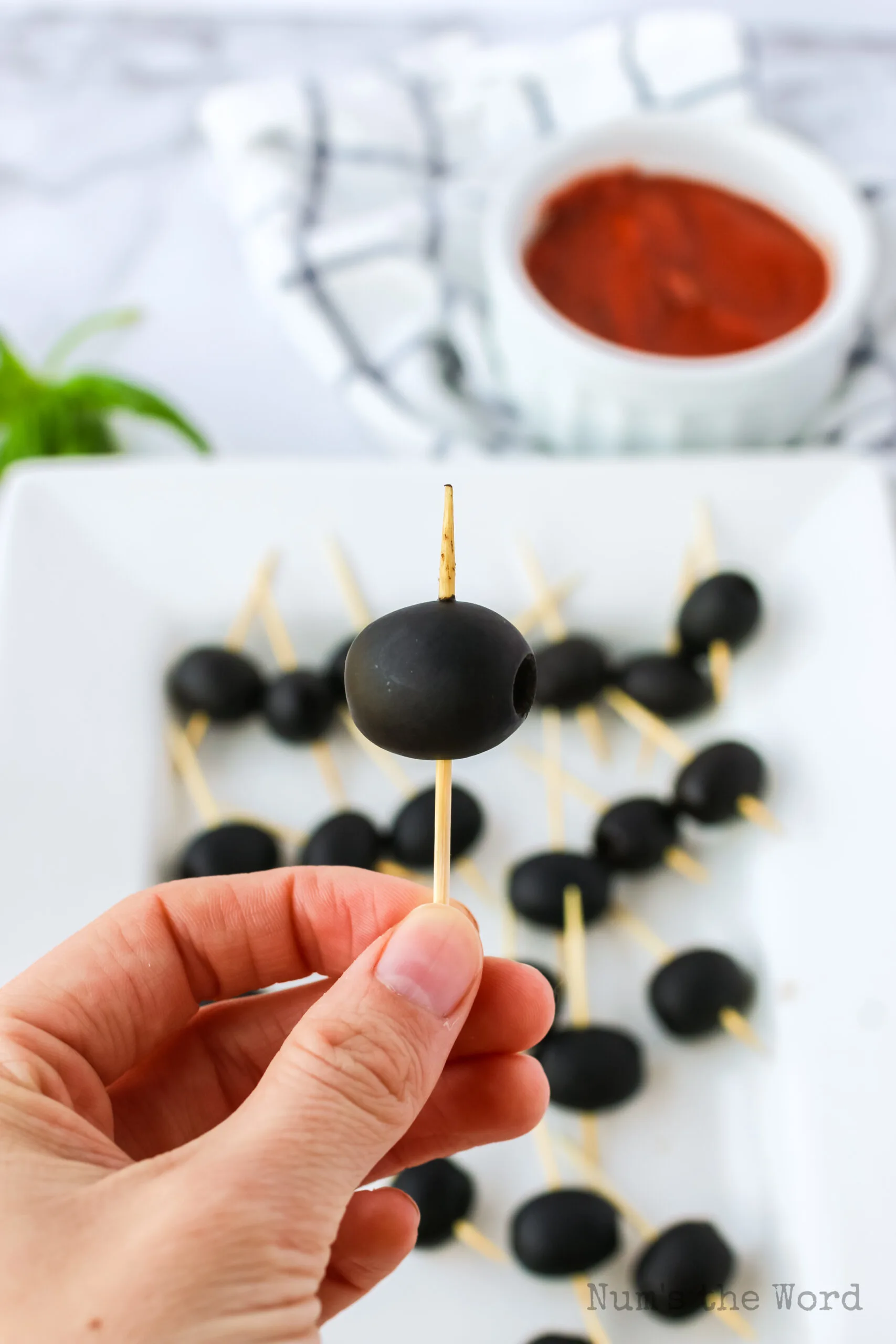 What Ingredients are in Mozzarella Pepperoni Bites?
Mini pizza bites are the perfect solution to pizza night! Quick and easy, they'll get a 5 star rating from the whole family!
Here's the simple ingredients you'll need to grab from the grocery store:
Medium whole black olives: These provide a salty, briny flavor that pairs well with the pepperoni and mozzarella.
Pepperoni: Adds a spicy and savory flavor to the bites.
Mozzarella cheese: The main ingredient of the recipe, it provides a creamy and mild flavor that balances the saltiness of the olives and pepperoni.
Pizza sauce (optional): Adds a classic pizza flavor to the bites and can be used as a dipping sauce.
Pro tips:
If the cheese is too soft to hold its shape, place it in the freezer for a few minutes before slicing.
Use a mix of green and black olives for a more colorful presentation.
Make sure to buy whole olives, not sliced, as the slices will not stay on the toothpick.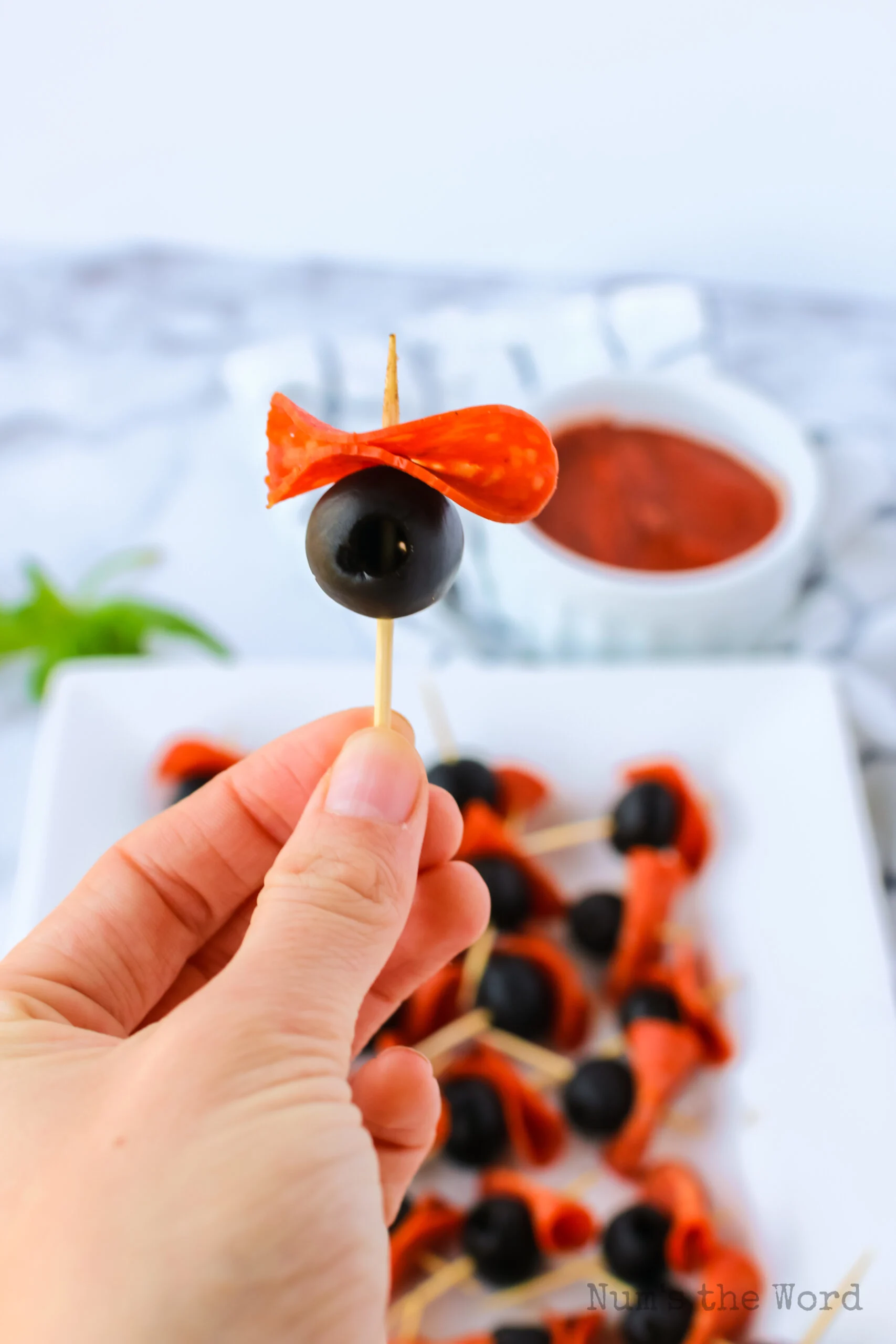 How to Make Mozzarella Pepperoni Bites
The pizza appetizer is an easy recipe made from your favorite pizza toppings. Here's how to make them:
Create: Skewer the olives, pepperoni, and mozzarella.
Wrap: If making ahead of time, arrange the bites on a tray and cover with saran wrap so they don't dry out.
Serve: When serving, you can serve them plain or with a drizzle of pizza sauce on a platter.
Pro Tip:
You can make a lot of these pizza bites at a time. Use parchment paper on a baking sheet and fill it up!
Serve with plates or just a simple paper towel! Your choice!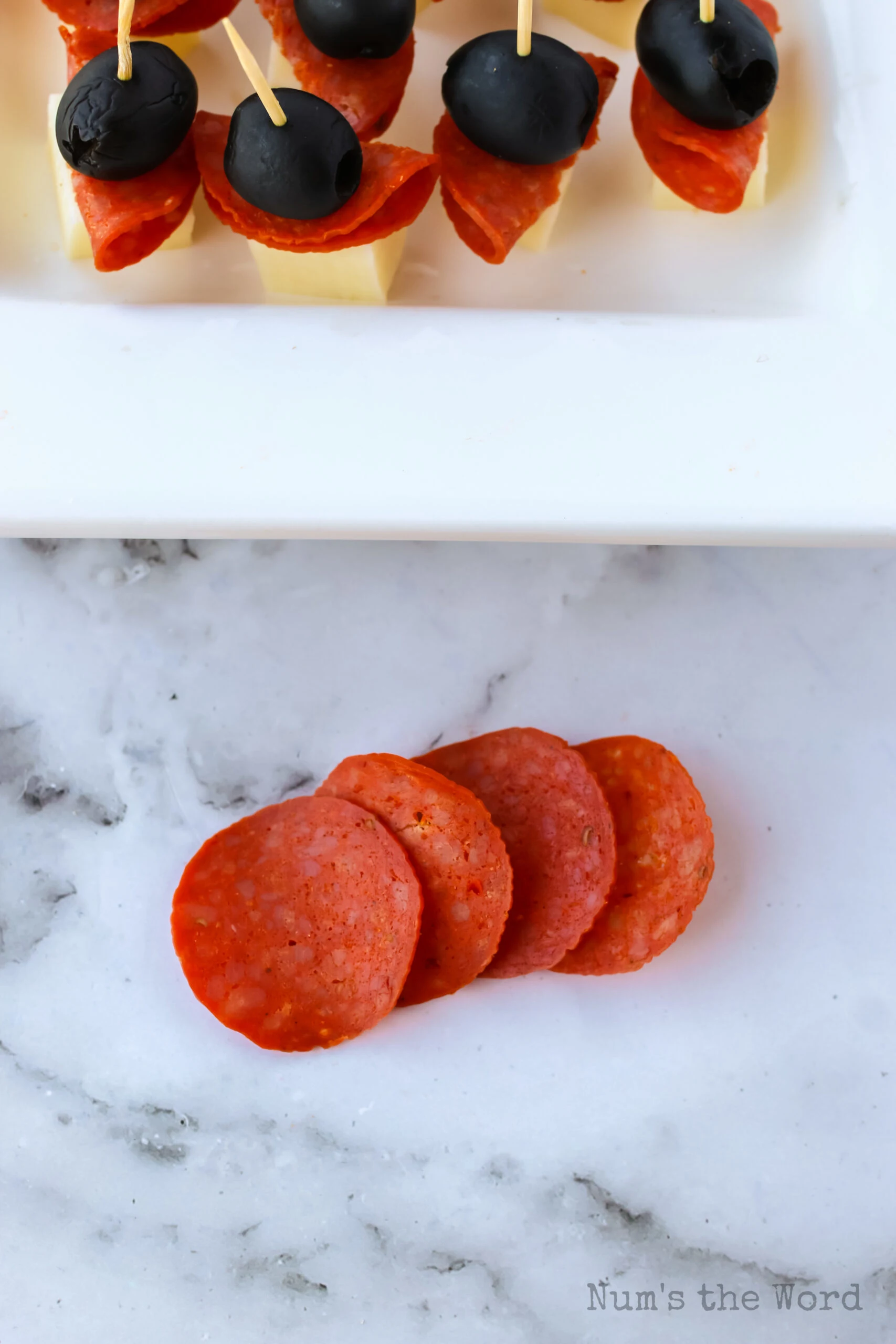 Do These Mozzarella Pepperoni Bites Taste Like Pizza Bites?
While they don't taste exactly like pizza bites, the combination of pepperoni, cheese, and optional pizza sauce gives them a similar flavor profile.
If you want to try making them a little differently though, feel free to substitute or add some of your own preferences for different flavors.
Try adding or swapping out:
provolone cheese
different marinara sauce
parmesan cheese
cream cheese
different meats or mini pepperonis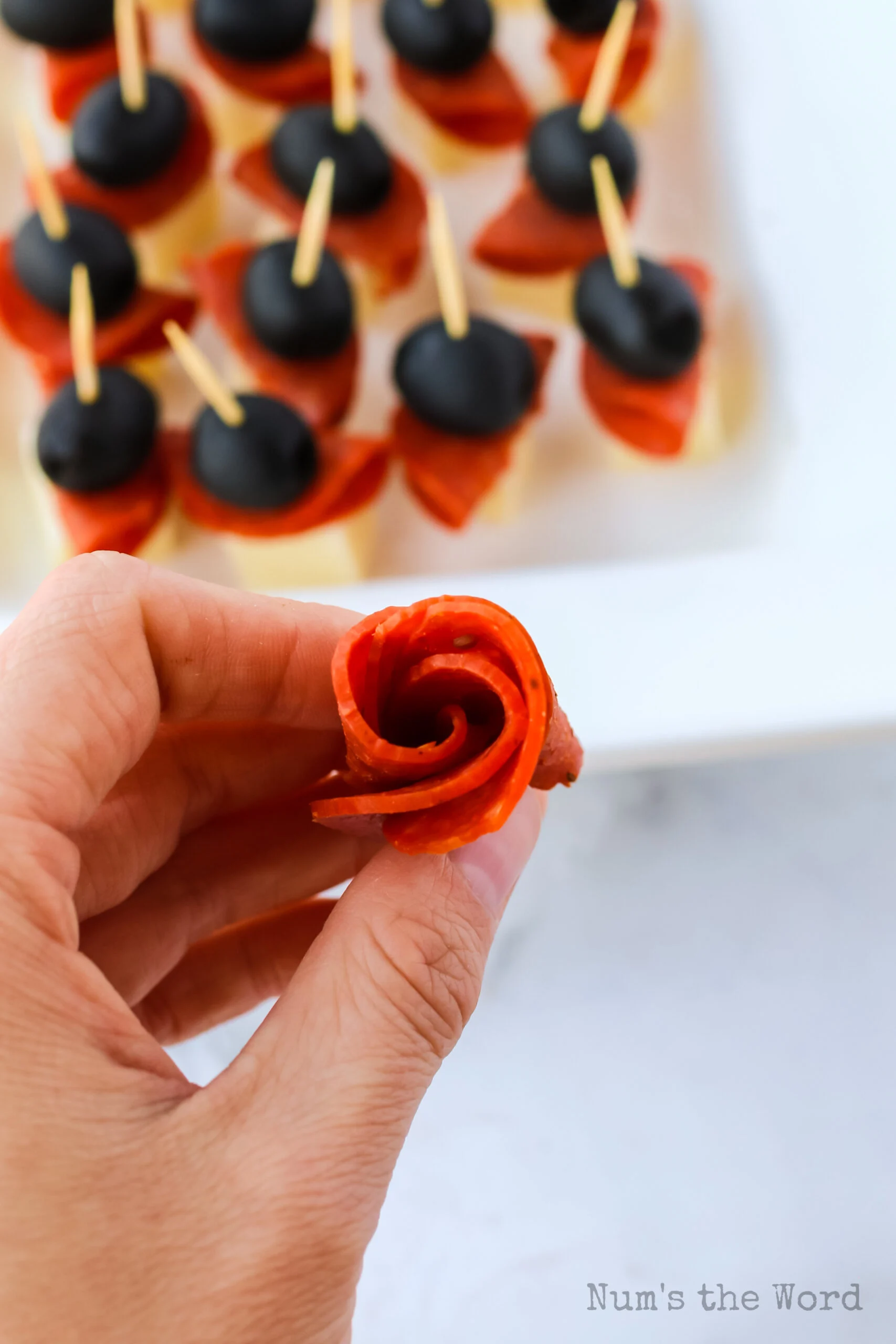 When to Serve Mozzarella Pepperoni Bites
These bites are perfect for any occasion, from game day to the perfect snack for after school snack.
With a bowl of tortilla chips you can't go wrong!
Here's a few ideas about when to serve them:
Super Bowl
Movie Nights
Quick Snack
Baby Shower
Any Game Day Appetizer
Your Next Party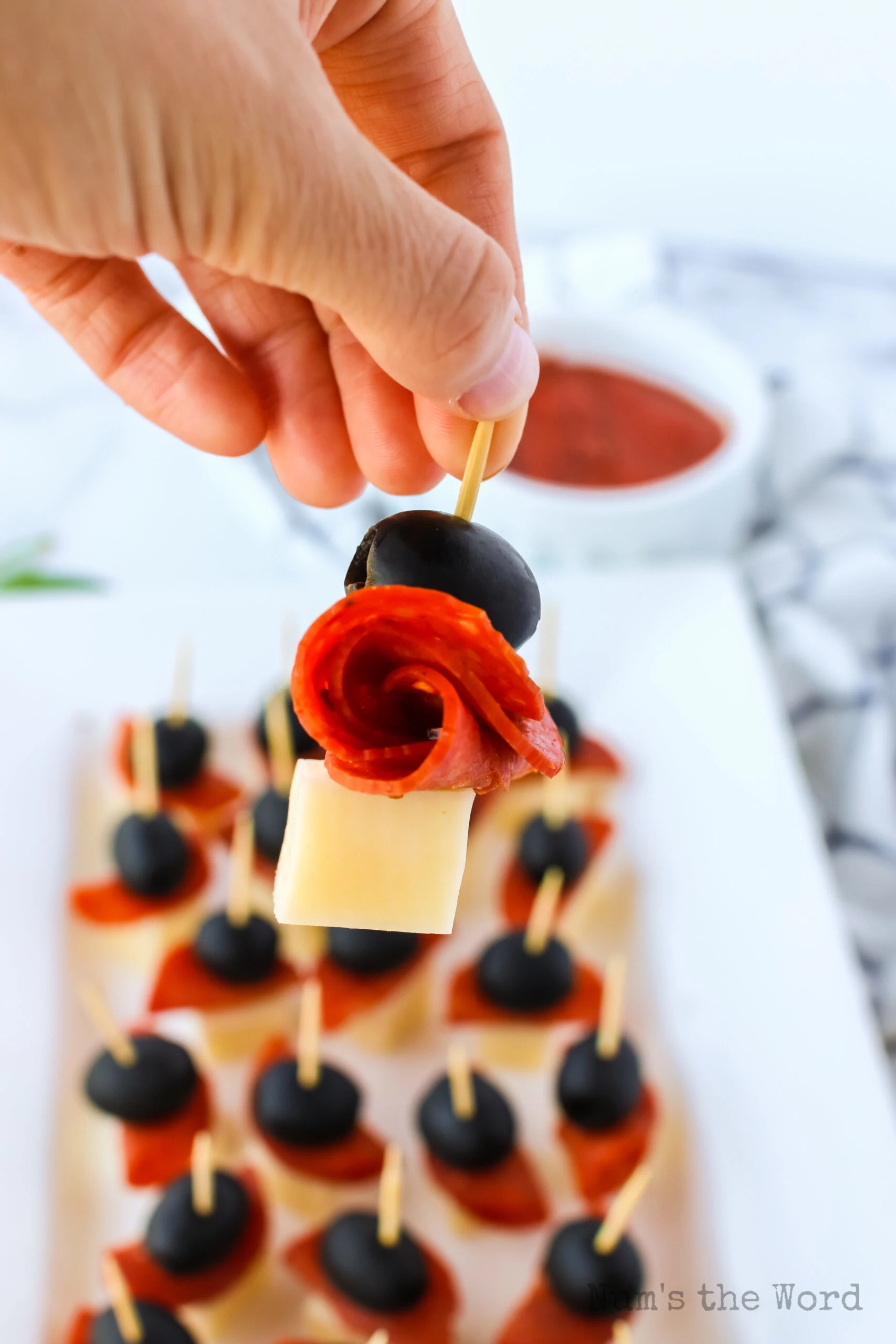 How to Serve Mozzarella Pepperoni Bites
Arrange the bites on a platter or board for easy serving. They can be served at room temperature or slightly chilled.
I like to choose short skewers or long toothpicks. This allows each person to grab a few to put on their own plates.
I'd say in that way they're actually better than pizza rolls too because you don't even need to get your hands dirty!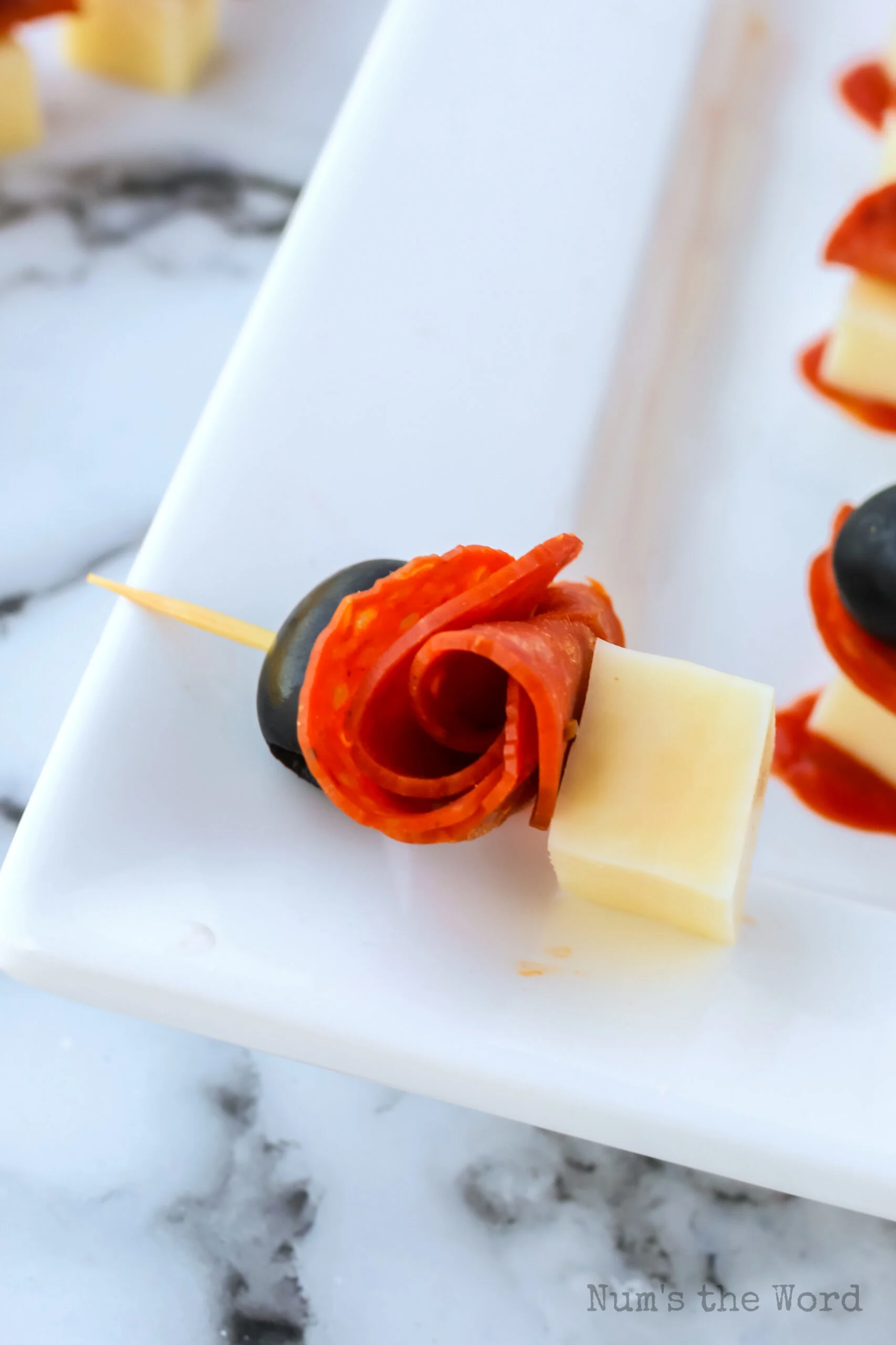 Are Mozzarella Pepperoni Bites Healthy?
Everyone needs protein and some fruit in their lives right?
I'm not sure if these are considered the healthiest snack food, but they can often be eaten in a low carb diet!
There's also no corn syrup and I even think they're keto diet friendly (though I'm not expert on it.)
So while whether they are healthy or not is pretty subjective, they're pretty good in my book!
Can You Make Mozzarella Pepperoni Bites Ahead of Time?
Yes! These bites can be made ahead of time and stored in the fridge until ready to serve.
This makes them the perfect appetizer! Make them the night before and throw them on the table when you're ready to serve them.
I recommend not making them more than 24 hours in advance.
After 24 hours I find they start to dry out a little and just not taste as great as they did initially.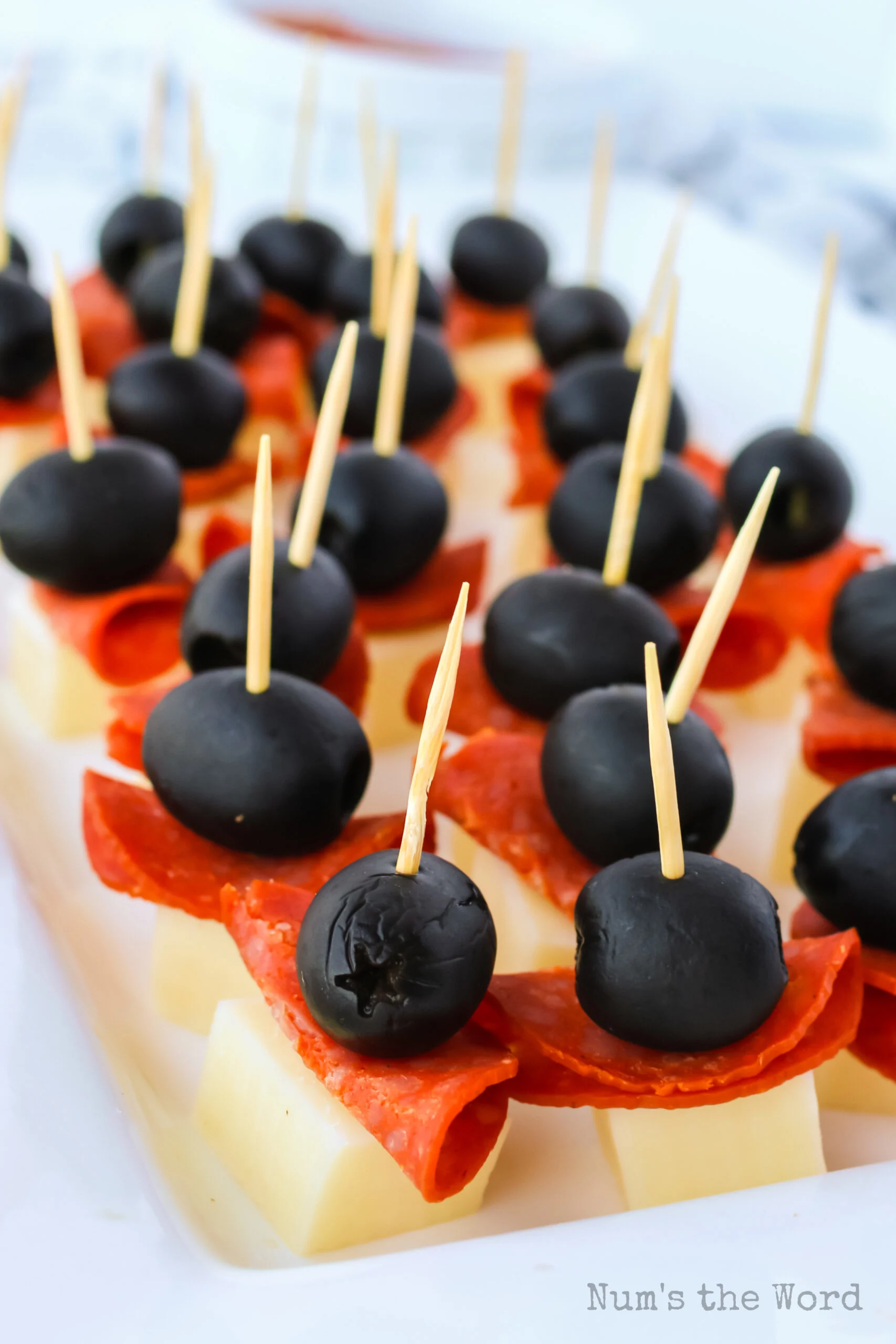 How to Store Leftover Mozzarella Pepperoni Bites
If you have any leftovers, store them in an airtight container in the fridge for up to 3 days.
I recommend not storing the delicious appetizers in any sauce as it'll easily cause the food to break down quickly.
Instead store them just on the skewers and keep them cold.
Can You Freeze Mozzarella Pepperoni Bites?
I don't recommend freezing these bites as the texture of the cheese may change when thawed.
While the pepperoni will still taste great, it's the cheese and olives which tend to change texture.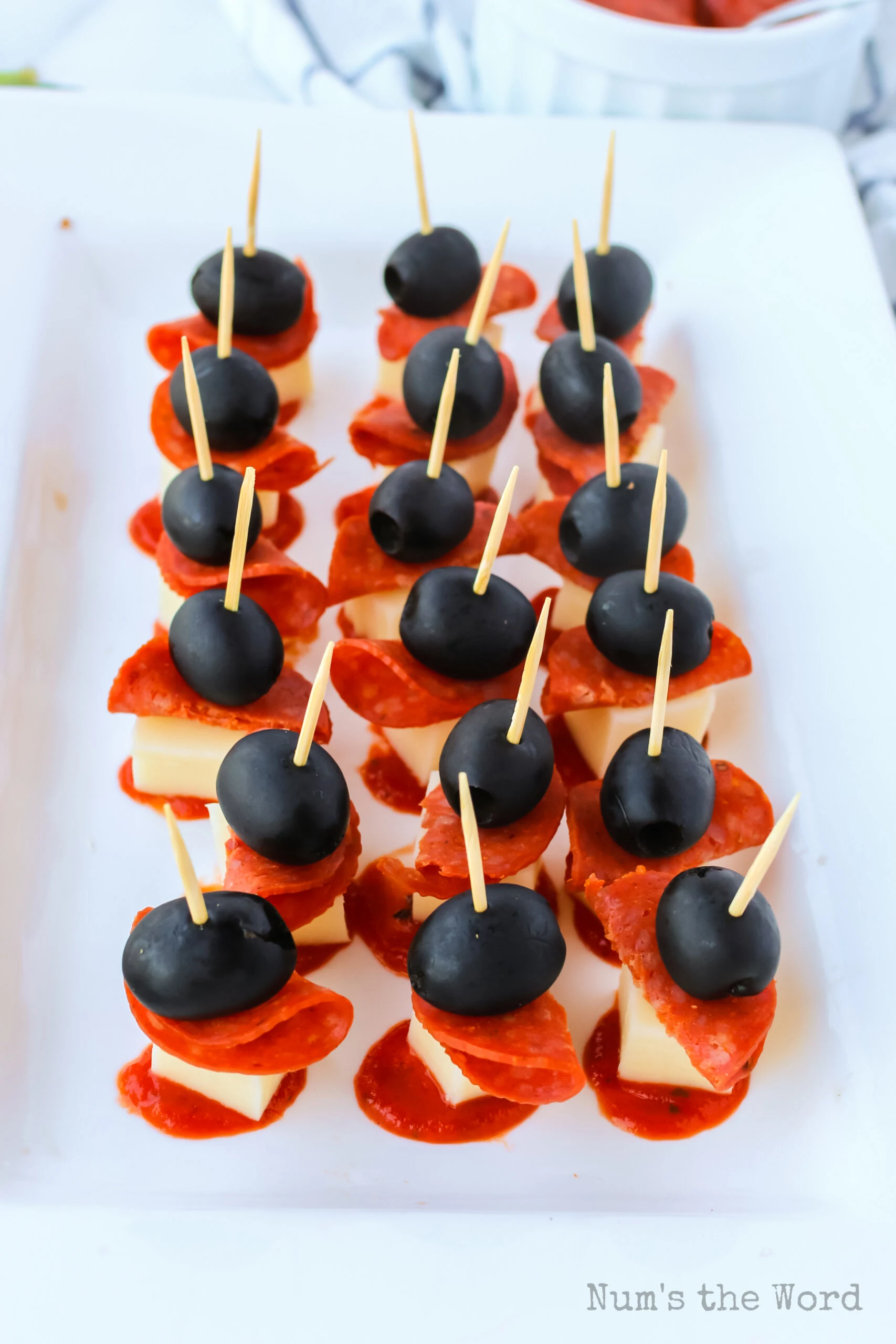 Mozzarella Pepperoni bites are an awesome snack and perfect appetizer! Made with delicious cheese and yummy pepperoni, they're the first thing to go off the table!
Yield: 30 Bites
Mozzarella Pepperoni Bites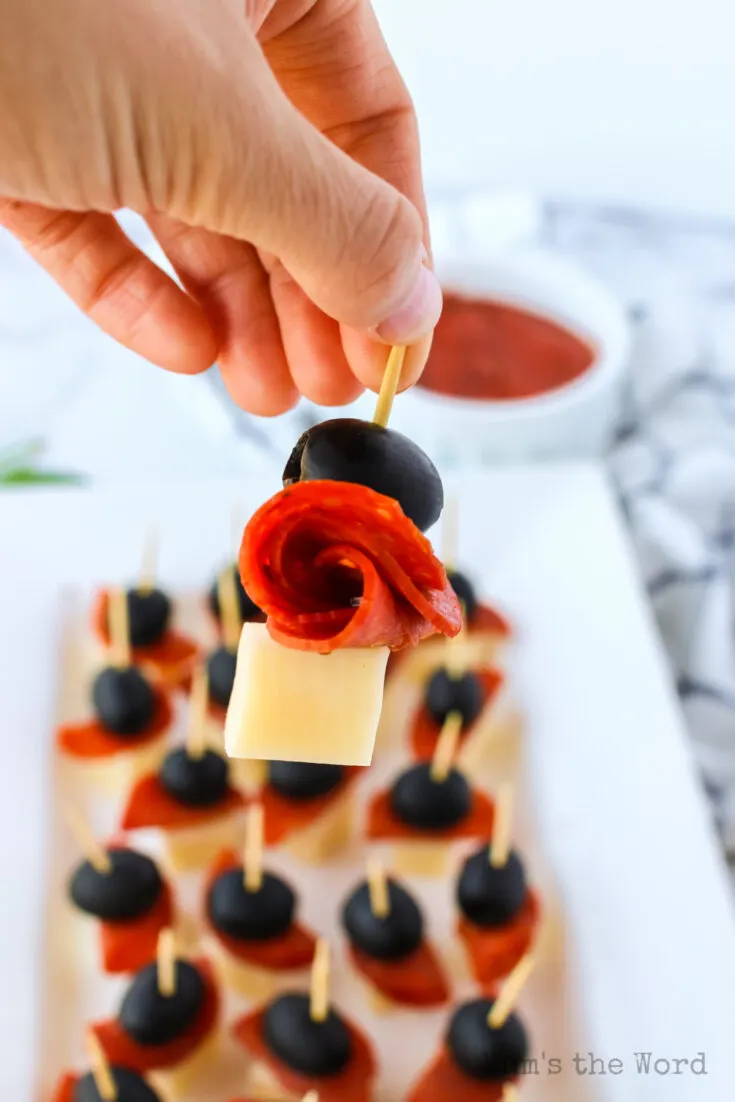 If you're looking for a crowd-pleasing appetizer that's easy to make and sure to disappear fast, these Mozzarella Pepperoni Bites are the answer!
Instructions
Slice Mozzarella cheese into 1/2" x 1/2" cubes.
Drain olives from liquid.
Using a toothpick, skewer an olive and push 1/3 way up the toothpick.
Fold a piece of pepperoni into half or quarters and skewer next.
Finally skewer mozzarella. Do not push toothpick all the way through mozzarella, only half way through as you do not want guests poking themselves in the mouth with the toothpick.
If making ahead of time, arrange on tray and cover with saran wrap so that it does not dry out.
When serving, serve plain or with a drizzle of pizza sauce on platter.
Notes
If you wish to create a pepperoni rose, lay 4 piece os pepperoni out, overlapping each (as seen in the photo). then gently roll up into a rose and skewer with toothpick.
Nutrition Information:
Yield:
30
Serving Size:
1
Amount Per Serving:
Calories:

47
Total Fat:

3g
Saturated Fat:

2g
Trans Fat:

0g
Unsaturated Fat:

1g
Cholesterol:

12mg
Sodium:

104mg
Carbohydrates:

1g
Fiber:

0g
Sugar:

0g
Protein:

3g
Originally Posted: June 26, 2014
Photos and Text Updated: April 30, 2023