Get ready to impress your guests with an easy but delicious Wreath Charcuterie Board! So elegant, but so fast to put together, it's a holiday favorite!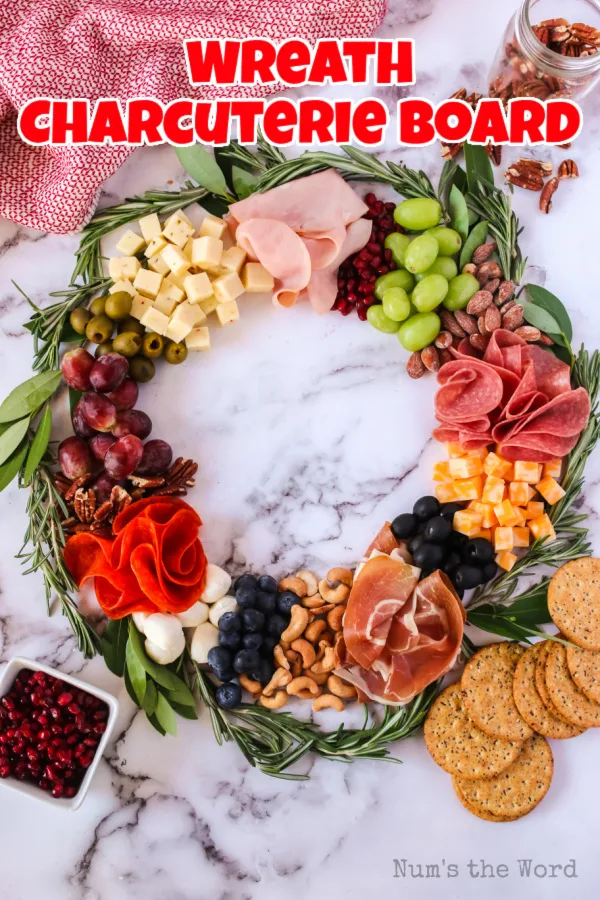 A Christmas wreath charcuterie board is full of bright colors, contrasting flavors, and it's just such a beautiful addition to your meal.
You'll love how impressive it is to serve a charcuterie wreath board. It'll get rave reviews every time!
It also uses simple ingredients. So you don't need to spend all of your holiday season looking for that one random thing!
A charcuterie board wreath is a cheap appetizer too. No need to spend lots of money!
And a wreath shaped charcuterie board is easily customizable! Different meats, cheeses, fruits, it's all good here!
But lastly, you'll love that this wreath charcuterie board recipe tastes delicious! Sweet and salty and packed with flavor.
It's definitely the best part of any holiday parties.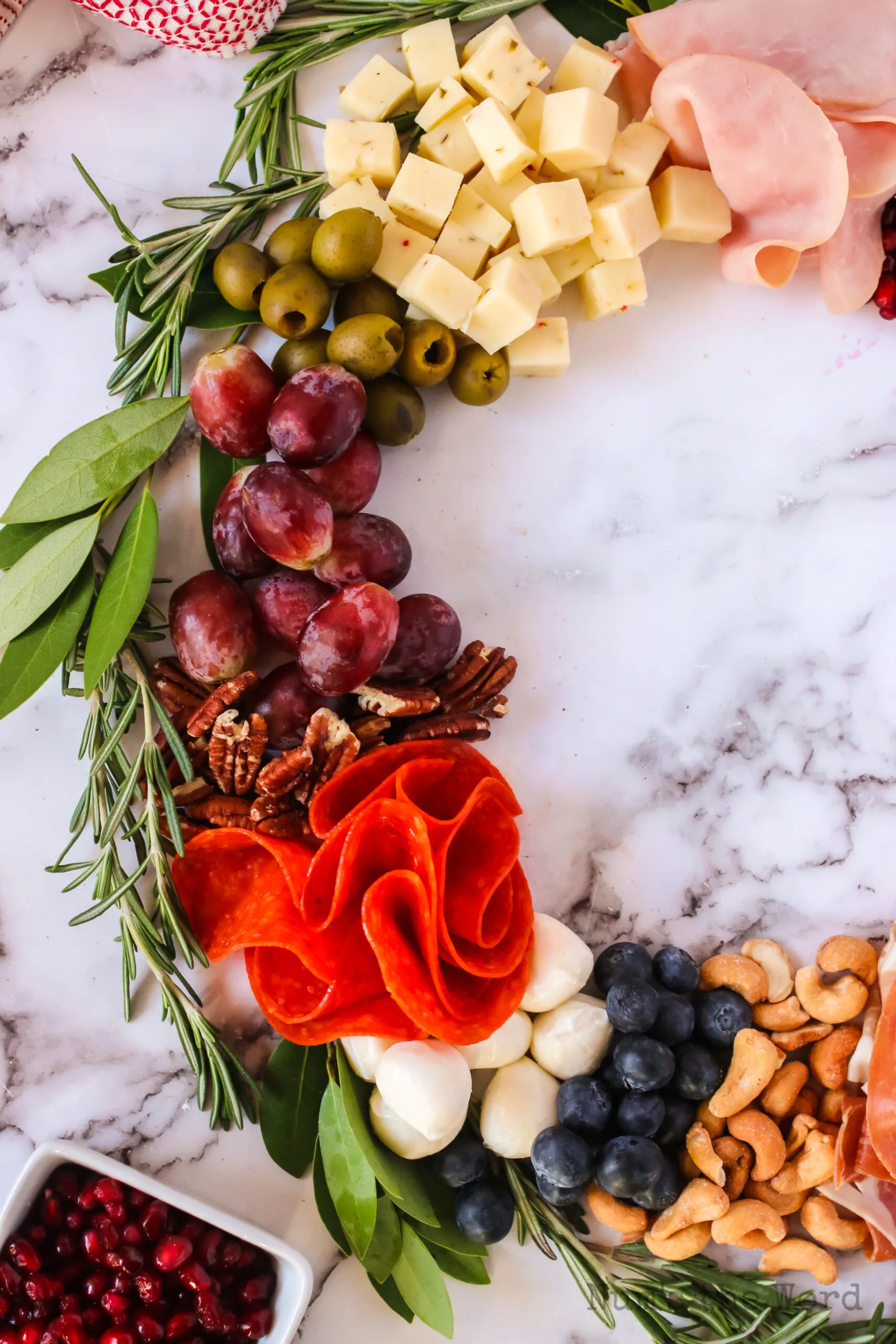 What is a Charcuterie Board
A festive charcuterie board is a type of appetizer. It is typically served on a board or slab and is popular at parties, holidays, and family gatherings.
You'll typically see a charcuterie board served with meats, cheeses, crackers, breads, fruits, and nuts.
Though there are many themed boards too which may feature chocolates, dips, or vegetables.
A wreath board in particular is a Christmas themed charcuterie board. Created in the shape of a wreath and interspersed with greenery, it looks like a wreath.
But it's so much better because it's edible. And delicious. Food is always the best. Plus you'll use food to bring in all the Christmas colors.
Reds – meats and pomegranate seeds. Whites – cheeses and nuts. Greens – herbs, grapes, and olives.
You cannot go wrong with this Christmas board.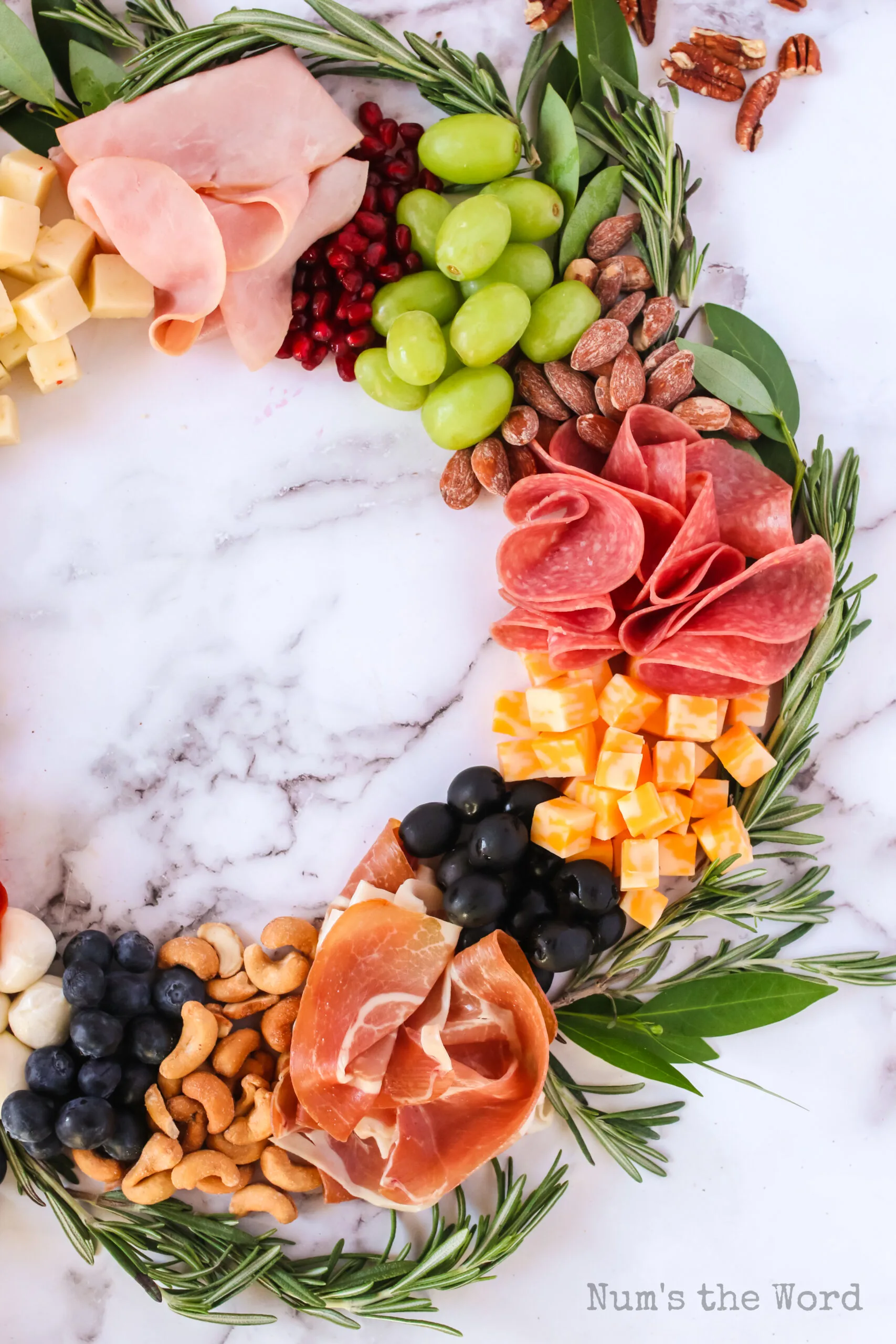 What Items Can I Put on a Wreath Charcuterie Board
Here is the ingredient list I've used to make this Christmas Charcuterie Board.
Meat: Use a variety of meats like salami, pepperoni, prosciutto and ham.
Cheese: Pepper Jack and Cheddar Jack cheeses look really great on the board. Remember you want a variety of cheeses.
Olives: Use black olives and green olives or black and Kalamata olives.
Blueberries: These can just be put on the board whole.
Grapes: I use both purple and green grapes.
Nuts: Pecans, almonds, and cashews are all great nuts for a wreath board recipe.
Mozzarella Balls: These not only taste great but are easy to toss right on the board.
Pomegranate Seeds: Always a crowd favorite, these pack a big punch on your board.
Fresh herbs: Fresh rosemary and bay leaves work great. Though sage or carrot tops would work too.
Pro Tips:
Feel free to mix things up. Meats, cheeses, fruits, and nuts can all be changed.
If you know someone has an allergy, leave something off the board and just replace it with something else.
Always use at least two green herbs for depth and beauty.
If you're swapping something out, try swapping for your favorite crackers.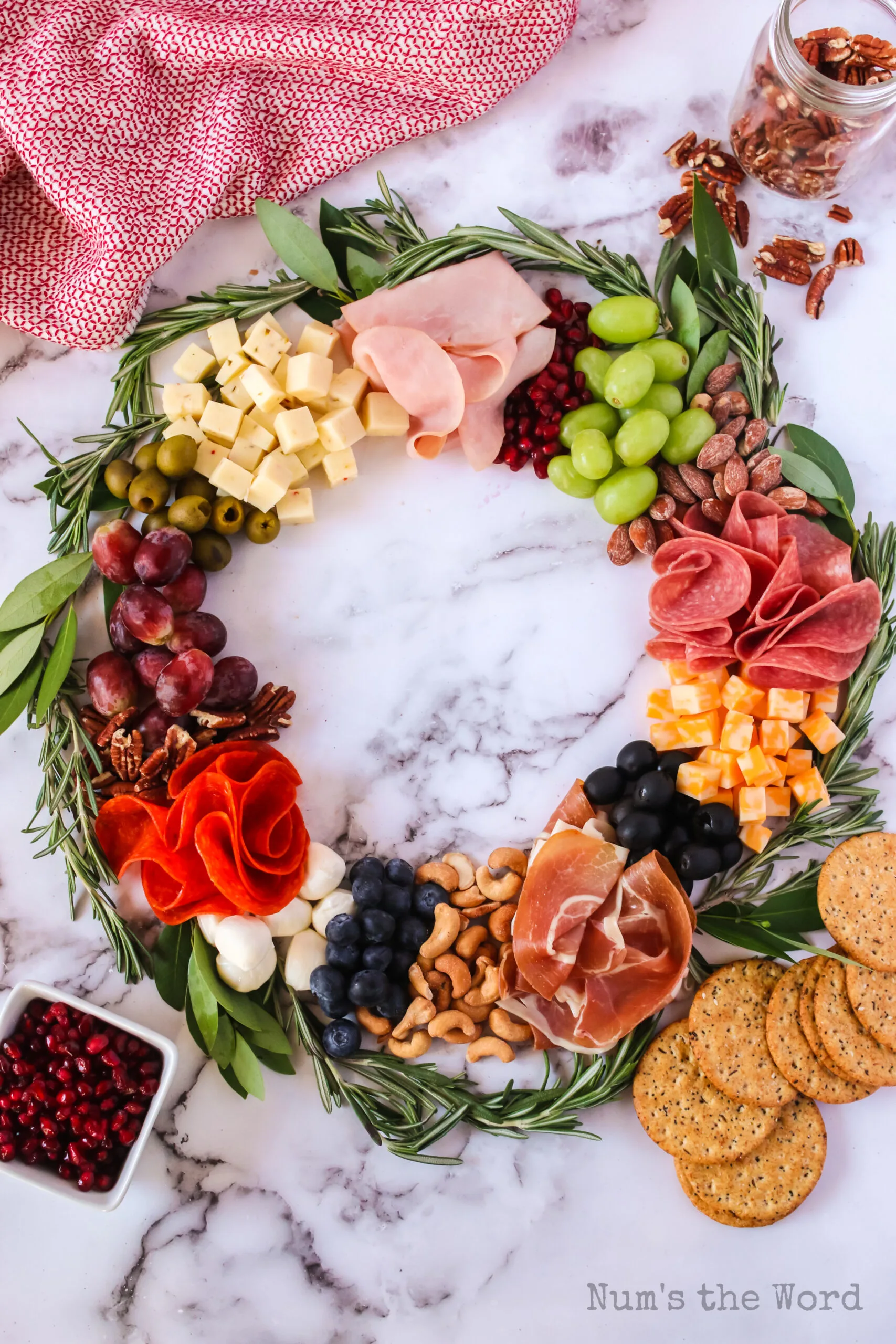 How to Make a Wreath Charcuterie Board
It's fairly simple to make a holiday wreath charcuterie board.
First, you'll want to pick the right kind of board. Any circular platter, pizza board or stone, round serving tray, or cheese board will work.
You could also use a baking sheet flipped upside down and covered with parchment paper. However if you don't have one, don't fear. You can easily just lay it out on parchment or butcher paper directly on your table!
Then it's time to design.
Arrange: Place all of the ingredients in a circle around the board.
Mix and Match: Try to keep similar colors or ingredients mixed up with different ingredients.
Decorate: Place the sprigs and greenery under, around, and throughout the entire charcuterie board.
Pro Tips:
A charcuterie board is usually about 14 inches round. But feel free to make it fit the large platter you're using.
Be careful not to let any round ingredients roll off the board when moving.
Fold the thin slices of meat twice to get them perfect for placing between your other ingredients.
It's important to get that wreath look. So try hard to keep it in a circle.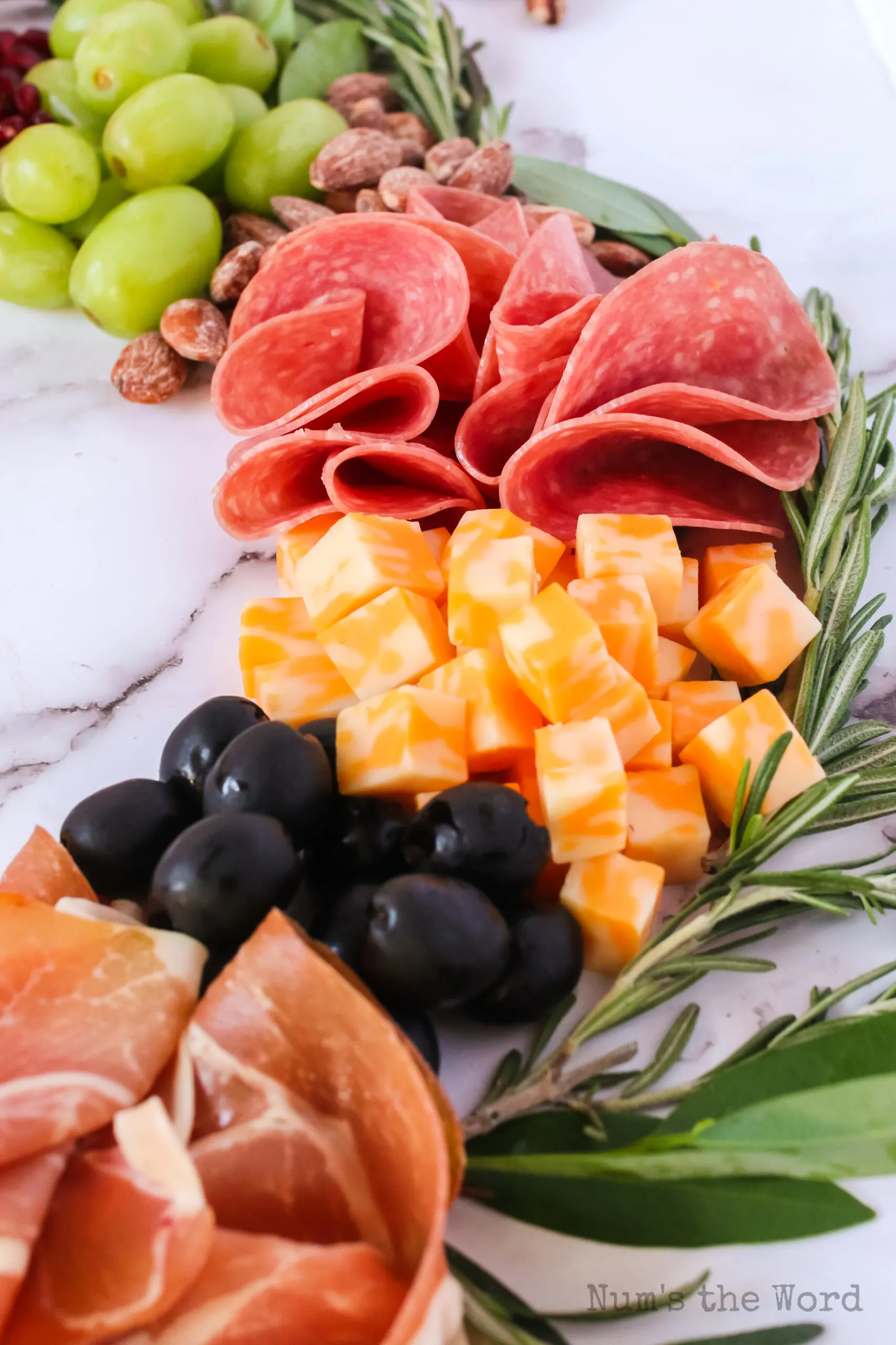 How to Pronounce Charcuterie Board
Charcuterie is a French word. And traditional charcuterie boards come from France.
Its correct pronunciation is "shar-coo-tree."
How to Eat a Wreath Charcuterie Board
You'll want to serve the wreath charcuterie board with small plates, napkins, forks, or toothpicks.
People will like being able to pick off whichever things they're interested in and they can skip the rest.
As most of these are finger foods, they don't really need anything special.
It's almost always served as an appetizer, though it could be served with the main dishes if it's one giant potluck.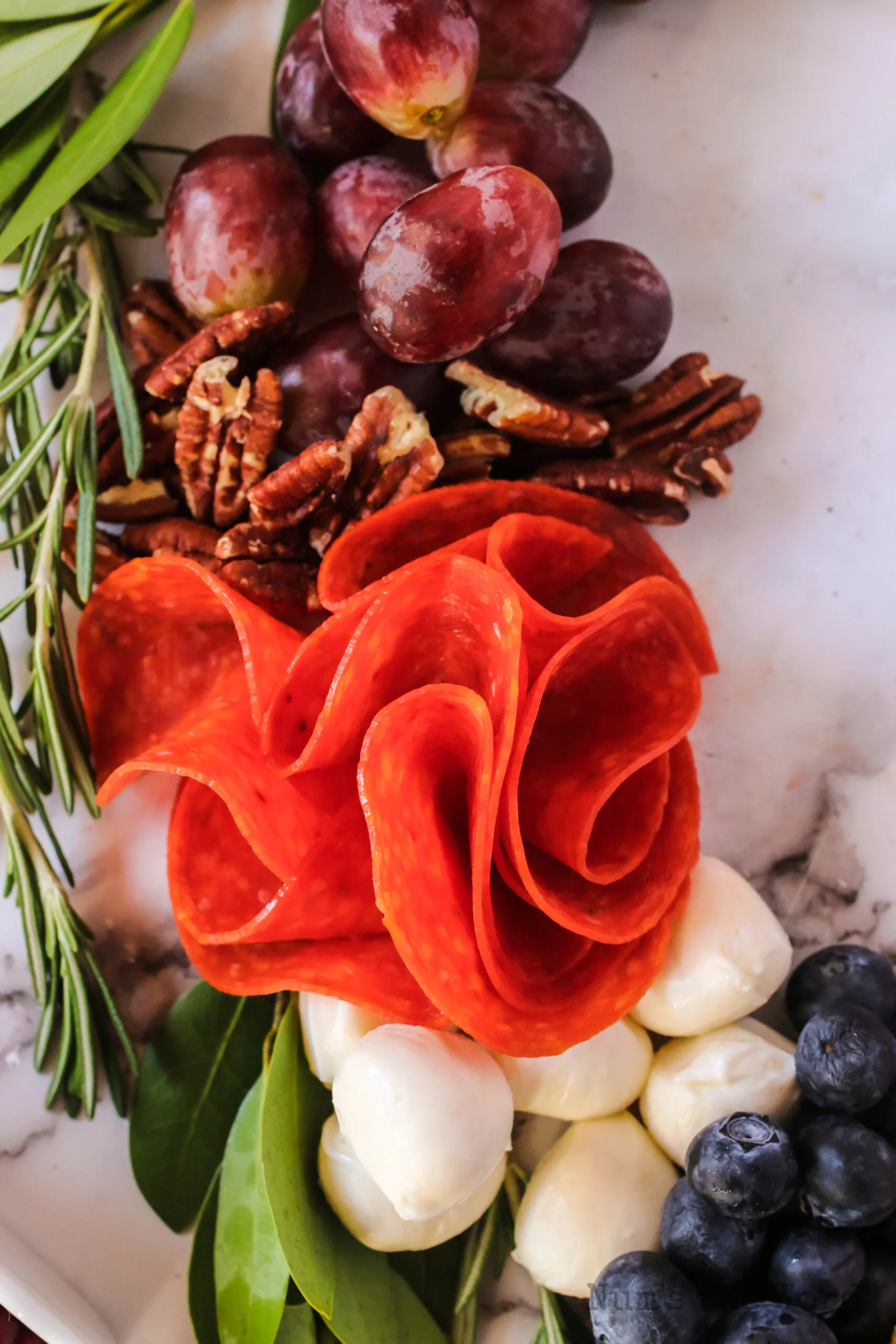 How to Store a Wreath Charcuterie Board
Your wreath charcuterie board should be kept in the fridge if it's not being eaten. And if it is being eaten, it should only be kept at room temperature for up to 2 hours.
The meats and cheeses can go bad pretty quickly so you'll want to only bring it out when ready to serve.
Then be sure to put away any leftovers quickly. Wrap it tightly with plastic wrap while in the fridge.
How Long Does a Wreath Charcuterie Board Last
Many of the ingredients on a wreath charcuterie board will last a long time. Nuts, fruits, and even the meats and cheeses are all designed to last a while.
As long as everything is covered properly, it should last for at least 5 days. Of course, if anything starts to turn, be sure to remove that from the tray as quickly as possible.
In that way you can hopefully save the rest of the tray.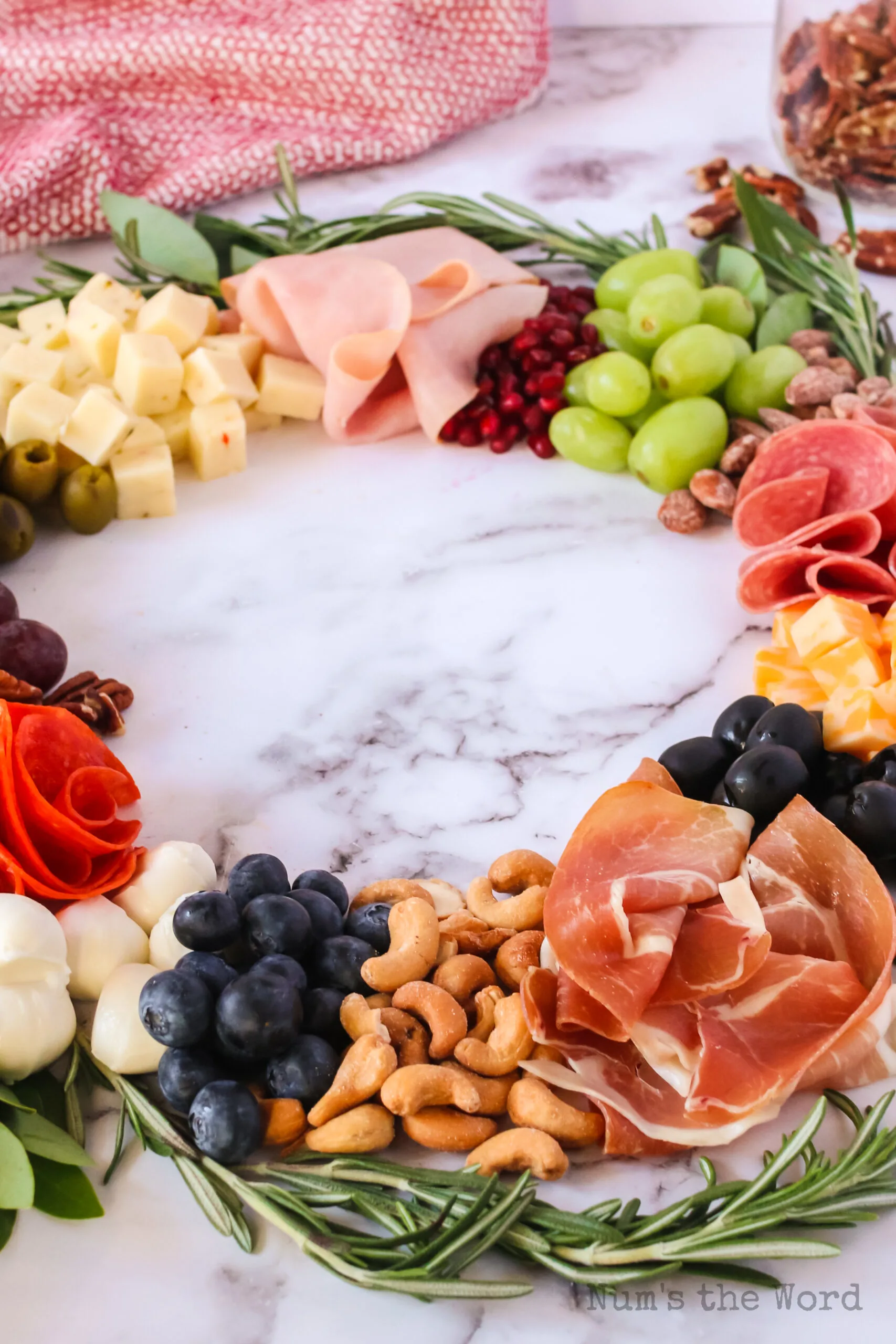 Can I Make a Wreath Charcuterie Board Ahead of Time?
You can absolutely make a wreath charcuterie board ahead of time!
Simply make your wreath charcuterie board and then wrap it tightly with plastic wrap.
Be sure not to let any air in as it will cause bacteria to grow and the gorgeous Christmas charcuterie board recipe will go bad much quicker.
Then serve at your holiday gatherings and enjoy!
What Are Wreath Charcuterie Board Substitutes?
Try adding or swapping any of these ingredients to your Christmas charcuterie wreath.
Cherry Tomatoes
Grape Tomatoes (cut in half)
Candy Canes
Salami Roses (make this by placing in wine glass and layering until it looks like a flower)
Goat Cheese Log
Any other delicious cheeses
A variety of fresh fruits
Herb sprigs
Artichoke hearts
Sliced meat of any kind
Any other of your favorite foods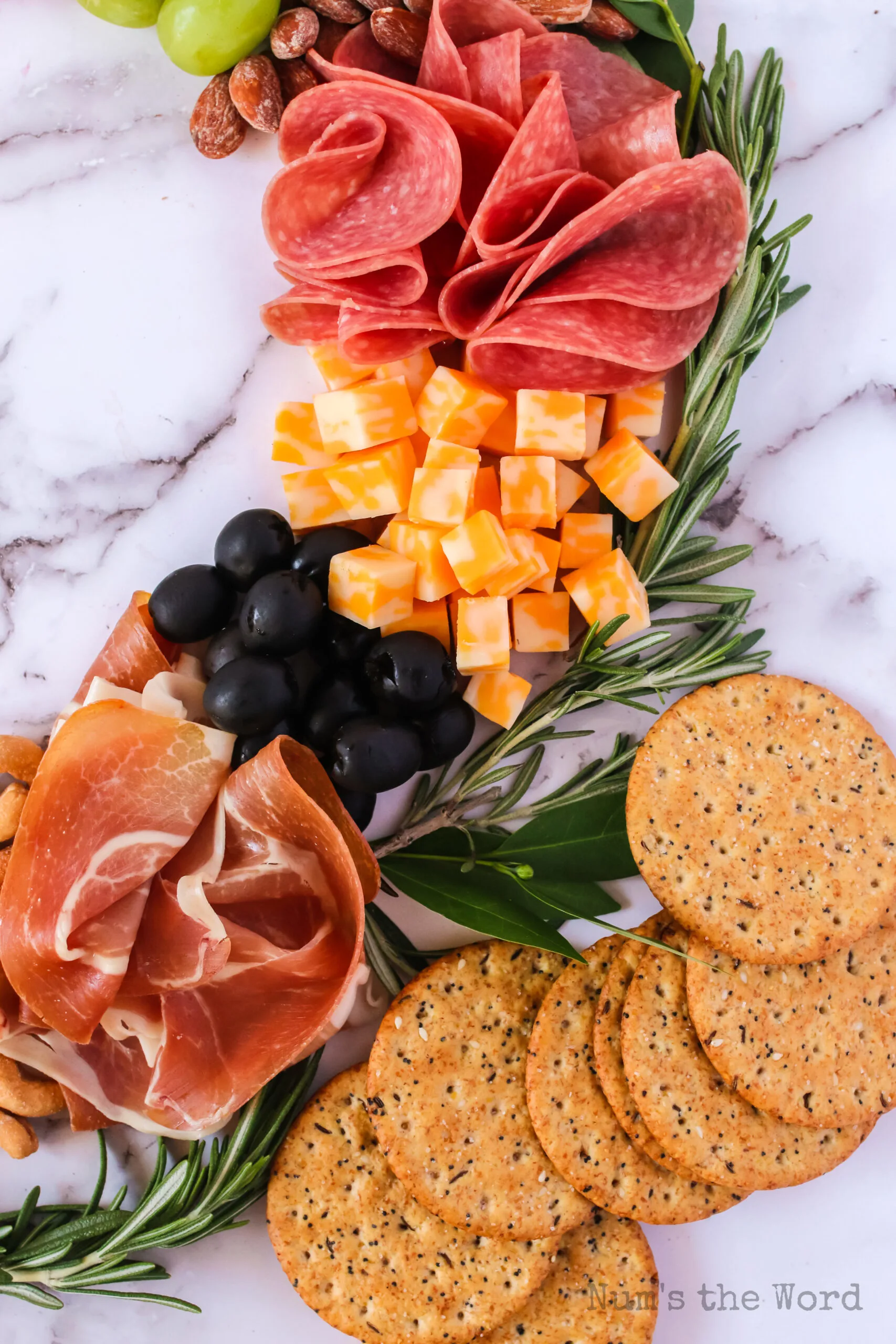 A wreath charcuterie board is the perfect addition to your Christmas gathering! Enjoy it as a delicious appetizer and be ready to "wow" your guests!
Yield: 10 Servings
Wreath Charcuterie Board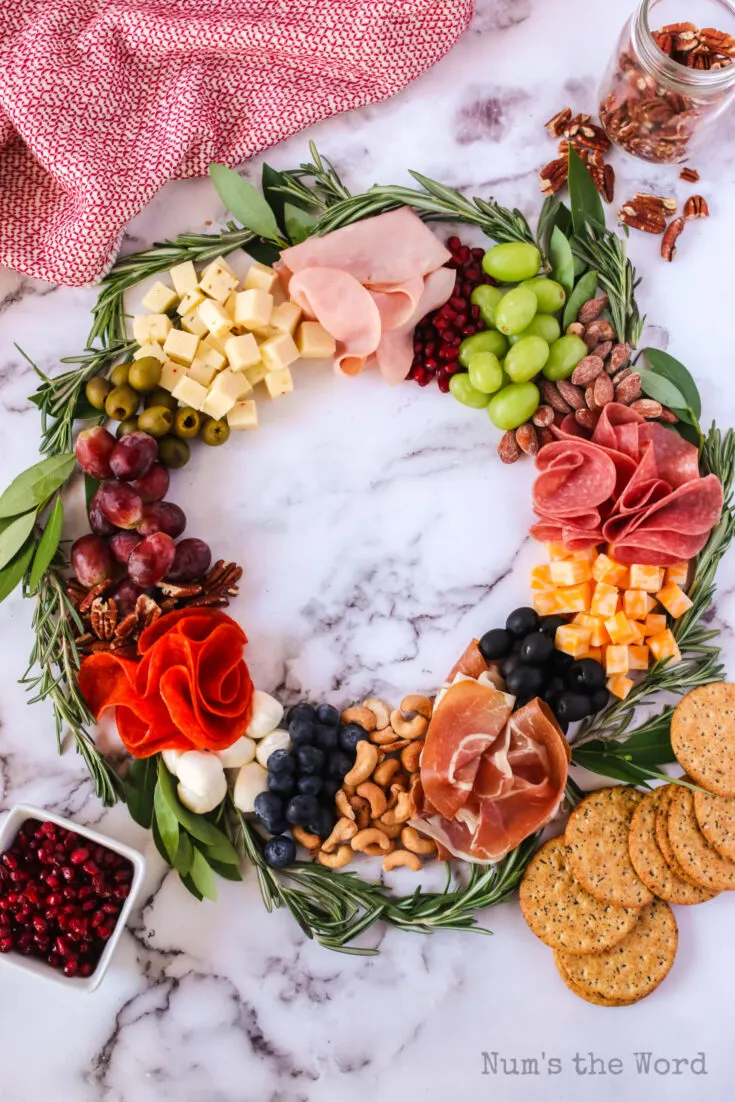 Get ready to impress your guests with an easy and delicious Wreath Charcuterie Board! So elegant, but so fast to put together, it's a holiday favorite!
Ingredients
Fresh sliced salami
Fresh sliced pepperoni
Fresh sliced prosciutto
Fresh sliced ham
Pepper Jack Cheese Cubes
Cheddar Jack Cheese Cubes
Black Olives
Green Olives
Blueberries
Green Grapes
Red Grapes
Pecans
Almonds
Cashews
Mozzarella Balls
Pomegranate Seeds
Fresh Rosemary Spears
Fresh Bay Leaves
Instructions
Decide on how many you want to feed and adjust your wreath accordingly. I suggest a 14+ inch circle - think pizza pan size
When placing items around your board, try to spread out the colors and textures.
Don't place all the nuts next to each other. However spread the huts around the board.
For this board we have 4 meats. They are places at the 12, 3, 5 and 9 o'clock positions on the circle.
Fruit and Olives are placed in the 1, 5, 7, and 10 o'clock positions.
Cheese is found in the 4, 8 and 11 o'clock positions.
And finally the nuts are at the 2, 6 and 10 o'clock positions.
Once your board is complete, spread crackers next to board as well as ring your board with fresh rosemary and bay leaf sprigs for the greenery of your wreath.