Introducing the best Instant Pot Pot Roast Recipe. A warm, hearty, and delicious meal that will satisfy your entire family.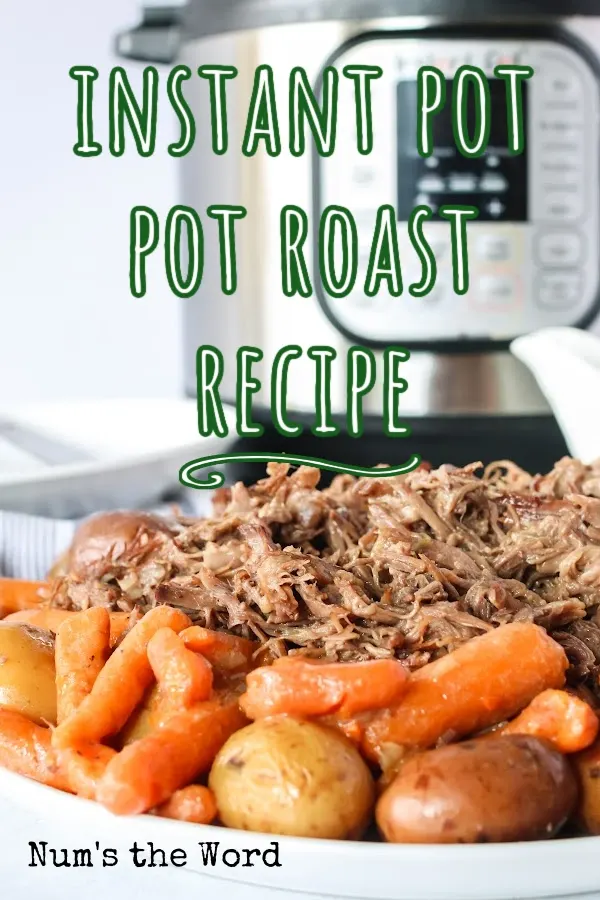 This tender, melt-in-your-mouth roast is packed with savory flavors, surrounded by perfectly cooked vegetables, and smothered in a rich, flavorful gravy.
Imagine a mouthwatering roast that cooks in a fraction of the time compared to traditional methods, but still has all the rich, hearty flavors you crave.
Instant Pot Roast is a one-pot meal, making clean-up a breeze.
The Instant Pot speeds up cooking time without sacrificing flavor.
The recipe is versatile, allowing you to customize the vegetables to your preference.
Pot roast Instant Pot is a comforting and satisfying meal perfect for cold weather.
The tender, flavorful meat will impress even the pickiest eaters.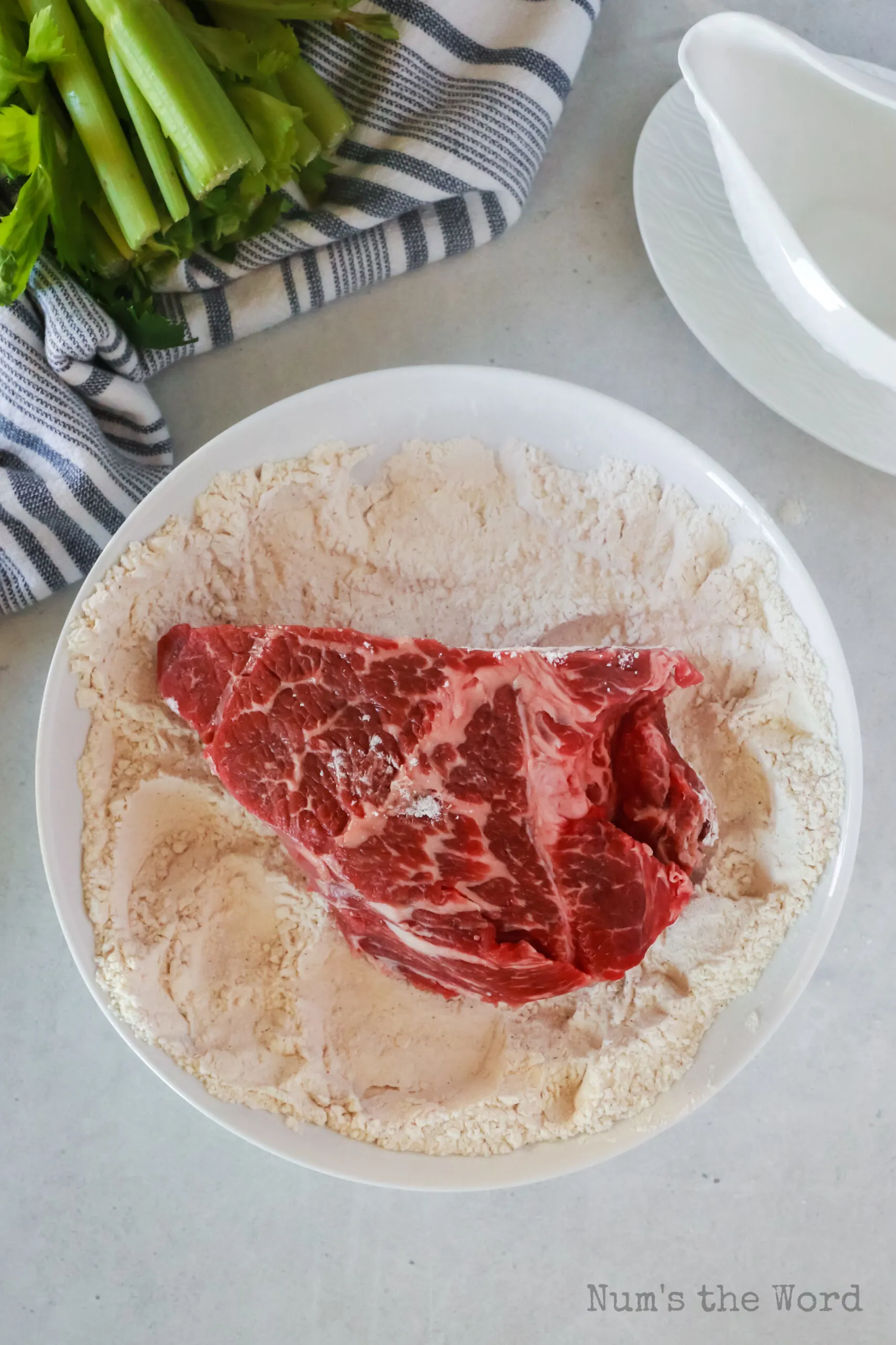 What is Pot Roast?
Pot roast is a braised beef dish that is a classic you'll definitely want to know!
It's typically made by slow-cooking a large cut of beef, such as a chuck roast, along with vegetables in a flavorful broth or sauce.
The result is tender, juicy meat with a rich, savory taste, perfect for a satisfying and comforting meal.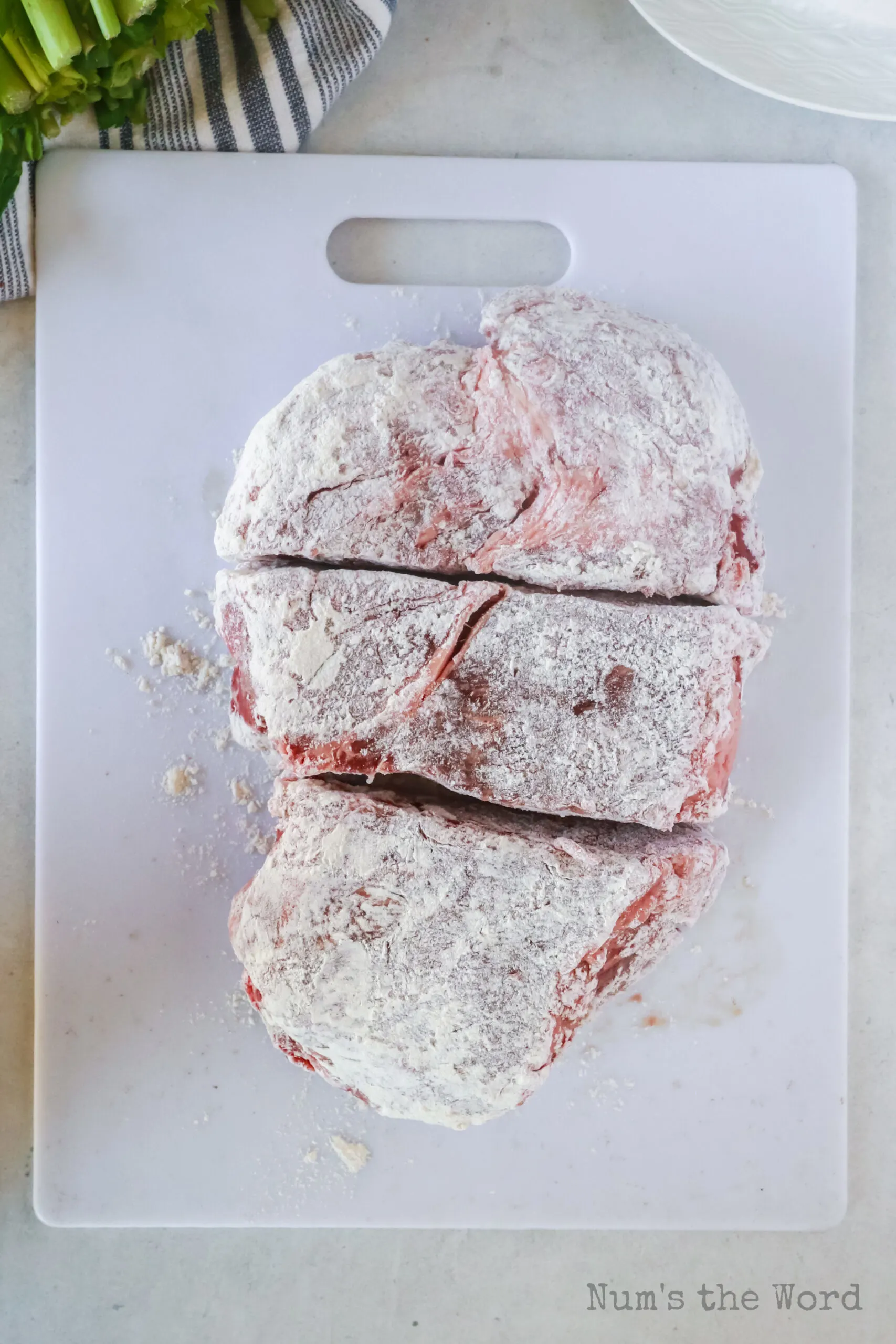 What Ingredients Are in this Instant Pot Pot Roast Recipe?
Use simple ingredients to make this tender instant pot beef roast! This good pot roast is a complete meal all in one pot!
All-purpose flour: helps to thicken the gravy and gives the roast a nice crust
Garlic salt and black pepper: adds flavor and seasoning to the roast
Chuck roast: a tender and flavorful cut of beef, perfect for pot roast
Olive oil: used for searing the meat to lock in flavor
Cream of mushroom soup: adds creaminess and depth of flavor to the sauce
Water: thins the sauce for even cooking
Dry onion soup mix: adds savory flavor and seasoning to the dish
Baby carrots: adds sweetness and color to the dish
Baby potatoes: provides a starchy, satisfying element to the meal
Celery: adds flavor and aroma to the dish
Pro Tip: To enhance the flavor of the roast, try adding a splash of red wine or Worcestershire sauce to the sauce mixture.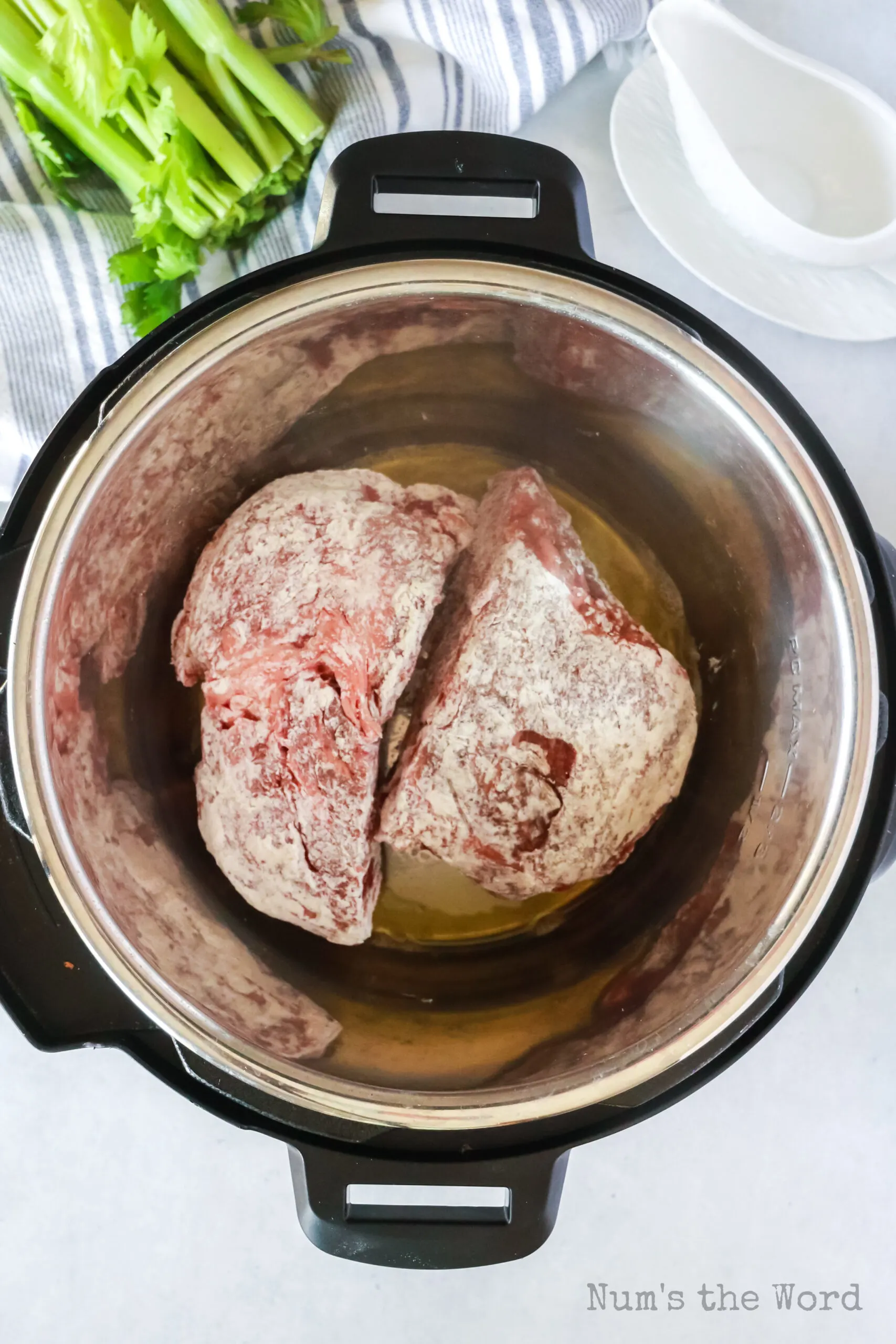 How to Make this Instant Pot Pot Roast Recipe?
The best way to make tender pot roast is in the instant pot pressure cooker!
It doesn't take a long time like the slow cooker pot roast and is the ultimate comfort food!
Prepare and sear the chuck roast using the sauté function on the Instant Pot.
Mix together the cream of mushroom soup, water, and onion soup mix.
Add the roast back into the Instant Pot and top with the soup mixture and vegetables.
Cook the roast on manual high heat for 65 minutes.
Allow the pot to naturally release pressure for 10 minutes before serving the pot roast with potatoes and carrots.
Pro Tips:
Let any leftover pot roast come to room temperature and then store in an airtight container.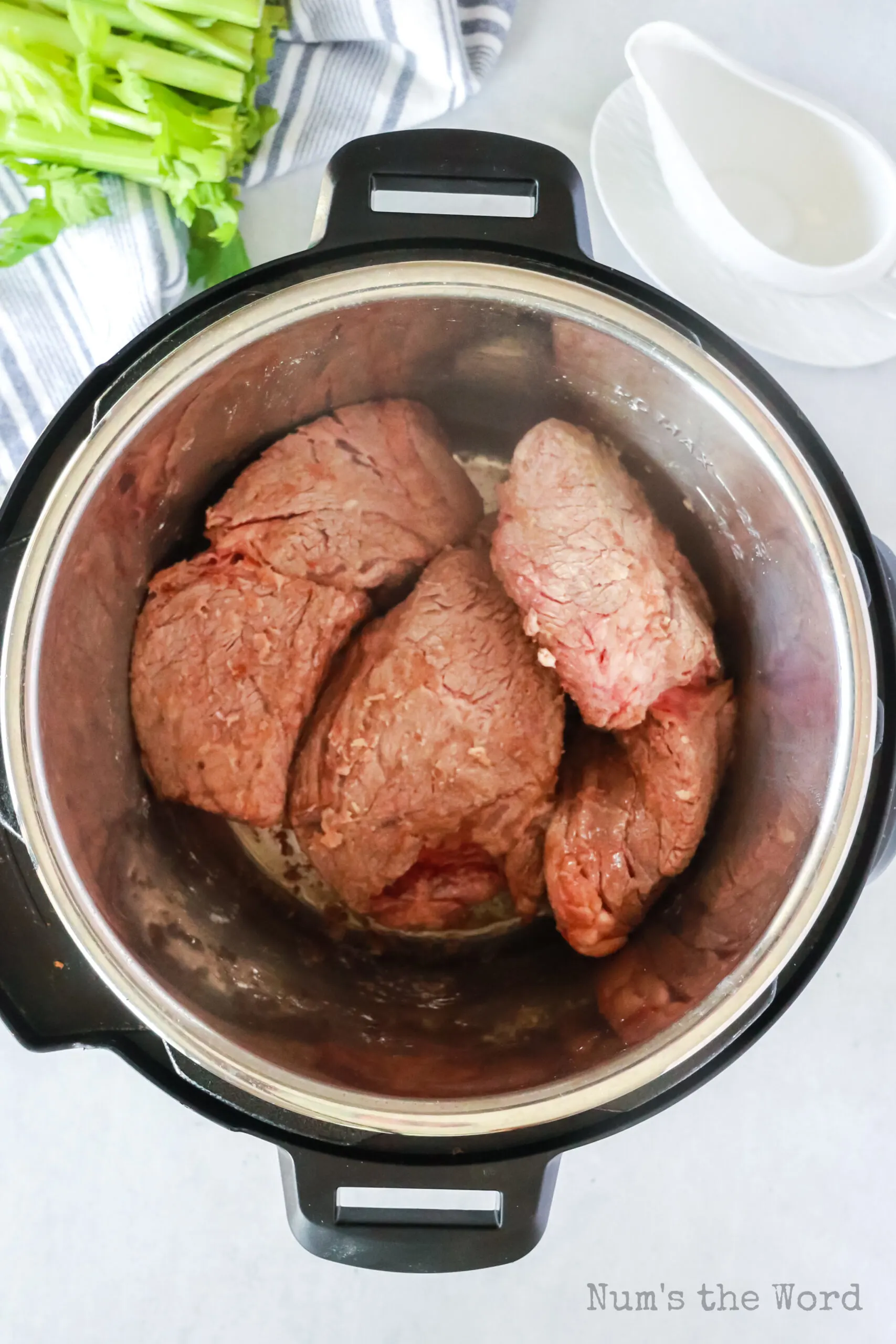 Can You Cook a Frozen Roast in an Instant Pot
Yes, you can cook a frozen roast in an Instant Pot.
However, it's important to adjust the cooking time accordingly.
Usually you can add an additional 20-30 minutes to the cooking time, depending on the size of the roast.
Roast has a lot of connective tissue. It needs ample time to cook to soften it.
So if you're cooking from frozen, even in an instant pot, you're going to want to cook it longer.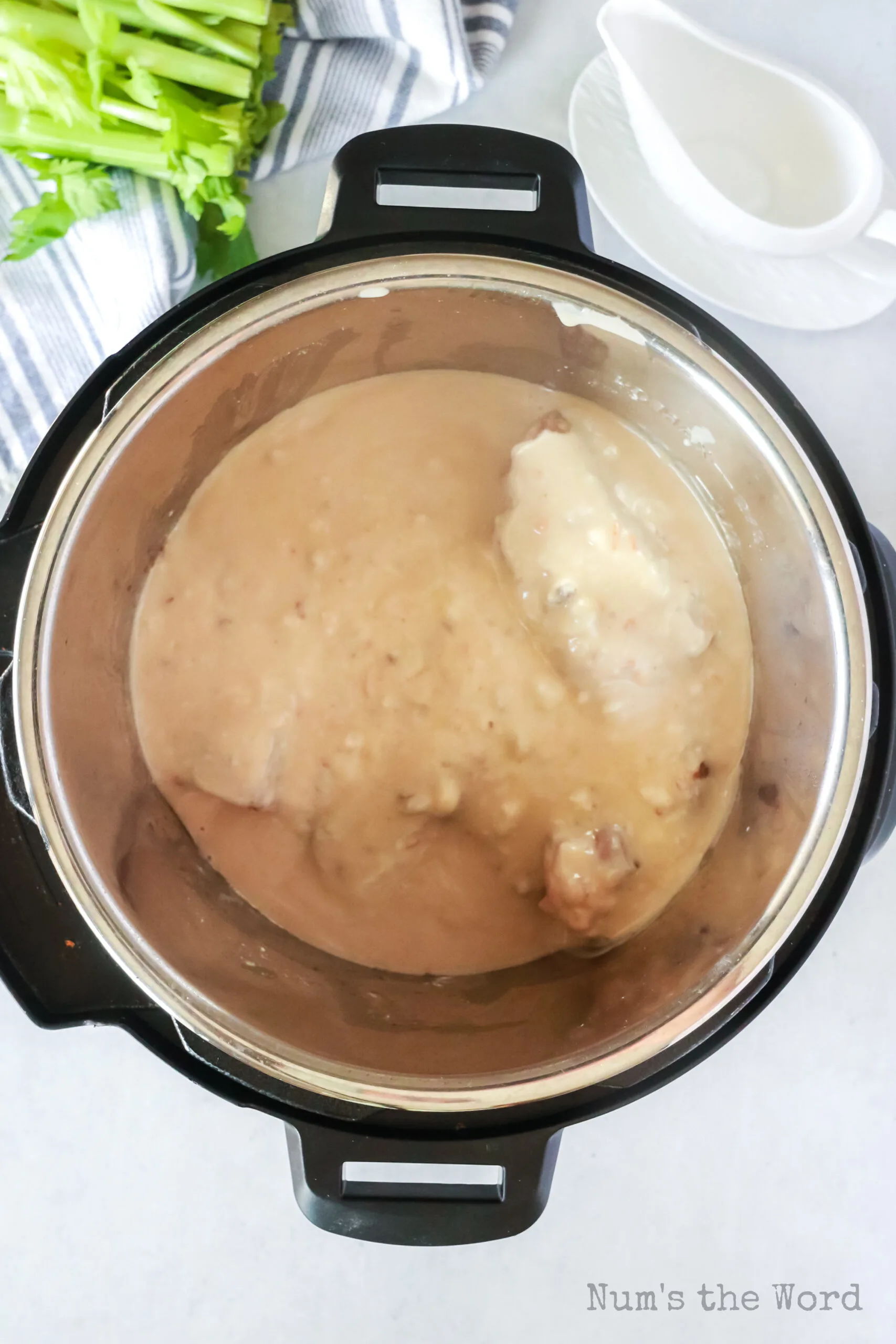 How Long to Cook this Instant Pot Pot Roast Recipe?
For this recipe, cook the Instant Pot Pot Roast on manual high heat for 65 minutes, followed by a 10-minute natural release.
A natural release means you don't do a quick release of the steam when the timer goes off.
Instead, let the high pressure remain in the pot and after 10 minutes, switch to vent to release the pressure.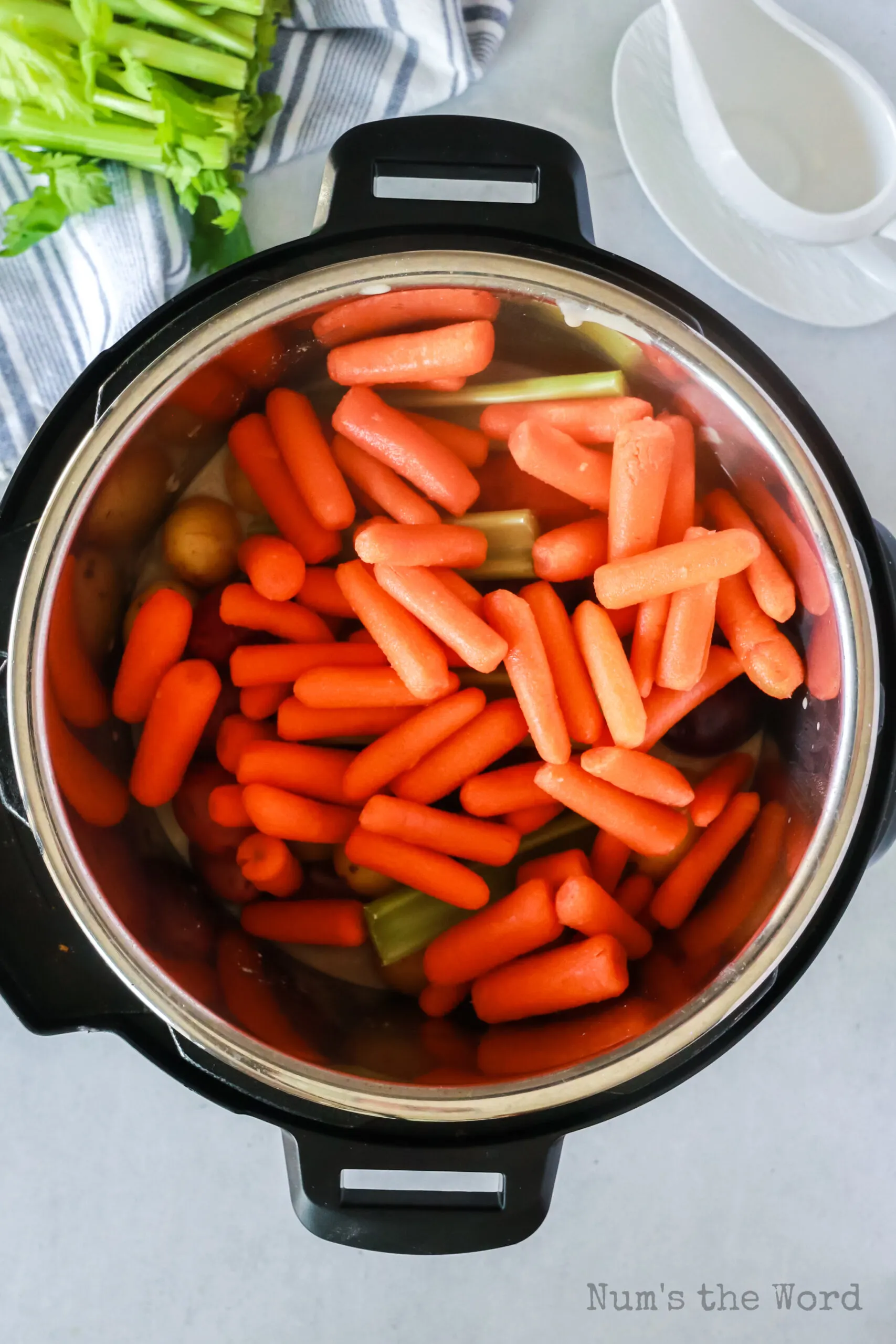 Why is My Instant Pot Pot Roast Tough?
If your Instant Pot Pot Roast is tough, it is usually because it is under cooked.
That means it hasn't had enough time to break down the connective tissue.
To resolve this issue, simply cook the roast for a bit longer until it becomes tender.
This extra step shouldn't take too long since you're using an pressure cooker, so cook until you get the tender meat you desire.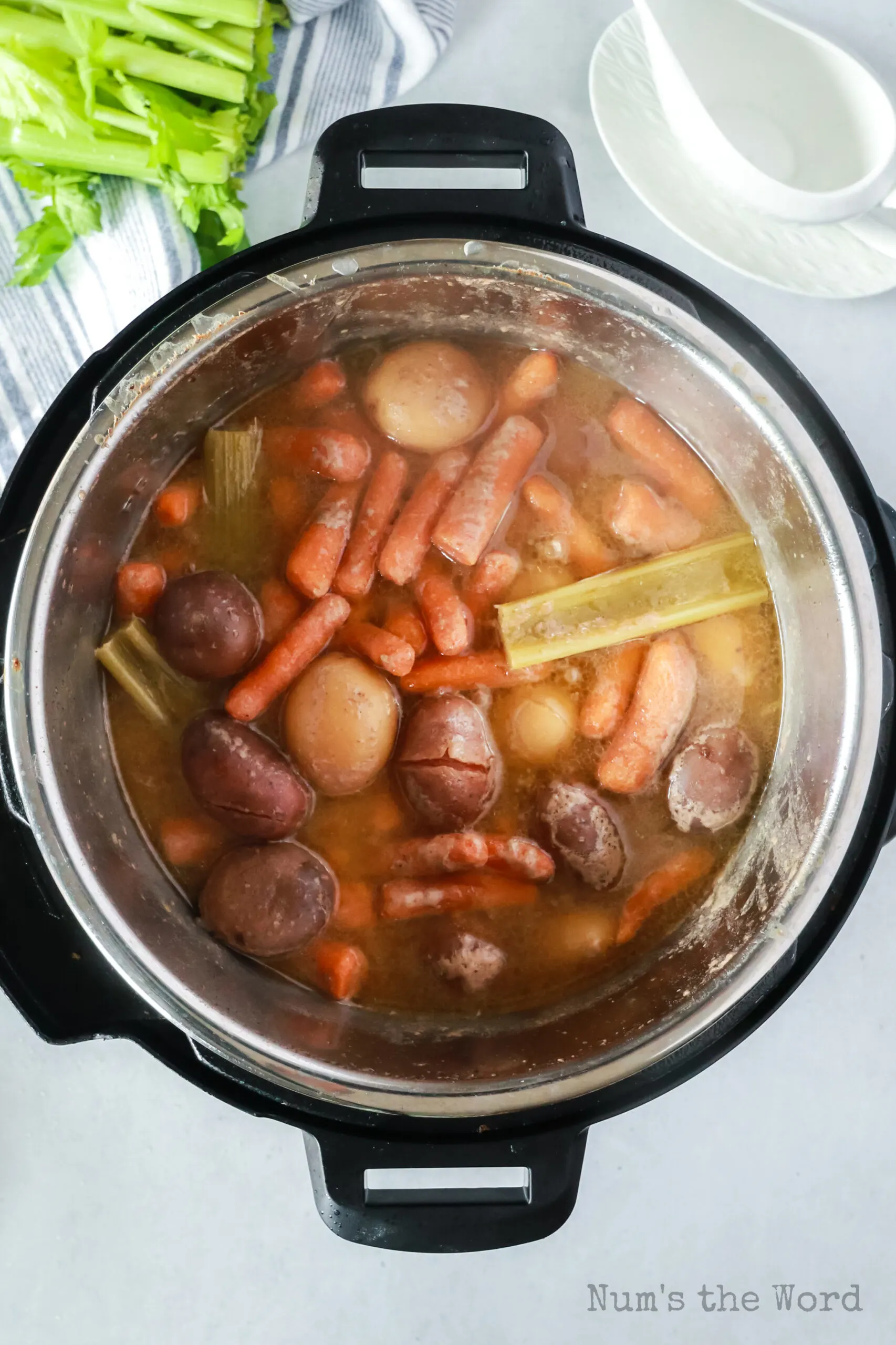 What Cut of Meat to Use for Instant Pot Pot Roast?
The best cut of meat for this Instant Pot Pot Roast recipe is a chuck roast.
This cut of beef is well-marbled, which results in a tender, flavorful, and juicy pot roast.
Another traditional one is rump roast.
I prefer the chuck roast, but both will give you that traditional pot roast flavor.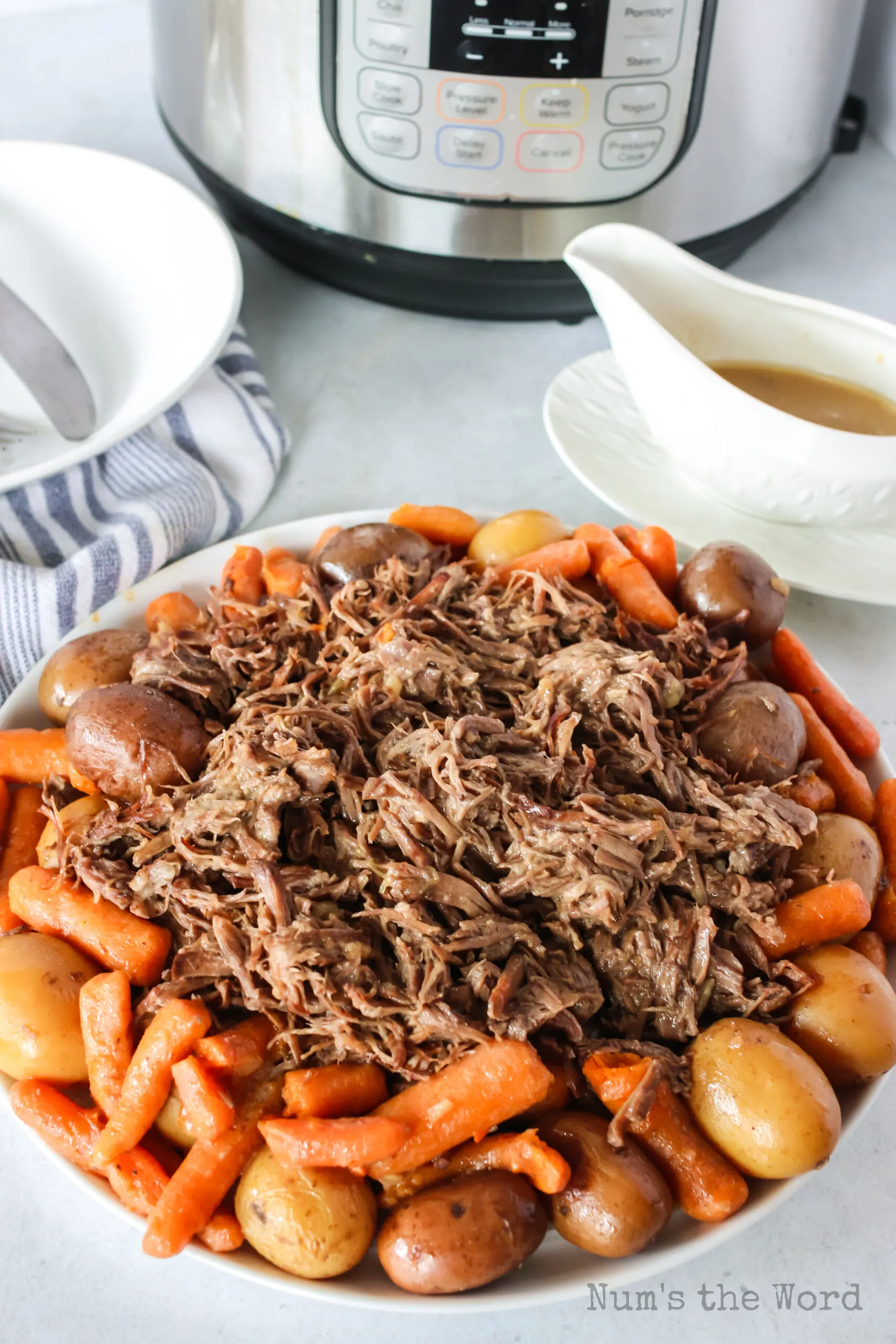 What to Serve with Instant Pot Pot Roast
Serve your Instant Pot Roast with a variety of side dishes to complete the meal.
Some easy side dish options include: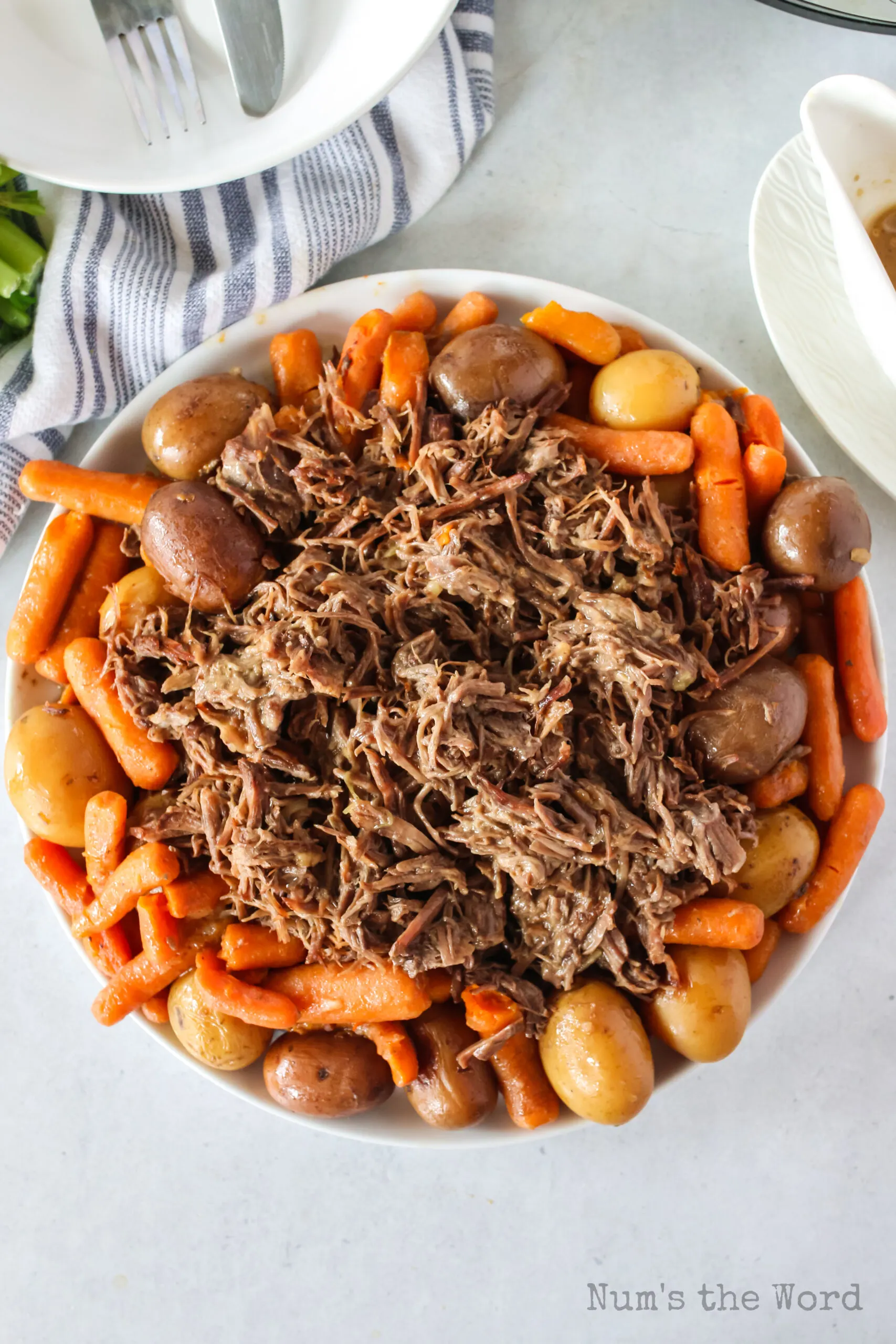 What to Make with Leftover Instant Pot Pot Roast
Leftover Pot Roast in the Instant Pot can be transformed into several different dishes, such as:
Shredded beef tacos or burritos
Beef and vegetable stir-fry
Hearty beef and vegetable soup
Beef stroganoff with egg noodles
Pot roast sliders with melted cheese and caramelized onions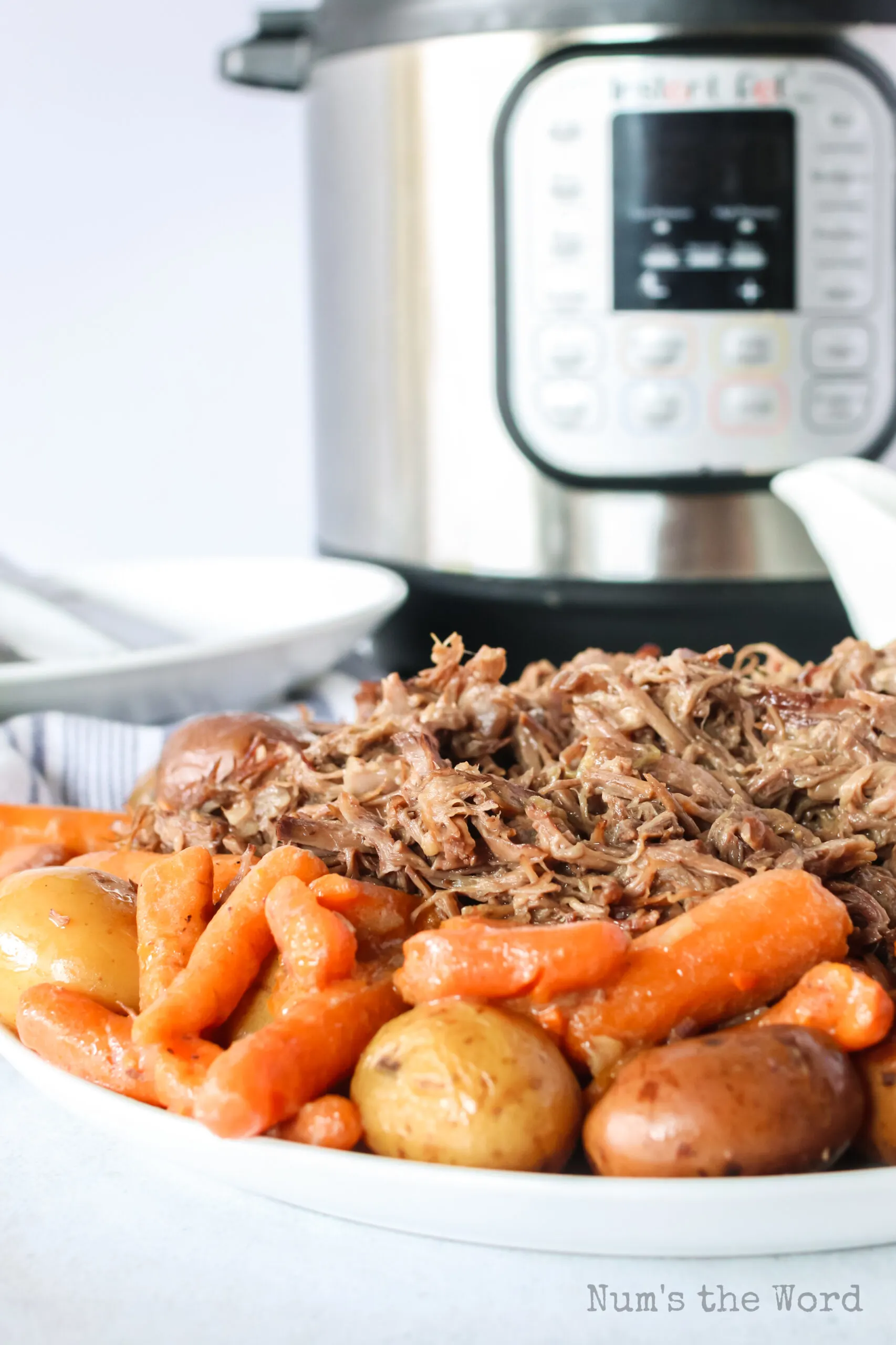 How to Make Instant Pot Pot Roast Gravy
To make a delicious gravy from your Instant Pot Pot Roast, simply follow these steps:
Remove the cooked roast and vegetables from the Instant Pot, leaving the liquid behind.
Set the Instant Pot to sauté mode and bring the liquid to a simmer.
In a small bowl, whisk together equal parts cornstarch and cold water to create a slurry.
Slowly whisk the slurry into the simmering liquid, stirring constantly to avoid lumps.
Cook the gravy until it thickens to your desired consistency, then season with salt and pepper to taste.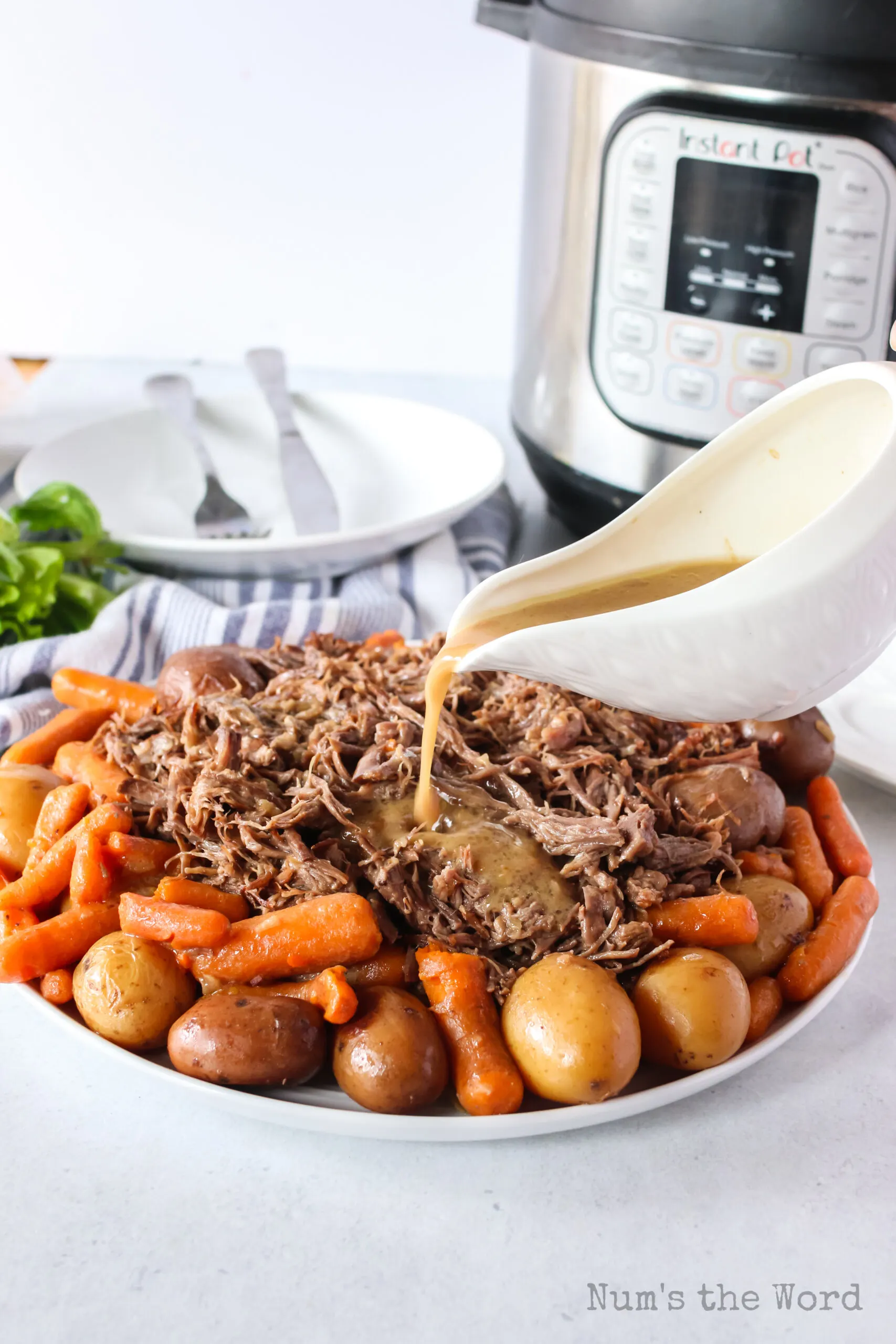 Now you have all the information you need to make a perfect the Instant Pot Pot Roast Recipe.
You're ready to impress your family and friends with this delicious, comforting meal.
Enjoy the tender, flavorful meat and perfectly cooked vegetables, all smothered in a rich, savory gravy, made easily in your Instant Pot.
This satisfying dish is sure to become a family favorite in your home.
Yield: 8 Servings
Instant Pot Pot Roast Recipe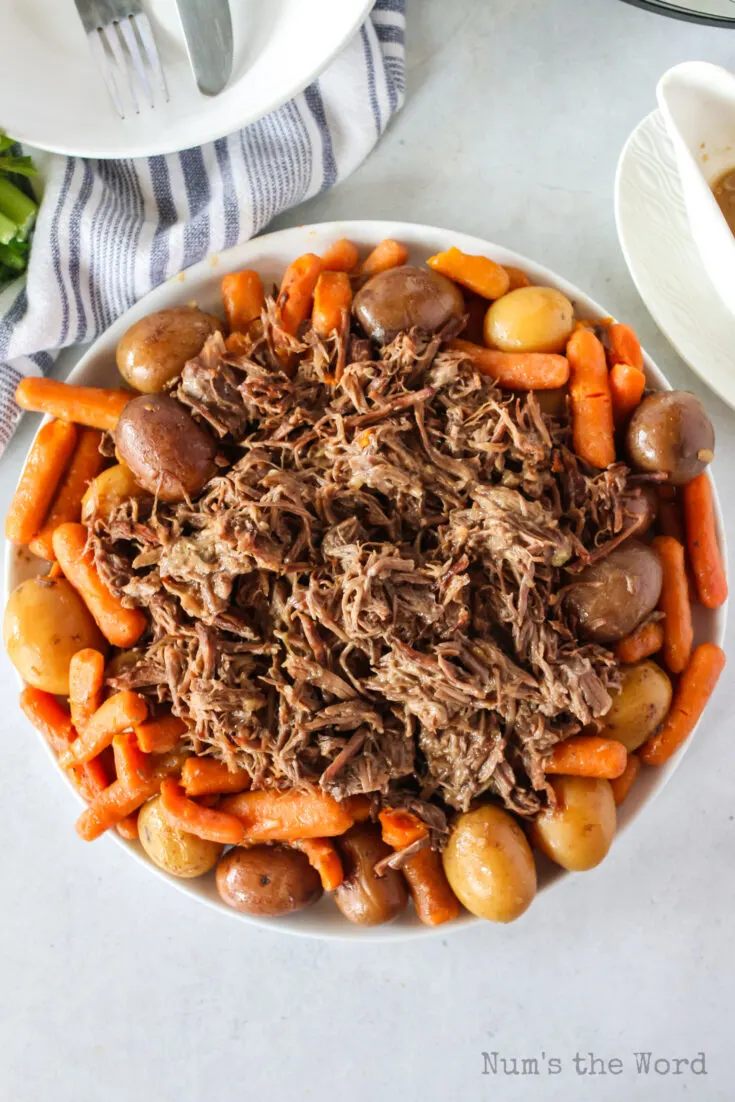 Introducing the Instant Pot Pot Roast Recipe, a warm, hearty, and delicious meal that will satisfy your entire family.
Cook Time
1 hour
5 minutes
Total Time
1 hour
35 minutes
Instructions
Turn the instant pot to Sauté mode. While the instant pot is heating up, prepare beef.
Remove any obvious fat caps (unless you like the fat)
In a shallow large bowl, combine flour, salt and black pepper. Mix well.
Cut roast in ½ or ⅓
Dredge each piece of roast into the flour mixture, coating all sides.
Once the Instant Pot is hot, add olive oil and spread around.
Add roast one at a time and sear roast on all sides.
Remove from the pot and repeat with all pieces.
Once all beef has been seared, turn saute function off.
In a bowl combine cream of mushroom soup, water and onion soup mix. Mix well. Mixture should be thick.
Add beef back to the instant pot and top with soup mixture.
Add potatoes, celery and carrots.
Close lid and set instant pot to manual high heat and cook for 65 minutes.
Once the roast is done cooking, let the pot naturally release for 10 minutes. Then flip the seal lid and remove additional pressure from the pot.
Open the pot and serve shredded beef, vegetables (discard celery) and gravy.
Nutrition Information:
Yield:
8
Serving Size:
1
Amount Per Serving:
Calories:

697
Total Fat:

36g
Saturated Fat:

13g
Trans Fat:

2g
Unsaturated Fat:

21g
Cholesterol:

146mg
Sodium:

830mg
Carbohydrates:

45g
Fiber:

4g
Sugar:

5g
Protein:

49g