Frog Eye Salad is the perfect fluffy salad recipe! It can be served as a side dish or as a dessert!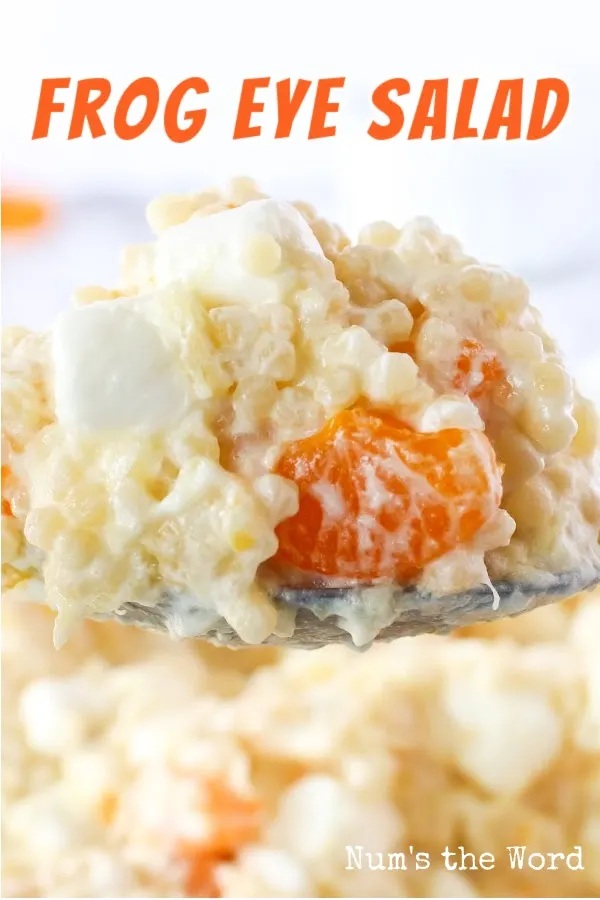 What's not to love about pineapple, mandarin oranges, whipped cream, and marshmallows with pasta?
It's one of those easy recipes that you could just serve over and over again because it's just that yummy.
I love that this frog eye salad recipe is super simple. The ingredients are straightforward. You can find them at any grocery store!
I also love that this salad serves a lot of people! It's perfect for holidays, potlucks, and parties because it'll go far.
And I absolutely adore the flavor of this delicious salad. It's creamy and soft and sweet and just perfect next to all the other heavy holiday dishes.
It's become a family favorite around here for any holiday dinner!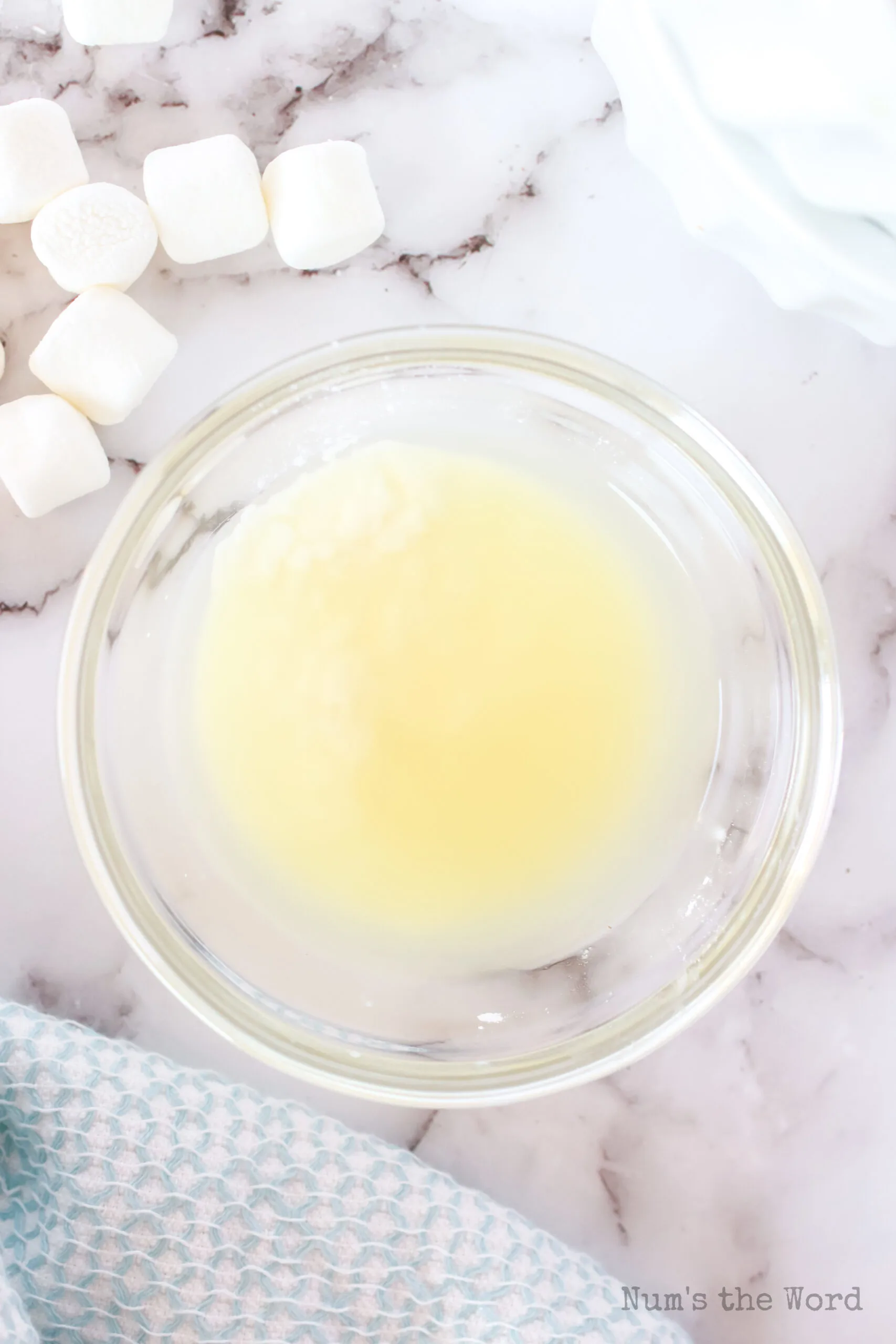 What is Frog Eye Salad?
Frog eye salad is a simple, sweet pasta salad. It's an easy recipe that is served at family parties.
It's typically served around the holidays and can sometimes be called a fluff salad.
Frog-eye salad is almost always made with whipped cream, egg yolks, and its most signature pasta: Acini di Pepe Pasta.
Then you'll see other ingredients like pineapple, mandarin oranges, bananas, marshmallows, coconut flakes, or maraschino cherries.
It can be served as a dessert, but it's often served as a side dish, which means you can save your dessert table for all the other goodies!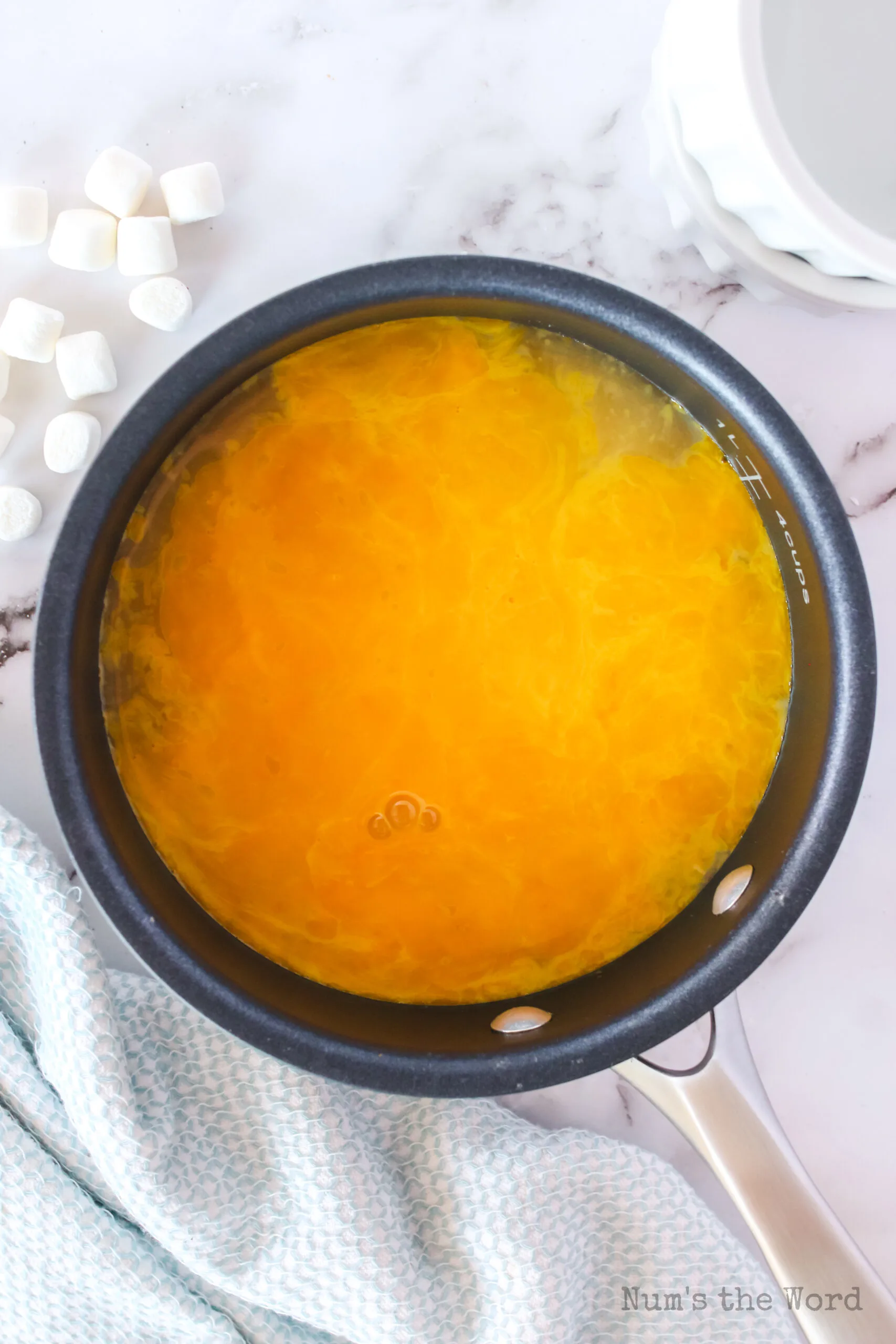 What Ingredients are in Frog Eye Salad?
Here's the simple ingredients you'll need to make this great recipe.
Cornstarch: This will act to thicken the salad.
Sugar: Sugar to go with all the other sweetness! This is definitely a sweet salad.
Salt: Don't forget to add a little salt to help bring the flavors to life.
Egg Yolks: The egg yolks will make a kind of egg custard to add to the salad.
Pineapple Juice: You can get this from the cans of pineapple.
Macaroni Noodles: You need a noodle called acini de pepe macaroni.
Pineapple: Make sure your cans of pineapple have juice and not syrup for best flavor and results.
Mandarin Oranges: Drain the mandarin slices to keep excess liquid out of the salad.
Cool Whip: Thaw in the fridge overnight so it's ready to add to the salad.
Marshmallows: Use mini marshmallows! The big marshmallows would be too much in one bite.
Pro Tips:
If you don't have a container of Cool Whip you can always whip up your own whipped cream instead.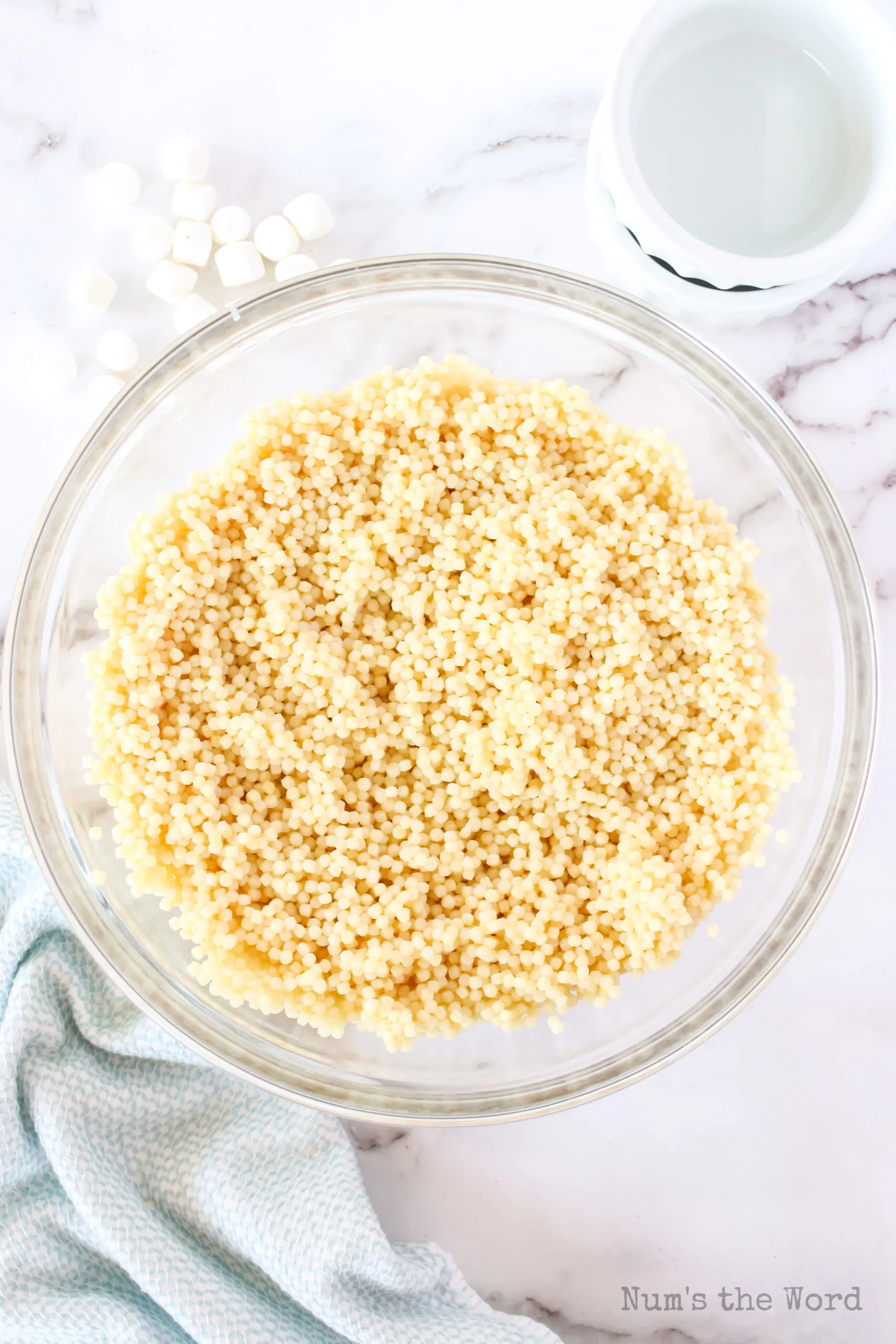 How to Make Frog Eye Salad
Follow the directions to make this classic recipe!
Dissolve Cornstarch: The cornstarch needs to be completely dissolved in the pineapple juice.
Combine: Mix the sugar, salt, egg yolks, and remaining pineapple juice.
Cook and Cool: Cook both the egg yolk mixture and the Acini de Pepe pasta in a sauce pan. Let them cool completely.
Assemble: Use a large bowl to assemble the entire salad and then chill before serving.
Pro Tips:
The salad needs to cool for at least 4 hours but will be great the next day too!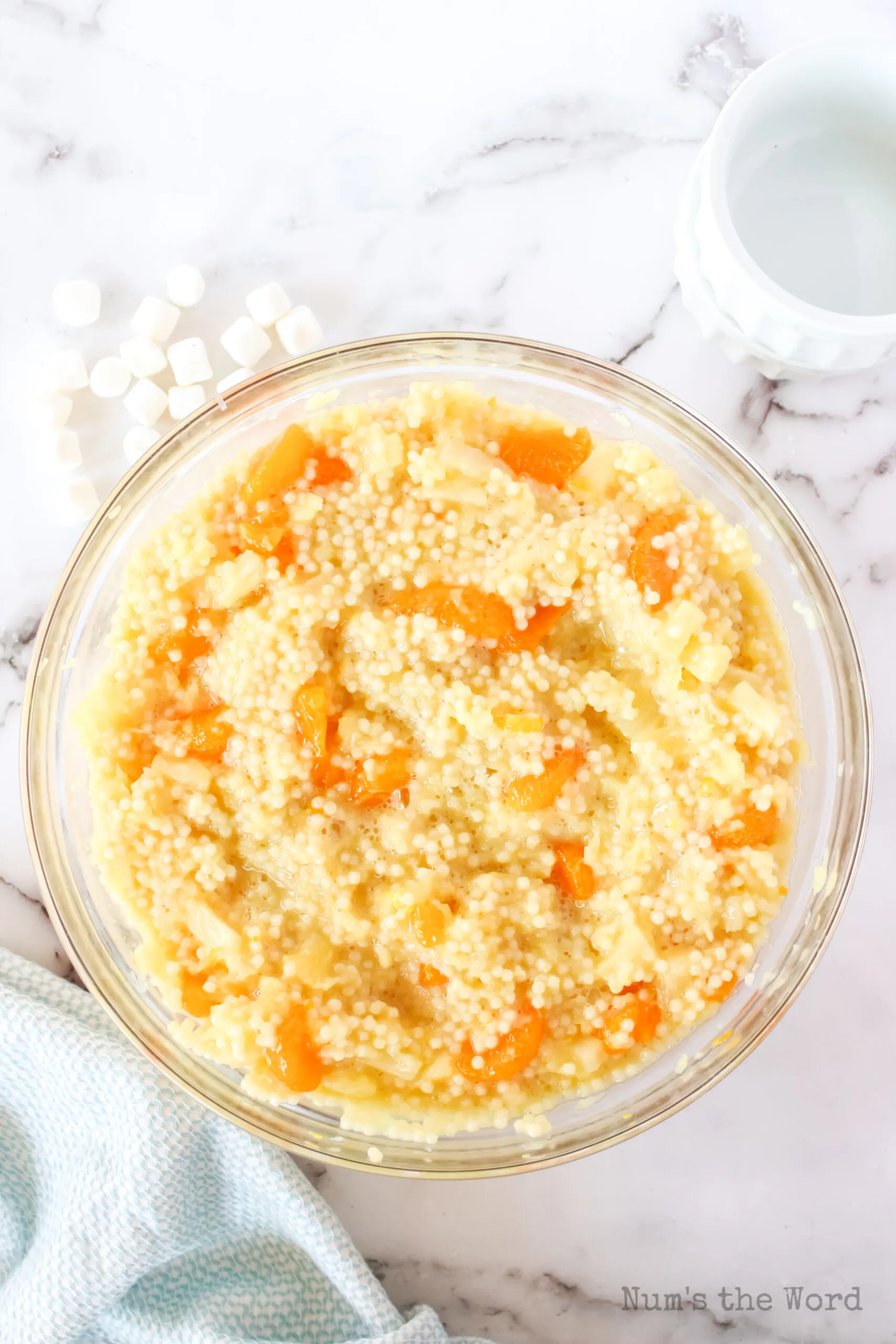 Where Did Frog Eye Salad Originate?
If you live in Utah, Idaho, or Colorado, it's likely you've already eaten delicious frog eye salad.
Though no one knows for sure which state it came from, it's definitely one of those three.
In Utah it's a very popular Thanksgiving side dish and is actually served year round.
Members of the church of Jesus Christ of Latter-Day Saints have probably already eaten it because to lots of them it's an original recipe.
If you haven't had the chance to eat Frogs Eye salad, don't let the name fool you! It's delicious!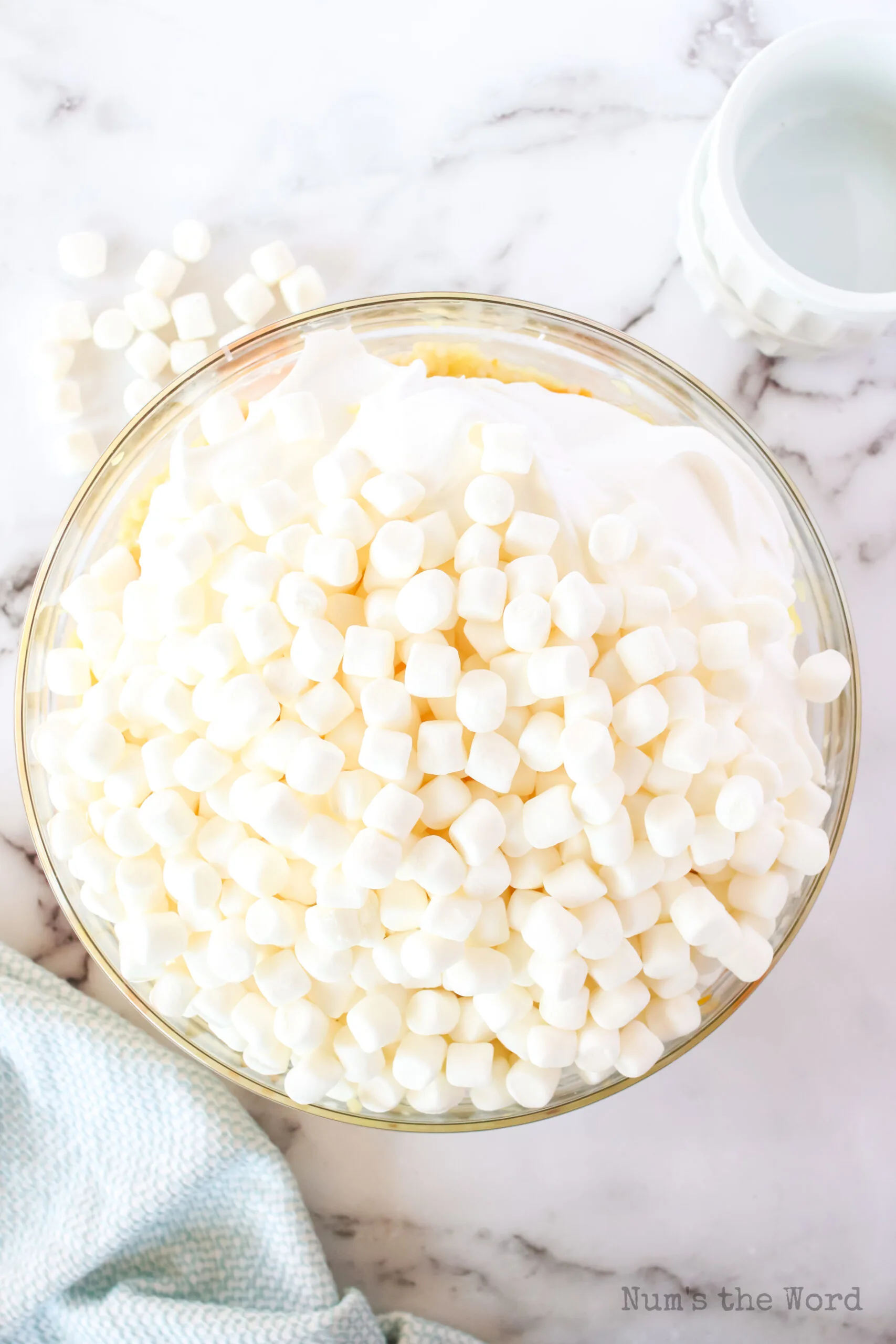 Can You Freeze Frog Eye Salad?
You absolutely can! Frog eye salad can be frozen for up to 3 months.
Be sure to keep it in an airtight container to prevent freezer burn.
Write the name and date on the container so you don't lose it.
However, as this is a dairy based product, I find that after freezing the texture is much less creamy and more grainy.
The flavor is still great however, so if that doesn't bother you, freeze away!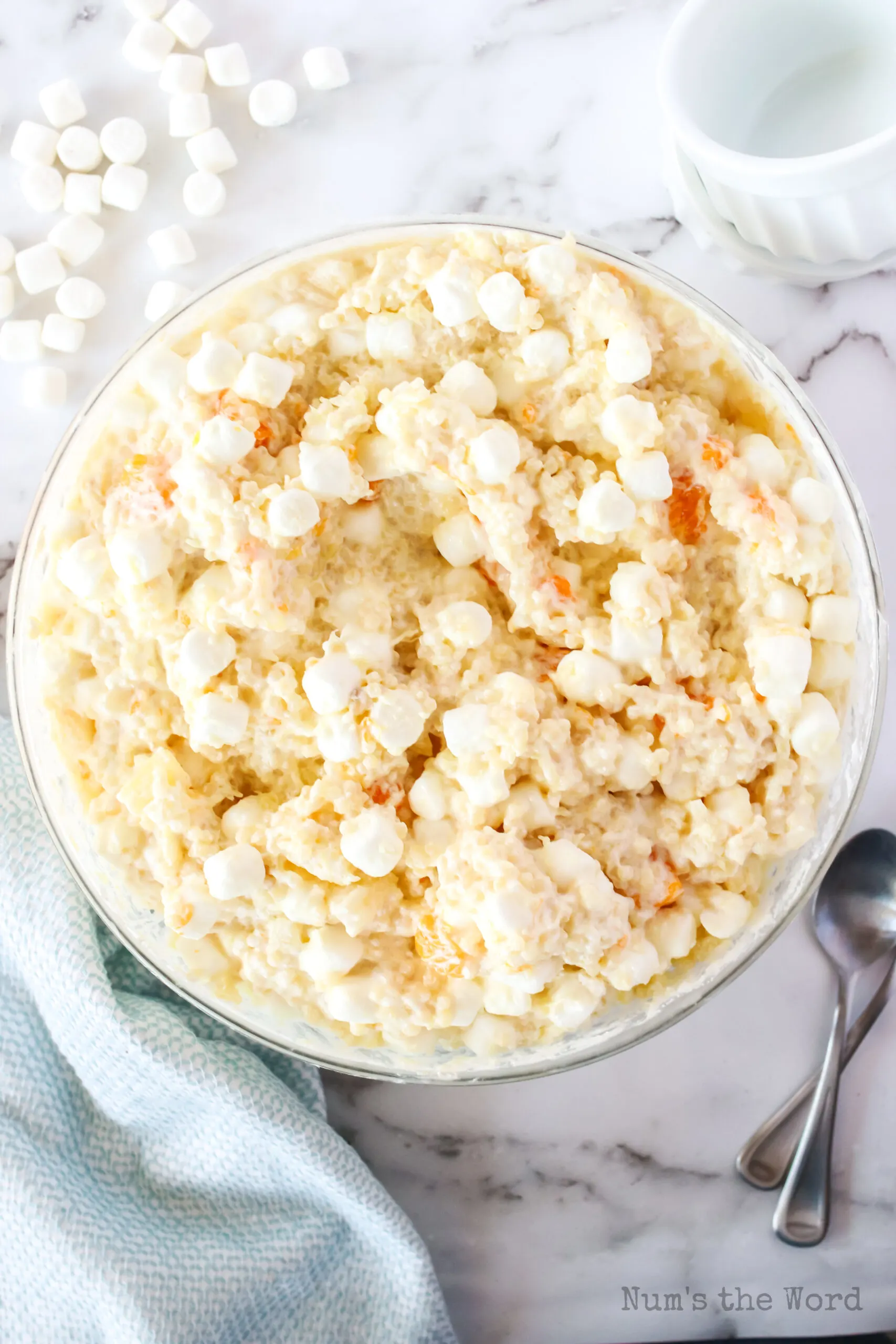 Is Frog Eye Salad Ambrosia?
Frog eye salad would definitely be called an ambrosia salad.
While there are many different versions of ambrosia salad, most of them have some sort of cool whip base with oranges, pineapples, and coconut.
You'll also find other fruits in there just like in the frog eye salad.
However, most ambrosia doesn't have an egg custard and that's where they would differ.
But if they were both on the table, most people would consider them both ambrosia.
Why Is It Called Frog Eye Salad?
Yeah…gross. That creepy name leaves much to be desired here! Frog eye fruit salad? Blah.
The salad is really wonderful and absolutely deserves to have a better name. But I guess it's been called that so long it's stuck now!
The little Acini de Pepe Macaroni noodles are a very small pasta and are the most likely reason it's called Mormon frog eye salad.
I guess someone saw them and thought, hey those look like tiny little frog eyes!
Acini de pepe actually means grape seeds, and I'd prefer to call the salad Grape Seed Salad over the other.
I know some people just call it Acini de Pepe Fruit Salad. Which also sounds much nicer.
Whatever you call it, just know, it's still delicious.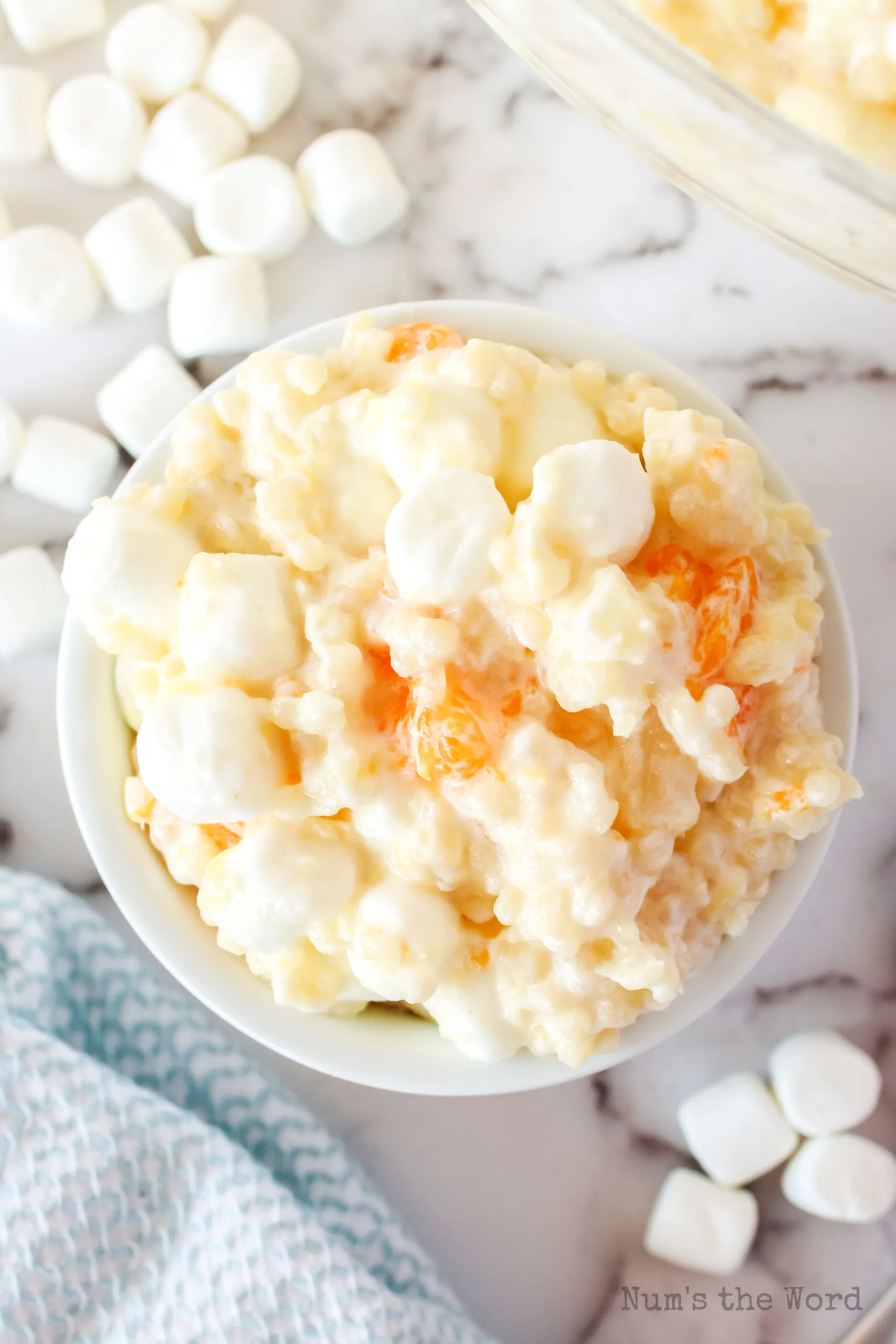 The Best Mandarin Orange Recipes…
More Pasta Recipes You'll Also Love…
Frog Eye Salad is an easy and yummy side salad or dessert. Serve it for your family gatherings and it'll be the talk of the party! Enjoy!
Yield: 12 Servings
Frog Eye Salad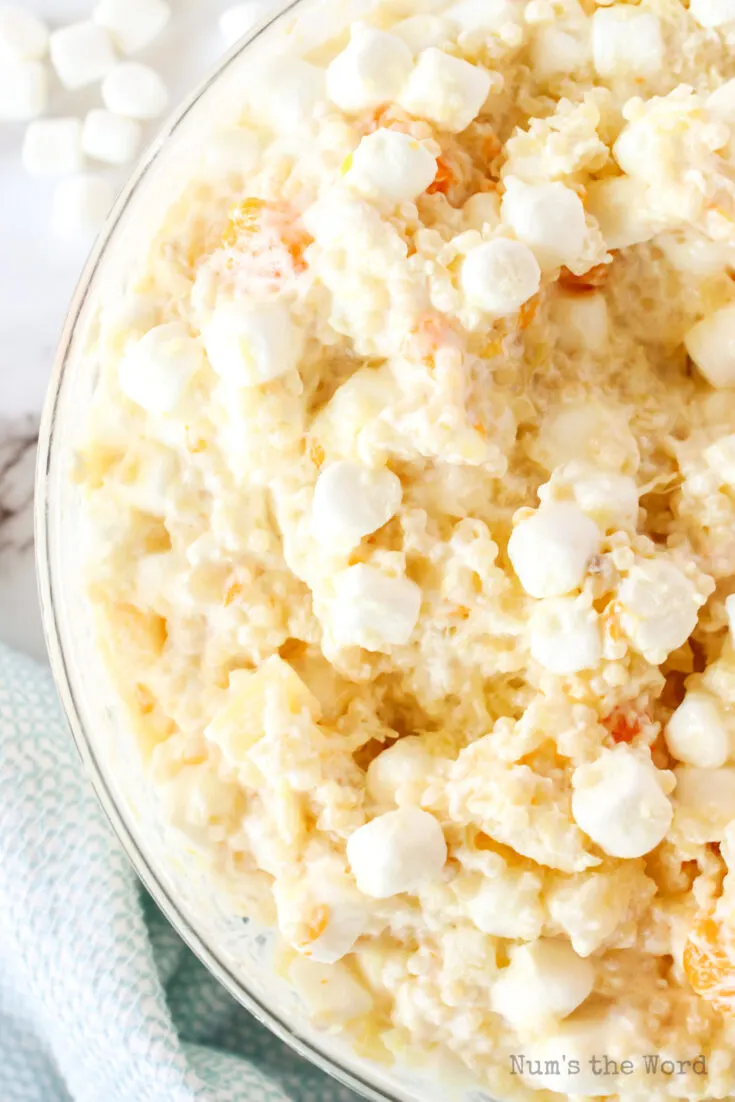 Frog Eye Salad is the perfect fluffy salad recipe! It can be served as a side dish or as a dessert!
Total Time
4 hours
30 minutes
Instructions
In a small bowl combine cornstarch with 2 Tablespoons reserved pineapple juice.
Mix well making sure cornstarch is dissolved.
In a medium pot, combine sugar, salt, egg yolks, and 1 ¾ cup pineapple juice from cans.
Cook over medium heat, stirring constantly until mixture has thickened.
Set aside and cool completely.
Cook Acini de Pepe according to package directions.
Drain and set aside to cool.
Once sauce and pasta are completely cooled, assemble salad.
In a large bowl combine pasta and sauce. Mix well.
Add crushed pineapple, pineapple tidbits, mandarin oranges and mix well.
Add in the cool whip and marshmallows and mix well.
Chill 4 hours - overnight.
Mix again before serving.
Nutrition Information:
Yield:
12
Serving Size:
1
Amount Per Serving:
Calories:

166
Total Fat:

2g
Saturated Fat:

1g
Trans Fat:

0g
Unsaturated Fat:

1g
Cholesterol:

46mg
Sodium:

117mg
Carbohydrates:

37g
Fiber:

1g
Sugar:

31g
Protein:

2g