Butter Swim Biscuits are soft biscuits with crispy edges! They taste divine and are super easy to make using ingredients you probably already have on hand!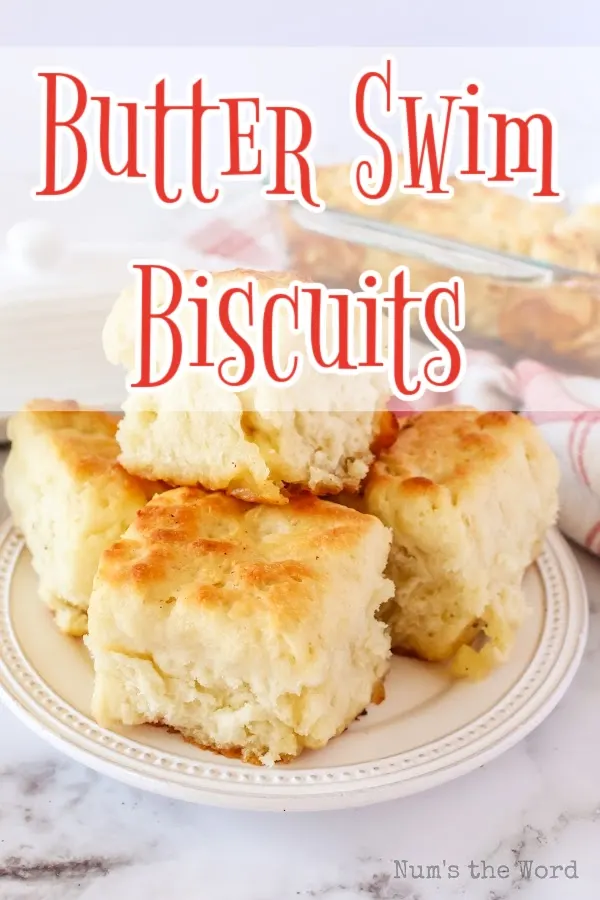 There's nothing better than light and airy biscuits literally swimming in butter! They come out perfect every time!
I love this butter swim biscuits recipe because it takes handful of simple ingredients! You'll be using the same ingredients you normally use for biscuits but with even yummier results.
I also love biscuits swimming in butter because they're already delicious. No need to add any toppings, just rip them up and eat them.
The texture of swimming in butter biscuits is perfect too! Light and fluffy biscuits with lots of air pockets because of the steaming of the butter while it bakes.
The recipe for butter bath biscuits is easy to make and quickly pulls together for a weeknight or special occasion dinner!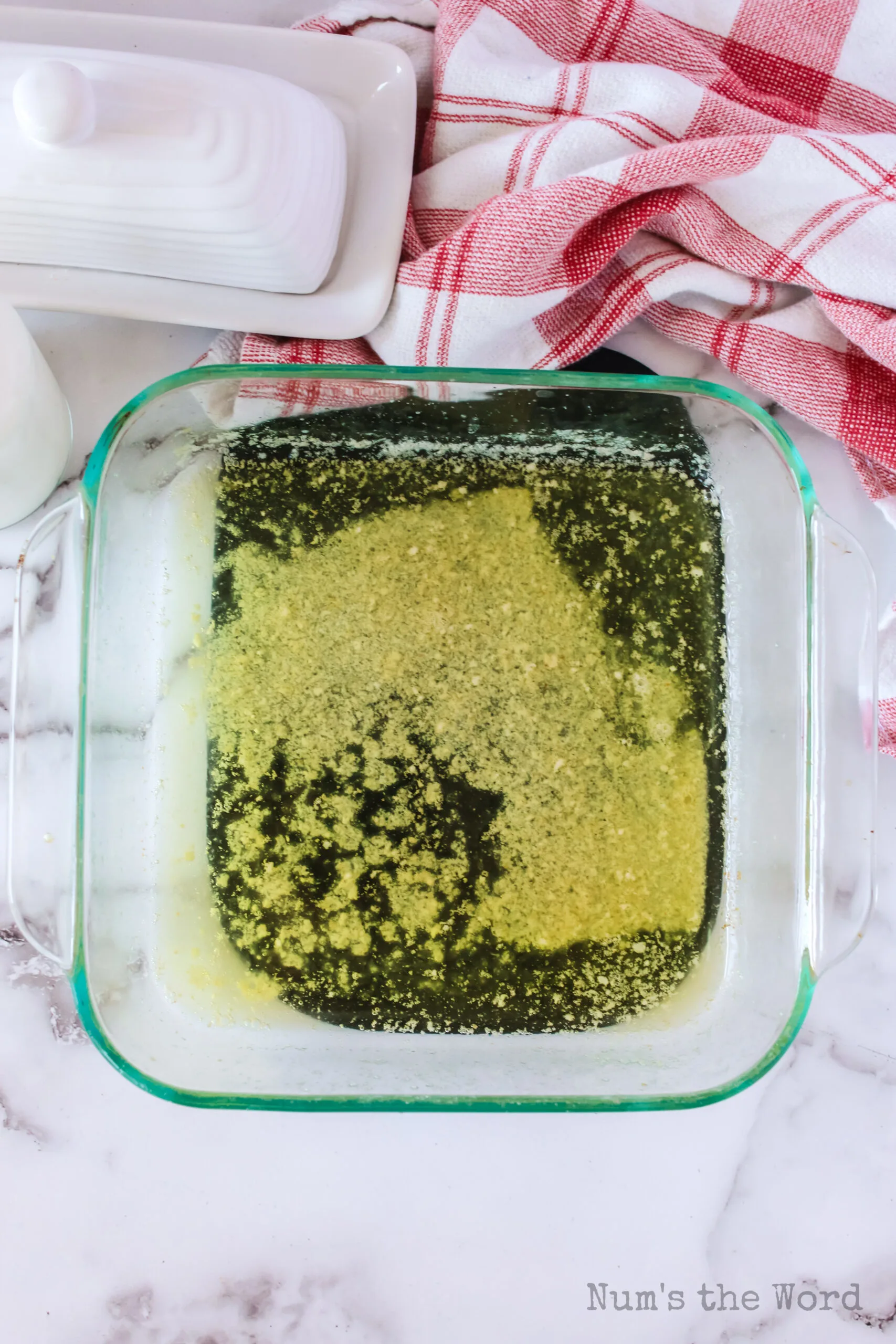 What Ingredients are in Butter Swim Biscuits?
Delicious biscuits can be served with strawberry jam, honey, apple butter, or on their own! Here's what you need:
Butter: Salted butter or unsalted butter will both work in this recipe.
Flour: All-purpose flour gives flavor and texture.
Baking Powder: The baking powder will lift the biscuits and give them that fluffy rise.
Sugar: Use white sugar. I haven't substituted with any others.
Salt: For seasoning, make sure you don't forget the salt.
Buttermilk: If you don't have any buttermilk, make your own with vinegar and regular milk.
Pro Tip:
Don't substitute buttermilk with regular milk. It doesn't work out.
Don't decrease the stick of butter! You really want these biscuits to be swimming in butter.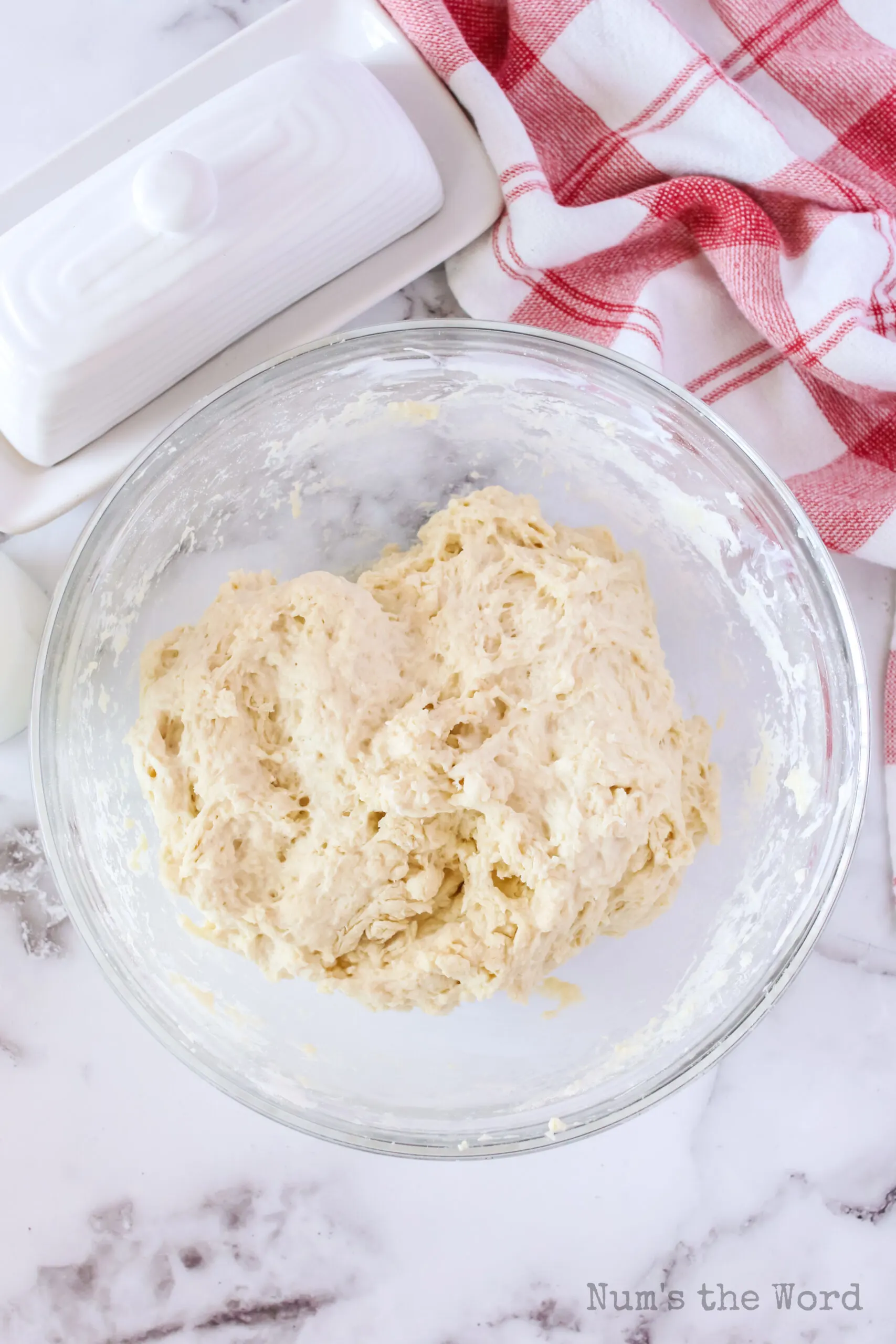 How to Make Butter Swim Biscuits
These delicious homemade biscuits are just as yummy as traditional buttermilk biscuits but really easy to make!
For step-by-step instructions, see the recipe card below. Here's the basic rundown on how to make buttery buttermilk biscuits.
Melt: Melt the butter in the casserole dish before beginning.
Mix: Combine flour, baking powder, salt, and buttermilk but be careful not to overmix!
Bake: When the biscuits are golden brown, they're done!
Pro Tips:
Slicing the biscuit dough in the pan before baking allows the butter to get into all the cracks.
Let biscuits absorb excess butter after baking before cutting.
Keep an eye on the butter! You want to melt it, don't burn it!
Baking time is for an 8 inch pan. If you use a 9 inch pan the biscuits will be thinner and take less time to cook.
If you don't have a biscuit cutter or bench scraper, use a sharp knife to cut butter dip biscuits.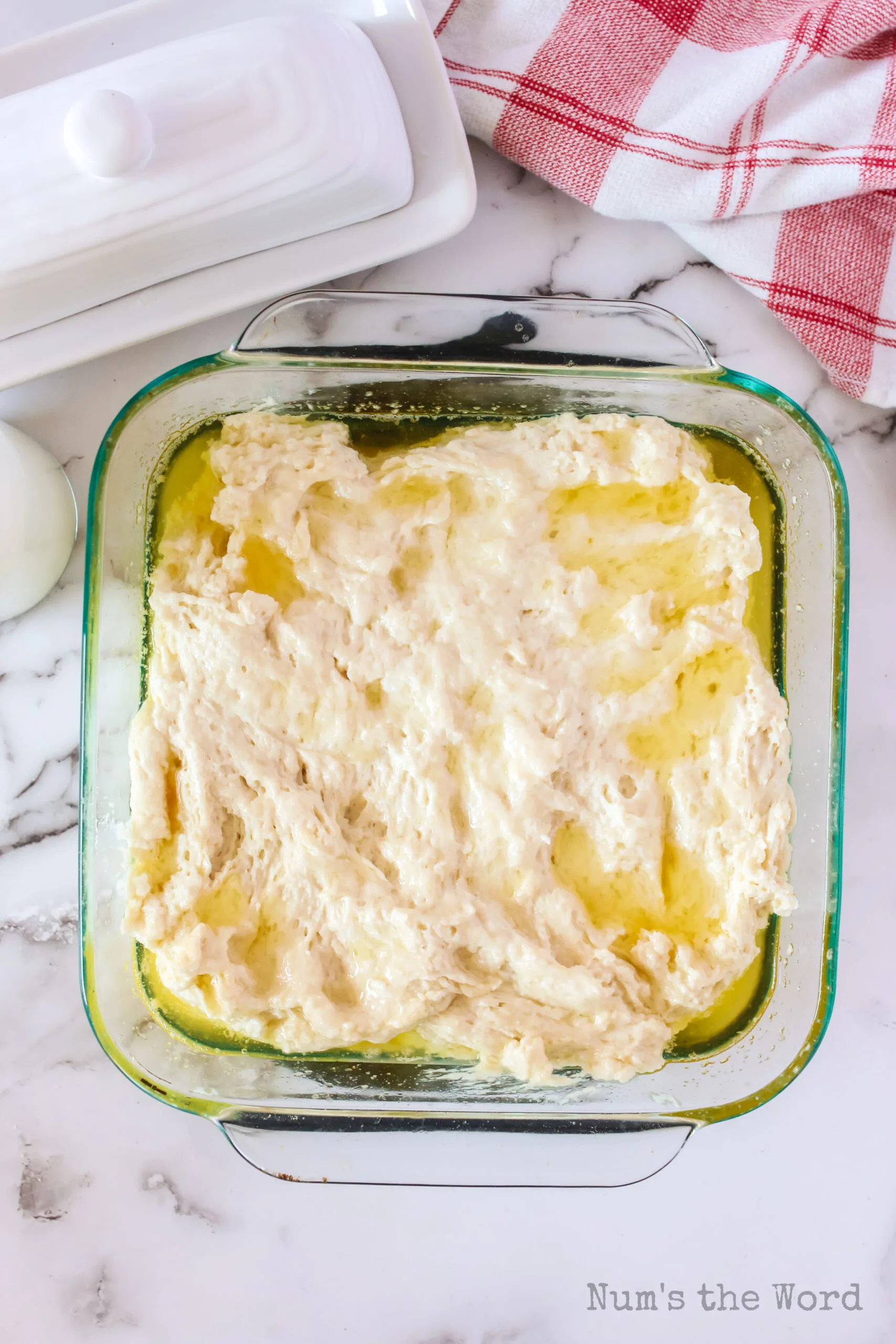 How to Store Butter Swim Biscuits
This is one of those recipes that you'll find yourself stuffing yourself just to get each little crumb.
But on the rare chance that you don't gobble them all up, here's how to store leftover biscuits.
Store any leftover delicious swim biscuits in an airtight container in the fridge or on the counter.
Be sure to allow them to come to room temperature before transferring them.
You may notice that stored in the fridge, the biscuits will dry out a little more than if left on the counter.
Your final storage option is to wrap each of the buttery biscuits in plastic wrap, cover with aluminum foil and place in a freezer-safe storage bag.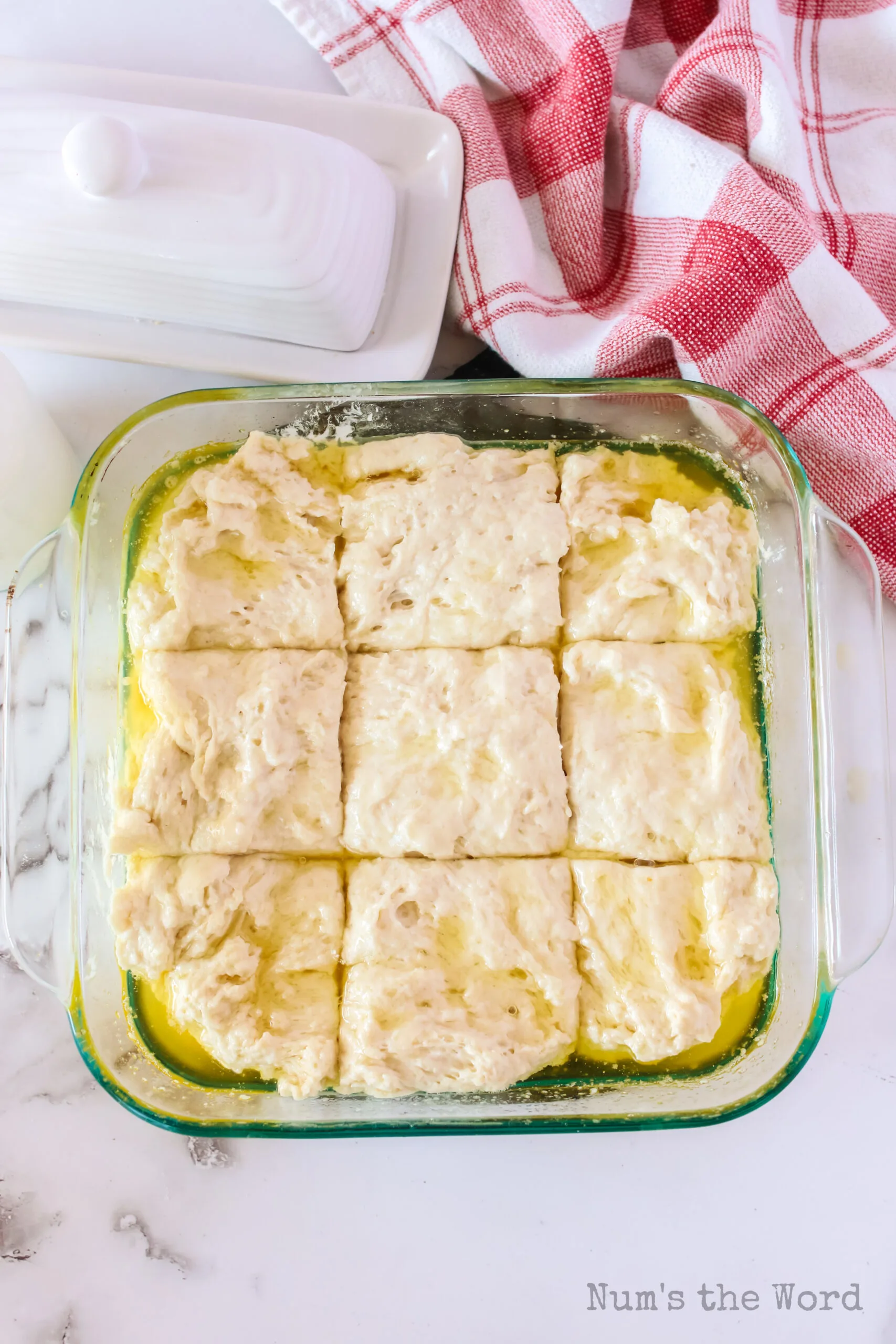 How Long Do Butter Swim Biscuits Last?
Properly stored on the counter, leftover butter swim biscuits will last up to 3 days.
In the fridge the baked biscuits will last up to 5 days.
For best results use frozen biscuits within a couple of months.
Then reheat the flaky biscuits in the microwave for 10-30 seconds. They're best served warm!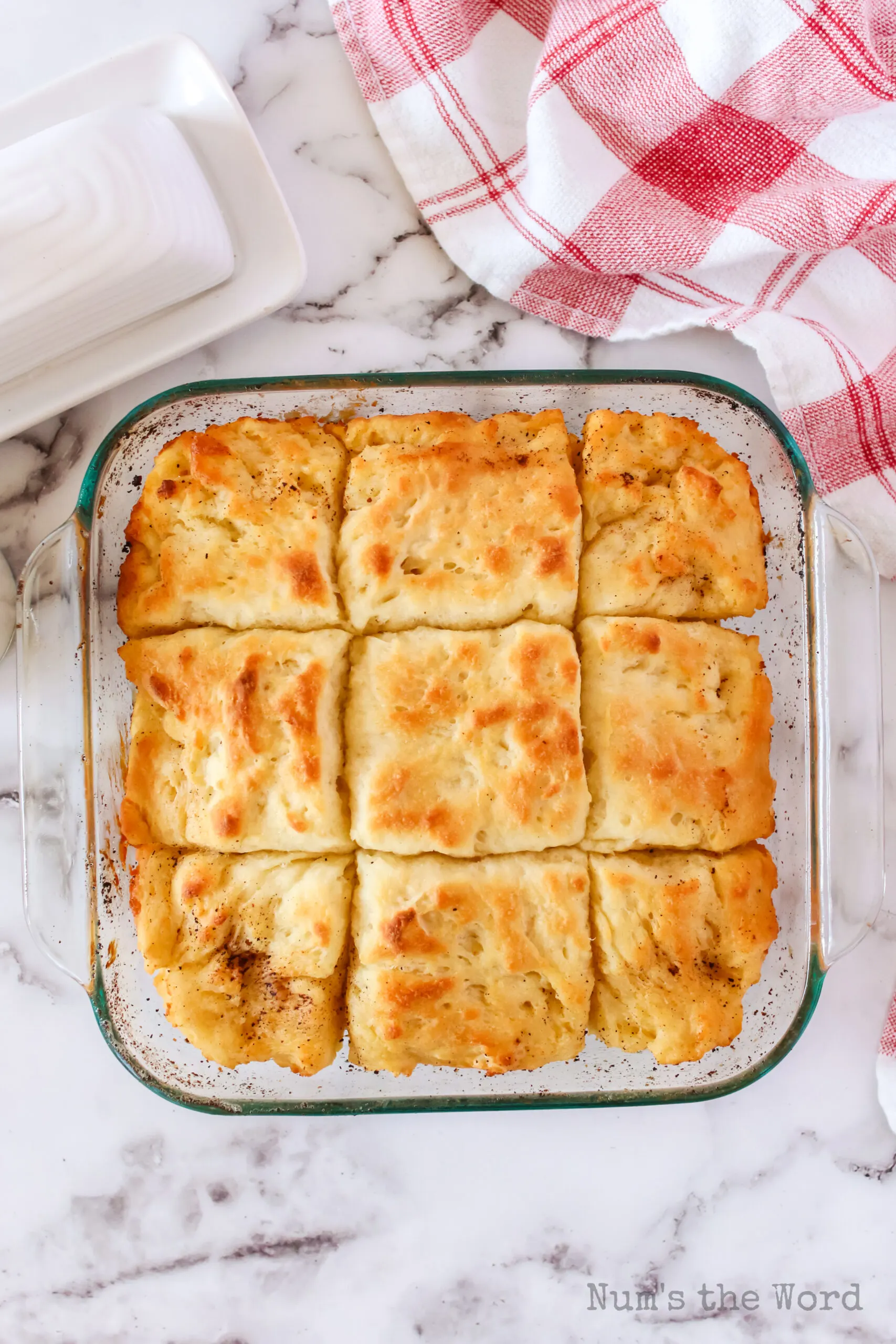 Can I Make Butter Swim Biscuits In Advance?
Yes, if you're making easy butter swim biscuits ahead of serving time, the main thing you'll want to do is make sure they stay light and fluffy.
A good way to do this is to wrap each biscuit in aluminum foil and then seal in an airtight container.
I find they don't lose any of that texture this way and are still good when I serve them the next day.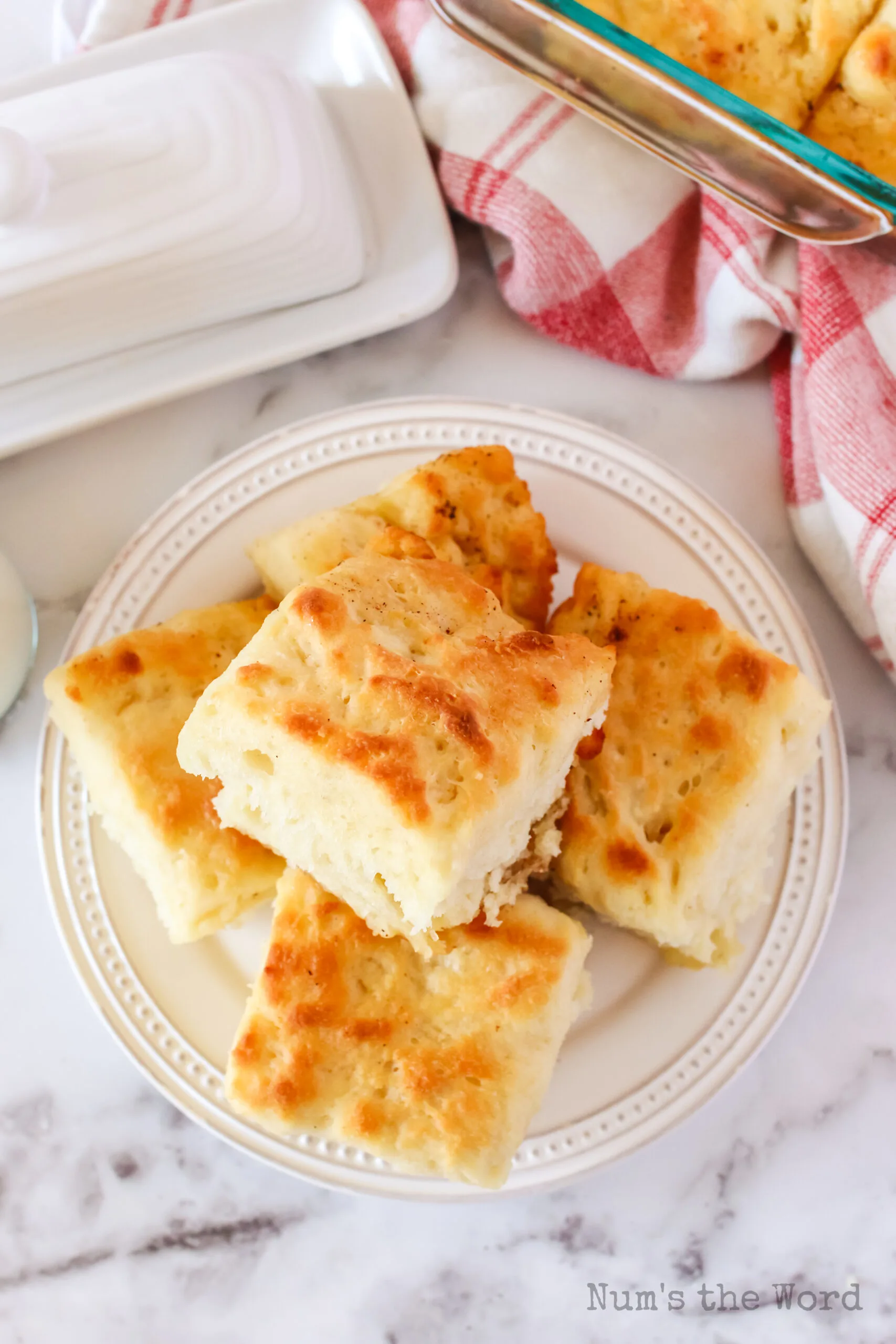 Can I Add Cheese to Butter Swim Biscuits?
Definitely! These amazing biscuits are great for tossing in your favorite mix-ins.
Here are some great ideas. Use them as combos or on their own.
Cheddar Cheese (sharp or mild)
Diced Ham
Garlic Powder
Drained can of green chilies
Keep in mind that the more liquid there is in the biscuits, the longer they may take to bake.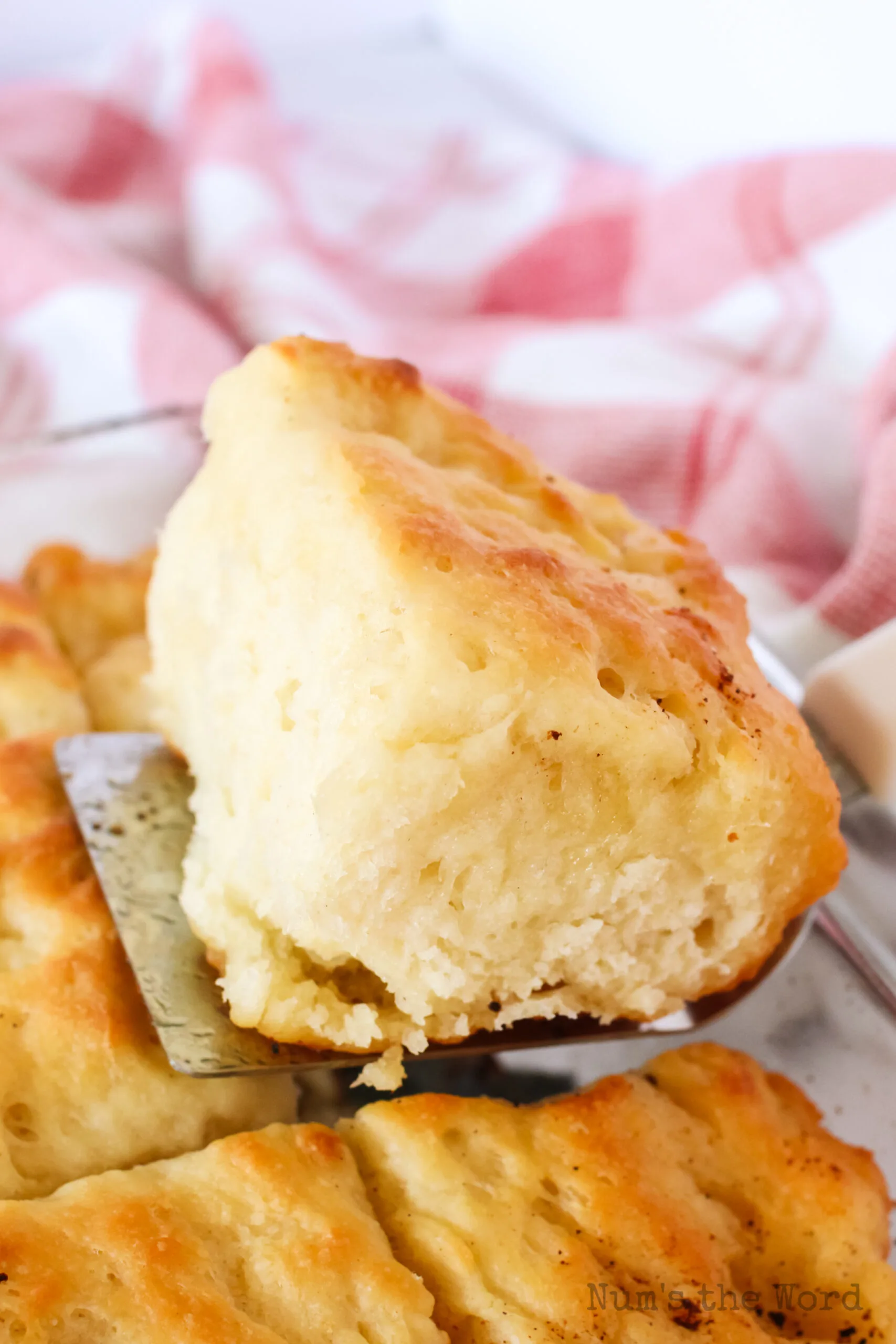 Can I Double the Recipe for Butter Swim Biscuits?
Absolutely! You can double the recipe and make two pans of biscuits using 8 inch square pans.
If you only have one pan, your other option is to use a 9×13 casserole dish.
They should still take their butter bath though so even though it seems like a lot, make sure that biscuit batter is swimming.
You'll probably need to increase your baking time, so look for that golden brown color to know when they're done.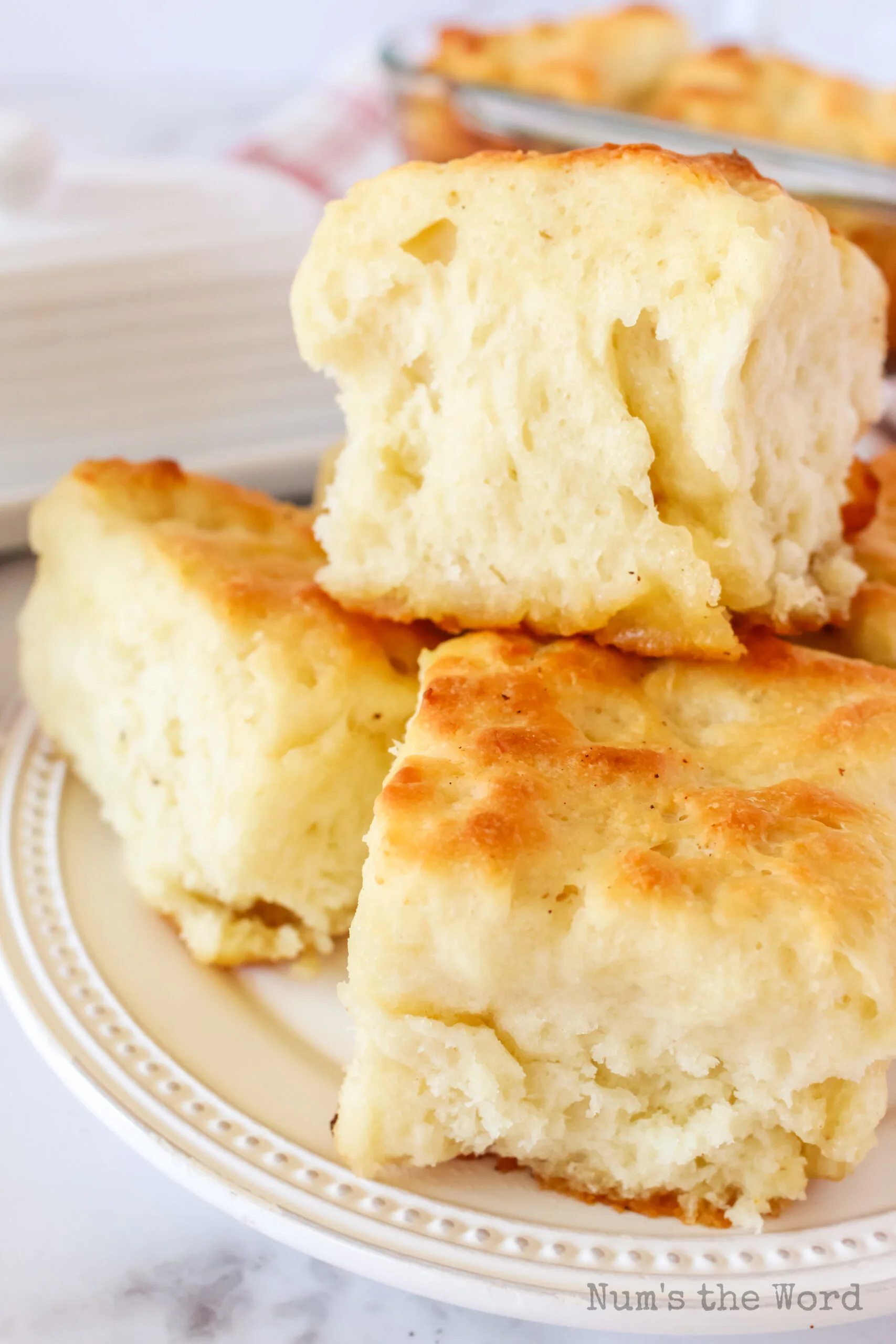 Butter Swim Biscuits are such a savory treat! Crispy crust, fluffy interior, and covered in butter they are the side dish you want on your table!
Yield: 9 Servings
Butter Swim Biscuits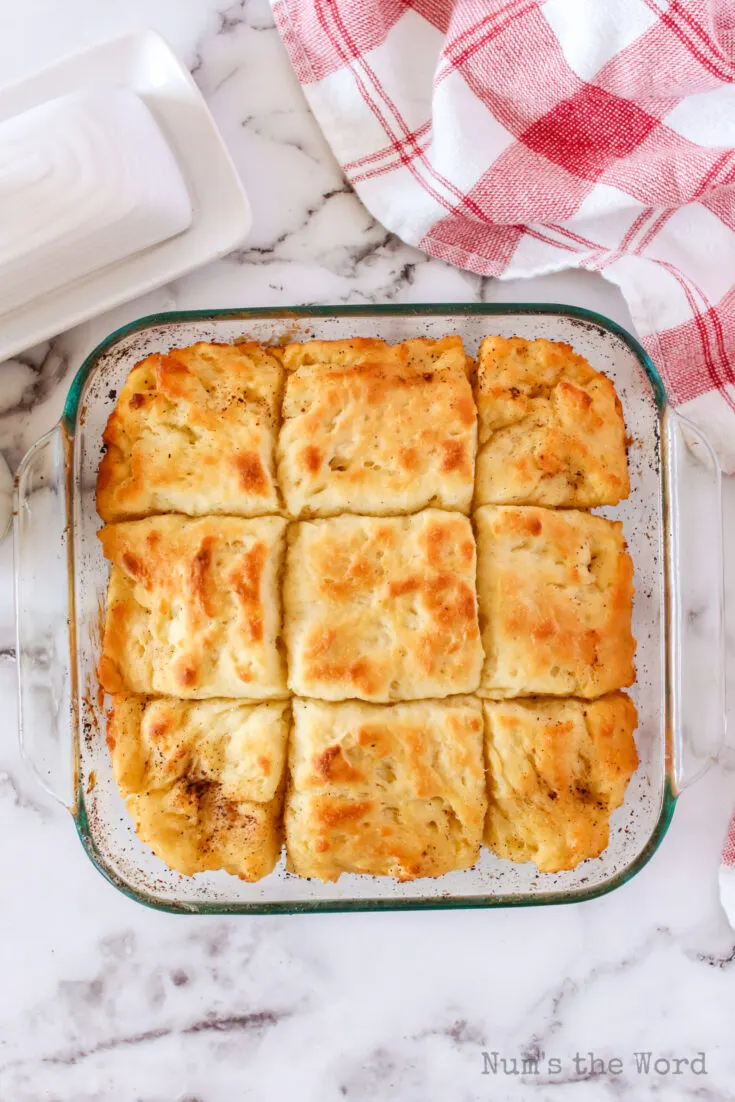 Butter Swim Biscuits are soft biscuits with crispy edges! They taste divine and are super easy to make using ingredients you probably already have on hand!
Ingredients
Instructions
Preheat oven to 450*F
Place butter in an 8 inch casserole dish and place in the oven - don't worry if the oven isn't at temperature. You're simply melting the butter.
Once butter is melted, remove from the oven and set aside.
In a bowl combine flour, baking powder, sugar, and salt. Mix well with a spatula.
Add buttermilk and stir until combined. Don't overmix!
Spread the sticky mixture over the butter mixture in the pan.Gently spread it out.
With a bench scraper or sharp knife, cut dough into 9 pieces and allow butter to get into cracks.
Bake for 20 - 25 minutes. My oven was 22 minutes.
Remove from the oven and let biscuits sit for 5 minutes.
As they sit, they will absorb any remaining butter.
Once all butter is absorbed, slice again and serve with honey.
Nutrition Information:
Yield:
9
Serving Size:
1
Amount Per Serving:
Calories:

244
Total Fat:

11g
Saturated Fat:

7g
Trans Fat:

0g
Unsaturated Fat:

3g
Cholesterol:

29mg
Sodium:

624mg
Carbohydrates:

31g
Fiber:

1g
Sugar:

4g
Protein:

5g