Crock Pot Corned Beef & Cabbage is the traditional St. Patrick's Day food. This recipe is easy, tastes delicious and makes for a great meal! Kids and family both love it!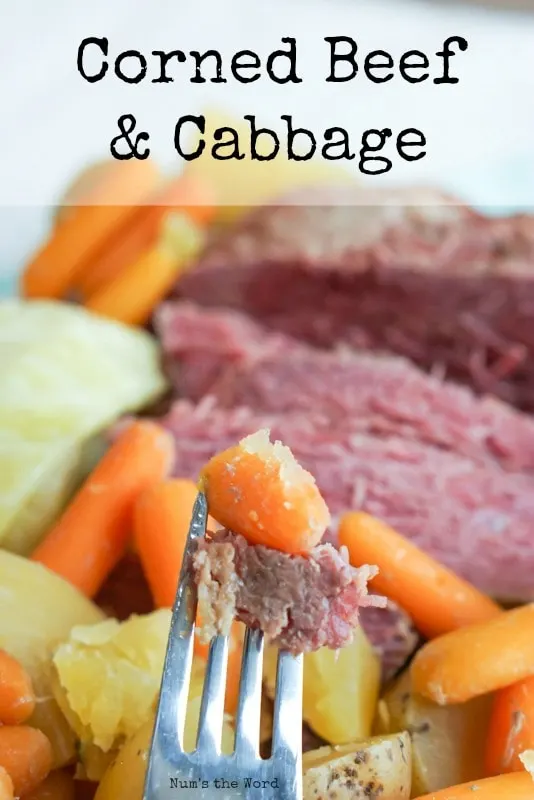 The first time I remember eating corned beef was after I got married.
My husband spent a few weeks raving about how much he loved Corned Beef.
That Corned Beef was packed with so much more flavor and how he wanted us to make it.
I left him in charge because he'd had it before and though he's an excellent cook, his skills were still somewhat lacking back then.
I remember the roast not tasting that great and thinking I don't want to eat that again.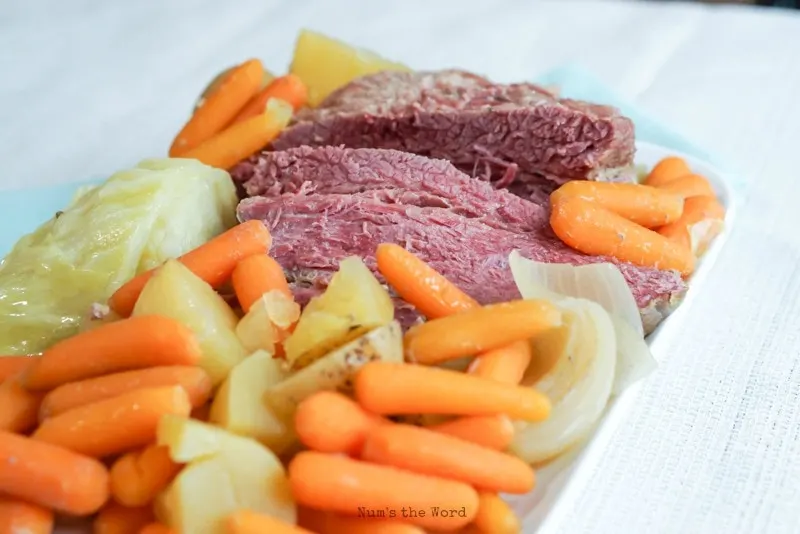 Fast forward a few years.
It was March and everyone was posting on social media about their tasty Corned Beef & Cabbage meals.
Generally in past years we'd opted for the less traditional, yet still Irish Shepherd's Pie.
However seeing everyone rave about Corned Beef and Cabbage had me thinking I really should give it another go.
And so I did.
I popped it in the crock pot, crossed my fingers and hoped for the best!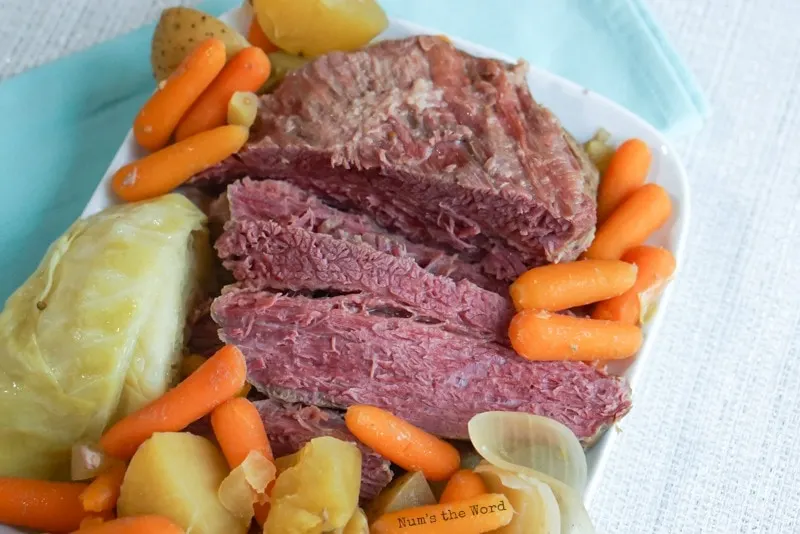 Giving Corned Beef & Cabbage another try was the right decision.
The roast was tender, packed with flavor and reheated really well over the next few days.
Corned Beef & Cabbage is now first thing I think of when it comes to traditional St. Patrick's Day meals.
And like all brisket meats, it makes for great leftovers.
I especially like how lean the meat is inside.
Being someone who doesn't enjoy fatty meats, corned beef is right up my ally!
I especially love how easy this is to make in the Crock Pot.
Crock pot meals are the best for busy week night meals because you set the heat and the timer and walk away.
A few hours later you have a delicious meal that is juicy, tender and melt in your mouth tasty!
Now if you aren't a cabbage fan, then don't eat it.
I like to keep my cabbage in the crock pot as I believe it adds flavor to the overall roast.
However if you aren't a cabbage fan, then leave it out.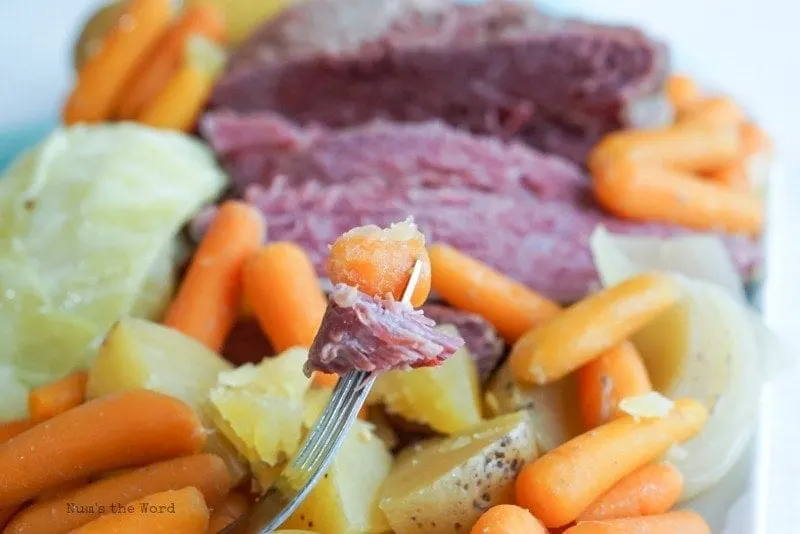 It's not a deal breaker when it comes to this meal!
I do however recommend a generous amount of vegetables to go with your roast as those are my favorite part!
And lastly I recommend getting a roast that is more than you need.
Leftover Corned Beef and cabbage is the best!
And let's not forget creating new recipes using the leftovers too!
If you love Corned Beef & Cabbage or are trying it for the first time, give this recipe a try!
Yield: 4 pounds corned beef
Corned Beef & Cabbage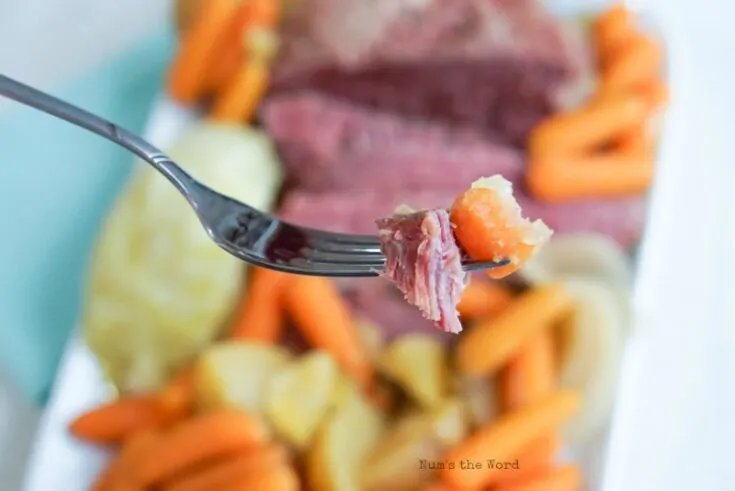 Crock Pot Corned Beef & Cabbage is the traditional St. Patrick's Day food. This recipe is easy, tastes delicious and makes for a great meal! Kids and family both love it!
Total Time
8 hours
30 minutes
Ingredients
4 Large carrots, chopped into large pieces
6 Medium russet potatoes, quartered
1 yellow onion, pealed and quartered
2 teaspoons minced garlic
1 (4 pound) corned beef brisket
3 cups of beef broth
1 Tablespoon salt
2 teaspoons fresh pepper
1/2 head of cabbage, coarsely chopped (optional)
Instructions
Place carrots, potatoes & onion on the bottom of your crock pot.
Top vegetables with minced garlic.
Pour in the beef broth.
Rinse off brisket to clean off excess blood. Trim off fat if desired.
Place brisket on top of vegetables.
Sprinkle on the spices that came with brisket as well as the salt and pepper..
Cook brisket on low for 8 hours. If your crock pot cooks hot, then lower cooking time. Corned Beef should read around 160*F before cabbage added and 190 - 205*F when fully cooked.
Place cabbage in crock pot 1 hour prior to serving. (Or cook separately so flavors don't meld)
Once corned beef reaches 190*F the brisket is done. Remove from crock pot to rest for 5 minutes before slicing and serving..
Notes
If this recipe looks like it has changed, it has! The other recipe that used to be on Num's the Word can now be found HERE on Delectabilities.
Originally Posted: March 3, 2015
Photos & Text Updated: January 20, 2018