Wanna make the fluffiest, tastiest, homemade and Best Buttermilk Pancakes ever? Then you've come to the right place!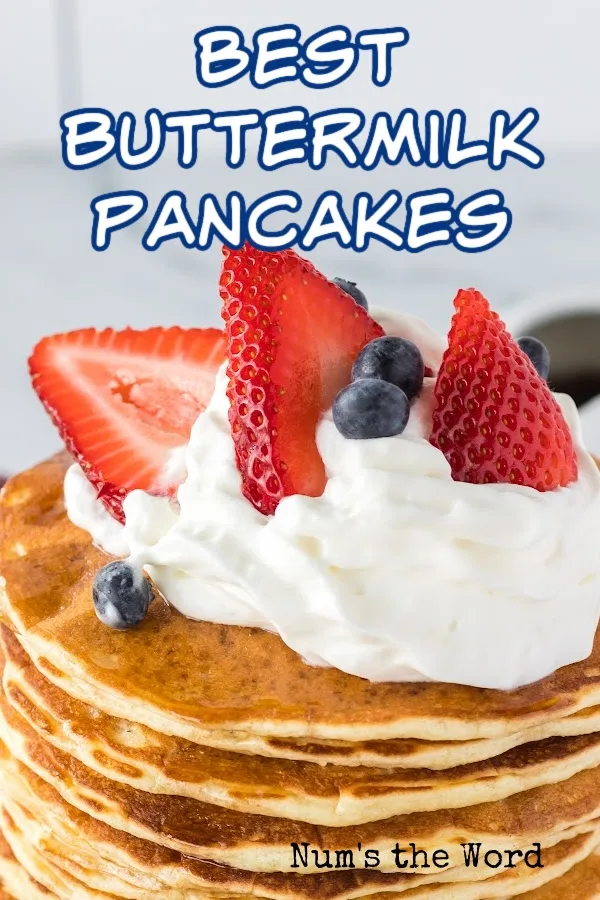 Can you picture a big stack of golden brown pancakes? They're sooooo fluffy they almost melt right in your mouth. Mmmmm.
Add some fresh fruit and a big splash of real maple syrup for the yummiest breakfast ever.
This buttermilk pancake recipe is super easy, but it makes breakfast feel like a special treat.
You'll only need a few basic ingredients to make these delicious pancakes!
And they are way better than boxed mix! Once you taste these amazing pancakes, you'll never go back. Homemade pancakes taste so much better!
Plus these are a crowd pleaser! They are so soft and fluffy, they're perfect for everyone in your family, from kids to grandparents.
They're also great for meal prep. You can make a big batch of pancakes and freeze some for later. This way, you can have a yummy breakfast anytime you want.
And you can make it your own! Have fun adding your favorite toppings or mix-ins. How about making chocolate chip pancakes?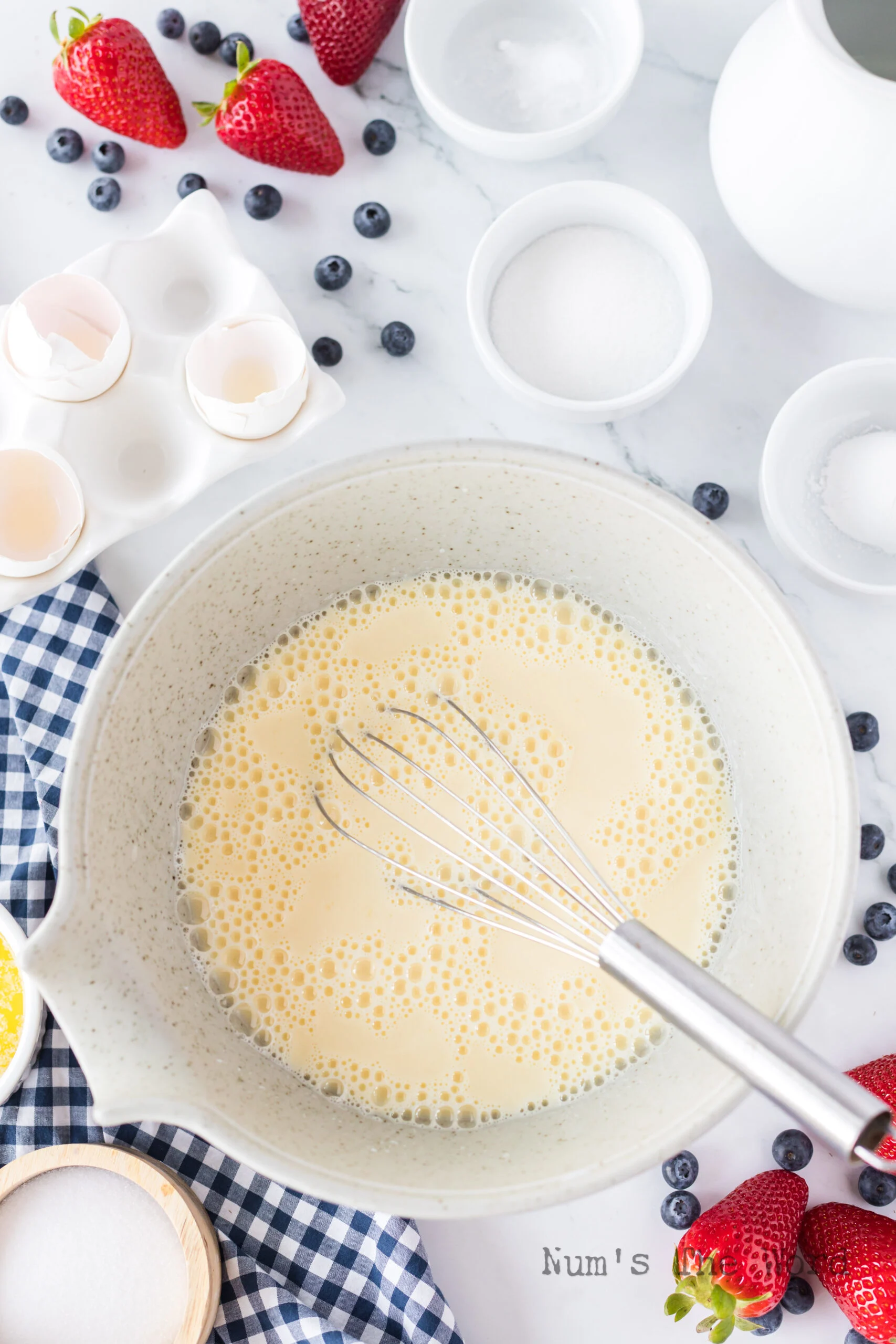 What Ingredients are in Buttermilk Pancakes?
Fluffy buttermilk pancakes have a slightly tangy flavor and are the perfect breakfast food!
You'll need a few fridge and pantry staples:
Eggs: Eggs make our pancakes moist and help hold everything together.
Buttermilk: Buttermilk makes the pancakes super tender and gives them a slightly tangy taste.
Baking Soda and Baking Powder: These two ingredients help our pancakes rise and become really fluffy.
Salt: A little salt boosts all the other flavors.
Sugar: Sugar makes our pancakes sweet. Yum!
Melted Butter: Butter adds a rich flavor that makes these pancakes taste amazing.
Flour: Flour is what makes the pancake batter thick.
Pro Tip:
If you don't have buttermilk, you can combine vinegar with whole milk for a buttermilk substitute.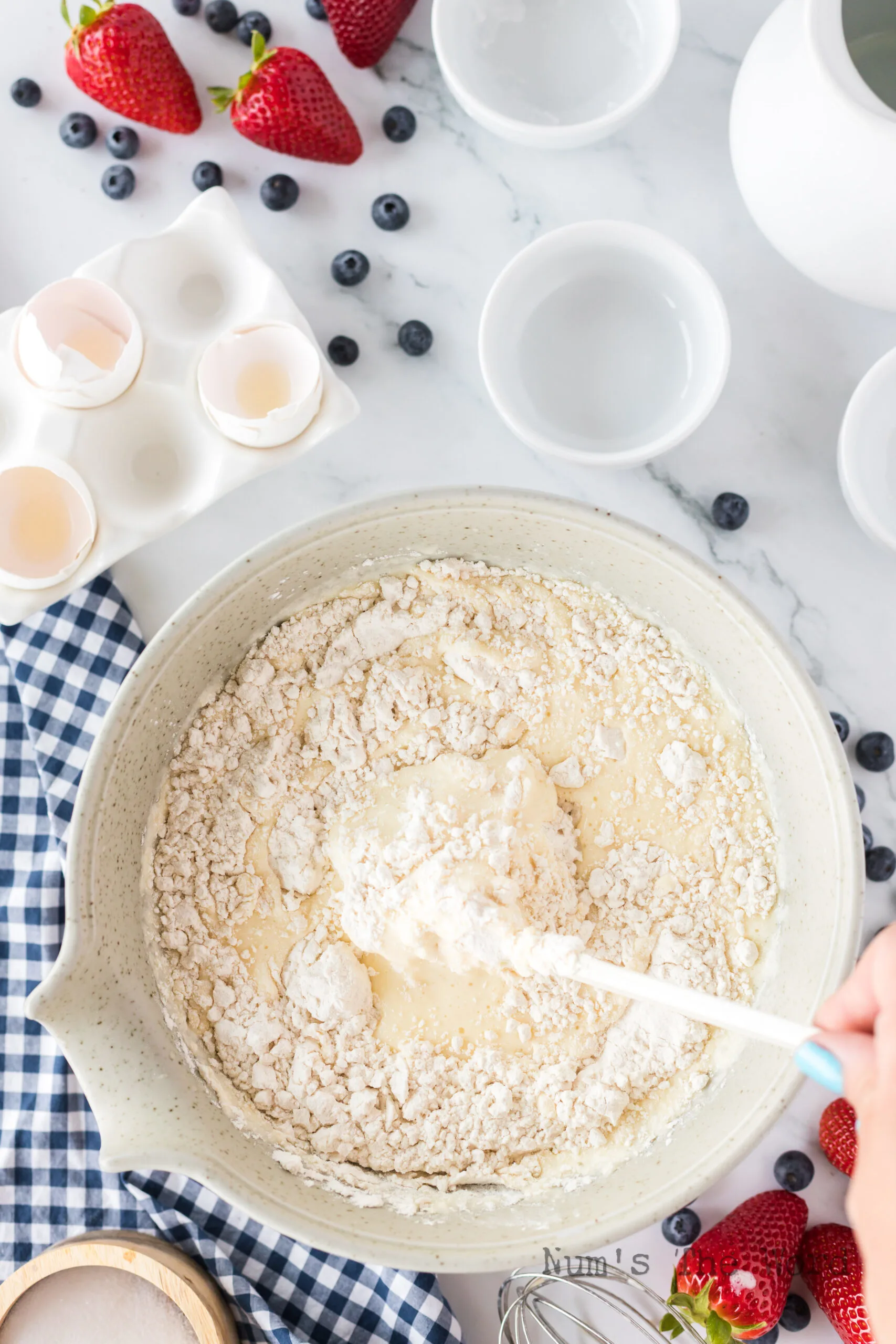 How to Make Buttermilk Pancakes
This thin buttermilk pancake recipe is one the whole family can enjoy!
So pull out your electric griddle and get ready for the fluffiest pancakes ever.
Mix together the wet ingredients: This includes the eggs and buttermilk.
Add the dry ingredients: Put in the baking soda, baking powder, salt, and sugar, and mix well.
Add the melted butter and mix it in.
Stir in the flour gently. Be careful not to mix too much.
Cook the pancakes on a hot griddle or pan.
Pro Tips:
Remember, over-mixing the batter can make the pancakes tough. So, gently mix the flour until it's just combined.
Make sure your pan or griddle is hot before you start cooking the pancakes. This helps them cook evenly and turn a nice golden brown color.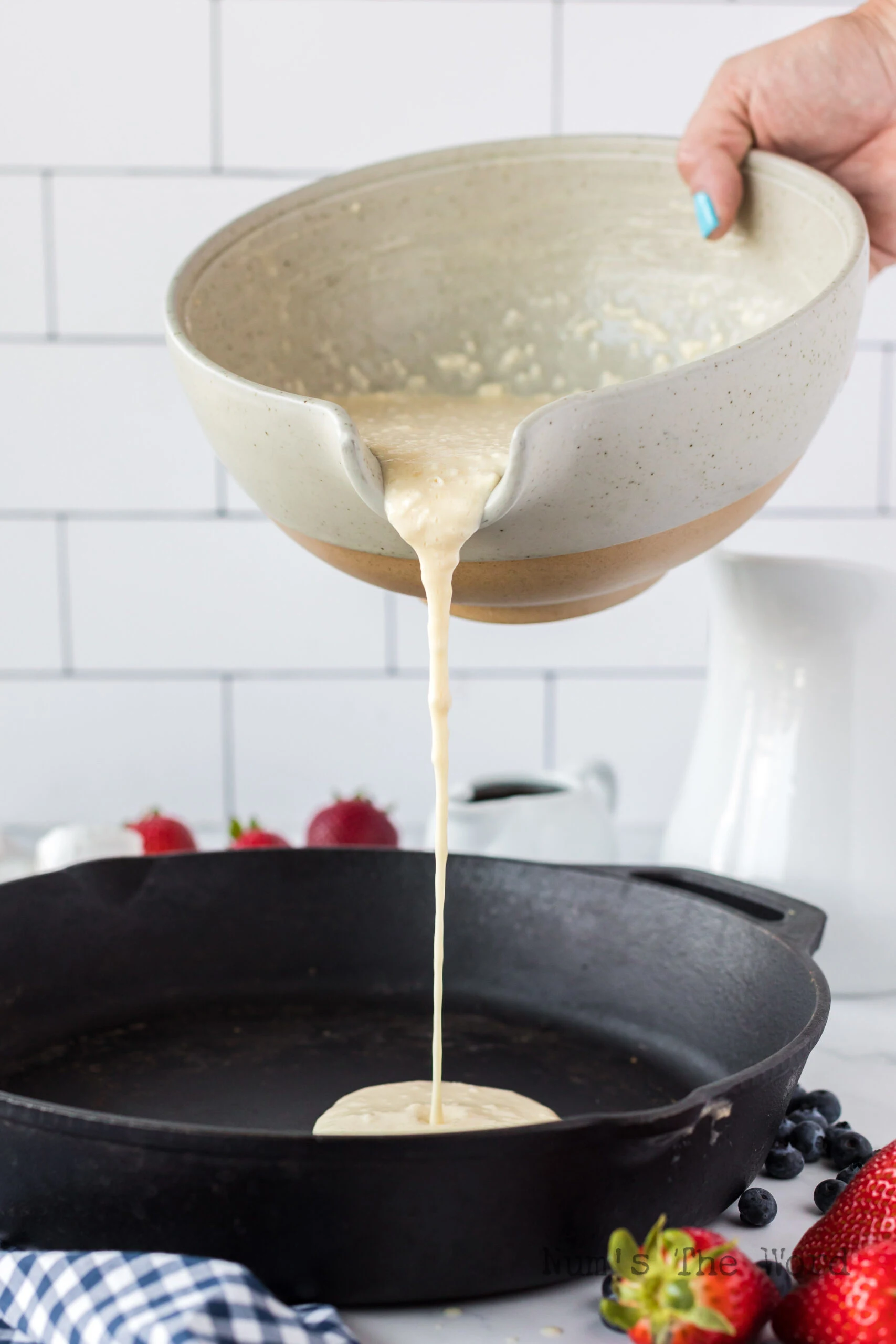 Are Buttermilk Pancakes Healthy?
Yes, homemade buttermilk pancakes can be a healthy breakfast.
They contain protein from the eggs and calcium from the buttermilk.
However, remember to balance your meal with some fresh fruit or a side of protein like eggs or sausage.
Then you'll have a healthy and filling meal too!
How to Make Buttermilk Pancakes Thick
The trick to thick pancakes is in the batter. Don't overmix it!
I've got to say that a lot because I know how tempting it can be to just mix and mix.
Mix just until the dry ingredients are wet.
Also, let the batter rest for a few minutes before cooking. This helps the pancakes to puff up and become thick.
What Are Some Favorite Toppings for Buttermilk Pancakes?
There are so many delicious ways to top thin buttermilk pancakes!
Some people like classic maple syrup. Others like a pat of butter on top that melts into the hot pancakes.
You could also try fresh fruits like bananas or a cup of blueberries.
If you have a sweet tooth, try some semi-sweet chocolate chips or a dusting of powdered sugar.
Are Buttermilk Pancakes Good for Dogs?
This Buttermilk pancake recipe can be okay for dogs to eat in small amounts, but be careful with the toppings.
Certain foods, like chocolate and some fruits, can be harmful to dogs. In fact, chocolate can be toxic for dogs, even in small amounts!
Plus, some dogs can have reactions to flour and other ingredients too. So if you know your dog is one of those, just stick to treats made for dogs.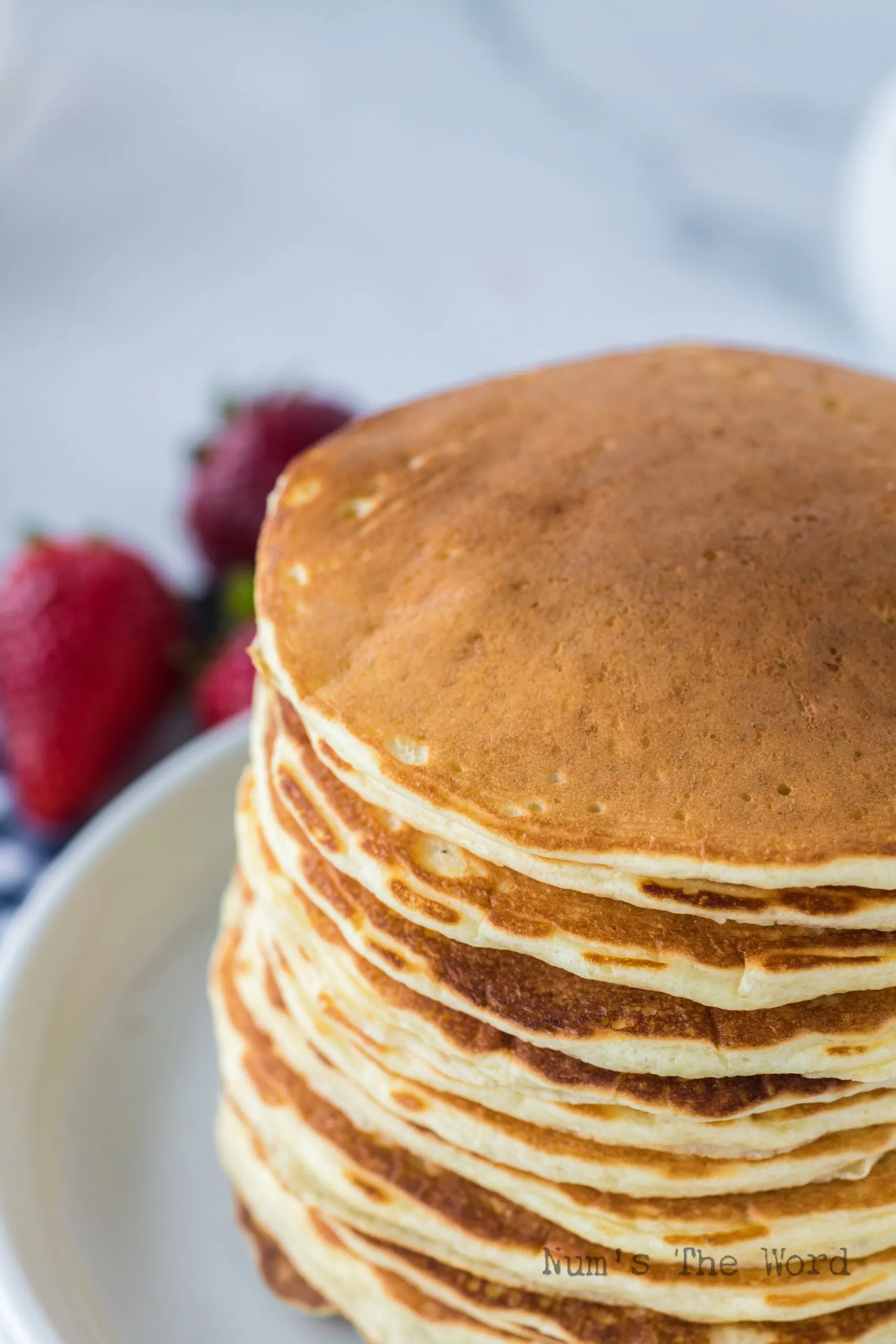 Can Babies Have Buttermilk Pancakes?
This depends on the age of your baby. As a first food? Yikes! This should definitely not be it.
Typically, babies should be eating 1 new food at a time when they first start eating. Such as just avocado or banana.
However, once your baby is older, they can certainly enjoy some buttermilk pancakes.
Just make sure to cut them into small, bite-sized pieces.
And remember to serve them plain without any syrup or extra sugar.
Don't worry! They'll love them just as much and won't miss all that extra sugar at all. (And you won't miss the extra stickiness either!)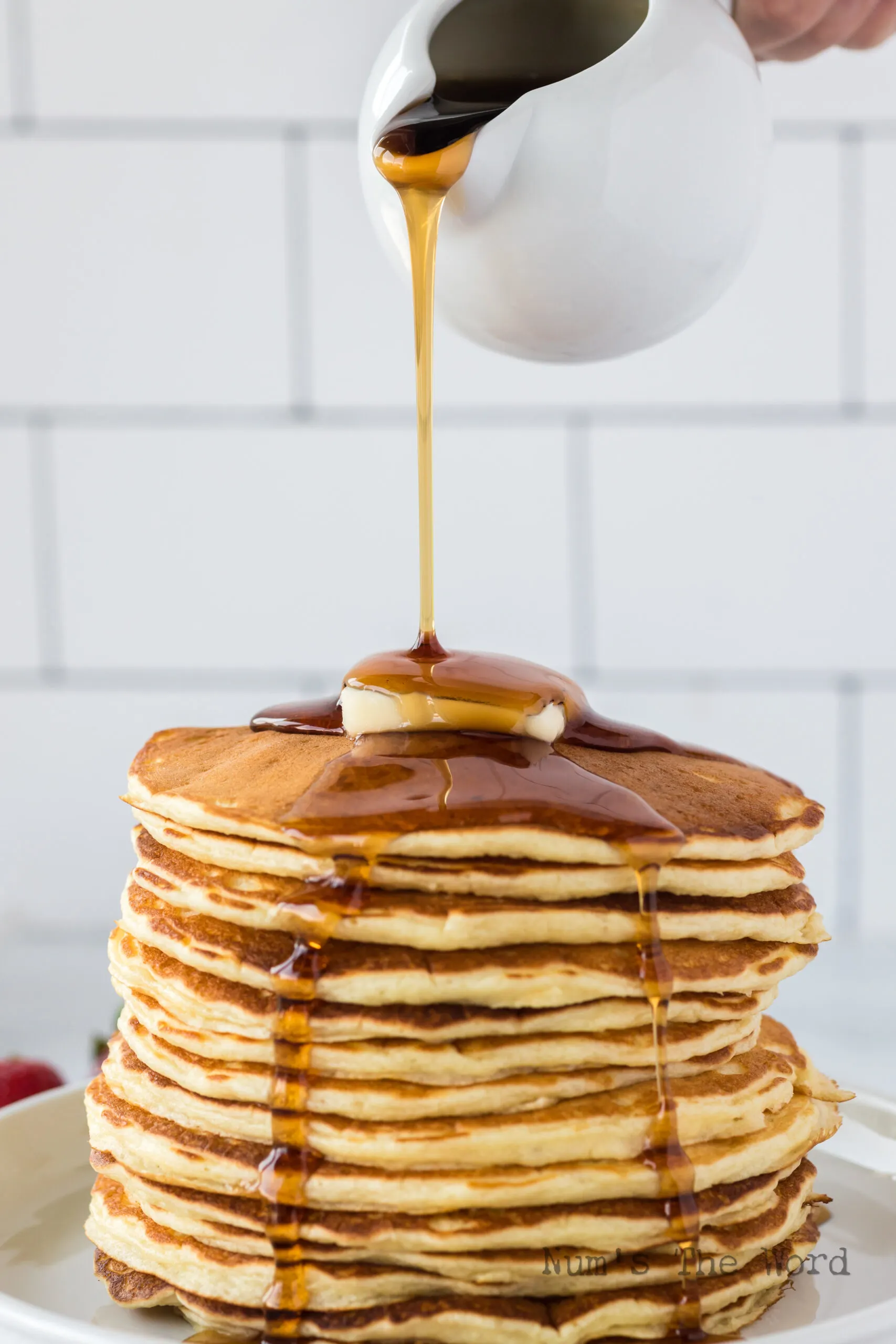 Can Buttermilk Pancakes Be Frozen?
Absolutely! Just let the leftover pancakes cool first, then store them in a single layer in a freezer bag.
When you're ready to eat them, reheat the pancakes in the oven or in a toaster.
If you'd like to stack the pancakes when you freeze them instead, I recommend flash freezing.
Place all the pancakes in a single layer on a baking sheet. Then freeze for 1 hour. Remove from the freezer and place into your bag or container.
Don't forget to write the name and date you froze them!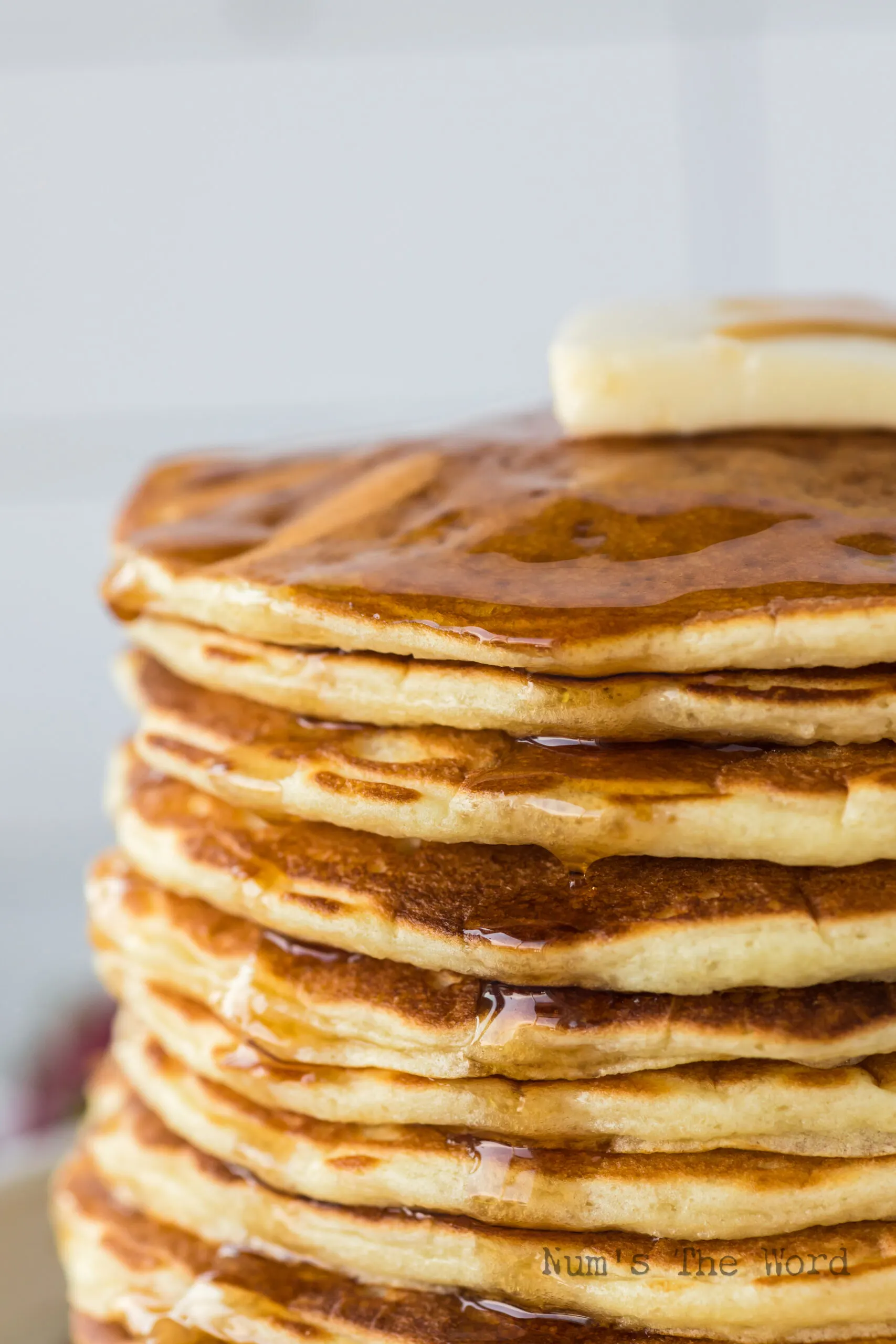 How Long Do Buttermilk Pancakes Last?
Buttermilk pancakes can last in the fridge for about a week.
If you freeze them, they can last for up to 2 months.
Don't store them at room temperature. The buttermilk and eggs will go bad pretty quickly that way.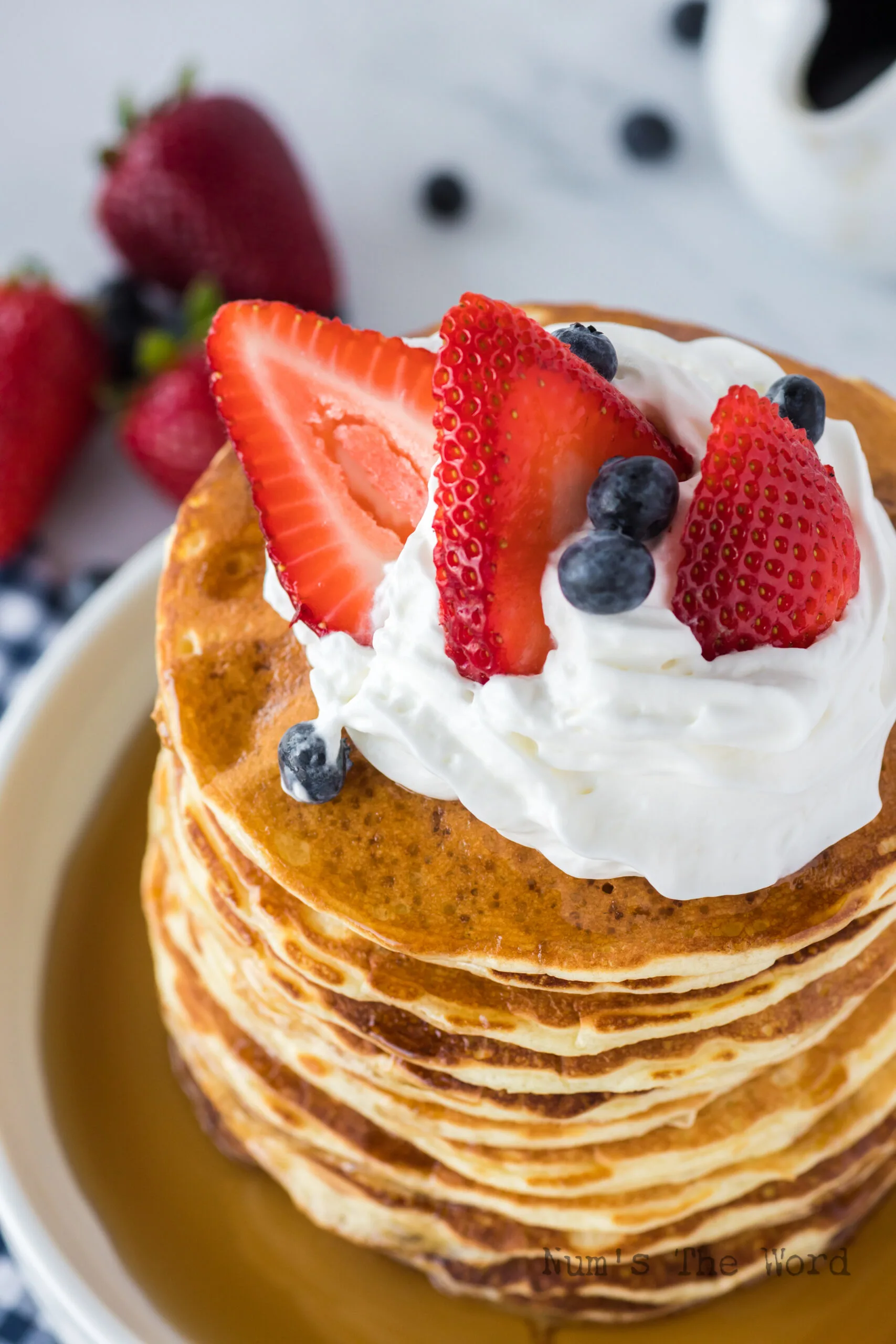 How to Store Buttermilk Pancakes
Cool the fluffy pancakes first, then store them in an airtight container in the fridge.
If you're freezing them, place a piece of parchment paper between each pancake to prevent them from sticking together or flash freeze.
Don't store them with anything extra like fruits or syrup though because those will wreck your pancakes really quickly.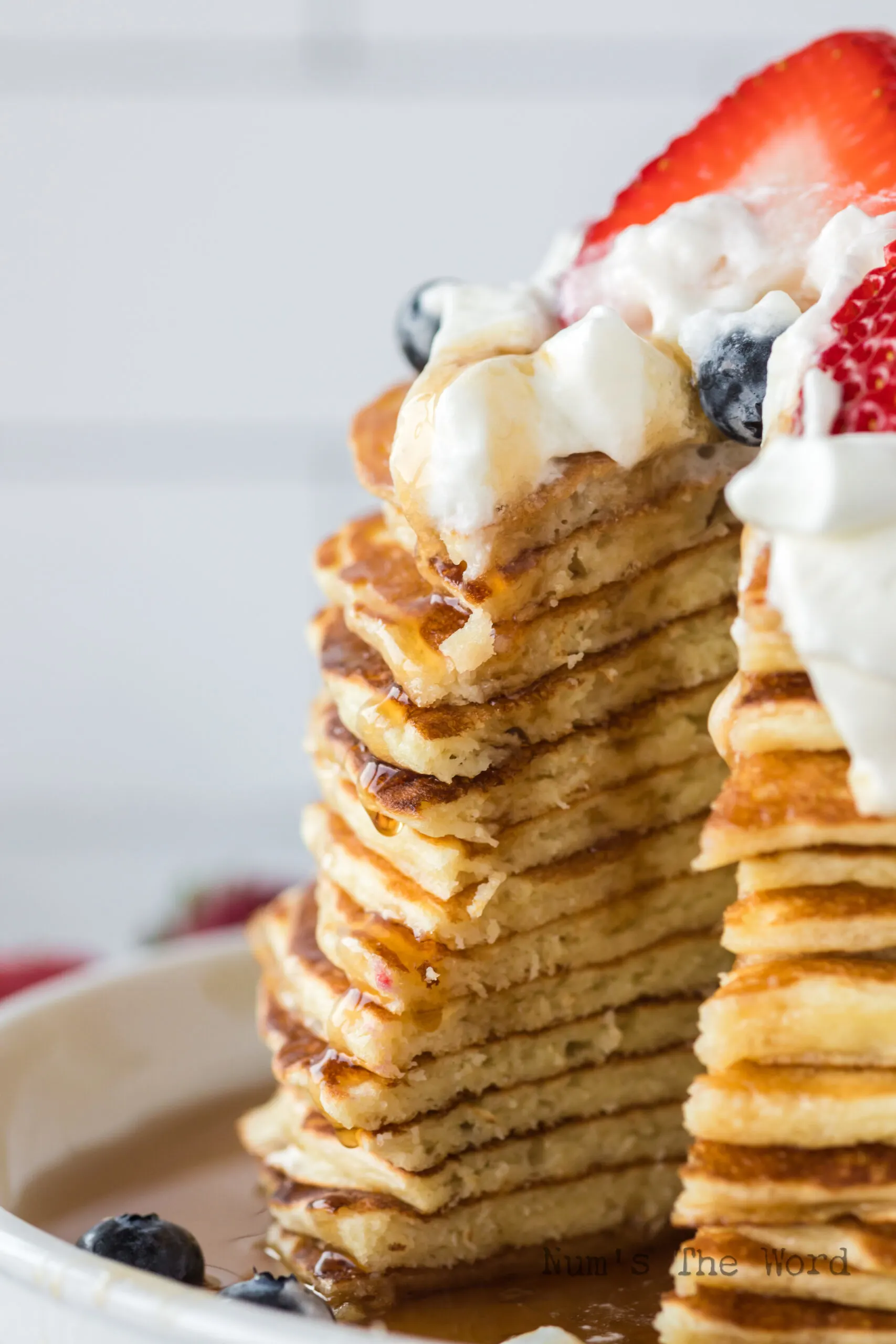 What to Serve with Buttermilk Pancakes?
Fluffy, delicious homemade buttermilk pancakes are perfect for a lazy weekend morning. Try this recipe, and I bet you'll agree it's the best buttermilk pancake recipe ever!
Yield: 5 Servings
Best Buttermilk Pancakes
Make the fluffiest, most delicious homemade buttermilk pancakes with this easy and foolproof recipe. Perfect for a lazy weekend breakfast.
Ingredients
Instructions
Combine eggs and buttermilk.
Add baking soda, baking powder, salt and sugar. Mix well.
Add butter and mix well.
Gently fold in flour - do not over mix.
Heat griddle or pan to 350*F and cook pancakes.
Serve with fresh fruit and syrup
Nutrition Information:
Yield:
5
Serving Size:
1
Amount Per Serving:
Calories:

299
Total Fat:

11g
Saturated Fat:

6g
Trans Fat:

0g
Unsaturated Fat:

4g
Cholesterol:

134mg
Sodium:

756mg
Carbohydrates:

39g
Fiber:

1g
Sugar:

10g
Protein:

11g