Meet Cookie Dough Brownies! Your new favorite dessert you didn't even know you needed! Can't decide between cookies and brownies? Then don't! Make them both and enjoy the best of both worlds!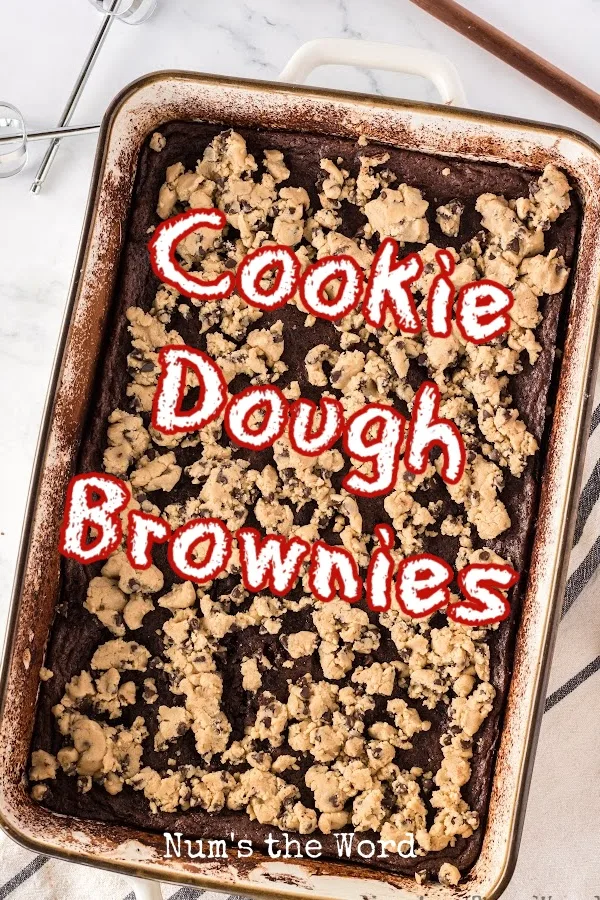 Imagine the perfect combination of a rich, fudgy brownie base topped with an even layer of edible cookie dough.
It's a sweet treat that merges the joy of chocolate chip cookies and the deliciousness of fudgy brownies.
The result? A delightful dessert that tastes like a dream.
This dessert is an all-star meet-up of your two favorite desserts. Cookies and brownies all in one blissful bite!
It's great for making ahead of time! Whip it up a day before serving, giving you more time to relax and enjoy.
Gooey cookie dough brownies are freezer friendly too! Store leftovers in the freezer for a sweet tooth emergency… I'm not the only one that has those right?
And feel free to mix things up. Add extra chocolate chips or a swirl of Nutella to make it your own.
These easy homemade cookie dough brownies are also beginner friendly. The steps are simple enough for anyone to follow, even first-time bakers!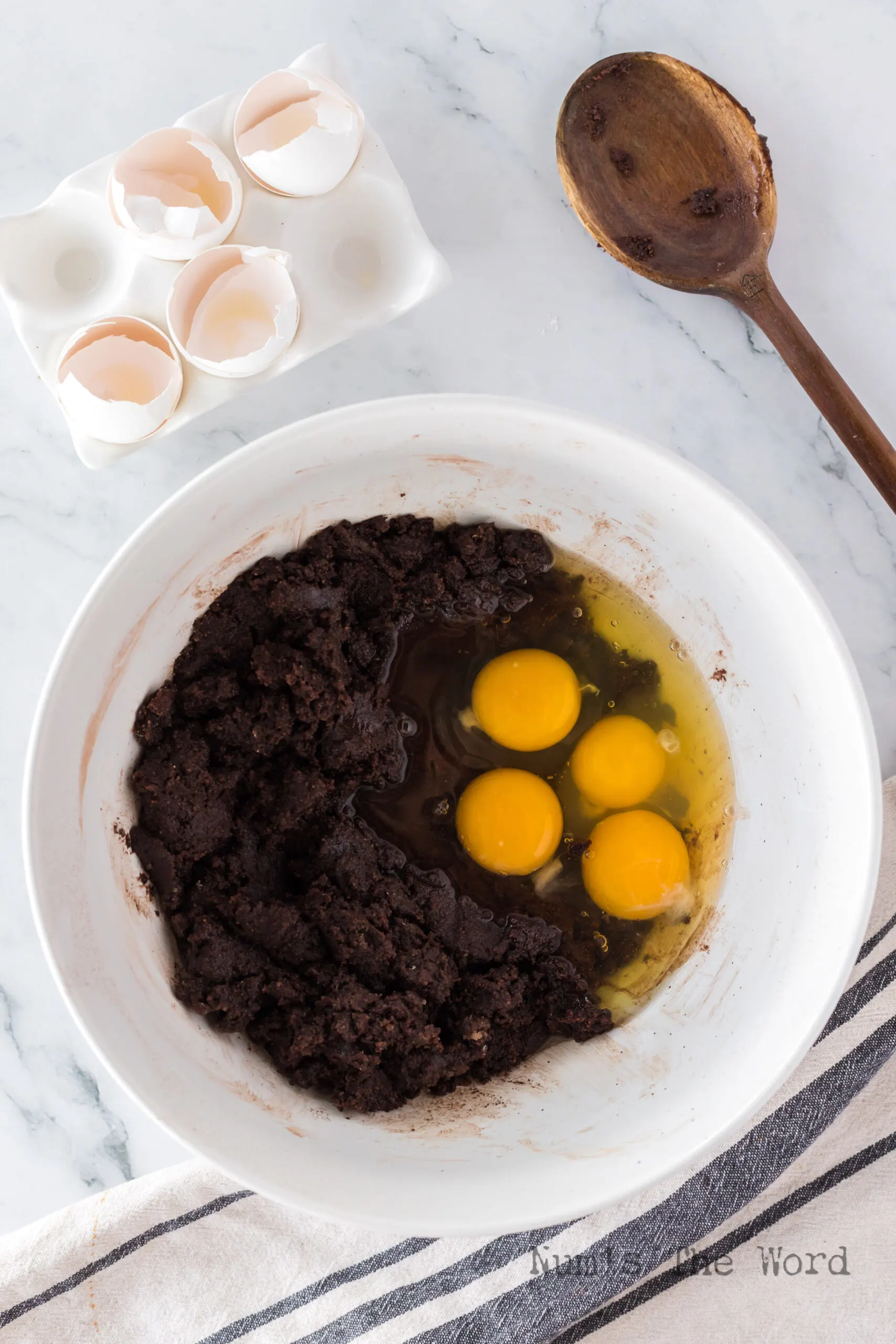 What Ingredients are in Cookie Dough Brownies?
Cookie dough lovers and brownie lovers unite! This brownie recipe only needs a few main ingredients. Here's what you'll need:
Unsalted Butter: The melted butter makes our brownies rich and the cookie dough smooth.
White and Light Brown Sugar: These sweeten the brownie and cookie layers, with the brown sugar adding a hint of caramel.
Eggs: For the brownies, they help bind the ingredients.
Vanilla Extract: A dash of this adds wonderful aroma to both layers.
Cocoa Powder: What's a brownie without it? This is what gives our brownies their deep chocolate flavor.
All-Purpose Flour: This helps the brownie and cookie dough keep their structure.
Mini Chocolate Chips: These tiny chips of chocolate add a fun texture to the cookie dough layer.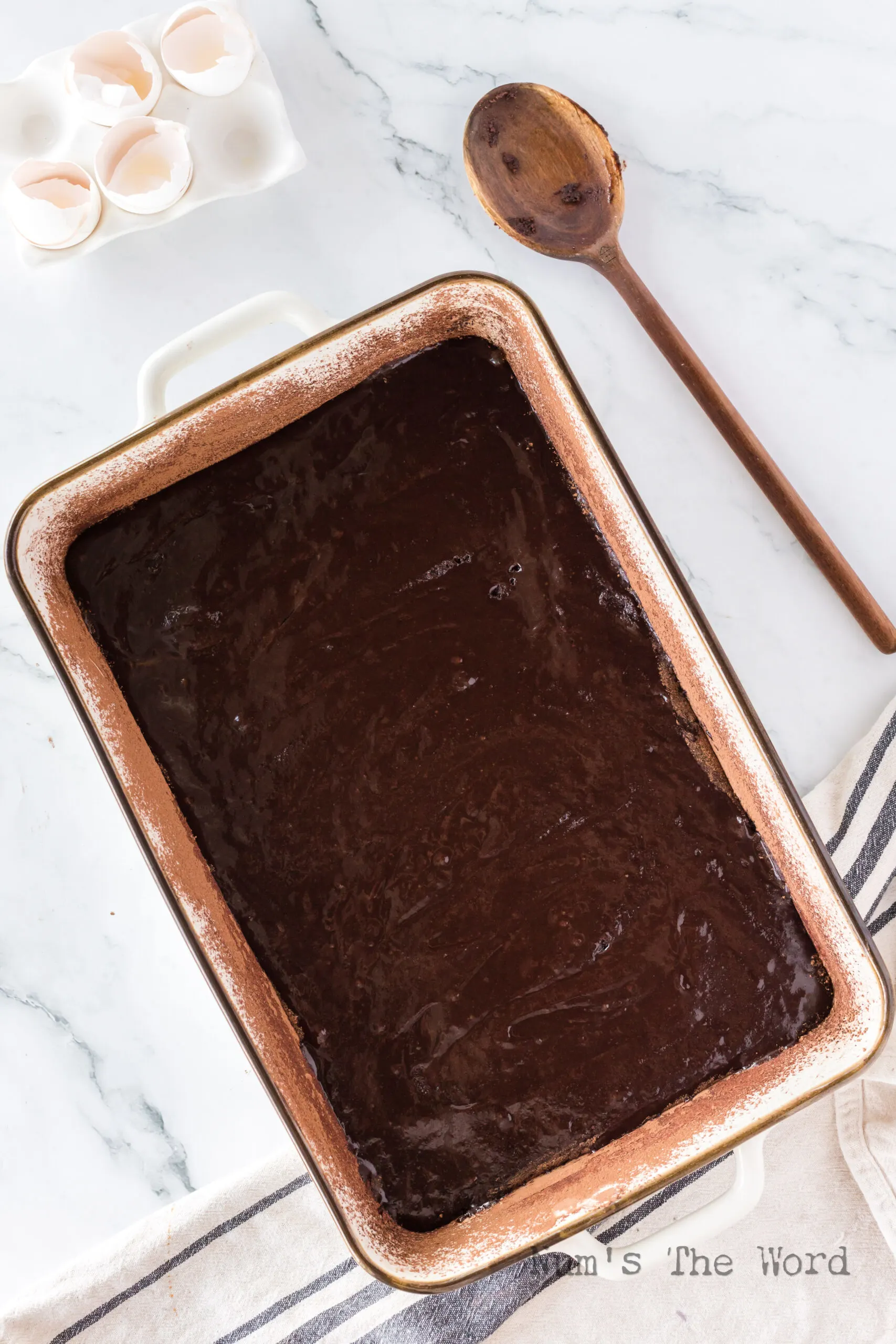 How to Make Cookie Dough Brownies from Scratch
What's the best thing about this great recipe? Is it the fudge brownies or the delicious cookie layer? I'll let you decide. Here's how to make it:
Brownie Base: Start by mixing your butter, sugars, and vanilla. Then, add the dry ingredients, followed by the eggs. Pour this brownie batter into a pan and bake.
Raw Cookie Dough Topping: While your brownies are cooling, grab a large mixing bowl and whip up the cookie dough. Spread an even layer of the dough over the cooled brownies.
Pro Tips:
Lining your pan with parchment paper before pouring in your brownie batter makes it easy to lift the brownies out once they're baked.
Remember, your butter should be at room temperature for the best texture.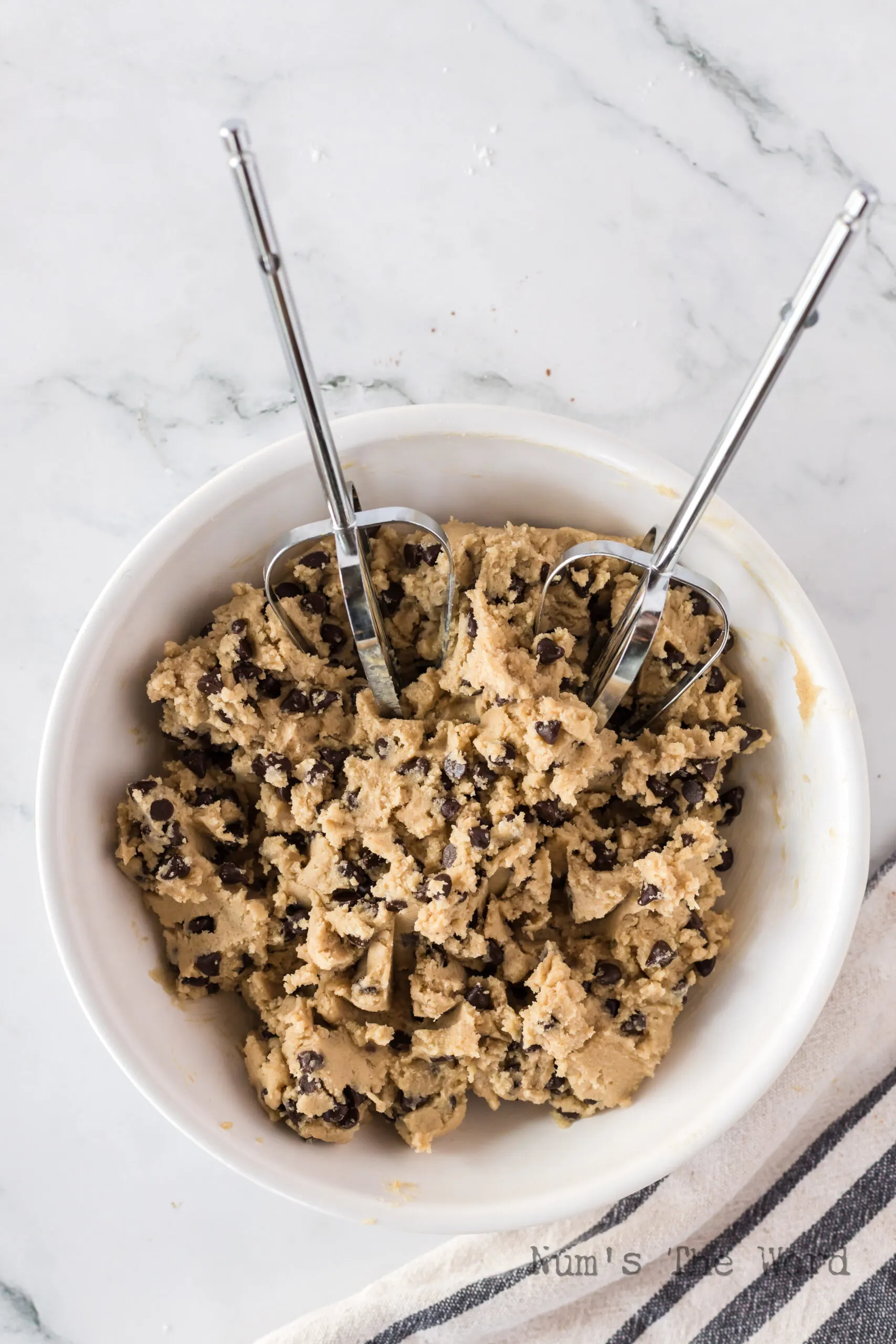 What Makes a Brownie Fudgy?
The key to a rich, fudgy brownie is the perfect balance of butter, cocoa powder, and flour.
More butter and cocoa powder, less flour.
That's the secret to achieving that soft, melt-in-your-mouth texture we all love.
Can I Make Cookie Dough Brownies Ahead of Time?
Absolutely! Prep the brownie layer and cookie dough layer a day ahead, then assemble when you're ready to serve.
Since you need the brownie layer to cool before you add the cookie dough layer, it can really be cooked up to a day beforehand.
Company coming over? Yeah, this dessert has totally got you covered.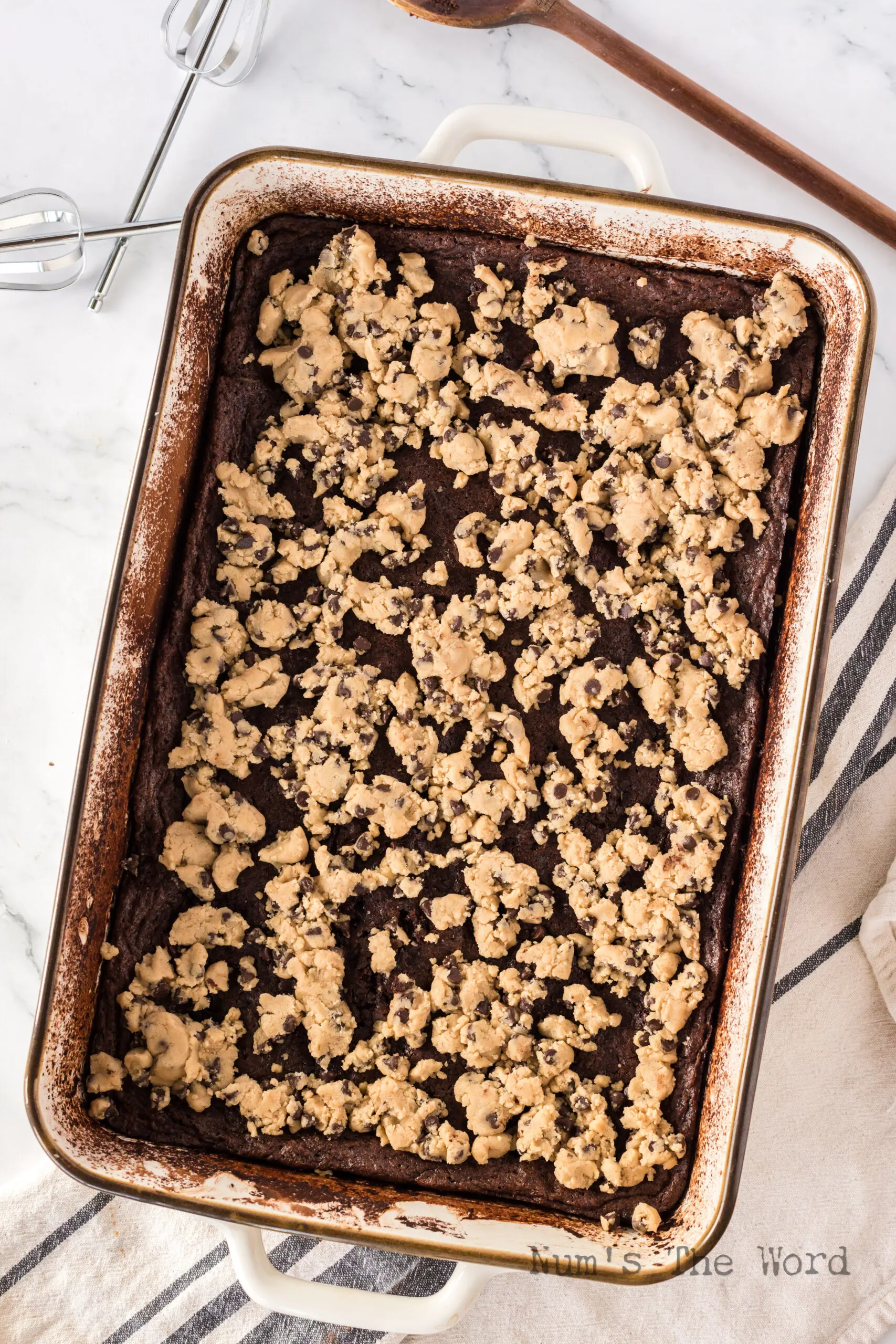 What is the Best Way to Store Cookie Dough Brownies?
If you've made the brownies in advance, the best option is to wrap the entire pan tightly with plastic wrap.
I like to double wrap it just to be sure it's sealed well enough.
Then put it in the fridge overnight. Take it out about an hour before serving time though.
This will give the brownies time to soften to room temperature, which is definitely the best way to eat them.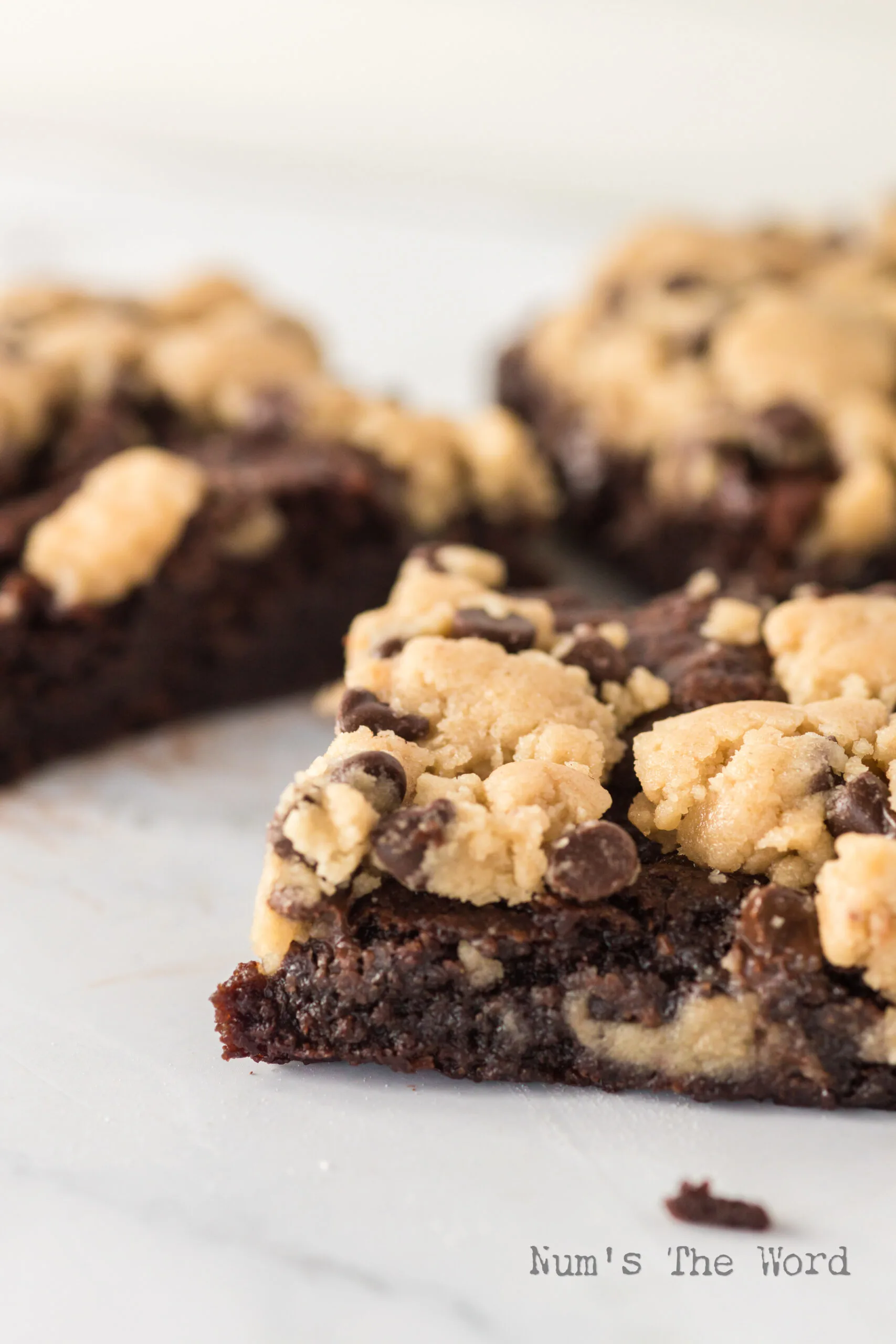 Can Cookie Dough Brownies be Frozen?
Yes! Wrap the brownies in plastic wrap, then place them in an airtight container.
You can enjoy them straight from the freezer, or let them thaw at room temperature.
If you choose to enjoy them straight from the freezer because well… it's hard to wait (guilty!) just be careful because they can be super hard and hurt your teeth.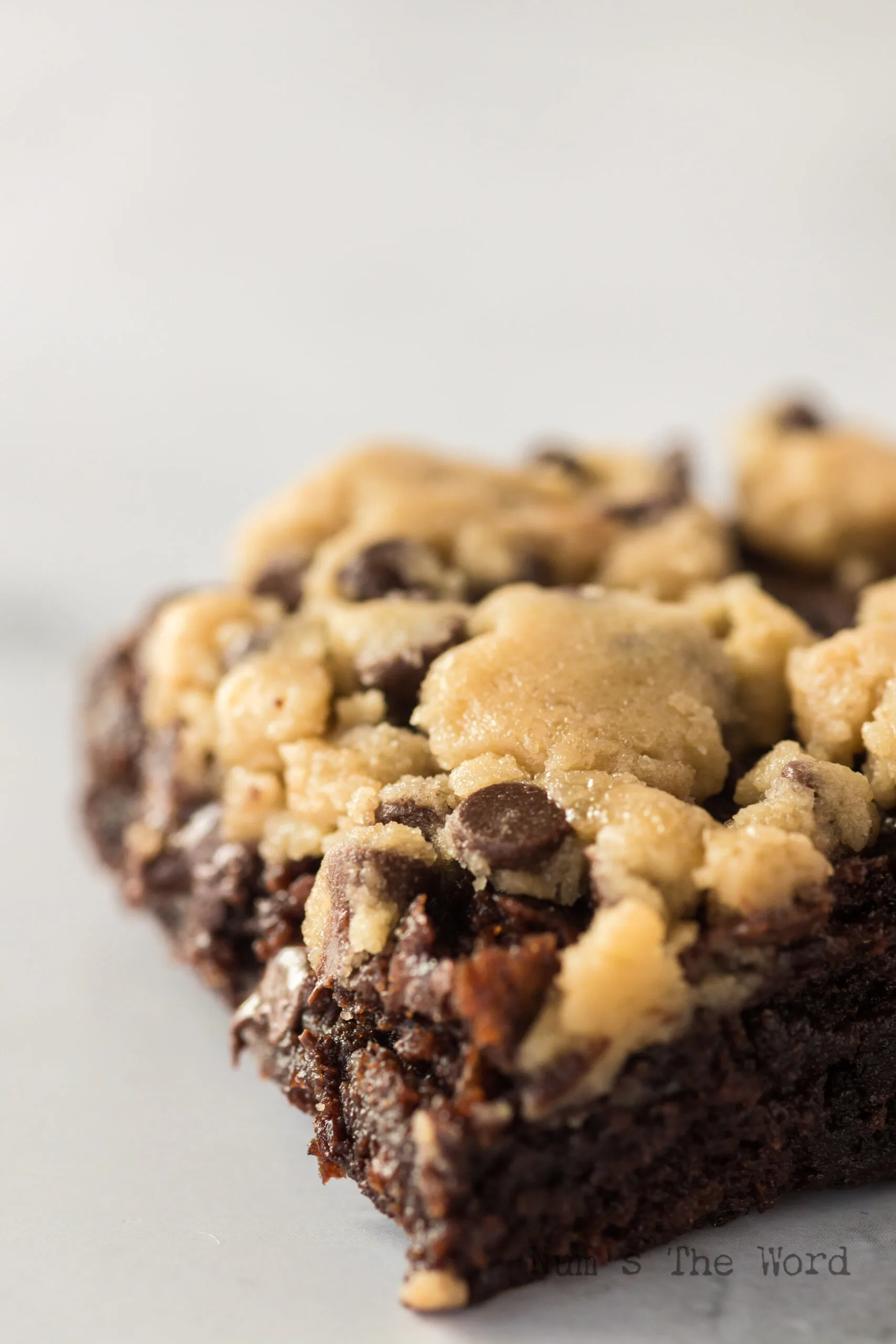 How Long Do Cookie Dough Brownies Last?
In an airtight container at room temperature, the brownies can last up to 4 days.
If you want to extend their shelf life, store them in the fridge or freezer.
From the fridge you'll be able to enjoy them for about a week. And the freezer will keep them good for up to three months.
Just don't forget to label your freezer container with the date you put them in so you know when you need to use them up.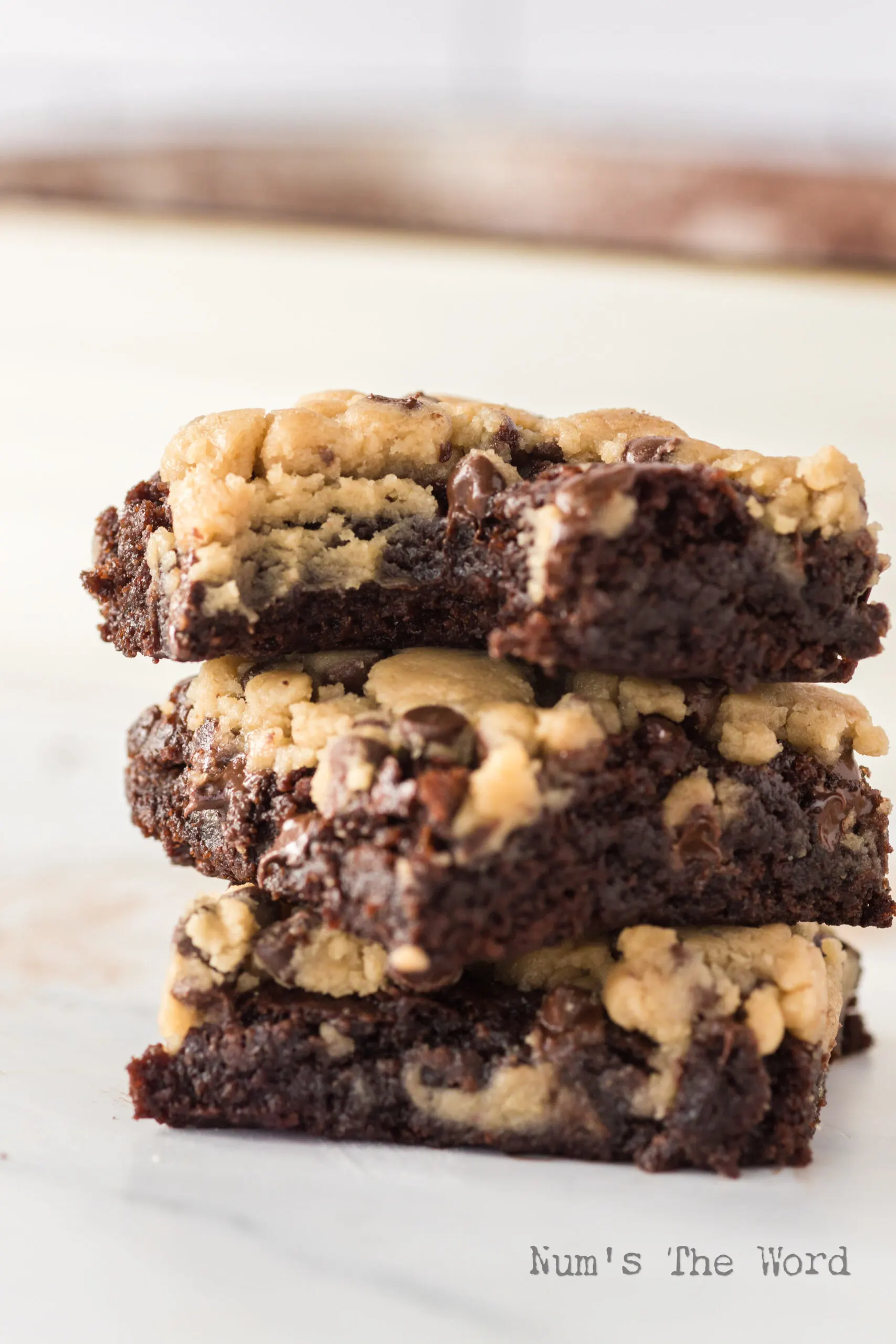 How to Store Leftover Cookie Dough Brownies?
Leftovers should be placed in an airtight container.
If I'm going to be eating them fairly quickly, I'll leave them on the counter where they'll stay softer.
But if you want them to last a little longer, putting them in the fridge or freezer will be a better option.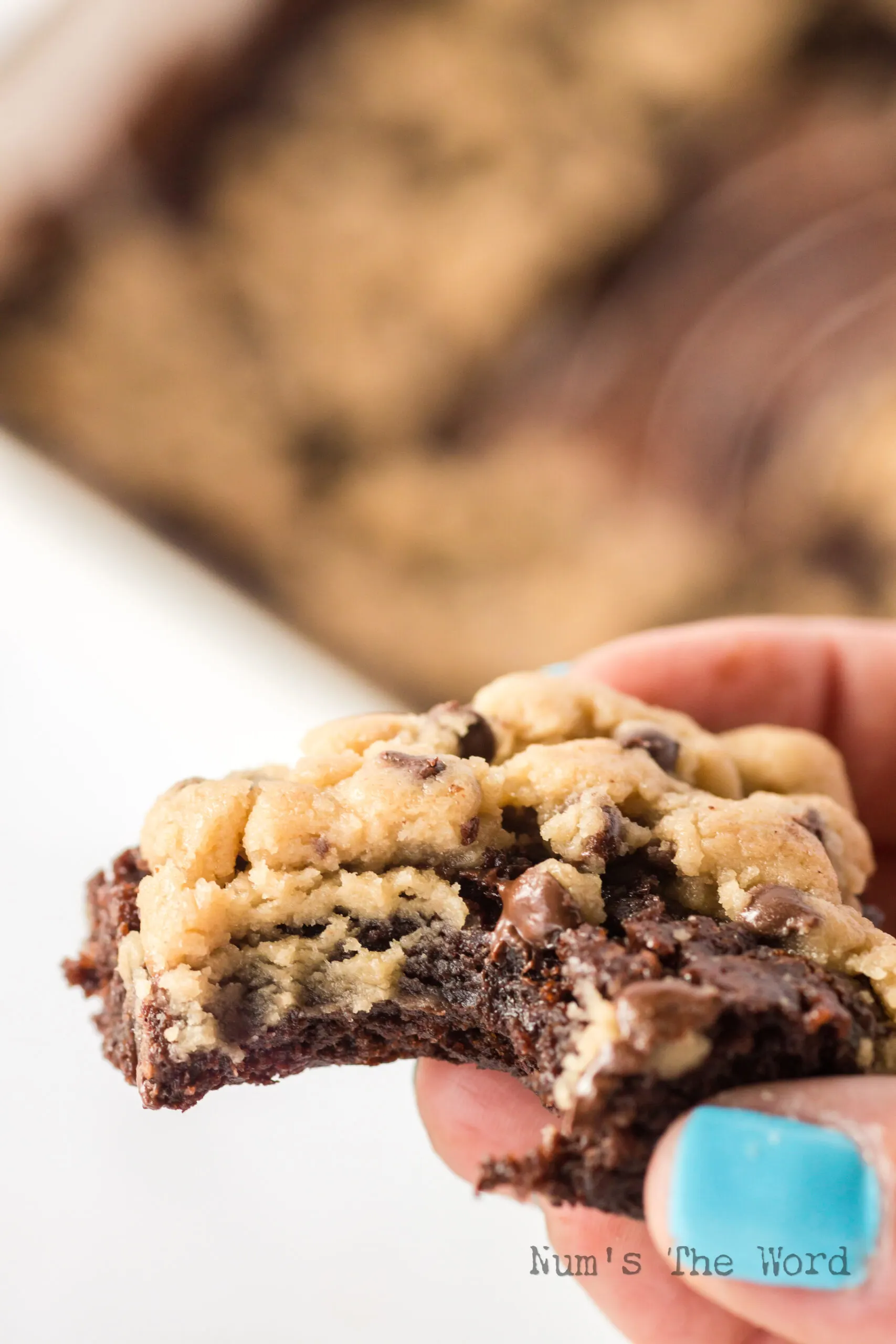 Do I Bake the Cookie Dough in Cookie Dough Brownies?
Nope! The cookie dough is egg-free, so it's safe to eat raw.
After your brownie cools, you spread the cookie dough on top.
However, your brownie batter isn't egg-free. So if you're worried about e. coli, be sure to bake it before you eat it.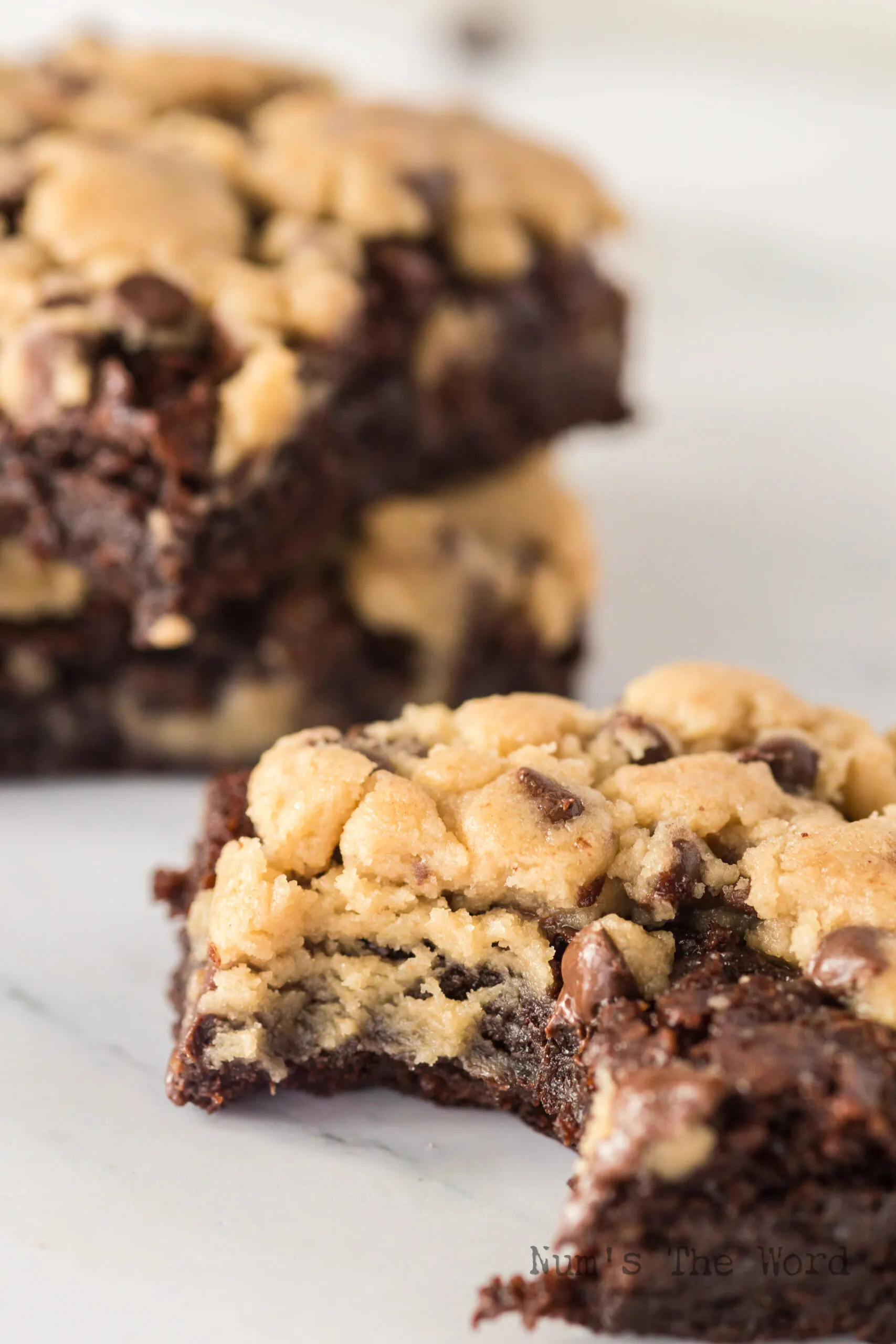 More Delicious Recipes with Chocolate Chips:
Cookie Dough Brownies are really one of the best desserts. They're easy to make but so delicious and perfect all year round. Enjoy!
Yield: 12 Brownies
Cookie Dough Brownies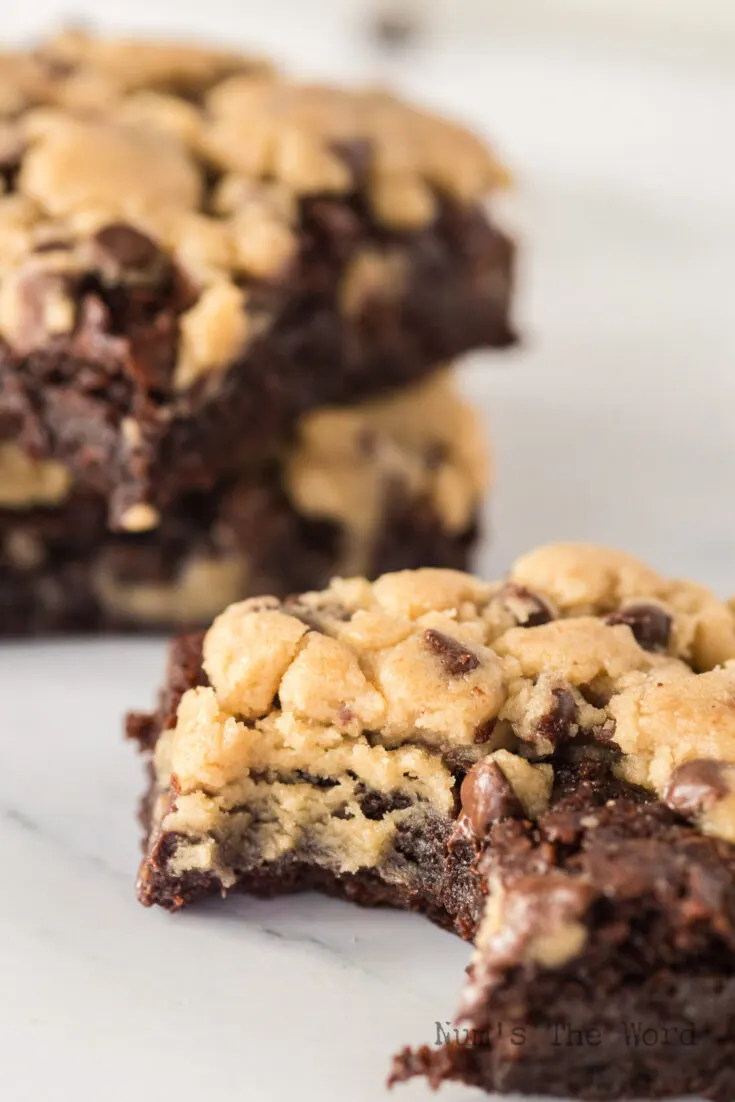 Dive into the joy of Cookie Dough Brownies, the perfect combo of fudgy brownies and eggless cookie dough. It's a treat you can't resist!
Ingredients
Brownies
Chocolate Chip Cookie Dough
Instructions
Preheat the oven to 350 degrees Fahrenheit.
Prepare 9x13 pan by spreading 1-2 tablespoons of butter along the bottom and edges until lightly, but completely, coated.
Carefully sift 2 tablespoons cocoa powder on the buttered pan until fully coated.
Basically instead of greasing and flouring the pan, you're buttering and cocoa powdering it.
In a large saucepan, melt 2 sticks (1 cup) of butter over medium heat until just melted.
Remove from heat.
Stir in sugar and vanilla until well combined.
In a separate bowl, sift together flour, salt, cocoa powder, and baking powder.
Stir dry ingredients into the butter and sugar mixture until combined.
Add eggs and stir until fully incorporated, but not more than that.
Pour batter into the prepared 9x13 casserole dish.
Bake at 350 degrees for 24 minutes, or until the top of the brownies are set and edges begin to pull away from the pan.
Remove brownies from the oven.
While brownies are cooling, make chocolate chip cookie dough
In a medium bowl, mix butter, brown sugar and salt with a hand mixer for 3 minutes or until light and fluffy.
Add flour and mix again. Mixture should look a little crumbly.
Add vanilla and chocolate chips and mix again.
Sprinkle cookie dough mixture over brownies. Gently press into brownies.
Cut and serve.
Nutrition Information:
Yield:
12
Serving Size:
1
Amount Per Serving:
Calories:

537
Total Fat:

29g
Saturated Fat:

18g
Trans Fat:

1g
Unsaturated Fat:

9g
Cholesterol:

128mg
Sodium:

422mg
Carbohydrates:

65g
Fiber:

2g
Sugar:

45g
Protein:

6g