Swedish Tea Ring is a delightfully sweet Christmas tradition that is sure to become a family favorite. Serve around the holidays or all year at tea time for a beautiful and yummy treat.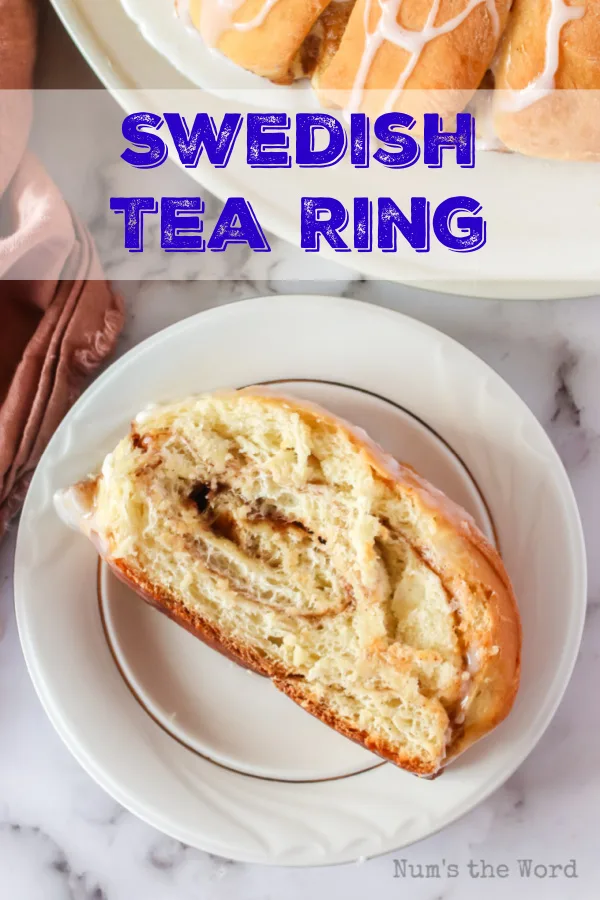 This Swedish tea ring recipe tastes similar to a homemade cinnamon roll but it's a whole lot more festive.
Made with cinnamon, brown sugar, and butter, it'll be a holiday treat your entire family will savor.
When making this recipe for Swedish tea ring bread, one thing you'll notice is that it's pretty quick. You don't need to let it rise overnight. You can start it and eat it on the same day.
You'll also notice that it's an easy recipe. Don't let the wreath shape fool you. It's really simple to shape and doesn't require any complicated braiding.
And lastly, you'll notice it's a moist and flavorful treat. There's nothing worse than taking a big bite of and finding it's dry.
I hope you enjoy eating the best Swedish tea ring recipe on the internet.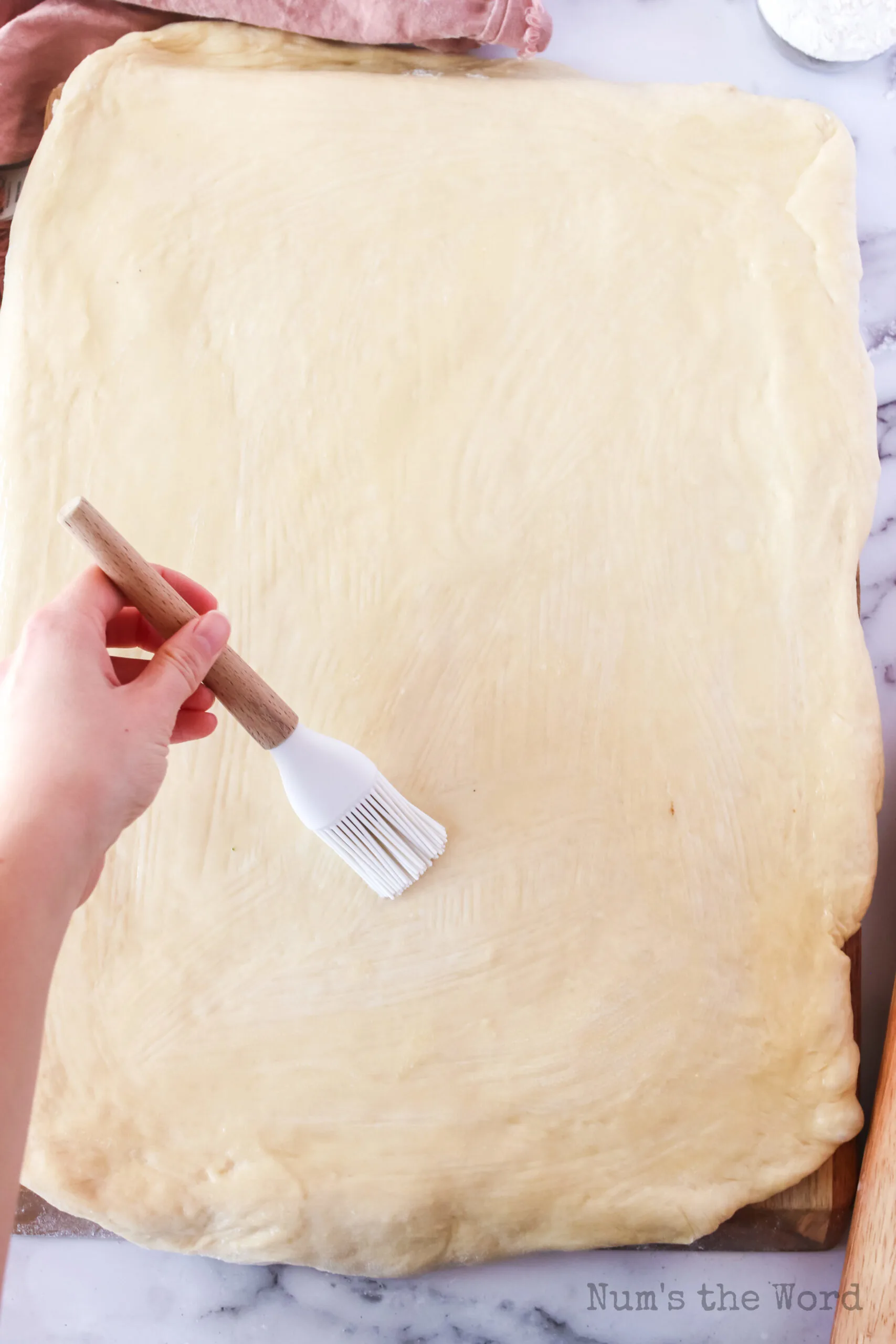 What Is a Swedish Tea Ring?
A Swedish tea ring is a flavored bread that is typically shaped like a wreath or crown. It is served during tea time as a snack, as a breakfast, or even as a dessert.
It is typically made with yeast, water, butter, cinnamon, flour, sugar, eggs, and milk and can be slightly sweetened or overly sugary in taste depending on how it is prepared.
This Swedish Tea Ring recipe can also be eaten hot or cold depending on preference.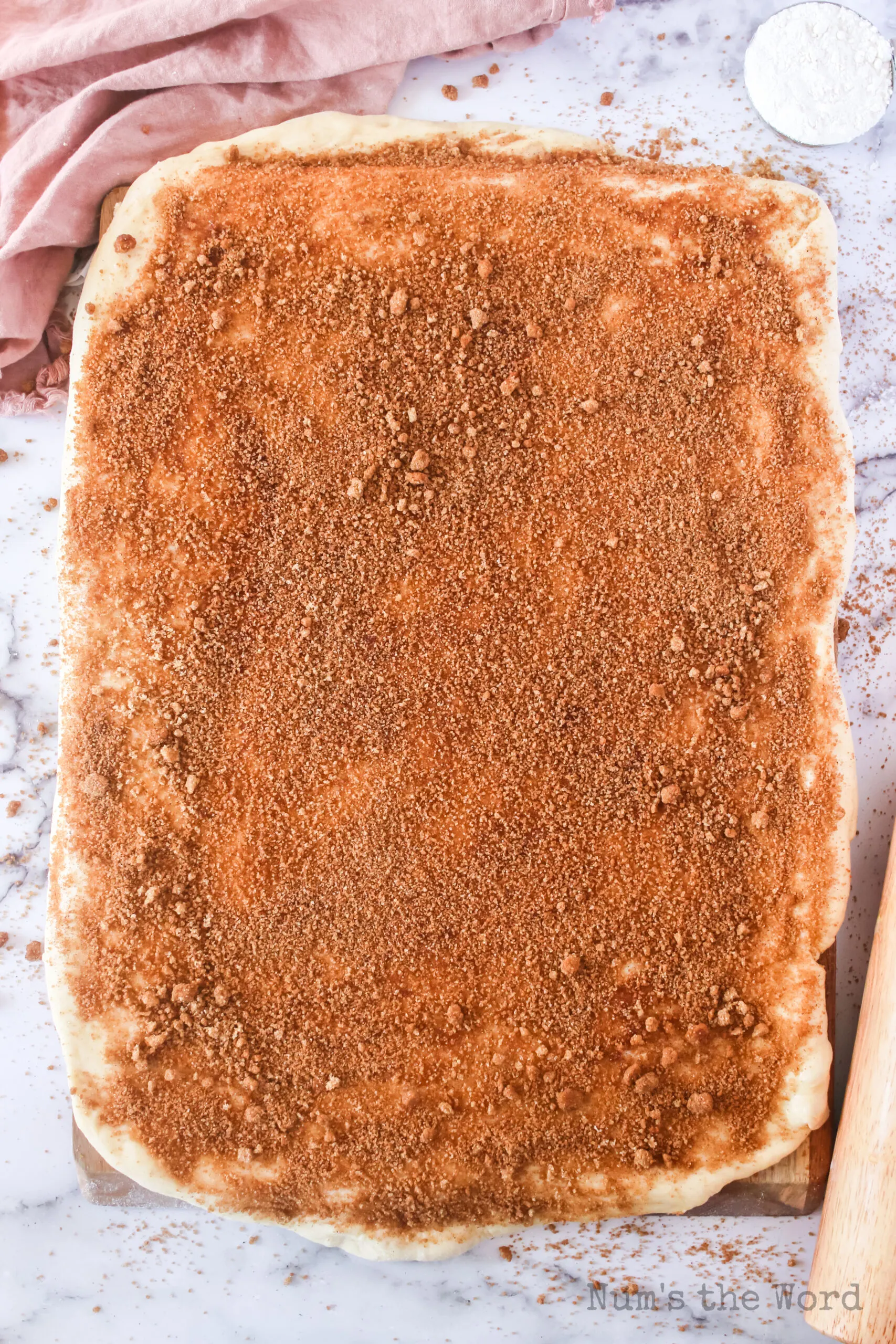 Swedish Tea Ring History
The origins of the Swedish tea ring are pretty unknown. It seems that in Sweden it's always just been there. An always loved tradition.
There's lots of different tales online about the origins. The one thing they mostly agree on is that it started as a Christmas feast way back when.
And it's been a well loved tradition that I'm very grateful to finally have on my website!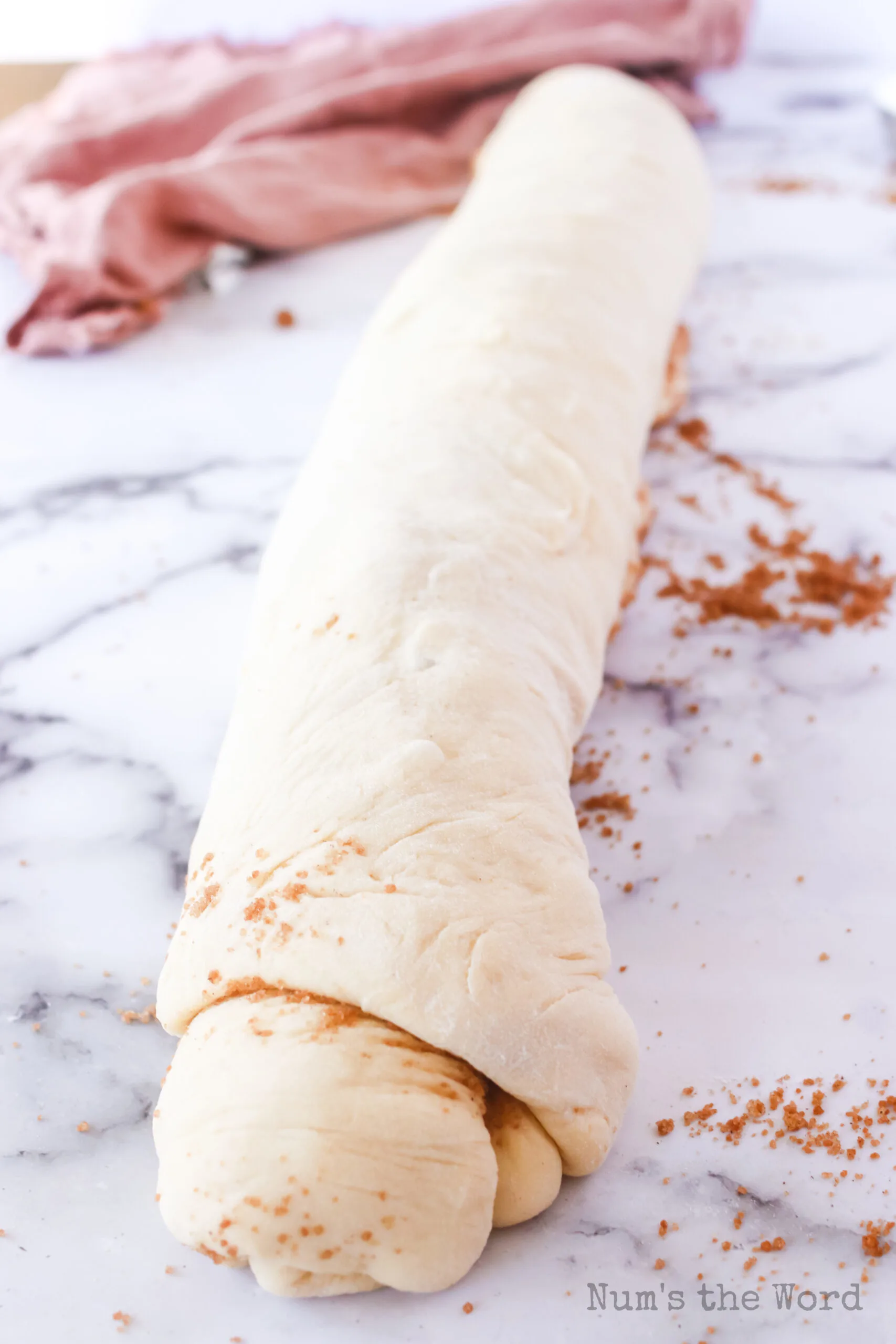 Ingredients for Swedish Tea Ring
The list for Swedish Tea Ring is a little long but they're all well known and easily accessible ingredients.
Water:

Make sure the water is warm to allow the yeast to proof.

Sugar:

This white sugar helps the yeast to bubble and create the rise in the bread.

Yeast:

I use dry yeast, not instant, so make sure you allow it time to proof.

Salt:

This is necessary, even in sweet bread, for flavoring.

Flour:

Use regular, all purpose flour. I haven't tried swapping with other flours and don't

recommend it.

Eggs:

This binder is necessary to hold the bread together and help it to rise.

Butter:

Mmmmm… butter. Pull it out before beginning so it'll be room temp when you need it.

Cinnamon:

This is what gives your Swedish Tea Ring it's signature flavor so don't forget it.

Brown Sugar:

You'll need much more of this than the white sugar as its deep flavor compliments the cinnamon.

Powdered Sugar:

Three sugars! This one is to create the icing on top.

Milk:

Add as much milk as needed to help the powdered sugar turn runny but not thin.

Pecans:

Optional but beautiful and gives the Swedish Tea Ring a nice crunch!

Raisins:

These are optional too. Combined with the pecans, they create the perfect look.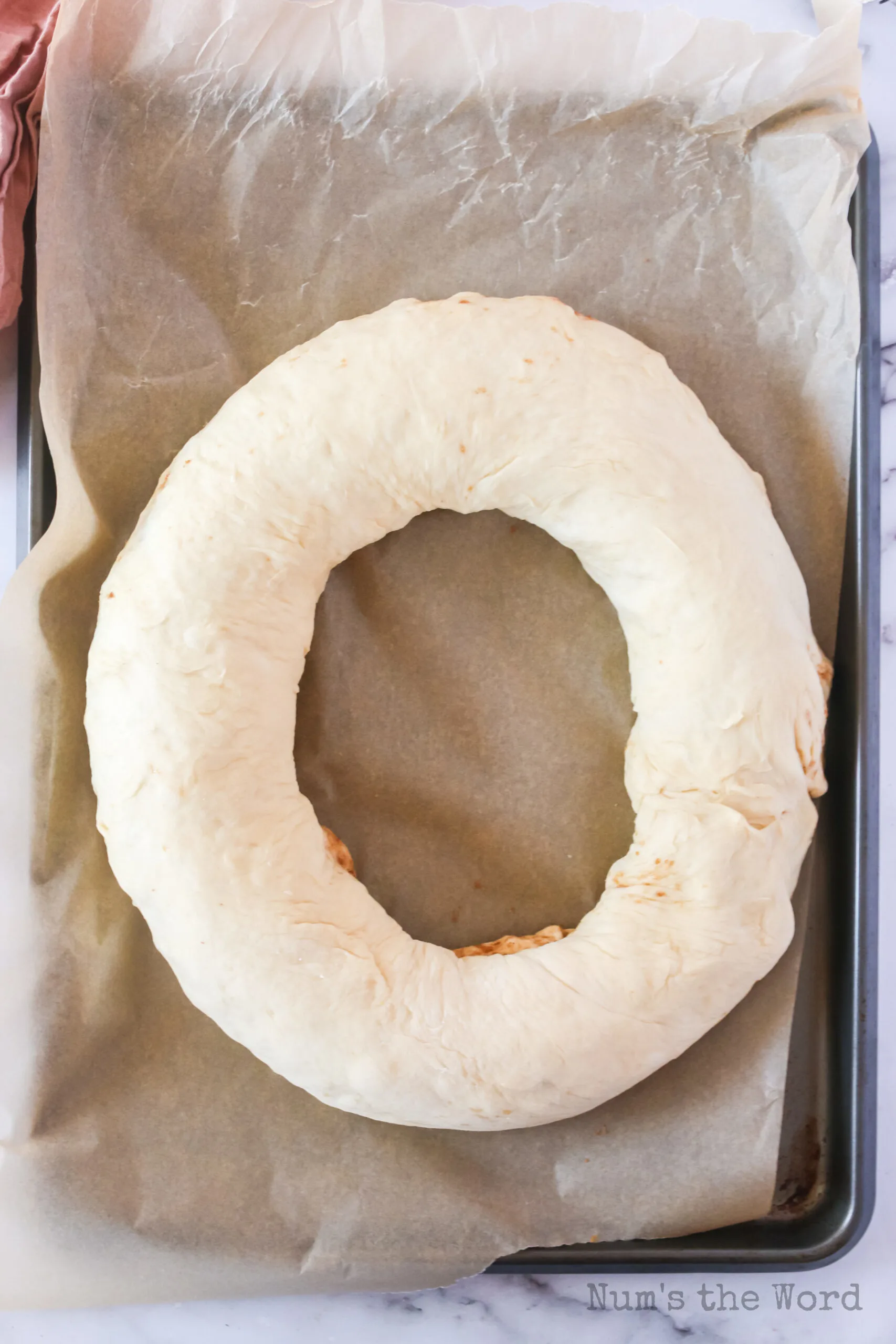 How to Make Swedish Tea Ring
Proof:

Your yeast needs to be bubbly and make your kitchen smell like bread before you start the rest.

Mix:

Adding the salt and flour, you'll know the bread is done when it pulls away from the edges of the bowl.

Rise:

The bread will need to rise here and once again after shaping and cutting.

Roll:

First you'll roll it flat, cover it with goodness, and then roll it again to form a log. Shape the log into a wreath.

Cut:

Be careful not to cut all the way through or you'll get cinnamon rolls but add cuts at about 1 inch intervals.

Bake:

After the tea ring has risen again, bake, keeping an eye on the color to make sure it doesn't burn.

Drizzle:

My kids fav part (they go a little crazy with it..) And your icing and the pecans and raisins here.
That's it! It seems complicated but don't forget, two of those steps are you walking away from it and letting it do it's thing!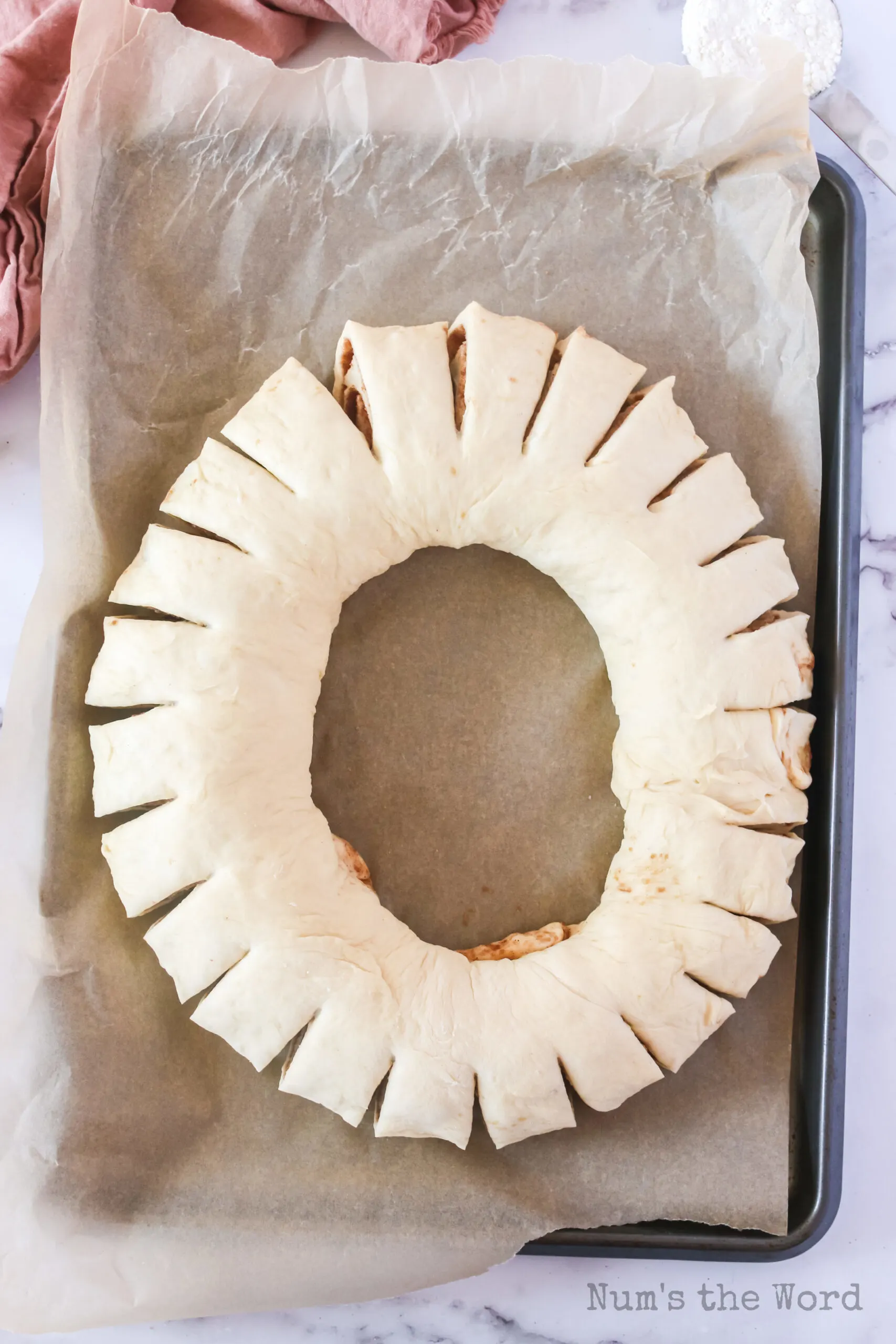 Is a Swedish Tea Ring the Same as Cinnamon Rolls?
No, however, they are very similar.
If you were to make a list of ingredients, cinnamon rolls and Swedish tea rings would match almost perfectly, depending on your recipe.
However, cinnamon rolls are cut completely and then baked on their sides. A Swedish Tea Ring is cut only partly down and then baked in a circle shape.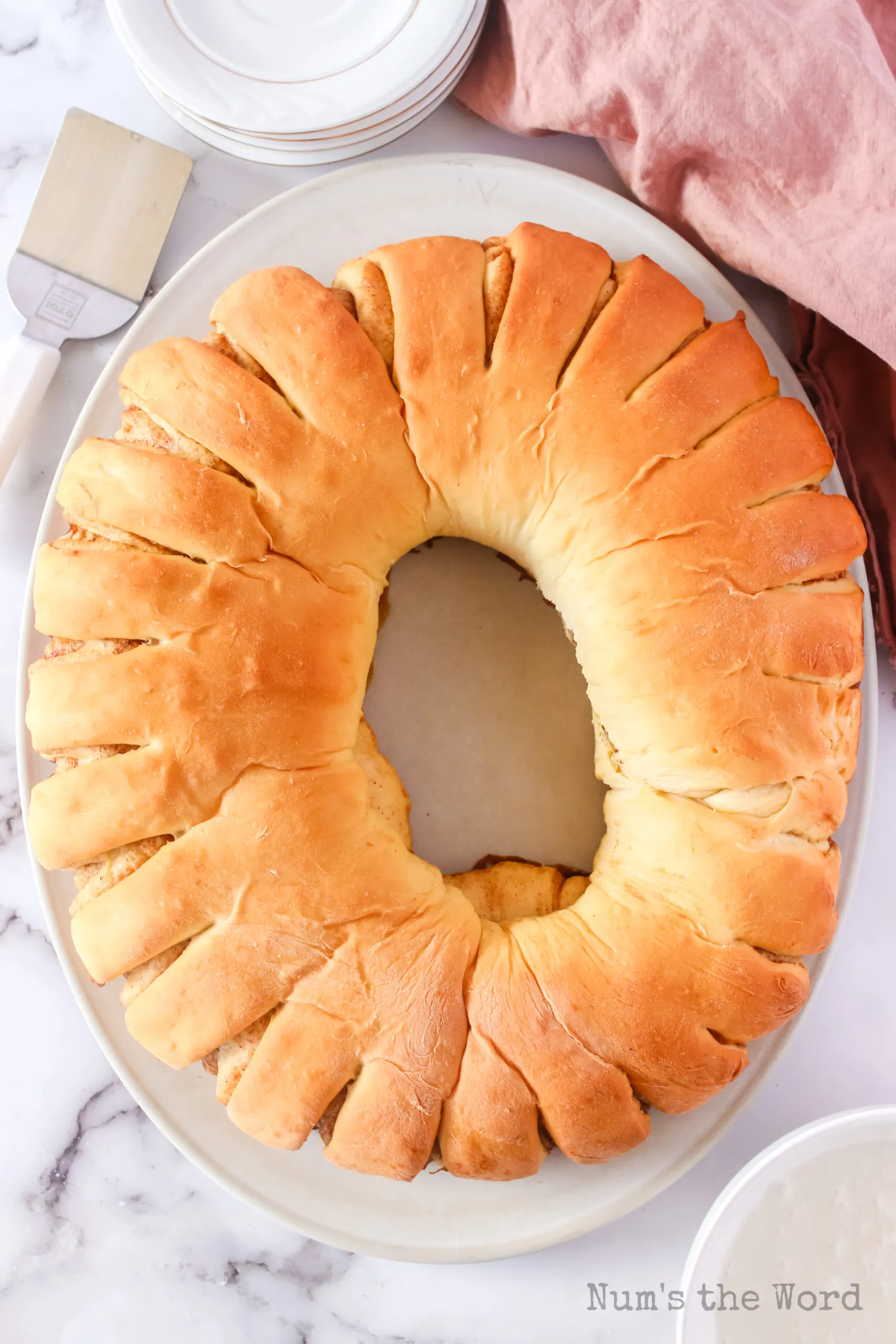 Is A Swedish Tea Ring a Traditional Christmas Recipe?
Absolutely!
The Swedish Tea Ring is made in Sweden for Christmas and everywhere else around the world too!
You can make this for Christmas Dinner, Christmas Eve Dinner, Christmas Breakfast, or any other Christmas party you can think of.
However, you can also make it all year long! We like to eat it in the summer as an after school snack!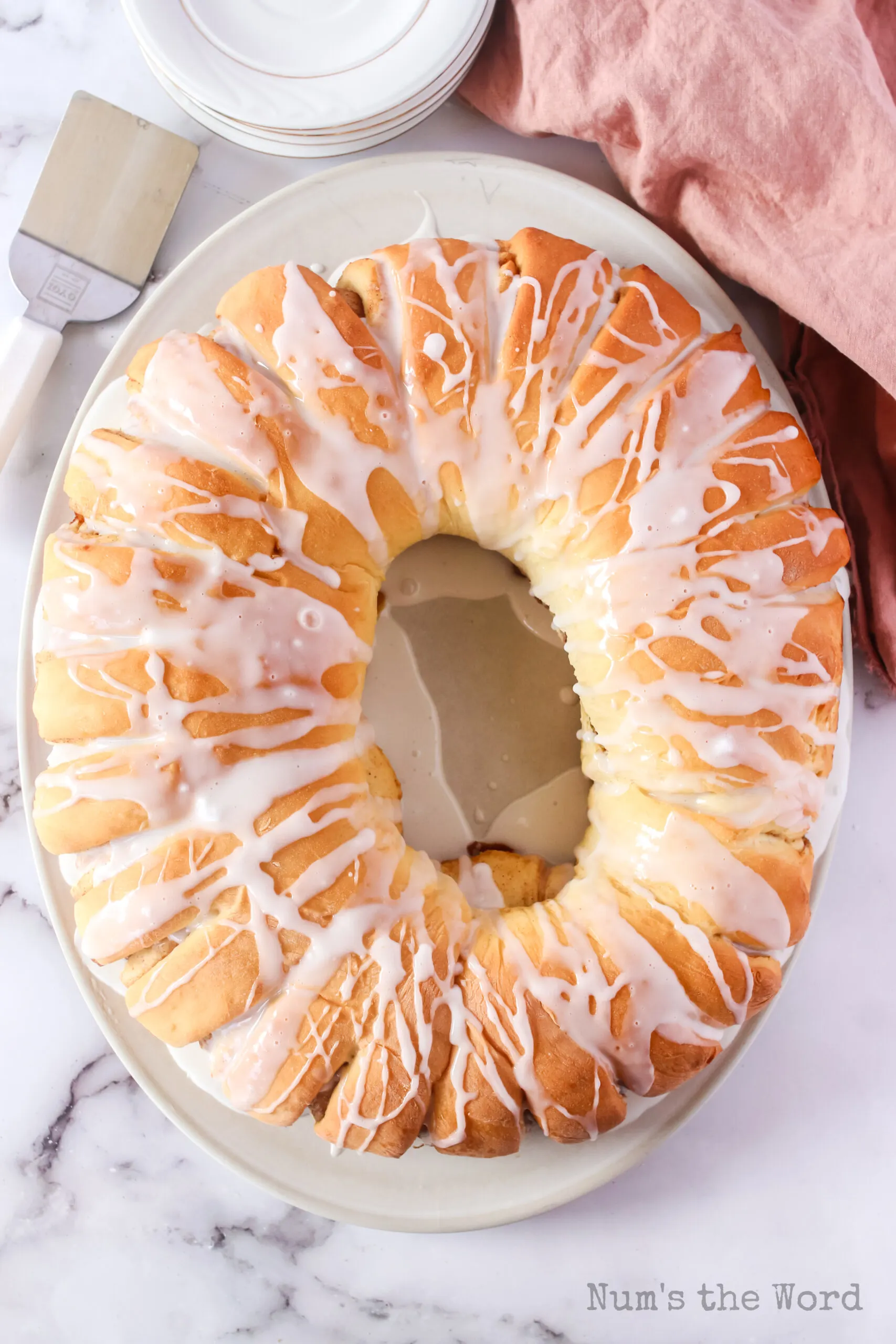 Can I Make a Swedish Tea Ring the Night Before?
Yes! Make your Christmas Breakfast easy!
Follow all the directions up to the second rising and then place the covered Swedish Tea Ring in the fridge.
The Swedish Tea Ring will rise slowly in the fridge overnight and be ready to bake in the morning.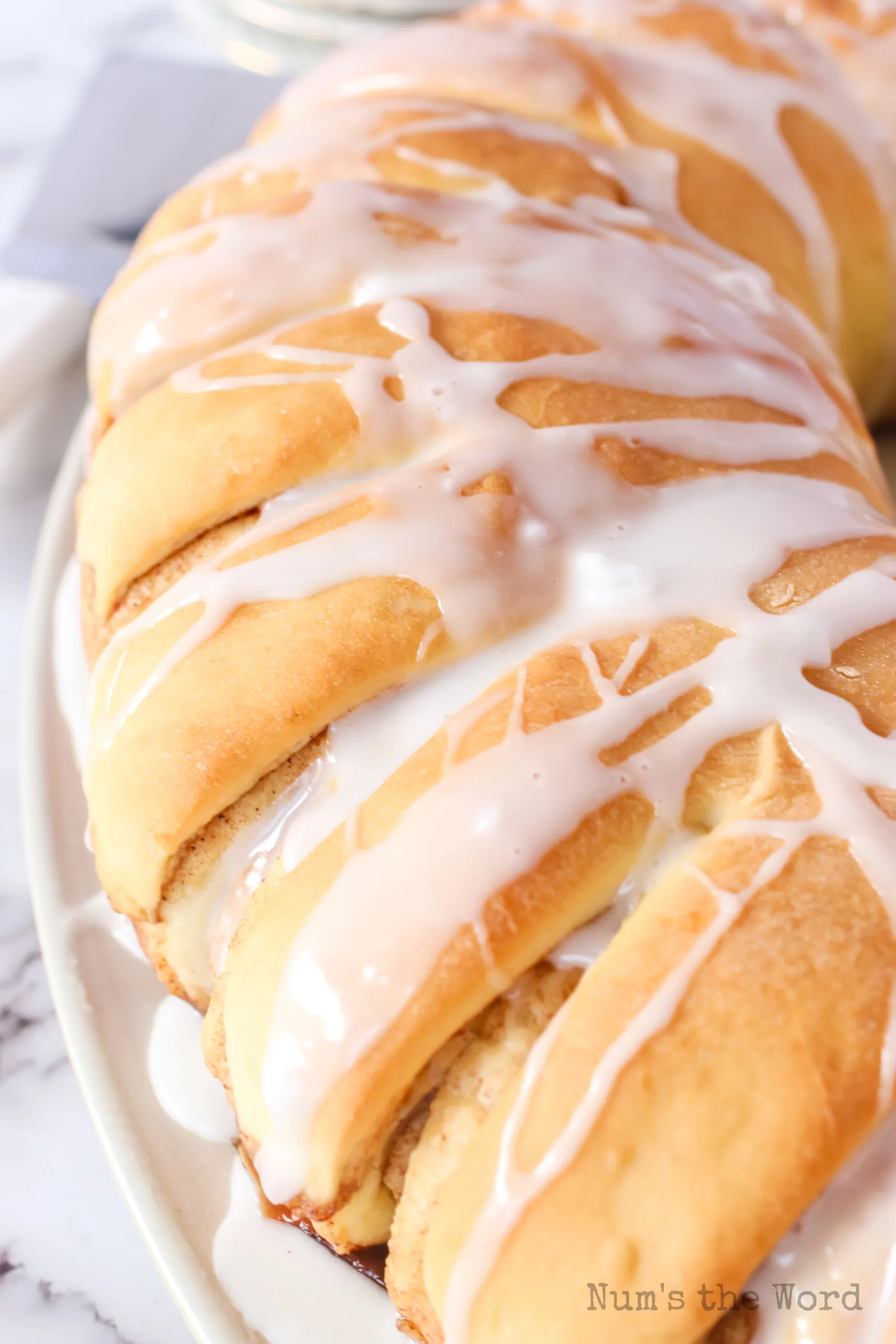 Can I Freeze a Swedish Tea Ring Ahead of Time?
Absolutely!
Swedish Tea Ring can be baked and then wrapped tightly and frozen.
When you're ready to reheat, either reheat in the microwave in 10-30 second intervals until warmed through.
You can also warm a Swedish Tea Ring in the oven at 350 degrees for about 10 minutes.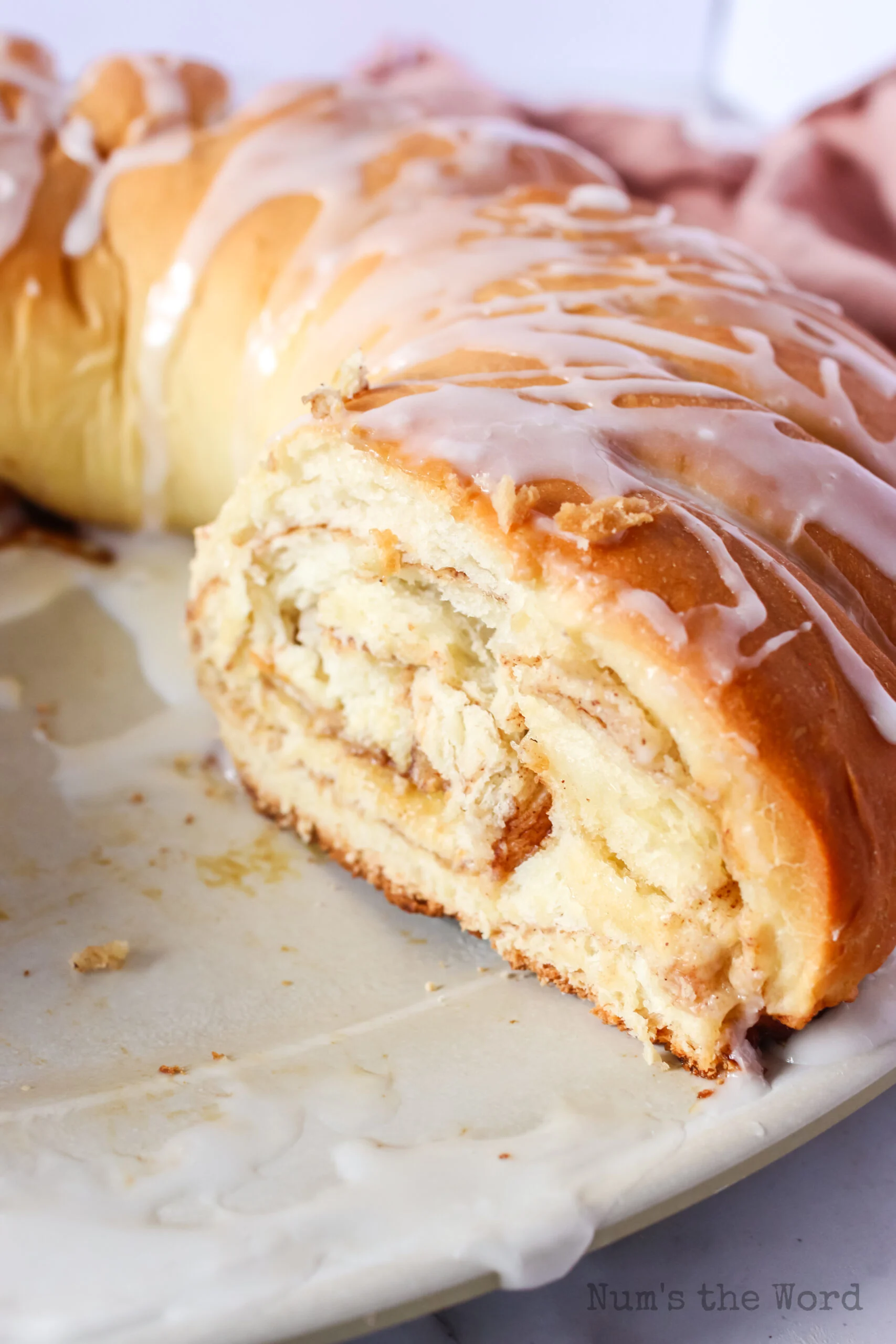 Swedish Tea Ring is a wonderful holiday tradition that is easy and delicious! I hope your family loves it as much as mine does!
Yield: 20 Servings
Swedish Tea Ring
Swedish Tea Ring is a delightfully sweet Christmas tradition that is sure to become a family favorite. Serve around the holidays or all year at tea time for a beautiful and yummy treat.
Total Time
2 hours
35 minutes
Ingredients
2 cups warm water
1/3 cup sugar
2 packages active dry yeast (4 1/2 teaspoons)
3 teaspoons salt
6 cups flour, divided
2 eggs
1/3 cup butter, room temperature
1/2 cup butter, melted
2 teaspoons ground cinnamon
1 cup light brown sugar, packed
1 cup powdered sugar
1-2 Tablespoons milk
1 cup chopped pecans (optional)
1 cup raisins (optional)
Instructions
In a stand mixer with the dough hook, add water, sugar and dry yeast. Mix.
Cover with a lint free kitchen towel for 5 minutes to allow yeast to develop.
Add salt and 2 cups of flour, mix well.
Add eggs and 1/3 cup of butter, mix well.
Slowly add remaining 4 cups of flour until all flour has been added and dough comes away from the sides of the bowl. If the dough does not come away from the sides of the bowl add ¼ cup more flour.
Mix for 5 minutes allowing the mixer to knead the dough.
Remove dough hook and cover bowl for 20 minutes, allowing dough to rest and proof.
Line a baking sheet with parchment paper or nonstick foil. Set aside.
Remove dough from bowl onto a lightly floured surface.
Roll dough into a 12 x 18 inch rectangle (think cinnamon rolls).
Brush 1/2 cup melted butter over the surface of the dough.
In a small bowl mix brown sugar and cinnamon.
Sprinkle cinnamon mixture over the top of the melted butter, like you do for cinnamon rolls.
Starting with the long end of the rectangle, gently roll dough into itself like a cinnamon roll.
Transfer log to the cookie sheet - DO NOT CUT.
Shape the log into a round circle or oval like a wreath, connecting the ends. I like to use a little butter to "glue" them together.
Using kitchen scissors or a sharp knife, cut in 1 inch intervals around the log, almost to the center of the ring. Do not cut all the way through to the inner edge or you'll get cinnamon rolls instead of a tea ring.
Cover and let rise for 30 minutes.
Preheat oven to 350*F
Once the tea ring has risen, bake for 35 minutes. If dough begins to look too dark, cover with foil for last 5 minutes.
While the tea ring is baking, make the icing.
In a small bowl combine powdered sugar and 1 Tablespoon of milk. If the mixture is too thick, add 1 additional tablespoon of milk. Mixture should be runny but not too thin.
Once the tea ring comes out of the oven, drizzle with icing.
Serve immediately or let cool and serve later.
Nutrition Information:
Yield:
20
Serving Size:
1
Amount Per Serving:
Calories:

344
Total Fat:

13g
Saturated Fat:

5g
Trans Fat:

0g
Unsaturated Fat:

6g
Cholesterol:

39mg
Sodium:

391mg
Carbohydrates:

54g
Fiber:

2g
Sugar:

23g
Protein:

6g