Potato Waffles are a savory, quick, and easy meal ready for your busy weeknight! Made with leftover mashed potatoes, they are a cinch to throw together!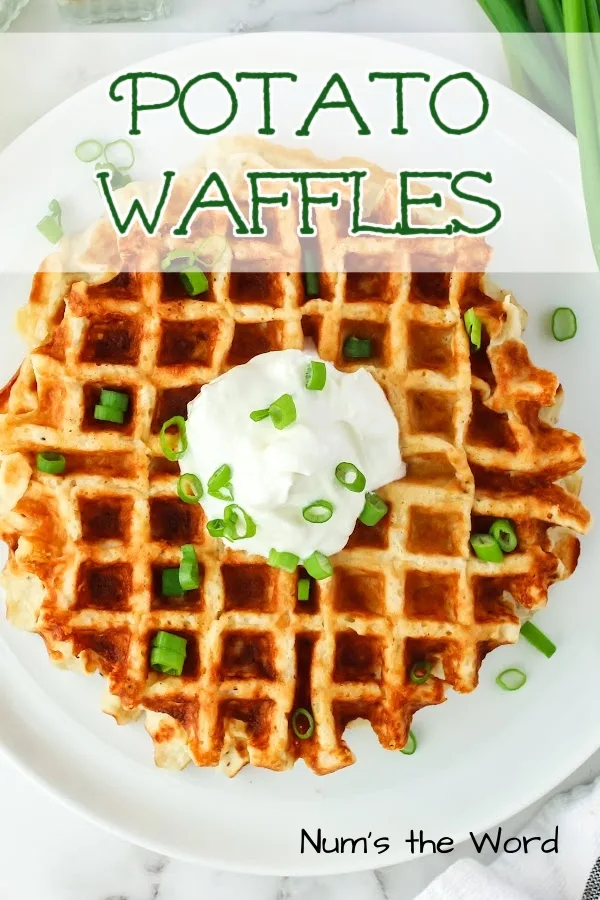 I love using up leftover mashed potatoes in the most creative ways. It's a great way to repurpose leftover potatoes!
Rolls, Bread, Cakes, Cinnamon Rolls, and even Peppermint Patties can all be made using leftover mashed potatoes!
So today I bring you another easy recipe that tastes delicious with a dollop of sour cream and a dash of chives.
I love these mashed potato waffles because they're quick to throw together! Busy weeknights require easy recipes right!
I also love this recipe because it repurposes my leftover potatoes and everyone loves them!
Plus potato waffles use only simple ingredients that I've already got on hand so no need to run to the store.
What Ingredients are in Potato Waffles?
Holiday leftovers, healthy breakfasts and easy dinners have one thing in common: These easy leftover mashed potato waffles!
Butter: I most often use salted butter but unsalted butter would work too.
Onion and Garlic: These give the waffles such a nice flavor!
Mashed Potatoes: The thicker the better!
Bisquick: Gives both a thickness and puffiness to the waffles.
Eggs: You binder! Use this to hold the waffles together.
Salt and Black Pepper: For seasoning!
Pro Tips:
If you've got freshly cooked mashed potatoes be sure to let them come to room temperature before making this recipe.
Olive oil can be used in place of the butter for frying the onion and garlic.
Swap the regular potatoes out for sweet potatoes to make sweet potato waffles.
If your potato mixture is already salty, you may want to omit the salt until you can taste the finished waffles.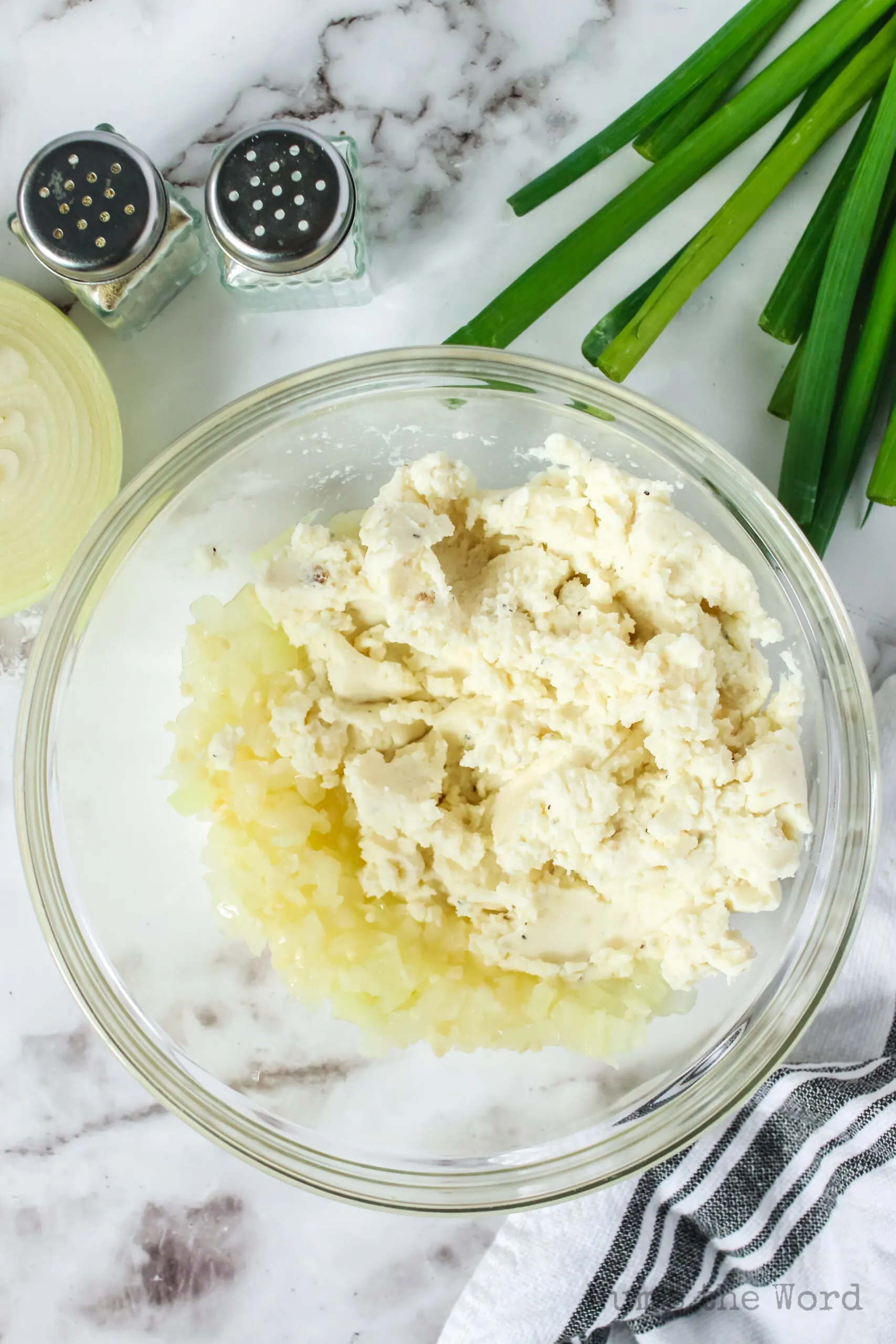 How to Make Potato Waffles
Amazing potato waffles only take a couple of minutes to throw together and are perfect after a busy day!
Cook: Cooking the onion and garlic first will bring out their flavor and soften them up.
Mix: Add in the mashed potatoes, bisquick, eggs, and seasonings to a large bowl with the onion and garlic.
Fry: Put your waffle batter on the waffle iron and cook! That's it!
Pro Tips:
The potato mixture will be very thick! That's normal and a good thing!
If you find the texture of the finished potato waffles isn't thick enough, add 1 Tbsp of flour until you get the right texture.
If the texture of the finished waffles is too thick, add an extra egg to thin it out.
Cook on high heat for best results.
Be sure to use cooking spray on the sides of the waffle iron to keep them from sticking.
Keep cooked waffles in a warm oven to keep them warm until you're finished cooking.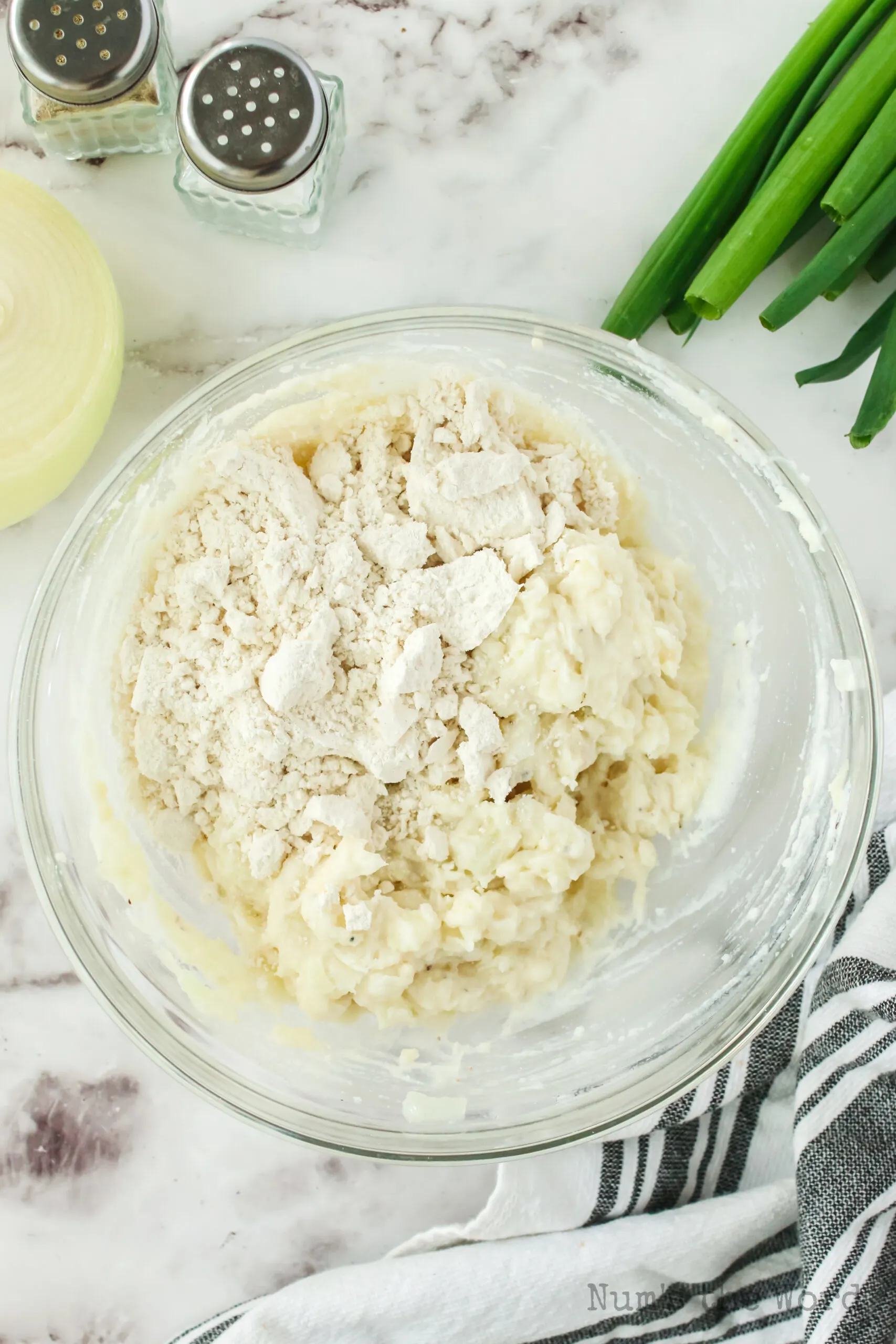 Are Potato Waffles Gluten Free?
No, potato waffles are not gluten free.
I have found that they really need a flour to help them hold together the right way on the waffle maker.
The Bisquick is perfect because it already contains all purpose flour, a leavening agent, and seasonings as well.
If you decide to try a gluten free flour substitution let me know how it turns out!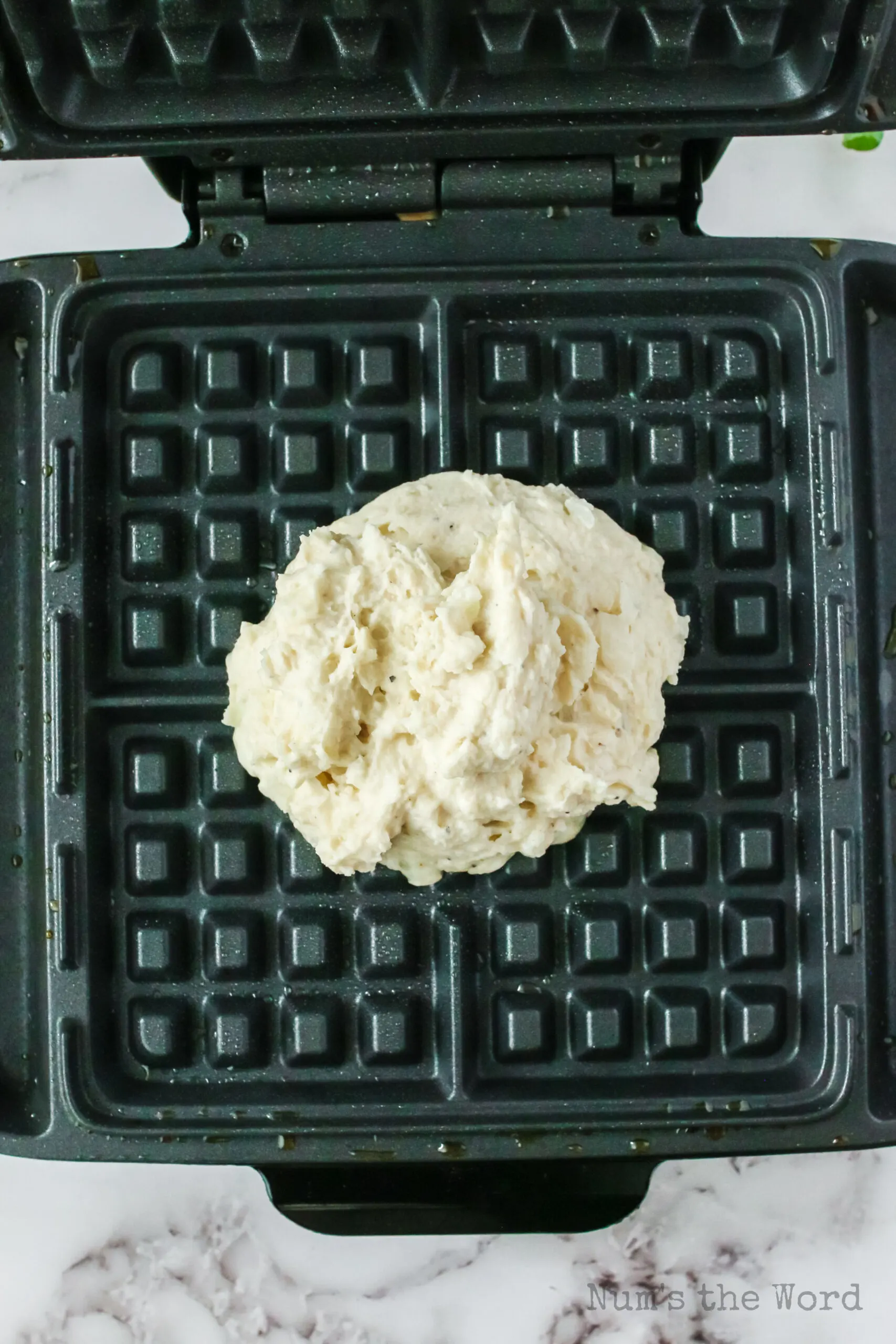 Are Potato Waffles Healthy?
Potato waffles are no worse or better than any other regular potato recipe!
Potatoes contain Vitamin C, Vitamin B6, Potassium, and Manganese. They're easy to digest too.
I love feeding these potato waffles to toddlers especially because they're much easier to eat than regular mashed potatoes.
But they still get all that healthy potato nutrition!
Make a small waffle or two with all the regular waffles and you'll find they're the perfect size for your toddler!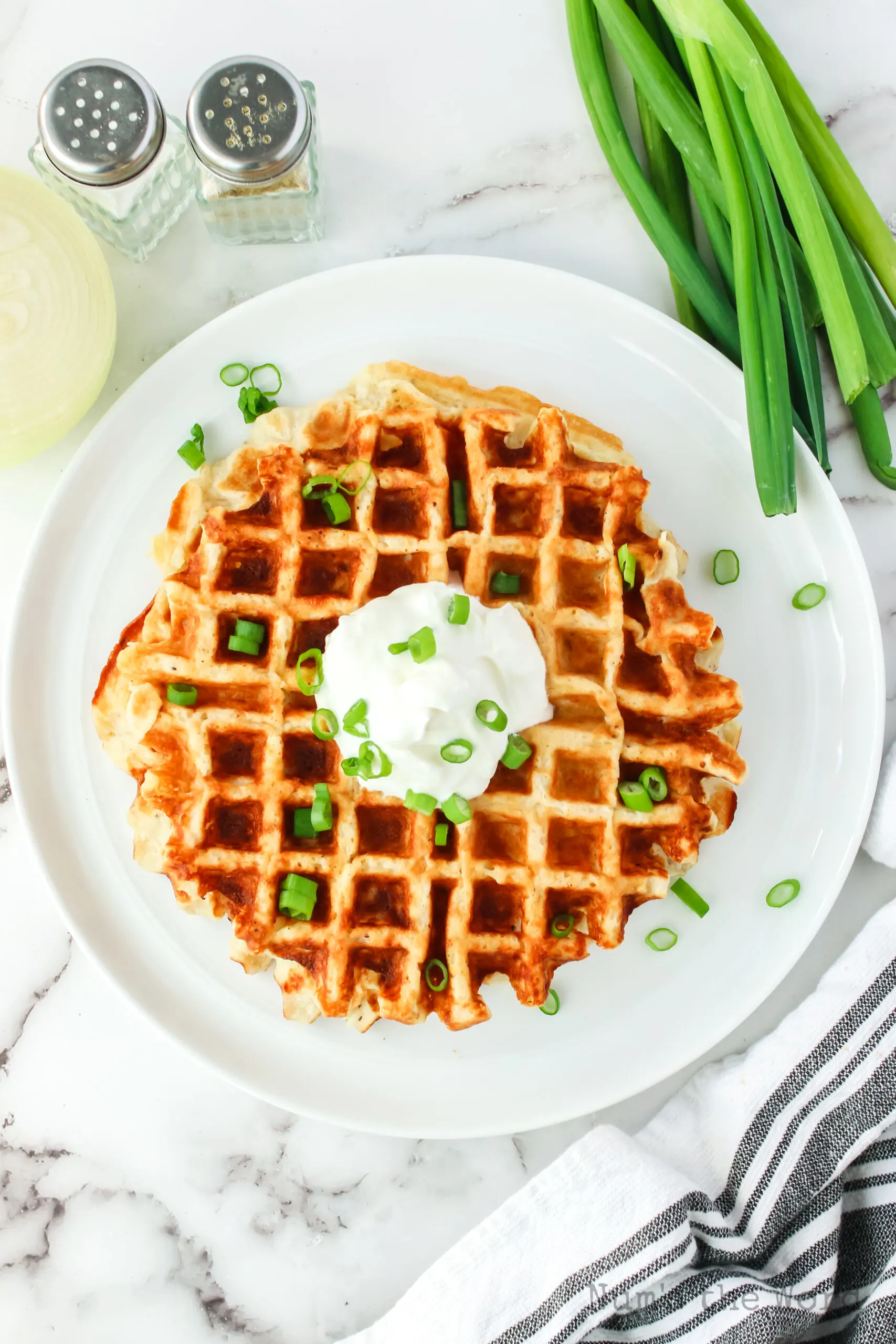 What to Put on Potato Waffles
Any topping you put on regular mashed potatoes you can put on potato waffles!
So this can be an entire and complete meal, weather for breakfast, lunch, or dinner!
Butter
Chives
Sour Cream
Cheese
Salt and Pepper
Chili
Bacon
Sausage
Green Onions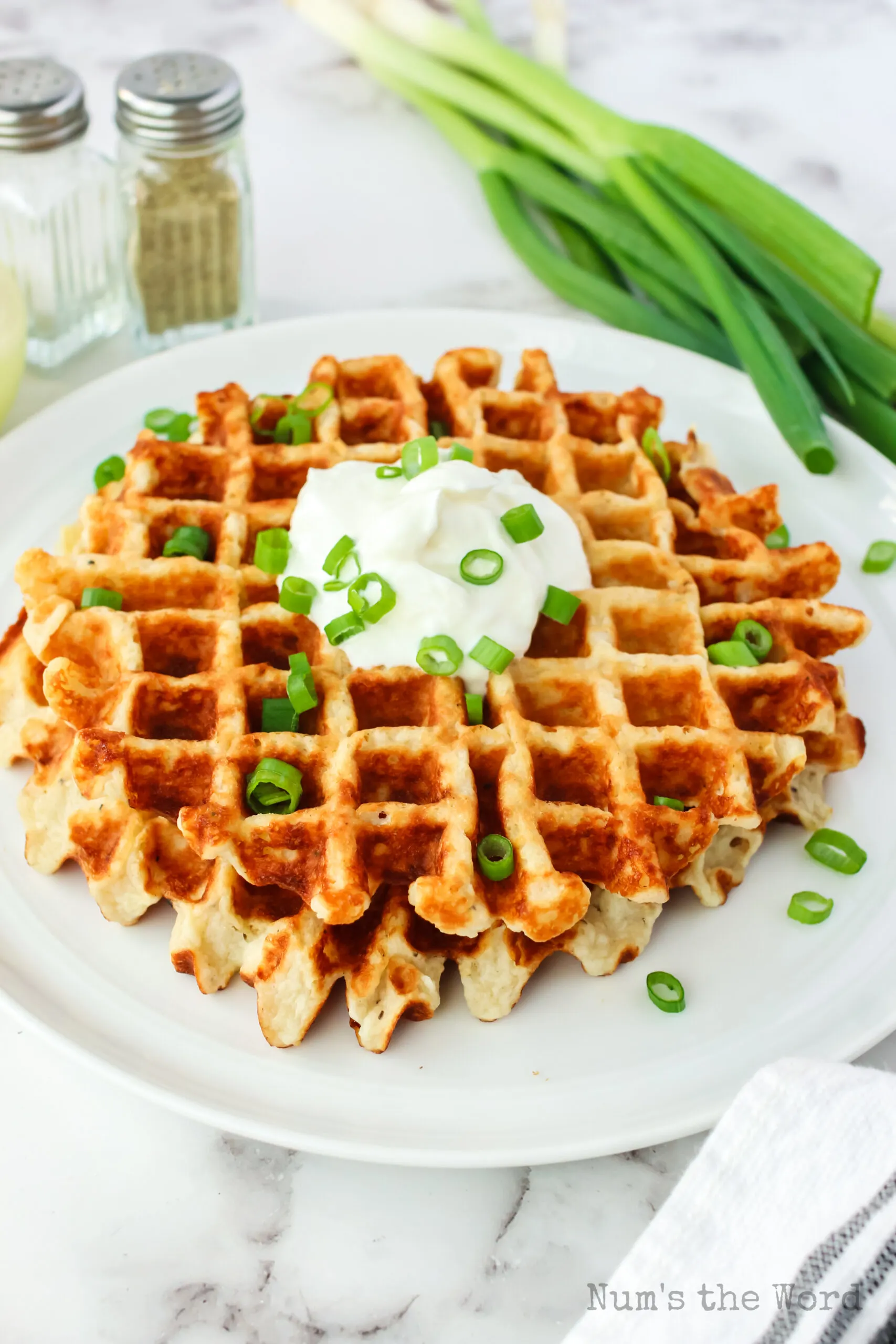 Are Potato Waffles Fattening?
Potatoes are high in carbs, so if carbs are something you're watching out for, you'll want to be aware of that.
These waffles are also full of protein, fiber, and healthy vitamins your body needs.
If you're trying to eat a healthy potato waffle, I recommend watching the toppings you put on the waffles.
Opt for cooked broccoli or cauliflower, chives, tomatoes, salsa, guacamole, or jalapenos.
That way you've got a good dose of extra vegetables and can worry less about the waffles.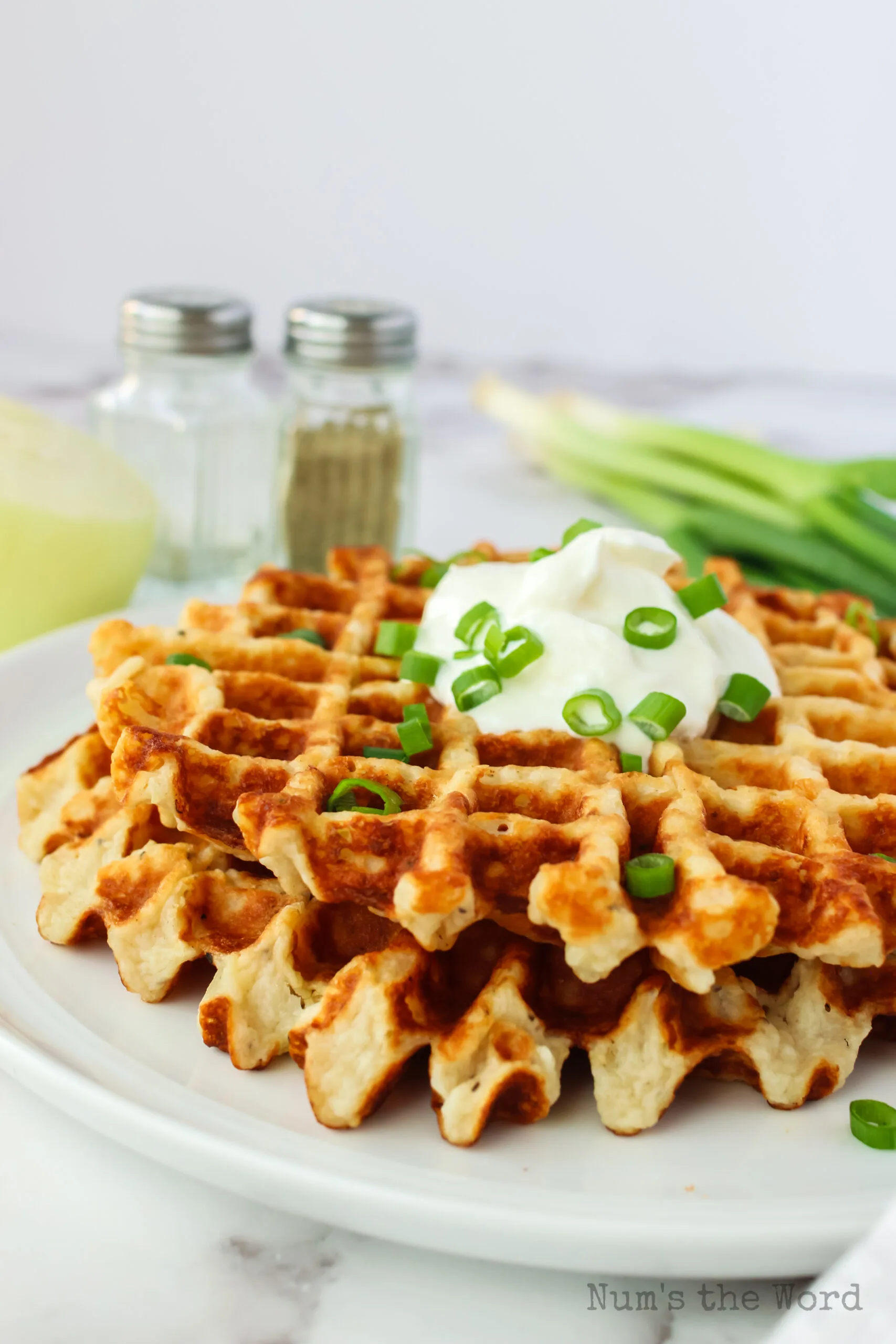 What to Make with Potato Waffles
These easy savory waffles can be served with typical breakfast items for a really yummy meal!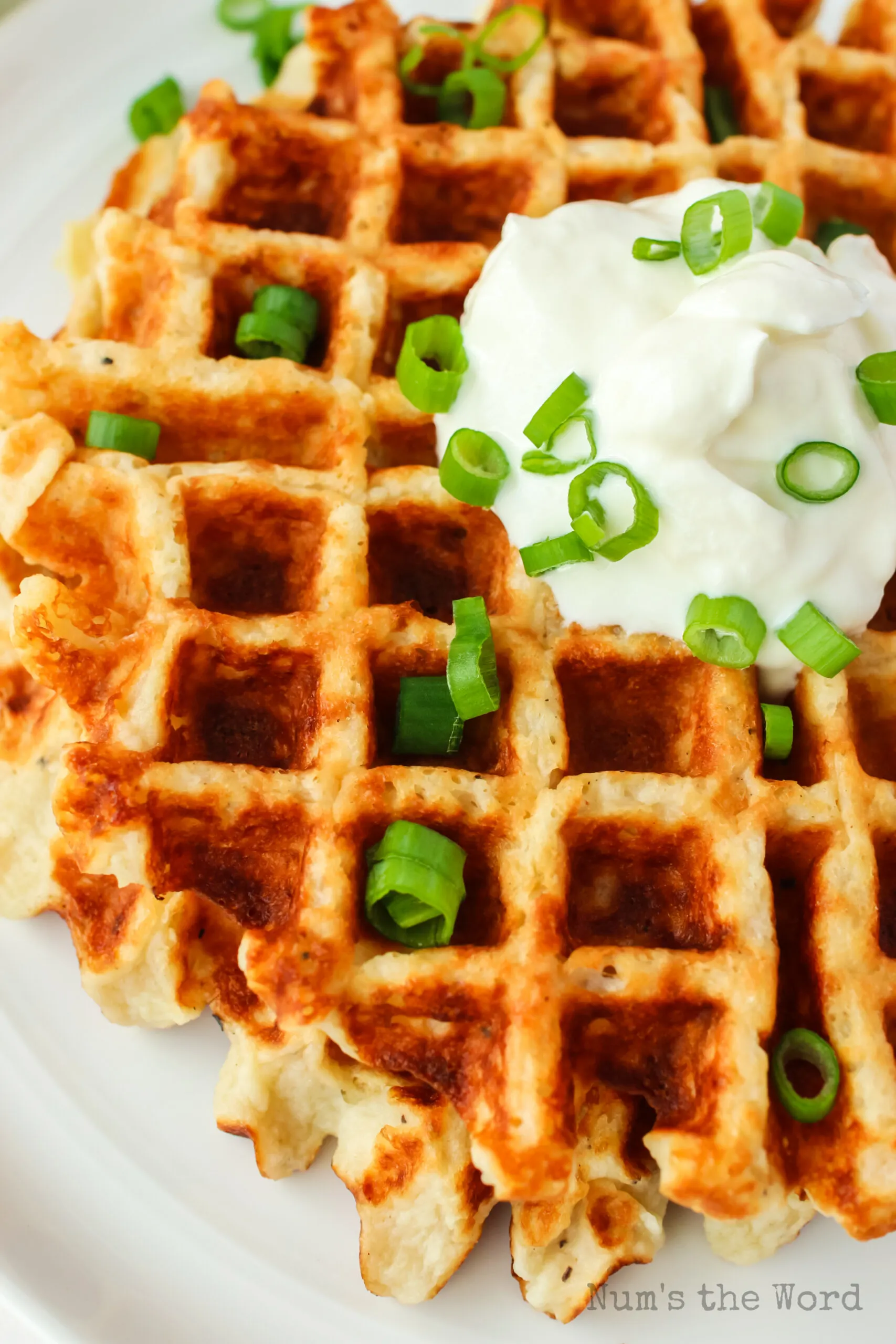 Can Dogs Eat Potato Waffles?
This is one food meal you'll want to keep away from your dogs.
While we all love to share food with our dogs when we can, many foods are not good for dogs.
In particular, all parts of onions and garlic can actually be toxic for dogs, especially smaller ones.
So keep any foods with onions and garlic away from your dogs to keep them healthy and strong.
How to Store Leftover Potato Waffles
You'll want to let any leftover waffles come to room temperature.
Then you can store them in an airtight container in the fridge for up to 4 days.
You can also freeze any leftover potato waffles. I like to flash freeze by placing them single file on a tray and flash freezing for 30 minutes.
Then remove from the freezer and transfer to a freezer safe bag or container.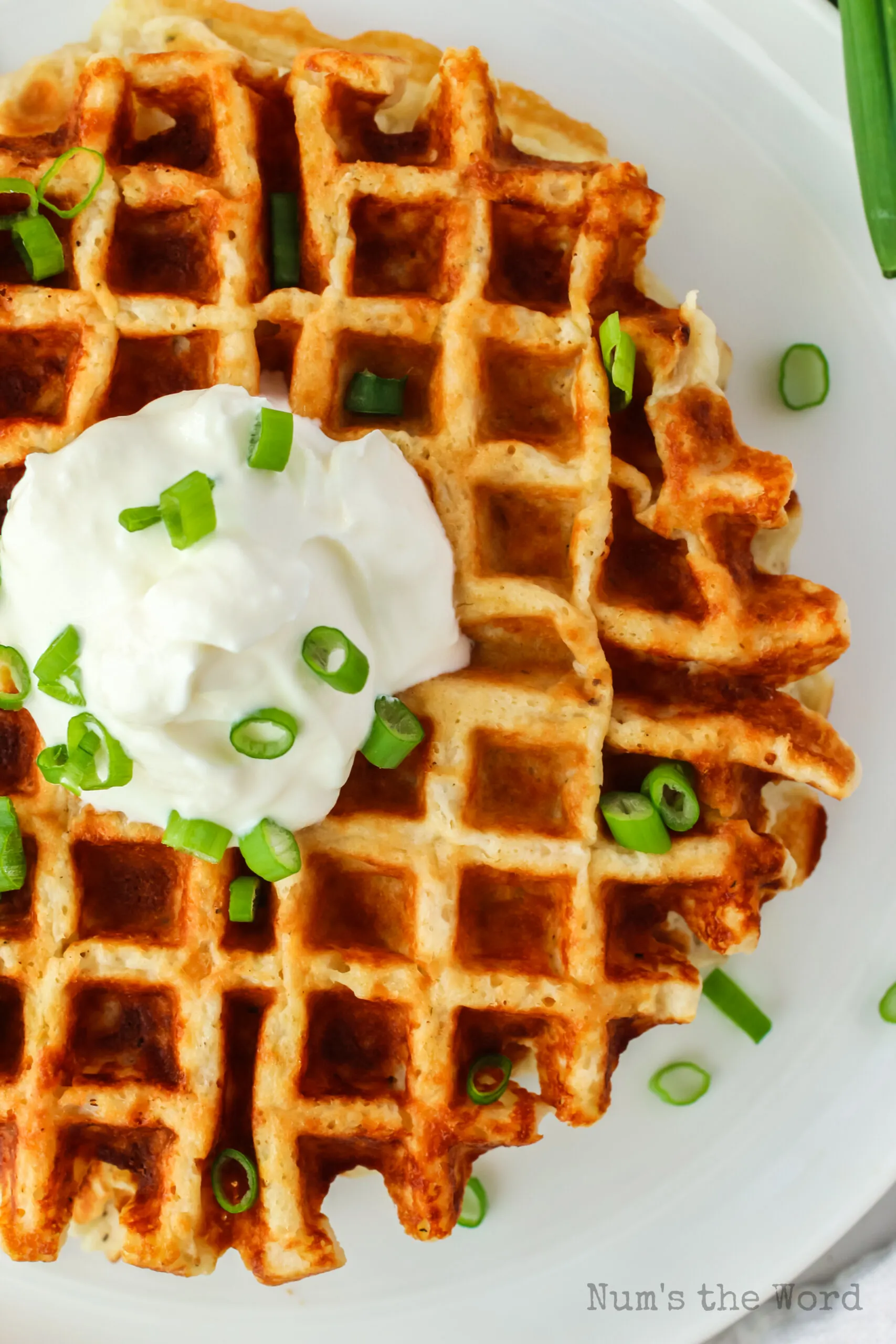 More Potato Recipes You'll Love…
Potato Waffles are the perfect recipe that is sure to be a family favorite for all those leftover mashed potatoes! Enjoy them as a quick and easy meal!
Yield: 3 Waffles
Potato Waffles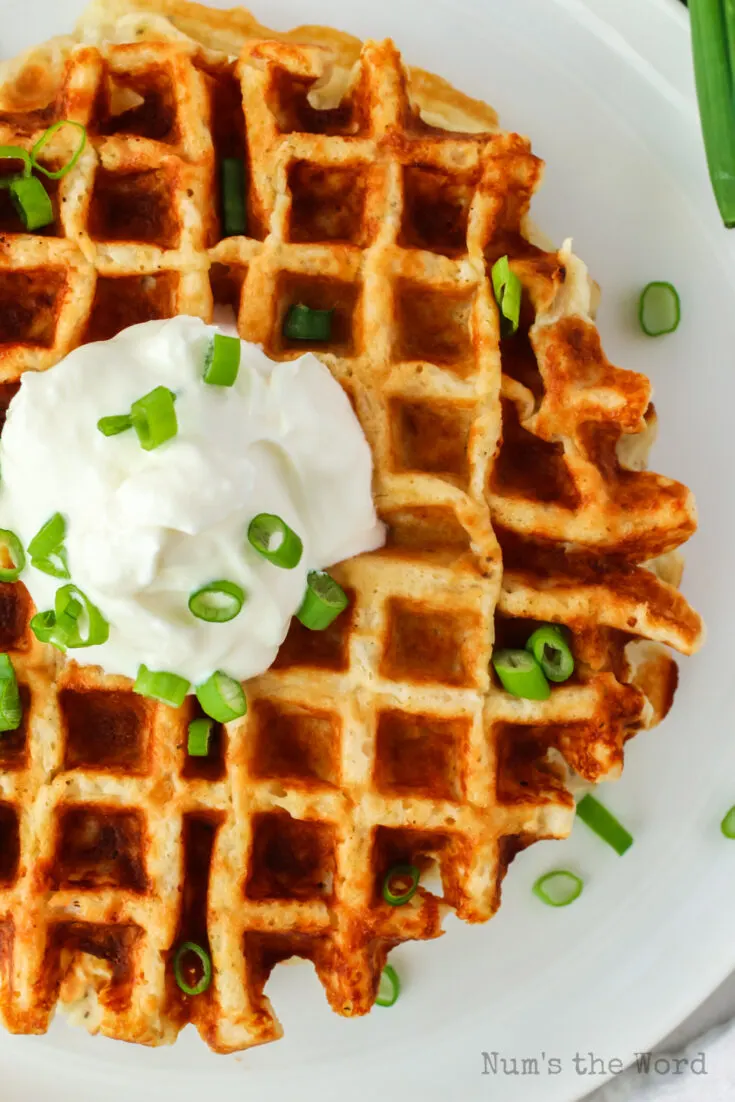 Potato Waffles are a savory, quick, and easy meal ready for your busy weeknight! Made with leftover mashed potatoes, they are a cinch to throw together!
Ingredients
Instructions
Melt butter in a skillet and add onions.
Cook for approximately 5 minutes or until onions are tender and translucent.
Add garlic and cook for 1 more minute.
Transfer onion mixture to a medium sized bowl.
Add mashed potatoes and mix well.
Add bisquick and mix well.
Add eggs, salt and pepper, mix well.
Mixture should be thick.
Heat waffle iron to the highest setting.
Once ready, add approximately 1 cup of mashed potato mixture to waffle iron and cook according to waffle irons instructions.
When ready, gently remove from waffle iron.
Repeat with remaining batter.
Serve with a dollop of sour cream and chives
Nutrition Information:
Yield:
3
Serving Size:
1
Amount Per Serving:
Calories:

303
Total Fat:

18g
Saturated Fat:

7g
Trans Fat:

1g
Unsaturated Fat:

8g
Cholesterol:

148mg
Sodium:

754mg
Carbohydrates:

29g
Fiber:

3g
Sugar:

4g
Protein:

8g