This Cheesy Ham and Potato Soup is the most delicious way to use up your leftover ham! Brimming with cheese, potatoes, corn, and ham, I guarantee you are going to love this soup!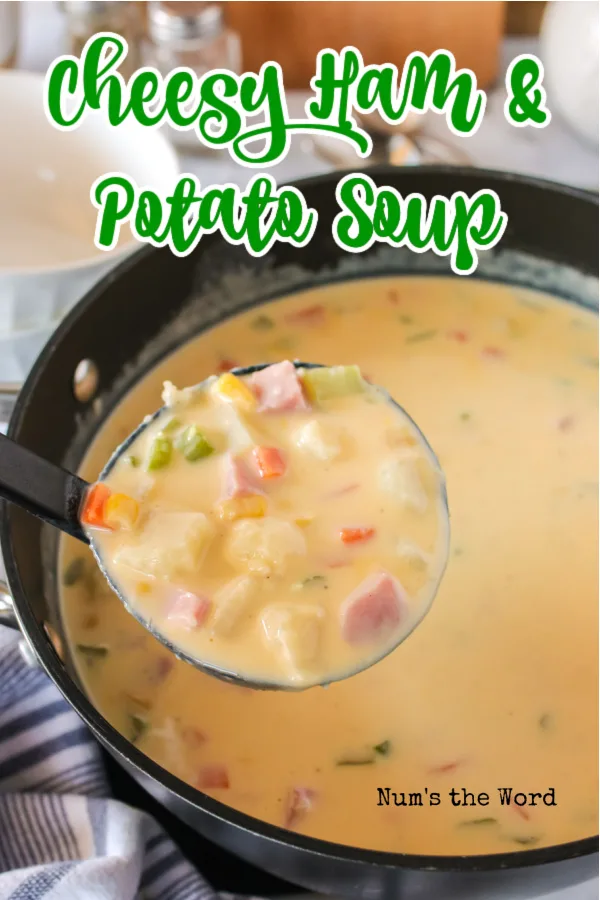 Cheesy ham and potato soup with Velveeta? Say what?? Yeah, you heard me.
This ham and potato soup recipe is made with Velveeta. It's so creamy and delightful. Once you try it you'll never look back.
I love that this soup recipe uses up leftover ham.
Leftover ham happens every holiday around our house and I'm always happy about it because it gives me a chance to make this soup!
There is no blending required once the soup has cooked. Which is really good because hot soup being transferred to a blender? Recipe for disaster around here!
Do you need an easy cheesy ham and potato soup too? I know I never want to slave away over the stove after the parties are over. So voila! Easy soup!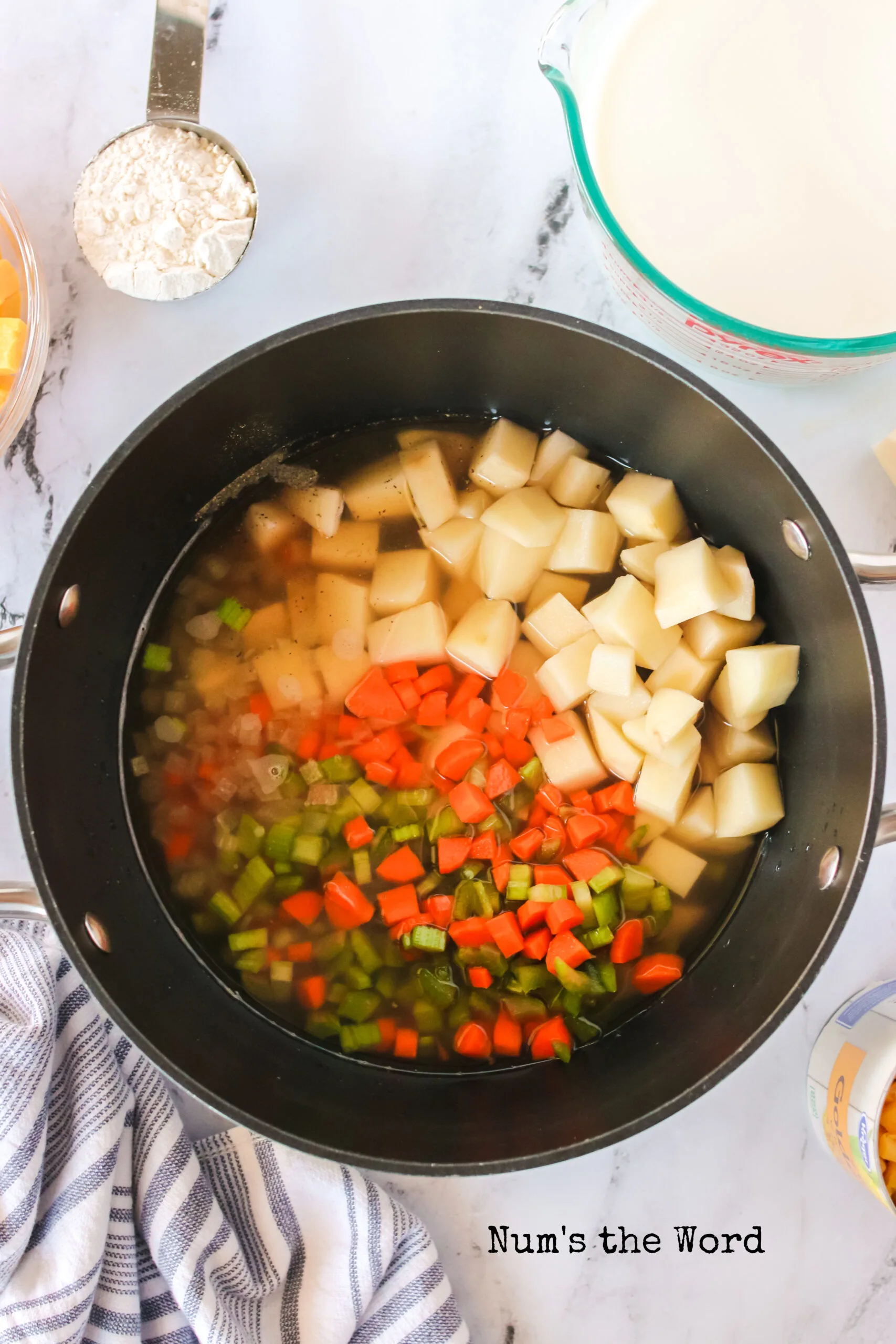 Ingredients in Cheesy Ham and Potato Soup
Chicken Broth:

You could also substitute this with ham broth, though that can be more difficult to find.

Potatoes:

Peel the potatoes and dice them into bite sized pieces.

Carrots:

The carrots should also be bite sized. This will make sure they cook along with the potatoes.

Celery:

Go ahead and cut the celery into bite sized pieces too. Or you could chop it if you need to hide it from picky eaters!

Onions:

I used yellow onion but you could choose another flavor if preferred.

Corn:

Make sure to drain the corn before adding to the soup.

Black Pepper:

Needed for flavoring.

Ham:

Use leftover ham! No need to bake a ham just for soup!

Butter:

I always use salted butter but as the ham is normally already salty you could use unsalted too.

Flour:

Used for thickening the soup.

Milk:

You could use whole milk or skim. Whatever you have on hand.

Velveeta Cheese:

Cube the cheese in order to help it melt into the soup.
Pro Tips:
If you have leftover ham but aren't quite ready to make this soup, put the ham in the freezer until you are!

If you don't have ham but really want this comforting soup, you can always buy a precooked ham from the store! Simple!
How to Make Cheesy Ham and Potato Soup
Cook Vegetables:

All the vegetables need to be softened. While they are cooking you can work on step two.

Create Cream Base:

Using the butter, milk, and flour, create a cream base. It'll get pretty thick initially but should thin out as you stir.

Add Cheese:

Toss the cheese into the base as soon as all the milk has been added and allow it to melt. Mix all together.

Eat!:

For a double serving of ham, serve with these

Ham and Cheese Biscuits

.
Pro Tip: A quick garnish with green onions or a sprinkle of bacon will wow your dinner guests!
Can You Freeze Cheesy Ham and Potato Soup?
No, cheesy ham and potato soup should not be frozen.
Unfortunately when dairy such as milk is frozen it separates and doesn't come back together in quite the same way once thawed.
For best results do not freeze this potato soup recipe.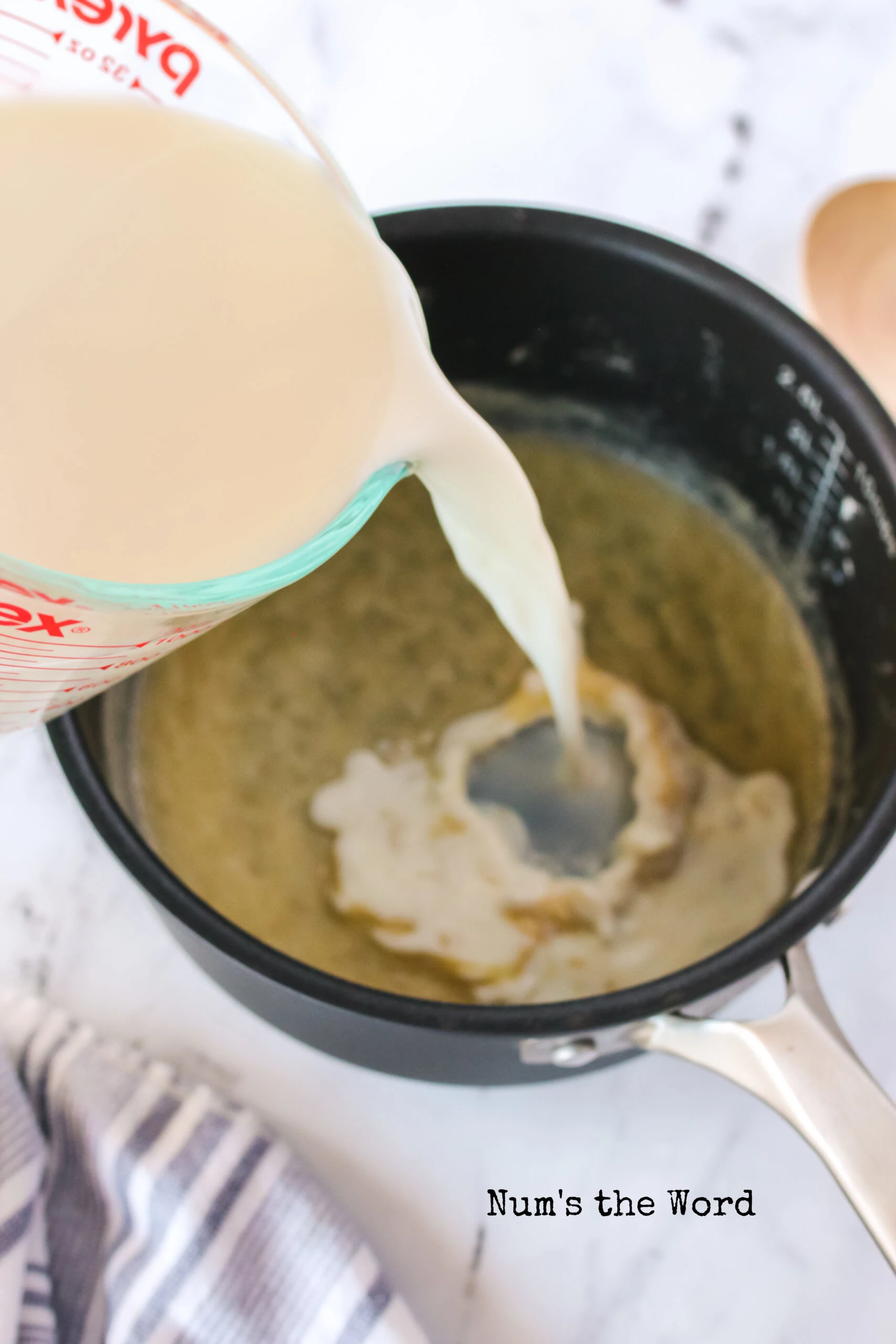 How to Thicken Cheesy Ham and Potato Soup
This cheesy ham and potato soup is thickened using a butter and flour roux.
If you find it is still not to your liking you can combine a small amount of flour and butter.
Add it to the rest of the ham and potato soup and allow the soup to thicken.
If you have time before you wish to serve the soup, you can alternately just allow the soup to boil for longer.
The longer the soup cooks, the thicker it will become.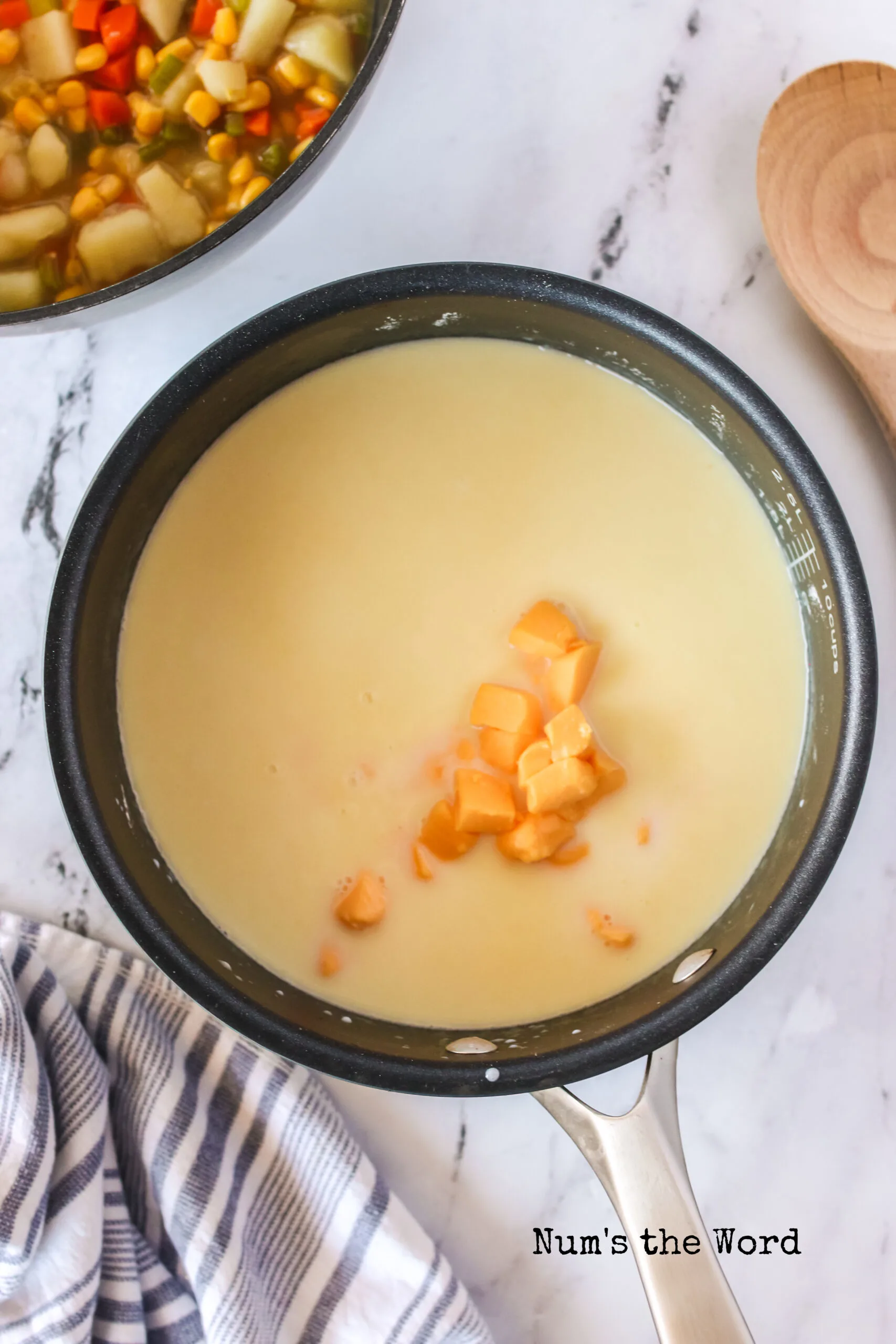 How Long Does Cheesy Ham and Potato Soup Last?
Make sure when storing the cheesy ham and potato soup that it is properly covered and stored in the refrigerator.
In the fridge the soup will stay good for up to 5 days.
To reheat, cook slowly over low heat, stirring frequently.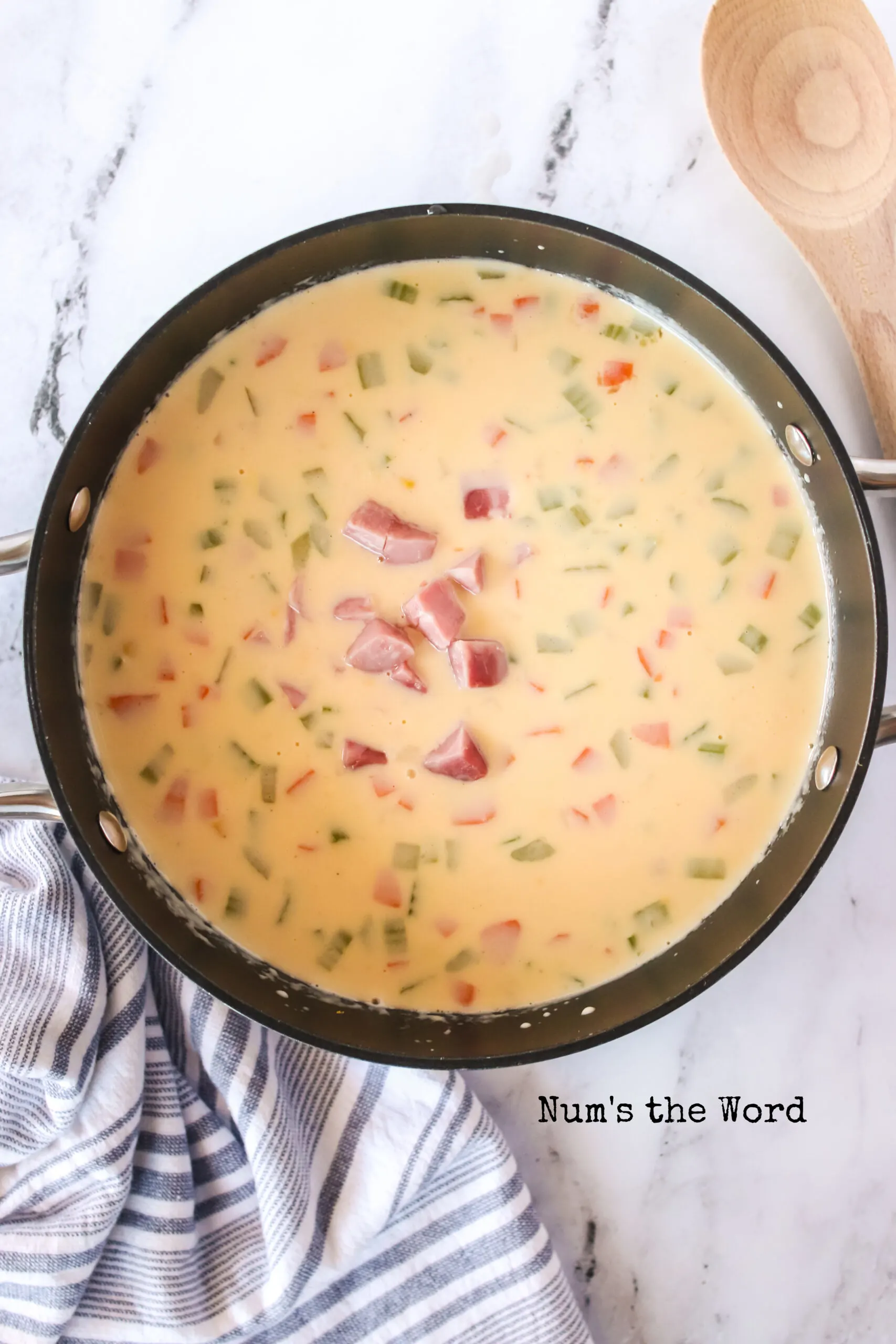 Can I Make Cheesy Ham and Potato Soup Ahead of Time?
Yes. You can make this cheesy ham and potato soup up to one day ahead of when you want to eat it.
However, upon reheating, the vegetables will become much softer as they will have been cooked a second time.
While some people will enjoy their consistency once reheated some people may not.
I recommend cooking and eating on the same day.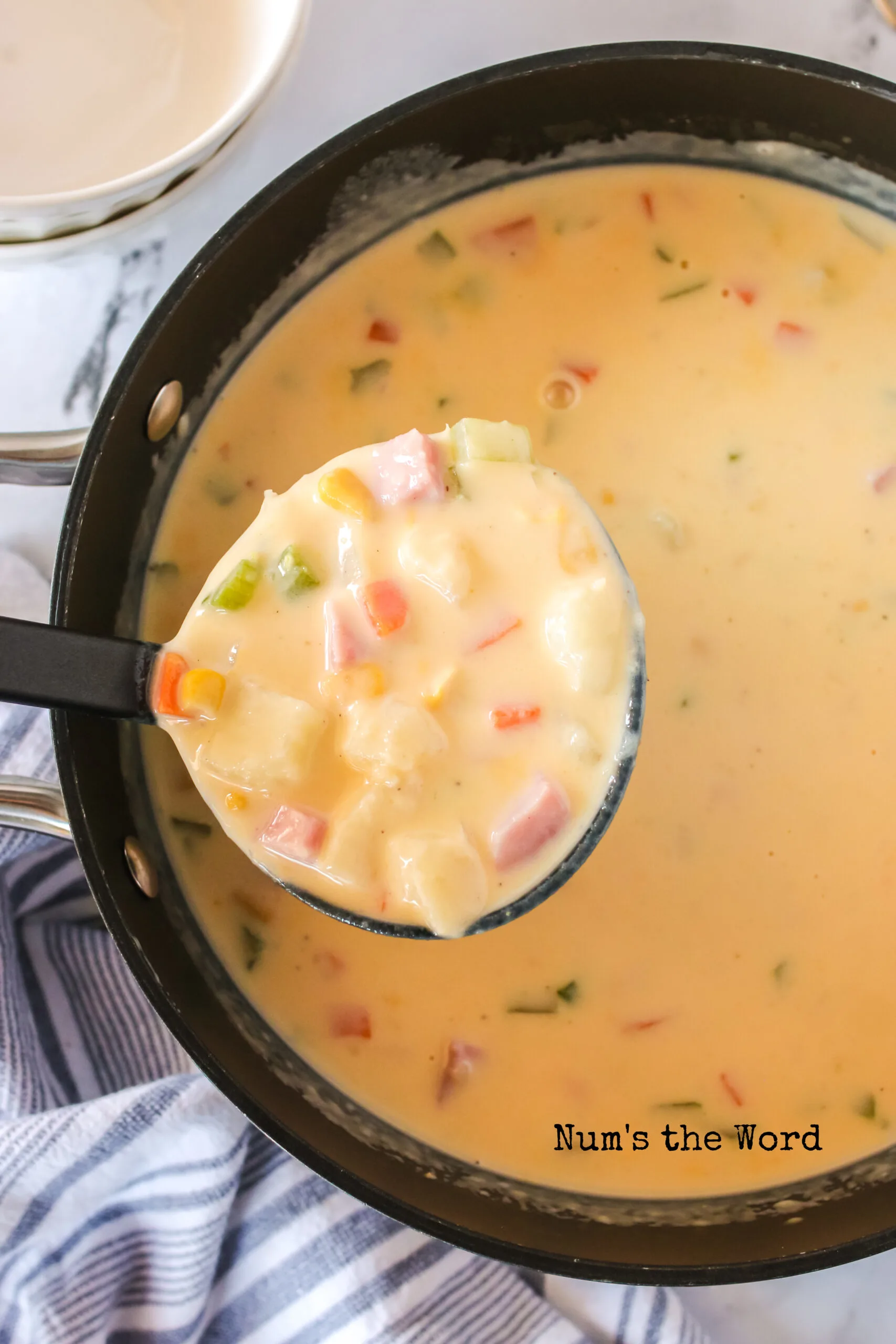 Can I Use Half and Half in Cheesy Ham and Potato Soup?
Half and Half is much creamier than regular milk, though not quite as creamy obviously as full heavy cream.
If you choose to use half and half, your soup may become much thicker than anticipated.
If the half and half causes your soup to be too thick, add some milk to help it thin out.
What to Eat with Creamy Ham and Potato Soup
Often we have eaten this creamy ham and potato soup all on it's own. It is thick, hearty, and very filling.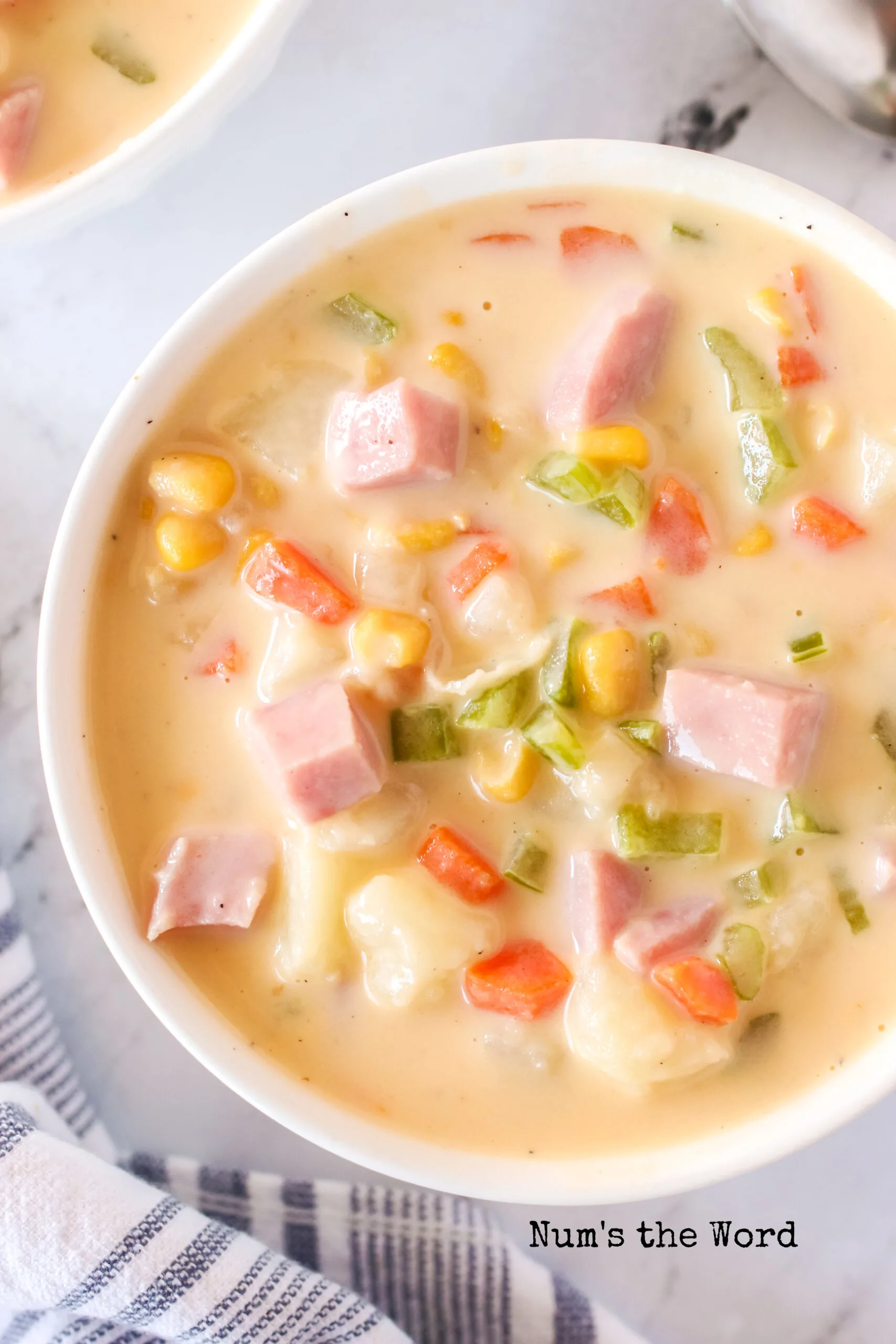 There are lots of things though that make this the ULTIMATE meal, here's a few ideas:
Cheesy Ham and Potato Soup is a family favorite every year around the holidays. The Velveeta cheese is the secret weapon that really makes this soup the best and I can't wait for you to try it!
Yield: 6 Servings
Cheesy Ham and Potato Soup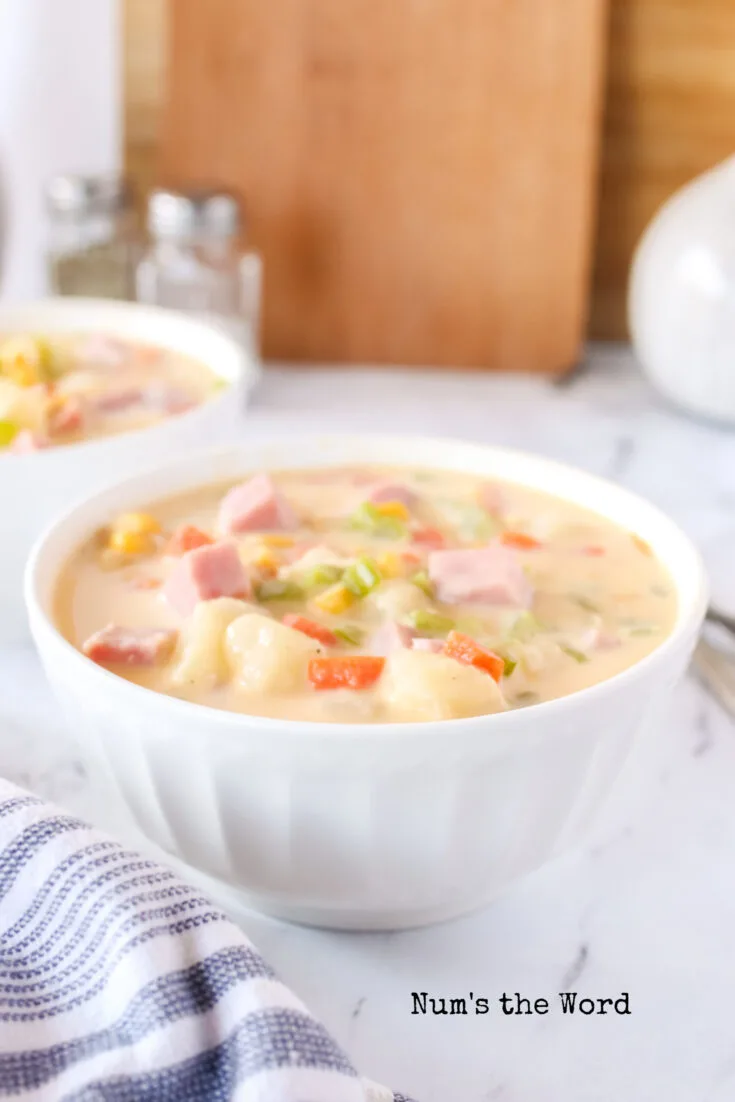 This Cheesy Ham and Potato Soup is the most delicious way to use up your leftover ham! Brimming with cheese, potatoes, corn, and ham, you are going to love this soup!
Total Time
1 hour
5 minutes
Ingredients
1 (15 ounce) can of chicken broth
2 cups peeled and diced potatoes - bite sized pieces
1/2 cup carrots, sliced
1/2 cup celery, sliced
1/4 cup yellow onions, minced
1 (15 ounce) can corn, drained
1/4 teaspoon black pepper
1 cup ham, cubed (leftovers work great!)
1/4 cup butter
1/4 cup all purpose flour
3 cups milk
1 1/2 cup (12 ounces) Velveeta cheese, cubed
Instructions
In a large pot, add chicken broth, potatoes, carrots, celery, onion and black pepper.
Bring mixture to a boil.
Place lid on pot, lower temperature to simmer and cook for 30 minutes - until vegetables are fork tender.
Add corn and ham, then mix and turn off heat and set pan aside.
In a separate medium saucepan, add butter and melt.
Slowly add flour, mixing well to avoid lumps. Cook for 1 minute - mixture should be thick.
Slowly add milk ½ cup at time to the flour mixture. Stir well between each addition. Mixture will thicken to a paste initially, then thin out. This is normal.
After all the milk has been added, stir.
Now add cubed Velveeta cheese.
Stir regularly until the cheese is melted and the mixture is creamy. Pour cheese sauce over vegetables and stir.
Serve immediately.

Nutrition Information:
Yield:
6
Serving Size:
1
Amount Per Serving:
Calories:

260
Total Fat:

12g
Saturated Fat:

7g
Trans Fat:

0g
Unsaturated Fat:

4g
Cholesterol:

45mg
Sodium:

511mg
Carbohydrates:

28g
Fiber:

2g
Sugar:

9g
Protein:

12g