Ever wondered how to make Over Easy Eggs? Don't worry! I've got you covered! You can achieve restaurant quality over easy eggs with just a few simple steps.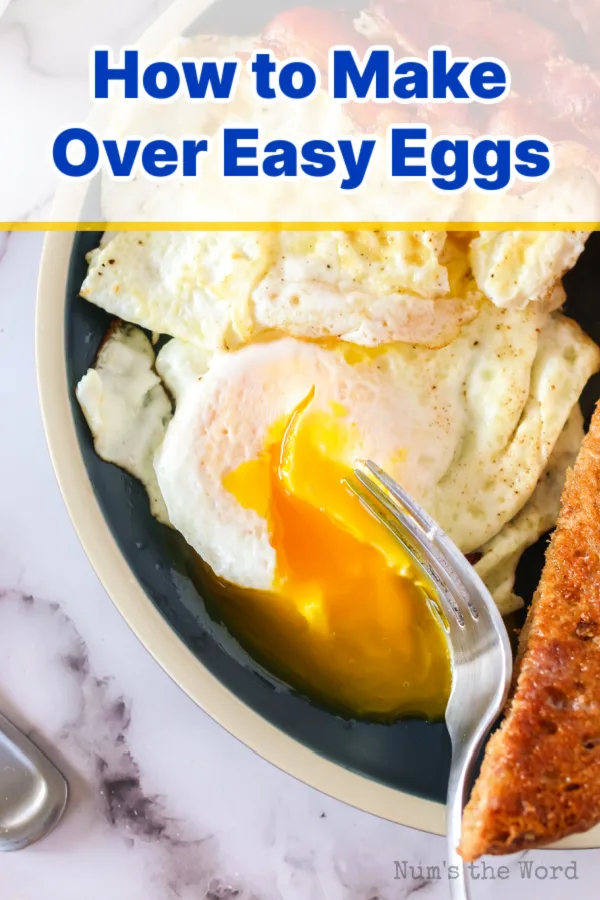 Over easy eggs are notoriously hard to make. Probably because flipping eggs can be super stressful. But it doesn't have to be!
There are a few simple tips and tricks that will get you perfect over easy eggs every time.
These eggs cook quickly so they're a super fast breakfast option.
And since all you really need are eggs, they are also really easy to make.
Plus all the protein in eggs is very filling, leaving you full until lunch.
You can't go wrong with some quick over easy eggs!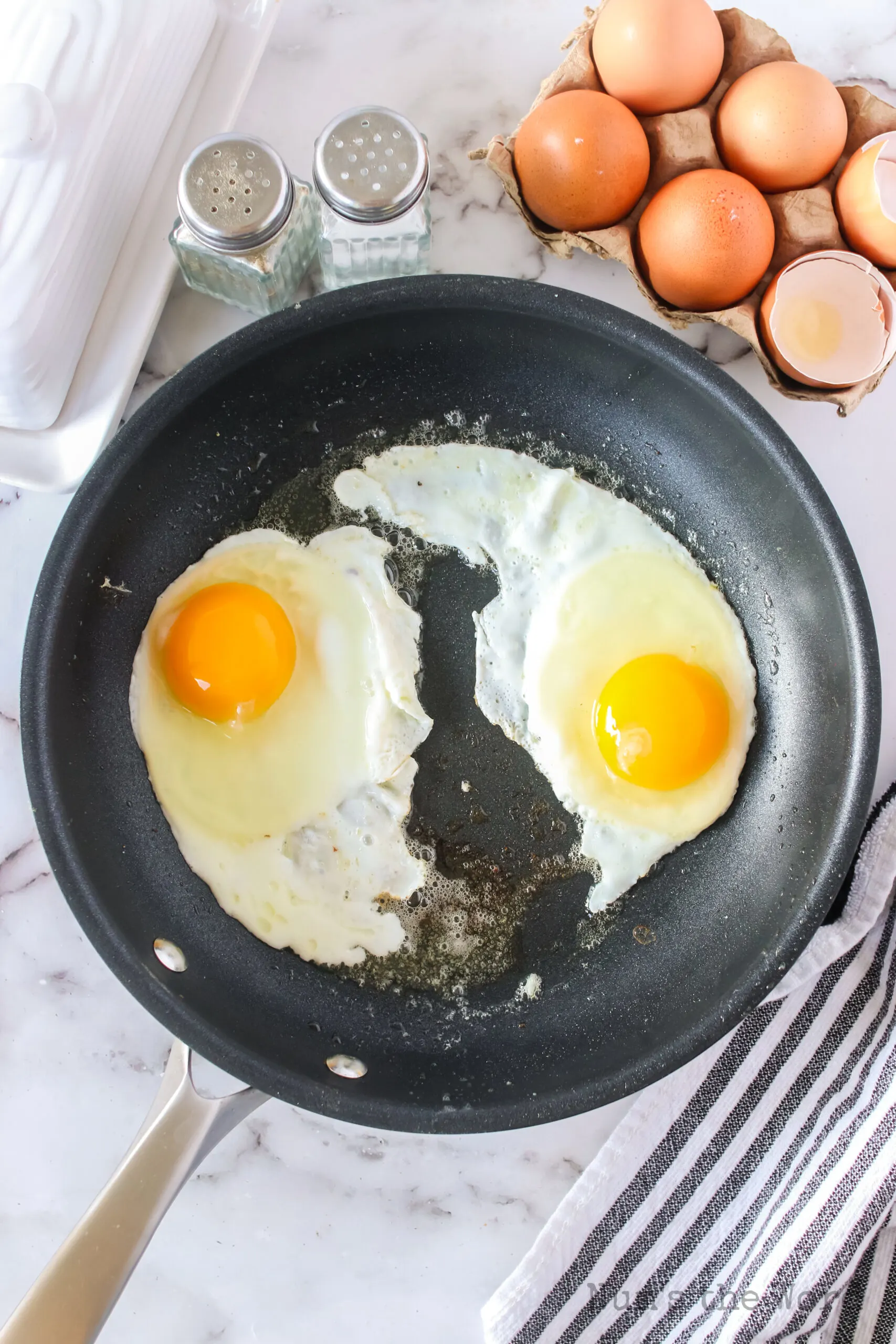 What Are Over Easy Eggs?
Over Easy, Over Medium, Over Hard, Sunny Side Up, Poached, or Scrambled?
There are so many ways to make eggs!
Scrambled eggs are mixed eggs, sunny side up eggs are only cooked on one side, and poached eggs are cooked in water.
So over easy eggs are most like sunny side up eggs, only they get flipped and cooked on both sides.
The easy part refers to how cooked the yolk is.
Easy means a runny yolk. Medium eggs means a little runny. And hard means not runny at all.
What Do You Need For Over Easy Eggs?
Here's some things you're going to need to cook perfect over easy eggs.
Butter: Butter or oil are absolutely necessary to keep the eggs from sticking to the pan.
Eggs: Make sure your eggs are fresh. No cooking bad eggs!
Salt and Pepper: A pinch of salt and black pepper are just what you need.
Something else you're really going to need for perfect eggs is the right pan for the job.
A nonstick skillet or non-stick pan or a well seasoned cast iron skillet can make or break your eggs.
Eggs, all kinds of eggs, tend to stick. Even with butter or oil.
In order to flip over easy eggs, you need to make sure they aren't going to stick.
If they do stick, it'll cause the yolk to run and you'll end up with more of a scrambled or over hard egg.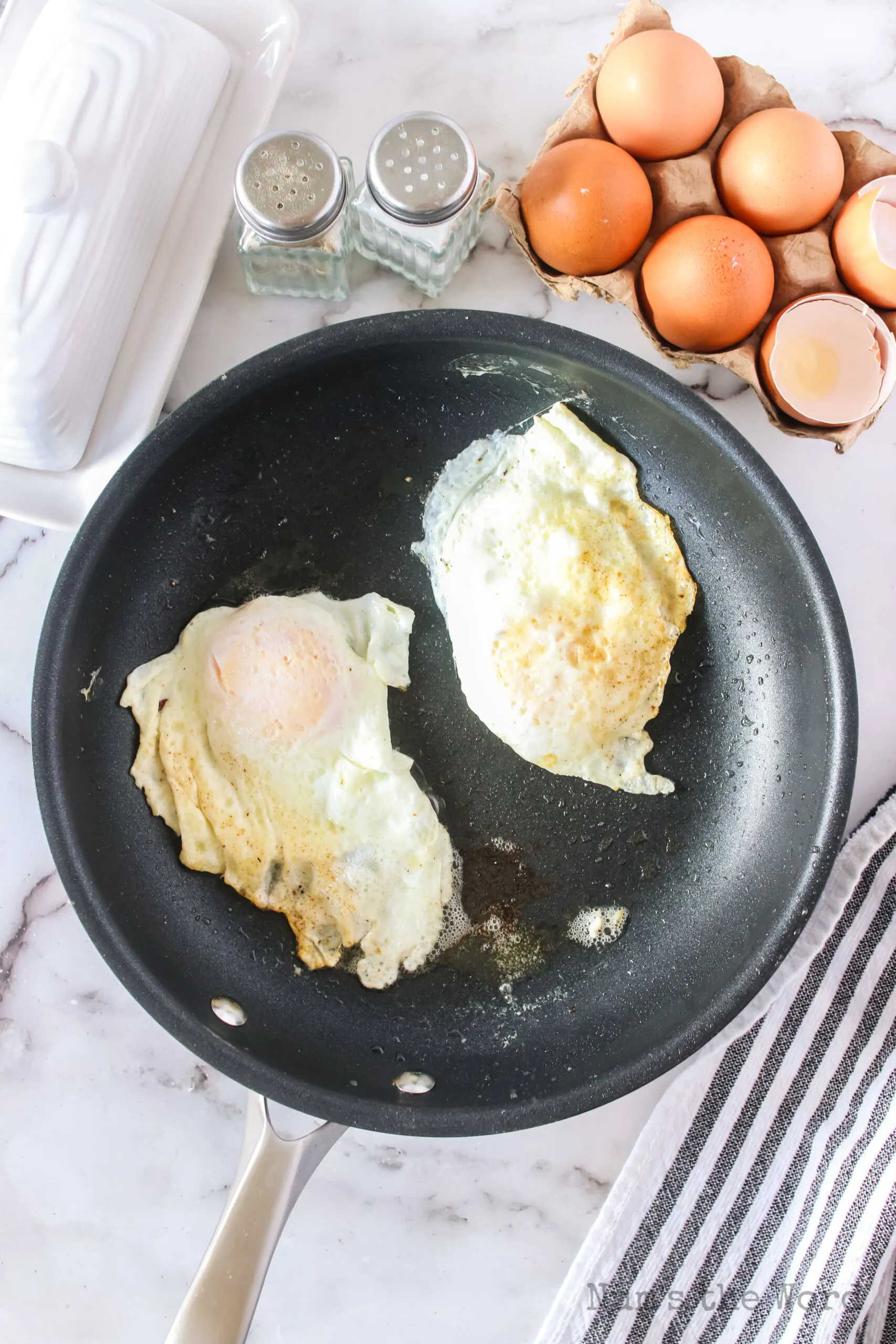 How to Make Over Easy Eggs
So how do you really make over easy eggs with fresh eggs for a simple breakfast?
Heat the Pan: The pan MUST be hot before you add the eggs. Otherwise they won't cook correctly.
Add the Eggs: Make sure the eggs don't touch. You need to be able to flip one at a time for great eggs.
Flip: Confidence! Hesitations and jerky movements will cause the yolks to break. Take a deep breath and be firm.
Eat: The eggs won't need to cook very long on the second side so be ready to dig in.
Pro Tips:
The longer the eggs cook on the second side, the harder the yolk will become. For over medium or over hard eggs, just let it cook longer.
If you're making more than one batch, butter the pan between each batch.
You could also use olive oil or vegetable oil but I prefer the taste of melted butter on the eggs.
Are Over Easy Eggs Safe to Eat?
Eating the best over easy eggs does come with some risks.
Every time you take a bite of that uncooked cookie dough or undercooked egg, you do run the risk of getting food poisoning.
The risk of salmonella is higher in undercooked egg yolk and egg white.
While rare, eating over easy eggs can cause problems. So eat at your own discretion.
If you're concerned, cook them until well done and you have a firm egg.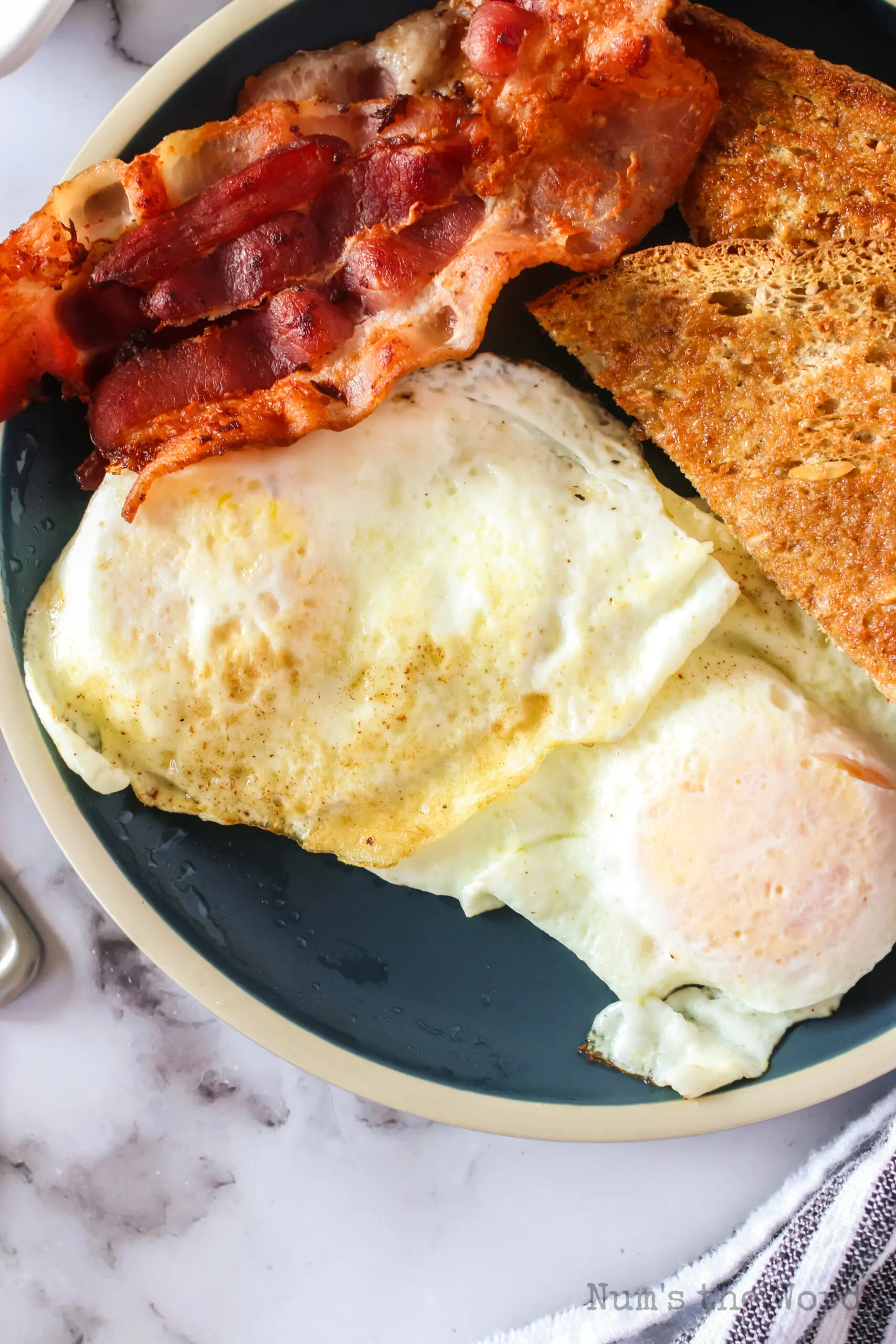 Can You Eat Over Easy Eggs While Pregnant?
The majority of people without major health risks have stomachs that are able to fend off small amounts of bacteria in undercooked eggs.
This is not the case for pregnant women.
While pregnant, you are much more susceptible to all sorts of illness and bacteria.
Which means you may have to miss many of your favorite foods or your favorite way to eat eggs! Bummer!
So be sure to cook your eggs hard to help protect that growing baby.
Young children and infants should also only ever eat hard eggs as their stomachs are still developing.
Are Over Easy Eggs Healthy?
Good news! No matter which way you serve your eggs, they are going to come with numerous health benefits.
Here's a few of the nutrition facts that you can get excited about!
First, each egg only contains about 75 calories, making it a very low calorie food.
Eggs also contain much needed protein, fat, and saturated fat.
Along with those things comes vitamins, minerals, and iron.
Not to mention disease fighting lutein and zeaxanthin.
You should definitely work to make eggs and other healthy recipes a regular part of your breakfast routine!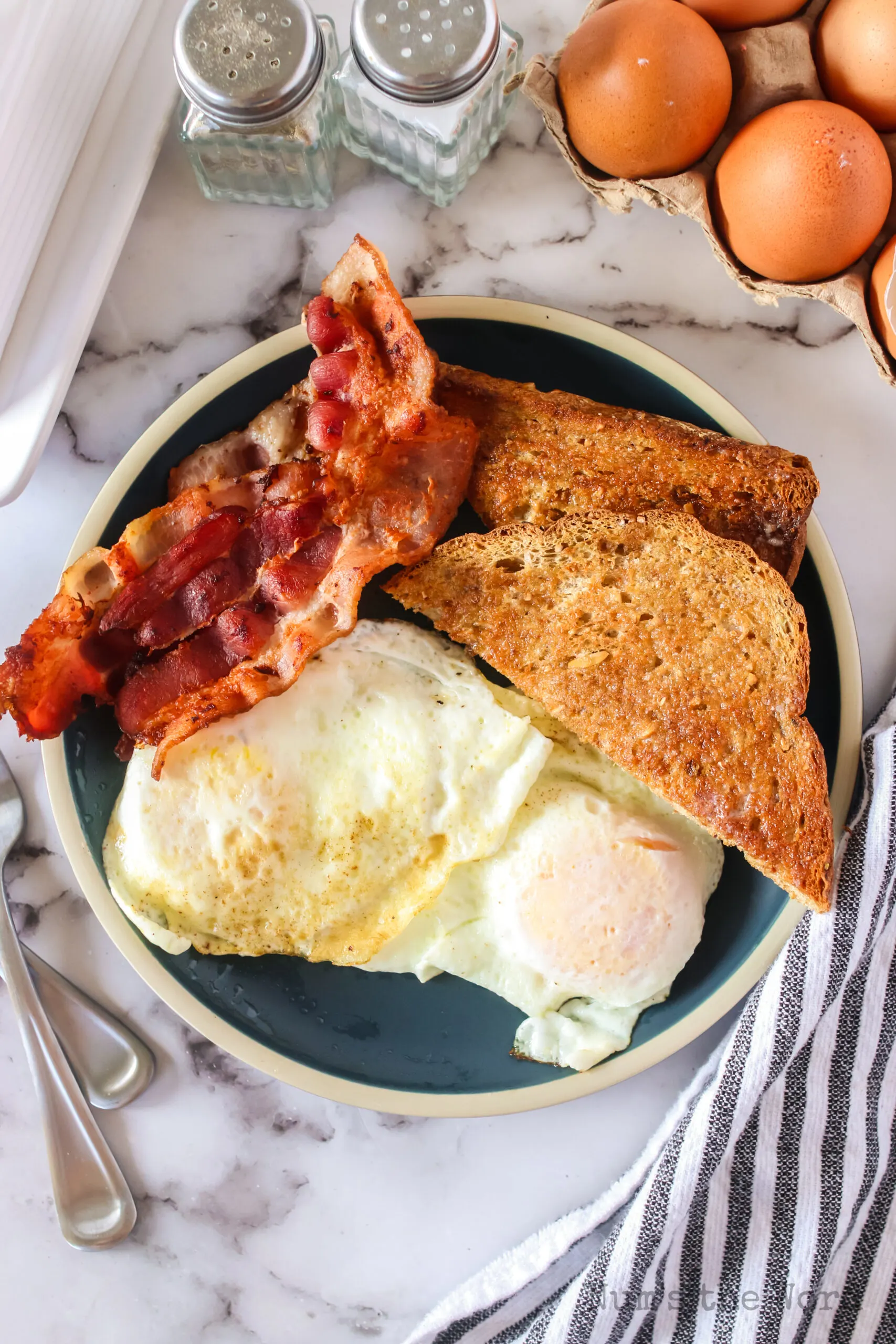 How to Flip Over Easy Eggs?
To flip with the pan or with a flat spatula? What are the right tools you'll need?
You'll often see a professional chef lift that whole pan, whip it around, and deftly catch the eggs without breaking them.
For the rest of us, who don't want eggs on our ceiling, I recommend flipping with a spatula.
It takes much less skill than using the pan and can achieve the same result.
Gently but confidently you'll slide the spatula under the egg.
Be sure the egg has set completely before flipping.
Then, flip. Quickly turn your wrist so the entire egg flips to the other side to cook.
Remember that trust is key here. You can do it. Believe that you can.
It's an easy way to be a home cook with perfect eggs.
Can Dogs Eat Over Easy Eggs?
A food you can share with your dog!
Over-easy eggs are good for dogs, just like they're good for you.
Imagine all those essential vitamins, minerals, and protein you are enjoying.
And your dog can get all those same benefits!
Of course, you'll want to be careful with the butter of not giving it to the dog too often.
Dogs don't process fat the same way we do.
Also, your dog doesn't need any seasoning to enjoy his egg either.
I find making a batch of Air Fryer Hard Boiled Eggs at the same time gives both me and my dog something healthy to enjoy.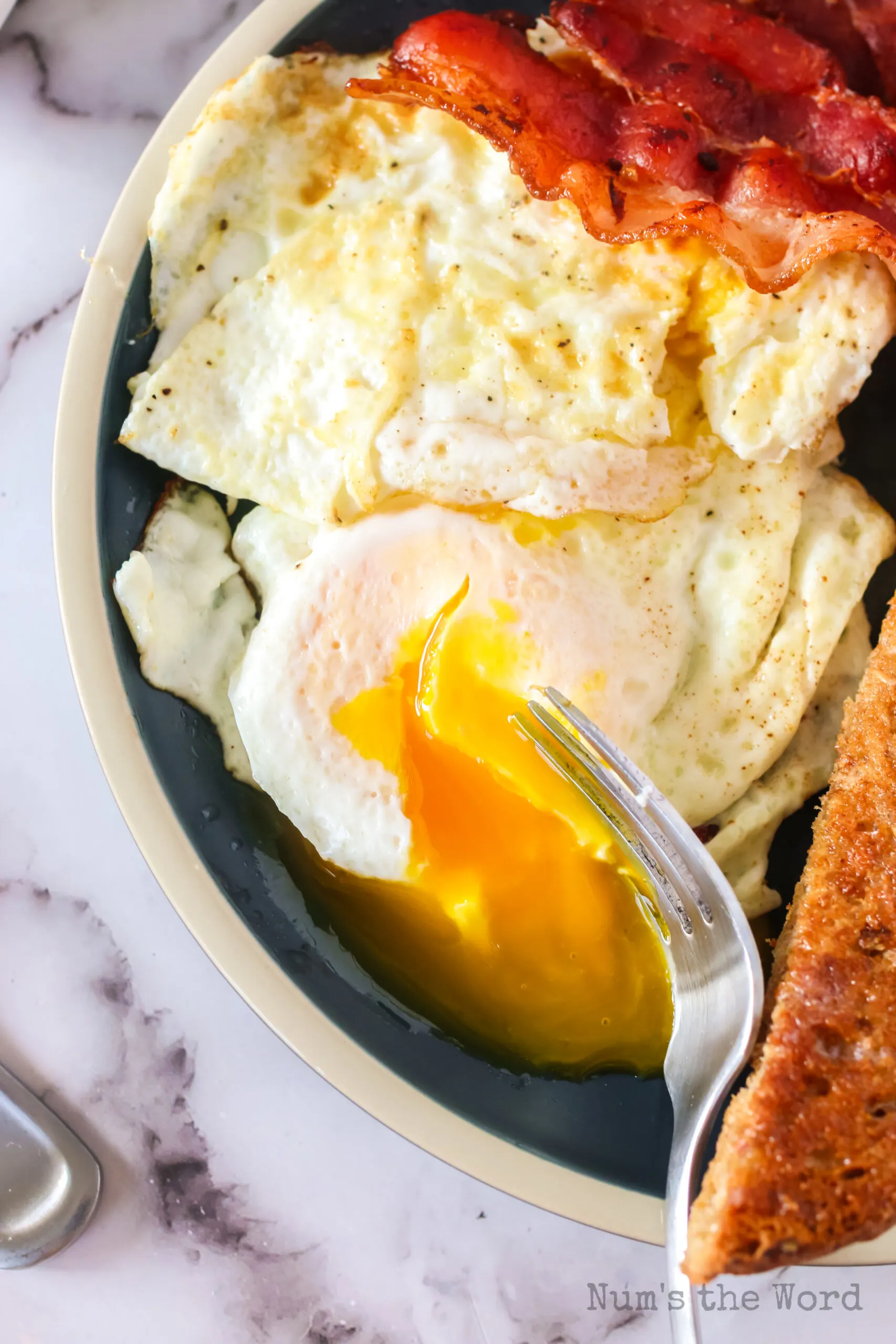 How Quickly to Cook Over Easy Eggs
The slower you cook eggs the better. Eggs can get overcooked very quickly.
You want the pan hot before you add the eggs, but not so hot the eggs burn.
If you're making more than one batch you may need to turn the heat down to prevent the second batch from burning.
More Egg Recipes You'll Love…
How to Make Over Easy Eggs has never been easier! Enjoy this quick and easy breakfast today!
Yield: 2 Eggs
How to Make Over Easy Eggs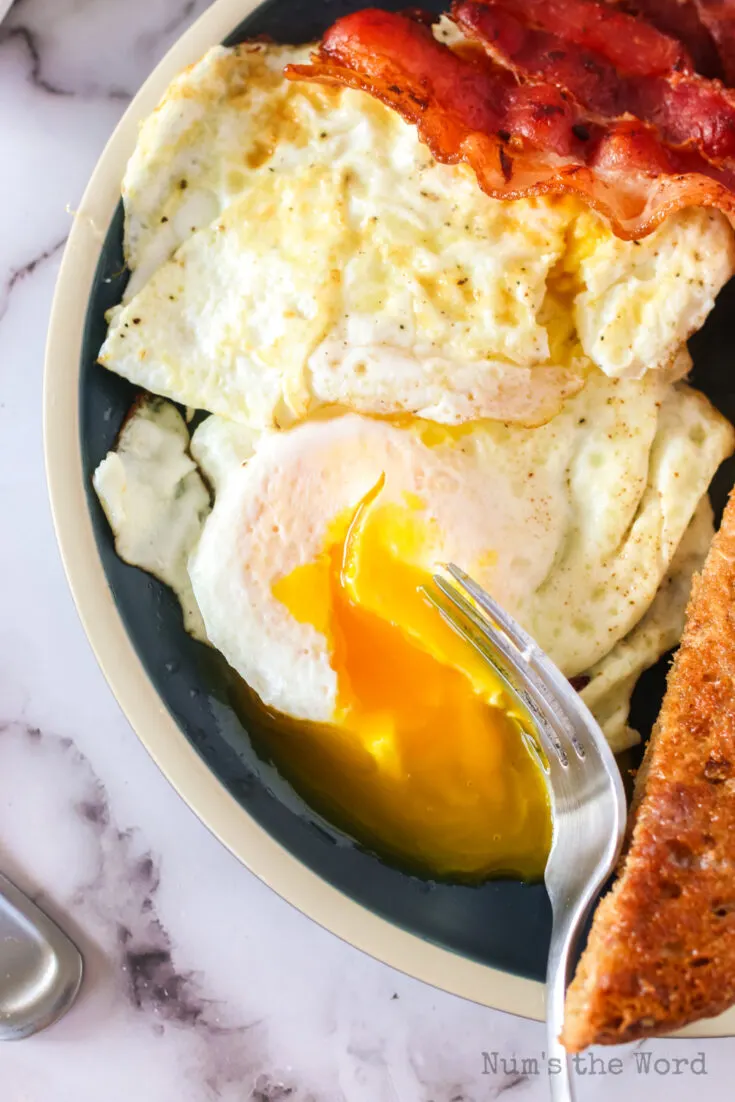 Ever wondered how to make Over Easy Eggs? Don't worry! I've got you covered! You can achieve restaurant quality over easy eggs with just a few simple steps.
Instructions
Heat a small non-stick skillet for 1-2 minutes, until nice and hot.
Add butter and mix around. Butter should sizzle as soon as it hits the pan.
Add eggs one at a time so they don't touch - opposite sides of the pan.
Cook eggs 2-3 minutes or until egg whites are firm but yolks are runny.
Gently, but confidently flip eggs and cook 30 seconds more.
Serve with your favorite breakfast items like bacon & toast.
Nutrition Information:
Yield:
1
Serving Size:
1
Amount Per Serving:
Calories:

245
Total Fat:

21g
Saturated Fat:

10g
Trans Fat:

1g
Unsaturated Fat:

9g
Cholesterol:

403mg
Sodium:

365mg
Carbohydrates:

1g
Fiber:

0g
Sugar:

0g
Protein:

13g