Coconut Butter Cookies are a delicious and easy treat to whip up for any occasion. With the perfect balance of sweetness and nuttiness, these cookies are sure to become a family favorite!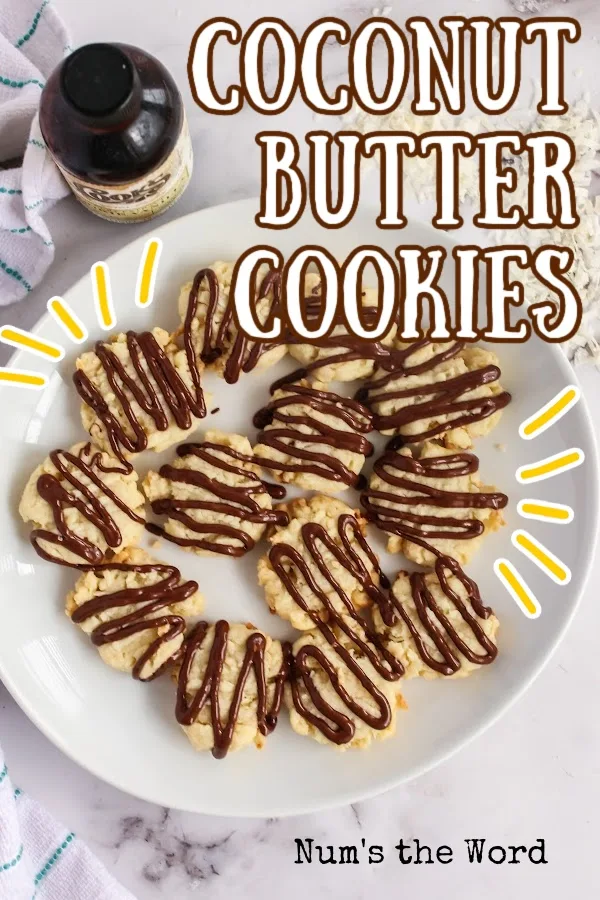 These coconut butter cookies are soft, chewy, and bursting with coconut flavor.
The addition of chocolate on top takes them to the next level, making them the perfect dessert or snack for any time of day!
Butter cookies with coconut are quick and easy to make, perfect for a last-minute dessert or snack.
The combination of shredded coconut and butter creates a rich, buttery flavor that is perfectly balanced with sweetness.
The addition of chocolate on top adds an extra layer of richness and depth of flavor.
Butter coconut cookies can easily be made ahead of time and stored for later.
They can be enjoyed with a cup of hot cocoa or served as a dessert with a scoop of ice cream.
What Ingredients are in Coconut Butter Cookies?
Any coconut lover is going to love these chewy coconut cookies! Grab your favorite ingredients and let's get baking!
Butter: Provides richness and flavor to the cookies.
White sugar: Sweetens the cookies and helps them brown.
Shredded coconut: Adds texture and flavor to the cookies.
Salt: Enhances the flavor of the other ingredients.
Vanilla extract: Adds a subtle sweetness and aroma to the cookies.
Flour: Provides structure and texture to the tasty cookies.
Chocolate melting wafers: Adds a delicious chocolatey touch to the cookies.
Pro Tips:
Make sure your butter is at room temperature before you start creaming it with the sugar to ensure a smooth and creamy mixture.
Sifting the flour will ensure that your cookies have a tender and light texture.
Gently pressing the cookies with a fork before baking will help them spread evenly and cook more evenly.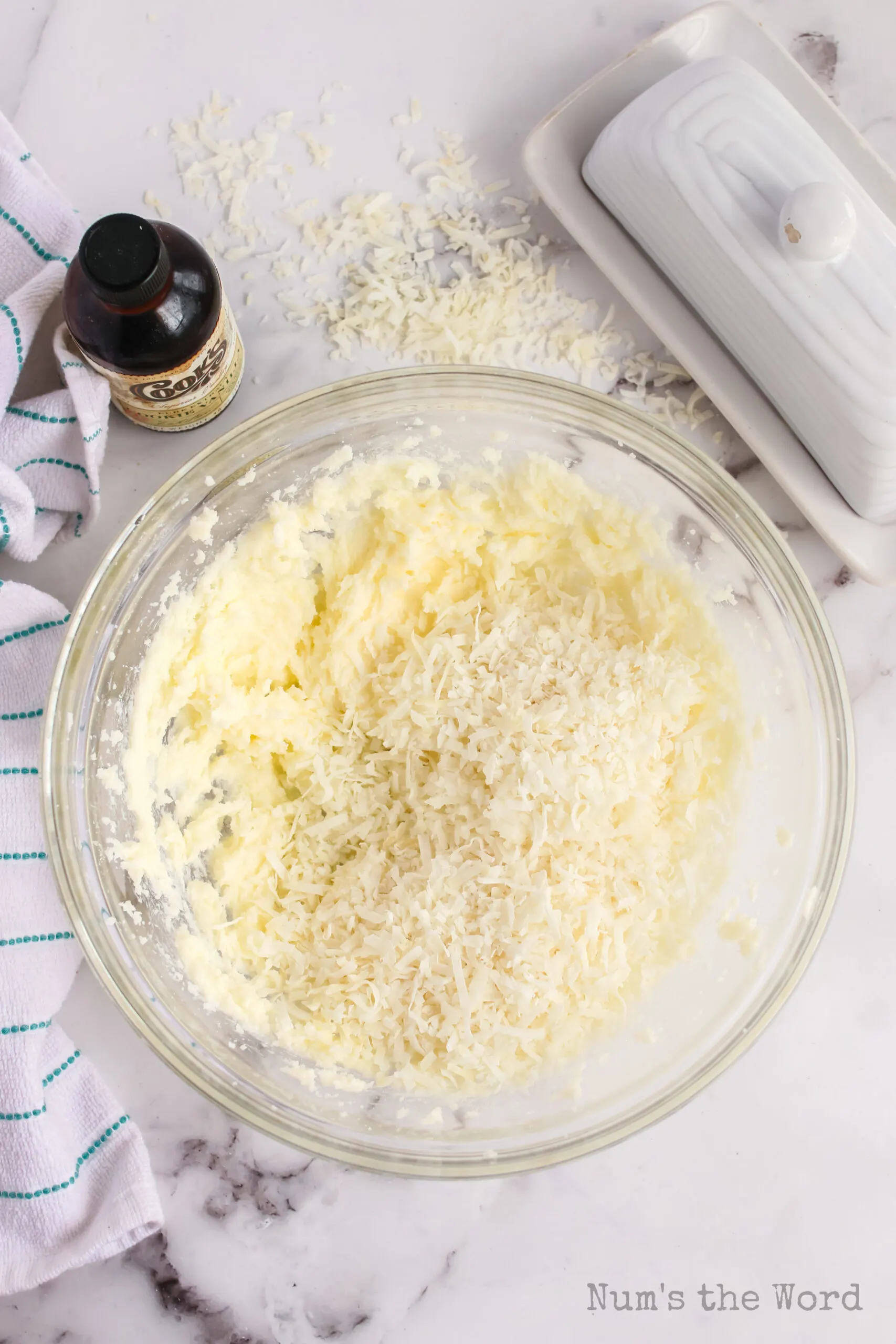 How to Make Coconut Butter Cookies
These irresistible cookies are golden brown morsels that you're going to love in your cookie jar!
It'll be easy to satisfy your sweet tooth and any coconut fan will thank you. So grab your mixing bowl and a baking tray!
Wet Ingredients: Cream butter and sugar together
Add: Mix in shredded coconut, salt, and vanilla extract
Dry Ingredients: Combine flour with the mixture
Shape: Roll dough into small balls and place on cookie sheets
Bake: Bake, cool, and drizzle with melted chocolate
Pro Tips:
Use parchment paper on your cookie sheet to help in your clean up.
Put cookies into a preheated oven so they cook properly.
Scrape down sides of bowl of an electric mixer as needed.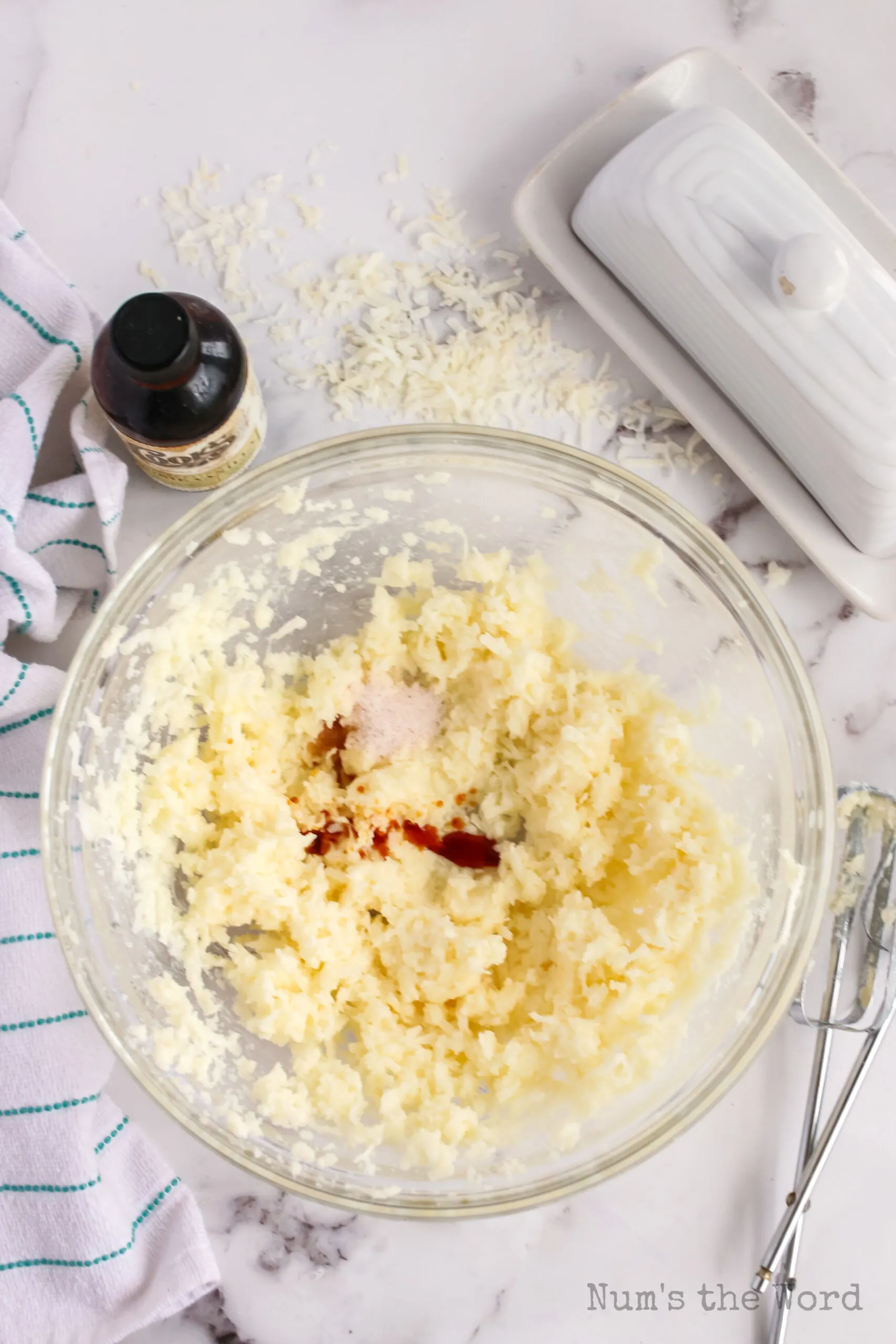 Can Coconut Oil Be Substituted for Butter in Cookies?
Yes, coconut oil can be substituted for butter in cookies, as long as it is in a solid state.
Keep in mind that coconut oil has a distinct flavor that may alter the taste of your cookies.
As this already has coconut flavor, I haven't found that it affects this easy cookie recipe very much.
Can I Substitute Coconut Flour for All-Purpose Flour in Cookies?
Coconut flour cannot be used as a direct substitute for all-purpose flour in cookies as it is highly absorbent and requires more liquid in the recipe.
If you want to use coconut flour, it is best to follow a recipe specifically designed for it.
Search around on the internet and you should be able to find lots of recipes to fit your needs.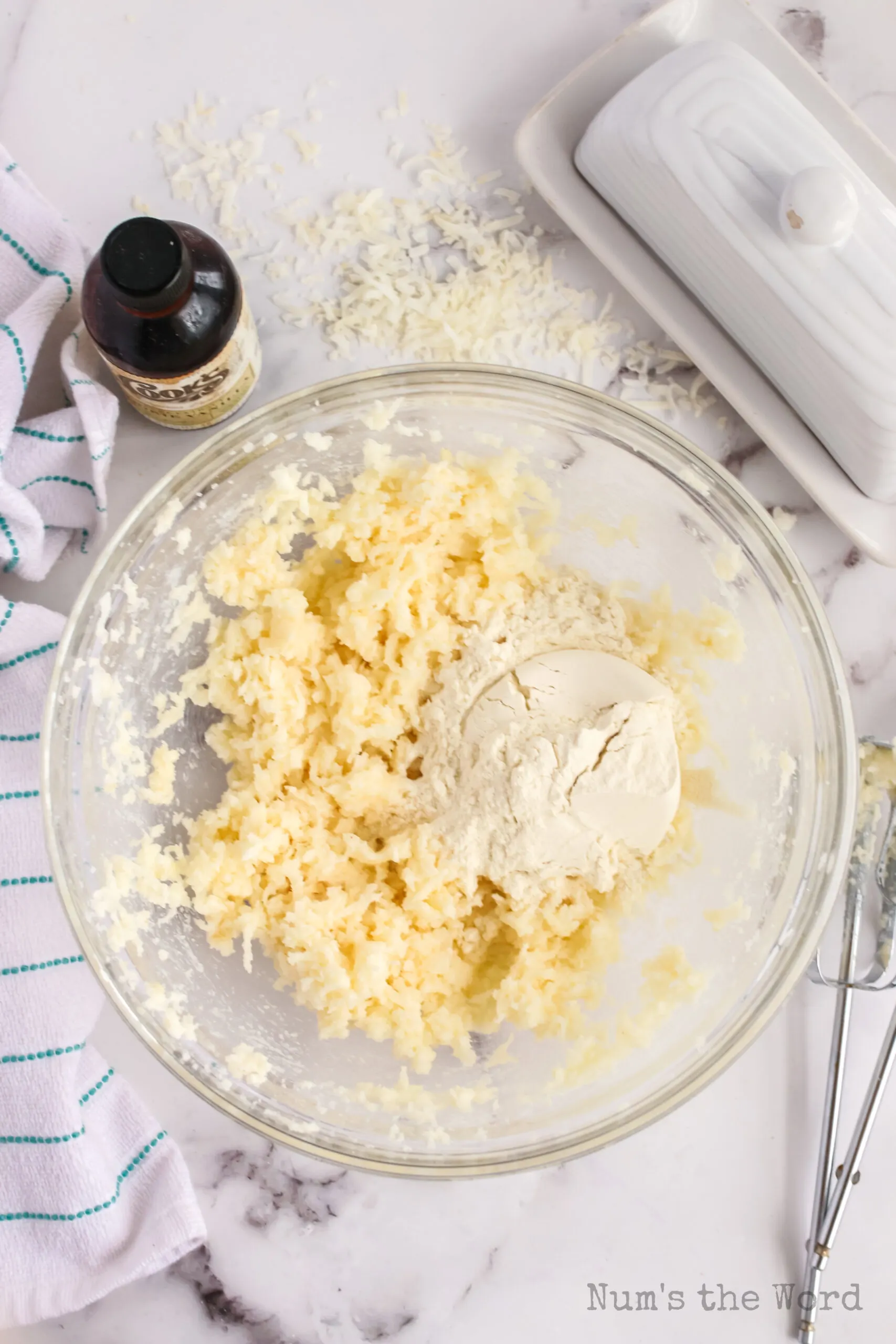 Are Coconut Butter Cookies Healthy?
Coconut does contain healthy fats so that is a big bonus of these cookies!
However, the cookies are still a dessert and should be enjoyed in moderation as part of a balanced diet.
I find they still make great after-school snacks! They're filling enough to keep the kids going until dinner.
How to Store Coconut Butter Cookies
Store cookies in an airtight container at room temperature for up to 1 week.
It's a great way to have the perfect cookie ready for whenever you need it!
I don't recommend storing in the fridge. The crispy edges tend to be a little too crispy in my personal opinion.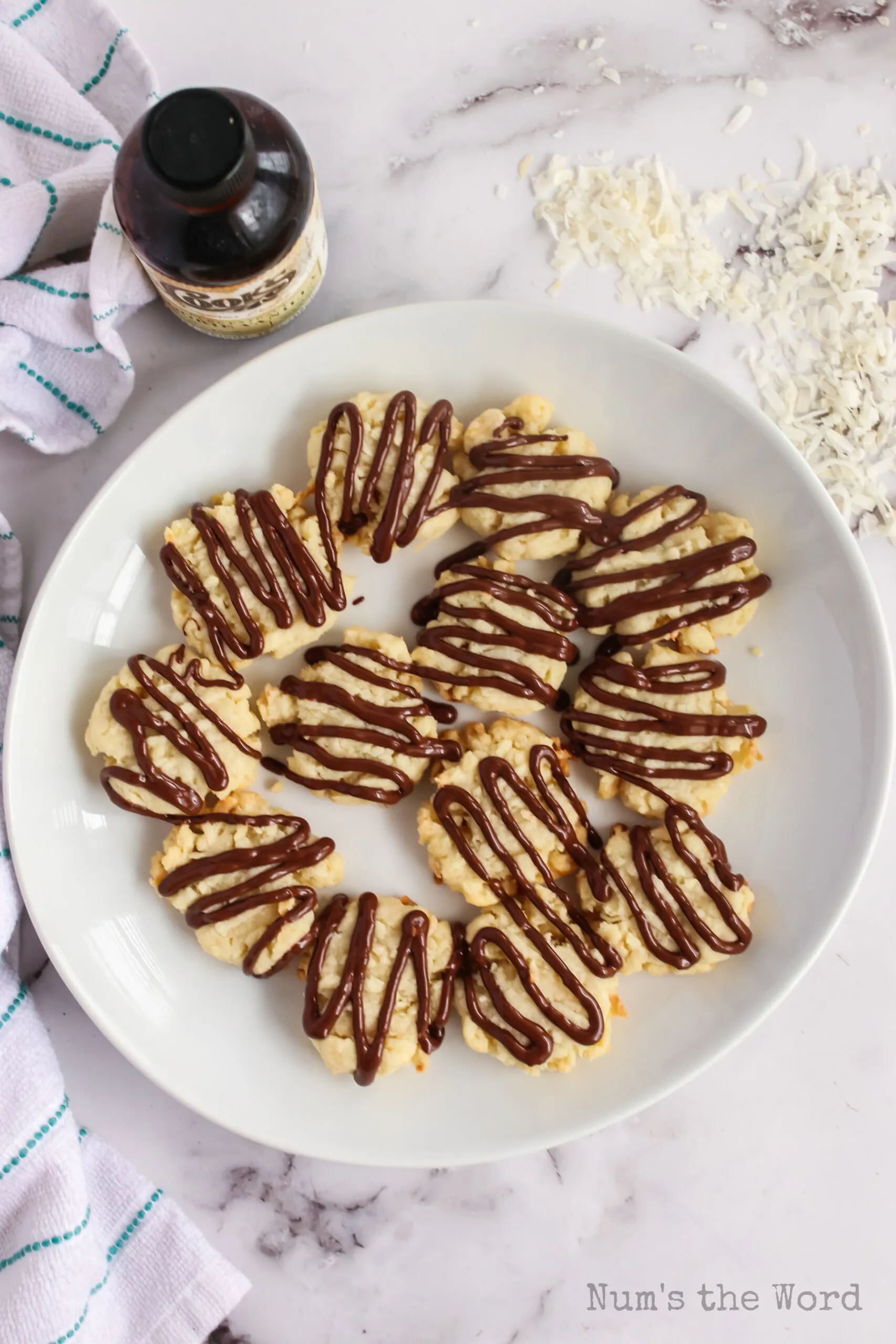 Can I Freeze Coconut Butter Cookies?
Yes, this good cookie freezes well.
Store them in an airtight container or freezer bag for up to 2 months.
Don't forget to write the date and what it is on the bag.
That way you won't lose your yummy chewy cookie in the freezer.
If you freeze the cookie dough ball, it's a good idea to flash freeze on your baking sheet.
Then move the chilled dough into a bag and write how to cook it on the outside.
Add a few extra minutes of baking time when baking since they'll be frozen.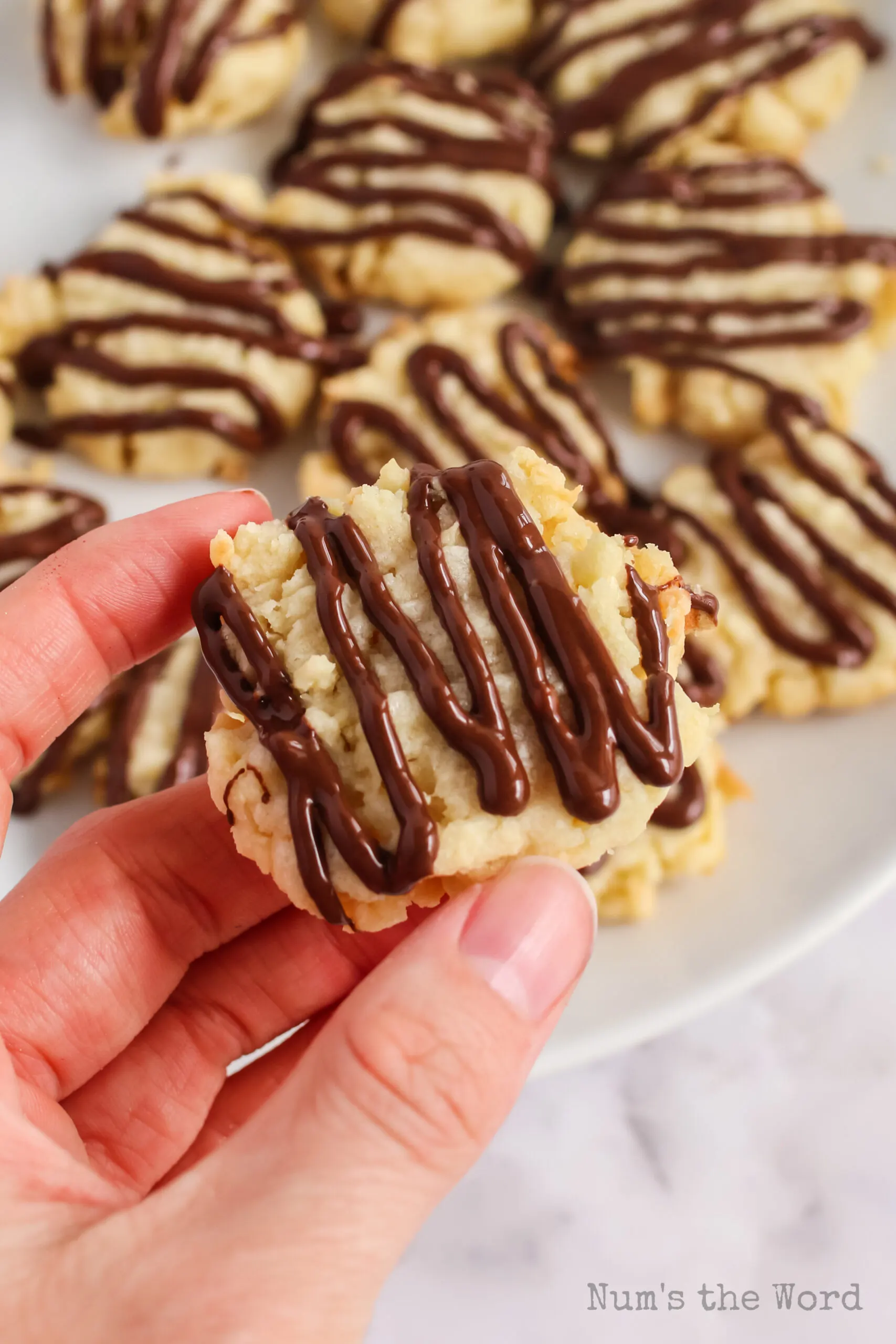 Eggless Coconut Cookies
This recipe already does not use eggs, making it a great option for those with egg allergies or those looking for an egg-free dessert.
That is why I recommend shaping the cookies just a bit before baking though.
Eggs can help the cookies to shape themselves in the oven.
Can Dogs Eat Coconut Cookies?
While coconut is generally safe for dogs in moderation, it's best to avoid feeding your dog any.
Sweet treats like cookies as they can cause upset stomachs or other problems.
And actually the chocolate can be toxic for dogs too so you'll definitely want to keep them away.
Keep furry friendly treats for your pets and human treats for your human friends.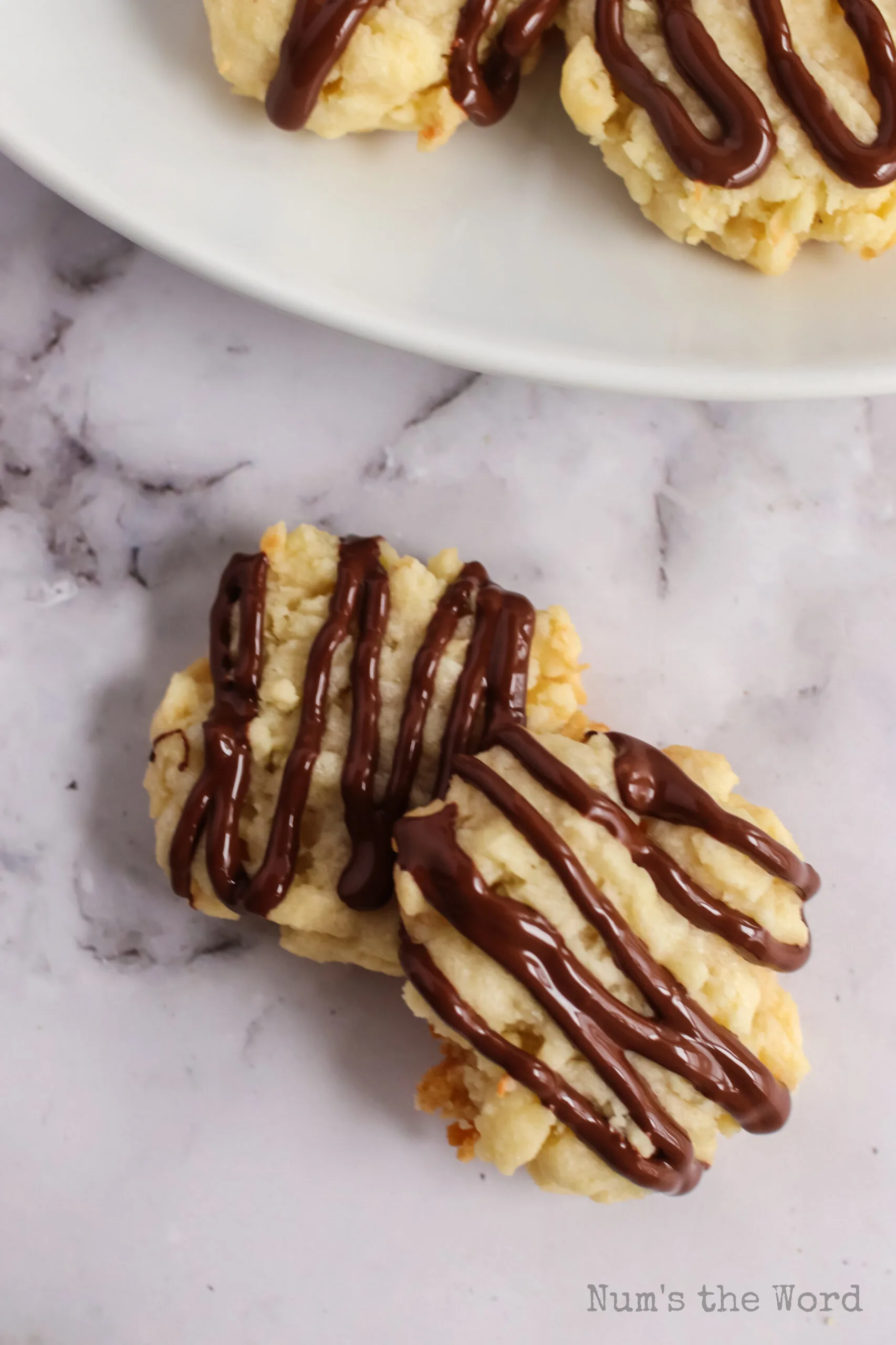 Even your cookie sheet will be happy with these Coconut Butter Cookies! So grab a glass of milk and get ready to enjoy some great cookies!
Yield: 30 Cookies
Coconut Butter Cookies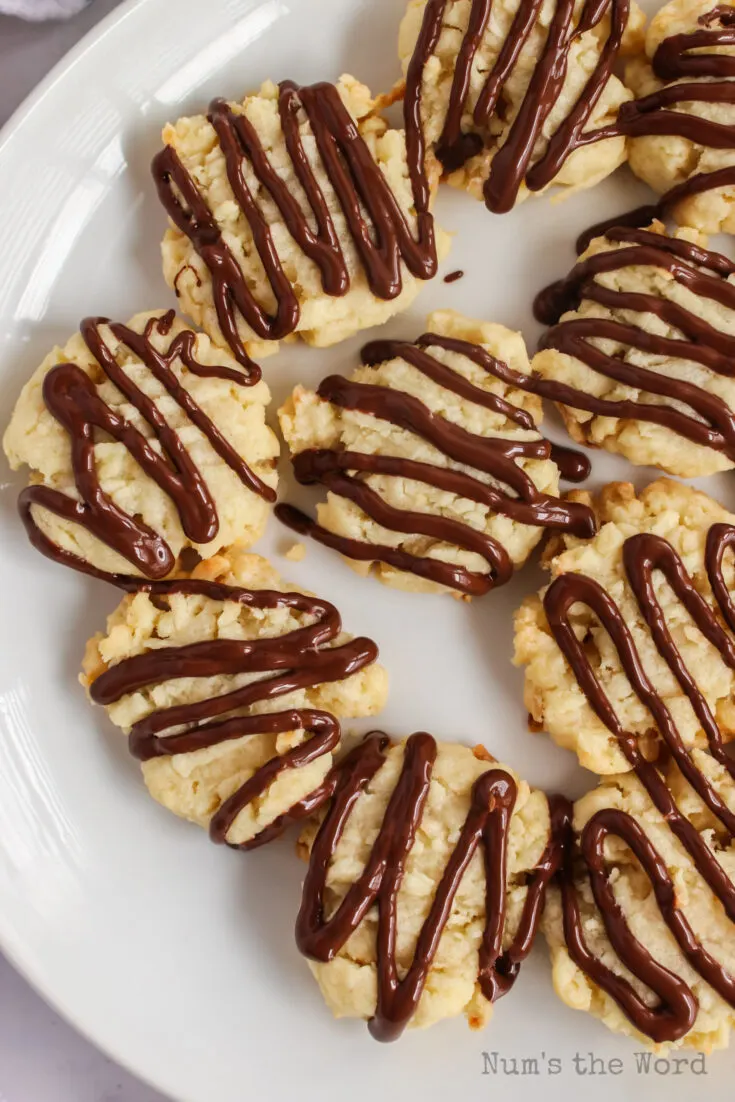 Coconut Butter Cookies are the perfect balance of sweetness and nuttiness, these cookies are sure to become a family favorite!
Ingredients
Instructions
Preheat oven to 325*F
Line two cookie sheets and set aside
Cream butter and white sugar together until creamy and smooth.
Add coconut and mix well.
Add salt and vanilla extract and mix well.
Add flour, ½ cup at a time, mixing well after each addition
Mixture will appear a little dry.
Scoop out 1 teaspoon of dough and roll in a ball.
Place balls on cookie sheet - 15 per cookie sheet.
Dip a fork in water and gently press each cookie ball once.
Bake for 18 minutes.
Remove from oven and allow to rest on pan for 5 minutes before moving to a cooling rack
Once cool, melt chocolate according to package directions and drizzle over each cookie.
Nutrition Information:
Yield:
30
Serving Size:
1
Amount Per Serving:
Calories:

102
Total Fat:

5g
Saturated Fat:

3g
Trans Fat:

0g
Unsaturated Fat:

1g
Cholesterol:

8mg
Sodium:

77mg
Carbohydrates:

13g
Fiber:

1g
Sugar:

6g
Protein:

1g