Wanna know the best way to prepare red potatoes? Get ready for an easy fool-proof recipe: Garlic Roasted Red Potatoes!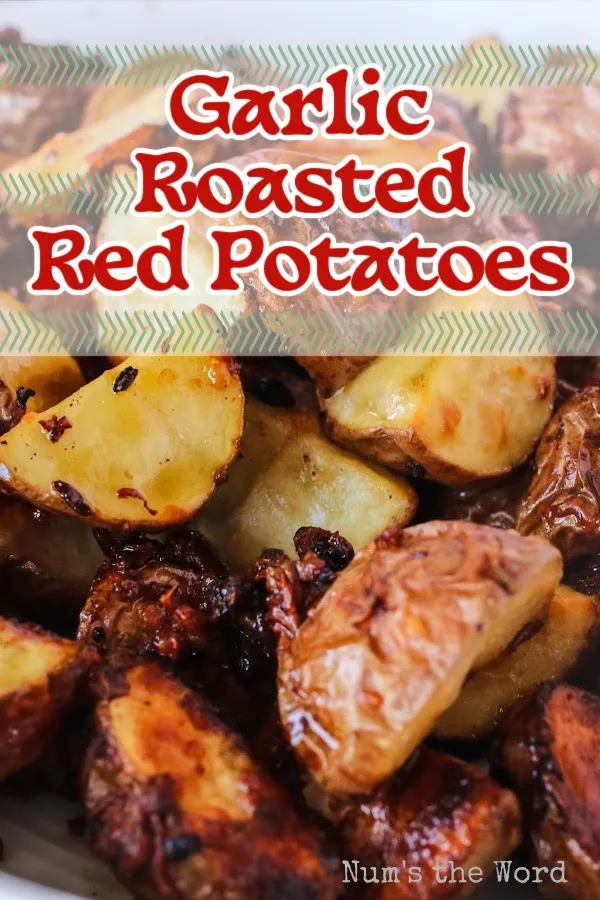 Bite-sized red skin potatoes coated in a mix of melted butter and minced garlic, then perfectly roasted at a higher temperature. They're golden brown on the outside but remain fluffy inside!
Finish it off with a generous sprinkle of tasty shredded parmesan cheese, and you have a side dish that's simply impossible to resist(believe me I've tried)!
It's incredibly easy to prepare – even for beginners in the kitchen.
Garlic roasted potatoes serve as the perfect side dish for all your favorite meats, from roast chicken to juicy pork chops.
They're bursting with flavor, thanks to the delicious blend of garlic, butter, and parmesan.
Roasted garlic potatoes are a crowd-pleaser, guaranteed to make everyone at your table ask for seconds!
This recipe offers flexibility. Feel free to make it your own by adding some fresh herbs or spices!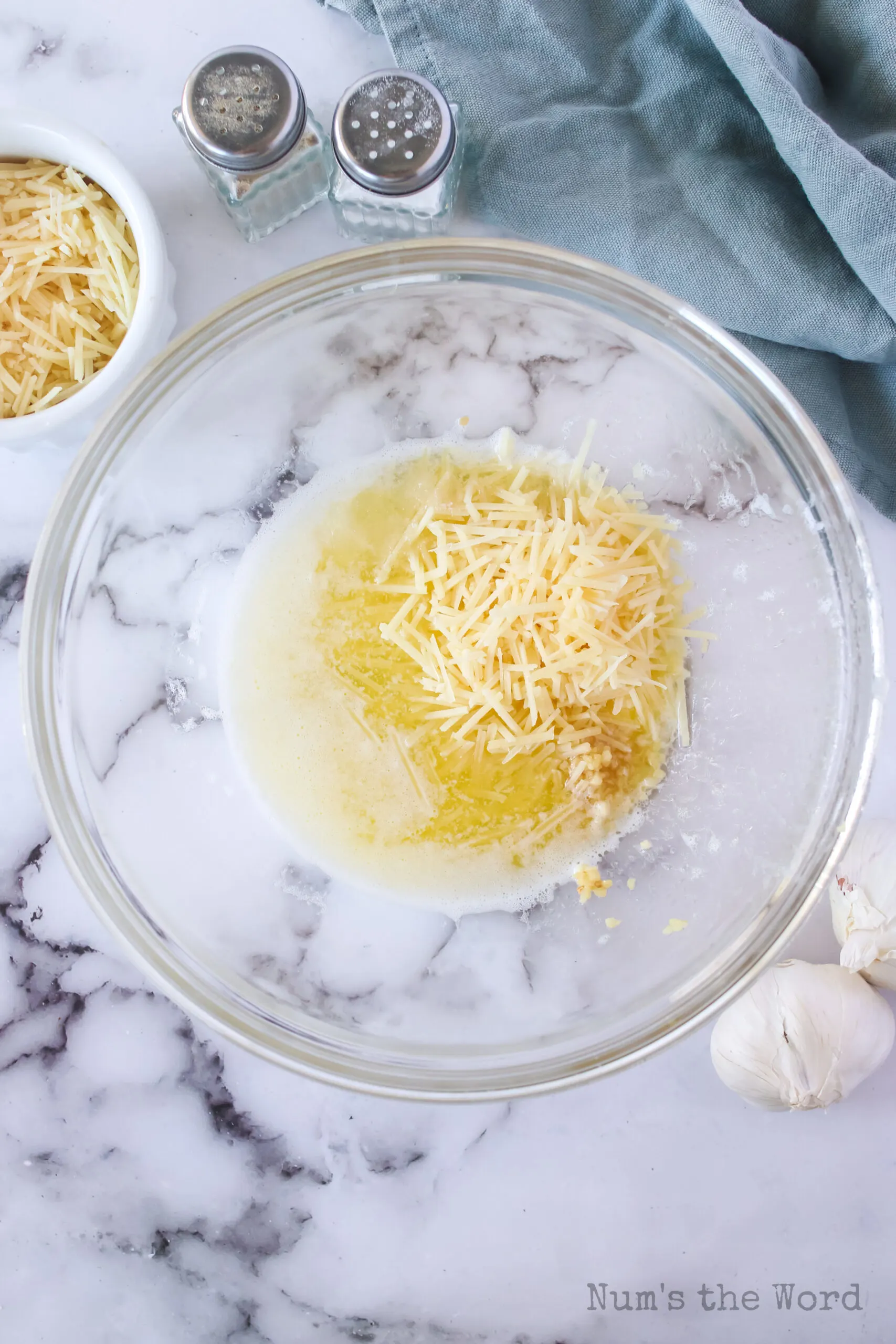 What Ingredients are in Garlic Roasted Red Potatoes?
Tender potatoes? Check! Simple ingredients? Check! This is all you need for this easy weeknight meal:
Red Potatoes: These waxy potatoes are the stars of our show. Baby red potatoes would also work great!
Salted Butter: It gives the potatoes that rich, buttery flavor we all crave.
Garlic: Fresh garlic cloves for that punchy and irresistible garlic taste.
Salt: Kosher salt works best to draw out all the other flavors.
Parmesan Cheese: Opt for the shredded type, not powdered. So savory!
Pro Tip:
I don't prefer russet potatoes or yukon gold potatoes for this recipes. The red potatoes taste better with the parmesan.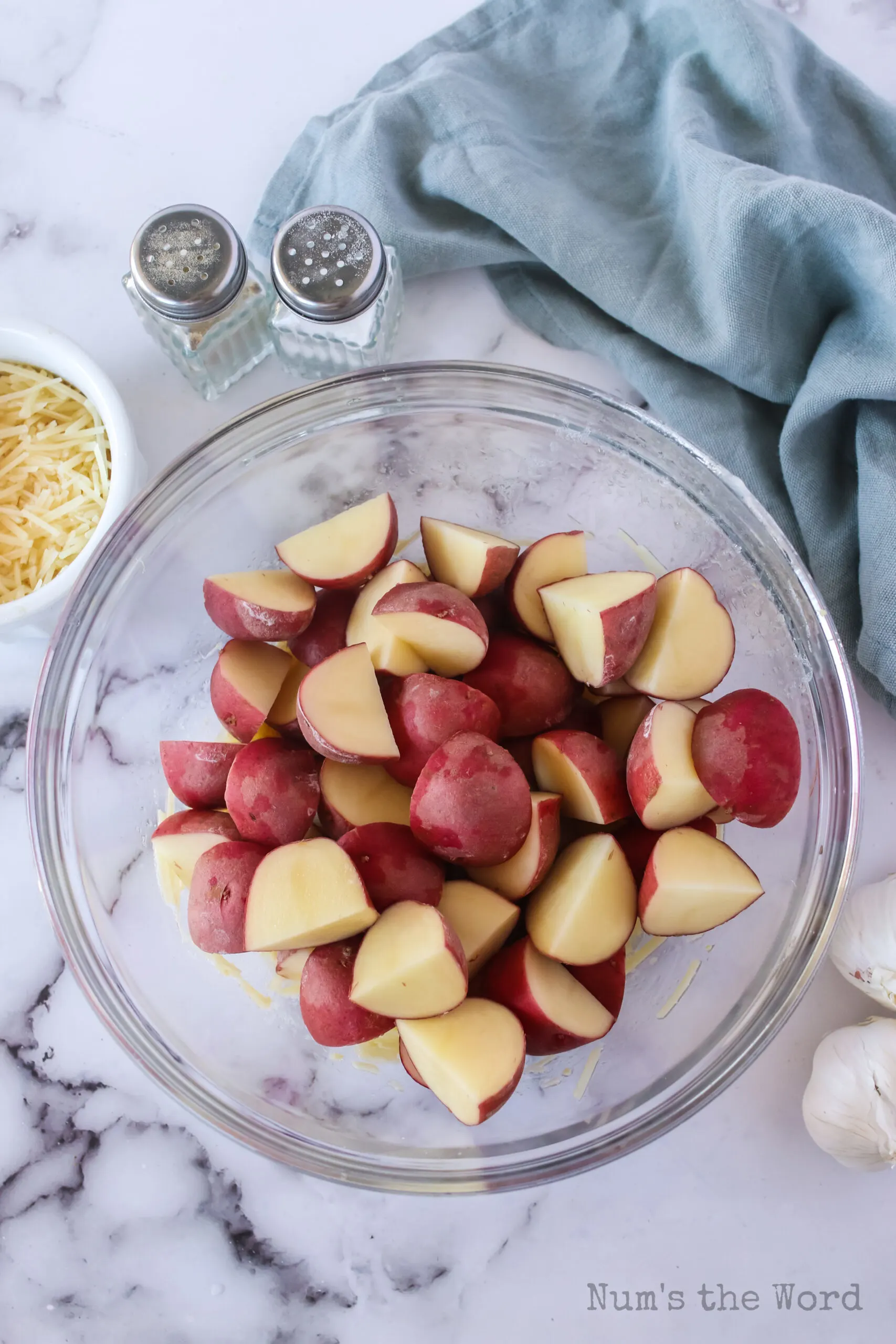 How to Make Garlic Roasted Red Potatoes
Creating this easy side dish of roast potatoes is as simple as it gets!
The full recipe card is below but here's what you'll need to know:
Combine melted butter, minced garlic, salt, and parmesan in a large bowl.
Give your potatoes a good wash, dry them, and cut them into one-inch chunks.
Toss the potato chunks in the garlic butter mixture until they're well-coated.
Spread the potatoes onto a rimmed baking sheet, ensuring they are in a single layer.
Pop them in a preheated oven and remember to flip them a couple of times for even cooking.
When they're golden brown and fork-tender, pull them out from the oven and serve immediately.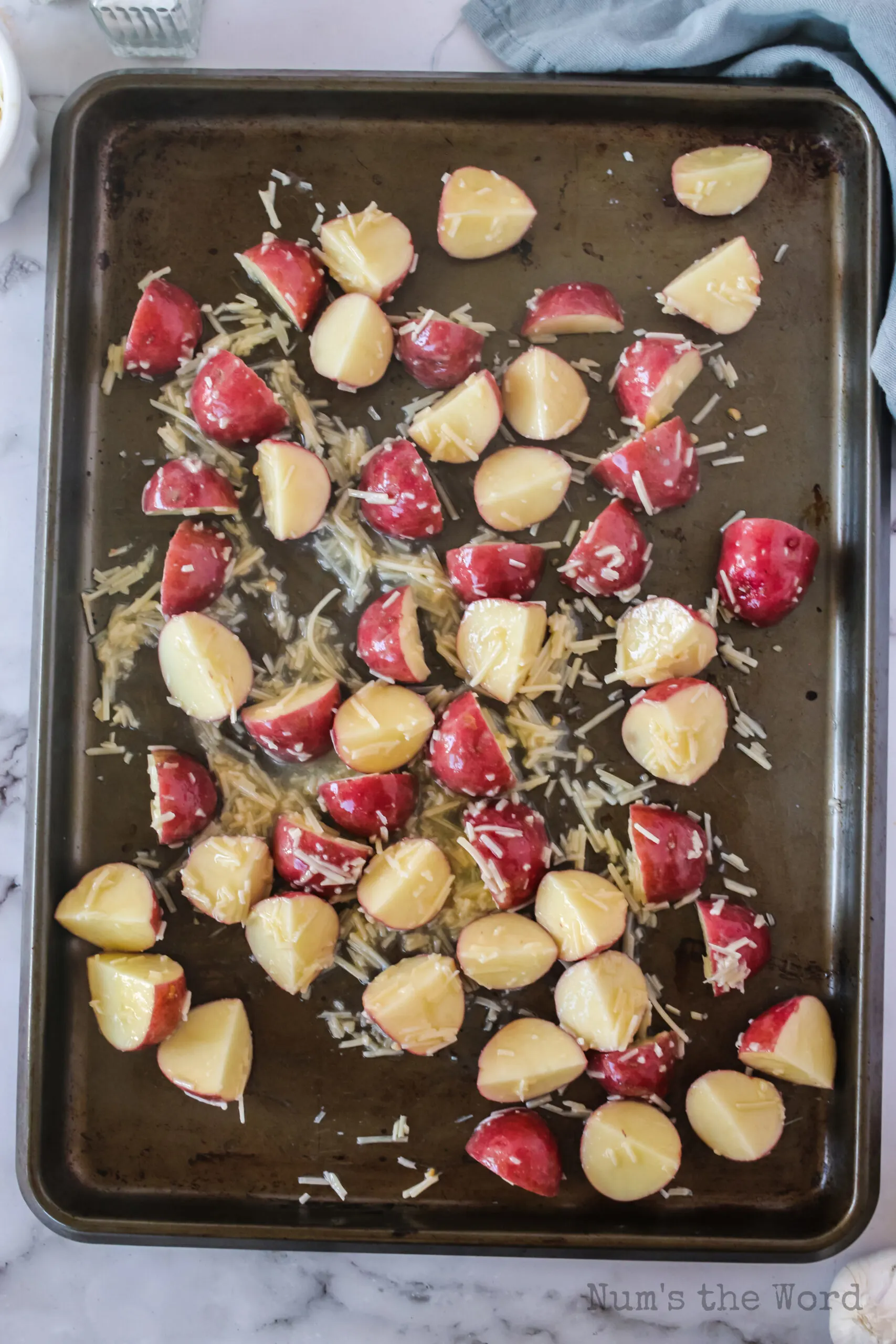 Are Garlic Roasted Potatoes Healthy?
Oven-roasted potatoes themselves are actually a nutritious option! Actually they have some really good vitamins and fiber!
But don't forget, they are coated in butter and cheese. Which is soooo delicious. But it's still butter and cheese!
So, enjoy this easy recipe in moderation.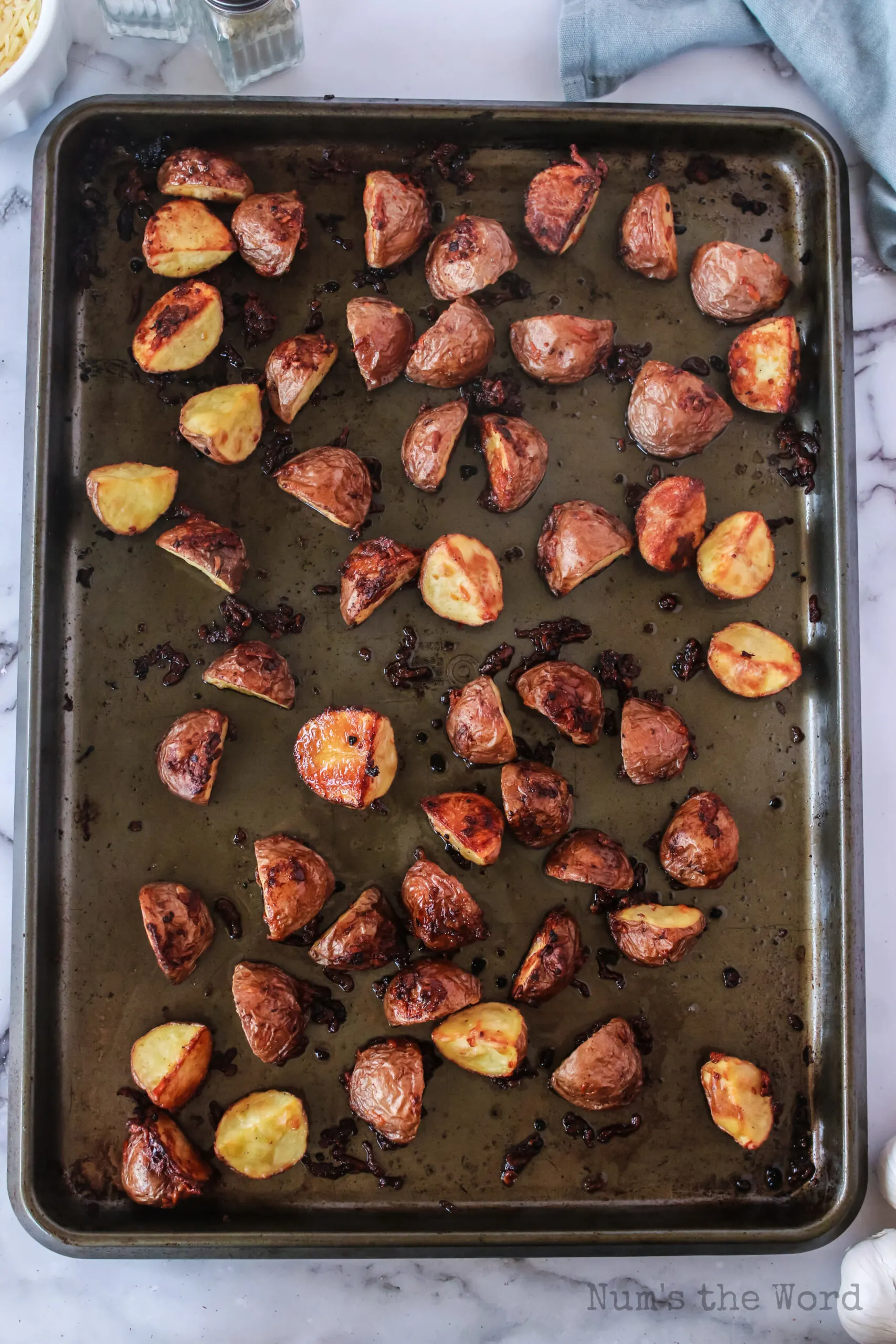 What to Serve with Garlic Roasted Red Potatoes
These golden, crispy roasted red potatoes pair wonderfully with a bunch of different main dishes.
But they also go really well with other side dishes! So they're great for serving all the time! Holidays? Yep! Potlucks? Yep! Parties? All of the above!
Here are some recipes I love that you should try: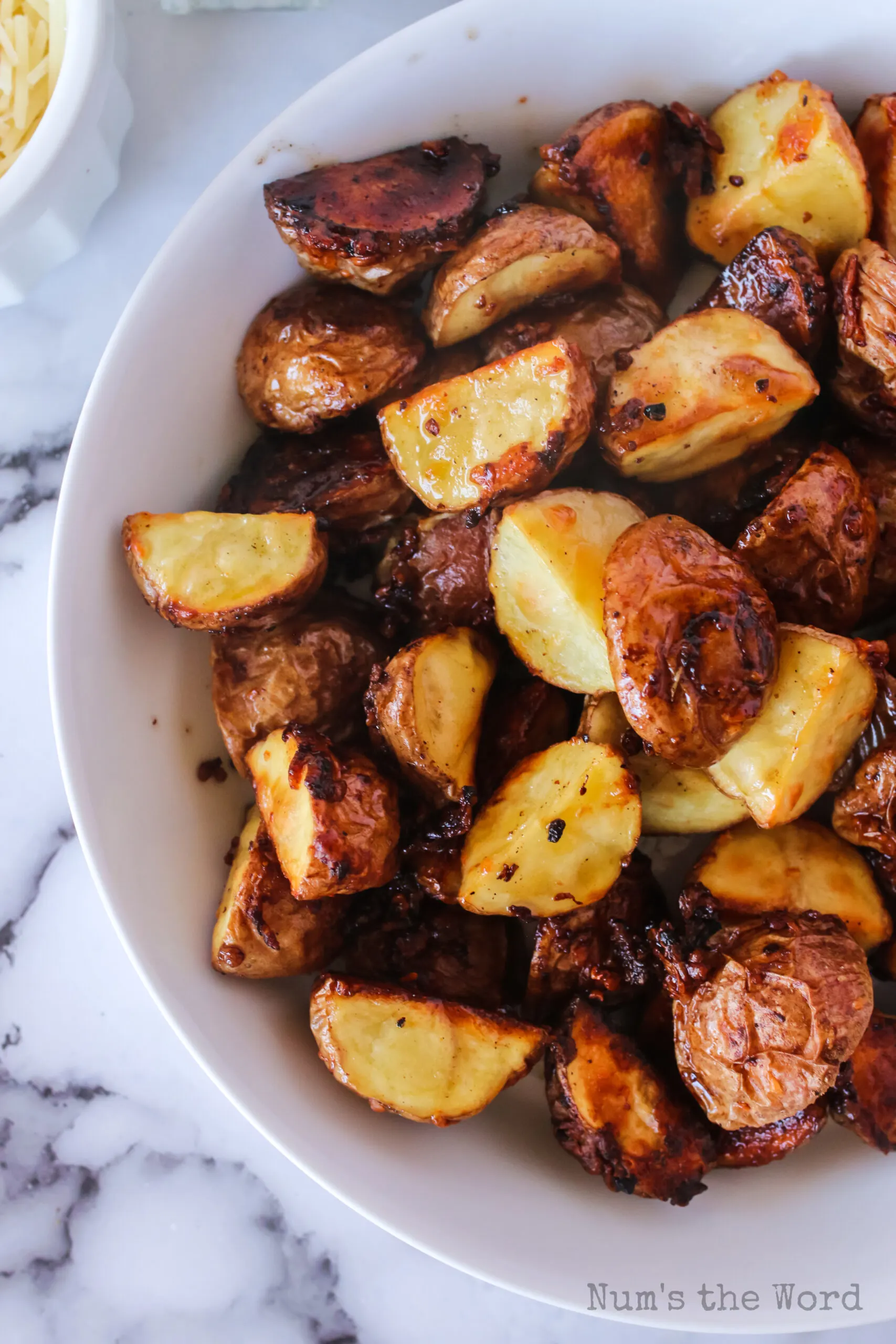 Can You Freeze Roasted Potatoes?
Yes, you absolutely can!
Once cooled to room temperature, place them in an airtight container, where they'll last for a few months in the freezer.
Don't forget to write "Roasted Potatoes" and the date on the package so you don't forget it in the freezer.
How to Reheat Roasted Potatoes
When it's time to enjoy your roasted potatoes, spread them out on a baking sheet and warm them up in a hot oven.
This helps them keep their crispy edges.
I don't recommend reheating them in the microwave but you can if you want. The skin will just be softer than in the oven.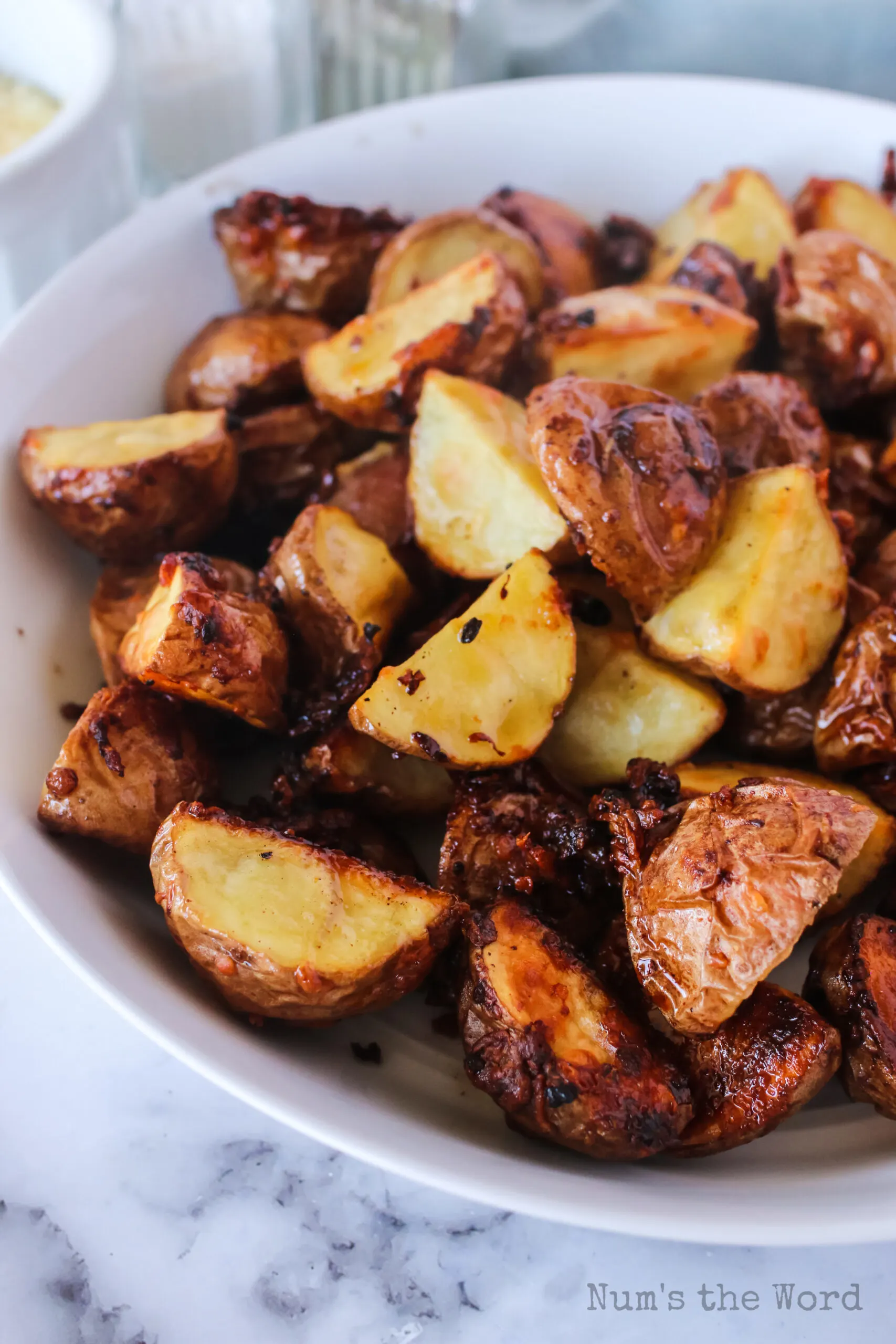 What Meat Goes Well with Roasted Potatoes?
These crispy potatoes are a fantastic side for various kinds of meat.
They're a classic pairing with roast chicken, tender pork chops, and even a juicy steak.
Here are some meat recipes you should definitely check out:
Pretzel Crusted Chicken
Pan Fried Steaks
Baked Pork Chops
Slow Cooker BBQ Chicken
Smoked Pork Butt
These garlic potatoes are indeed a tasty side dish that everyone loves!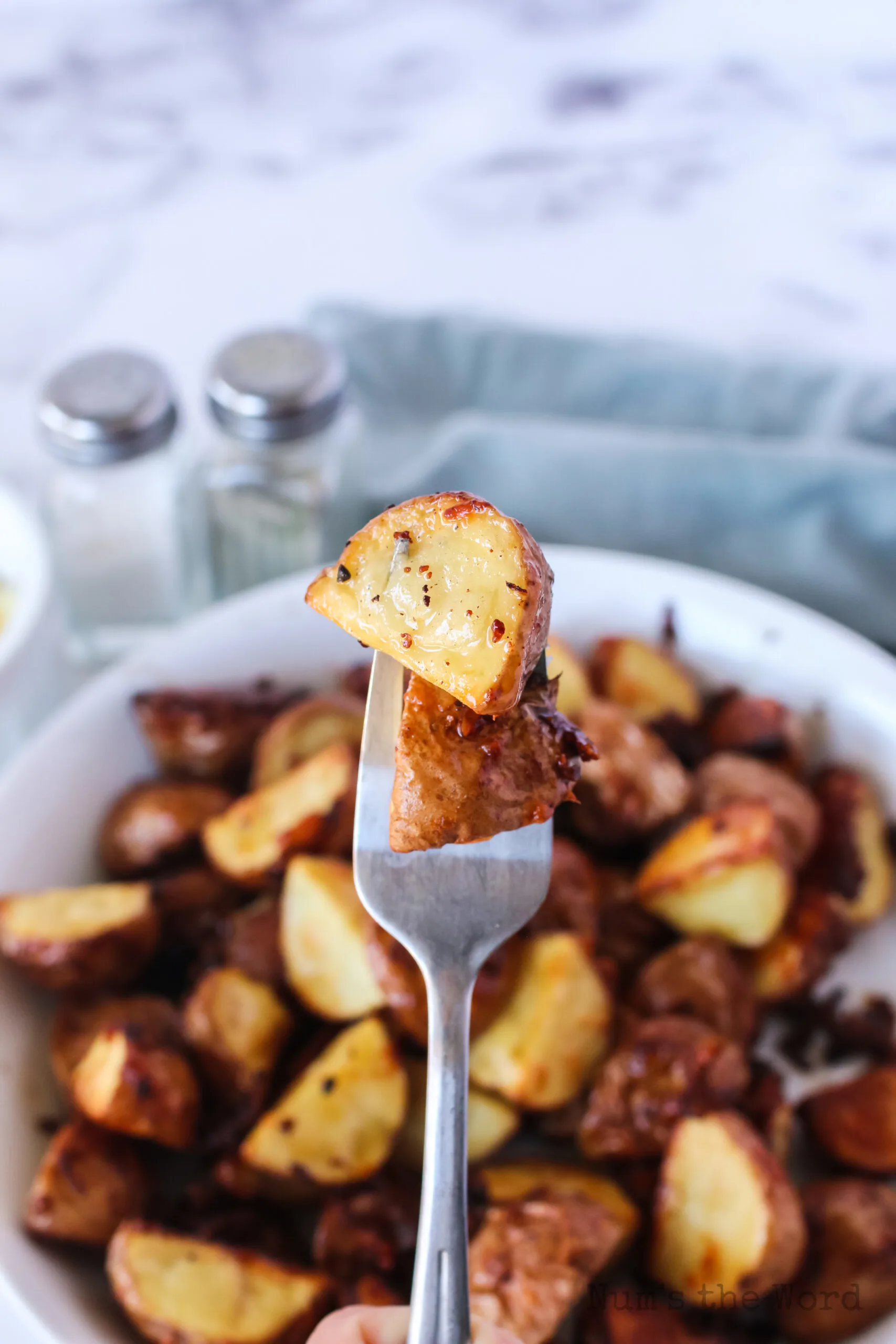 Ready to whip up these Garlic Roasted Red Potatoes for dinner tonight? Preheat your oven, grab your sheet pan, and let's create a simple side dish that's sure to impress!
Yield: 6 Servings
Garlic Roasted Red Potatoes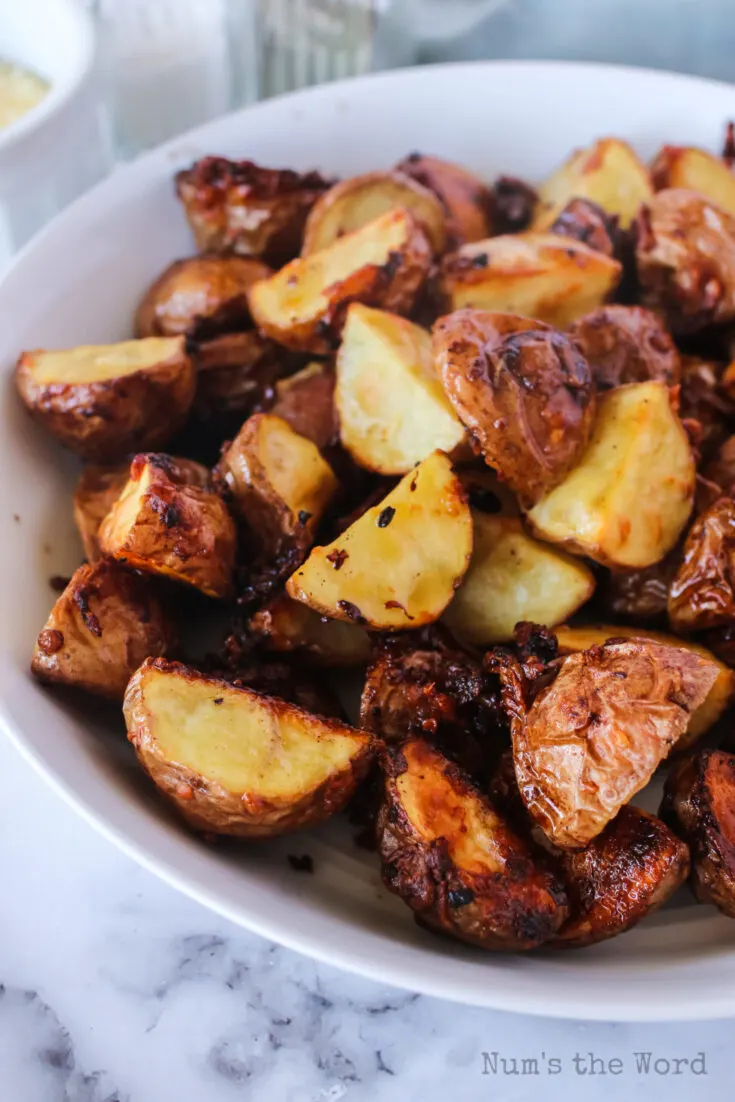 Savor the delight of Garlic Roasted Red Potatoes, a simple recipe delivering crispy edges, fluffy insides, and a punch of garlicky goodness!
Ingredients
Instructions
Preheat oven to 400*F
In a large bowl combine melted butter, garlic, salt and parmesan cheese.
Wash and dry potatoes to remove any dirt and debris.
Cut red potatoes into 1 inch chunks. Smaller potatoes may only need to be cut in half, while larger potatoes either quartered or into 8ths.
Add potatoes to butter mixture and toss to evenly coat potatoes.
Spread potatoes onto a baking sheet so they are in one layer.
Bake for 45 minutes to 1 hour, flipping every 15 minutes.
Once potatoes are fork tender, remove from the oven and serve immediately.
Nutrition Information:
Yield:
6
Serving Size:
1
Amount Per Serving:
Calories:

231
Total Fat:

10g
Saturated Fat:

6g
Trans Fat:

0g
Unsaturated Fat:

3g
Cholesterol:

25mg
Sodium:

368mg
Carbohydrates:

30g
Fiber:

3g
Sugar:

2g
Protein:

6g