Instant Pot Honey Mustard Ham is not just any ham! It takes a simple spiral ham and turns it into a juicy, yummy main dish with the help of an Instant Pot.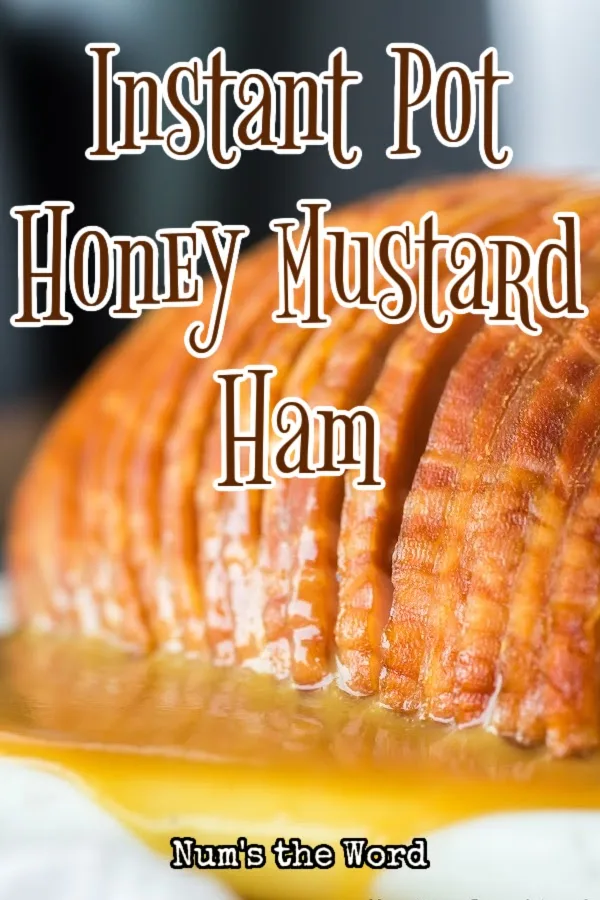 Imagine biting into a slice of ham that's both sweet and a bit tangy, and oh-so-tender! Plus that little splash of pineapple juice adds a fun twist.
You only need a few items to make this tasty ham. It's as simple as mixing some ingredients together and letting your Instant Pot do its magic.
The Instant Pot makes this dish quick to cook. You can make the ham in a fraction of the time compared to other cooking methods. Score!
And the glaze is bursting with flavor thanks to the honey, Dijon mustard, and brown sugar. It makes the ham taste sweet and tangy at the same time.
Plus this ham goes well with many other dishes. So, you can mix and match it with your favorite sides.
Also you can use leftover ham in lots of different ways. Think about ham sandwiches for lunch, or chopped up in salads or soups. Yum!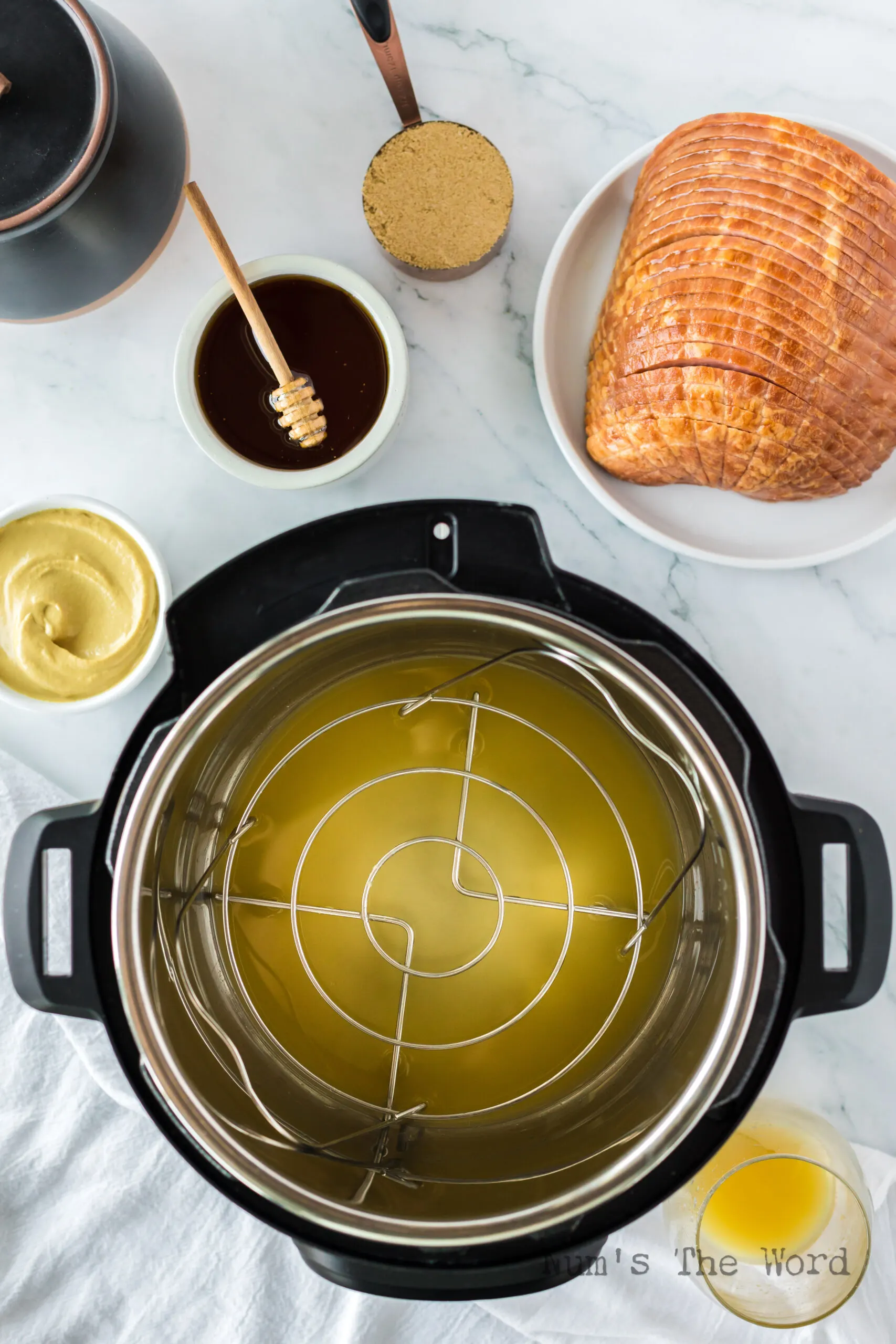 What Ingredients are in Instant Pot Honey Mustard Ham?
Whether you're making this holiday ham for special occasions or just for the family, you'll only need a few simple ingredients:
Spiral Cut, Boneless Ham: This is what you're going to turn into a yummy main dish. The spiral cut makes it super easy to serve.
Honey: This makes the ham sweet in a natural, yummy way.
Dijon Mustard: This adds a tangy kick that goes great with the sweet honey.
Brown Sugar: More sweetness! It also helps the ham get a nice color on the outside.
Pineapple Juice: This adds a fun, tropical flavor to the ham. Plus, it helps make the ham tender.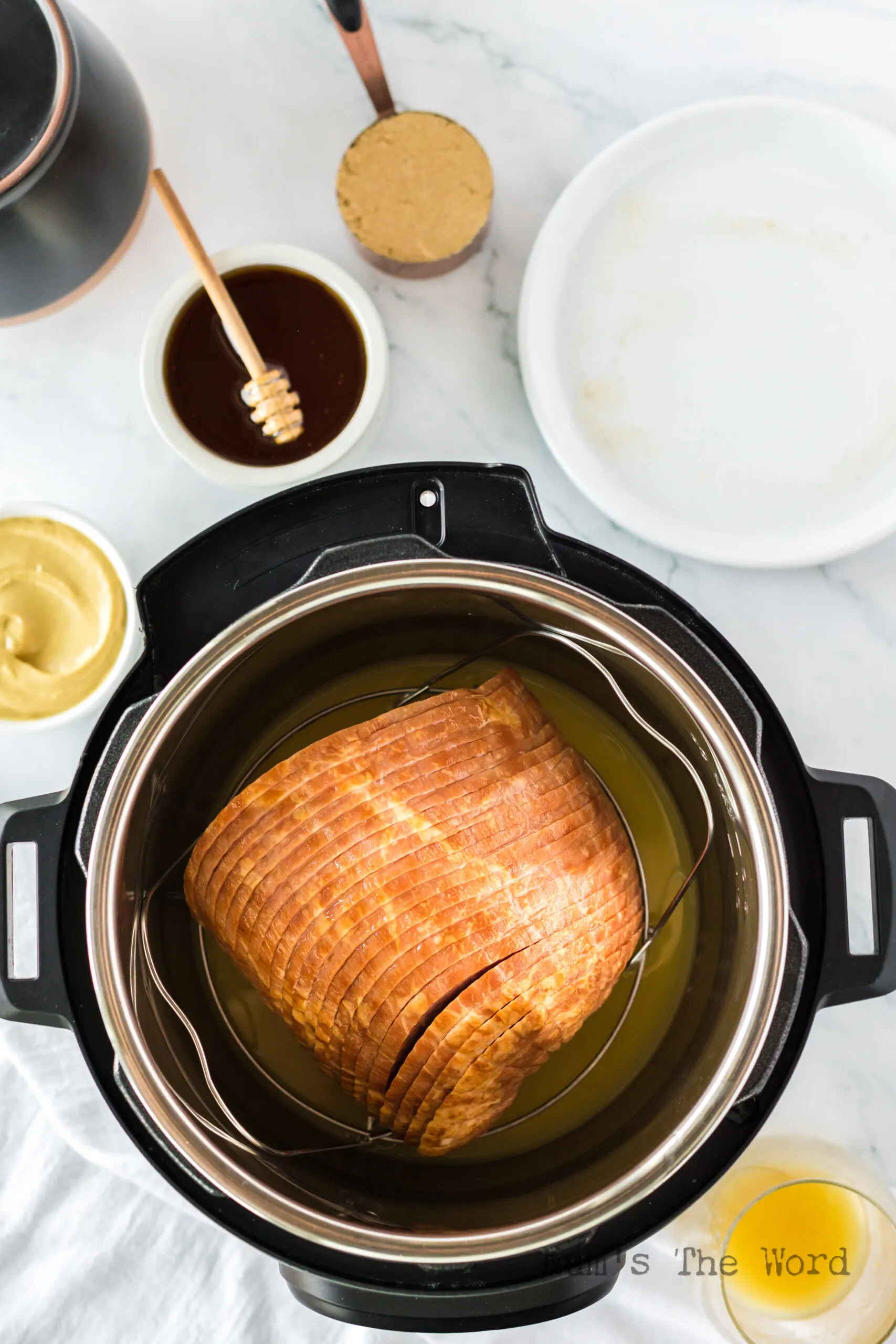 How to Make Honey Mustard Glaze for Ham
The glaze is a breeze to make for this instant pot mustard ham. Just put honey, Dijon mustard, brown sugar, and a bit of pineapple juice into a small bowl.
Stir them all together, and there you go!
Don't worry about precooking your ham glaze. It'll cook right on your juicy ham.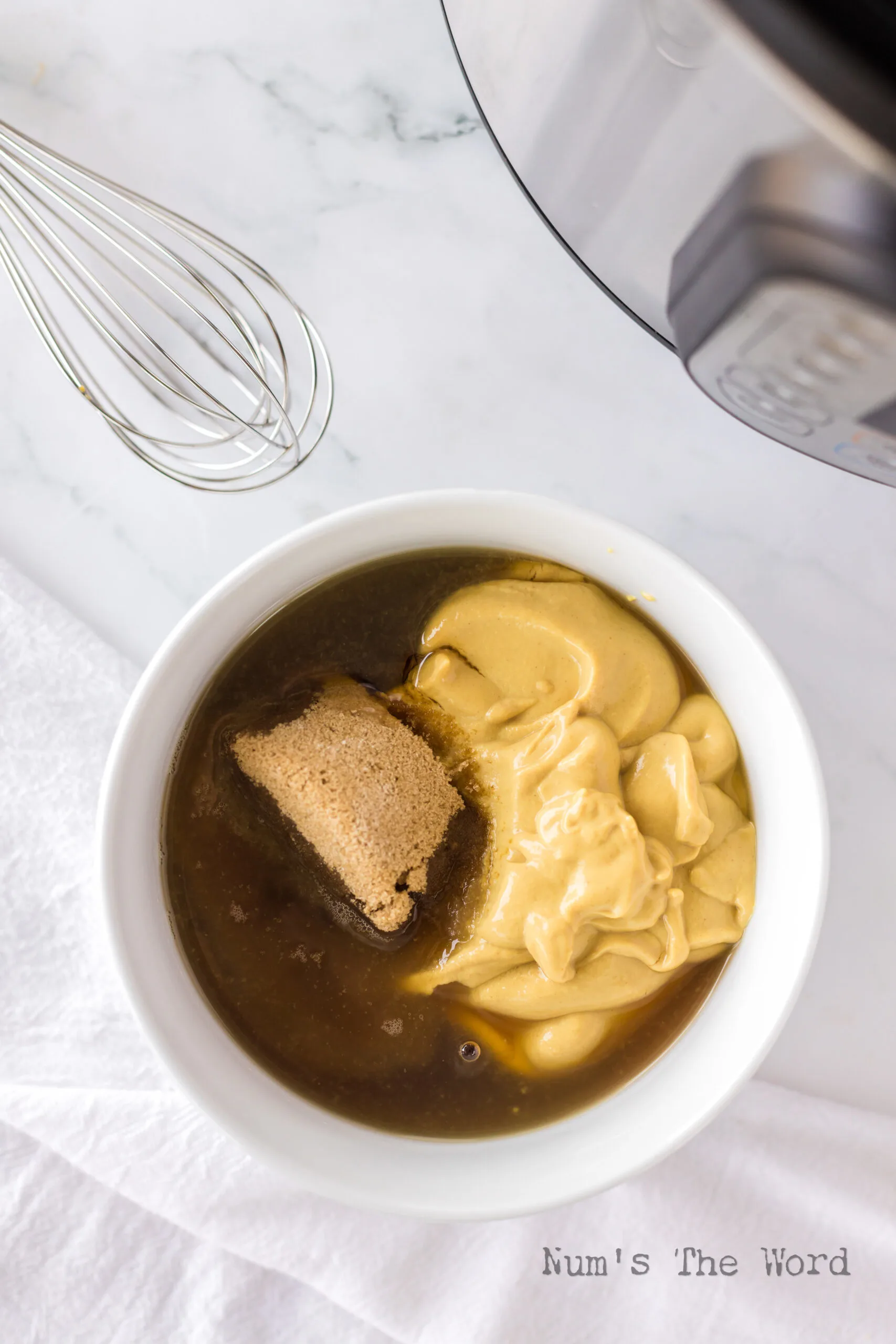 How to Make Instant Pot Honey Mustard Ham
The delicious honey and Dijon mustard makes the best honey mustard ham for any holiday meal. Here's how to make it:
First, set up your Instant Pot with a trivet and pour in some pineapple juice.
Then, wash your ham and place it in the pot.
Slather the top of the ham with the honey mustard glaze.
Let your Instant Pot work its magic under high pressure.
Once the ham's cooked, take it out. Now you have a delicious ham gravy left in the pot that you can thicken and pour over your ham.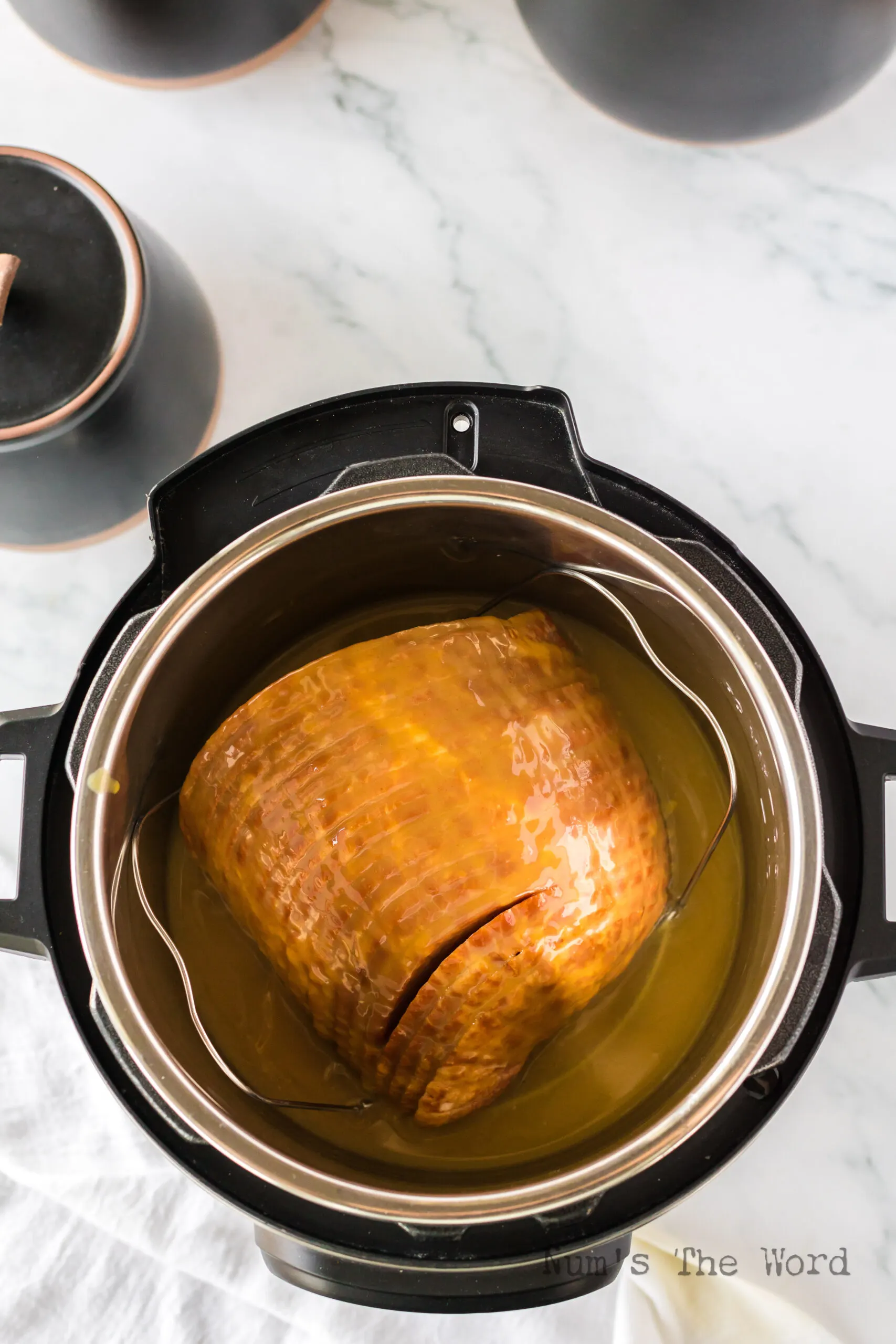 Can I Use Dijon Mustard for Instant Pot Honey Mustard Ham?
You can absolutely use Dijon mustard for this honey mustard ham in the instant pot!
For those who are looking to cut back on the traditional sweet and surgery ham, this mustard ham is a winner.
It has a strong, tangy flavor that makes the ham taste amazing with the sweet honey and brown sugar.
This honey mustard ham glaze is so easy, you'll want to start making it every year!
If you don't have Dijon and don't want to run to the grocery store, you can always substitute with regular yellow mustard, however the tang will be stronger.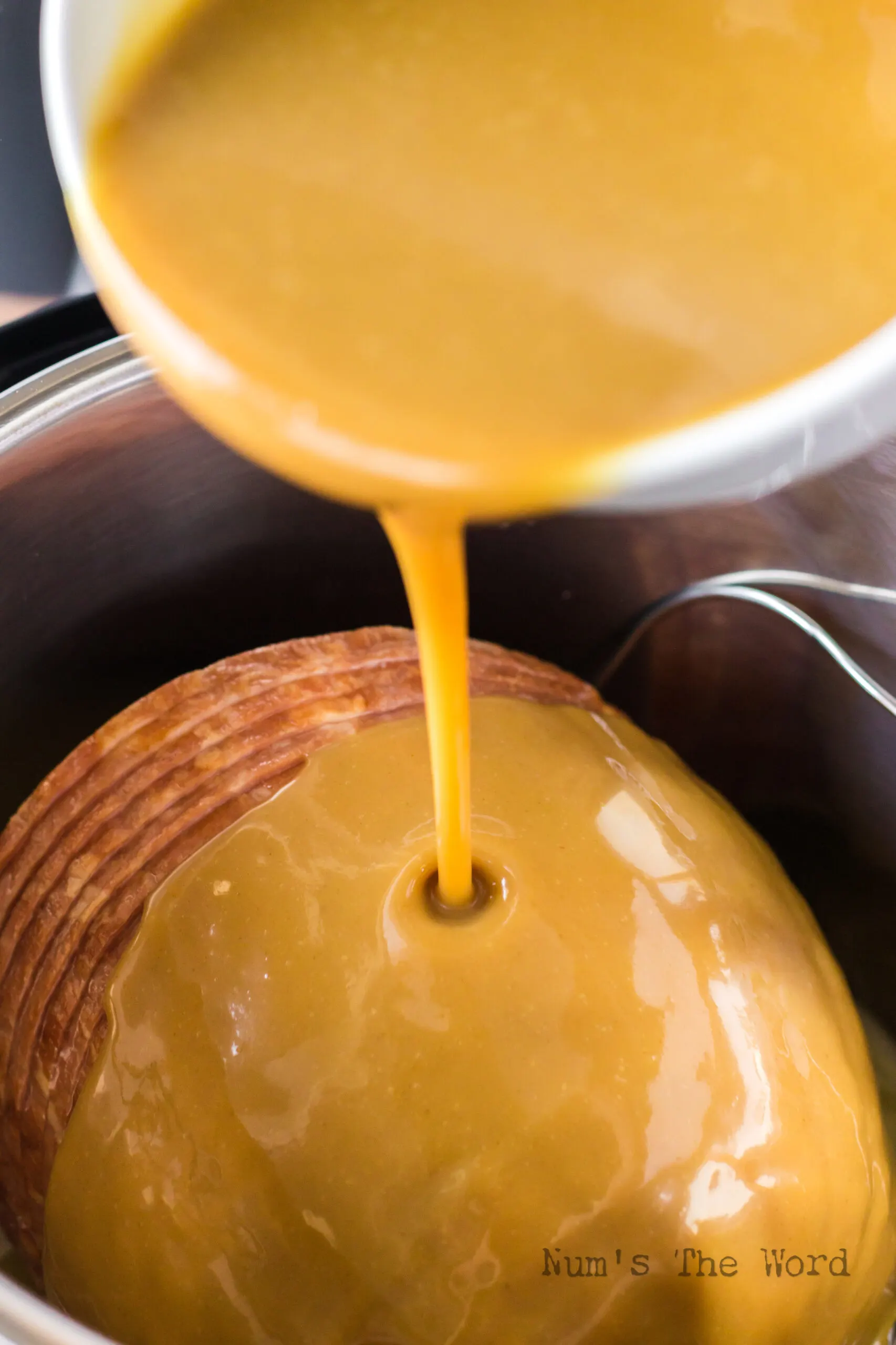 What are Some Side Dishes for Instant Pot Honey Mustard Ham?
Your Insta Pot mustard ham will be the star of the dinner table, but it loves company!
Some of our favorite recipes to get you started are: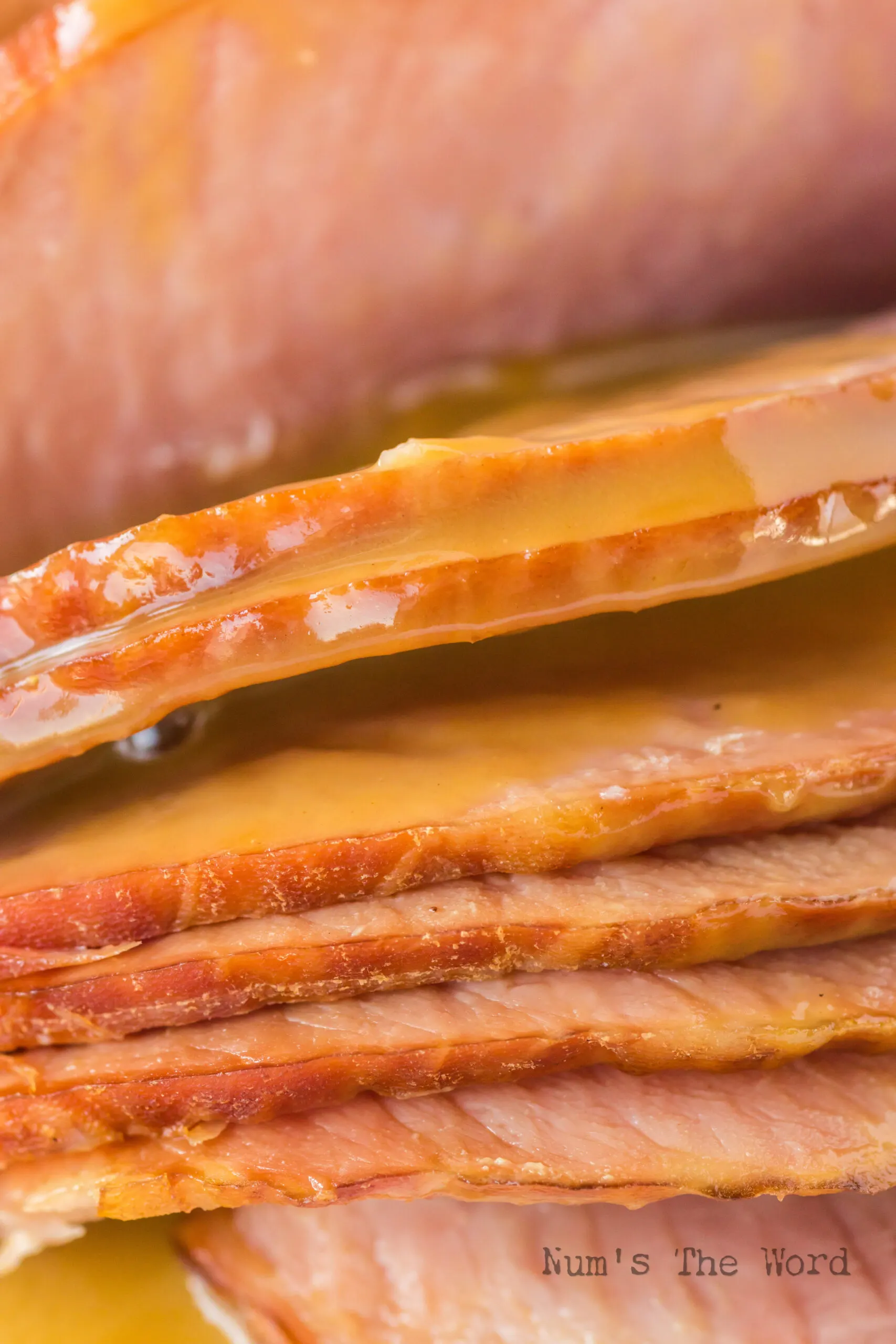 How Long Does it Take to Make Instant Pot Honey Mustard Ham?
The exact time to cook a mustard ham in the instant pot can vary depending on the size of your ham and your Instant Pot.
But using an Instant Pot means you can have your ham ready way quicker than with an oven. That's one of the best things about this recipe!
For an 8-10 pound ham (which is about as big as will fit in your pot) it should take about 10 minutes on high pressure.
Don't forget that doesn't include the time it takes to build up the pressure so plan accordingly.
Then you'll do a quick release of the pressure so don't worry about that time.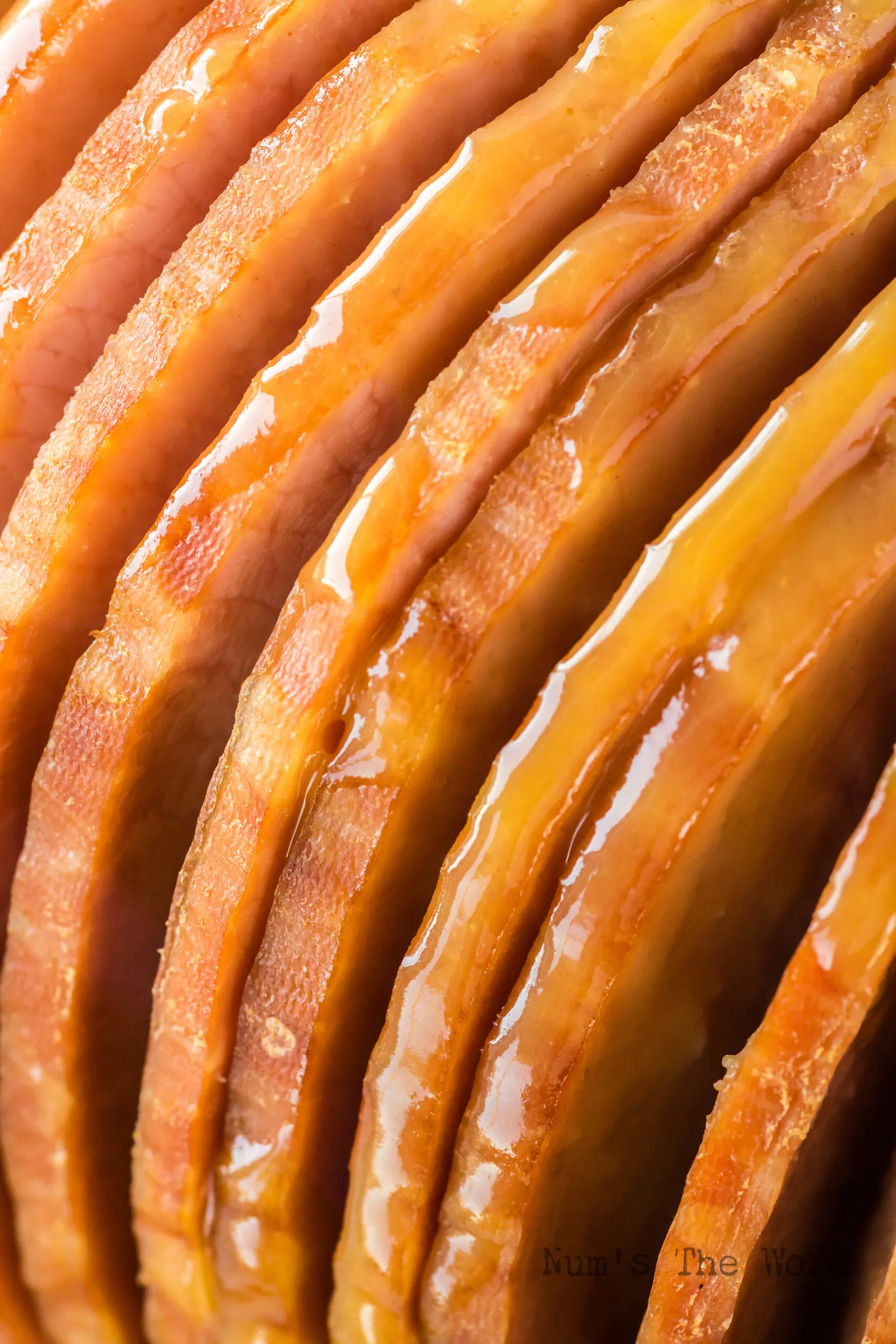 Do I Use a Bone in or Boneless Ham for an Instant Pot Honey Mustard Ham?
Either type of ham can work, but for this instant pot recipe, we're using a boneless spiral cut ham.
The spiral cut makes it super easy to serve and eat.
Bone-in ham actually takes longer to cook so if you are cooking that, you may need to add a few extra minutes to the cooking time.
You'll know when your ham is done if it reaches an internal temperature of 145 degrees.
How to Store Leftover Honey Mustard Ham
Storing leftover ham from your holiday table is a breeze.
Just pop it in an airtight container and put it in the fridge. You can enjoy the ham for several days.
I recommend waiting until the ham has cooled to room temperature before transferring.
Don't store it at room temperature though as meat should always be kept cool when storing.
How to Reheat Leftover Honey Mustard Ham
Reheating this perfect ham is easy. Just wrap it in aluminum foil and warm it up in the oven.
If you are just reheating a small piece you can also reheat it in the microwave.
Just be careful not to recook! Because then your meat will be dry. You just needed heated through, not cooked again.
Can I Freeze Honey Mustard Ham?
Absolutely! Wrap it in aluminum foil, then put it in a freezer bag. You can freeze it for up to two months.
This makes it great for Christmas or Easter. When you're busy with the holidays, it's great to just pull out your ham you've already made!
This is a delicious and easy way to make a special ham in your Instant Pot. Your whole family is sure to love it.
This Instant Pot Ham Recipe is perfect for holiday dinners or just a cozy family dinner. So why wait? Give it a try and enjoy your juicy, flavorful honey mustard ham!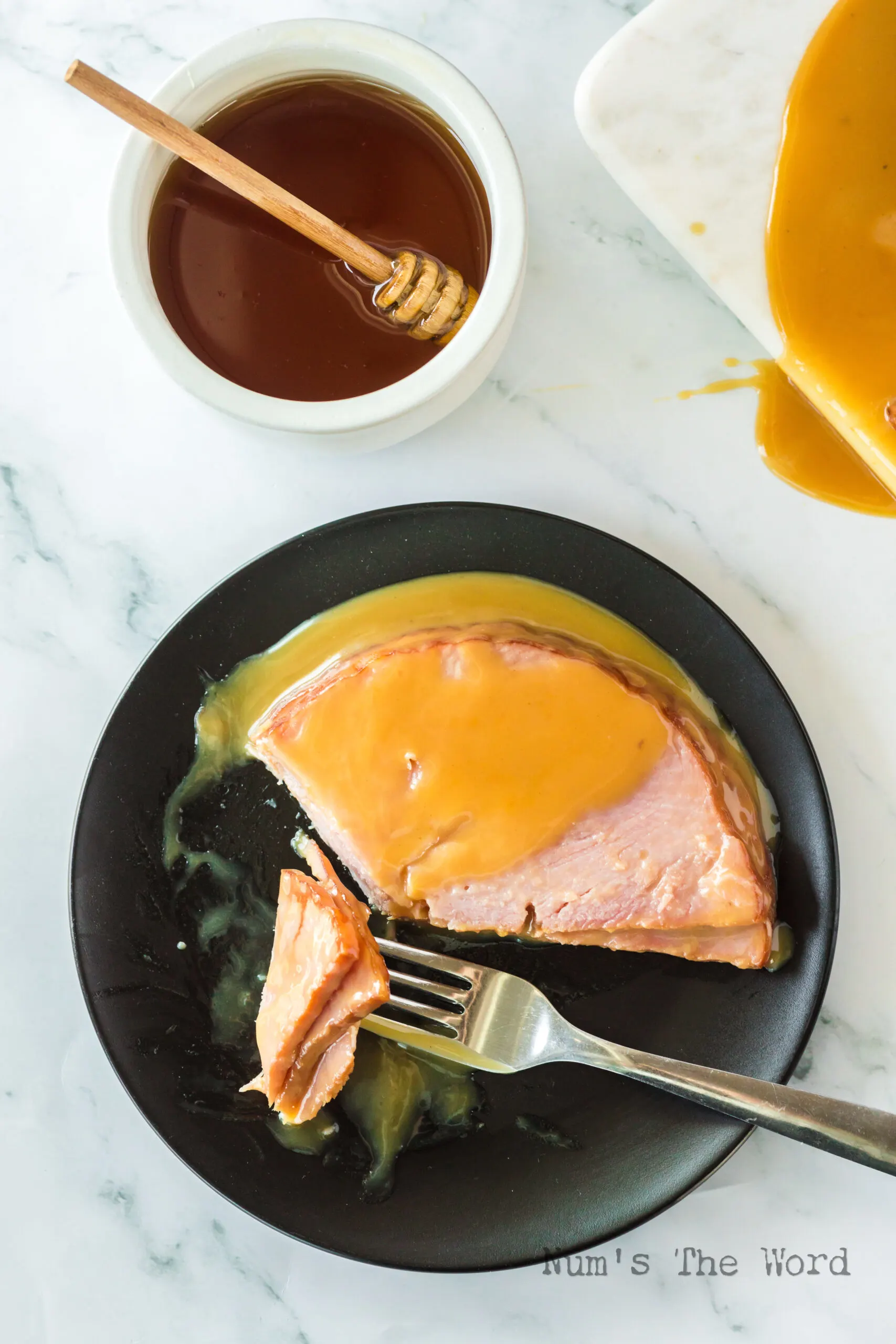 Discover the magic of making a super tasty Honey Mustard Ham in your Instant Pot! Quick, easy, and loved by the whole family.
Yield: 16 Servings
Instant Pot Honey Mustard Ham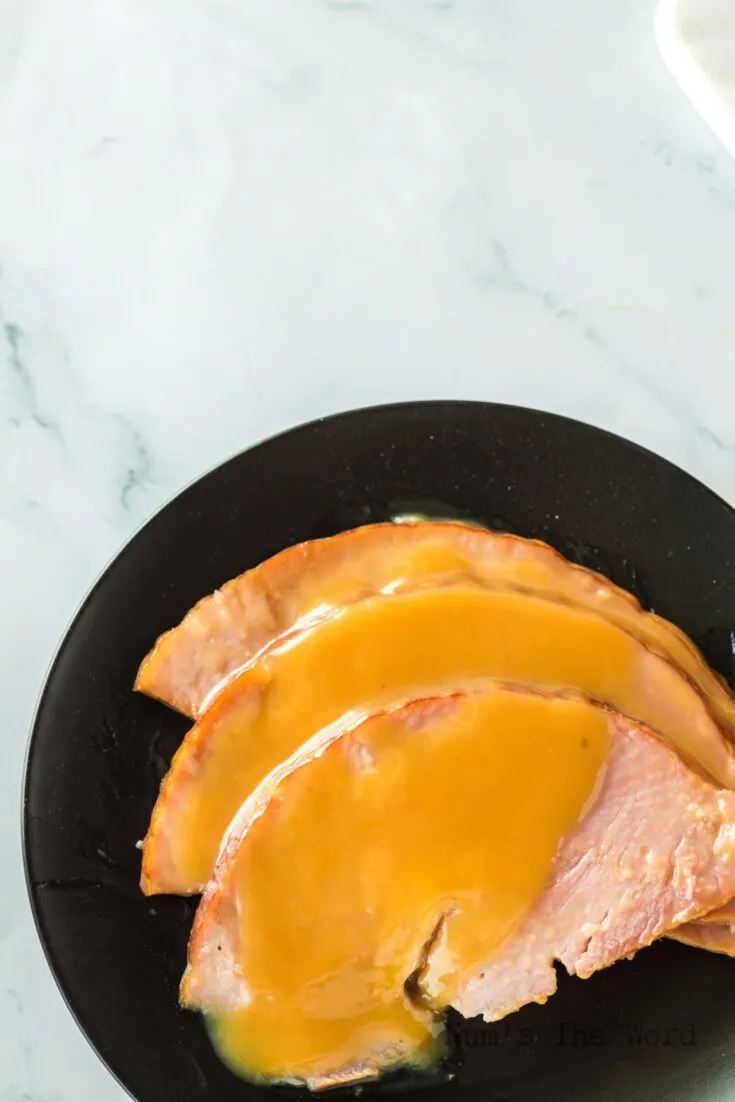 Instant Pot Honey Mustard Ham is not just any ham! It takes a simple spiral ham and turns it into a juicy, yummy main dish with the help of an Instant Pot.
Additional Time
10 minutes
Ingredients
Instructions
Place the trivet with handles that came with your instant pot inside your instant pot.
Add ¾ cup pineapple juice to the bottom of your instant pot.
Open ham and remove the glaze packet. Throw the glaze packet away.
Rinse ham and place inside the instant pot, cut side down
In a small bowl combine honey, Dijon mustard, brown sugar and ¼ cup pineapple juice. Mix well.
Spread all of the honey mustard sauce over the ham.
Close the lid and seal the instant pot.
Cook on high pressure for 10 minutes. Instant pot will take about 8 minutes to come to pressure.
After the ham is finished cooking, press cancel and flip the pressure value to open.
Once pressure has been removed, open the lid and carefully using hot mitts, remove the trivet insert with ham. Place on a serving platter.
Press the Sauté function of the instant pot and bring the mixture to a boil.
In a small bowl combine 1 teaspoon cornstarch and 2 teaspoons water. Mix well.
Add cornstarch slurry to the instant pot and boil for 1 minute.
Hit cancel and spoon thickened ham gravy over ham.
Cut and serve immediately.
Nutrition Information:
Yield:
16
Serving Size:
1
Amount Per Serving:
Calories:

116
Total Fat:

1g
Saturated Fat:

0g
Trans Fat:

0g
Unsaturated Fat:

1g
Cholesterol:

5mg
Sodium:

490mg
Carbohydrates:

26g
Fiber:

1g
Sugar:

25g
Protein:

3g