This Cornflake Chicken and Rice Casserole is an all-time favorite in my house! Creamy, delicious, easy, and perfect for weeknight dinners!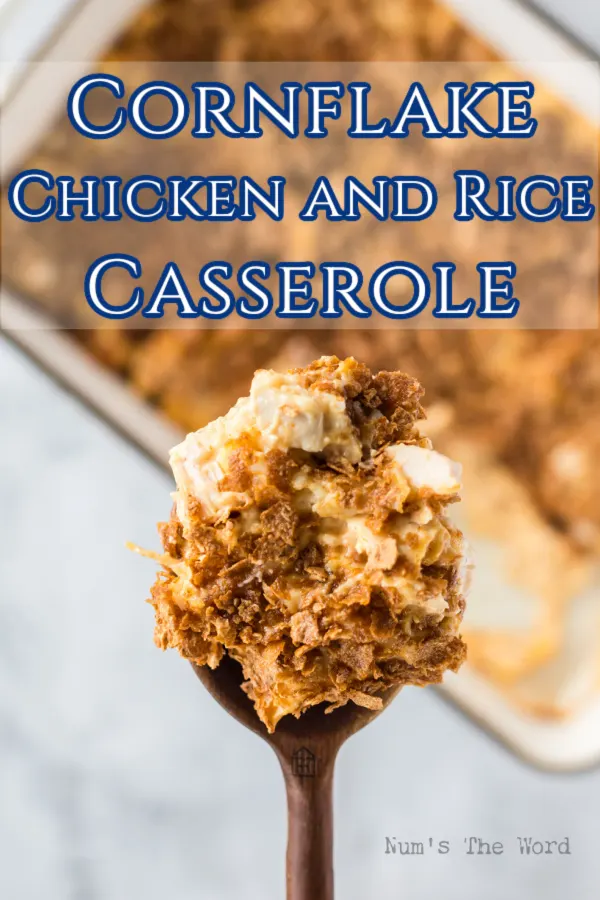 Oh yes! Creamy sauce covering tender pieces of rotisserie chicken and fluffy rice. Then baked until golden brown with a crunchy layer of cornflakes on top. Sooo good!
This is an easy chicken recipe that works perfectly as a main dish casserole for those busy nights.
It's the ultimate comfort food recipe, warming your heart and belly.
Creamy rice and chicken casserole uses simple ingredients you probably already have on hand.
Plus the crunch of cornflakes is a great texture contrast to the creamy sauce.
It's easy to customize this creamy chicken and rice casserole recipe too – feel free to add in some mixed vegetables!
And leftovers are amazing. It's a great next-day lunch or even a meal prep for the whole week.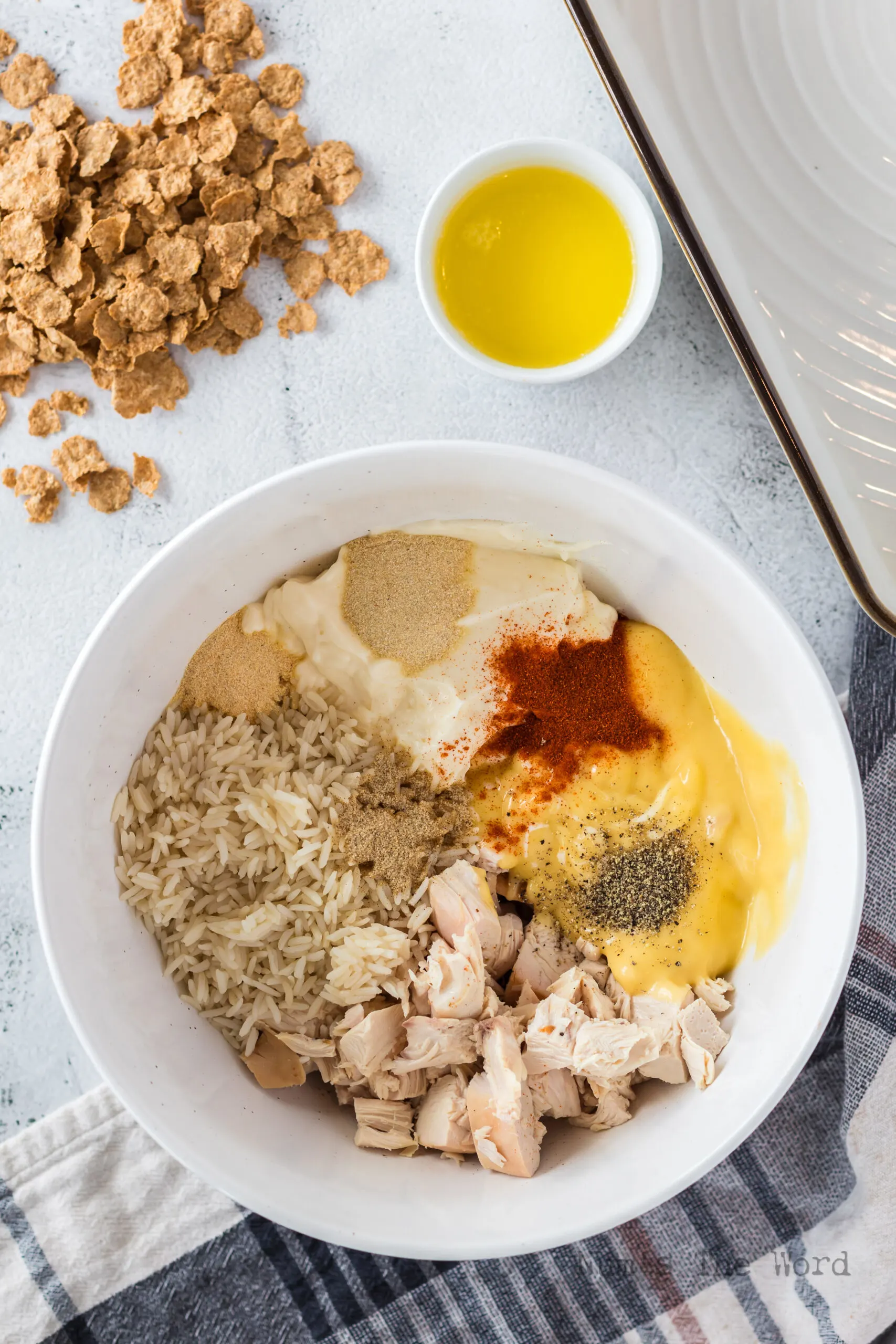 What Ingredients are in Cornflake Chicken and Rice Casserole
This is one of our favorite meals! It's an easy dinner for a busy night and definitely going to be a family favorite!
Rotisserie Chicken: The star of the dish, providing protein and flavor.
Cream of Chicken Soup: Adds a rich, creamy base to the casserole.
Mayonnaise: Enhances the creamy texture and adds a slight tanginess.
Cooked Rice: For heartiness. Both white rice and brown rice work.
Lemon Juice: Brightens the flavor profile.
Onion Powder and Garlic Powder: Key seasonings for extra depth of flavor.
Paprika, Season Salt, and Black Pepper: A trio of spices that add a warm, kind of savory touch.
Cornflakes: They create the perfect crunchy top layer when baked.
Melted Butter: Gives a nice golden brown color and extra richness to the cornflakes.
Pro Tips:
Use leftover chicken and leftover rice to make your life easier and meal prep quicker.
You could also cook skinless chicken breasts if you have no leftover or rotisserie chicken.
Use real ingredients wherever possible and check expiration dates.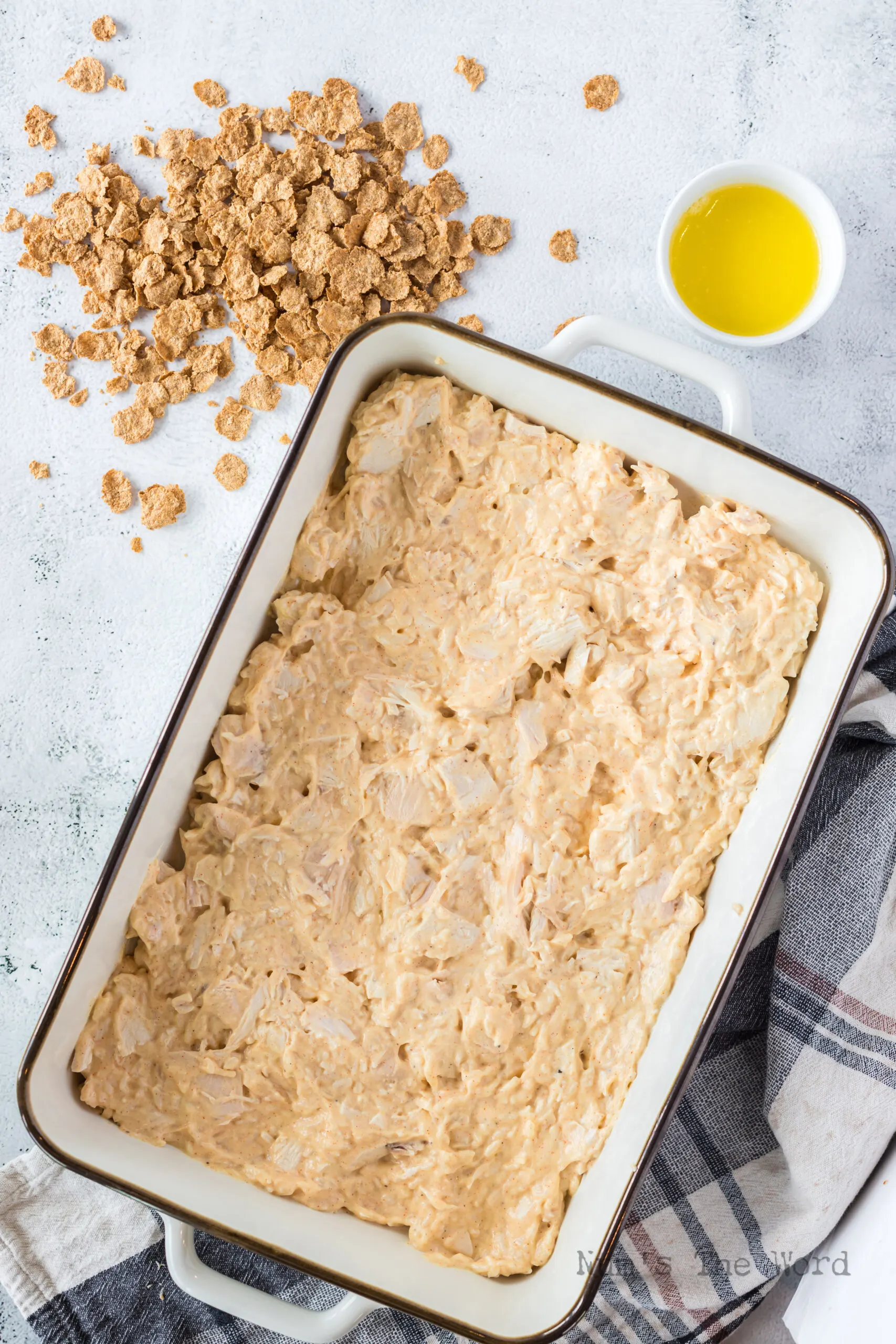 How to Make Cornflake Chicken and Rice Casserole
Creamy chicken rice casserole is full of tender rice and delicious chicken pieces. Here's how to make it:
Preheat your oven, and get your casserole dish ready.
In a large bowl, mix chicken, soup, mayo, rice, and seasonings.
Transfer the mixture into the dish, top with cornflakes and butter.
Bake until the top turns golden brown. Serve hot!
Pro Tip:
For best results, make sure your rice is well-cooked but not mushy. You can even use instant rice if you're in a hurry.
If your oven runs hot, reduce the cook time so you don't burn it.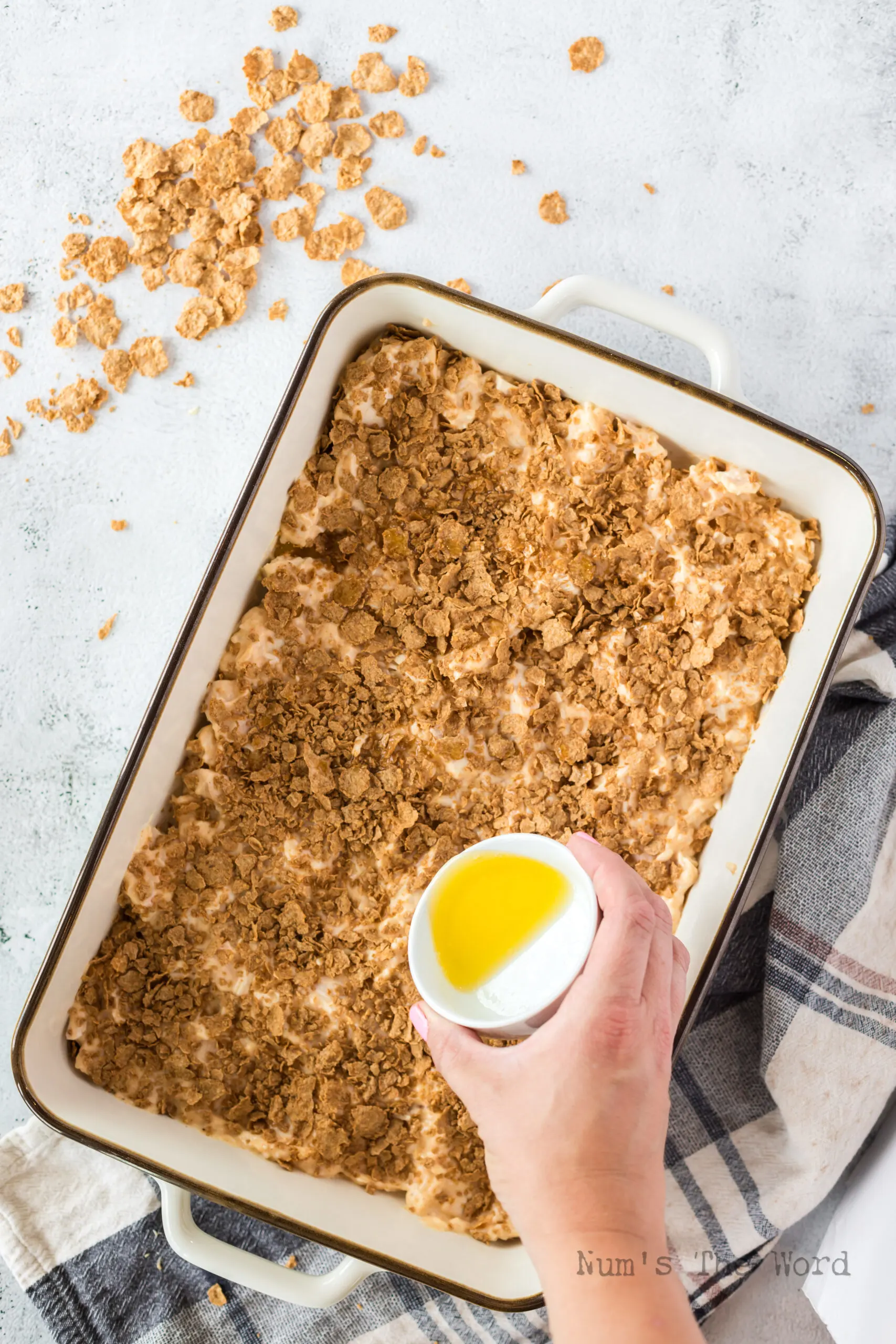 What to Serve with Cornflake Chicken and Rice Casserole
This is the chicken and rice with cornflakes recipe is a complete meal on its own. Seriously! It can feed even the hungry teens!
But you can amp it up with a side dish of vegetables for sure! It would go great with green beans or a crisp salad.
Even some crispy bread would go great for soaking up the creamy sauce.
Here are some side dishes to try it with:
If you've got company coming over, I always recommend making more than one thing. You never know how much someone might eat!
But if it's just you and one or two other people, I really feel like this will fill you up.
You might just want something light on the side for contrast. And you know…eat your veggies and all that.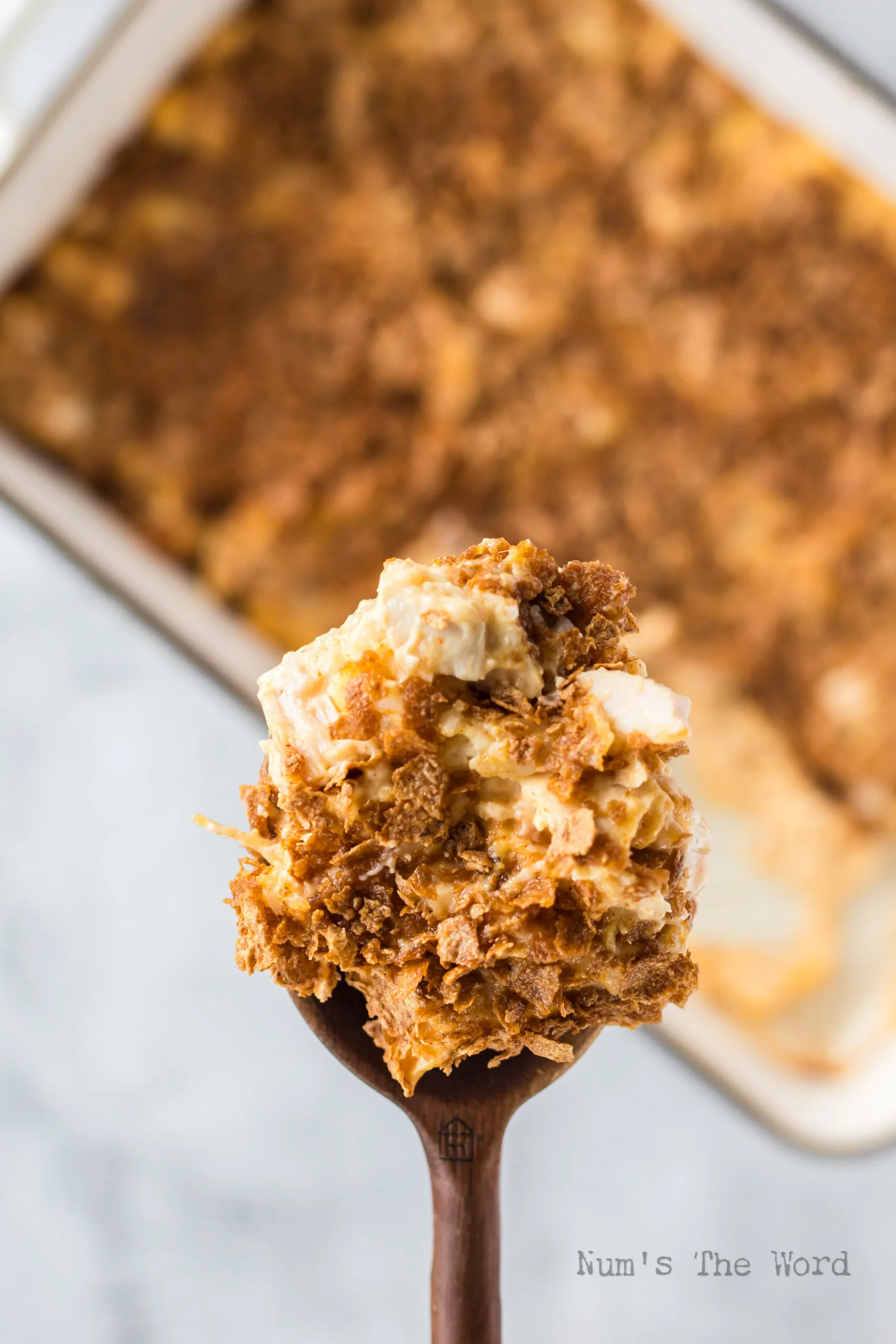 How to Store Leftover Cornflake Chicken and Rice Casserole
Store leftover Cornflake Chicken in an airtight container in the fridge for three to four days.
Reheat in the oven or stove top to maintain the crispy topping.
You can also reheat in the microwave but the topping will be soft.
If you don't mind the texture, It's much faster.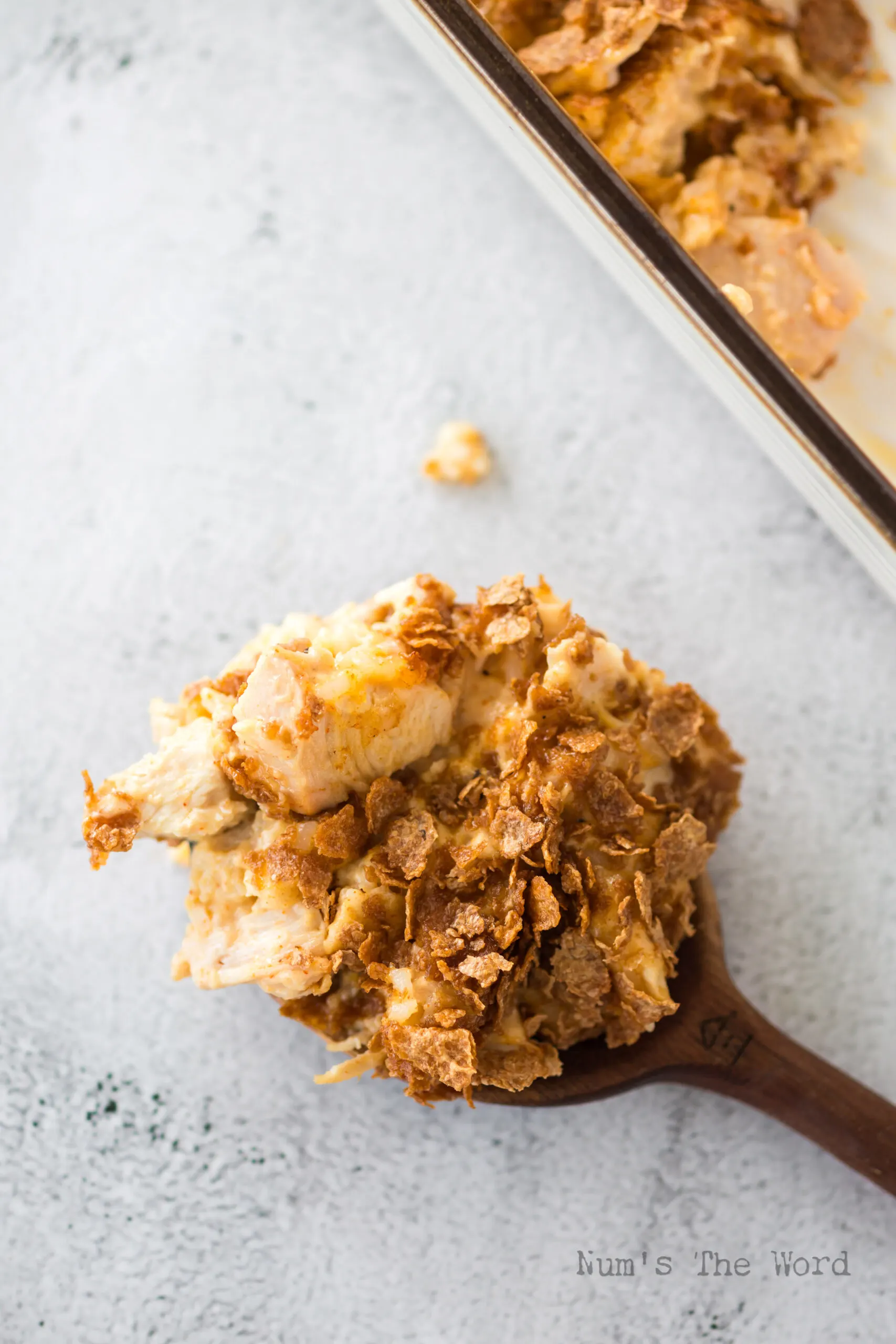 Can You Freeze Cornflake Chicken and Rice Casserole?
Yes, you can freeze this easy cornflake chicken casserole! Just seal it well with aluminum foil or in a freezer meal container to prevent freezer burn.
Thaw overnight in the fridge before reheating. I still recommend the oven here to crisp it back up.
Especially since the freezer really makes the casserole soft.
Don't forget to write the name and date on the aluminum foil. Plus how to reheat it. You don't want to look for it later.
As long as it's sealed well, it'll keep in the freezer for up to three months.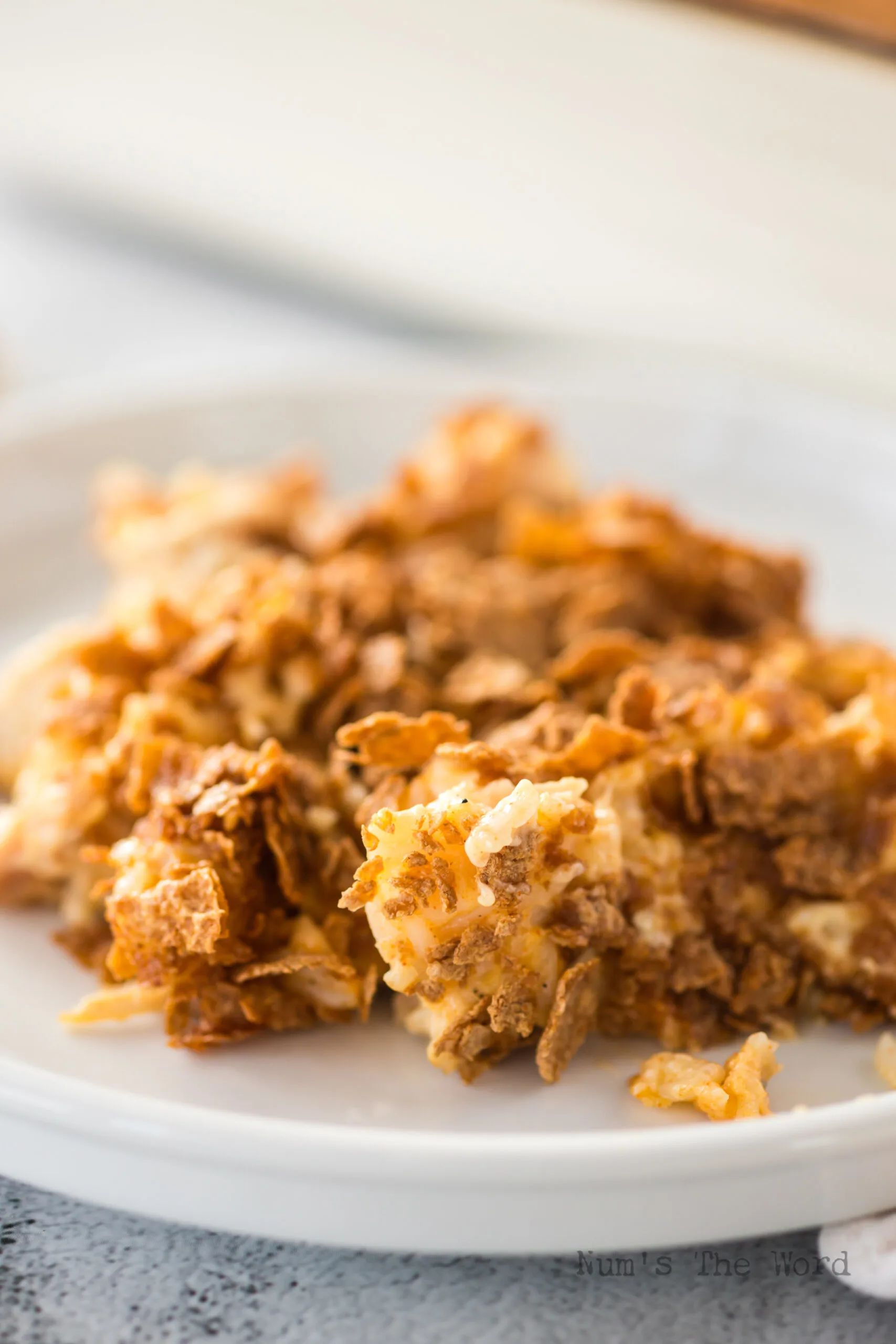 Is Cornflake Chicken and Rice Casserole Gluten Free?
This easy creamy chicken and rice casserole recipe is completely gluten free!
However, you've got to be careful about the ingredients because just because it's gluten free when I make it, doesn't mean it always is.
Check the labels of your cream of chicken soup and cornflakes to be sure, as some brands may contain gluten.
In fact, you should even check the rotisserie chicken.
Those are completely unique to the store you buy them from and I can't guarantee they don't have gluten in them.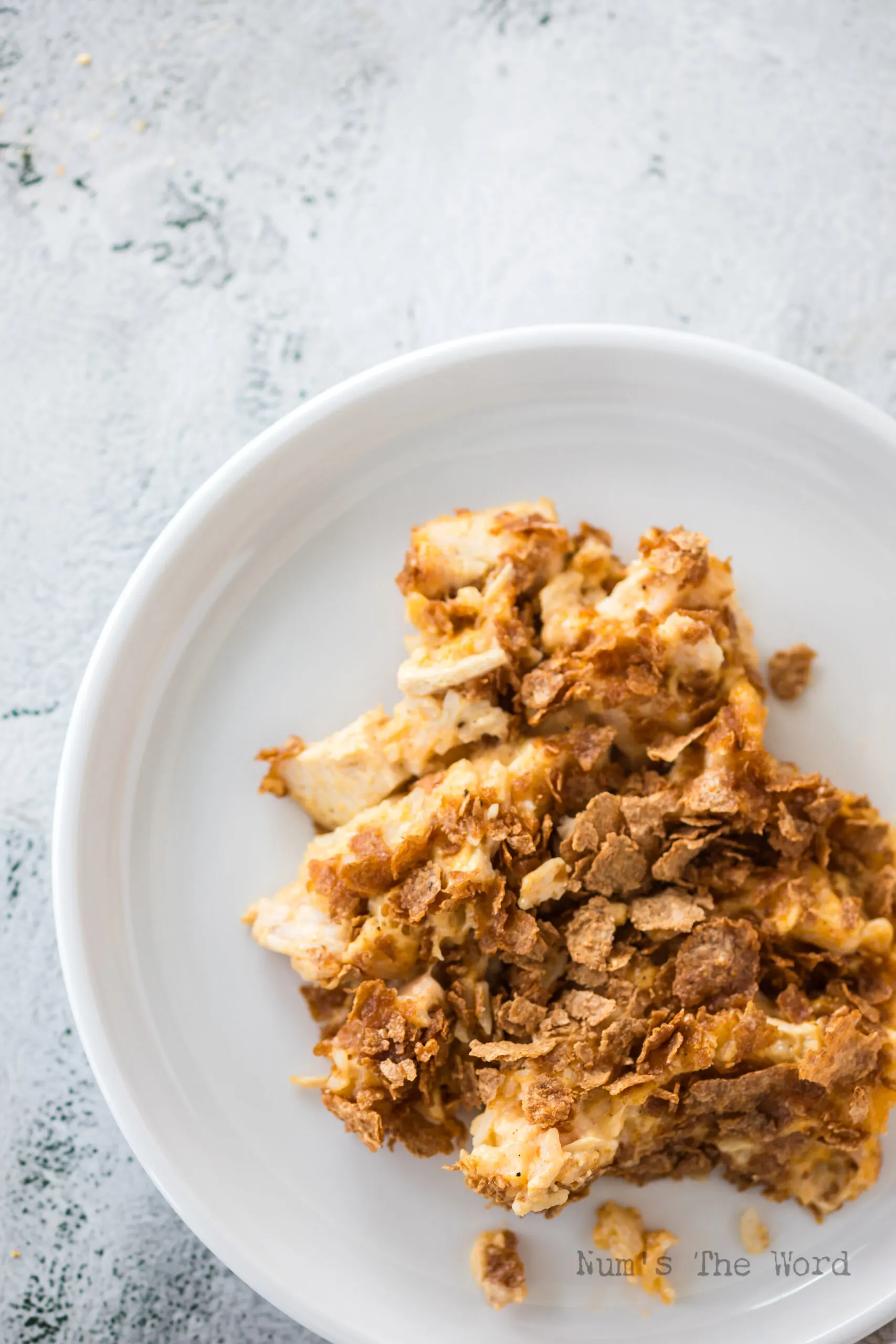 Can I Add a Vegetable to Cornflake Chicken and Rice Casserole?
Yes you can add vegetables to your easy creamy chicken and rice casserole!
Mixed vegetables or even green beans would make a wonderful addition to this creamy casserole.
You can bake them under the bottom of the casserole. Just put them on the bottom and then add everything else on top.
Or you can cook them separately and serve them as a side
We suggest trying corn, green beans, peas, broccoli or cut carrots.
Can Dogs Eat Cornflake Chicken and Rice Casserole?
Unfortunately dogs should not eat this creamy rice and chicken casserole.
This recipe contains ingredients like onion powder and garlic powder that can be harmful to dogs. Stick to their usual dog food!
If your dog accidentally eats some, watch them for any symptoms and call your vet if you need to.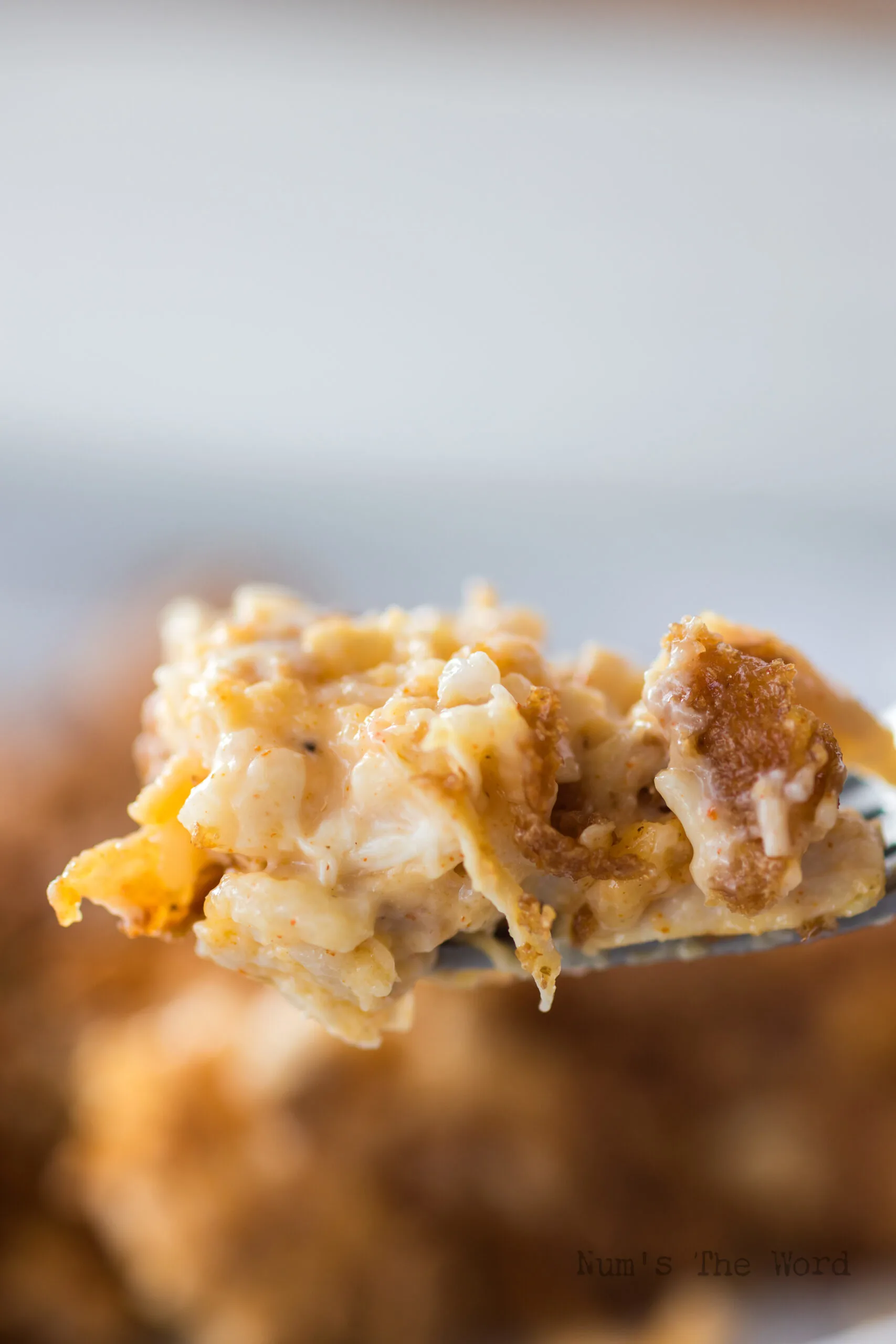 This Cornflake Chicken and Rice Casserole will be one the whole family will love! Hearty, filling, and sooo creamy, it's a hard one to resist!
Whip up a comforting, creamy Chicken and Rice Casserole with this easy recipe! It's quick, easy, and perfect for using up leftovers.
Yield: 8 Servings
Cornflake Chicken and Rice Casserole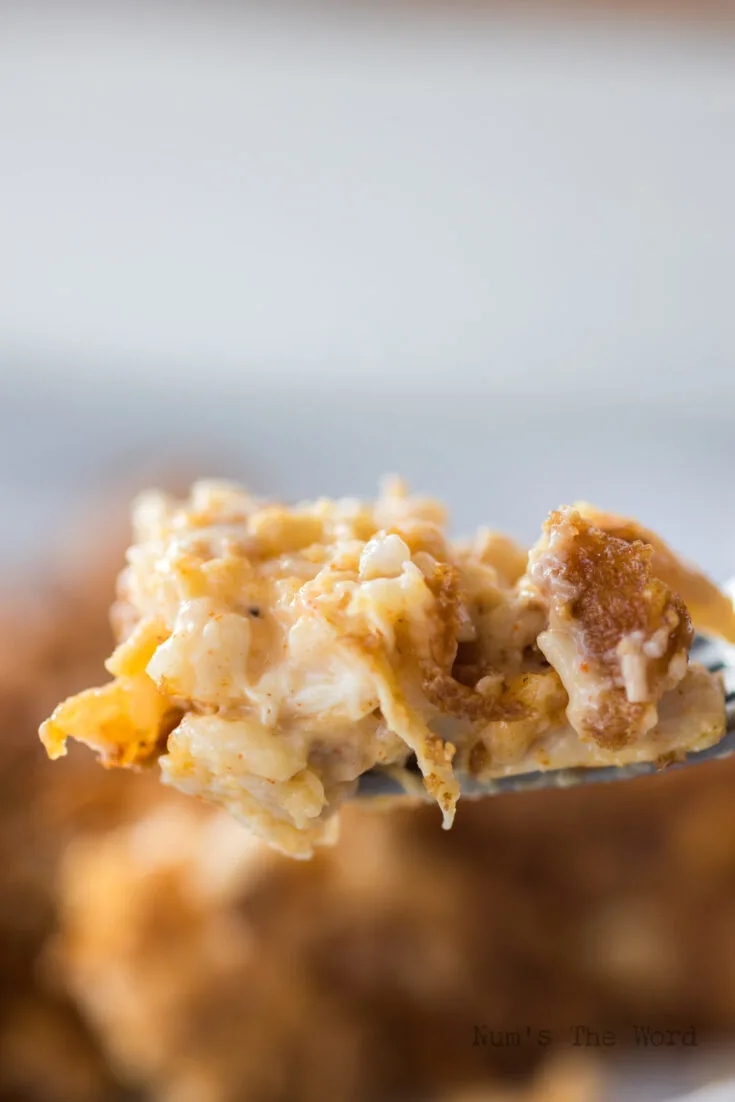 This Cornflake Chicken and Rice Casserole is an all-time favorite in my house! Creamy, delicious, easy, and perfect for weeknight dinners!
Instructions
Preheat oven to 350*F
Spray a 9x13 casserole dish with cooking spray. Set aside.
In a bowl combine chicken, soup, mayonnaise, rice, lemon juice, onion powder, garlic powder, paprika, season salt, and black pepper. Mix well.
Pour mixture into the prepared pan.
Top with cornflakes.
Pour melted butter over the cornflakes.
Bake for 30 minutes uncovered.
Serve immediately.
Nutrition Information:
Yield:
8
Serving Size:
1
Amount Per Serving:
Calories:

388
Total Fat:

31g
Saturated Fat:

7g
Trans Fat:

0g
Unsaturated Fat:

22g
Cholesterol:

90mg
Sodium:

688mg
Carbohydrates:

11g
Fiber:

0g
Sugar:

1g
Protein:

16g