*VIDEO* Deluxe Egg Salad – Looking for an upgrade on the traditional egg salad? Try this Deluxe Egg Salad! It includes cream cheese, grated onions and is by far my favorite version of egg salad
This post contains affiliate links. If you click on an affiliate link and make a purchase, I will make a small percentage on your purchase, which helps keep this website running! Thank you!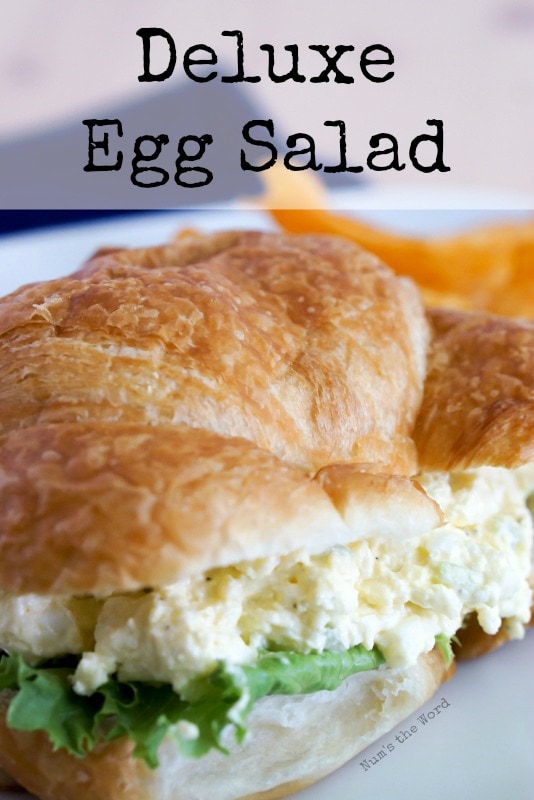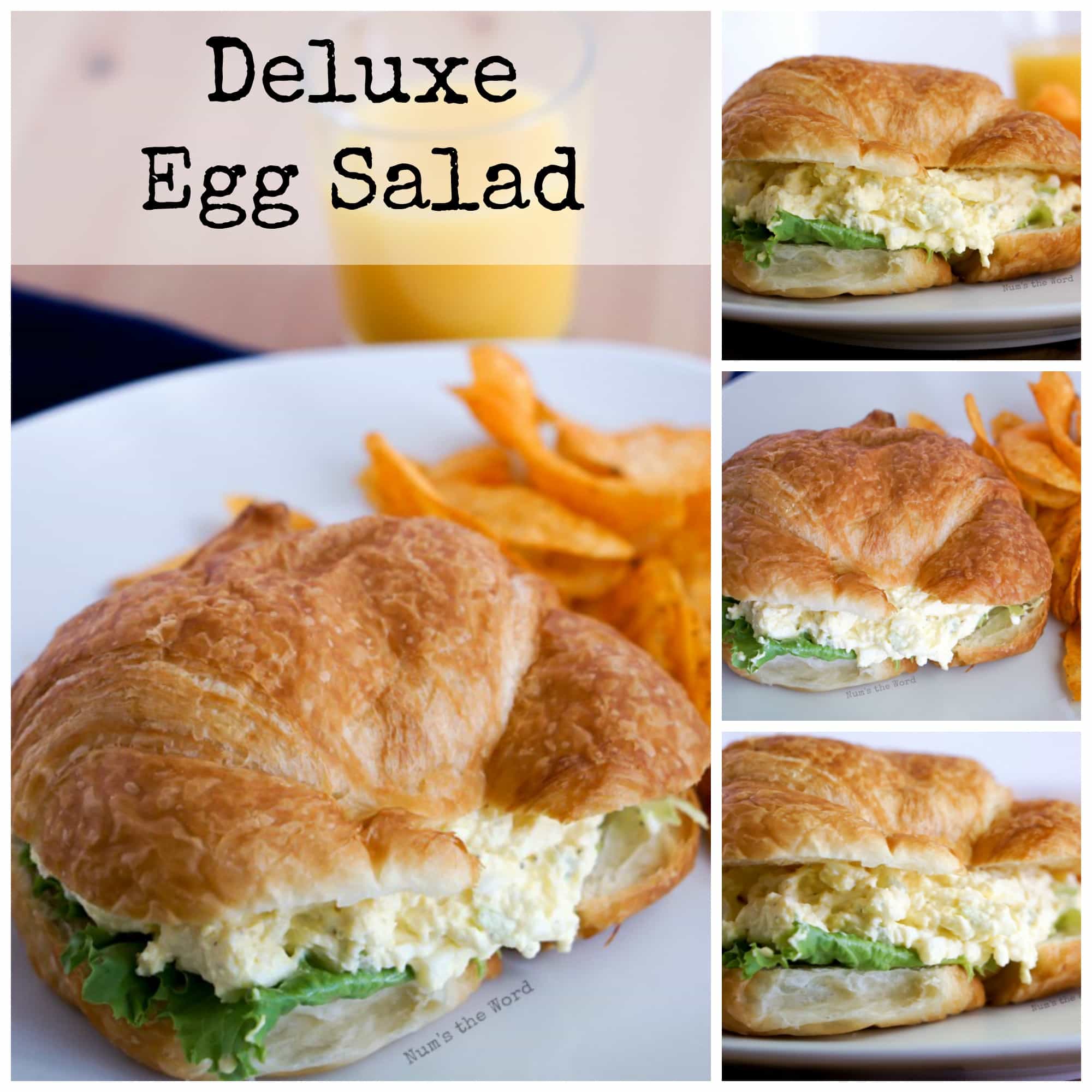 Are you a fan of hard boiled eggs?
Growing up, I don't recall hard boiled eggs ever being served to us as a breakfast or snack item.
I do recall seeing them on Chef Salads at school and generally avoiding them because they were somewhat of a foreign food to me.
I did however, have the occasional egg salad sandwich, which was edible but not loved.
My mom always made the traditional kind with eggs, mayonnaise, salt, pepper and a little celery.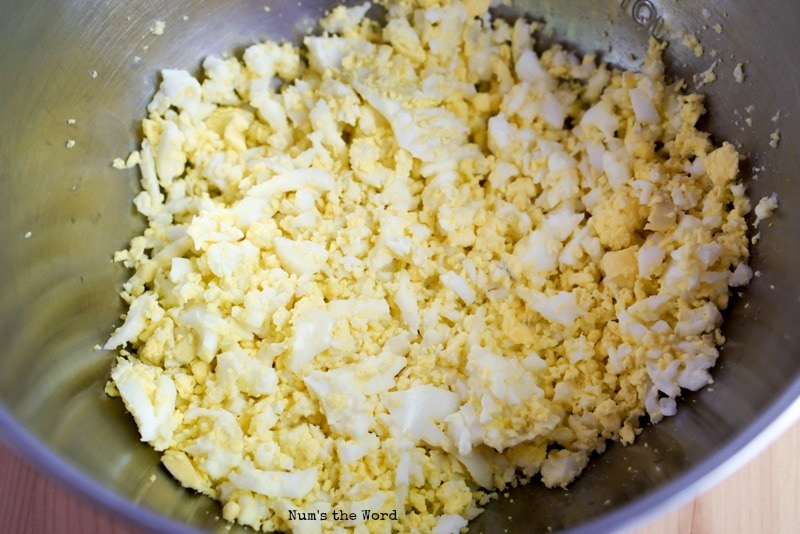 (Hard boiled eggs, diced up.)
With so many other ingredients in the egg salad, I never got to taste the hard boiled egg.
It wasn't until I was an adult, married and living away from my family that I decided to try a hard boiled egg.
As per the normal, I didn't know how to cook eggs very well and the shell stuck to the egg.
I am sure you can imagine from your own experiences how terrible it was getting the egg shell off the egg an dhow ugly it was after I was done.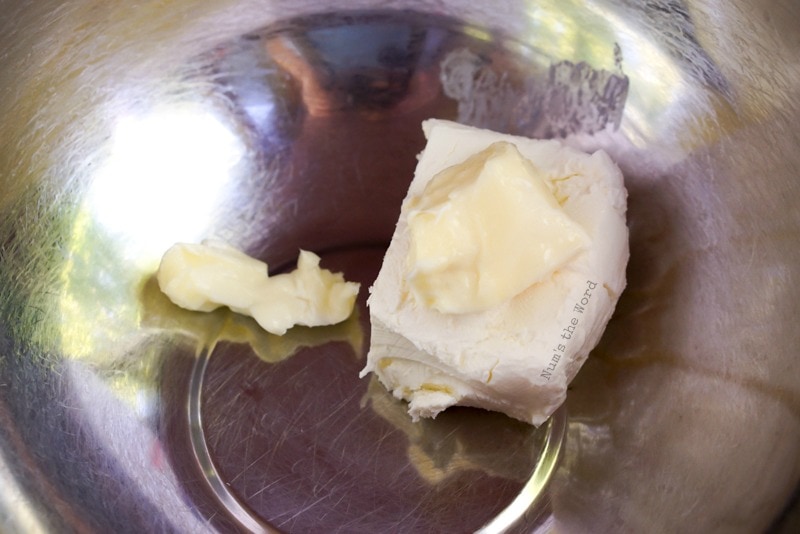 (Cream cheese & butter in a bowl, unmixed)
By this point it was almost all yolk and very little white, making the entire experience a pretty bad one.
Overall I did not love that pathetic egg and it took a few more years for me to even try another one.
Over time I learned to cook better, and began to really experiment with egg salad.
Eventually I discovered this Deluxe version and became hooked!
If you love egg salad, then I highly recommend you try it based on no just my opinion, but a slew of others who have left great reviews on it.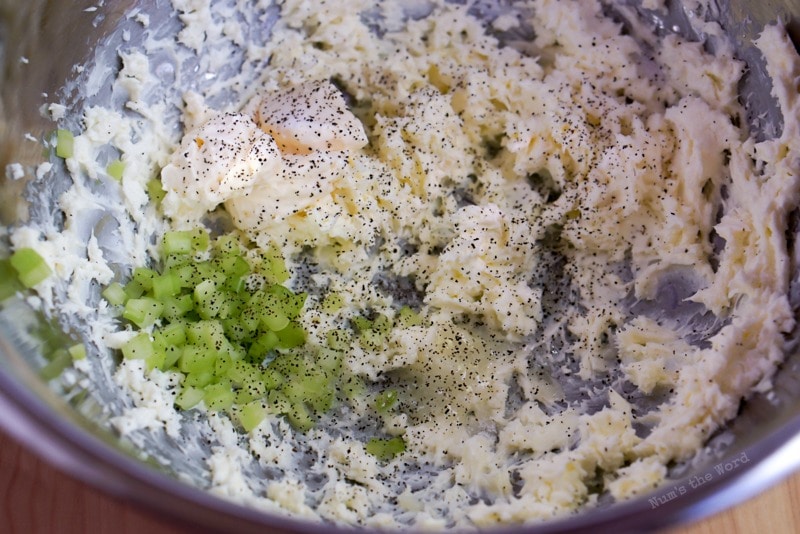 (Celery, mayo, onion, sugar, lemon juice, salt and pepper all added to butter cream cheese mixture)
What I love most about egg salad, is that it's a year round food.
However, this Deluxe Egg Salad isn't like all the other's you've tried, it has cream cheese in it.
Why is that?
I have found that the cream cheese adds a tasty flavor as well as helps to hold the egg salad together so it's not so squishy drippy.
It also has grated onions which really add flavor without big chunks of onions!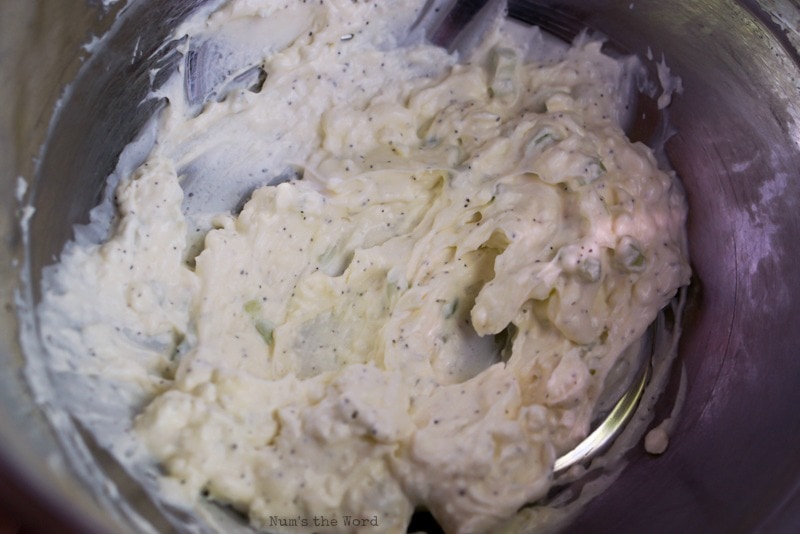 (Cream cheese mixture all blended together)
Sure we all eat Egg Salad A LOT around Easter, but it's also makes for a fantastic lunch or dinner.
Just think of all the possibilities!
Egg salad is perfect for a picnic, boating, fishing, appetizer, baby shower, wedding, tail gate party or any gathering.
In my home, I am the only person who likes egg salad – sound familiar?
My husband, on the other hand, has never cared for it and my kids refuse to try it.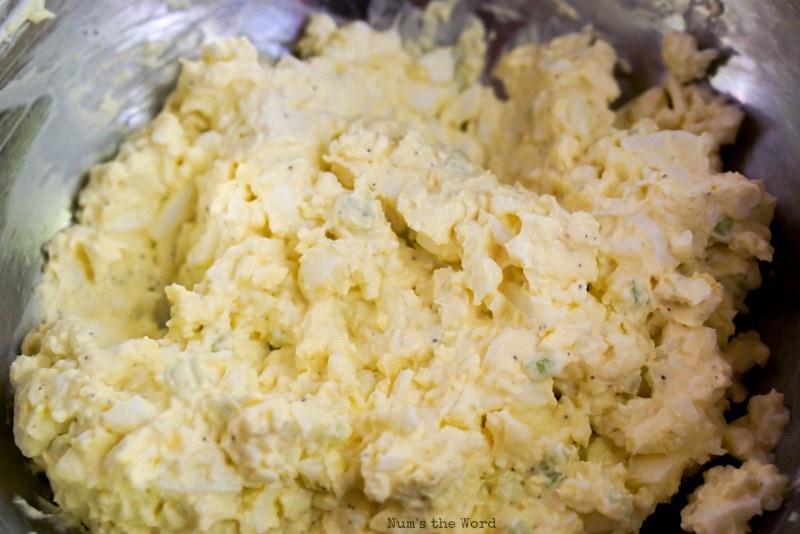 (Eggs added to cream cheese mixture and mixed up)
Despite my kids refusing to try this egg salad, two of the three LOVE when I make it.
They love to peel the eggs (which no longer stick to the shell) and they LOVE to eat hard boiled egg whites.
It isn't uncommon to find my son eating hard boiled eggs for breakfast and snack.
He loves them so much he asked if he could bring them to school for snack on day!
We ended up taking hard boiled eggs and coconut oil popcorn.
We also tossed a few apples in as well for the kids that don't like eggs.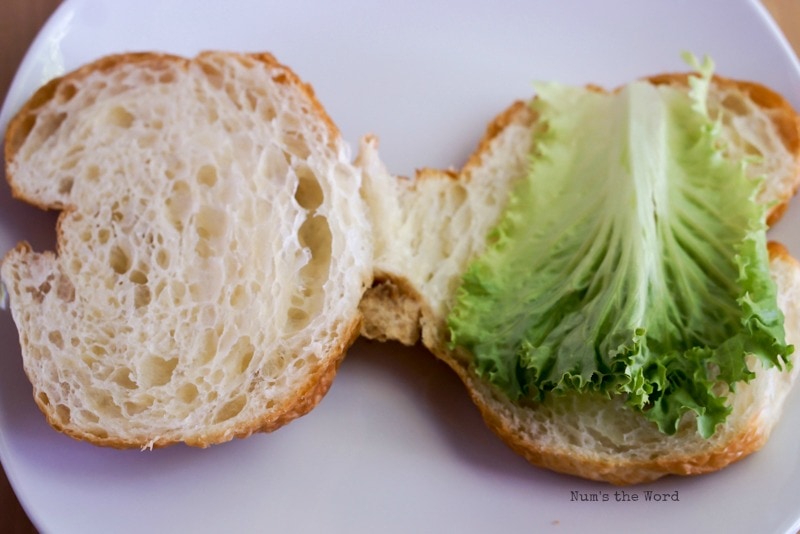 (Sliced croissant open with a leaf of lettuce on one side)
His teachers told me that in all the years they've taught preschool that no one has ever brought hard boiled eggs.
Introducing hard boiled eggs to children turned out to be a great experience!
And my son LOVED eating his favorite snack.
Despite my kids loving hard boiled eggs, they still wont eat my Deluxe Egg salad.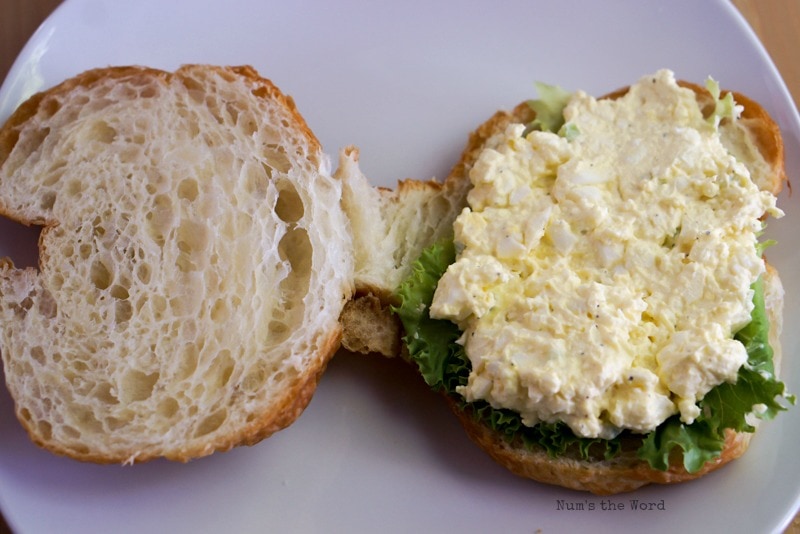 (Deluxe Egg Salad place on bed of lettuce on croissant)
Because I'm generally the only one who eats it, I'm going to make it for just me, I'm going to make it good and the way I like it.
This Deluxe Egg Salad recipe is my favorite.
It's simple, easy to make and made with ingredients that I usually have on hand.
Sometimes I like to add a little dill pickle to my egg salad, and other times a little paprika.
Either way, this Deluxe Egg Salad is delicious and you should really try it.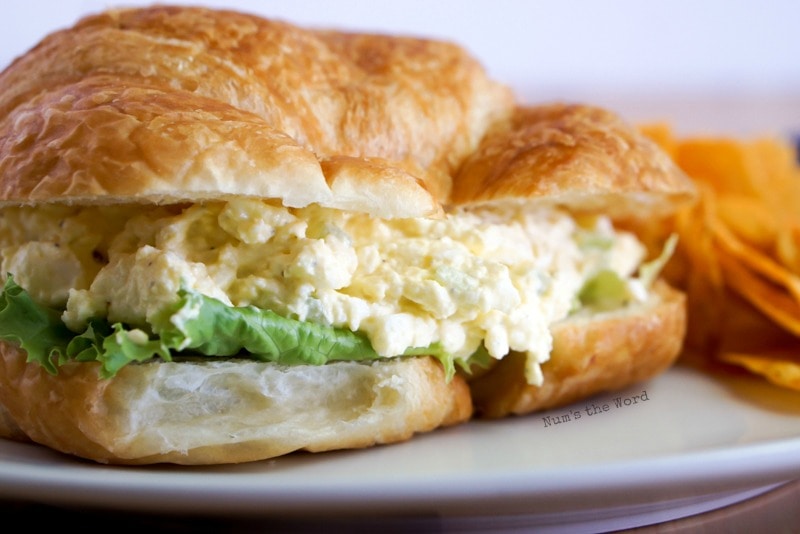 (Prepared Egg Salad Sandwich on a plate with chips next to it)
Oh and if you don't know a good hard boiled egg recipe, check this one out!
Update: I added two slices of bacon to the top and a slice of leafy lettuce and oh man was it good.
Just another addition to really make this egg salad really pop!
What do you put on your egg salad to make it pop?

(Collage of images for Pinterest)
Yield: 8 small croissants or 4 large croissants
Deluxe Egg Salad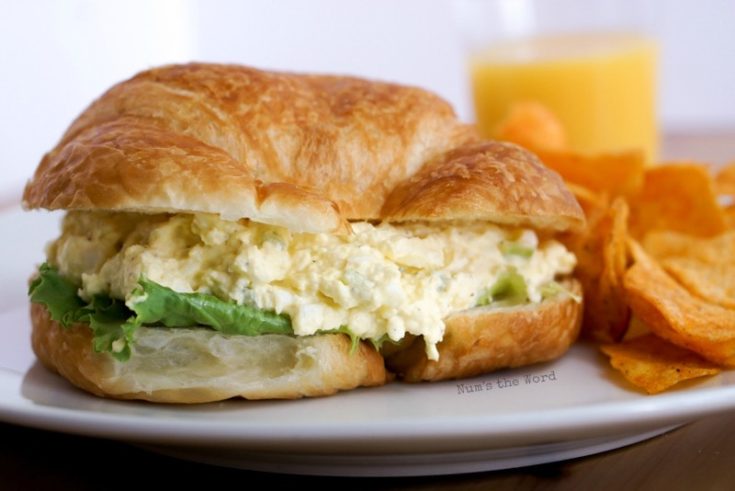 Deluxe Egg Salad – Looking for an upgrade on the traditional egg salad? Try this Deluxe Egg Salad! It includes cream cheese, grated onions and is by far my favorite version of egg salad.
Total Time
1 hour
10 minutes
Instructions
In a medium bowl, cream together butter and cream cheese until smooth.
Stir in celery, mayo, onion, sugar, lemon juice, salt and pepper until well blended.
Add eggs and mix well.
Cover and chill for 1 hour or longer.
Serve on bread or croissants
Sprinkle with paprika or add dill pickle relish or bacon if desired.
Notes
Nutritional information is estimated, not exact.
Recommended Products
As an Amazon Associate and member of other affiliate programs, I earn from qualifying purchases.
Nutrition Information:
Yield:
6
Amount Per Serving:
Calories:

205
Total Fat:

16.3g
Saturated Fat:

8.3g
Cholesterol:

198mg
Sodium:

330mg
Carbohydrates:

7.3g
Fiber:

0.4g
Sugar:

2.5g
Protein:

7.6g
Recipe originally posted: April 4, 2014
Recipe & photos updated: October 29, 2017
Other Egg Recipes You'll Love...