These Sheet Pan Steak Fajitas are out of this world amazing. A quick, easy, weeknight meal that is healthy and simple too. We've got it going on a constant rotation in our house because the whole family loves them. Try them just once and so will you!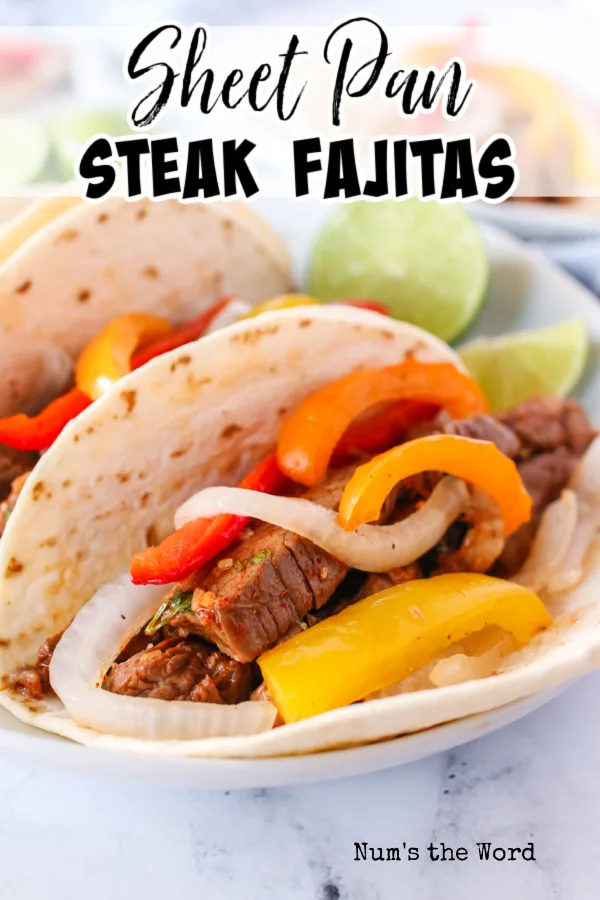 I tried A LOT of variations of this recipe, and I finally found the right one for you. The sheet pan fajitas steak is tender, bursting with flavor, and cooked to perfection in minutes. Which makes this a great recipe for busy nights.
Luckily for my waistline, this sheet pan flank steak fajitas recipe is healthy, and really filling too.
Let me tell you, if I ate the same amount of ice cream as I do of these, I'd be in big trouble.
I love how fast these easy sheet pan steak fajitas are. I like to marinate them the night before so I can get dinner cooked in mere minutes on the day of, making them an easy weeknight dinner idea!
I also love that sheet pan steak fajitas are so easy to clean up. Two sheet pans? Done. And I can make them from all the pantry and fridge ingredients I had and needed to use up!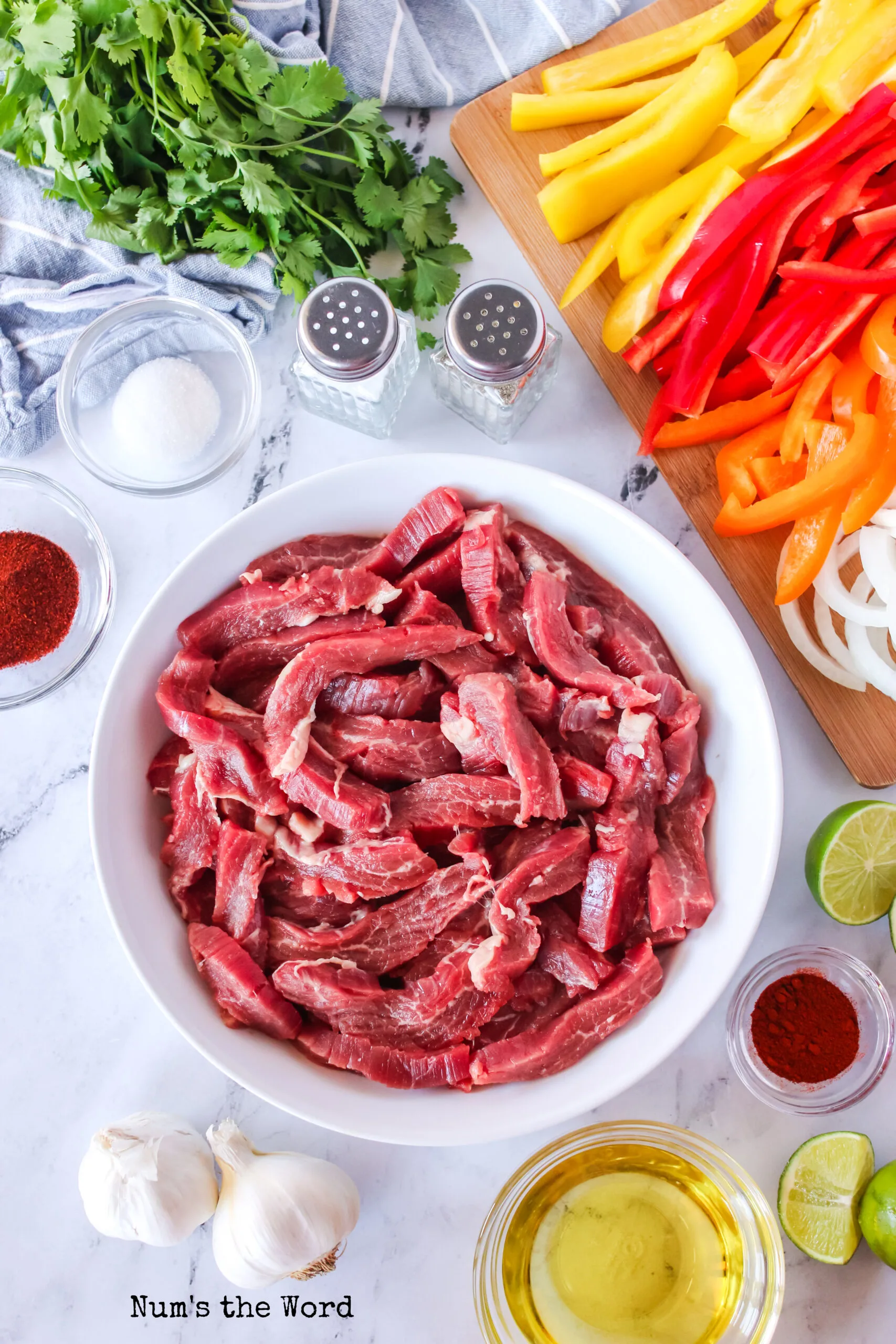 What is a Good Fajita Marinade?
This is not just a good marinade. It's REALLY good. Know what I mean? Making your own fajitas is easy and this recipe will give you tons of flavor.
Garlic: Use either freshly minced or garlic paste. In a pinch you could use garlic powder, but we recommend fresh first.
Salt and Pepper: For flavoring. I love fresh ground. It gives it something special.
Fresh Lime Juice: You'll need enough lime juice for cooking and extra for serving.
Olive Oil: This keeps your meat and veggies moist and prevents them from sticking.
Cilantro: Chop enough for cooking and extra for putting on top of fajitas.
Chili Powder: Adds a spicy flavor. You can use less or more depending on your palate.
Sugar: Use regular, white, cane sugar to add a little sweetness.
Paprika: Also made from peppers but milder ones, don't worry about the spicy level here.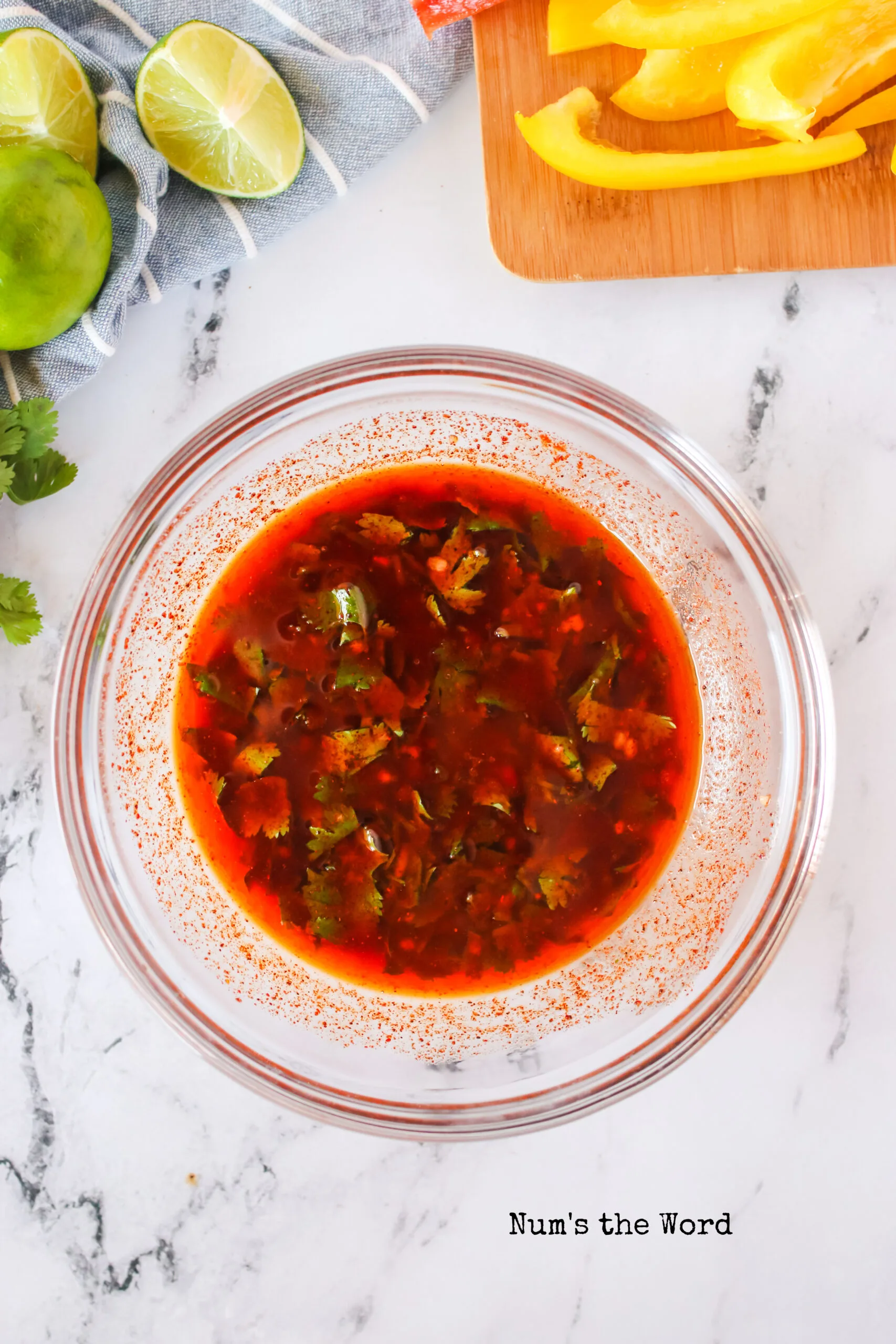 Ingredients for Sheet Pan Steak Fajitas
In addition to the marinade, you'll need the steak, veggies, and tortillas.
Steak: See below on which steak is the best to use in beef fajitas.
Onion: I use yellow onion but you could also use a white or red onion.
Sliced Bell Peppers: Pick 3 different colors. Not only is it good for you but it's beautiful too.
Warm Tortillas: Corn or flour tortillas according to your personal preference, just make sure they are warm and pliable.
Pro Tip: Some people like to serve rice on the side. We prefer to use this Authentic Mexican Rice. However you could always go with a cauliflower rice too.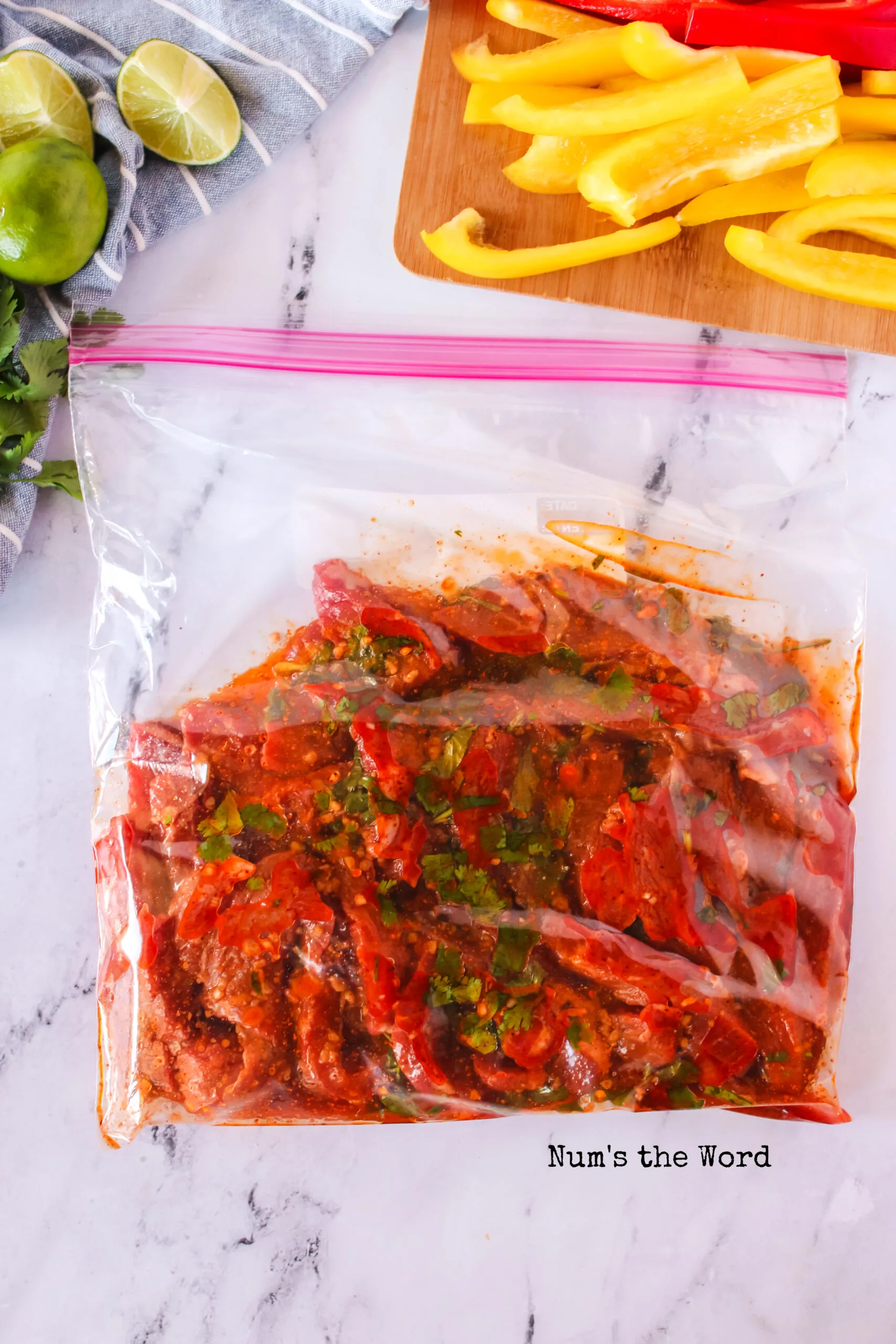 What kind of Steak for Fajitas
I absolutely recommend using flank steak for sheet pan steak fajitas.
Flank steak comes from the lower abdomen of the cow. The muscle there gets a lot of exercise and it makes the perfect texture of steak for fajitas.
Although cheaper than other more tender cuts of steak, once marinated, the flank steak is amazing.
Easy on the budget and delicious too!
Here are some alternatives you could try if you want to shake things up:
Skirt Steak
Hanger Steak
Sirloin Flap
These meats all cook similarly to flank steak so would be good substitutes in sheet pan steak fajitas.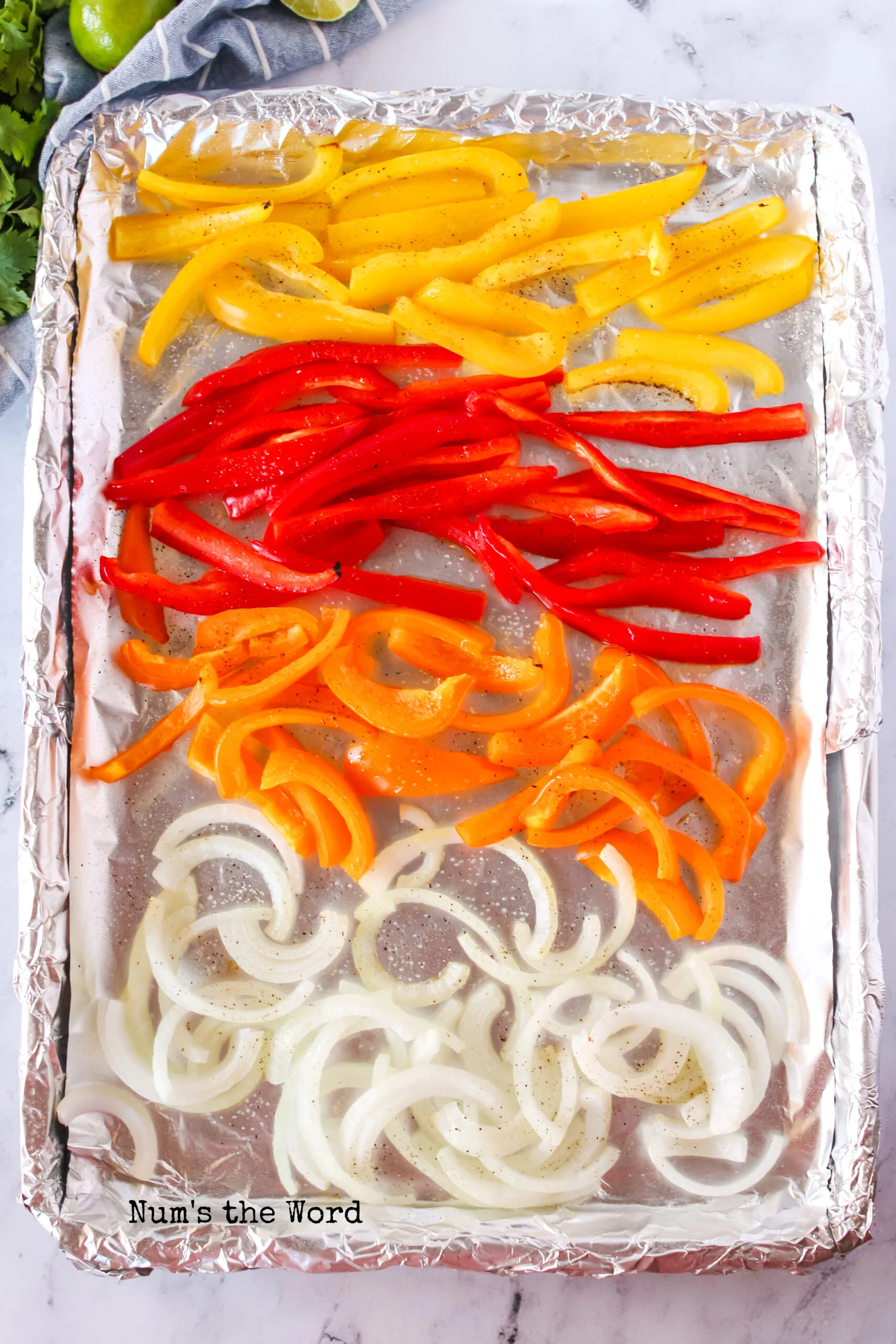 Are Flank Steak and Skirt Steak the Same thing?
Although I've seen them used interchangeably, they are actually different cuts of meat.
They both tend to be a little tougher than other steaks and come from well worked muscles.
They both prefer to be marinated and cooked quickly.
Skirt steak is a little tougher than flank steak. Skirt steak also has a more beefy flavor than flank steak.
You could use skirt steak in this recipe as they both cook the same, but I do prefer the flavor of the flank steak in sheet pan steak fajitas.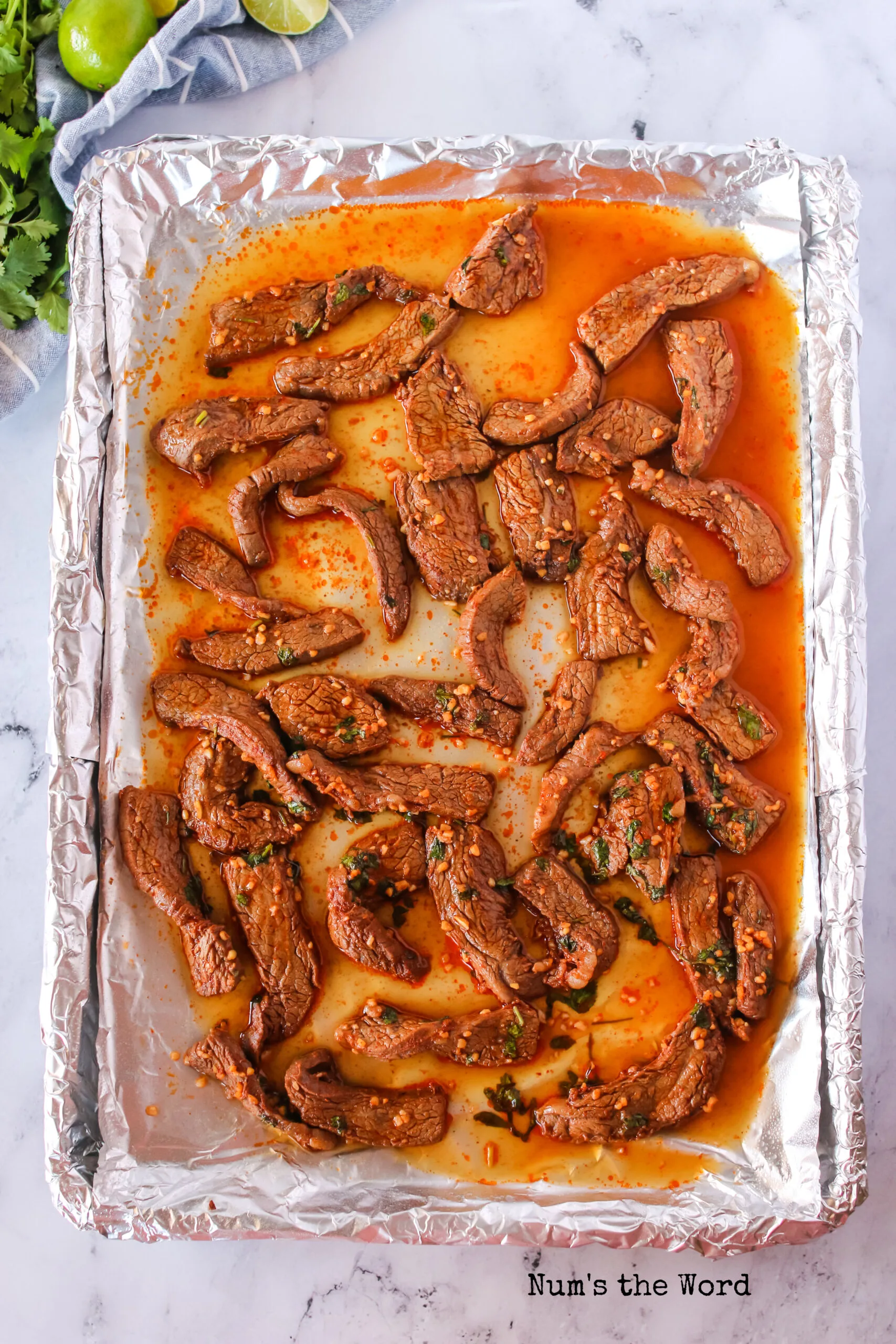 Do I Slice my Flank Steak Before or After Cooking?
Most recipes for sheet pan steak fajitas are going to have you slice the flank steak after cooking. This is the wrong thing to do I've learned. When you do it after it's cooked you get pieces that are tough and pieces that are tender, but every piece isn't perfectly cooked.
I experimented several times and let me tell you the BETTER way.
Slice the flank steak, marinate it, and then cook it. The flank steak will be way more flavorful and tender. Trust me. Doing it this way will make cooking dinner on busy weeknights a cinch.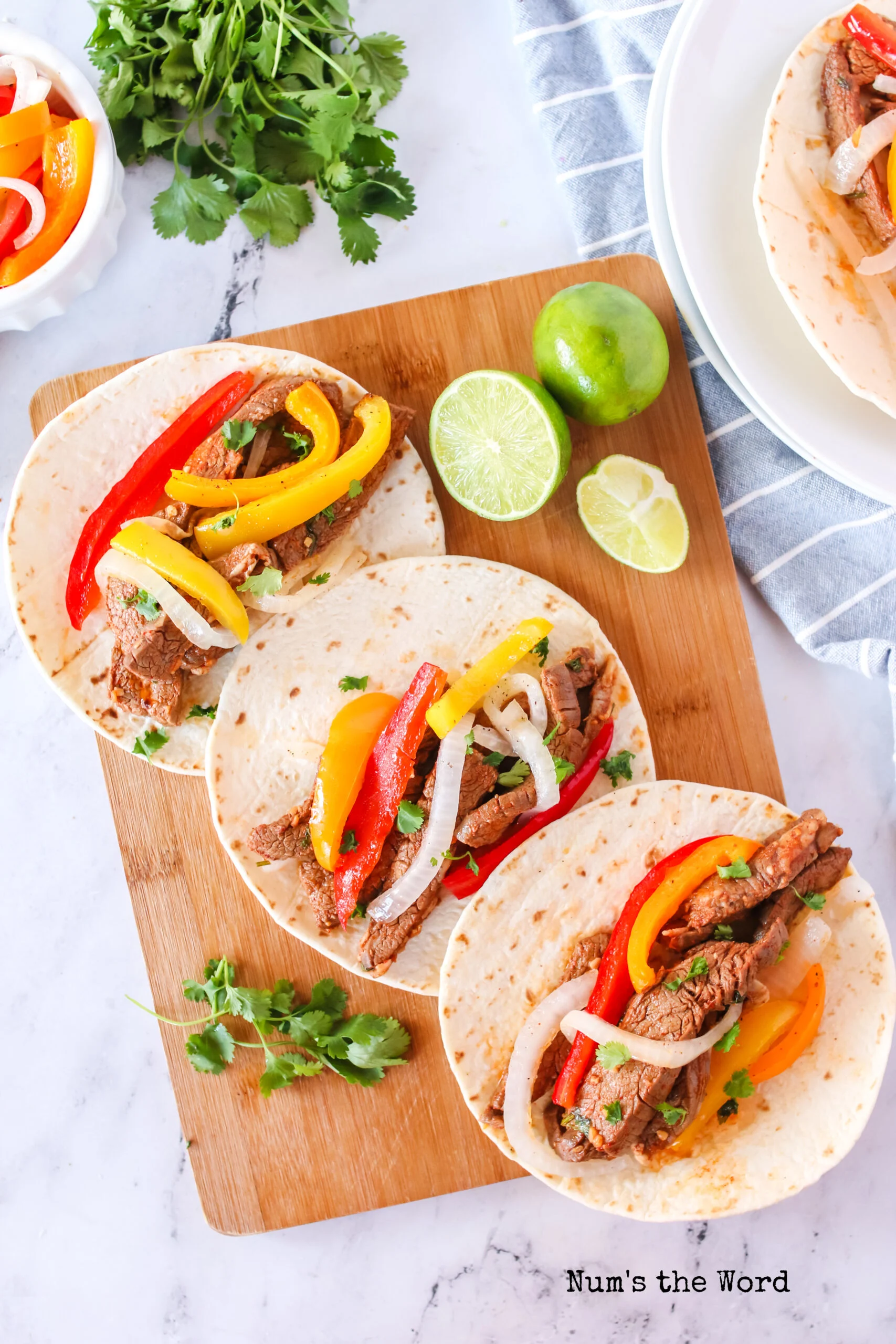 How to Cut Flank Steak for Fajitas
Thick flank steak tends to be tough and not at all what you want in a fajita.
Cut the flank steak against the grain. That helps it stay more tender.
You want the slices to be about ¼ inch thick.
Pro Tip:
I find that if I toss the steak in the freezer for 10 minutes before slicing, it's easier to slice thinly without chopping off my fingers. If you are a fumbler like I am, try it and see if it helps.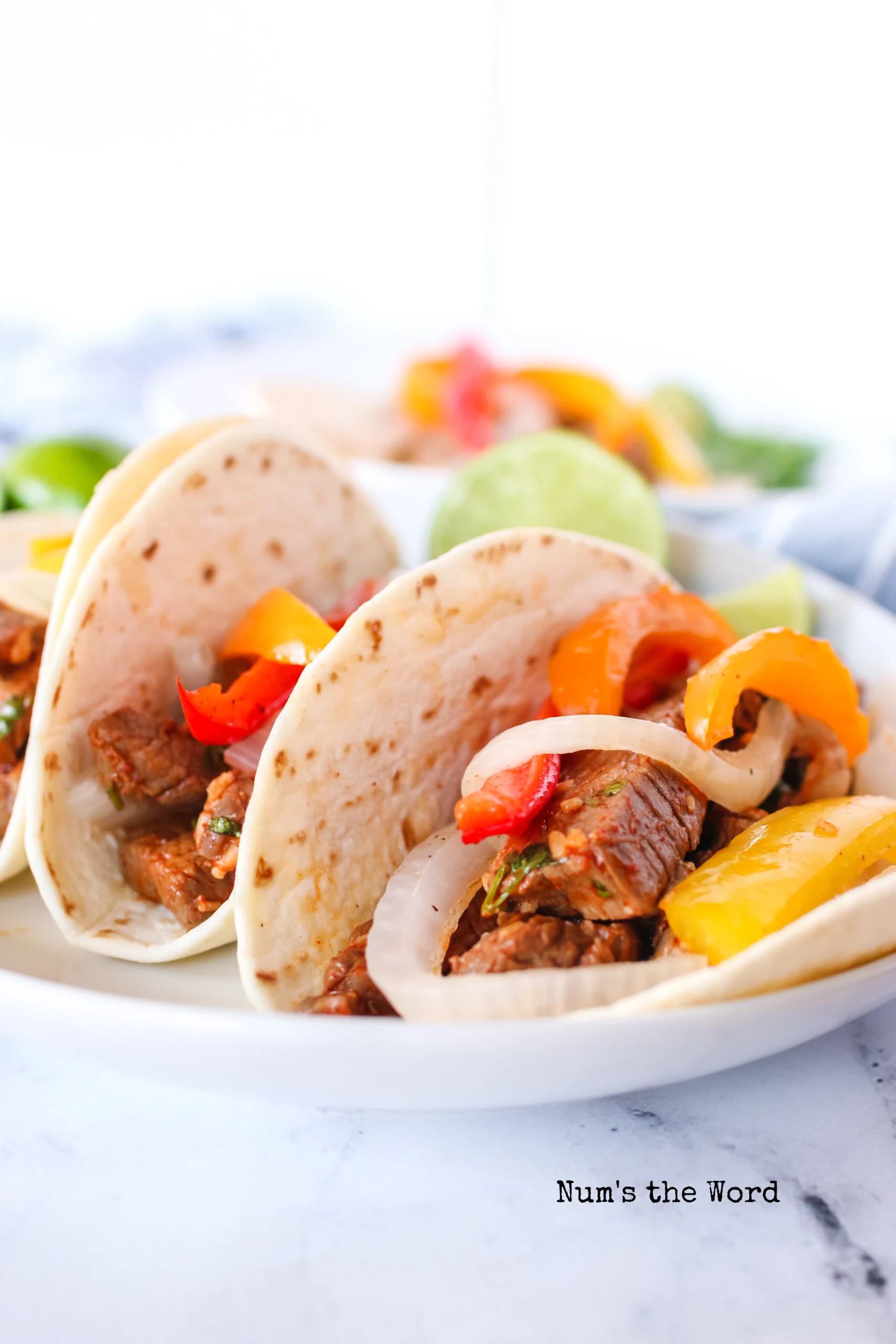 How to Make Sheet Pan Steak Fajitas
Marinate: You can marinate the steak for up to 24 hours in a zipper bag or large bowl. We recommend cutting the steak into thin strips first to get maximum flavor.
Cook: Cook the steak on two different trays in a single layer. The cooking time is different for each item and they cook better on their own baking sheet.
Eat: Serve wrapped in a warm tortilla and with your favorite toppings.
Pro Tips:
I love cutting up the veggies at the same time as I prep the marinade. Then it's all ready to pop in the oven when I'm ready for it.
If you are gluten free, use a corn tortilla or lettuce to create a type of lettuce wraps burrito.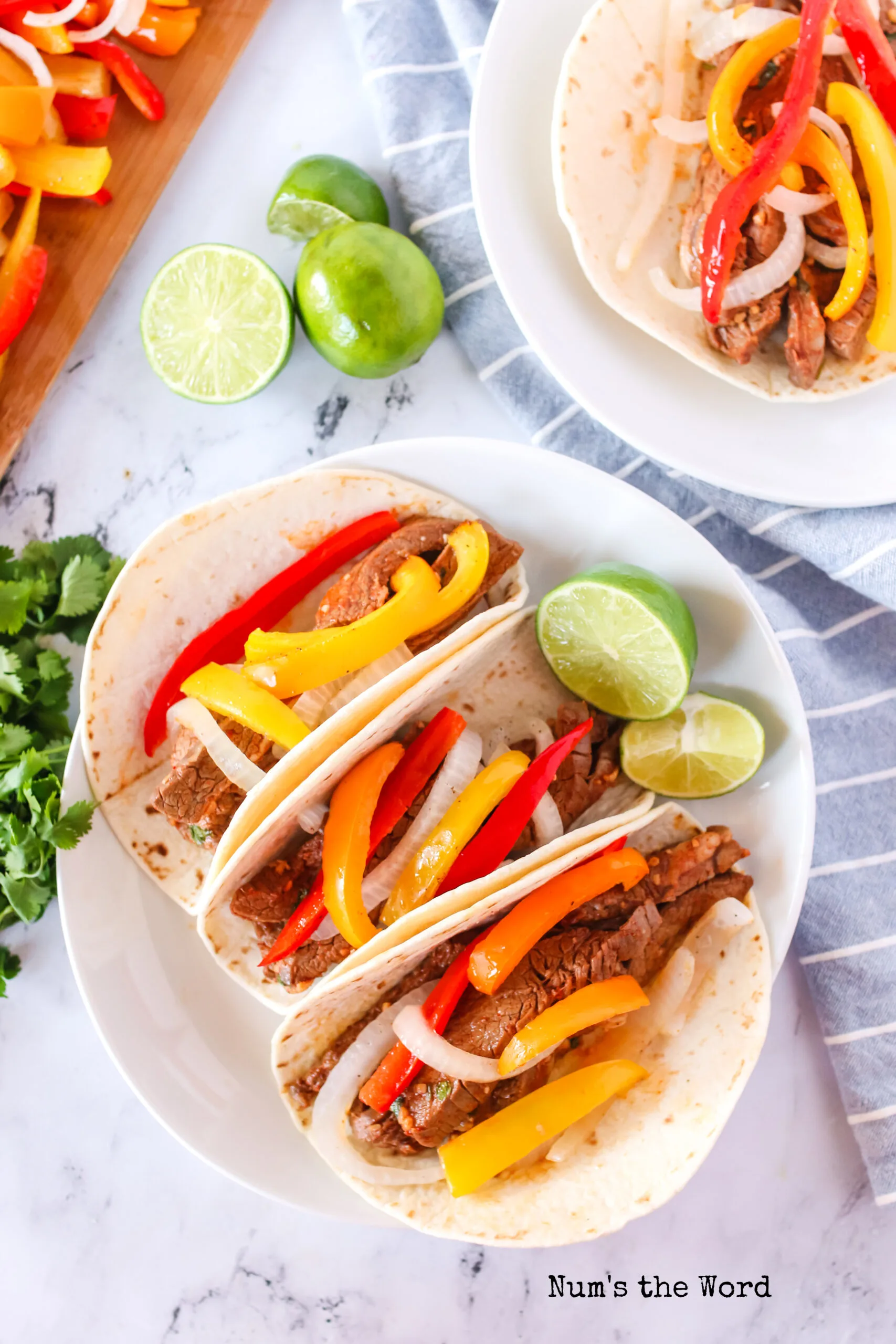 What to Serve with Sheet Pan Steak Fajitas
Anything they might serve in Mexico would work!
You've got lots of options. Here are a few:
Tortilla
Lime Wedges
Cilantro
Pico de Gallo
Guacamole
Rice
Chips and Salsa
Avocado
Cheese
Sour Cream
Jalapeno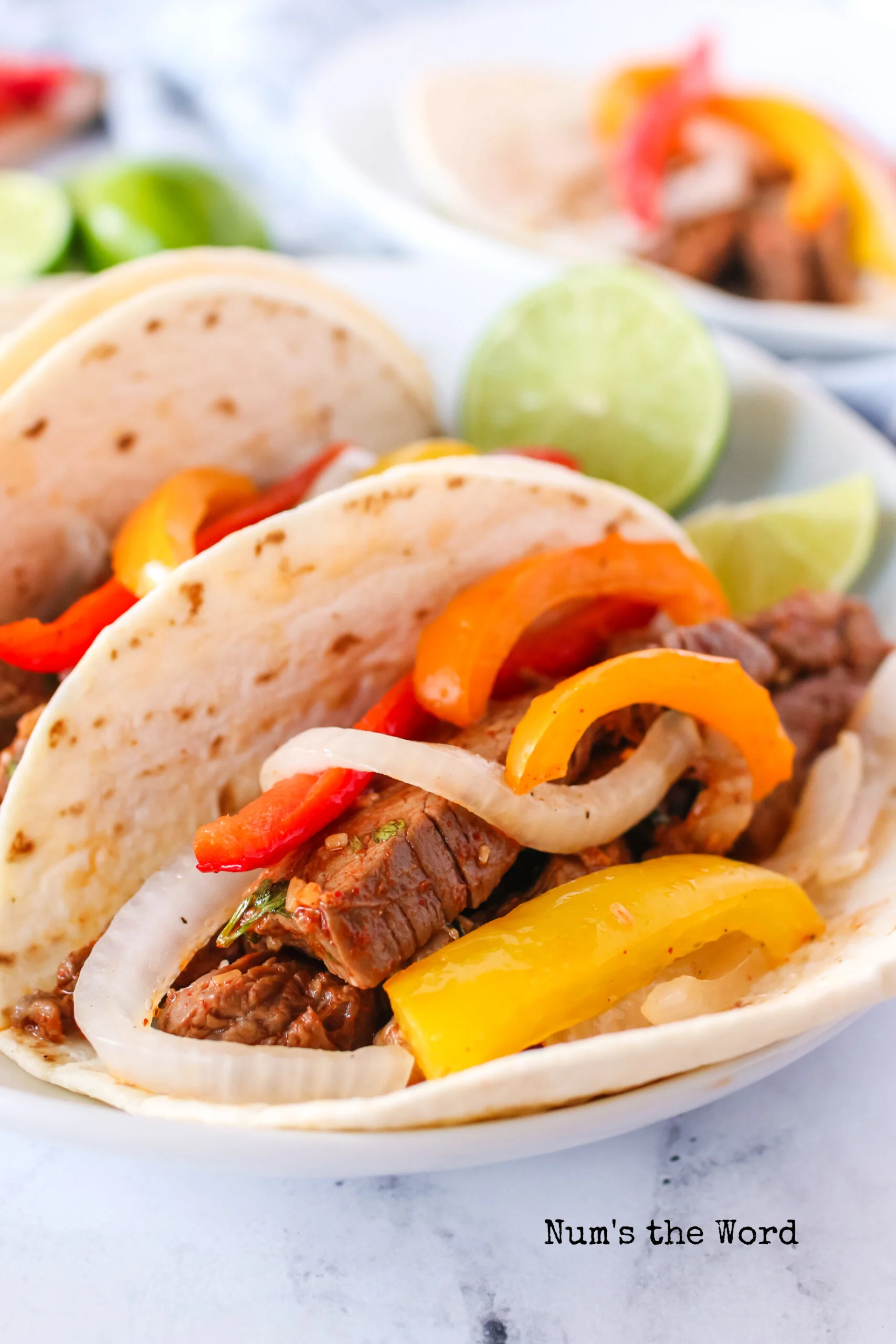 Can You Freeze Steak Fajitas?
Sheet pan steak fajitas are a wonderful make ahead meal that is quick, family friendly, and super healthy.
You'll want to freeze the meat separately from the veggies. You could combine the two separate bags in a two-gallon ziploc if desired.
Put the marinade and sliced steak into a one gallon ziplock bag.
The cut veggies should go in a separate one gallon ziplock bag.
Store the bags flat in the freezer.
When you are ready to cook, completely thaw the bags in the fridge overnight. Then follow the directions to cook the meal in the oven.
Pro Tip: Write the directions and date on the bag so you don't need to go looking for them when you're ready to cook.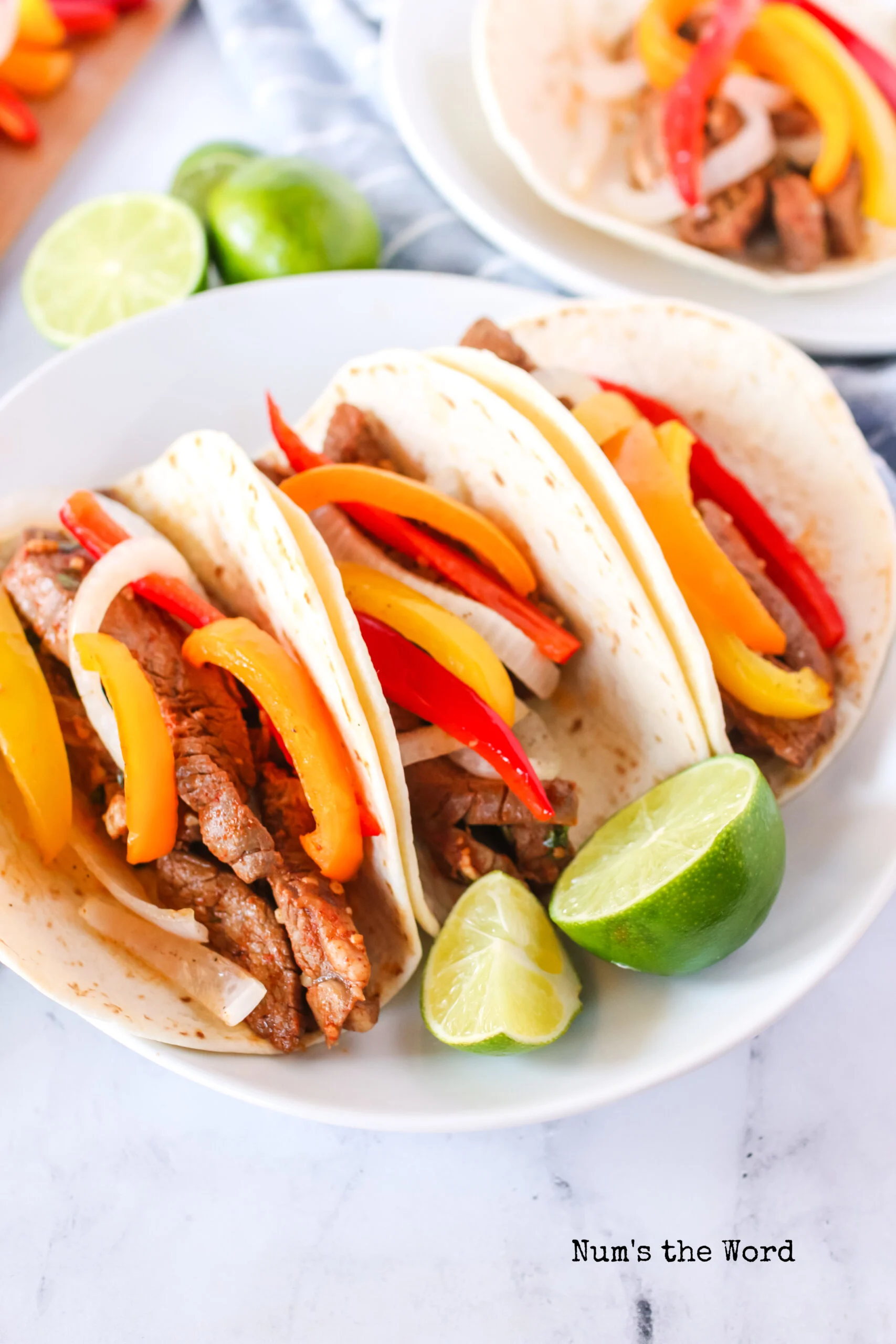 How to Store Leftover Stake Fajitas?
We recommend storing any leftover steak fajitas in an airtight container or zipper bag. Remove as much air as possible.
Then to reheat you can simply pan fry quickly to reheat without over cooking. The best part is that this easy recipe tastes just as great the next day!
More Healthy Dinner Recipes You'll Love…
You seriously need to make these Sheet Pan Steak Fajitas ASAP. They are an easy weeknight meal that is filling, and bursting with flavor. My entire family request them all the time and I am so excited to share them with you too! Enjoy!
Yield: 8 Servings
Sheet Pan Steak Fajitas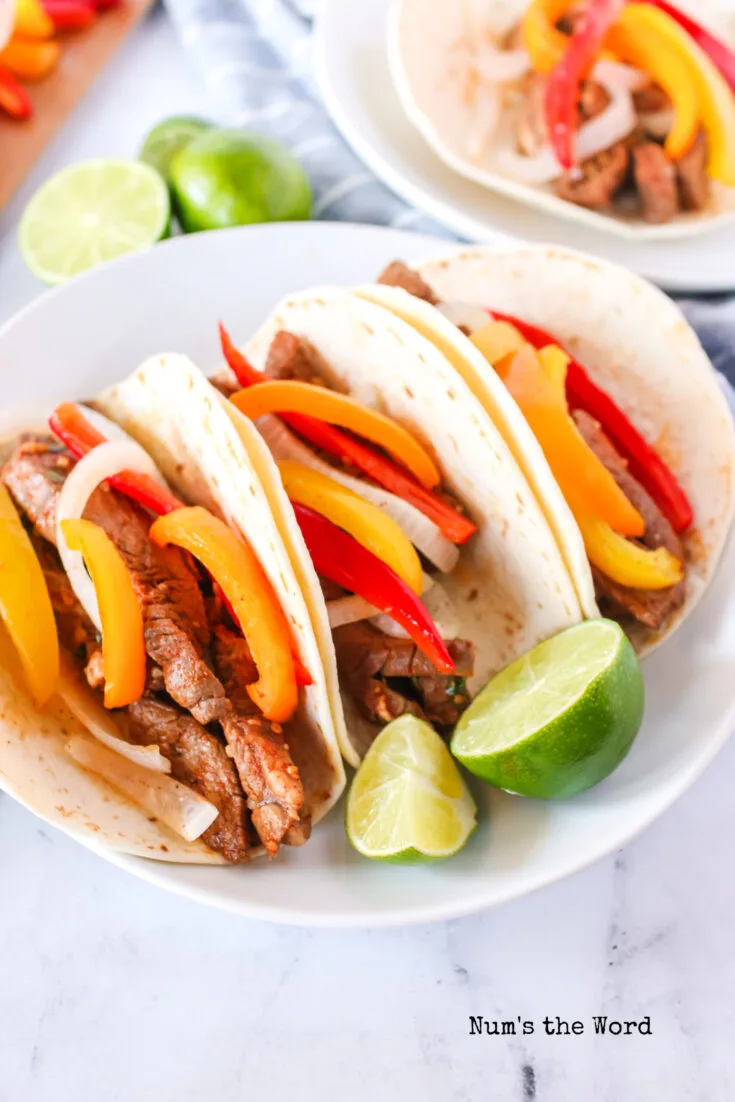 These Sheet Pan Steak Fajitas are out of this world amazing. A quick, easy, weeknight meal that is healthy and simple too. Try them just once and so will you!
Total Time
1 hour
10 minutes
Instructions
In a small bowl combine garlic, salt, lime juice, olive oil, cilantro, chili powder, white sugar and paprika. Set aside.
Slice flank steak against the grain in ¼ inch pieces. I find freezing it for 30 minutes before cutting it with a bread knife makes it easier.
Place steak in a zipper bag and add marinade.
Let sit for 30 minutes - 24 hours.
If using within 2 hours, leave marinating steak on the counter, as flank steak cooks best at room temperature.
Flip every hour on the counter and every few hours in the fridge.
If refrigerating, remove steak 2 hours before cooking to bring to room temperature.
Preheat oven to 450*F
Line a rimmed cookie sheet with nonstick foil or a baking mat and spread the steak all around the baking sheet.
Line a second rimmed cookie sheet with nonstick foil and spread bell peppers and onions over it.
Drizzle 2 Tablespoons of olive oil over bell peppers and onions and toss to coat.
Sprinkle salt and pepper over peppers and onions.
Place peppers and onions on the bottom rack of the oven with steak on top rack.
Bake for 5-8 Minutes.
Remove steak from oven and move peppers to top rack. Bake for 5 more minutes, until the peppers are tender.
Serve in a tortilla with steak, bell peppers, onions, lime wedge and additional cilantro if desired.
Nutrition Information:
Yield:
8
Serving Size:
1
Amount Per Serving:
Calories:

312
Total Fat:

19g
Saturated Fat:

5g
Trans Fat:

0g
Unsaturated Fat:

12g
Cholesterol:

90mg
Sodium:

1671mg
Carbohydrates:

3g
Fiber:

1g
Sugar:

1g
Protein:

32g