This Easy Carrot Cake Recipe is a sweet and simple dessert for all occasions. You'll love the sweet glaze, cream cheese frosting, and delicious cake.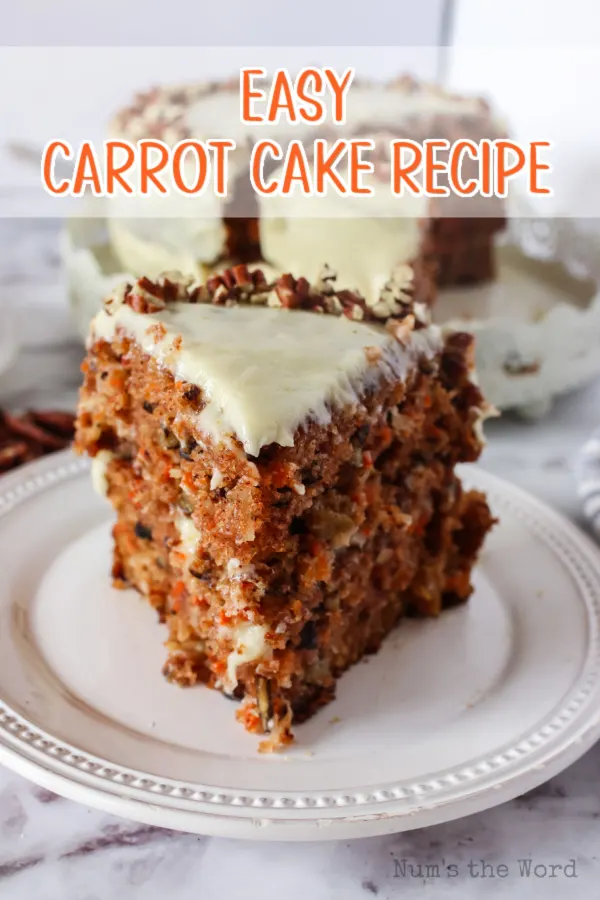 Carrots are a favorite in dessert recipes and for good reason. They're sweet and an easy pairing for sugar and cinnamon in particular.
I love this recipe for carrot cake because it's easy to make. Perfect for beginners!
I also love it because it tastes incredible. There's a secret yummy glaze that you're absolutely going to love!
Plus this homemade carrot cake is better than store bought! No, I'm not kidding! There is no carrot cake that's better than this one.
And that super soft and incredibly moist cake cannot be beat! No dry cakes allowed!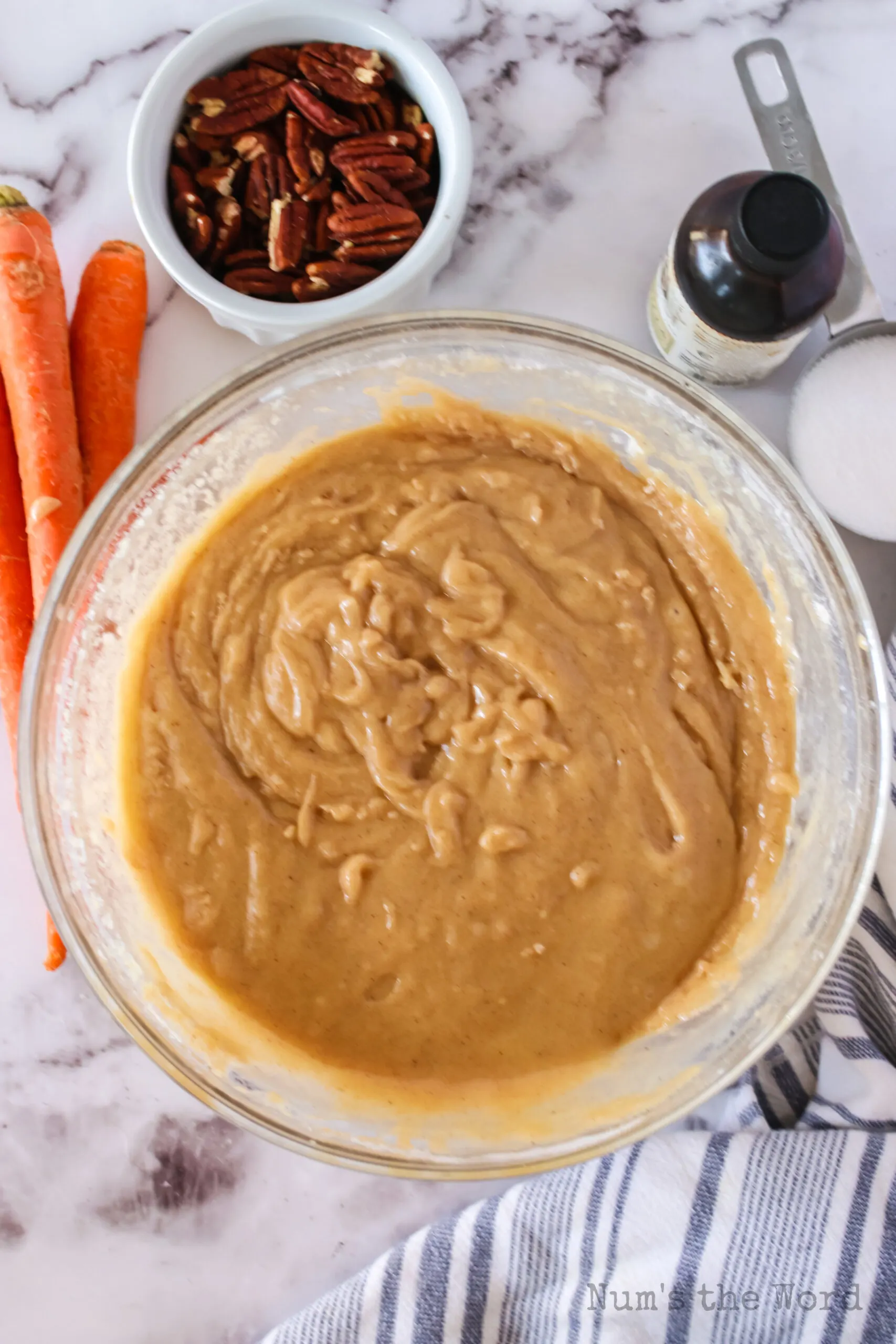 What is Carrot Cake?
Carrot cake is a popular dessert that consists of grated carrots, spices, and other ingredients that are combined to make a moist, sweet cake.
It is often topped with a creamy cream cheese frosting, making it a rich and indulgent treat.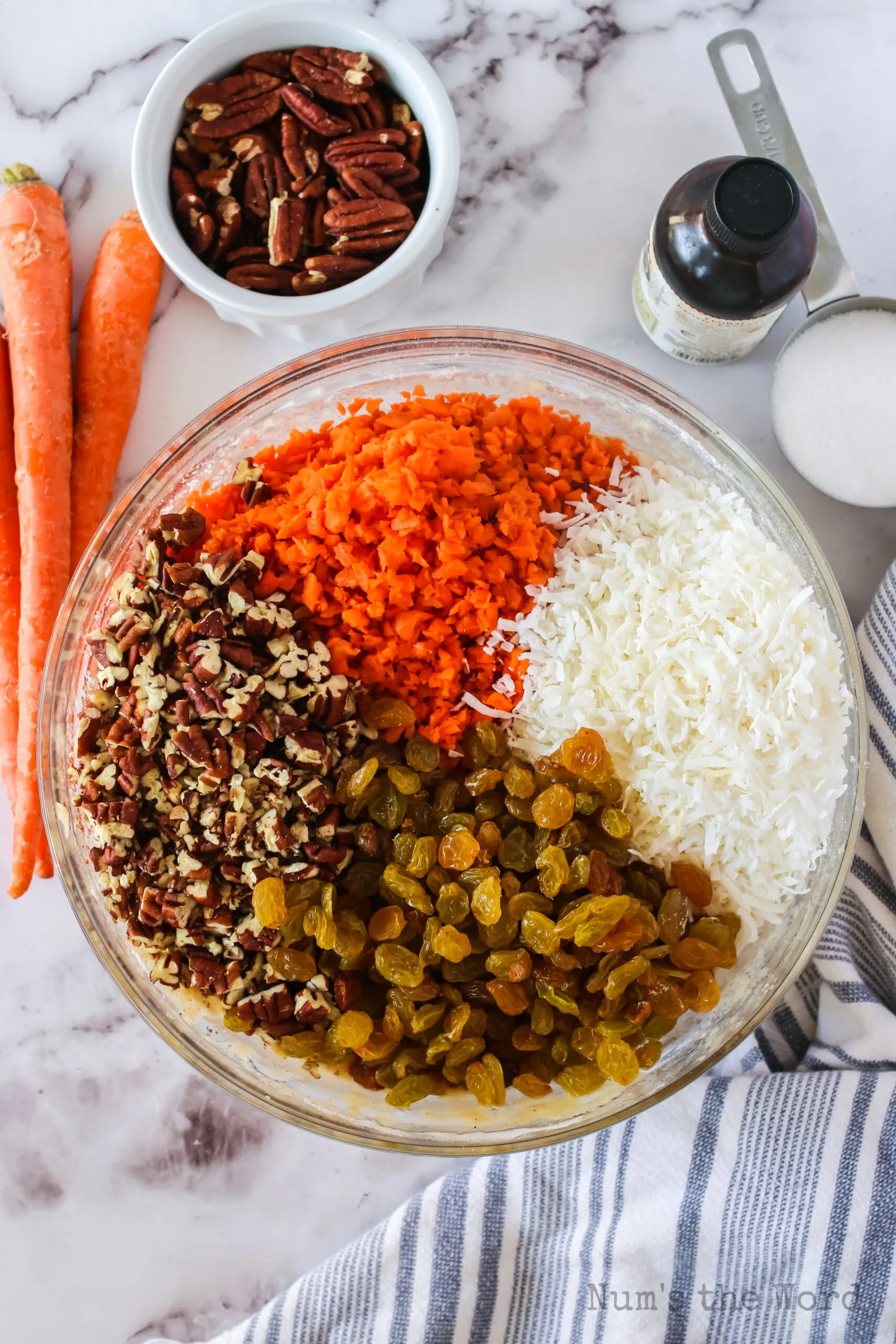 What Ingredients are in Carrot Cake?
Here are the key ingredients you will need to make a the best carrot cake recipe:
All-purpose Flour: This gives your cake structure.
Baking Soda: Helps the cake to rise.
Salt: For flavoring! Can't leave it out!
Ground Cinnamon: Cinnamon actually goes really well in many kinds of cakes.
Eggs: Holds the cake together and also helps it rise.
Vegetable Oil: Can be substituted with olive oil if desired.
Buttermilk: This is your acid that activates the baking soda.
Granulated Sugar: I know some people prefer brown sugar but I think this recipe is much better with white sugar.
Grated Carrots: Use a hand grater or food processor.
Shredded Coconut: This adds a really great flavor and texture.
Chopped Nuts: These are optional. I prefer pecans but you could use walnuts too.
Golden Raisins: This is a personal preference on whether to include the raisins or not.
Pro Tips:
Instead of raisins you could use a can of crushed pineapple, well drained.
To make your own buttermilk, add 1 Tablespoon lemon juice or vinegar to a cup and fill the rest up with milk. Let it sit and then use it as normal.
And don't forget the yummy glaze! It soaks right into the cake and tastes incredible!
Sugar: Use white sugar here again.
Baking Soda: Don't substitute with baking powder. Baking soda works better.
Buttermilk: Again, the acidity is what activates the baking soda, so don't substitute with regular milk.
Vanilla: You may have wondered about not including vanilla in the recipe, it's because it's in the glaze!
Butter: Don't forget to use real butter, no butter substitutes for best results.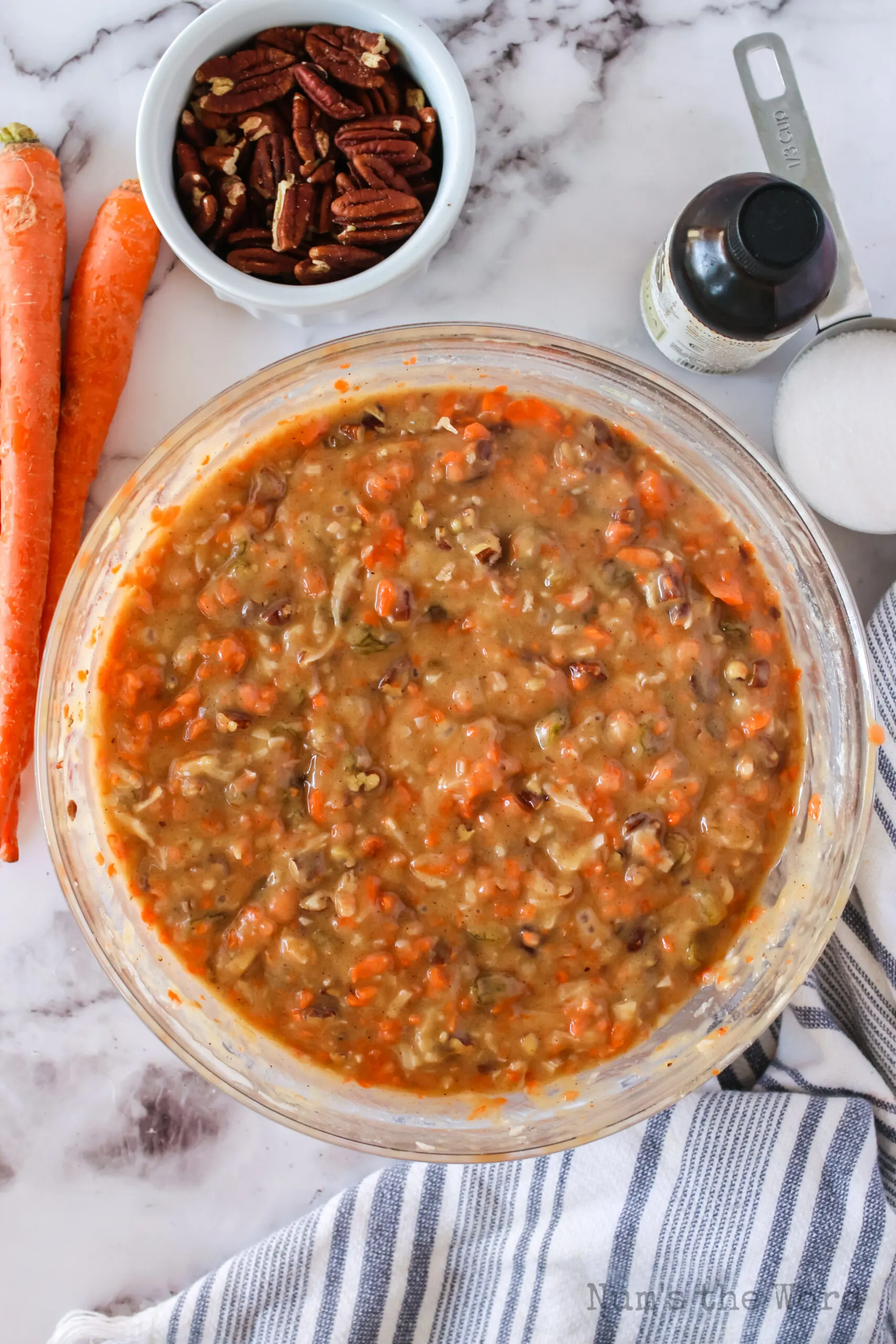 How to Make Carrot Cake
This carrot cake batter is a great way to celebrate and makes the perfect dessert!
Mix: Combine dry ingredients and wet ingredients separately before combining.
Fold: Add in carrots, coconut, nuts, and raisins.
Bake: Bake until golden brown.
Glaze: Poke holes in the cake to allow the glaze to be absorbed in.
Frost: Once fully cooled, frost!
Pro Tips:
Grease the cake pans and include parchment paper on the bottom as well.
Make the glaze while the cake is baking.
I like making this in two round cake pans. Combing them makes a beautiful layer cake.
Mix on low speed and use a rubber spatula to scrape down the sides of the bowl.
If you decide to make carrot cake cupcakes instead, reduce the baking time so as not to burn them.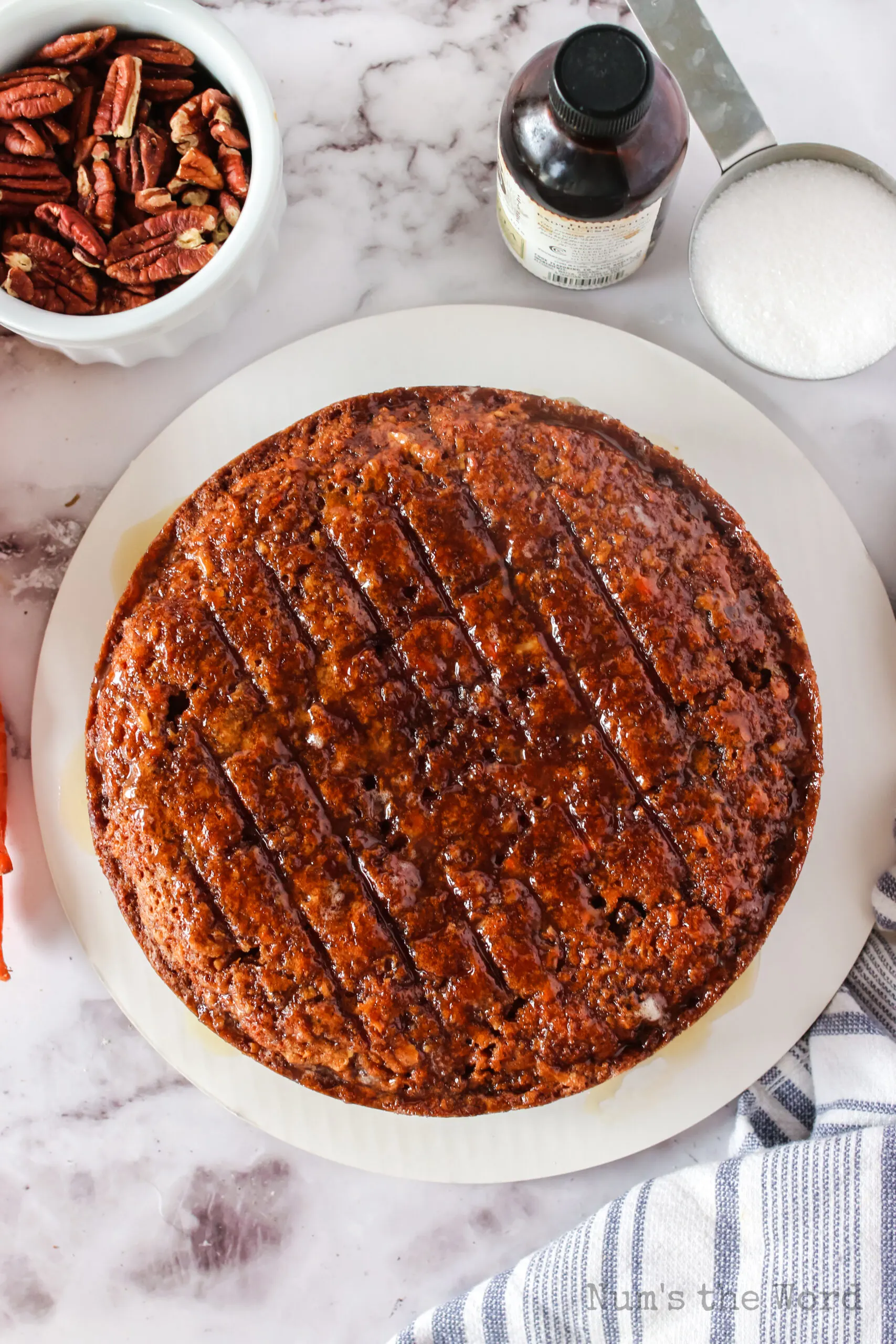 Does Carrot Cake Need to Be Refrigerated?
This extra moist carrot cake does not necessarily need to be refrigerated, but it will keep fresher for longer if stored in the refrigerator.
You can store carrot cake in an airtight container in the refrigerator for up to 5 days.
Is Carrot Cake Healthy?
Carrot cake is not exactly a healthy food, as it is high in sugar and fat.
However, it does contain carrots, which are a good source of vitamins and minerals.
If you want a healthier version of this perfect carrot cake recipe, you can try using less sugar or substituting oil with applesauce.
I say that an indulgent treat every now and then is needed for your sanity!
Also, fair warning, I enjoy the original recipe and haven't tried those substitutions, so if you do, please let me know how it turns out!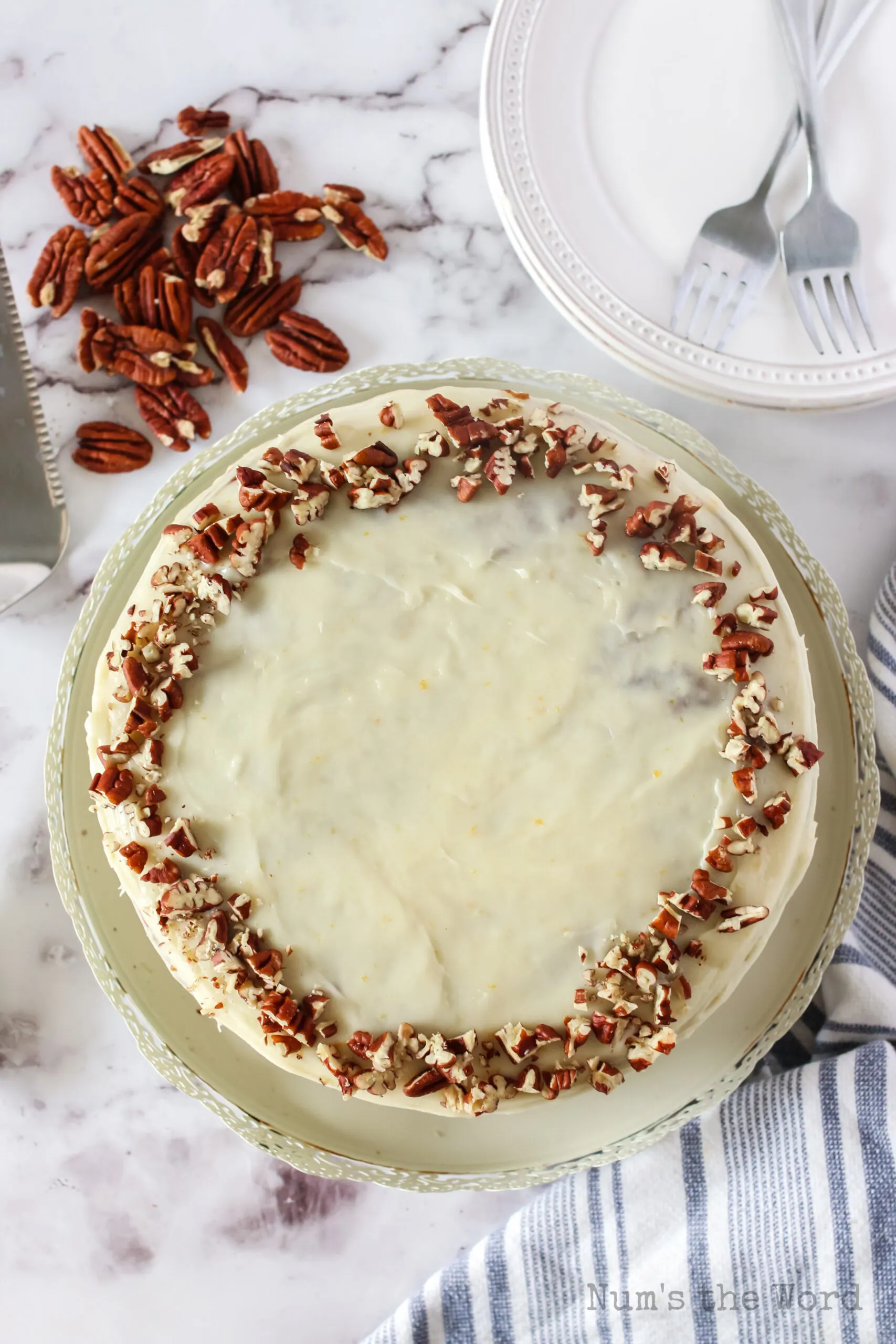 Can You Freeze Carrot Cake?
Yes, you can freeze carrot cake. Wrap the cake tightly in plastic wrap and aluminum foil, and place it in the freezer for up to 3 months.
When you're ready to eat it, simply thaw the cake at room temperature for a few hours before serving.
This makes a simple recipe that you can pull out any time you've got unexpected company for dinner!
Does Carrot Cake Have Carrots in it?
Yes, the name "carrot cake" comes from the fact that it contains grated carrots.
The carrots add moisture and a natural sweetness to the cake, making it a delicious and unique dessert.
If you do not have carrots in the cake, it's often called spice cake instead.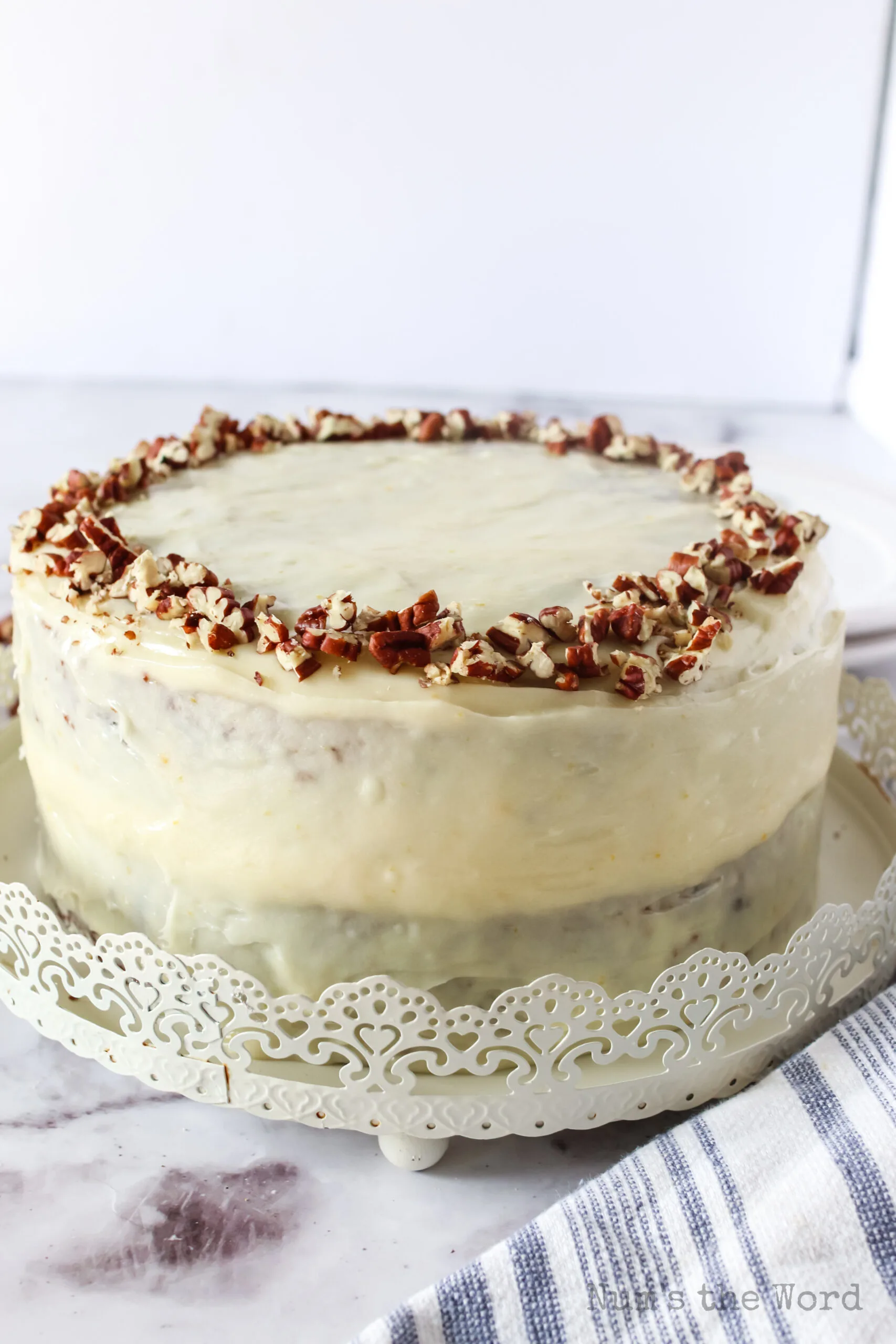 Does Carrot Cake Have Raisins?
Raisins are a common ingredient in many carrot cake recipes, but they are not required.
Some people love the added sweetness and texture that raisins bring to the cake, while others prefer to leave them out. It's up to you!
Can Dogs Eat Carrot Cake?
Carrots are generally safe for dogs, but the other ingredients in carrot cake, such as sugar and spices, can be harmful to dogs.
It's best to avoid giving your furry friend any carrot cake. Even a lick of that decadent cream cheese frosting can be harmful.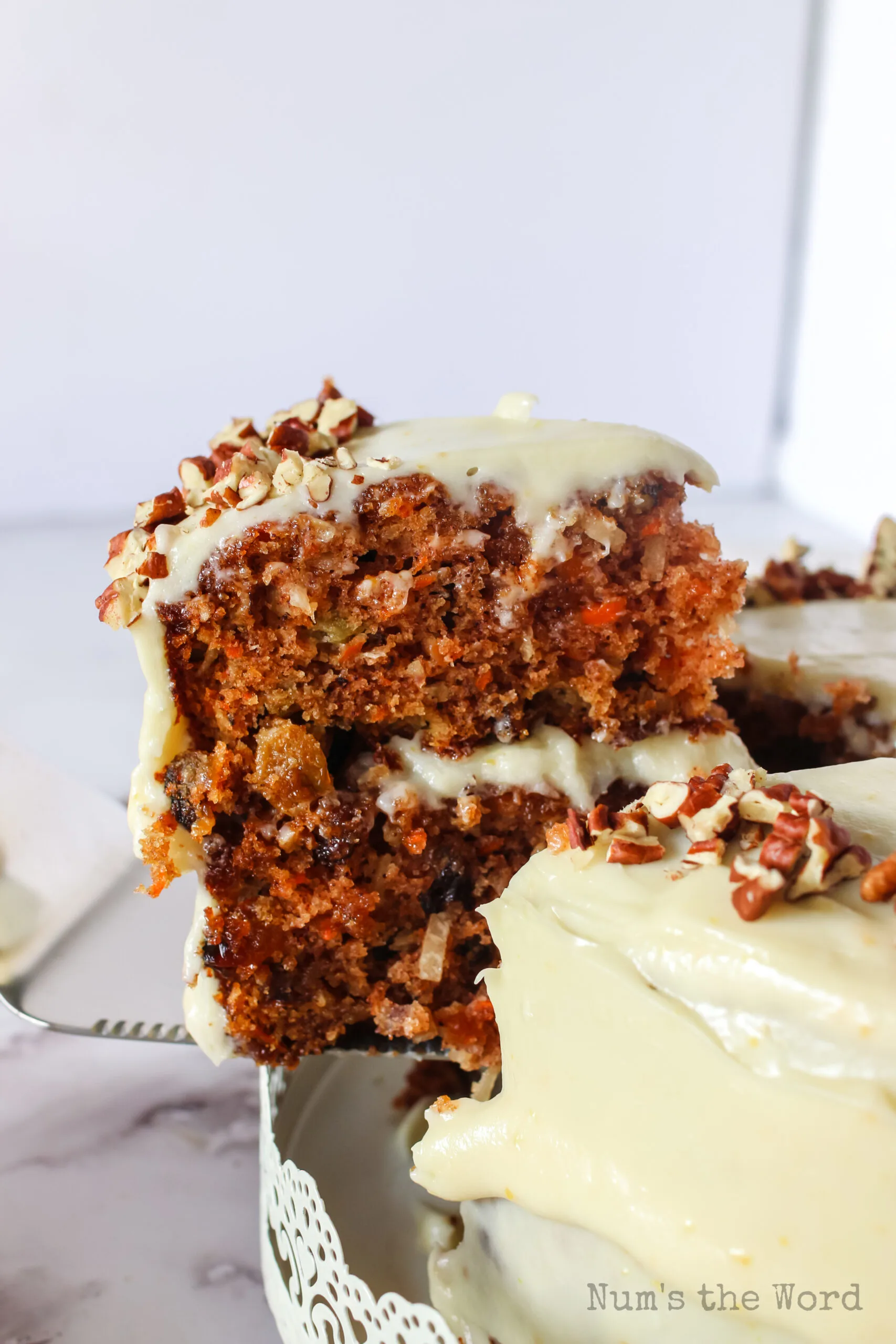 What Frosting Goes on Carrot Cake?
The most common frosting for carrot cake is fluffy cream cheese frosting.
The tangy, creamy flavor of cream cheese frosting complements the sweet, spicy flavors of the cake perfectly.
However, you can also use other frostings, such as buttercream or whipped cream, if you prefer.
Here's the ingredients you need for the best cream cheese frosting recipe that pairs really well with this cake.
Butter
Cream Cheese
Vanilla
Powdered Sugar
Orange Peel
Orange Juice
Combine ingredients for the creamy frosting after the cake bakes as you want the cake cooled completely to room temperature before frosting the top of the cake.
Pro Tips:
Use room temperature butter and cream cheese.
Get the orange peel from the orange before you get the orange juice.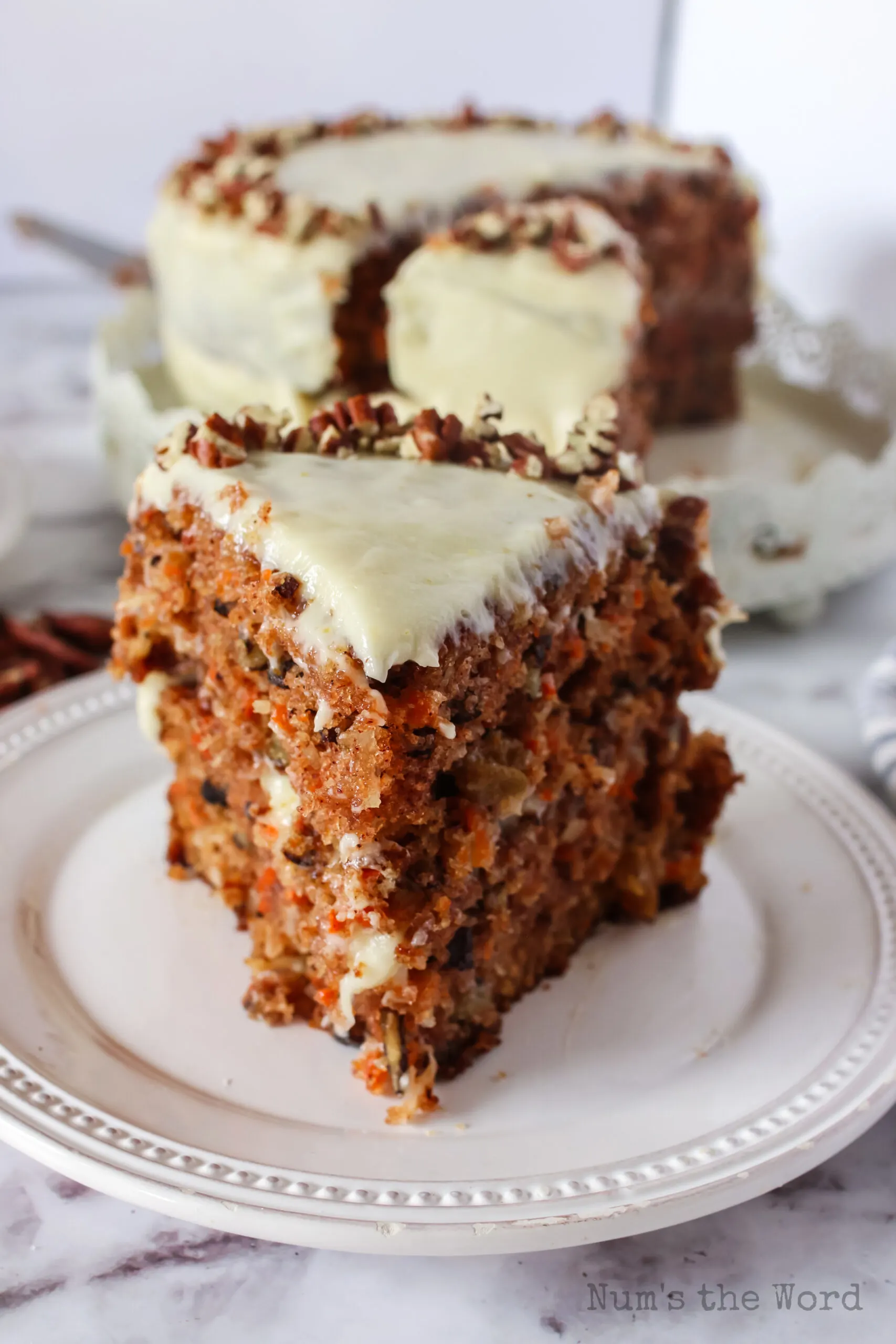 This Easy Carrot Cake Recipe is sure to be a family favorite and crowd pleaser! I know you'll enjoy it just as much as we do!
Yield: 8 Slices
Easy Carrot Cake Recipe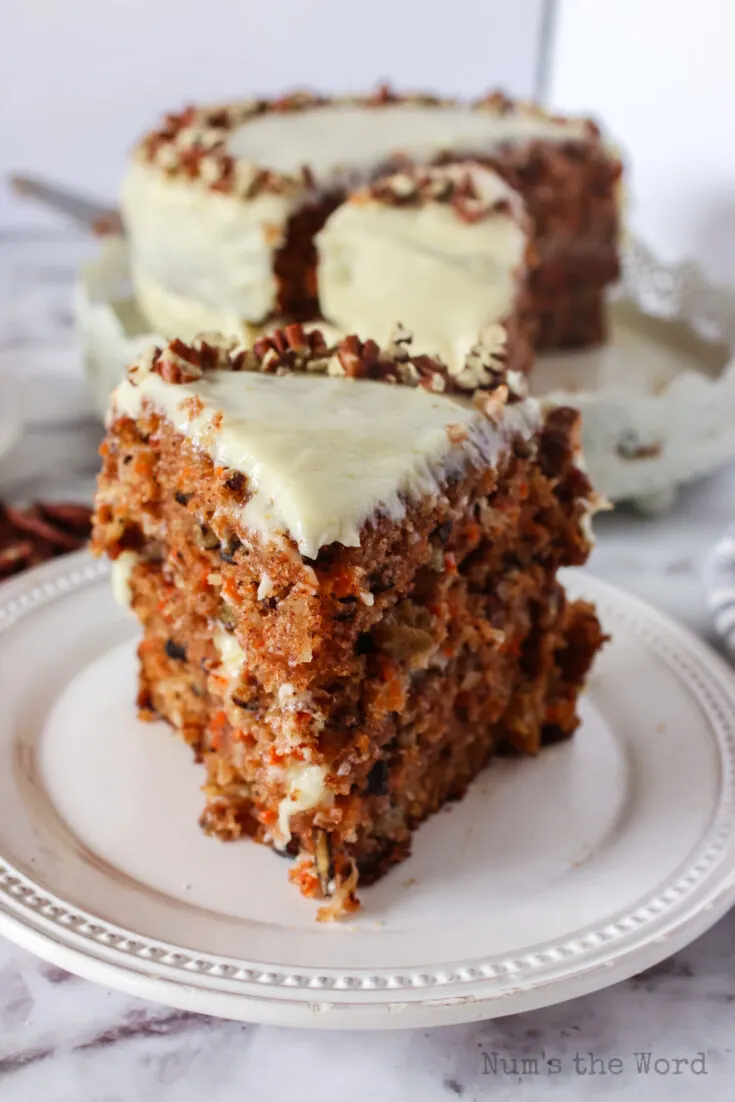 This Easy Carrot Cake Recipe is a sweet and simple dessert for all occasions. You'll love the sweet glaze, cream cheese frosting, and delicious cake.
Ingredients
Cake --------------
2 cups all-purpose flour
2 teaspoons baking soda
2 teaspoon cinnamon
1/2 teaspoon salt
3 eggs
3/4 cup vegetable oil
3/4 cup buttermilk
2 cups white sugar
1 teaspoon vanilla extract
2 cups grated carrots
1 cup shredded coconut
1 cup chopped pecans or walnuts
1 cup golden raisins
Glaze -------------------
1 cup white sugar
1/2 teaspoon baking soda
1/2 teaspoon buttermilk
2 teaspoons vanilla extract
1/4 cup butter
1/4 cup butter (room temperature)
Frosting ------------
1/4 cup butter, room temperature
8 ounce cream cheese, room temperature
1 teaspoon vanilla extract
2 cups powdered sugar
1 teaspoon orange peel
1 teaspoon orange juice
Instructions
Preheat oven to 350*F
Grease or butter two 9" round cake pans (put parchment paper in the bottom of the cake pans.)
Sift together flour, baking soda, cinnamon, and salt. Set aside.
In a new bowl combine eggs, vegetable oil, buttermilk, sugar and vanilla extract.
Add dry ingredient to wet ingredients and mix minimally.
Fold in carrots, coconut, nuts, and raisins.
Bake for 55 minutes.
While cake is baking, make the glaze
Combine sugar, baking soda, buttermilk, vanilla, and butter in small saucepan.
Bring to a boil, and boil for 5 minutes.
Take off of heat and add vanilla to mixture.
Once cake has cooked, remove from oven and with a small skewer poke holes in each cake all over.
Pour glaze over hot cake allowing glaze to soak into the cake.
Let cake cool before taking out of pan.
Time to make the frosting!
Whip cream cheese and butter together.
Add vanilla, orange peel and orange juice and whip again.
Spread over cake and enjoy!
Top cake with your own decorations or sprinkle with additional chopped pecans.