Nesquik No Bake Cookies are delicious, easy, and the perfect snack cookie! You can make them all year round and everyone loves them!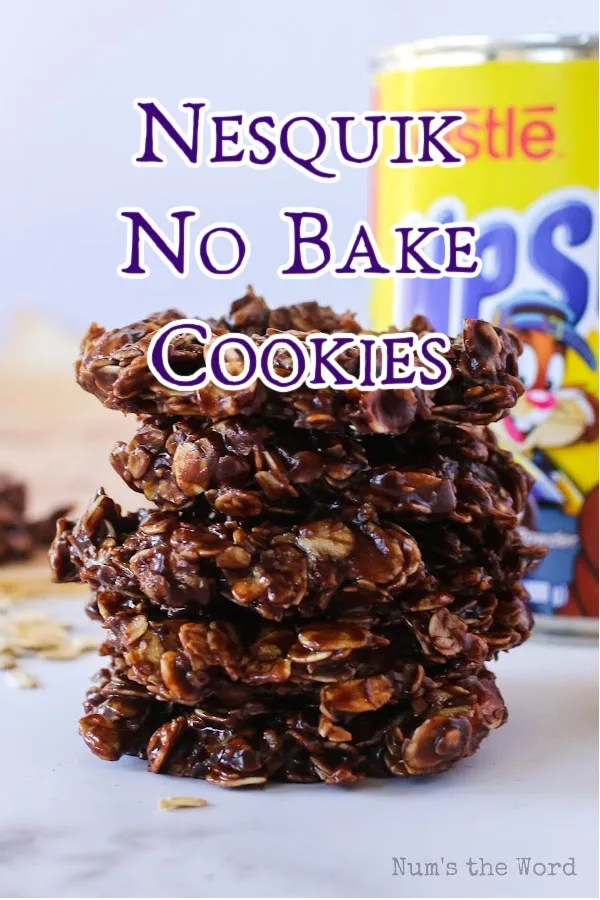 Oats, peanut butter, sugar, and Nesquik make the perfect cookie! Soft, chewy, and delicious!
I love this no bake cookie recipe because it takes minutes to throw together. Then you just let them cool.
I also love easy no bake cookies because they need much less sugar since there's already sugar in the Nesquik.
Plus no bake oatmeal cookies with Nesquik are a simple recipe even kids can make!
And there's no oven required! In the heat of the summer that is a necessity!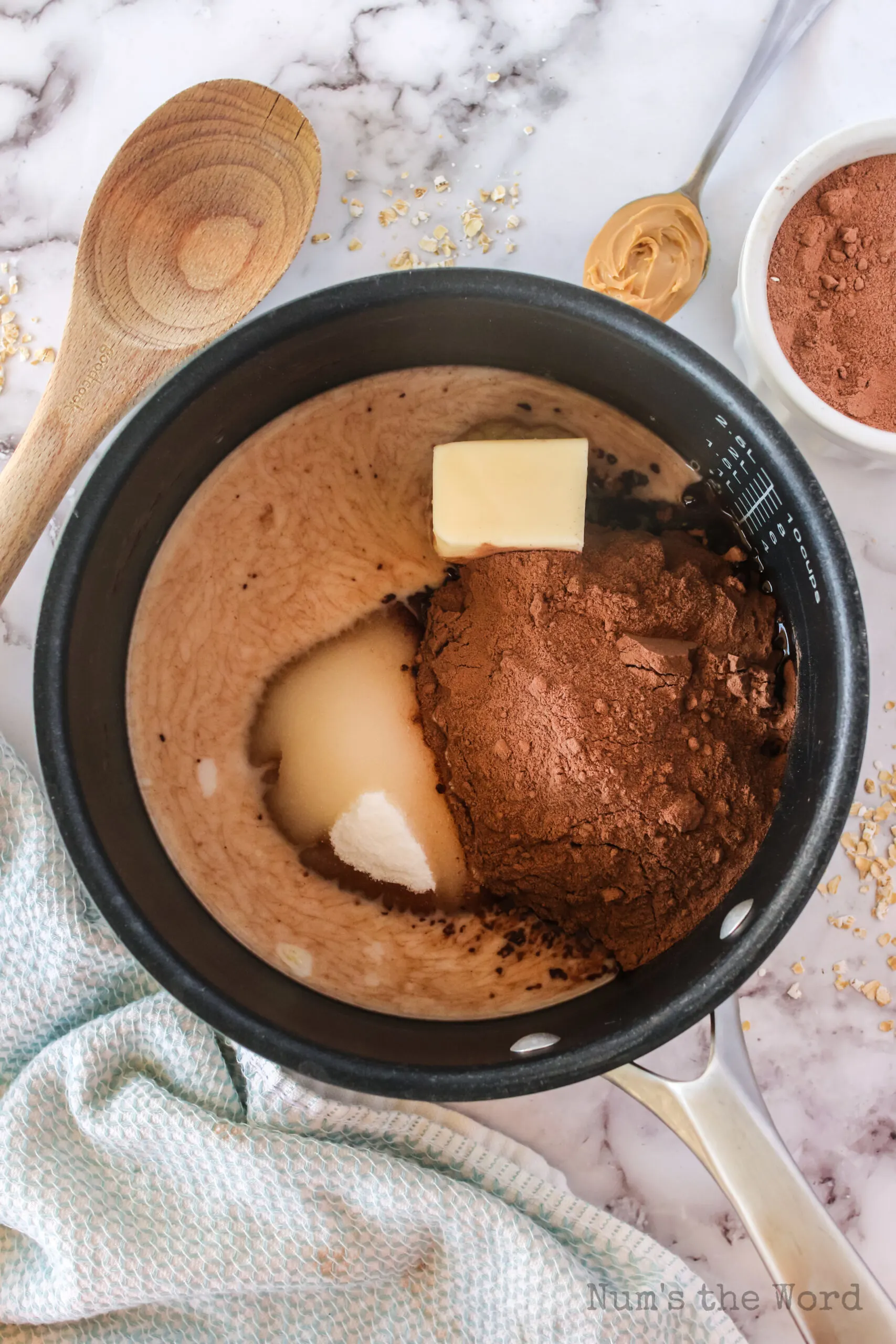 What Are No Bake Cookies?
No bake cookies are just what their name implies: cookies that require no baking.
There are lots of different no bake foods out there like No Bake Cheesecake, No Bake Granola Bars, No Bake Cookie Butter Pie, etc.
The benefits to no bakes is they don't require any baking time, so no oven is no problem.
That makes them a special favorite for mixing up with kids who aren't quite ready for oven cooking yet.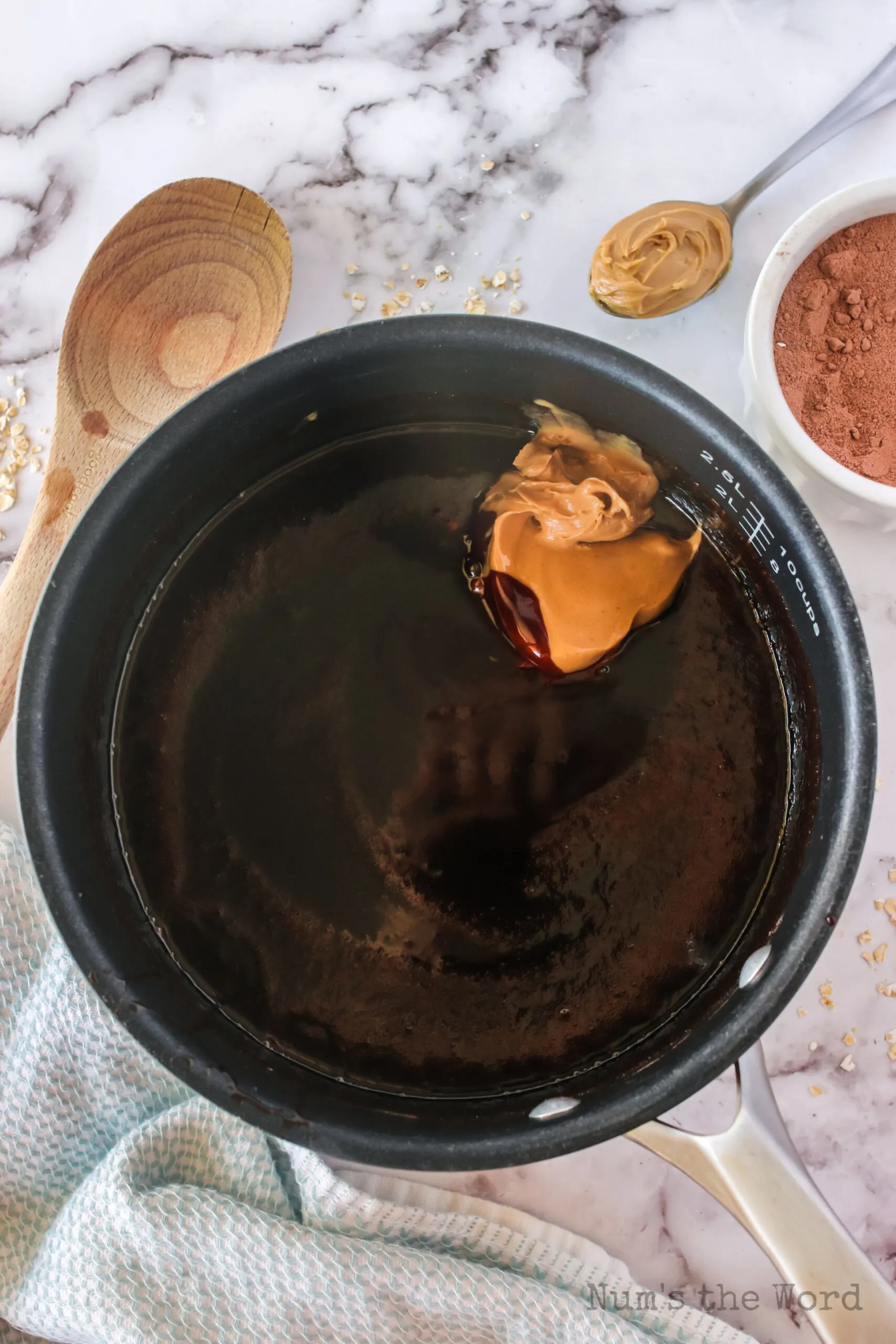 What Ingredients Are In Nesquik No Bake Cookies?
These easy cookies require simple ingredients but create a whole batch of yum!
Sugar: White sugar not brown sugar! Essential for the right texture.
Nesquik Chocolate Powder: Who knew this chocolate milk mix could be used for so many other things?
Milk: Any percentage of milk will work.
Butter: I always use salted butter but unsalted butter would work too.
Quick Oats: Oats are your main source of structure as there is no flour in no bakes.
Peanut Butter: I prefer creamy peanut butter but you can use chunky peanut butter too.
Vanilla: Pure vanilla extract will give you the best flavor.
Salt: Just a small amount but don't leave it out.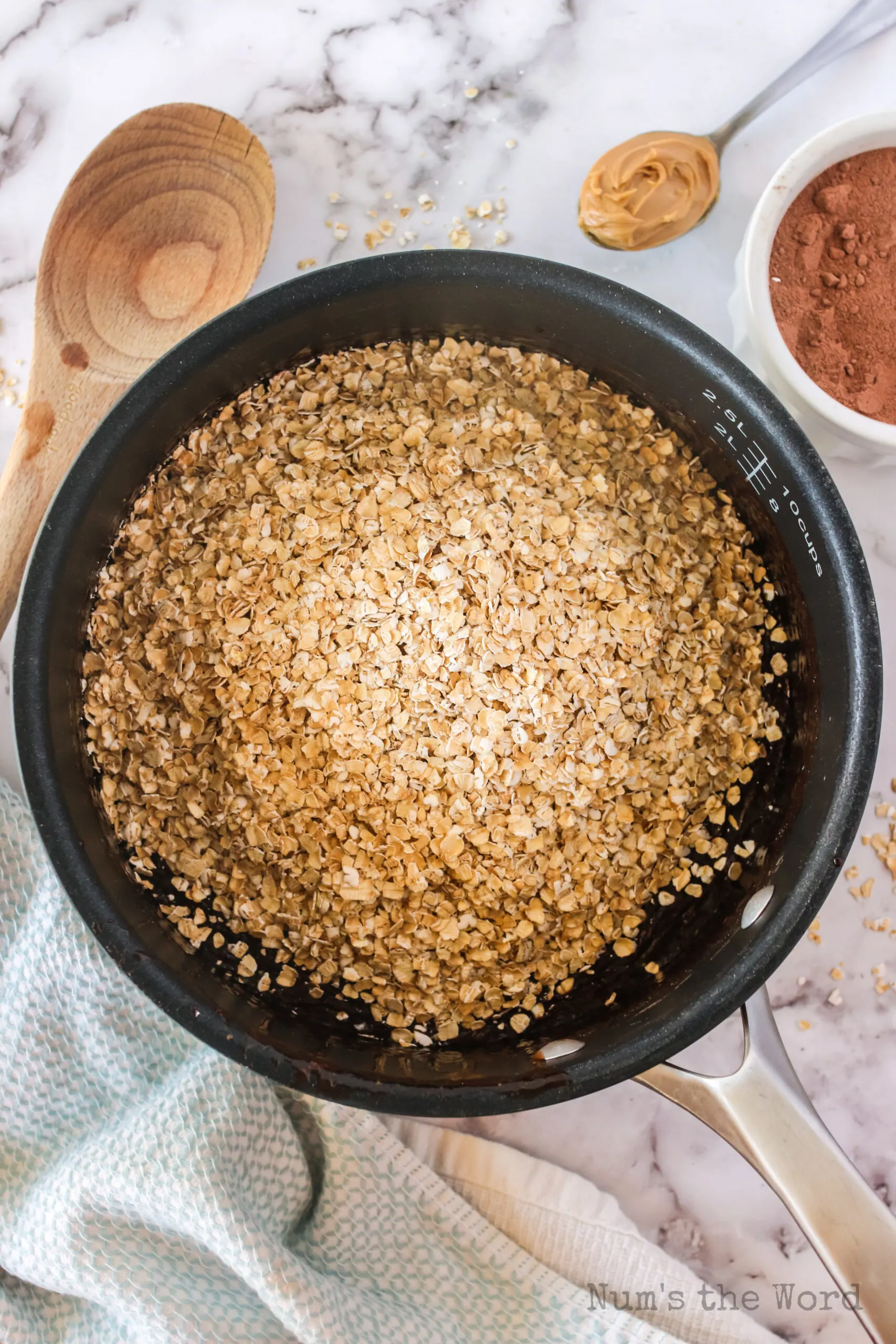 How to Make No Bake Cookies with Nesquik
Here's a no bake cookies recipe you're going to want to hang on too! Easy no bake cookies for the win!
Heat: In a large saucepan, combine sugar, nesquik, milk, and butter.
Add: Next add in the rest of the ingredients, being sure the peanut butter has completely melted before adding the oats.
Cool: Let the cookies cool completely on the counter for 30 minutes or move them to the fridge to cool faster.
Pro Tips:
Line the counter with wax paper or parchment paper before beginning so you can drop the cookies quickly!
The cookies will completely fall apart if you try to eat them before they've come to room temperature.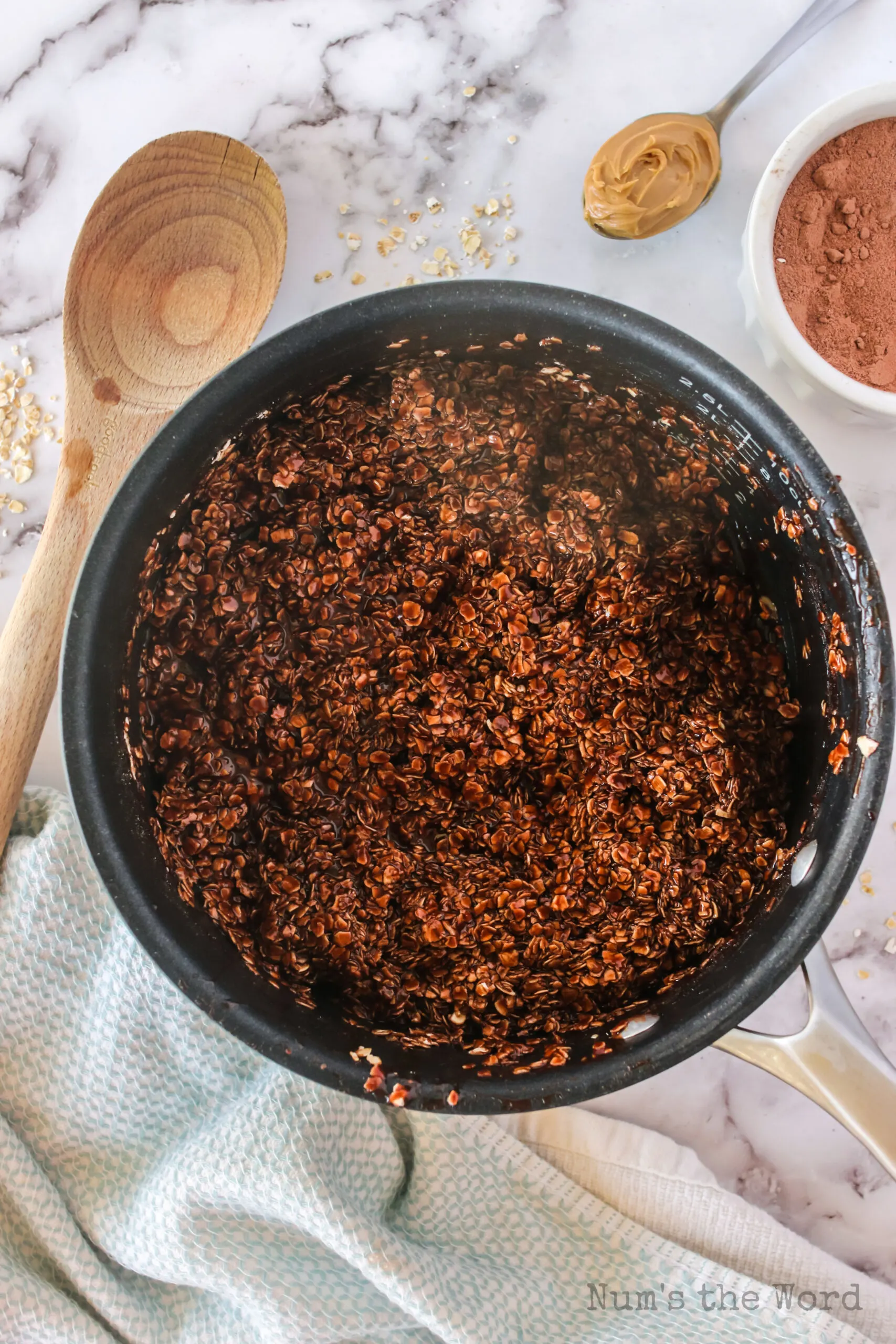 Can You Make No Bake Cookies with Nesquik
No bake cookies with nesquik are the perfect alternative to using cocoa powder or chocolate chips.
They will result in a slightly stickier cookie than the regular no bake cookies, so that's something to keep in mind.
Though it's a slightly different texture, the depth of flavor is still delicious and a perfect recipe to have up your sleeve.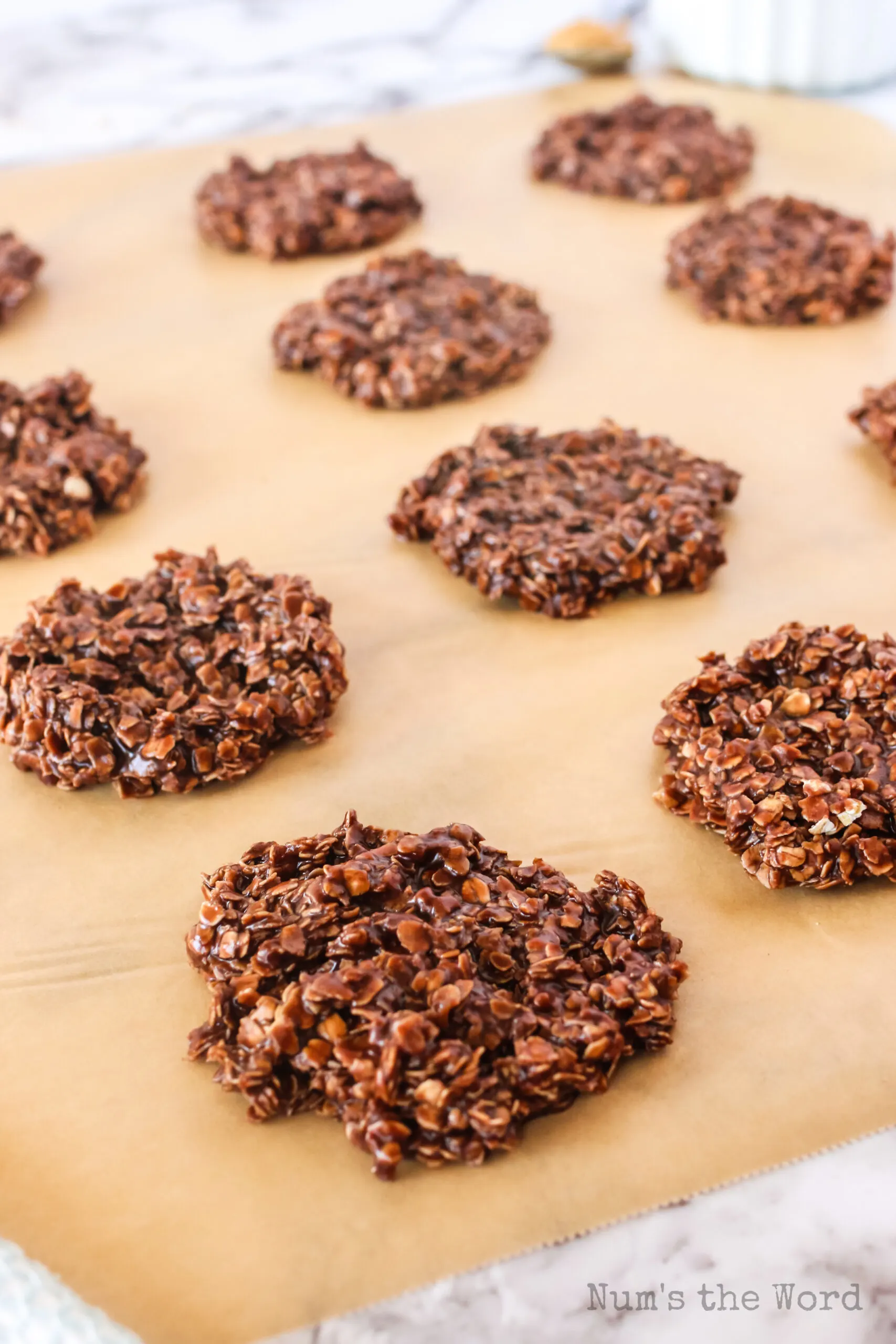 How to Store No Bake Cookies
No bake cookies should be stored on the counter or in the fridge in an airtight container.
I find because this is a stickier cookie than the original no bake cookie, storing them in the fridge will give you the best result.
Use a piece of parchment paper in between each layer of cookies to keep them from sticking to one another.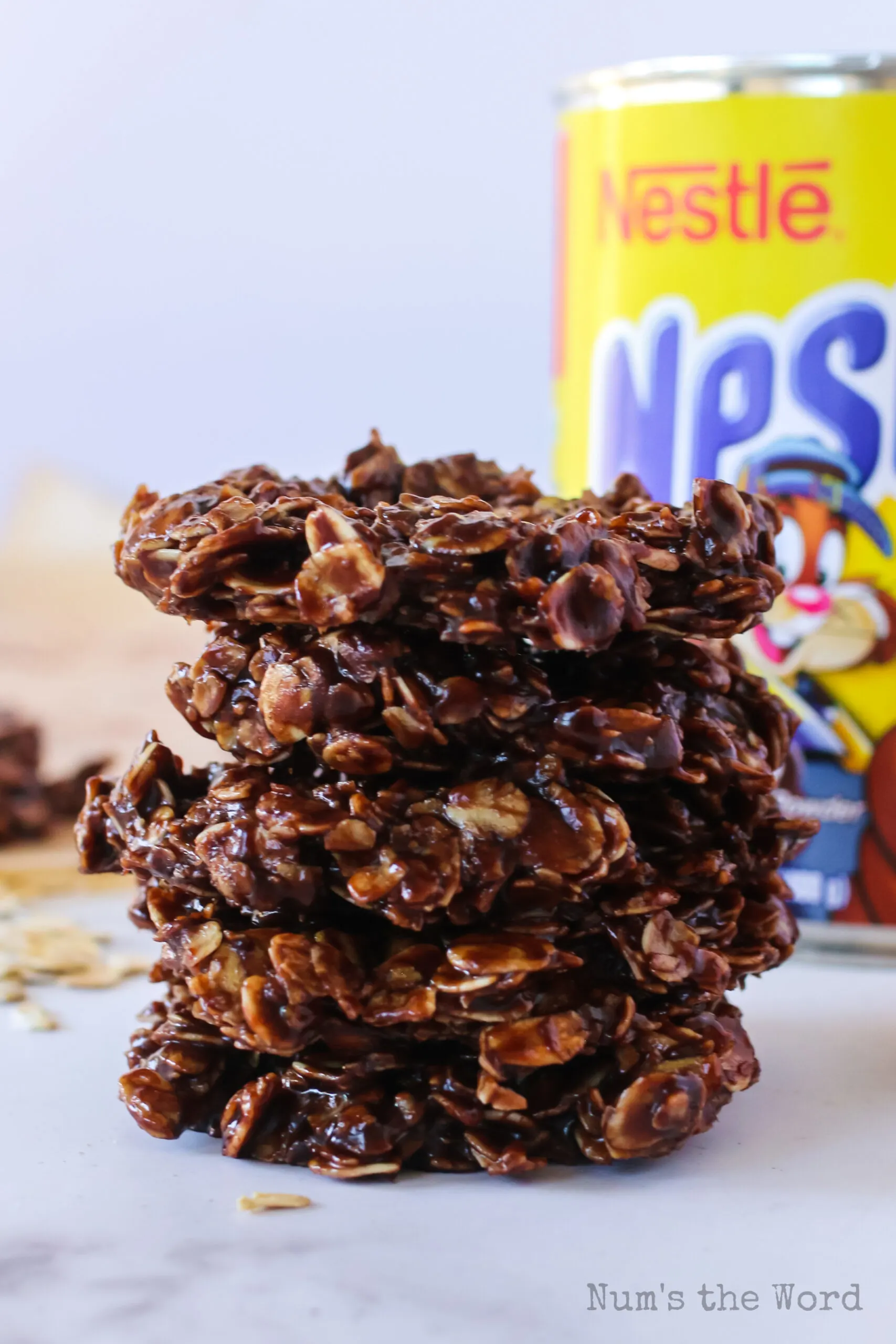 How Long Do Nesquik No Bake Cookies Last?
No bake cookies actually last a really long time!
Which is another reason why they're a great cookie for making all year round!
Keep your no bake cookies in the fridge for up to 2 weeks! How's that for lasting a long time?
Or you can keep them on the counter instead and they'll last for about a week. Still pretty good for a cookie!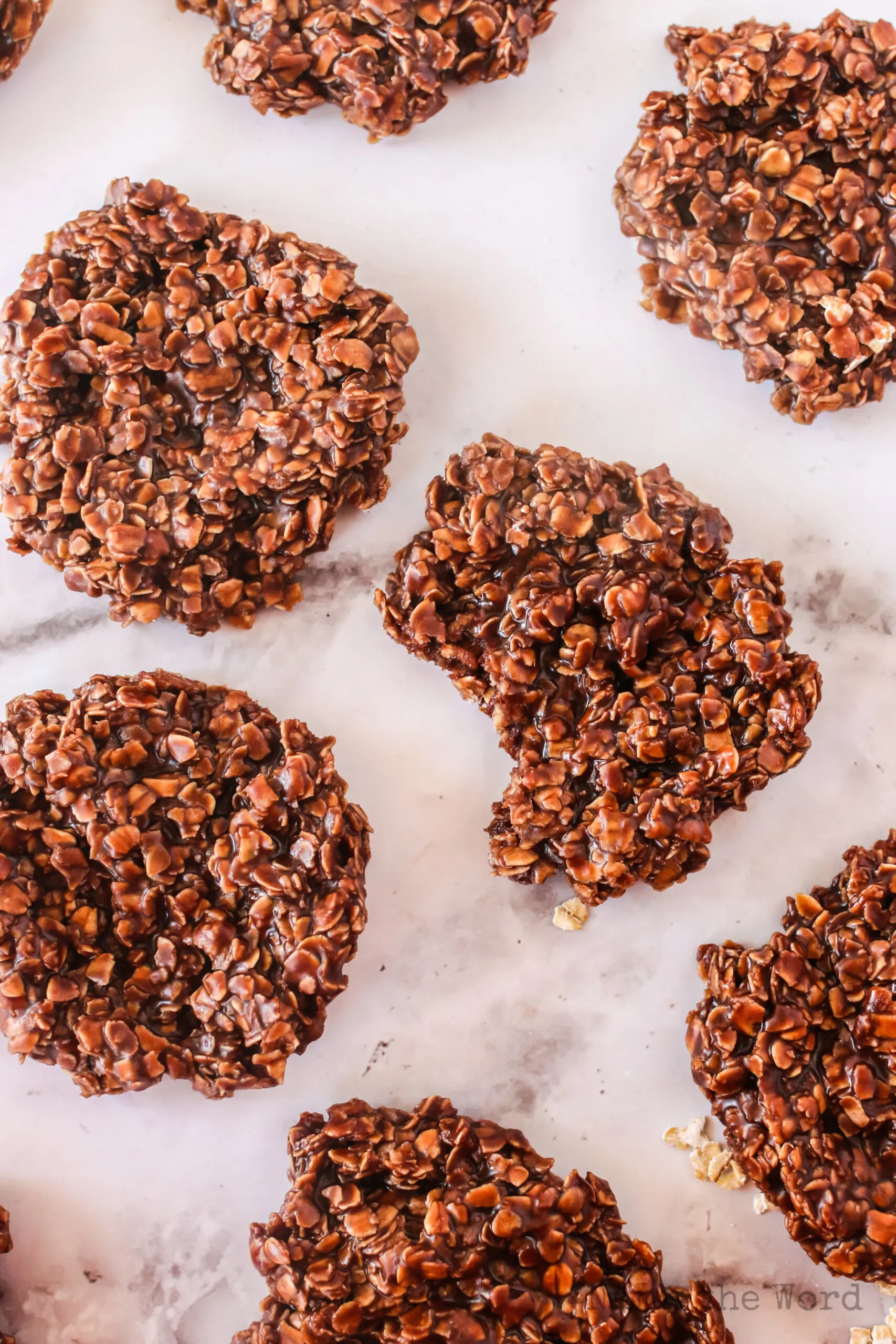 Can You Freeze Nesquik No Bake Cookies?
Yes you can absolutely freeze this yummy recipe.
First, flash freeze them by placing a single layer of cookies on a baking sheet lined with parchment paper.
They should be frozen for at least one hour before being moved to a freezer safe bag.
When you're ready to eat them, remove from the freezer and thaw on the counter or in the fridge until the perfect texture.
Frozen no bake chocolate oatmeal cookies will stay good in the freezer for up to three months.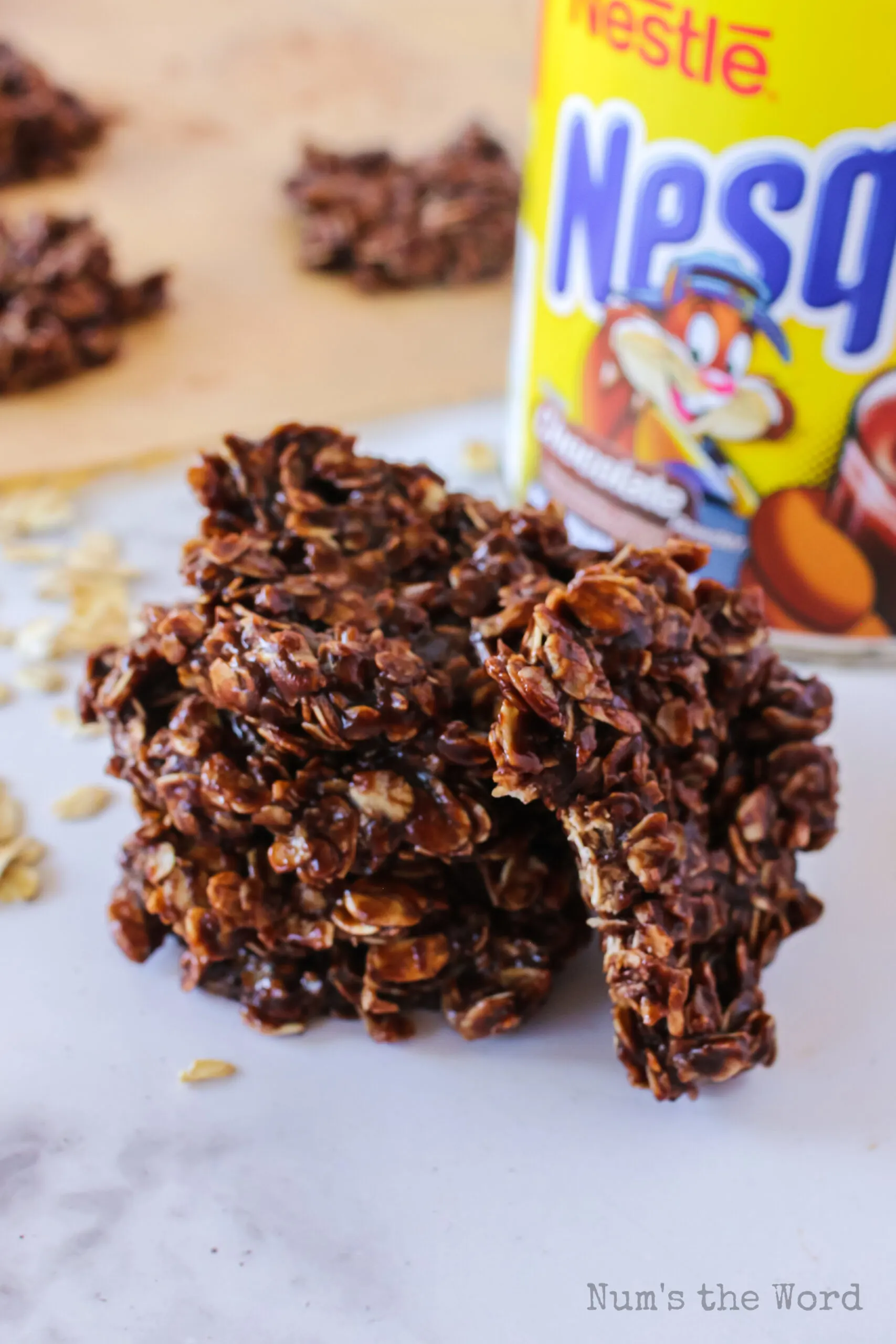 Can I Make Nesquik No Bake Cookies Ahead of Time?
Definitely! Nesquick cookies recipe no bake taste great for a long time. So you can definitely make them ahead of time!
When making them for a party or a cookie platter, make them days before you need them and no one will be the wiser!
Do You Use Rolled Oats or Quick Oats for Nesquik No Bake Cookies?
Technically, you can use either rolled oats (also called old fashioned oats) or quick oats for no bake cookies.
Rolled oats are much thicker than quick-cooking oats and they will provide a chewier texture.
So use what you've got and enjoy these cookies either way.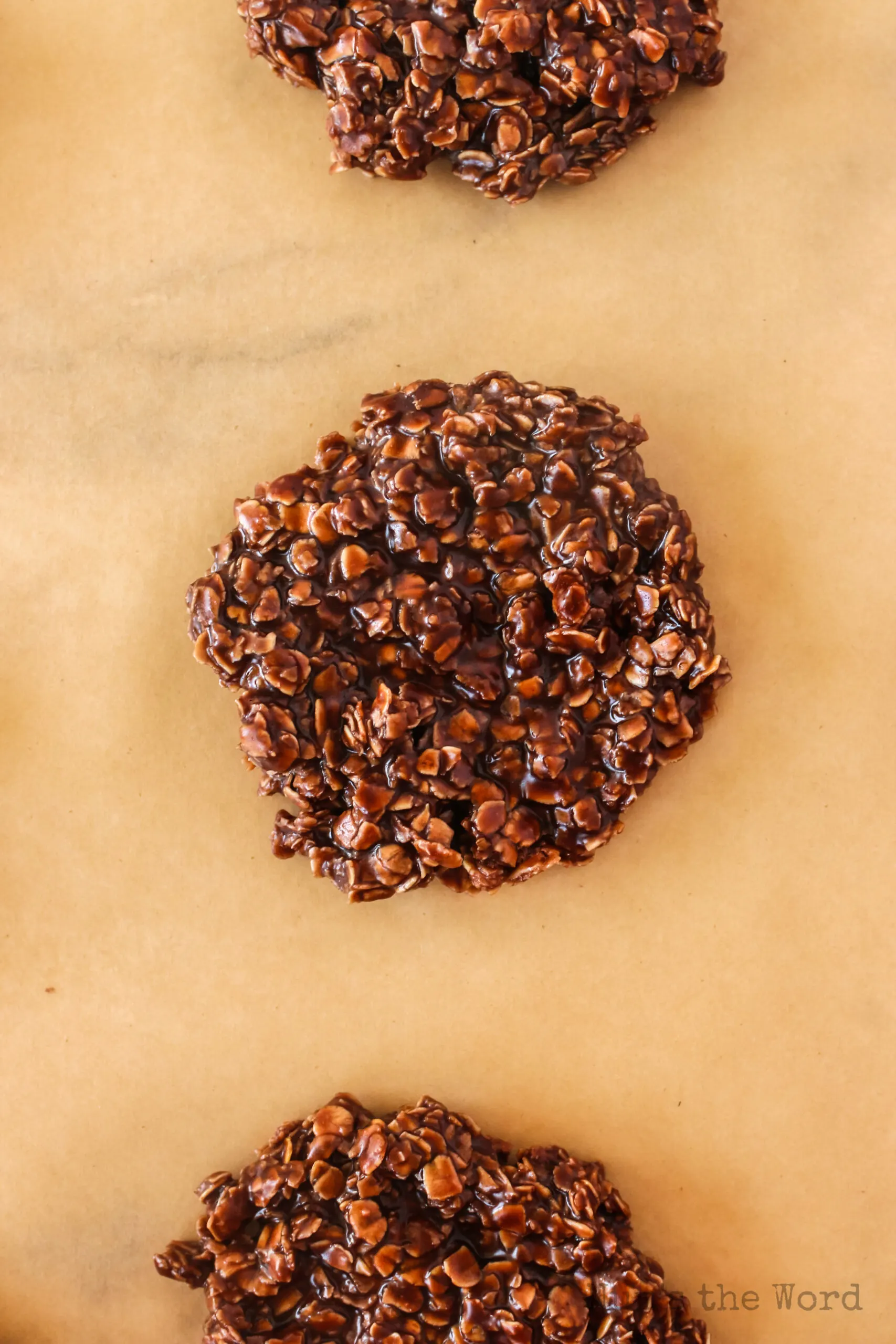 Can Dogs Eat Nesquik No Bake Cookies?
Dogs cannot eat Nesquik No Bake Cookies. Not only are these unhealthy for dogs but they can even be toxic!
Dogs are not supposed to consume chocolate. Any form of chocolate. Ever.
So keep your dogs far away from these nesquik no bake cookies and if they've consumed some, be sure to reach out to your vet for assistance.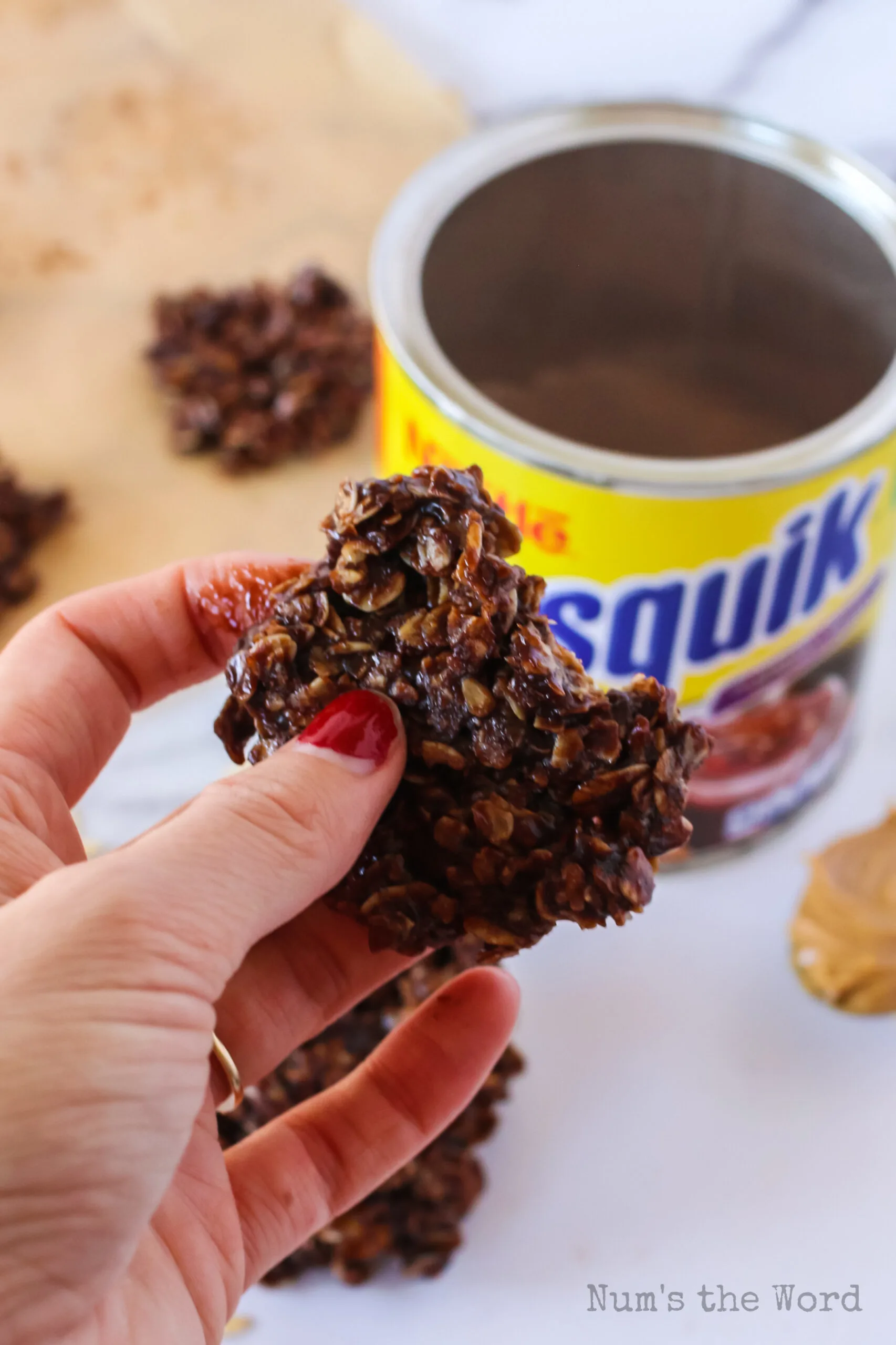 Nesquik No Bake Cookies are an easy and delicious cookie! Because you don't even need your oven, you'll find yourself making them all year long!
Yield: 24 Cookies
Nesquik No Bake Cookies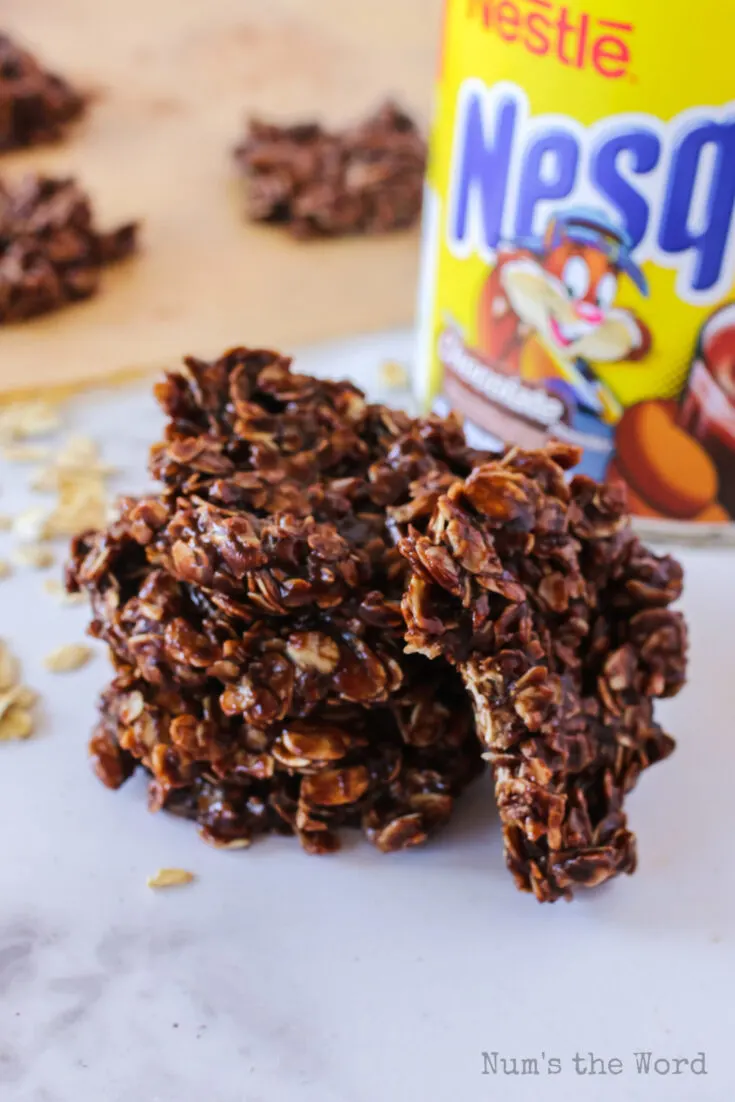 Nesquik No Bake Cookies are delicious, easy, and the perfect snack cookie! You can make them all year round and everyone loves them!
Additional Time
40 minutes
Ingredients
Instructions
Before you begin making your cookies, line your counter with wax paper.
In a pot, add sugar, nesquik, milk and butter.
Cook over low heat until butter is melted and mixture is smooth. Do not boil yet.
Once mixture is smooth, bring mixture to a boil and cook for 1 ½ minutes stirring at a rapid boil.
Remove from heat.
Add in peanut butter, vanilla and salt. Mix well.
Once peanut butter is melted, add in oats and mix well.
Using a small cookie scoop, scoop out cookies onto wax paper.
Allow to cool for 30 minutes before eating or speed up the process in the fridge.
Because of the nesquik these tend to be a stickier cookie. So refrigeration is better I've found.
Nutrition Information:
Yield:
24
Serving Size:
1
Amount Per Serving:
Calories:

130
Total Fat:

7g
Saturated Fat:

3g
Trans Fat:

0g
Unsaturated Fat:

3g
Cholesterol:

12mg
Sodium:

89mg
Carbohydrates:

16g
Fiber:

1g
Sugar:

10g
Protein:

2g