Wanna really rock your taste buds? Welcome to the amazing world of Peanut Butter Cup Cookies!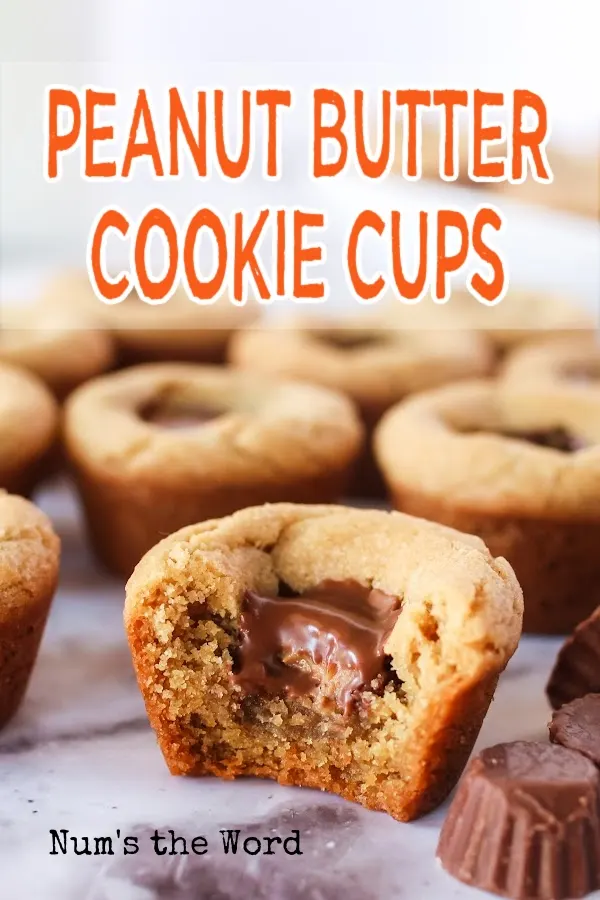 Think delicious, bite-sized peanut butter cookies, but with a delightful surprise – a peanut butter cup place right in the center. Yum!
These cookies are perfect for peanut butter lovers.
It's an easy recipe. With just a handful of ingredients and simple steps, you can whip up a batch of these delicious cookies in no time.
These cookies are great for sharing. I like serving them especially during the holiday season but a regular day can become a great day with them too!
They are the perfect size for a sweet treat – not too big, not too small, just right! And if I eat 5 of them? Well they were small!
And of course, the best part – the surprise peanut butter cup inside!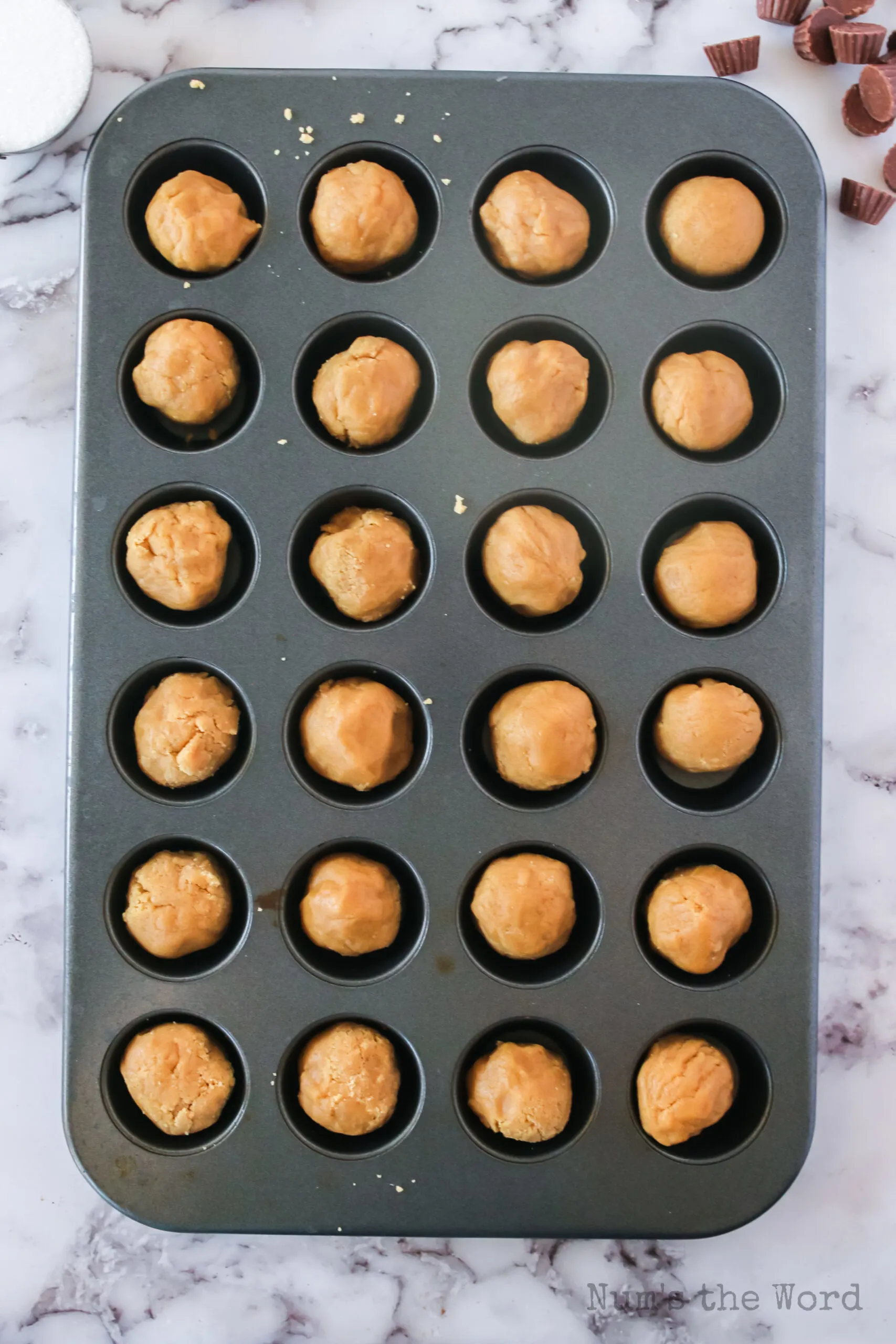 What Ingredients are in Peanut Butter Cup Cookies?
Creating this sweet treat is easy and delicious at the same time! Homemade cookies are the best aren't they?
Here are the simple ingredients you need:
Butter: Provides richness and helps create a tender crumb.
Brown Sugar and White Sugar: Sweetness, and helps the cookies stay moist.
Eggs: Helps bind the cookies together.
Creamy Peanut Butter: The star ingredient, adding a delicious flavor.
All-purpose Flour: Provides structure to the cookies.
Baking Soda: Helps the cookies rise and spread.
Salt: Balances out the sweetness and enhances flavor.
Pro tips:
For the best result, use high-quality creamy peanut butter. It gives a smoother texture and richer flavor.
I don't recommend crunchy peanut butter. I don't like the crunch in the cookies.
You'll also need the miniature peanut butter cups like you would get at Halloween.
You may be a fan of natural peanut butter but I don't recommend it. It separates too much.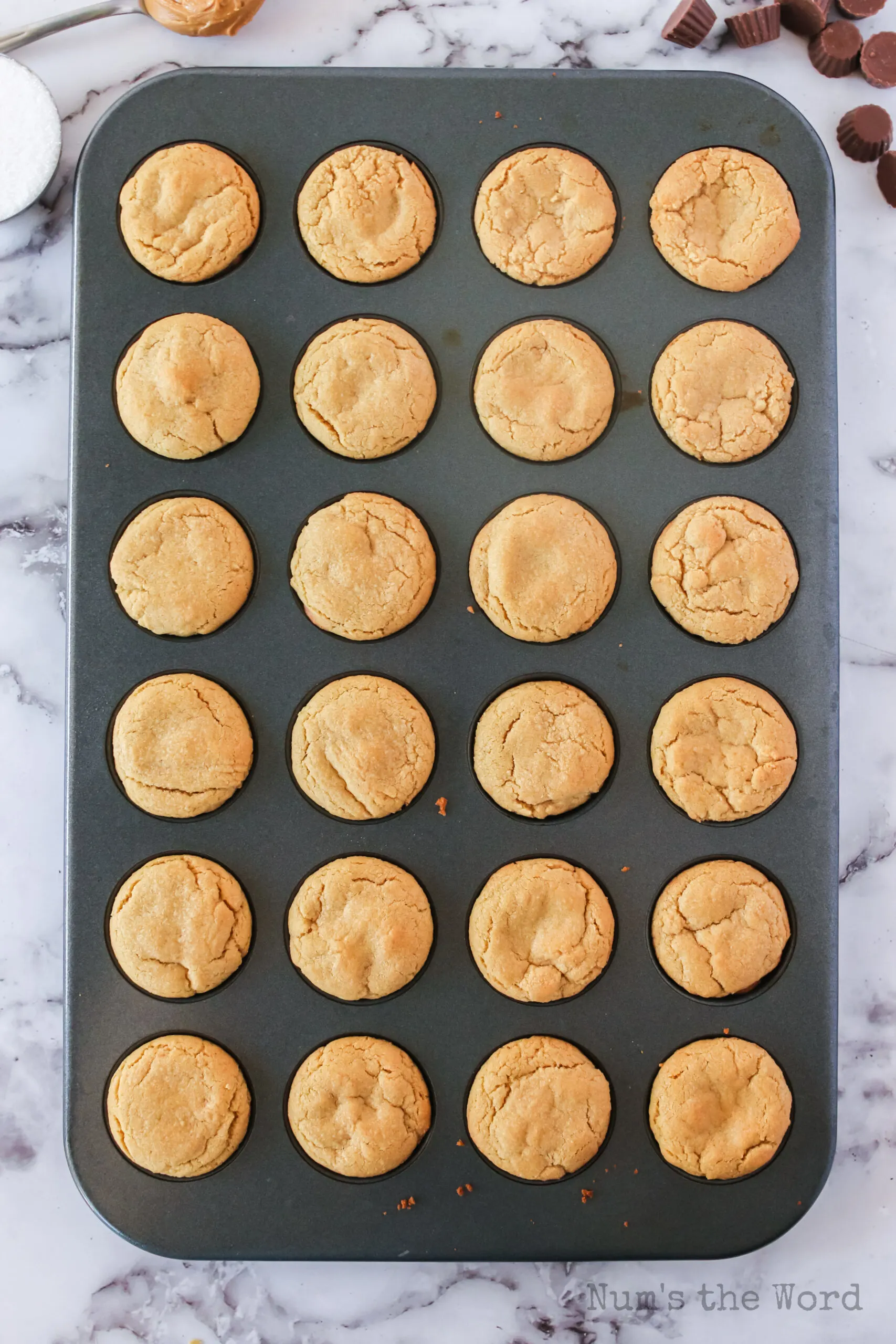 How to Make Peanut Butter Cup Cookies?
Reese's peanut butter cookie cups are actually pretty easy to make! Hallelujah! Easy cookies that taste AMAZING!
Here's the steps:
Cream butter and sugars together in a large bowl.
Add eggs and peanut butter, blending well.
Gradually mix in dry ingredients.
Scoop the peanut butter cookie dough into a mini muffin tin.
Bake cookies until golden brown.
Press a peanut butter cup into the center of each cookie.
Pro tips:
Using a small cookie scoop ensures that all your cookies are the same size and bake evenly.
A mini muffin pan is essential. The cookie dough balls will spread too much otherwise.
It's really important to add the peanut butter cup while the cookies are still warm. Otherwise it won't work.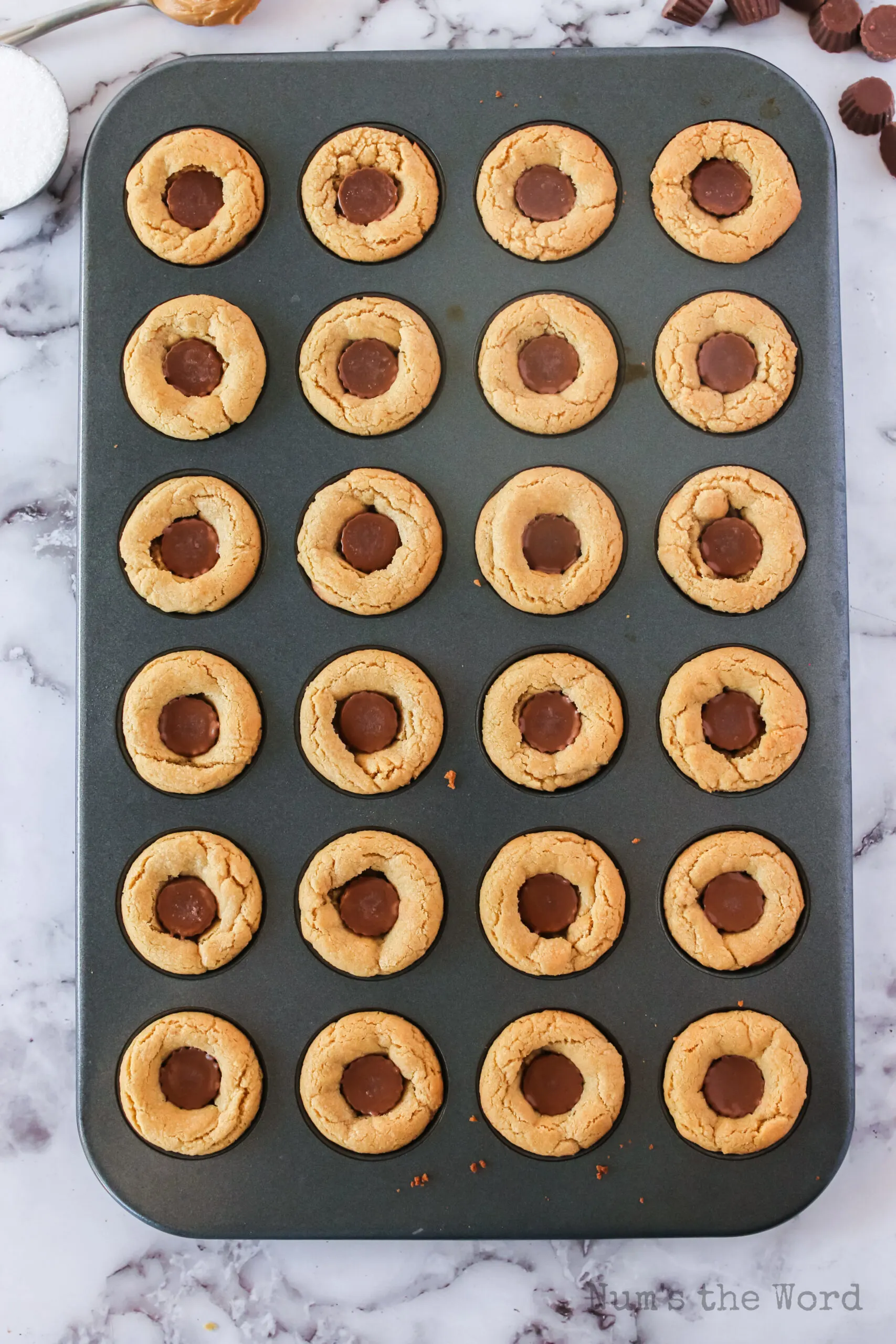 How Long Do Peanut Butter Cup Cookies Last?
These delicious peanut butter cookie cups can last up to a week.
But in my house, they usually disappear within a day or two!
Actually they normally disappear within hours! They're really that good.
If you don't want them to be gone that quickly keep them hidden! It's the only way!
Actually you'll have to bake them when no one is home too.
Those warm cookies baking in the oven? No one can hide that smell!
How to Store Peanut Butter Cup Cookies?
Store these easy peanut butter cup cookies in an airtight container at room temperature.
They'll keep their chewy texture and peanut buttery goodness!
I don't recommend keeping them in the fridge. I prefer them to be room temperature so they stay softer.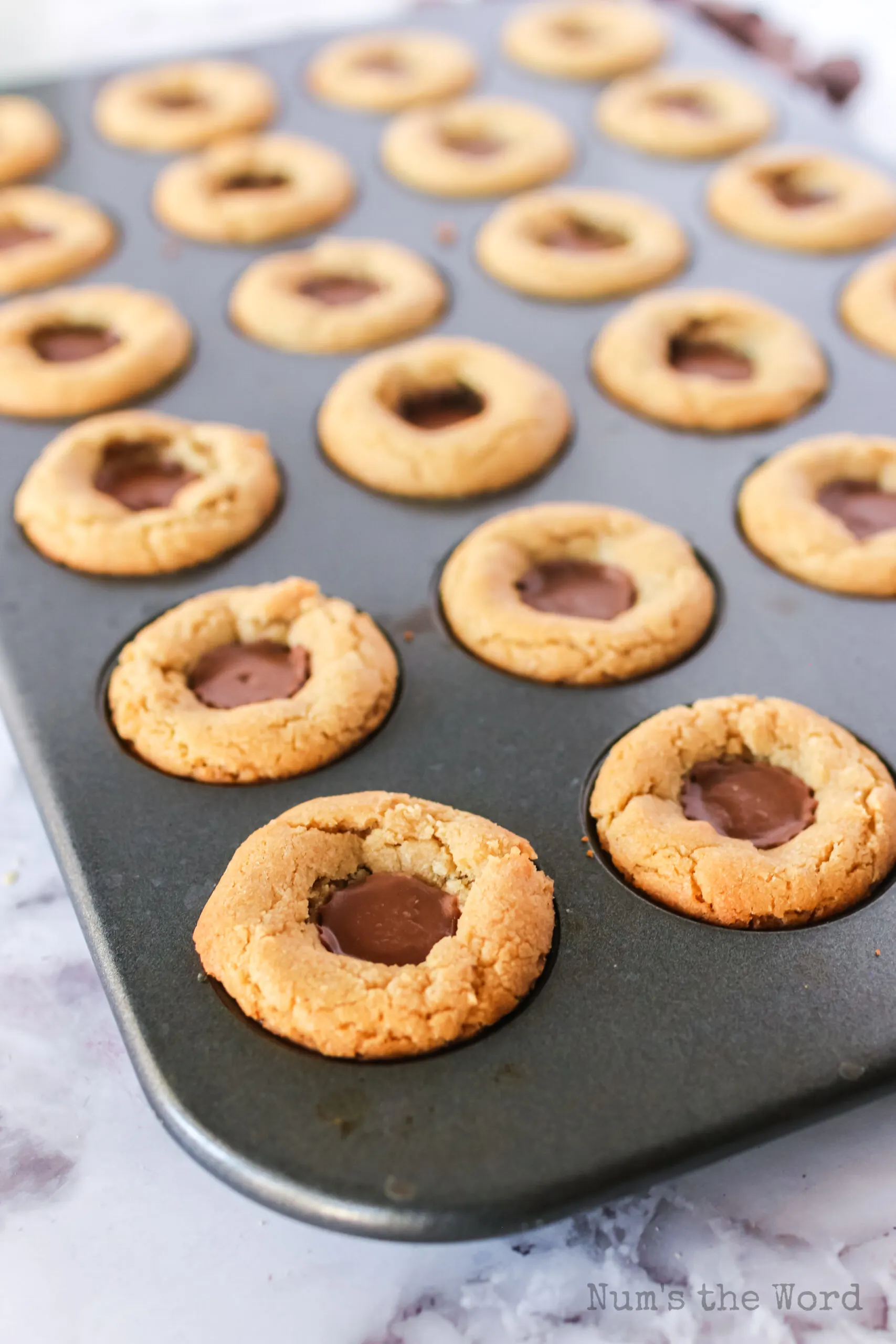 Can You Freeze Peanut Butter Cup Cookies?
Absolutely!
First, let the cookies cool completely. That essential to keep them from getting wrecked in the freezer.
Then place cookies in a single layer in an airtight container.
They can be frozen for up to 3 months.
Just defrost at room temperature when you're ready to enjoy them.
You can also flash freeze the dough in the freezer for an hour.
Then transfer and bake them straight from the oven whenever! Add a couple minutes though to account for them being frozen.
Can I Use Other Candy in Peanut Butter Cup Cookies?
Yes, you can! While this recipe uses Reese's peanut butter cups, feel free to get creative.
Try other types of candies like white chocolate peanut butter cups or even miniature Snickers!
Leftover Halloween candy beware! Begin evil laughter!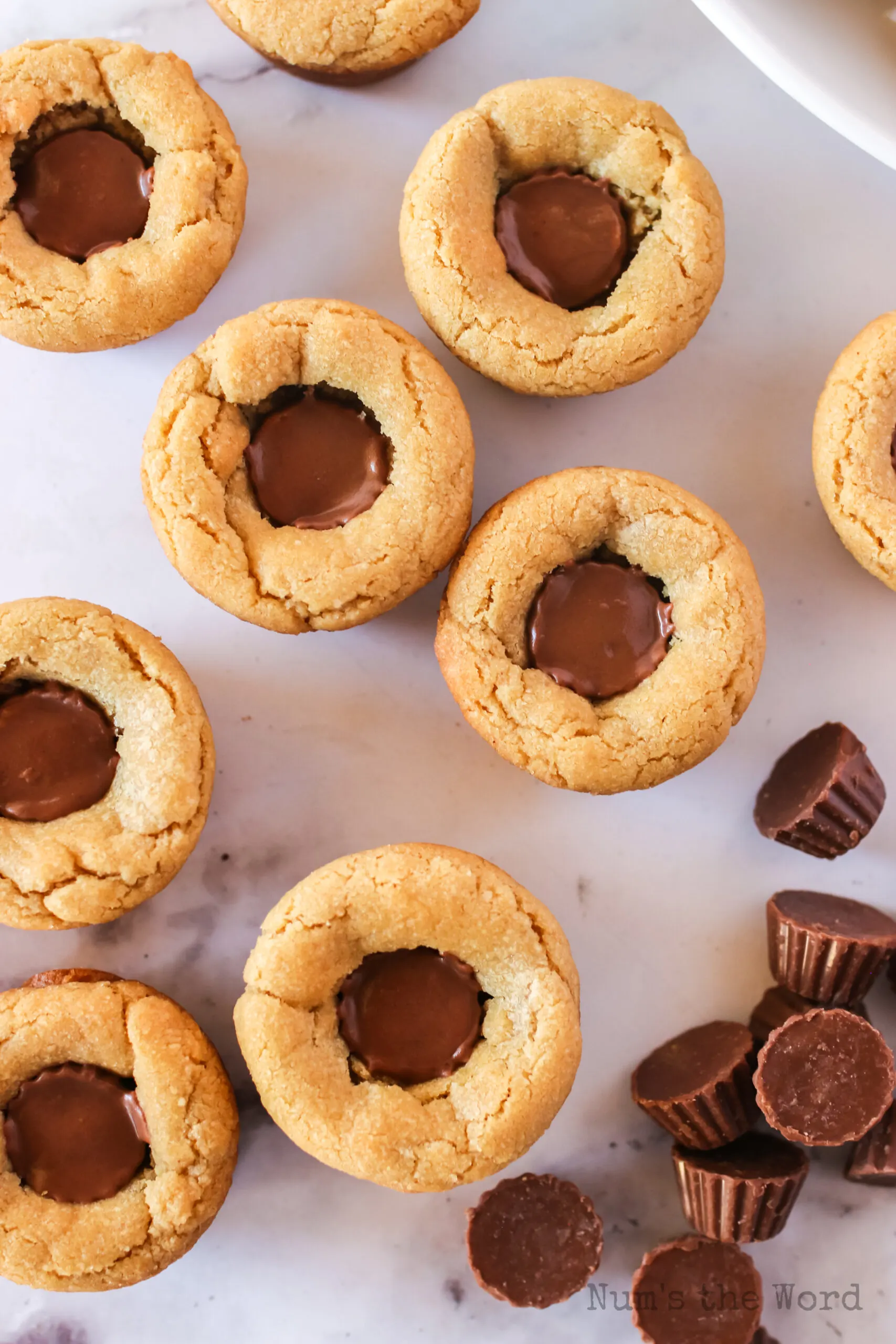 When to Serve Peanut Butter Cup Cookies?
Maybe it would be easier to say when NOT to serve these reese's peanut butter cup cookies… because I can't actually think of a time!
These cookies are perfect for any time of year. But of course they're really popular during the holiday season.
Why did cookies become a holiday thing? Maybe so we don't eat them every minute of every day? Probably.
I like making them right after Halloween. Because I've usually got some candy I hid from the kids that I need to use up.
They also make a great addition to holiday cookie trays or a homemade gift for friends and neighbors!
Seriously! That'll make you the most popular person in the neighborhood for sure.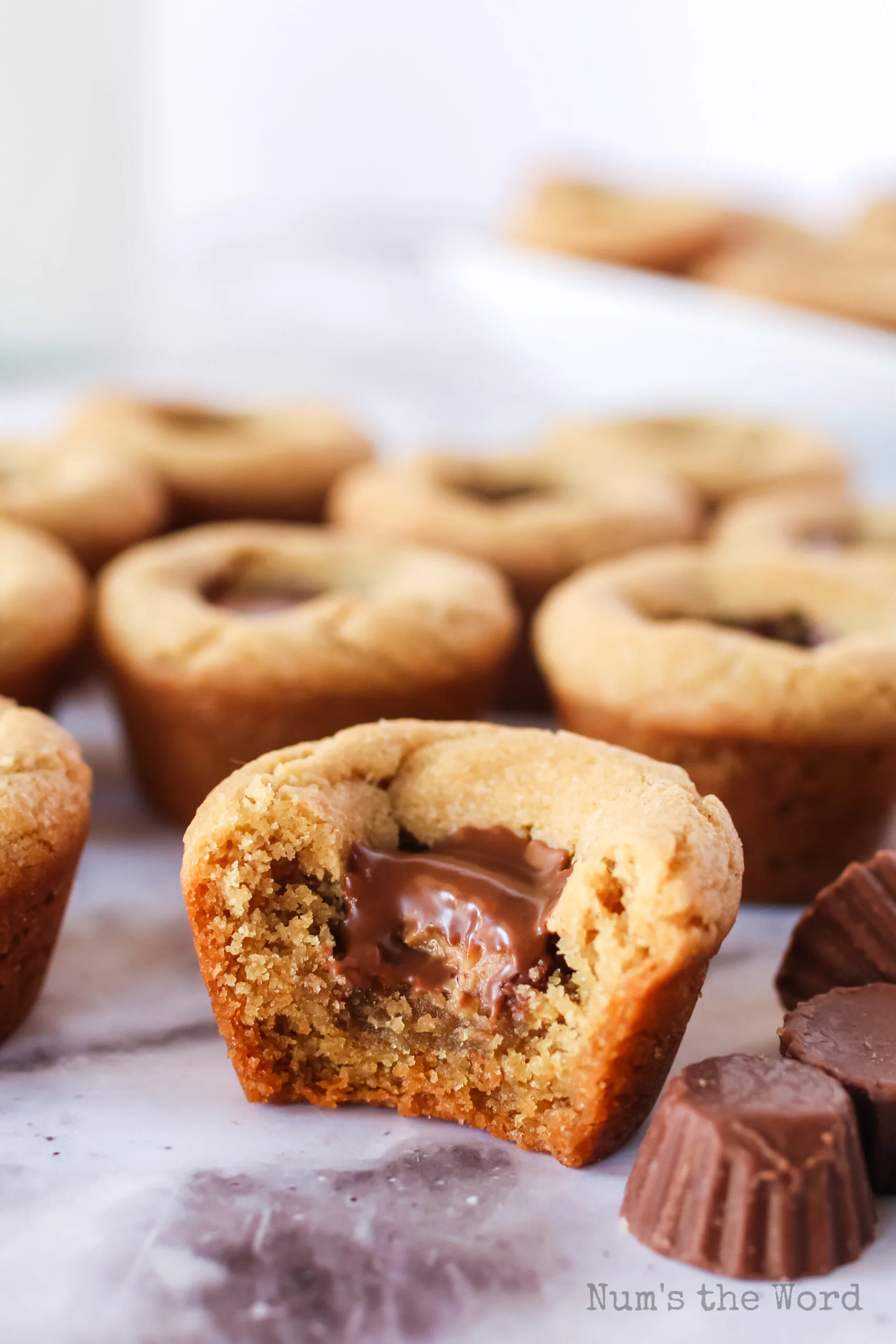 Are Peanut Butter Cup Cookies Healthy?
While these easy cookies aren't exactly "healthy food", they are made with real ingredients like butter, eggs, and peanut butter.
I think it's all about moderation. And as long as you aren't eating them all in one sitting? You're probably good.
And if you do eat them all in one sitting? I won't judge!
During the holidays I think we can all agree. It's cold outside! And a great cookie can make that so much more bearable.
Can My Dog Eat Peanut Butter Cup Cookies?
No, these cookies are not safe for dogs due to the chocolate and high sugar content.
Dogs have a difficult time processing sugar. And actually chocolate can be toxic for them. Which can be a really big problem!
So be sure to stick to treats made specifically for dogs.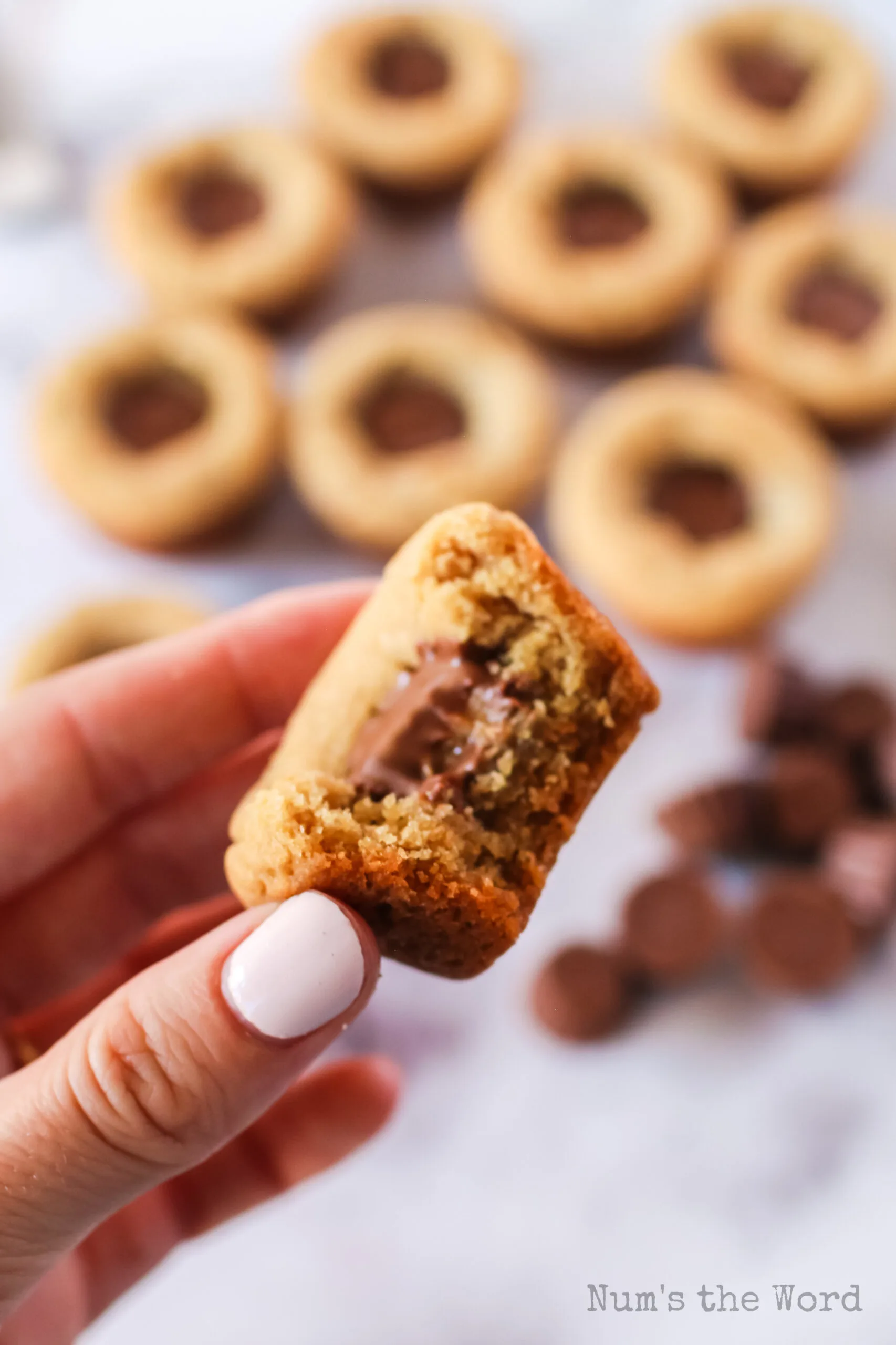 Additional Peanut Butter Recipes You'll Love…
Enjoy baking these easy and irresistible Peanut Butter Cookie Cups! They're the ultimate cookie for any fan of peanut butter and chocolate.
Yield: 48+ Cookie Cups
Peanut Butter Cookie Cups
Indulge in these easy-to-make Peanut Butter Cookie Cups! They're the perfect combination of creamy peanut butter and rich chocolate. A must-try treat!
Additional Time
10 minutes
Ingredients
Instructions
Preheat oven to 350*F
You'll be using a mini muffin tin instead of cookie sheet for this recipe.
Cream butter, brown sugar and white sugar together
Add eggs and blend well, scraping sides of bowl as needed.
Add peanut butter and blend again. Scrape sides.
Add flour 1 cup at a time, mixing between each addition.
Add baking soda and salt - blend.
Using a small cookie scoop, scoop one ball of dough into each ungreased hole of a mini muffin tin.
Bake for 8-10 minutes.
When you remove from the oven, press a small peanut butter cup into the center of each cookie cup.
Let cool on the pan for 5 minutes, then transfer to a cooling rack.
Nutrition Information:
Yield:
48
Serving Size:
1
Amount Per Serving:
Calories:

128
Total Fat:

7g
Saturated Fat:

3g
Trans Fat:

0g
Unsaturated Fat:

3g
Cholesterol:

18mg
Sodium:

124mg
Carbohydrates:

15g
Fiber:

1g
Sugar:

8g
Protein:

2g