These Peanut Butter and Jelly Cookies are a mouthwatering delight that will transport you back to childhood.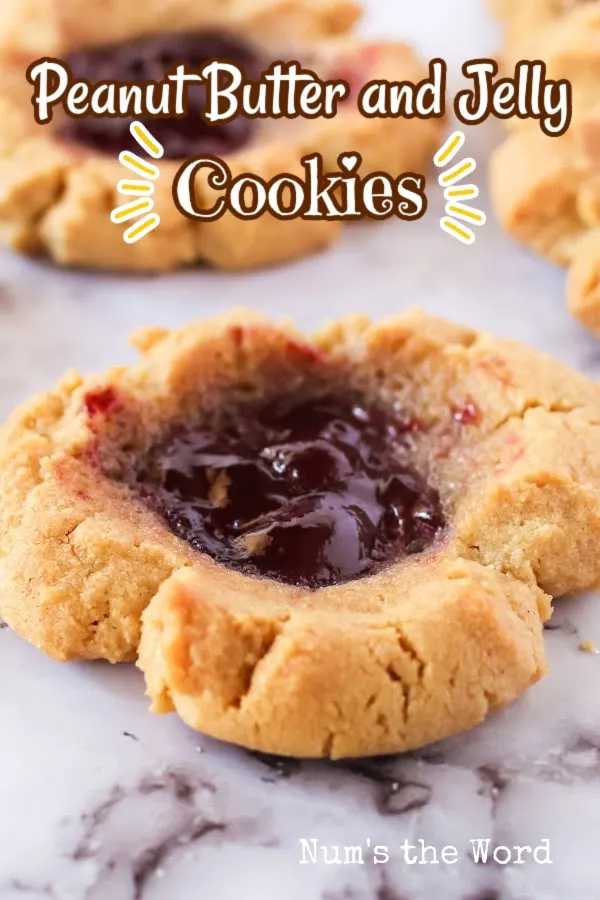 The warm, nutty aroma of peanut butter fills the air as you mix together the dough, and the sweet scent of raspberry jam wafts through the kitchen as you prepare to fill each cookie with a deliciously fruity surprise.
When you take a bite of these soft and chewy cookies, you'll be met with the irresistible combination of salty peanut butter and sweet, sticky jam.
Peanut butter and jelly is a classic combination that many people love. These cookies capture that flavor combination in a fun and unique way.
This recipe is straightforward and easy to follow, even for beginner bakers. With just a few simple ingredients and steps, you can have delicious homemade cookies in no time.
While the recipe calls for raspberry jam, you can use any flavor of jam you like. This makes it easy to customize for your personal taste preferences.
This peanut butter and jelly cookie recipe makes a large batch of cookies, which makes them perfect for sharing with friends and family.
They're great for potlucks, bake sales, or just as a special treat to share with loved ones.
Of course, the best thing about this recipe is how delicious the cookies taste! The combination of peanut butter and jam is sweet, salty, and satisfying.
And the soft and chewy texture of the peanut butter and jelly thumbprint cookies makes them absolutely irresistible!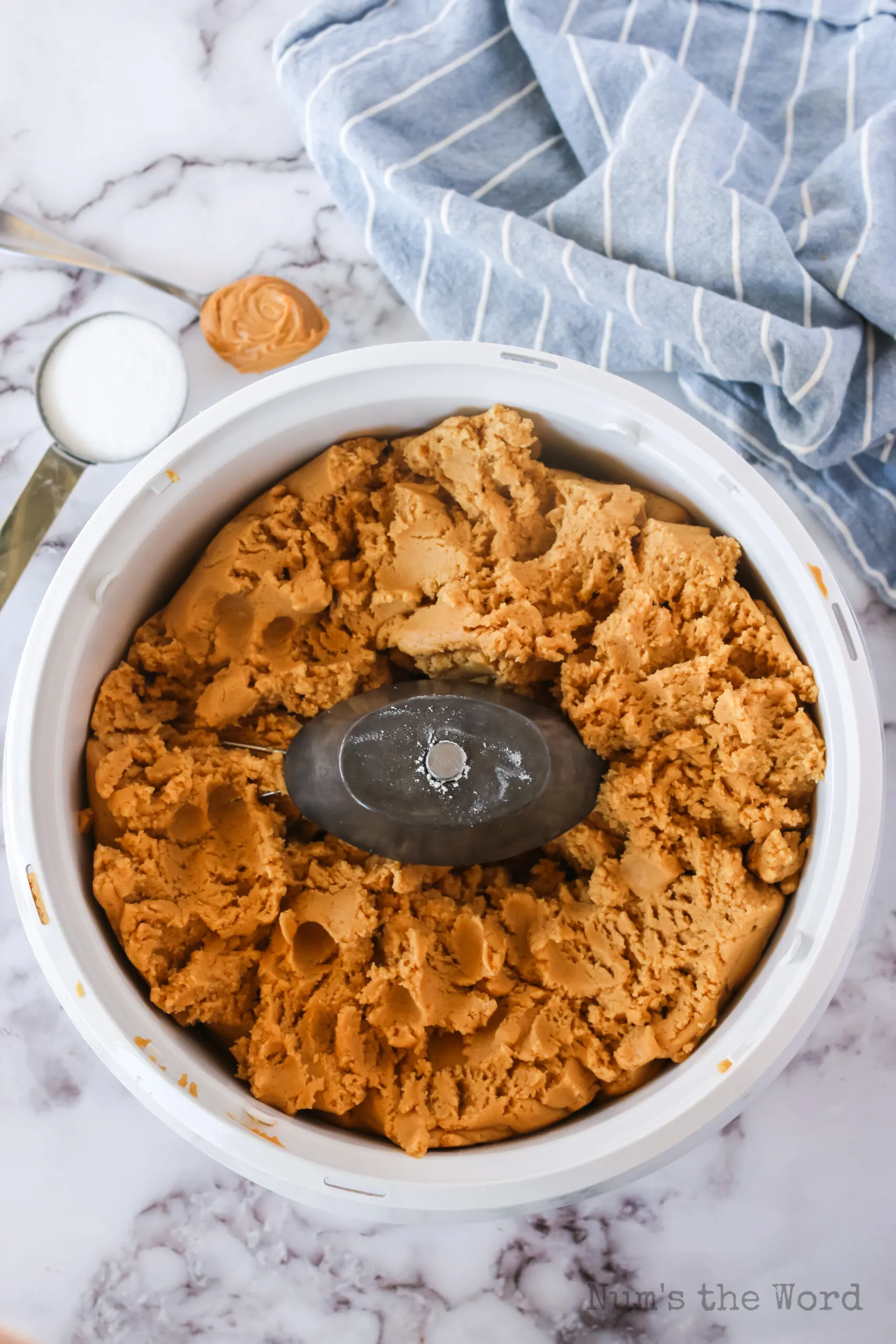 Can You Put Peanut Butter and Jelly in Cookies?
Absolutely! Peanut butter and jelly cookies are a delicious twist on the classic PB&J sandwich.
The combination of sweet jam and creamy peanut butter creates a perfect balance of flavors that will satisfy any sweet tooth.
It's perfect for anyone with a craving for a favorite childhood sandwich and cookies at the same time!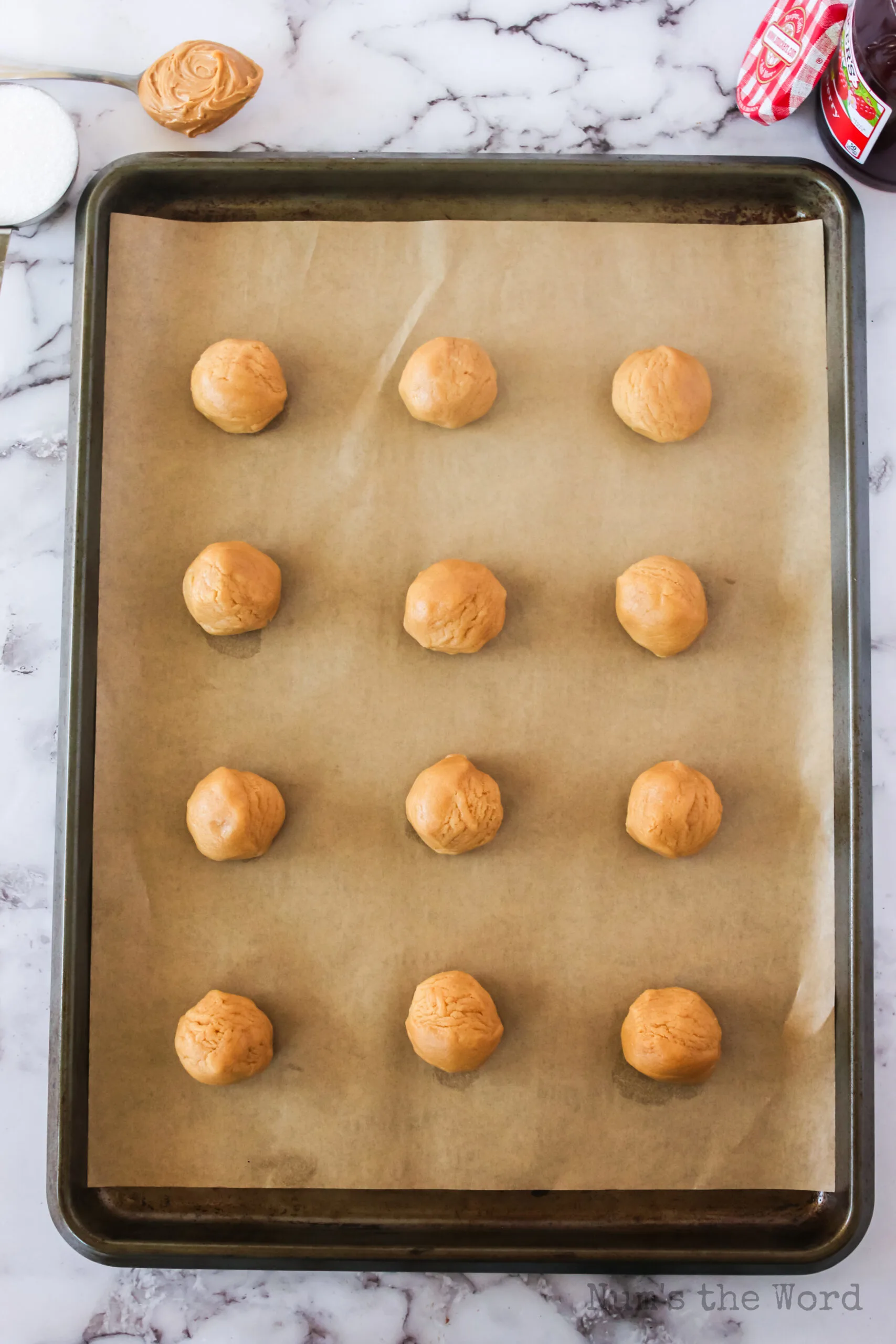 What Ingredients are in Peanut Butter and Jelly Cookies?
Chewy peanut butter cookies and jelly sandwiches? Totally possible! And it makes perfect cookies!
Butter: Provides richness and flavor to the cookies.
Light brown sugar: Adds sweetness and moisture to the cookies.
White sugar: Provides sweetness and helps to create a crispy exterior on the cookies.
Eggs: Helps to bind the dough together and provides structure to the cookies.
Vanilla extract: Adds a subtle vanilla flavor to the cookies.
Creamy peanut butter: Provides the signature peanut butter flavor and richness to the cookies.
All-purpose flour: Forms the base of the cookie dough and provides structure to the cookies.
Baking soda: Acts as a leavening agent to help the cookies rise and become light and fluffy.
Salt: Balances the sweetness in the cookie dough and enhances the overall flavor.
Sugar for coating: Used to coat the outside of the cookies for added sweetness and texture.
Seedless raspberry jam: Provides the fruity, sweet filling for the cookies.
Pro Tips:
Use room temperature butter to mix more easily with the sugar and other ingredients. This makes a smoother and more even cookie dough.
Use pure vanilla extract for the best flavor!
Since the jam is such an important component of these cookies, using a high-quality jam will make a big difference in the overall flavor.
Look for jams that are made with real fruit and don't contain any artificial flavors or preservatives.
Don't use melted butter! Your cookies will spread all over the cookie sheet.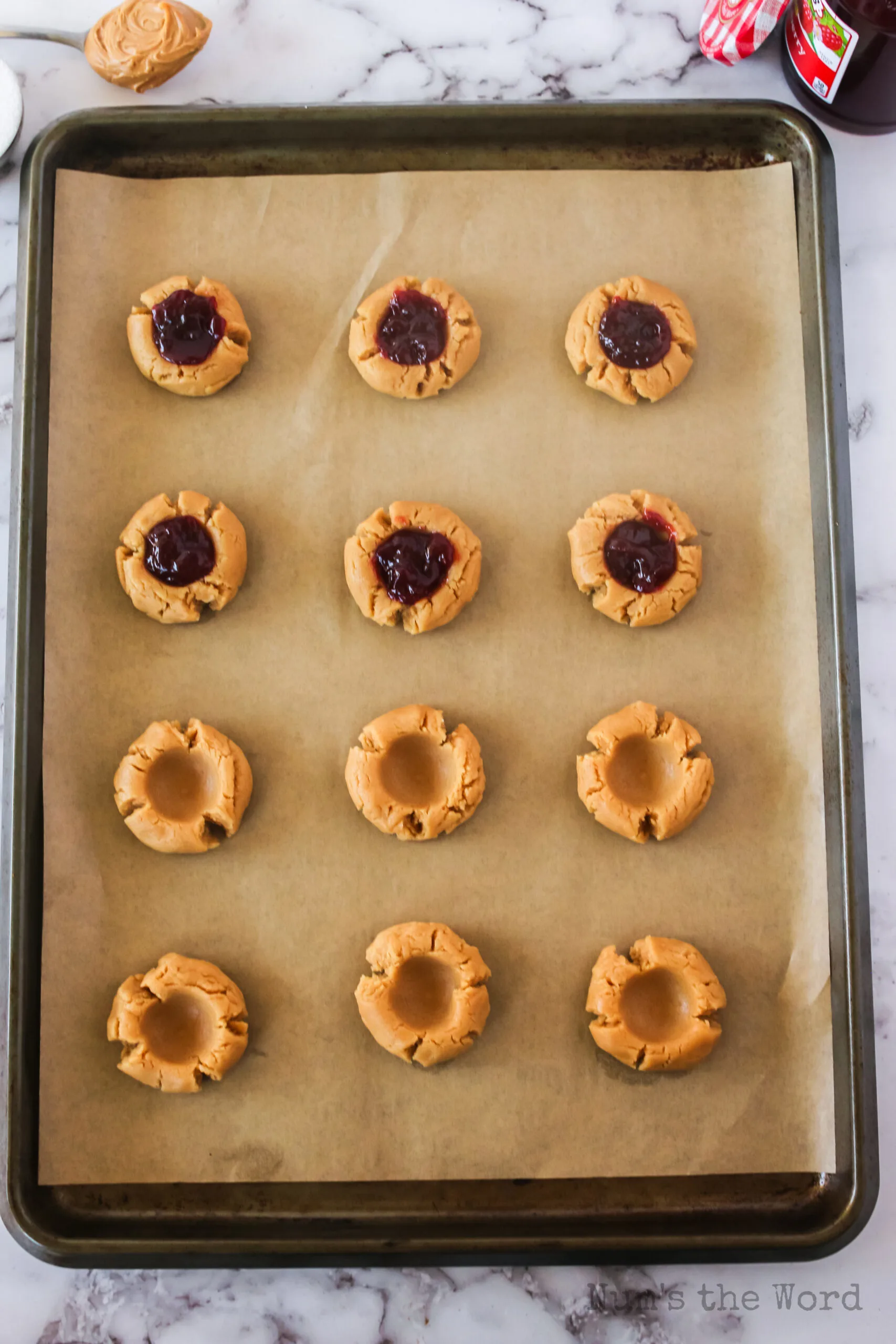 How to Make Peanut Butter and Jelly Cookies
Here's the best way to get peanut butter and jam cookies that are such a fun twist and will be a new favorite!
Cream: Cream together the butter and sugars.
Mix: Add the eggs, vanilla extract, and peanut butter to the mixture and mix well.
Add: Mix in the dry ingredients: flour, baking soda, and salt.
Shape: Roll the dough into balls, coat with sugar, and place on a baking sheet.
Bake: Press a small indentation into each ball, fill with jam, and bake until golden brown.
Pro Tips:
Overmixing can cause the gluten in the flour to develop too much, resulting in tough and chewy cookies. Mix just until the ingredients are fully incorporated.
A teaspoon or other small spoon is the perfect size for making the indentation in the cookie dough.
Don't press too hard on the cookie, as you don't want to go all the way through the dough.
There is no chill time needed for these delicious cookies.
Don't swap natural peanut butter in the peanut butter mixture. It will not work as well!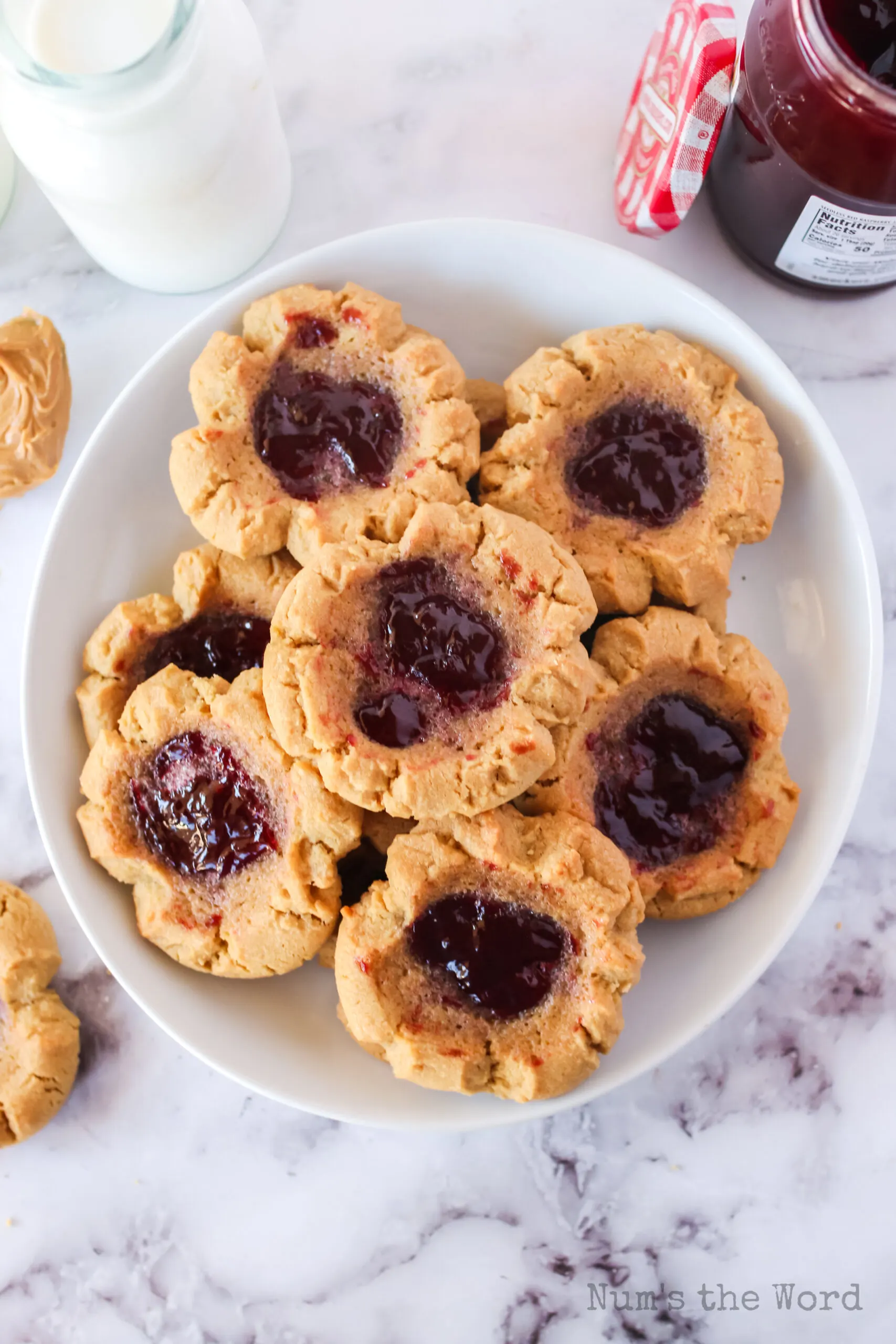 What Kind of Jelly Should be Used in Peanut Butter and Jelly Cookies?
You can use any type of jelly or jam you like in peanut butter and jelly cookies.
However, it is recommended to use seedless raspberry jam as it adds a delicious fruity flavor to the cookies.
If you prefer a different flavor or have a favorite jelly, feel free to experiment with different types of jam.
I still recommend seedless however as I think it compliments the texture of the cookie better.
Other good options to try might be blueberry jam or strawberry jelly!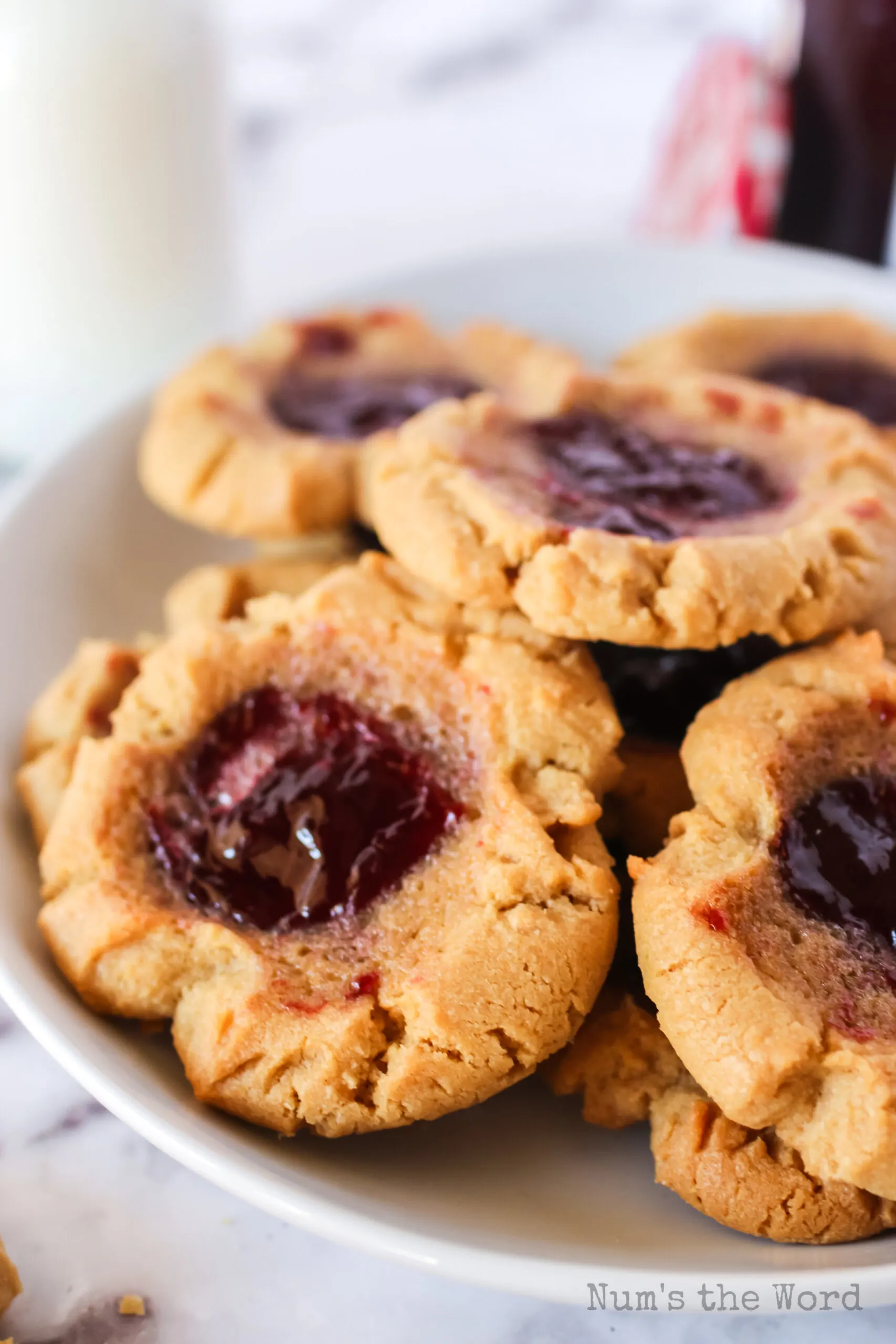 Can You Make Peanut Butter and Jelly Cookies Ahead of Time?
Yes, you can make peanut butter and jelly cookies ahead of time.
I've found that they continue to taste great and have excellent flavor for quite a few days.
This makes them perfect for making before a party or potluck.
You can make them before you need them and then pull them out when you're ready.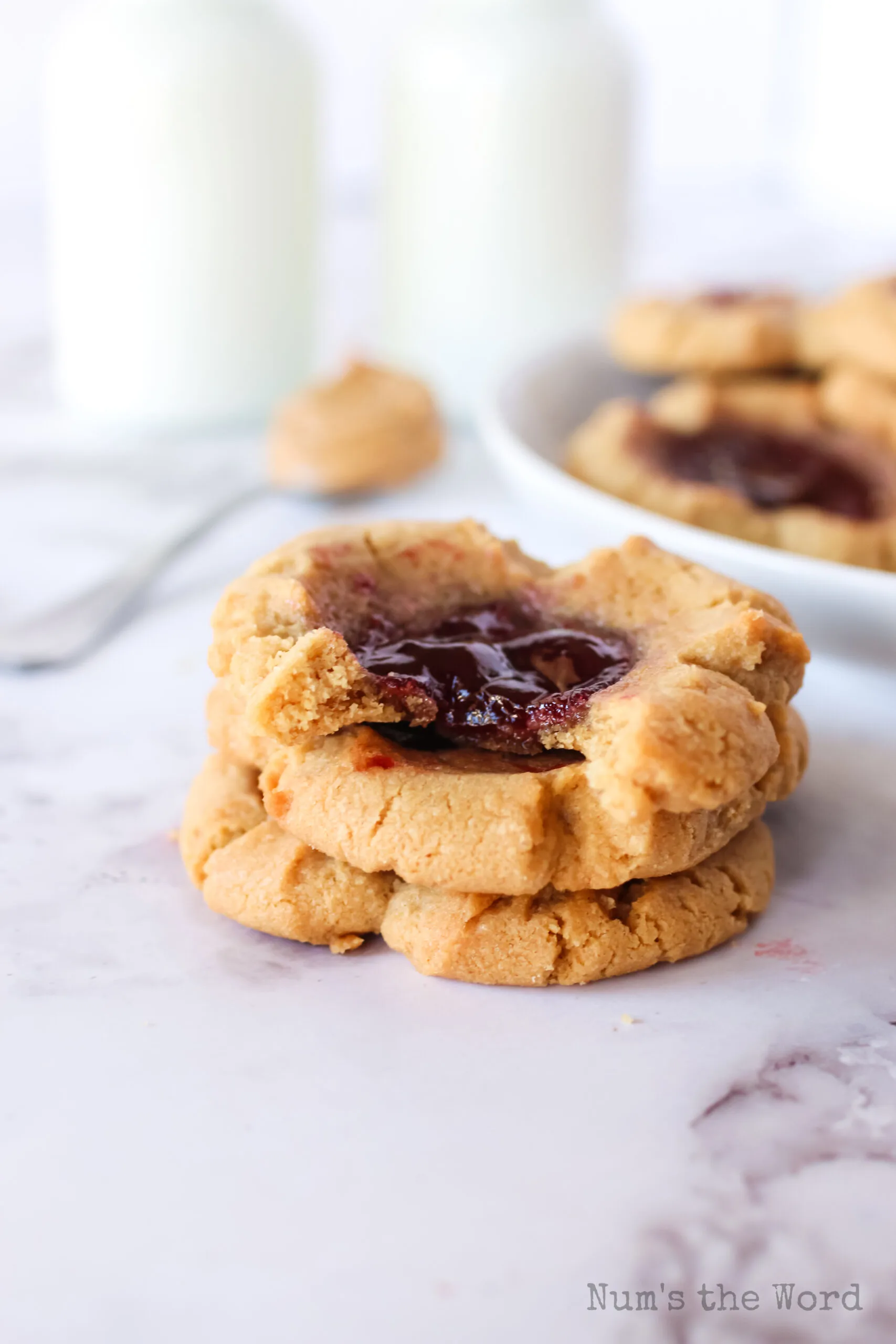 How Long Do Peanut Butter and Jelly Cookies Last?
Peanut butter and jelly cookies can last up to 3 days at room temperature or up to 1 week in the refrigerator.
If you want to keep them fresh for longer, you can freeze them for up to 3 months.
The softest cookies will be the ones on the counter.
When served with a cold glass of milk? Yeah! These are the ultimate comfort food!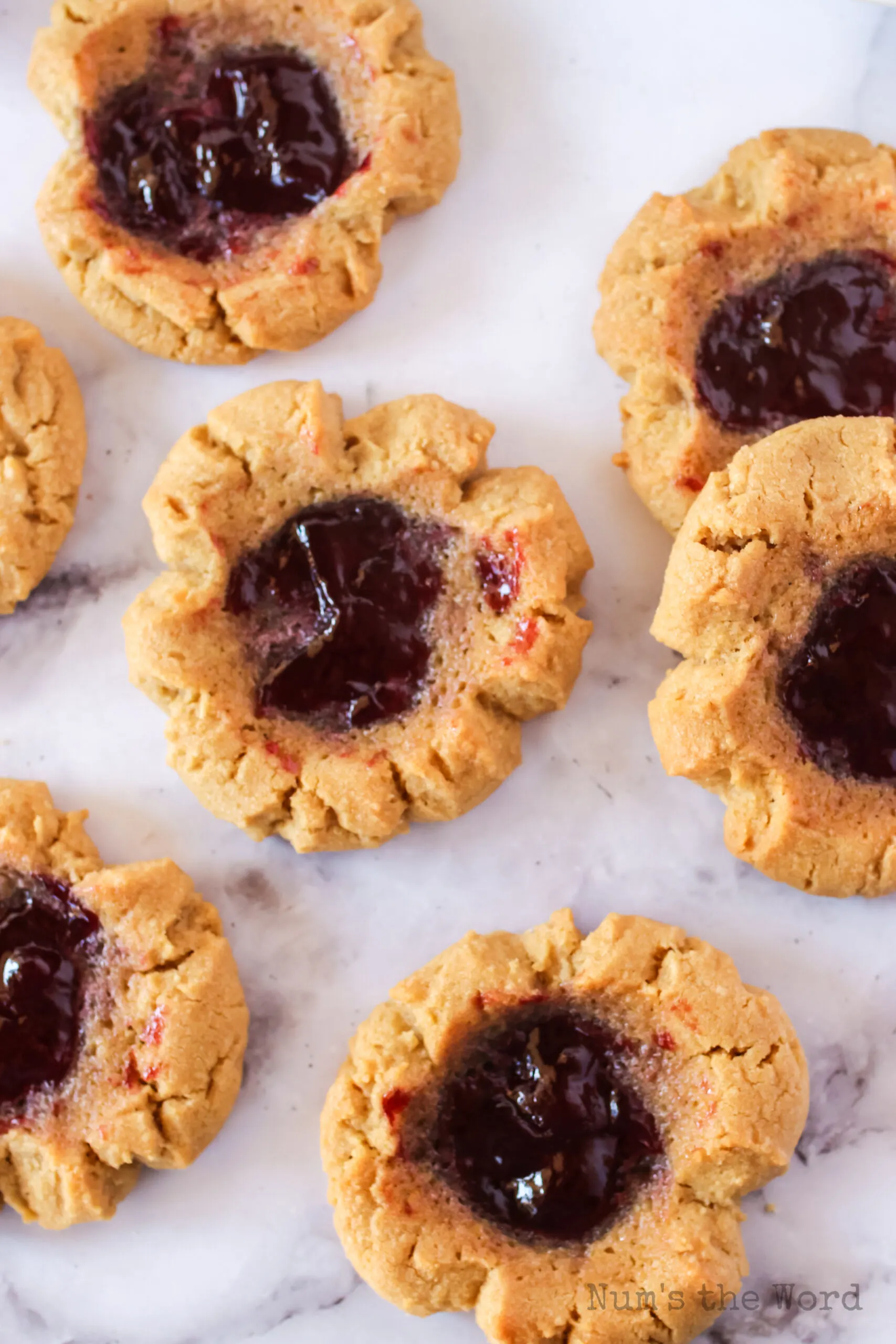 How to Store Peanut Butter and Jelly Cookies
To store peanut butter and jelly cookies, place them in an airtight container at room temperature or in the refrigerator.
If you freeze them, make sure to thaw them at room temperature before serving.
And always right the date you froze them and the name on the package so you don't lose them in your freezer!
Though honestly, I've never had them last very long over here. They're too yummy!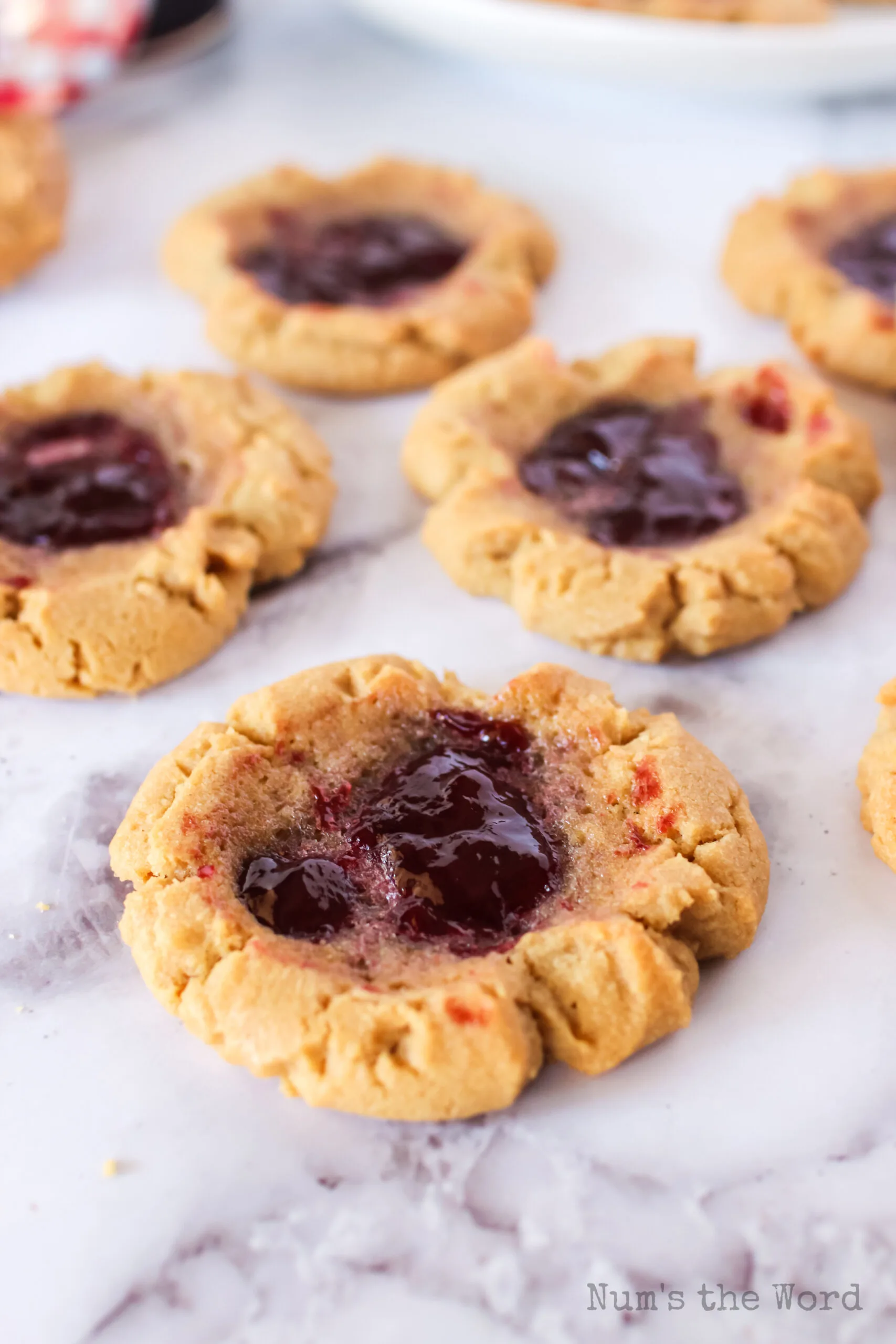 Can You Make Peanut Butter and Jelly Cookies with Crunchy Peanut Butter?
Yes, you can make peanut butter and jelly cookies with crunchy peanut butter.
However, the texture of the cookies will be slightly different as the chunks of peanuts may make the dough harder to work with.
If you prefer a smoother texture, I recommend using creamy peanut butter.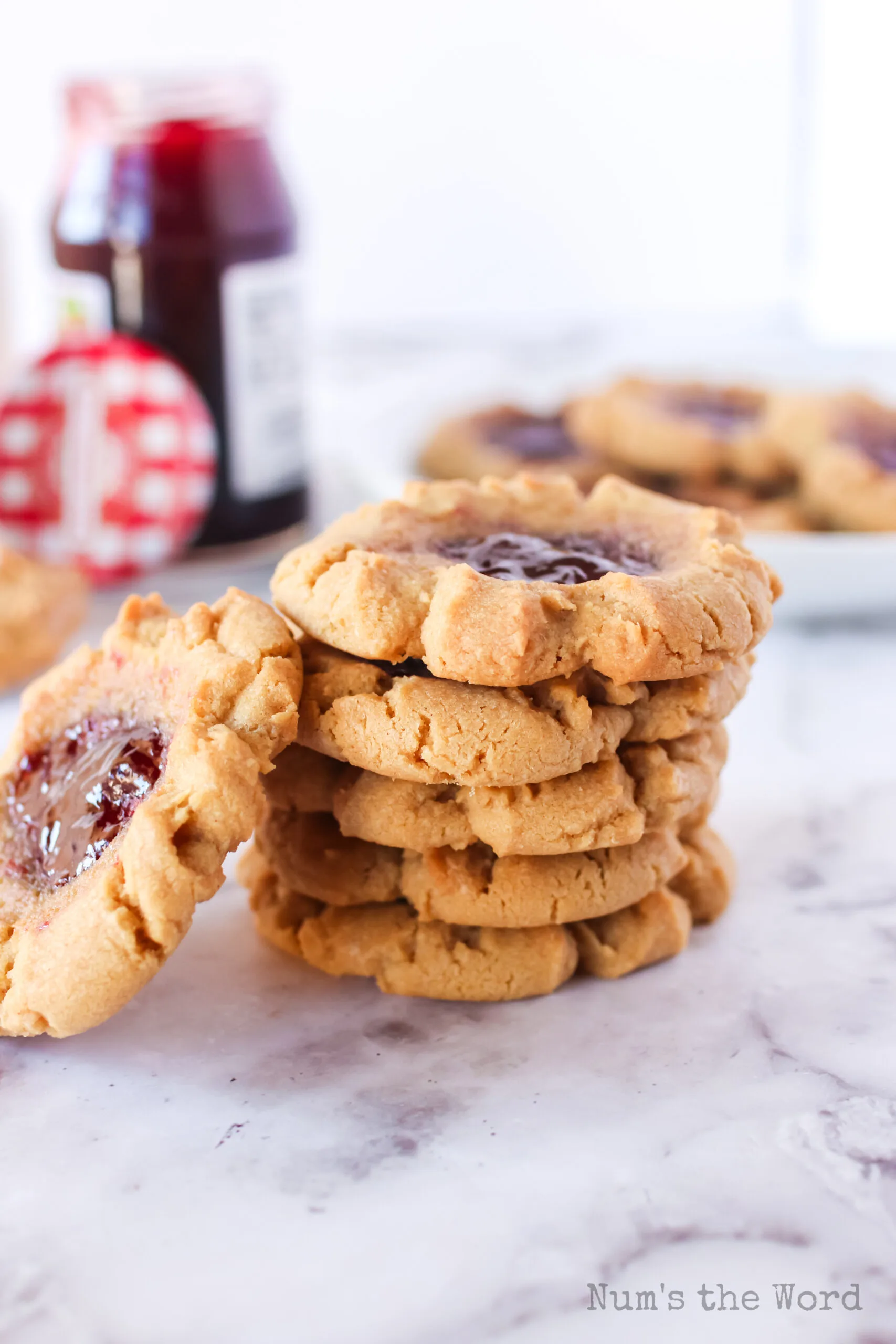 With each bite of these peanut butter and jelly cookies, you'll be transported back to happy memories of that classic combo for school lunches and after-school snacks.
These cookies are the perfect treat to indulge in whenever you need a little pick-me-up.
Yield: 48 Cookies
Peanut Butter and Jelly Cookies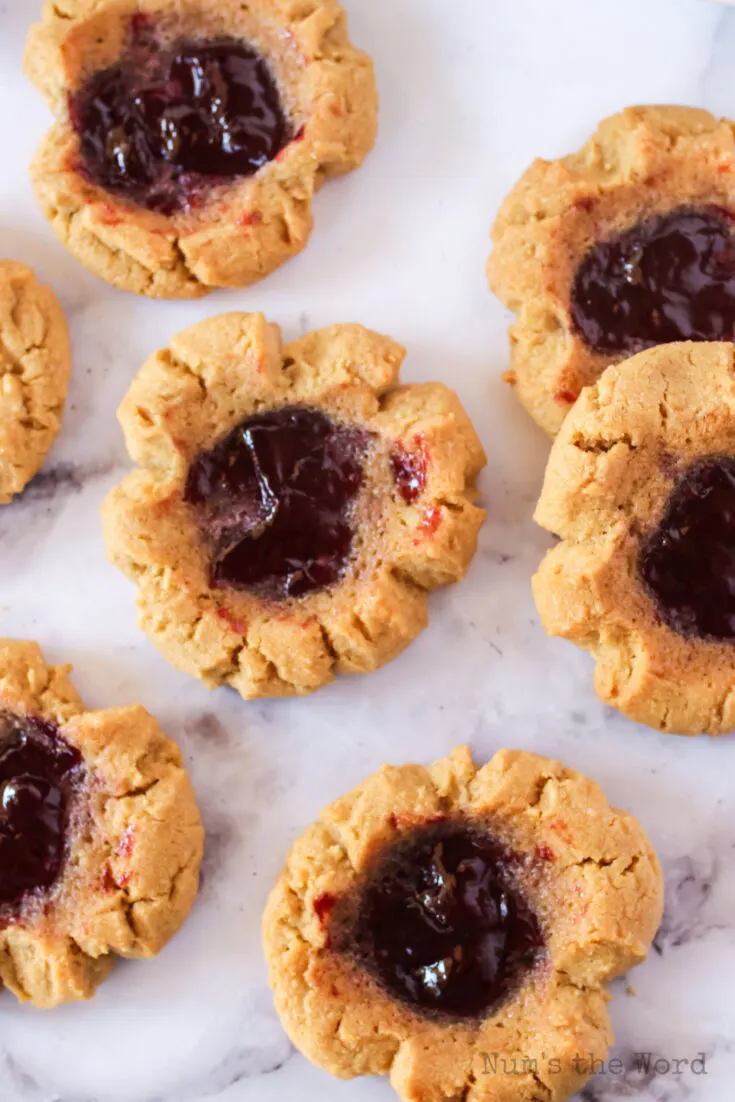 These Peanut Butter and Jelly Cookies are a mouthwatering delight that will transport you back to childhood.
Ingredients
Instructions
Preheat oven to 350*F
Prepare a cookie sheet with parchment paper, non-stick foil, baking mat or spray with cooking spray.
Cream butter, brown sugar and 1 cup white sugar together.
Add eggs and vanilla extract and blend well, scraping sides of bowl as needed.
Add peanut butter and blend again. Scrape sides.
Add flour 1 cup at a time, mixing between each addition.
Add baking soda and salt. Blend well.
In a small bowl add 1/4 cup of sugar.
Scoop out 1 Tablespoon portions of dough and roll into a ball.
Roll dough in sugar and place cookie balls onto the prepared cookie sheet.
Fill the entire sheet, leaving enough space between so cookies can expand.
Using a round teaspoon, press a dent into the middle of each dough ball. Careful not to go all they way through the cookie.
Drop 1/2 teaspoon (or slightly more) of jam into the center of each cookie.
Bake for 8-10 minutes, remove when edges have a hint of golden.
Let cool on the pan for 5 minutes, then transfer to a cooling rack.
Nutrition Information:
Yield:
48
Serving Size:
1
Amount Per Serving:
Calories:

136
Total Fat:

7g
Saturated Fat:

3g
Trans Fat:

0g
Unsaturated Fat:

3g
Cholesterol:

18mg
Sodium:

124mg
Carbohydrates:

17g
Fiber:

1g
Sugar:

10g
Protein:

2g