Bread Knots are savory, garlicky, buttery, and perfectly chewy! They're easy to make and are done in under an hour!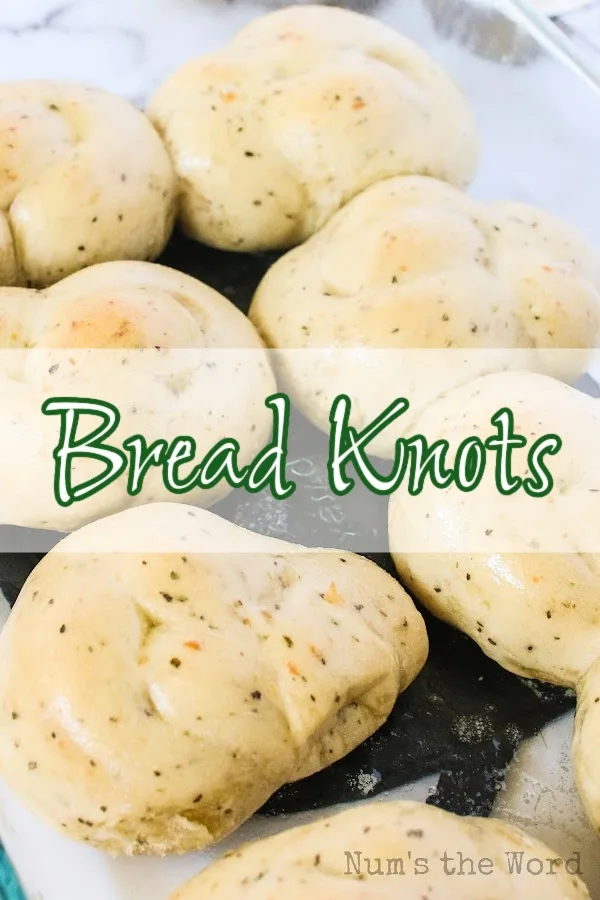 When serving pasta recipes, salad, pizza or your favorite soup, you cannot go wrong with serving up a heaping pile of bread knots as a side dish.
While I love Crazy Bread and serve it as a side all the time, buttery garlic herb knots are just so unique!
The design has my kids going crazy but without a ton of work!
I love bread knot rolls because they just need one rise! Which saves me a ton of time on a busy weeknight.
I also love these garlic bread knots because they have the perfect texture. Chewy, soft, and have such a great melt in your mouth quality.
You can also bet that these garlic herb knots are easy to make! Which is why I'm bringing them to you today!
What Ingredients are In Garlic Bread Knots?
Pizza night has never been better than with these easy garlic knots. Here's the ingredients list!
Instant Dry Yeast: You could also use rapid rise yeast instead.
Warm Water: Use bathwater temperature water. Or about 110 degrees F.
Sugar: This will help activate the yeast.
Seasonings: Grab your salt, basil, oregano, garlic powder, and onion powder.
Parmesan Cheese: NOT the powdered cheese but shredded parmesan cheese.
Vegetable Oil: You could also use another light oil such as olive oil or avocado oil.
Bread Flour: The texture is amazing with bread flour. If you substitute it with all-purpose flour, you'll get an entirely different texture.
Butter: Melt butter on the stove or slowly in the microwave, stirring to keep it from splattering.
Garlic Salt: For creating the yummy garlic butter.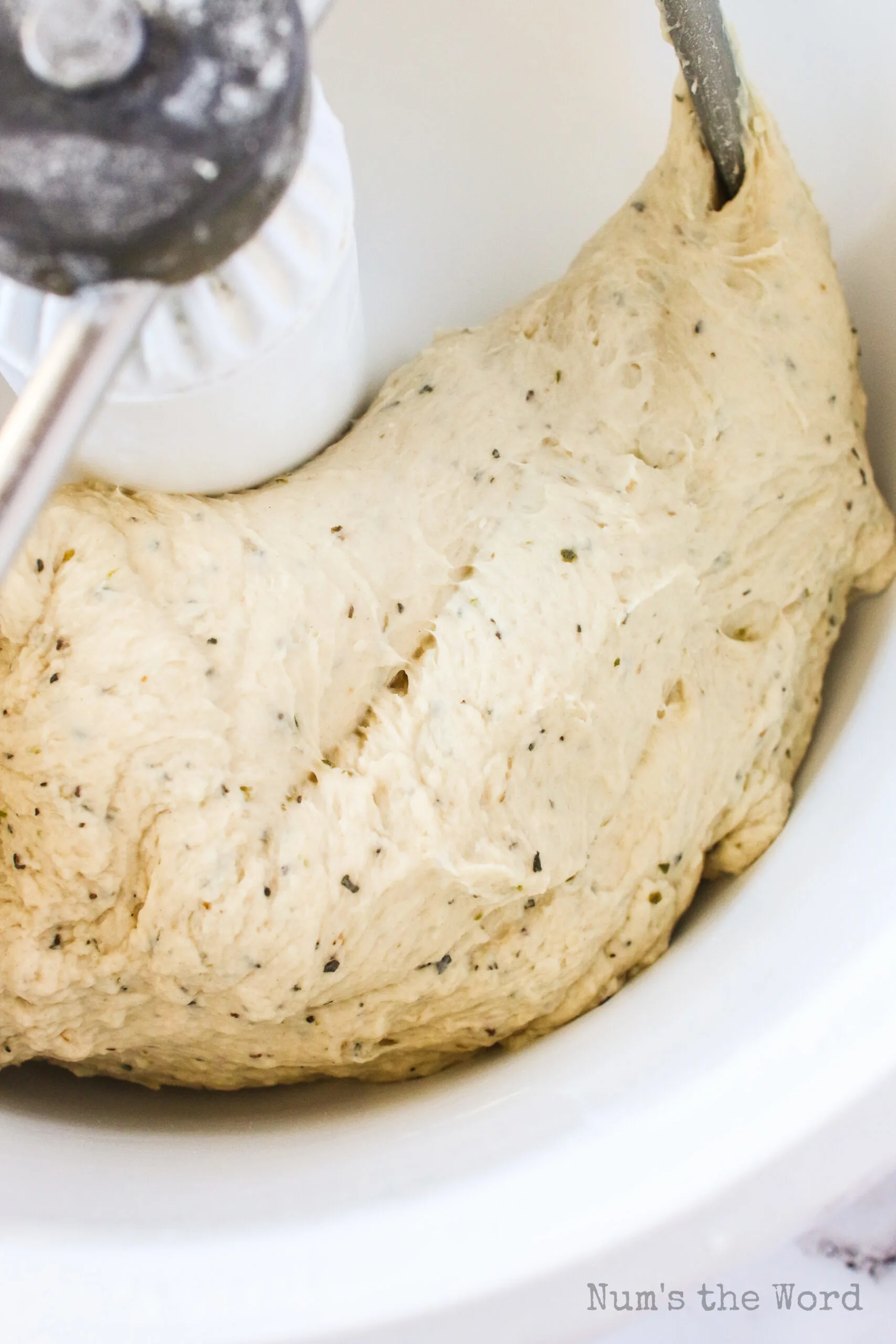 How to Make Garlic Bread Knots
Homemade bread is a big hit around here on pasta night. And with that garlic butter mixture? Forget about it!
Proof Yeast: Let yeast sit in warm water with the sugar until bubbly.
Mix: Add seasonings, cheese, and flour to yeast mixture. Mix well between each addition.
Knead: Make sure you have a lightly floured surface. You don't want to dry the bread dough.
Tie: Double knot each bread knot just like shoelaces and tuck the ends in.
Rise: Cover the bread knots and let the rise for in a warm place before popping in the oven.
Bake: Look for that golden brown color on the bottom to know they are done and brush with melted butter and garlic
Pro Tips:
Line the baking sheet with parchment paper, aluminum foil, or spray with cooking oil.
Use a stand mixer and mix on low speed to prevent the flour from flying around your kitchen.
Let bread knots rest for 5 minutes before devouring.
Try to cut the soft dough into equal pieces for equal size.
Serve with a side of marinara sauce or another dipping sauce for a yummy snack!
Melt butter while bread bakes so it'll be ready when it's done.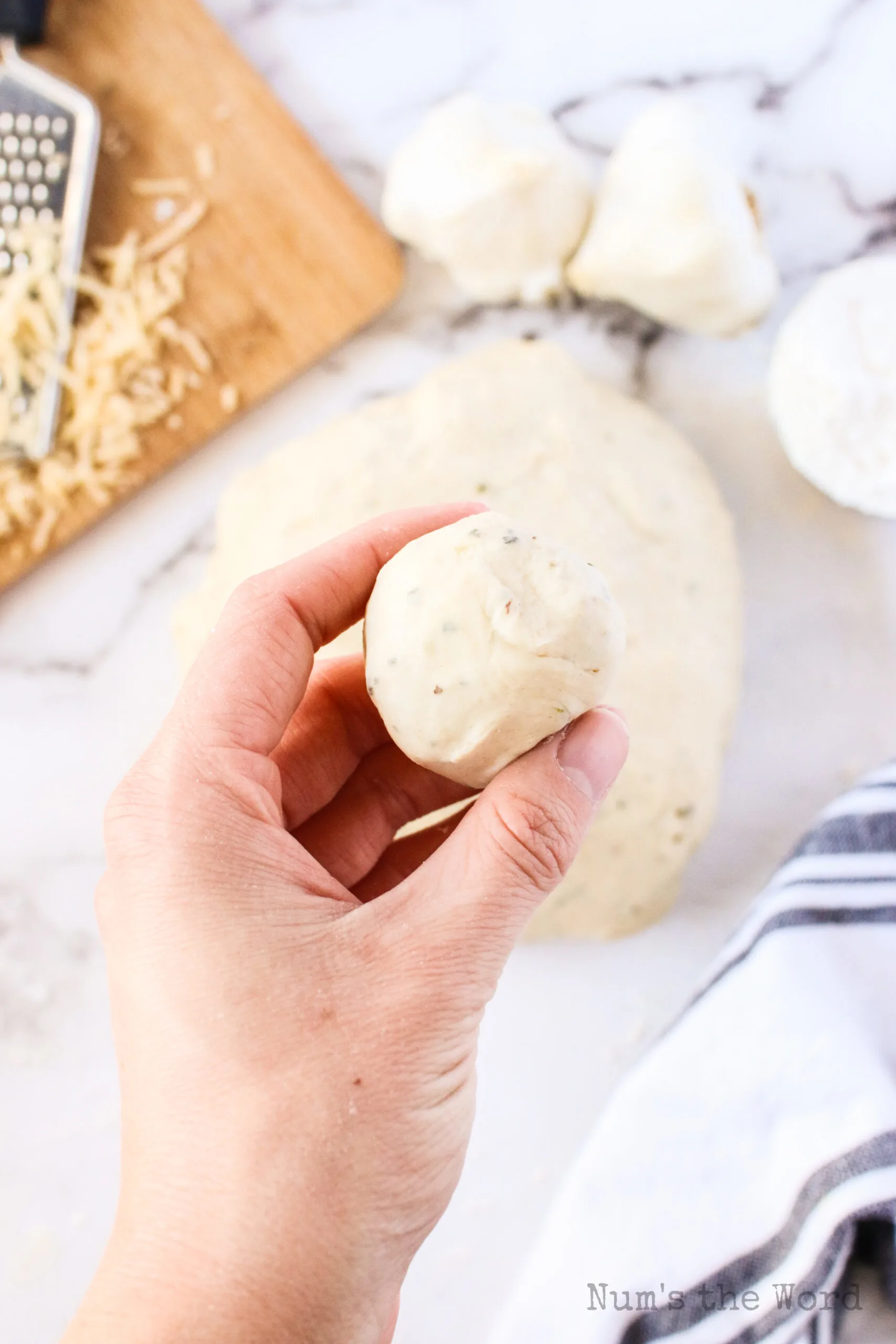 How to Tie Bread Knots
Just like your shoelaces! While tying bread knots may seem complicated, they're really not.
You'll need each dough ball to be about the size of a golf ball.
Shape dough with your hand into a snake-like shape.
Place one end of the rope over the other end and tuck it through the bottom. Pull.
Then wrap in the ends.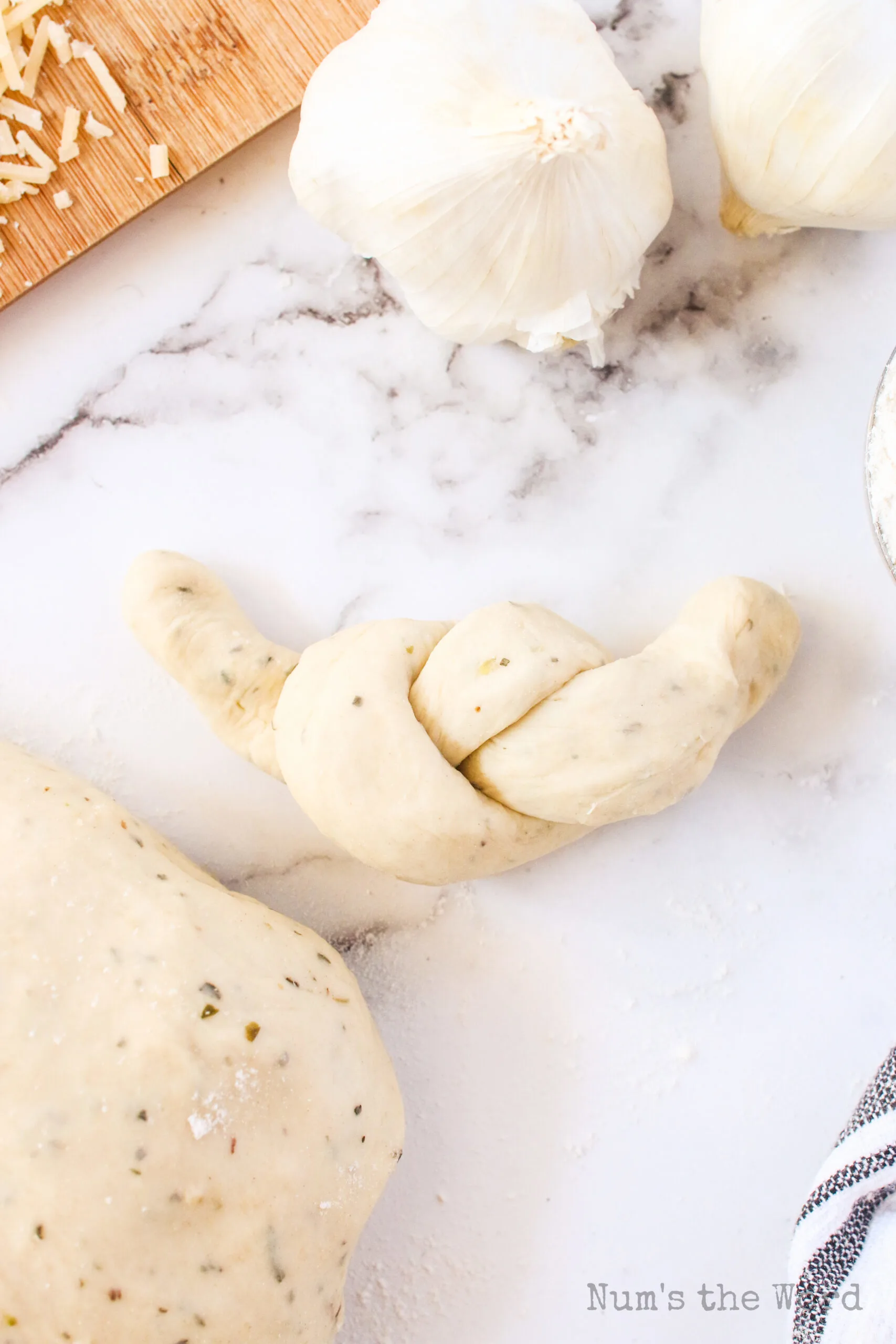 Can You Freeze Garlic Bread Knots?
Definitely! This garlic knot recipe can be frozen as bread dough or stored after baking.
To freeze the homemade dough, simply follow the entire recipe up until the rising time. Don't rise now, you'll do that later.
Wrap the bread knots in plastic wrap and then wrap again in aluminum foil before placing in the freezer.
When you're ready to bake, thaw on the counter and let them rise. Then bake according to directions.
To be frozen after baking, first let them come to room temperature. Then wrap each bread knot individually and place in a freezer safe bag or container.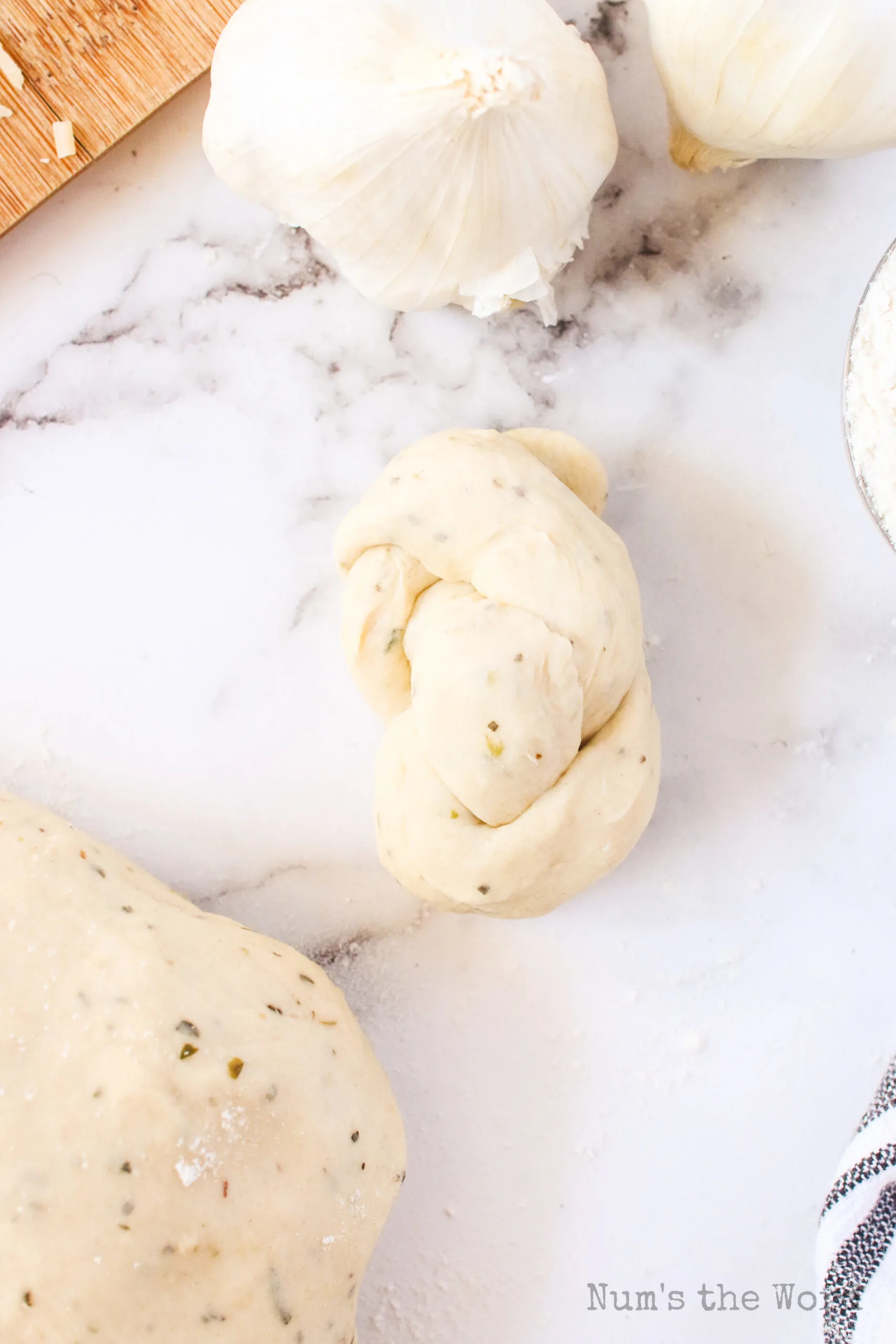 Can You Make Garlic Bread Knots in Advance?
Yes. I have made bread knots up to 24 hours in advance. I do find they are best when warm fresh out of the oven however!
To combat that, you can reheat the bread knots slightly in the microwave or the oven. Then they'll be soft and delicious again!
Another option to place the dough in the fridge before the dough rise. Then let it rise overnight in the fridge.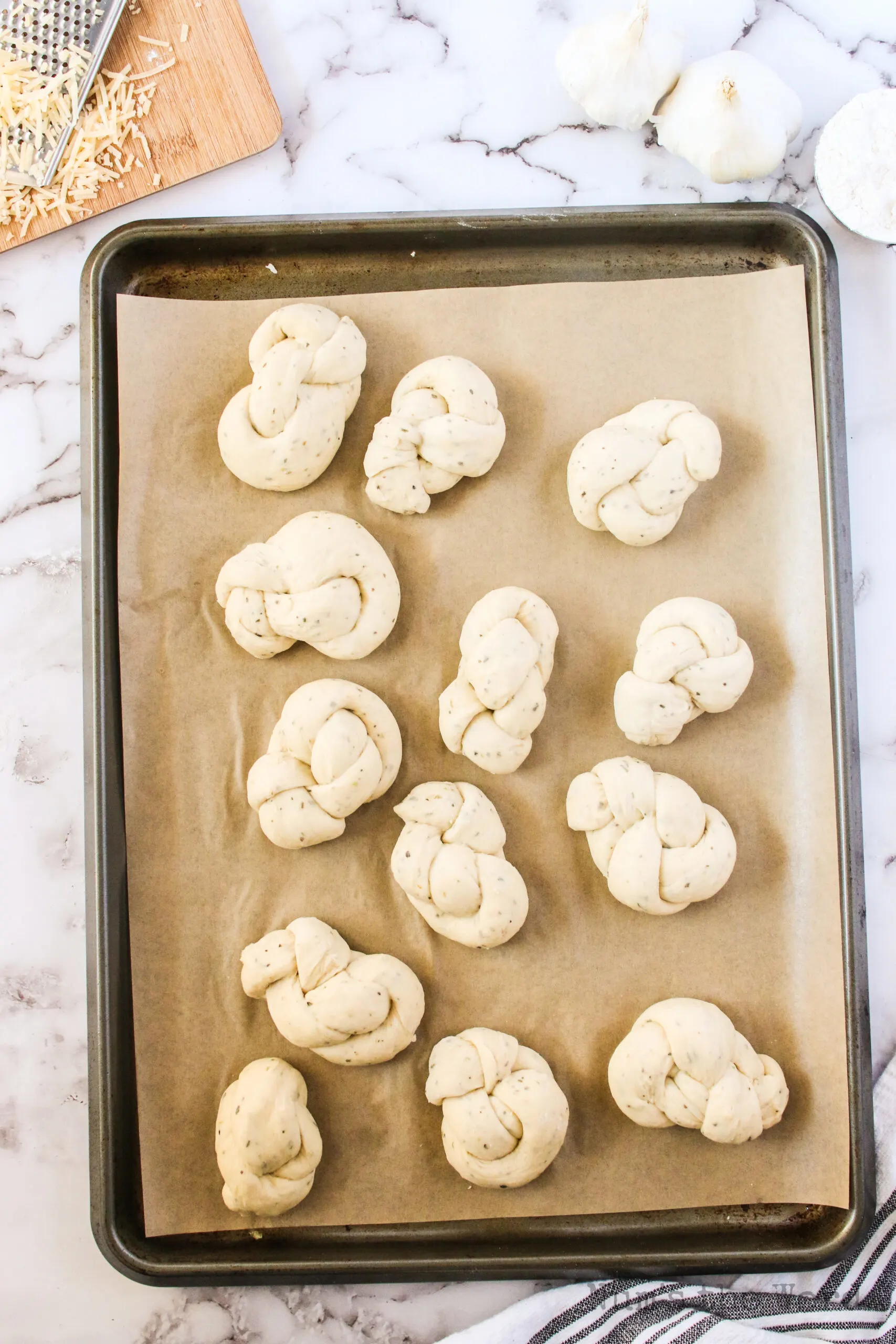 How Long Do Garlic Bread Knots Last?
Bread knots can safely be kept for up to a week depending on if you store them in the fridge or on the counter.
In the fridge you can count on a week. On the counter they will stay good for up to 4 days.
Frozen bread dough will store for 2 months and frozen baked bread knots will store for up to 1 month.
How to Store Garlic Bread Knots
Any leftover garlic bread knots should be kept in an airtight container to keep them fresh and soft.
They'll stay fresh longer in the fridge but will be softer if stored on the counter.
Be sure to let them come to room temperature before transferring.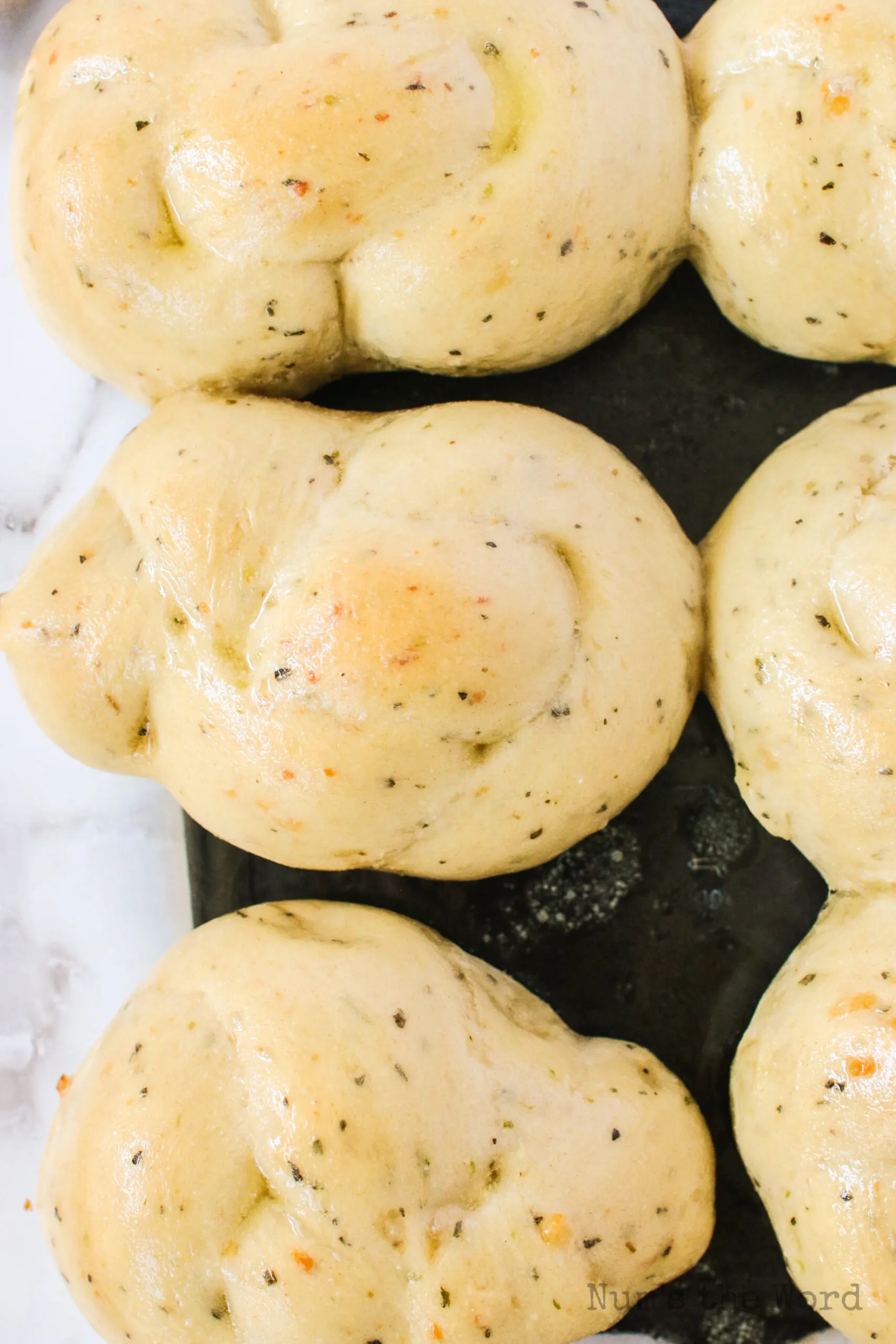 Are Garlic Bread Knots Bad For You?
Not necessarily. That's almost like asking if bread is bad for you.
And you'll find about as many opinions on that online as there are people who make bread.
We can get into all the nutritional information about this garlic knots recipe if you wanted, but here's my opinion:
If all you eat is garlic bread twists, or if you're allergic to gluten, then yes, bread knots are bad for you.
But as part of a healthy and well balanced diet, bread knots are not going to do you in.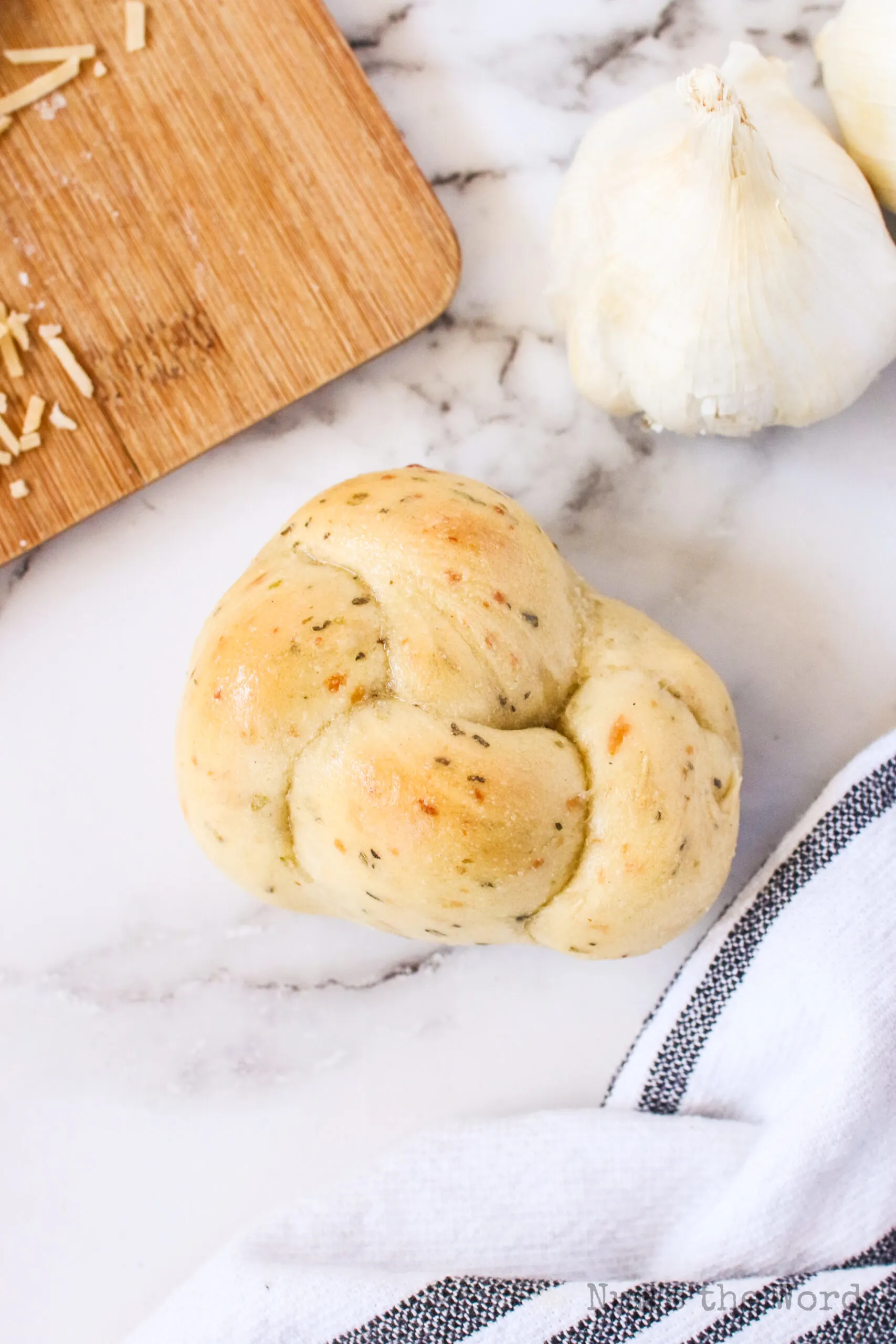 Can Dogs Eat Garlic Bread Knots
No, sorry but dogs really should be kept away from most human food, including tasty garlic knots.
First, the garlic is actually toxic for dogs! Which can lead to life threatening situations for your dog.
But also, even if you removed the garlic and onion, the dog's needs are different from ours. The fats, sugars, salts, etc. are not formatted for a dog.
So save the bread knots for you and serve your pooch something else.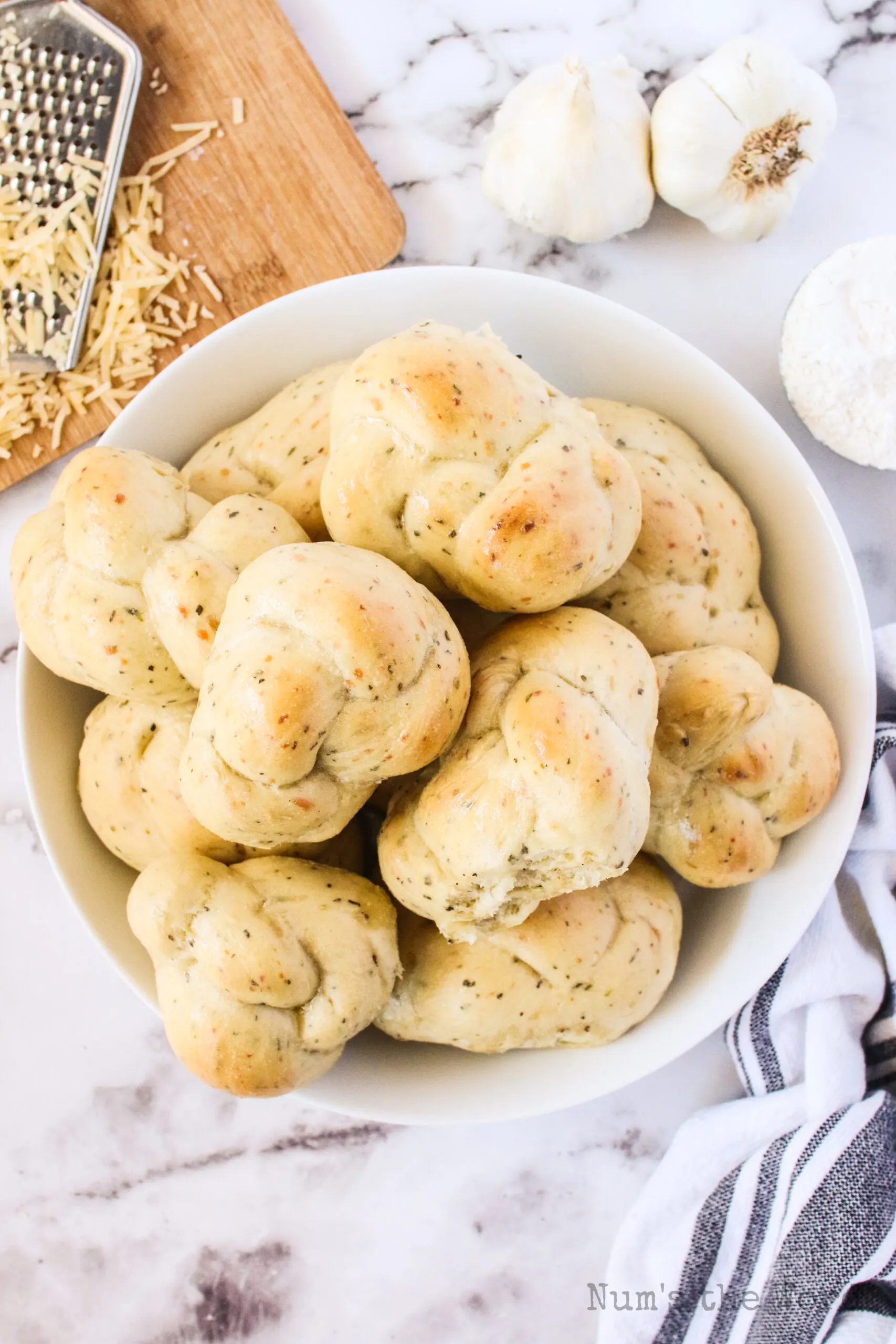 Bread Knots are a quicker bread that have delicious results! Soft and chewy, they're perfect for dinner tonight! Enjoy!
Yield: 2 Dozen
Bread Knots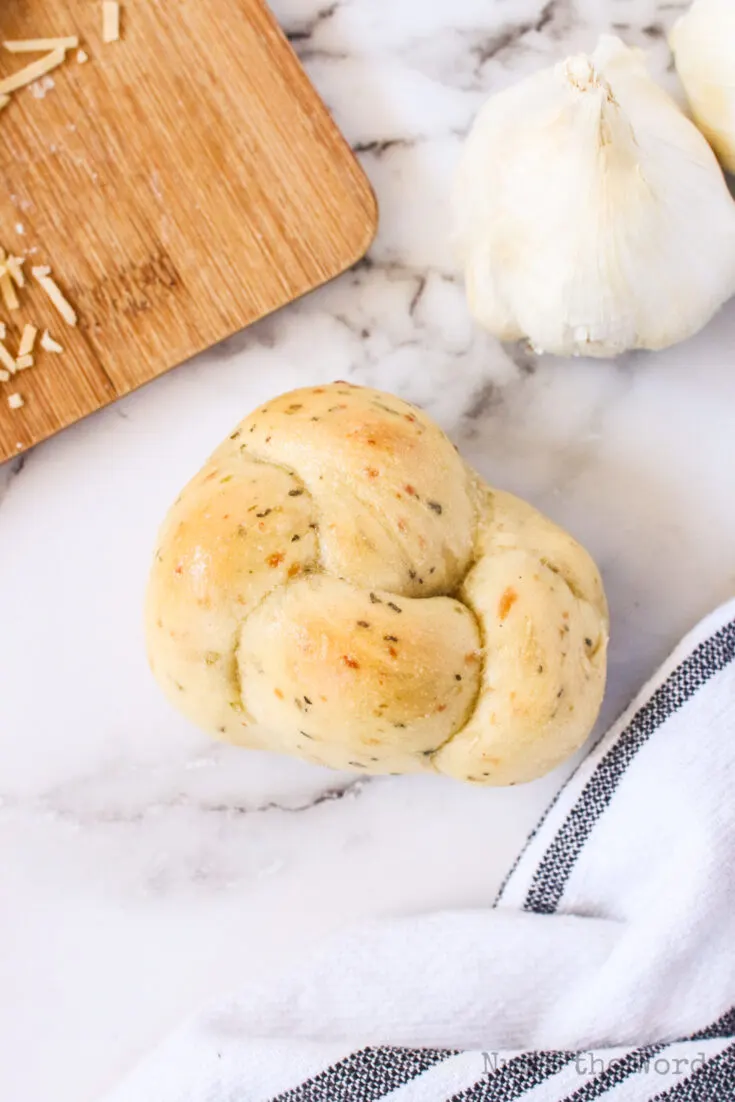 Bread Knots are savory, garlicky, buttery, and perfectly chewy! They're easy to make and are done in under an hour!
Ingredients
2 1/2 teaspoons rapid rise yeast
1 1/2 cups warm water
2 Tablespoons white sugar
1 teaspoon salt
1 1/2 teaspoons dried basil
1 1/2 teaspoons dried oregano
1/2 teaspoons garlic powder
1/2 teaspoons onion powder
1/4 cup parmesan cheese (shredded not powdered)
2 Tablespoons vegetable oil
3 1/2 cups bread flour
1/4 cup melted butter
1/4 teaspoon garlic salt
Instructions
In a stand mixer add yeast, water and sugar. Mix.
Cover with a dish towel and let stand for 5 minutes.
After yeast proofs, add salt, basil, oregano, garlic powder, onion powder, parmesan cheese and oil. Mix well.
Add bread flour 1 cup at a time, mixing between additions.
Once all flour is added, continue to knead dough for an additional 5 minutes.
Place dough on a lightly floured work surface
Spray a 9x13 casserole dish with oil.
Take a piece of dough that is about the size of a golf ball.
Roll the dough out like a snack until it's an inch wider than your hand.
Gently double knot the dough - knot it like your shoelaces, then knot it again.
Tuck and secure edges behind knots.
Place on a cookie sheet lined with parchment paper, foil or nonstick foil.
Keep in mind these will double or possibly triple in size.
Cover and let rise for 20 minutes.
Bake for 12 -15 minutes or until bottoms are golden and tops have a hint of gold.
While rolls are baking, in a small bowl combine melted butter and garlic salt.
Once rolls come out of the oven, brush with butter salt mixture.
Let rest for 5 minutes before devouring!
Nutrition Information:
Yield:
24
Serving Size:
1
Amount Per Serving:
Calories:

110
Total Fat:

4g
Saturated Fat:

2g
Trans Fat:

0g
Unsaturated Fat:

2g
Cholesterol:

6mg
Sodium:

140mg
Carbohydrates:

16g
Fiber:

1g
Sugar:

1g
Protein:

3g