Orange Fluff is an easy dessert or side dish! It's a Thanksgiving staple at our house and really easy to make!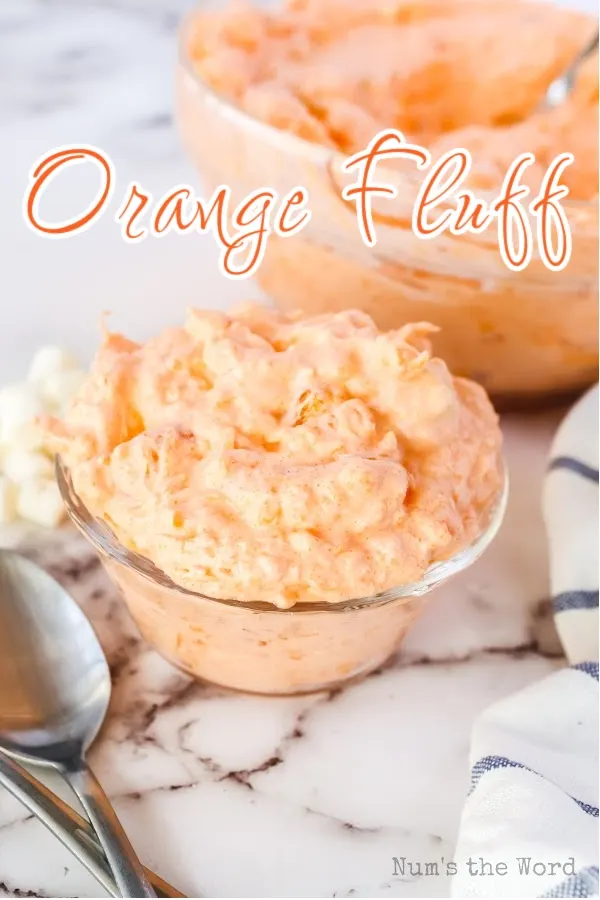 Tangy, sweet, and fluffy, orange fluff jello salad is a side dish that no one can resist (especially the kids!)
I love this salad because it's such an easy recipe. Mix it together and you're done!
I also love this recipe because it only takes a handful of simple ingredients that I can get from any grocery store.
Jello orange fluff is perfect as both a side dish and dessert, so it's great for potlucks and parties!
And the best part of orange jello fluff is that it's so kid friendly. Picky eaters be gone! Everyone enjoys this family friendly food!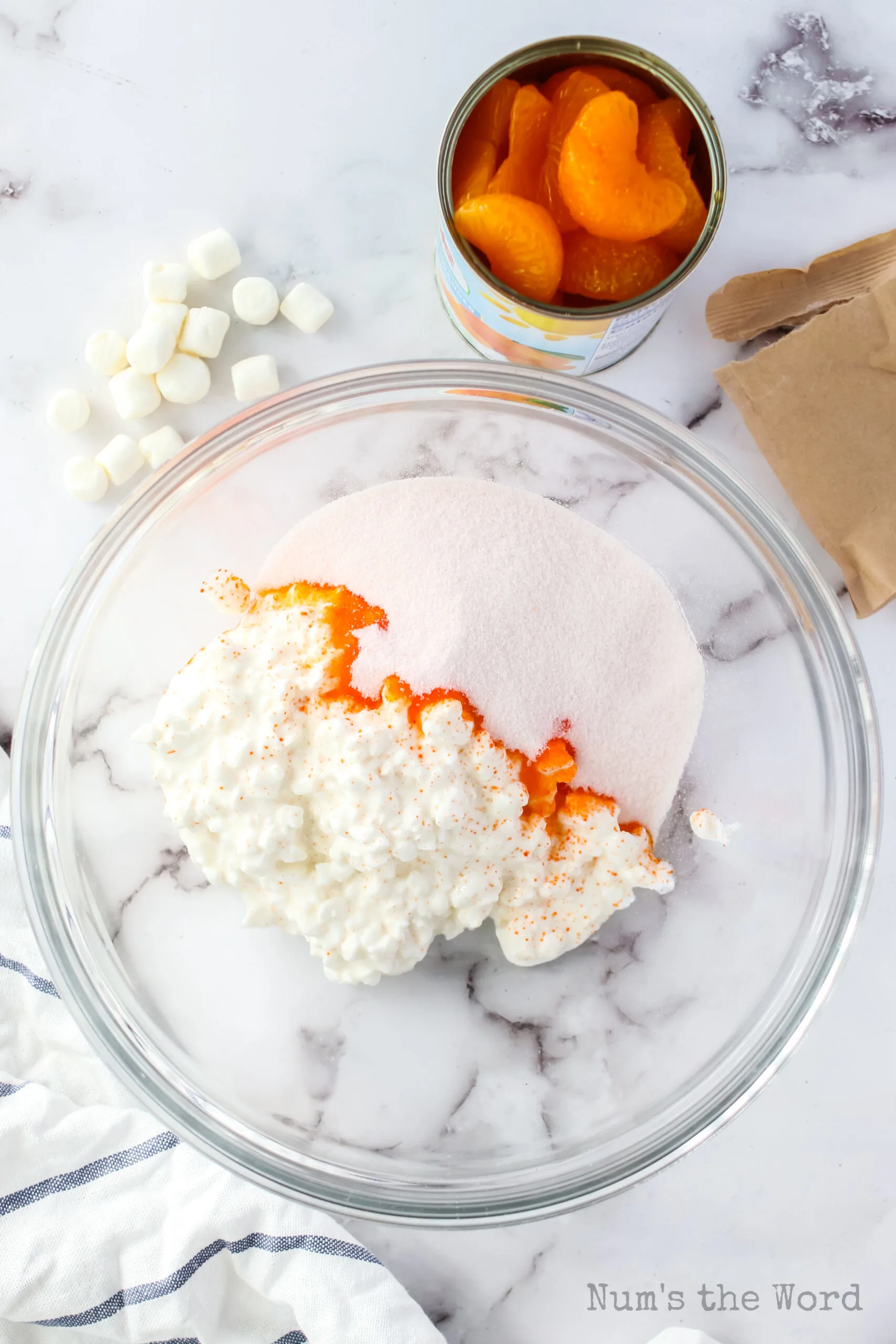 What is Orange Fluff?
Orange Fluff is a classic salad recipe. Or maybe old fashioned? Retro?
You may have heard it called lots of different things like orange creamsicle fluff, orange, dessert salad, Watergate salad, or simply orange stuff.
This Jello salad recipe is made with marshmallows so for most of us, it's not your typical green salad.
But in large portions of the country, Jello is almost its own food group! And if you grew up in one of those places, you'll likely know what orange fluff is.
Not exactly Jello, and not exactly salad, it's a perfect combo of deliciousness that you can serve in so many different settings.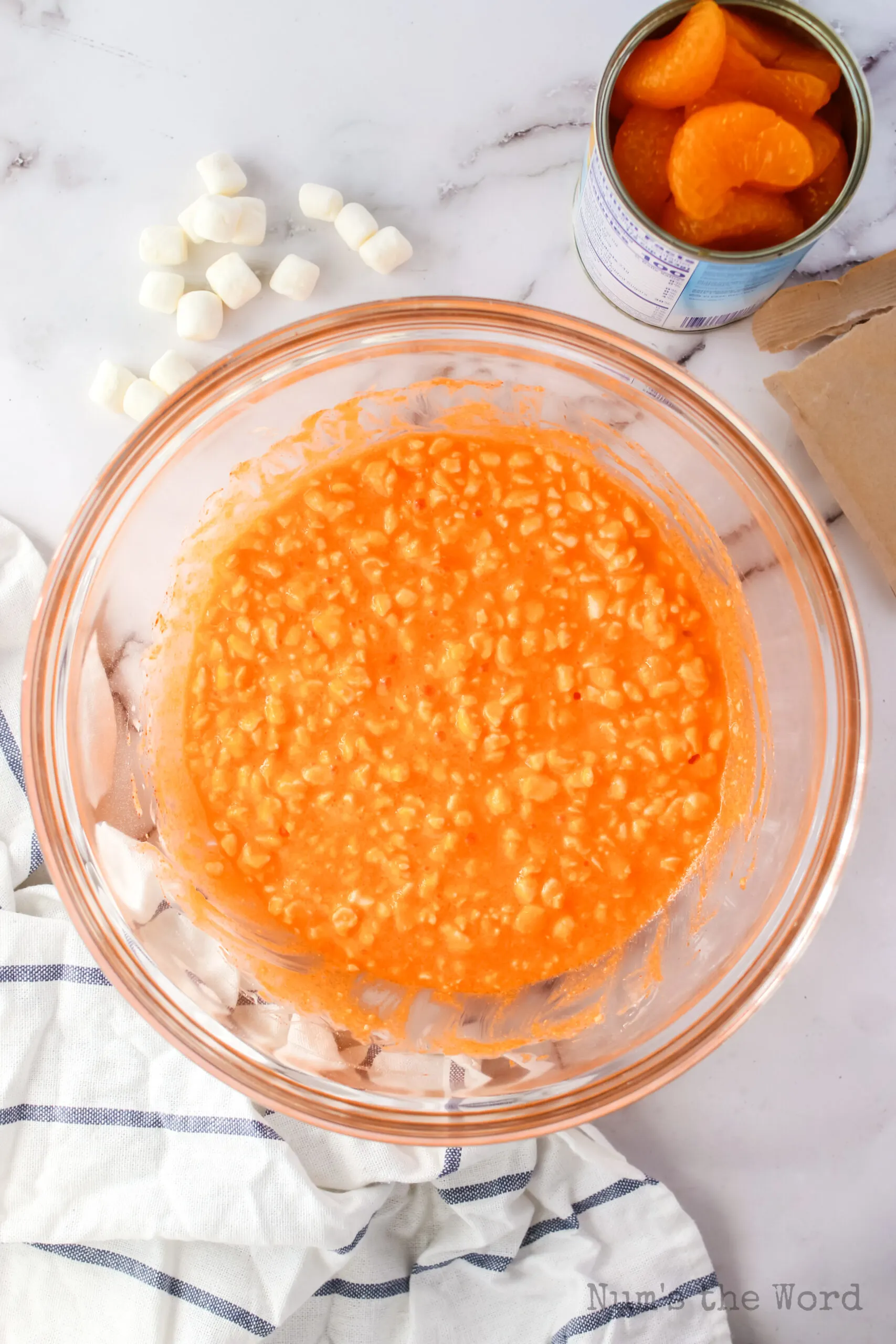 What Ingredients are in Orange Fluff?
This simple recipe for fruit salad is a great choice for any special occasion. You'll only need a few minimal ingredients:
Cottage Cheese: Get large or small curd, whichever you prefer.
Orange Jello: This should be a package of dry Jello, not premade.
Crushed Pineapple: Drain the pineapple well to prevent excess moisture in the salad.
Mini Marshmallows: Sometimes we do plain white ones and other times we choose colorful marshmallows.
Mandarin Oranges: These should also be drained well to get the best results.
Cool Whip: Thaw to room temperature before adding to the recipe. Sometimes this is also called whipped topping.
Pro Tip: I don't recommend whipped cream.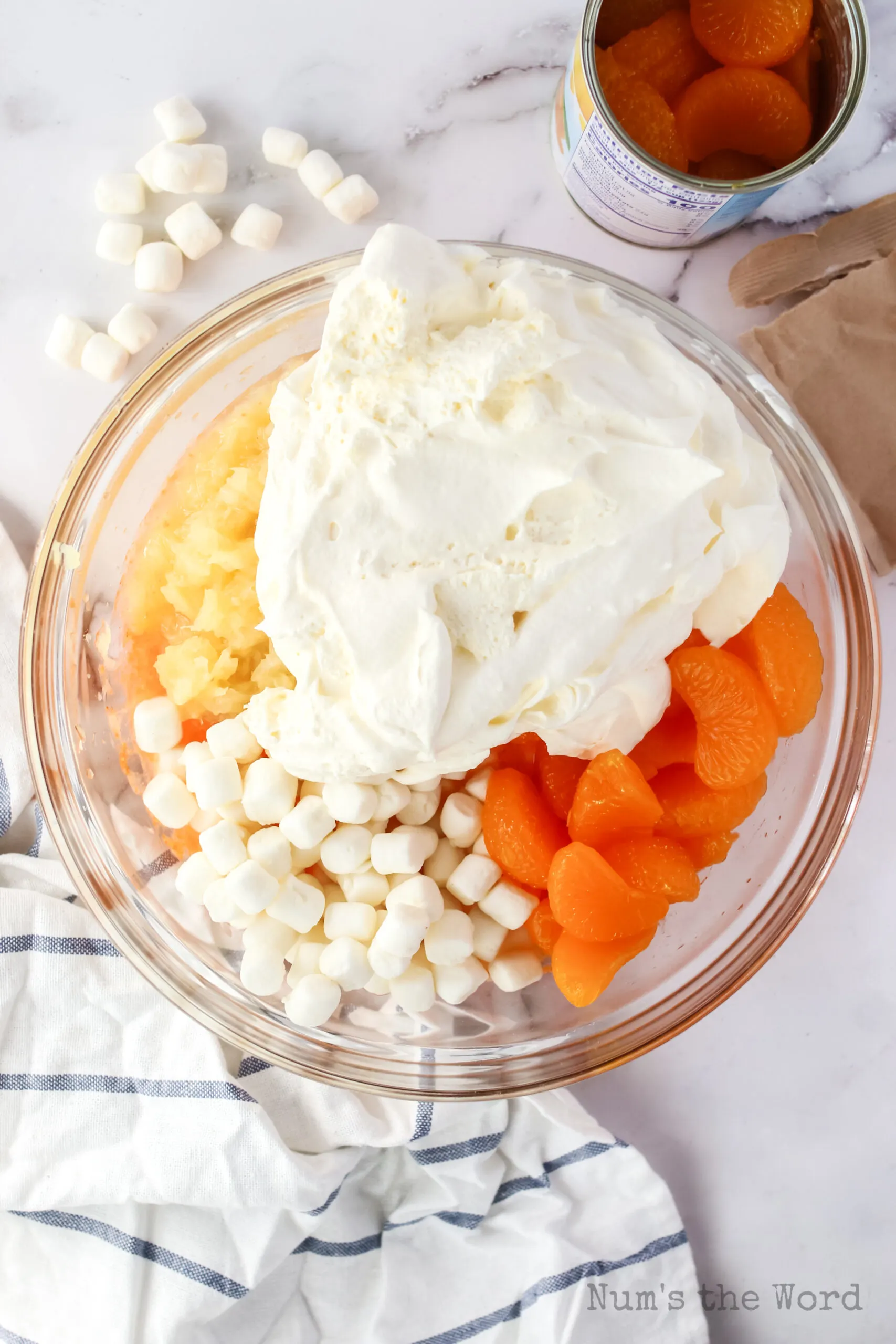 How to Make Orange Fluff
There's not much to say here! Mix ingredients together, cover bowl, and chill your sweet treat!
You can chill for a few hours or overnight, you'll want to make sure it is all cold though as jello salad doesn't taste that great warm.
Make sure it's all mixed together well to prevent large chunks of just one thing when you take a bite.
Pro Tips:
Mix carefully! Don't crush the marshmallows and mandarin oranges!
For the full recipe and printable recipe card see below.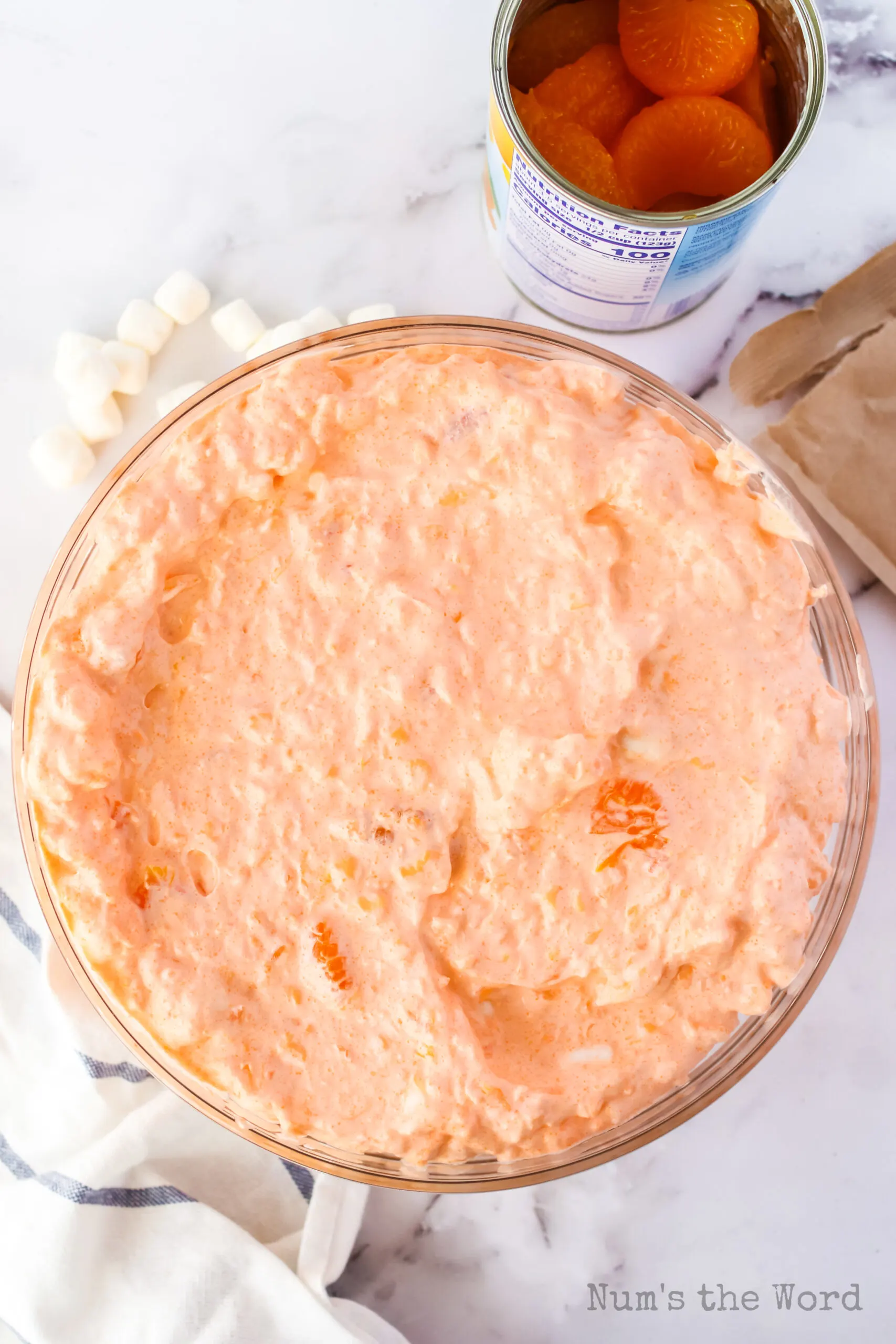 Can You Freeze Orange Fluff?
Yes, you can freeze this orange fluff recipe and save it for later.
When it comes to freezing, I like to spread the fluff in a baking dish lined with parchment paper. Then wrap with plastic wrap and aluminum foil.
Then when I'm ready to serve, I can cut and slice portions to serve.
The dish may change texture upon thawing, it's still very yummy and edible but if you're particular about the texture, you should be aware.
This recipe can be frozen for up to 3 months.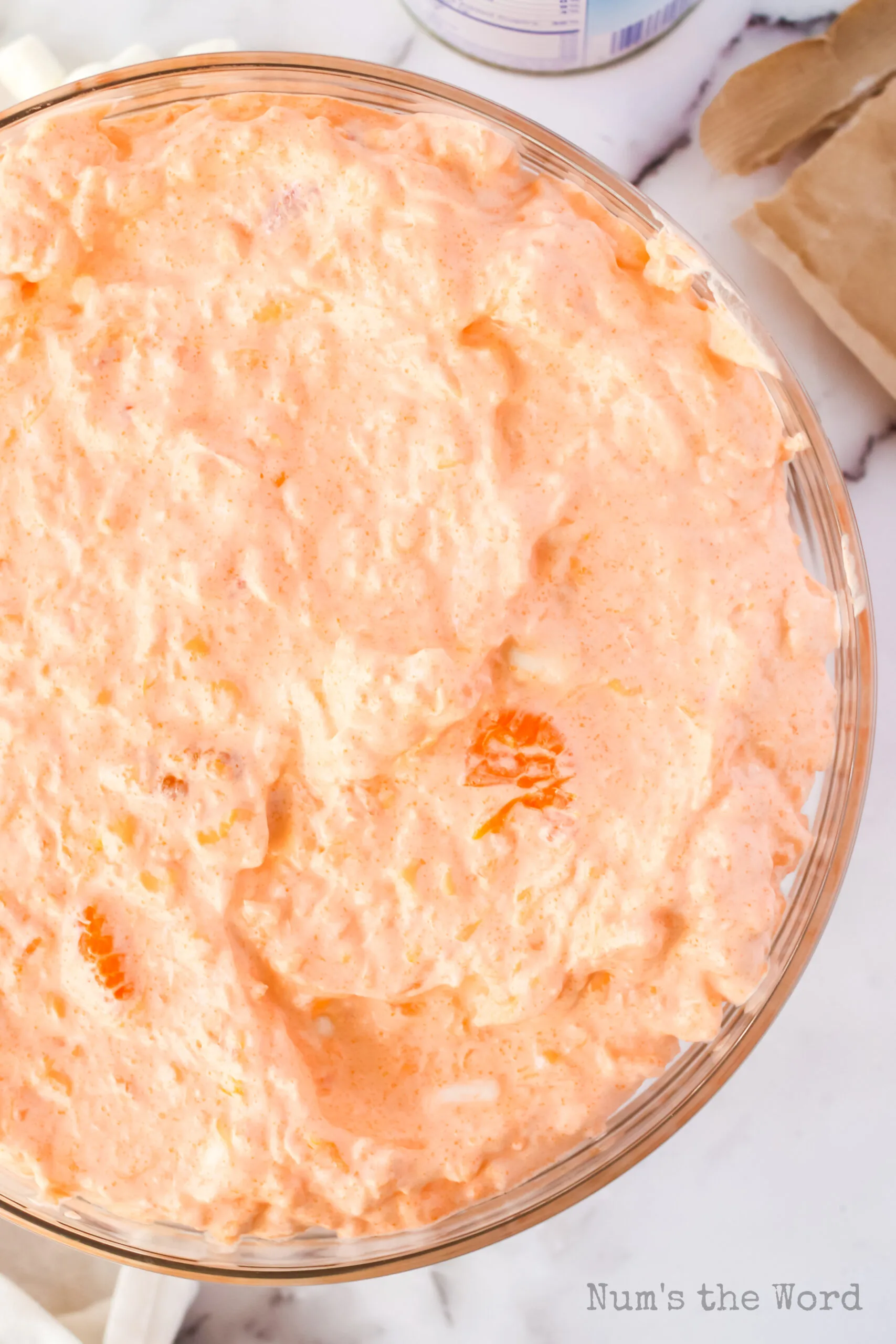 When to Serve Orange Fluff
There were times growing up that I had orange fluff. It was just accepted that you were going to see some version of it.
A lot of people will remember the fluff mixture they ate at the holidays. And that's because it's a great recipe for those times!
So here are some of my favorite times to serve orange fluff:
Potlucks
Thanksgiving Dinner
Funerals
Church Socials
Sunday Dinner
Barbecues
Really fluff-style desserts can be served any day of the week, as it's so easy to throw together and enjoyable to eat.
But as I don't make it all the time, those special times when I do throw it together make it all the better!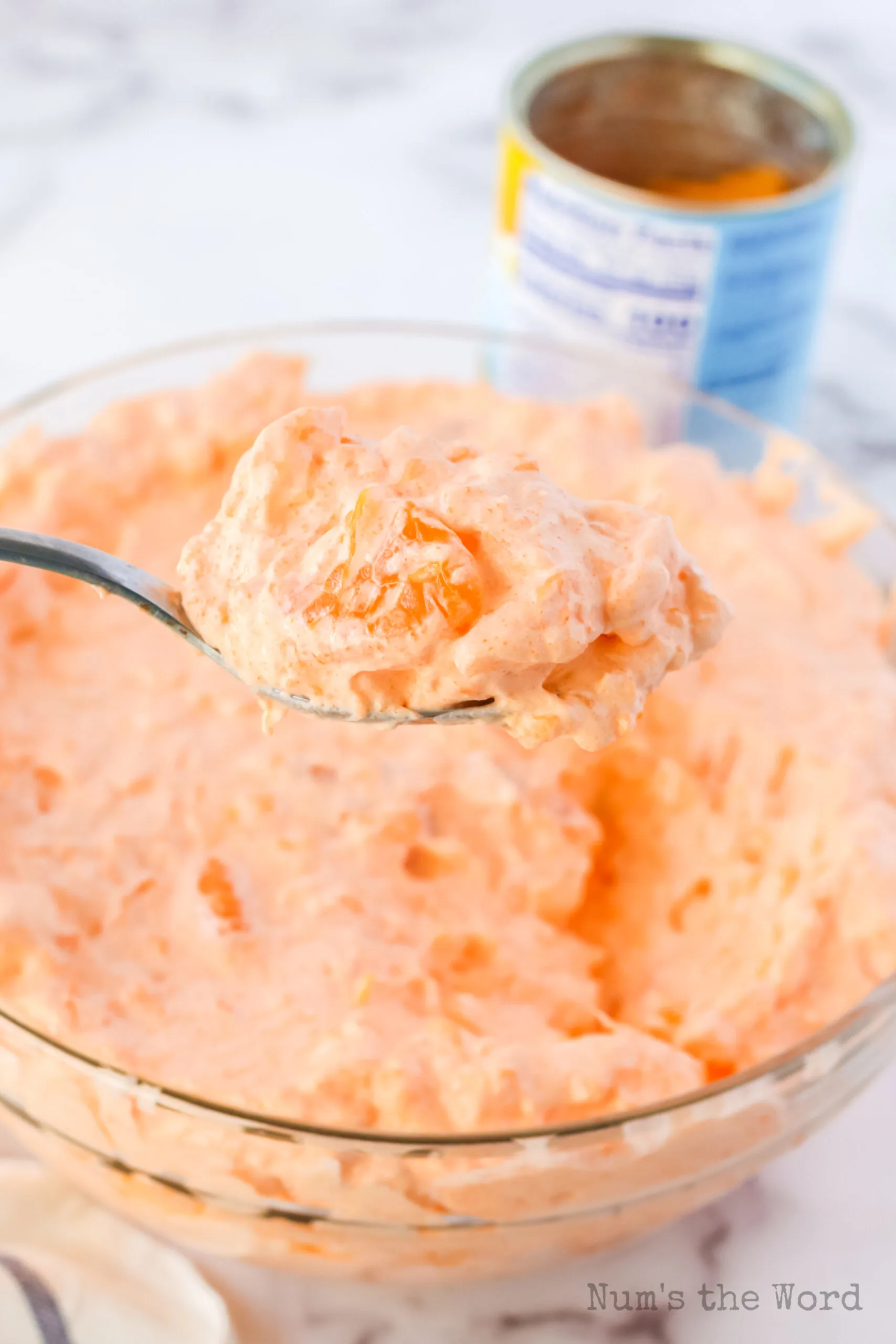 Is Orange Fluff a Side Dish or a Dessert?
Orange fluff can be a scrumptious side dish or a creamy dessert. If you feel cool whip is a dessert item, then this counts as a dessert.
If you think fruit and jello make a great side dish, then this is a side dish.
Really, it can be served as anything you want.
Whenever I take this delicious jello salad to a potluck or BBQ I love watching how people eat it.
Sometimes it's piled on right with their mashed potatoes. Sometimes they save it for dessert.
You get to pick!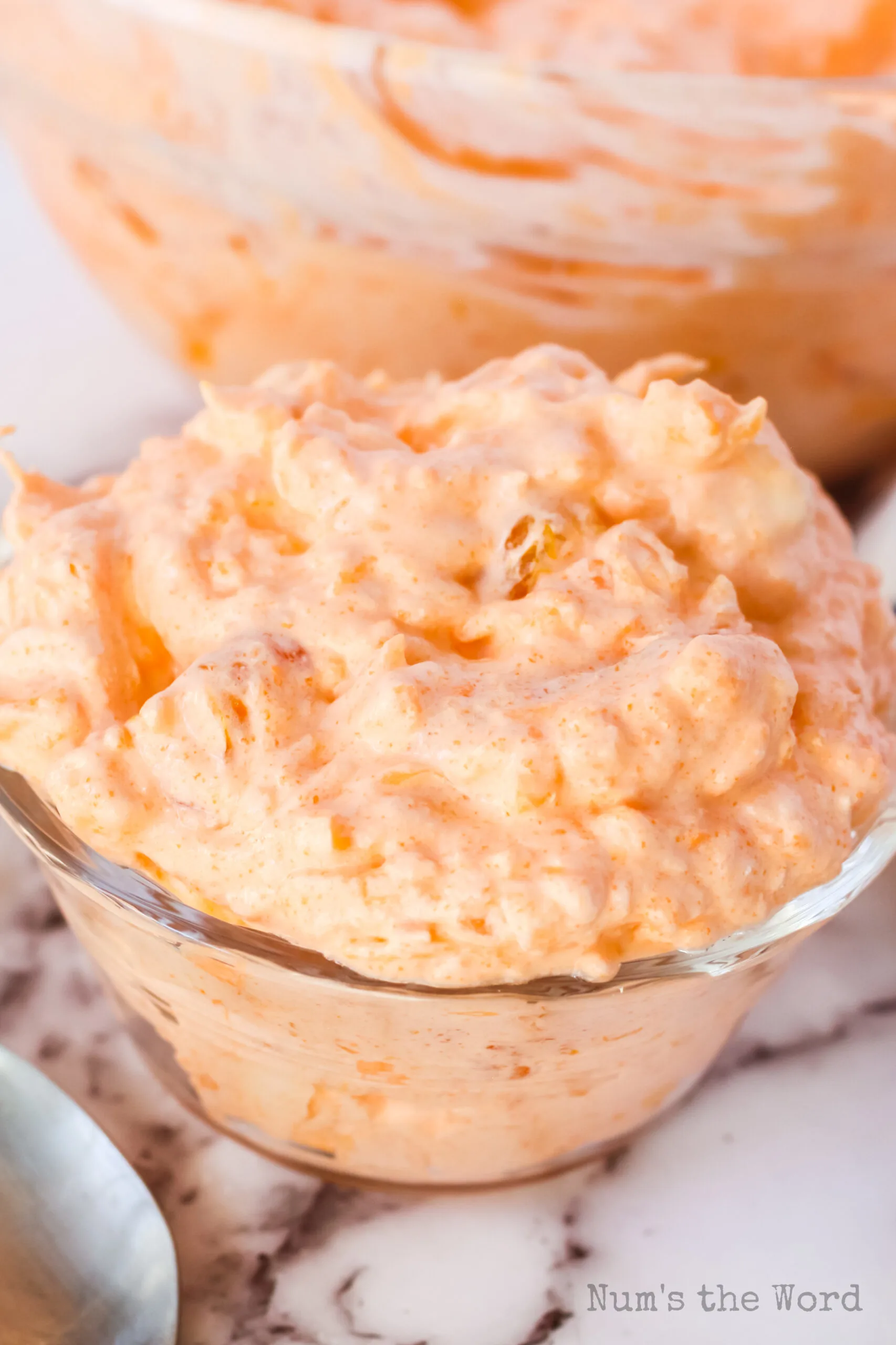 Can You Make Orange Fluff in Advance?
Yes! In fact, I recommend letting the orange fluff salad recipe sit overnight.
Letting it sit gives the flavors a chance to meld together and the dish to get to the right temperature.
Because the liquid from the pineapple or the oranges may separate from the rest of the dish, be sure to stir it up again with a rubber spatula before serving.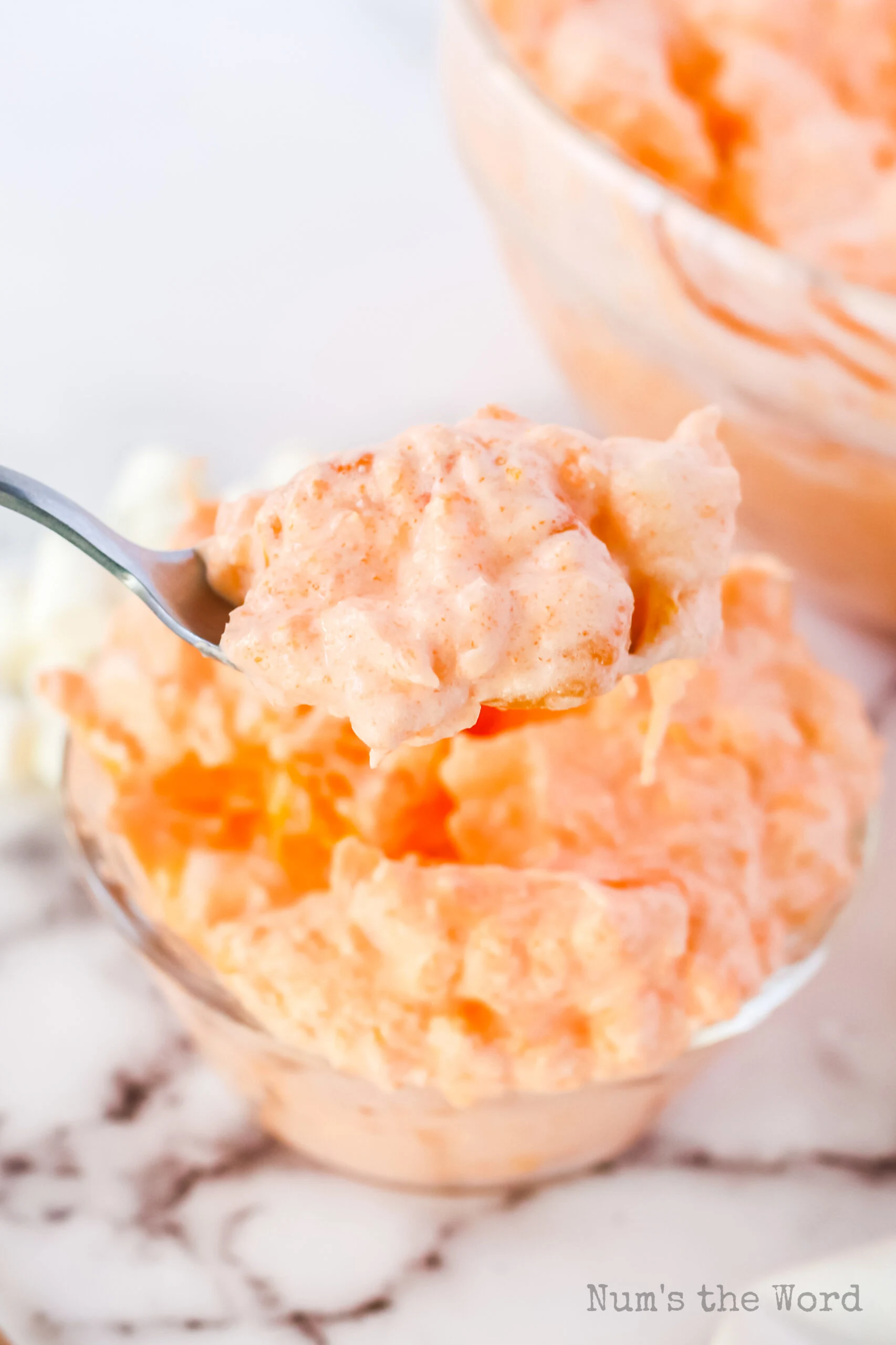 More Jello Recipes You'll Love…
Orange Fluff is a quick and easy dessert or side dish that is a family favorite! It's perfect for almost any occasion and so yummy too! Enjoy!
Yield: 8 Servings
The Best Orange Fluff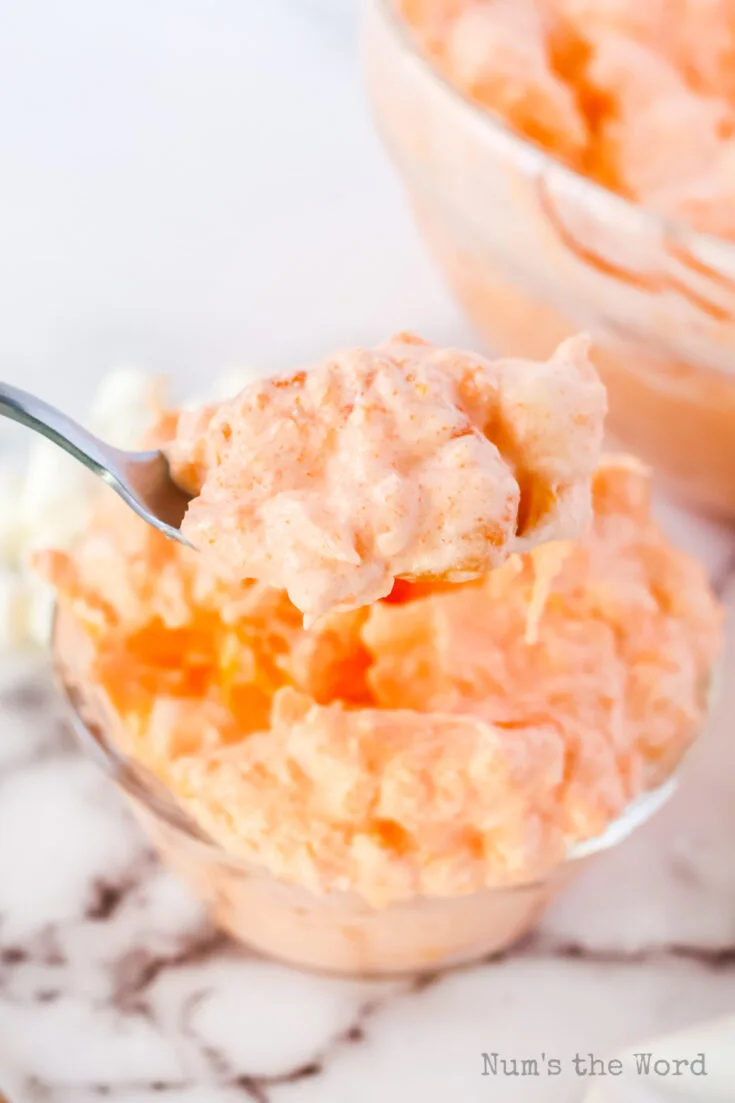 Orange Fluff is an easy dessert or side dish! It's a Thanksgiving staple at our house and really easy to make!
Total Time
4 hours
20 minutes
Ingredients
Instructions
Mix cottage cheese, and orange jello together.
Add pineapple, marshmallows, oranges and cool whip and mix well.
Chill several hours to overnight before serving.
Nutrition Information:
Yield:
8
Serving Size:
1
Amount Per Serving:
Calories:

219
Total Fat:

9g
Saturated Fat:

7g
Trans Fat:

0g
Unsaturated Fat:

1g
Cholesterol:

7mg
Sodium:

177mg
Carbohydrates:

30g
Fiber:

1g
Sugar:

26g
Protein:

6g