If you love peanut butter and chocolate, then you'll definitely want to try this recipe for Peanut Butter M&M Cookies!
These cookies are loaded with M&Ms and are the perfect combination of sweet and salty. They're great for a snack, dessert, or even as a gift for your friends and family.
The creamy peanut butter in the dough and the crunchy M&Ms make for a satisfyingly sweet and salty treat.
With just a few simple ingredients, these delicious cookies are a great choice for beginner bakers or anyone looking for a quick and easy dessert.
Whether you're bringing M&M peanut butter cookies to a potluck or sharing them with your family, these cookies are sure to be a hit.
If you're not a fan of M&Ms, you can easily swap them out for other mix-ins, like chocolate chips, chopped nuts, or even raisins. Totally customizable!
Peanut Butter Cookies with M&Ms are freezer-friendly so you can make a big batch of chewy cookies and enjoy them anytime you're in the mood for a sweet treat.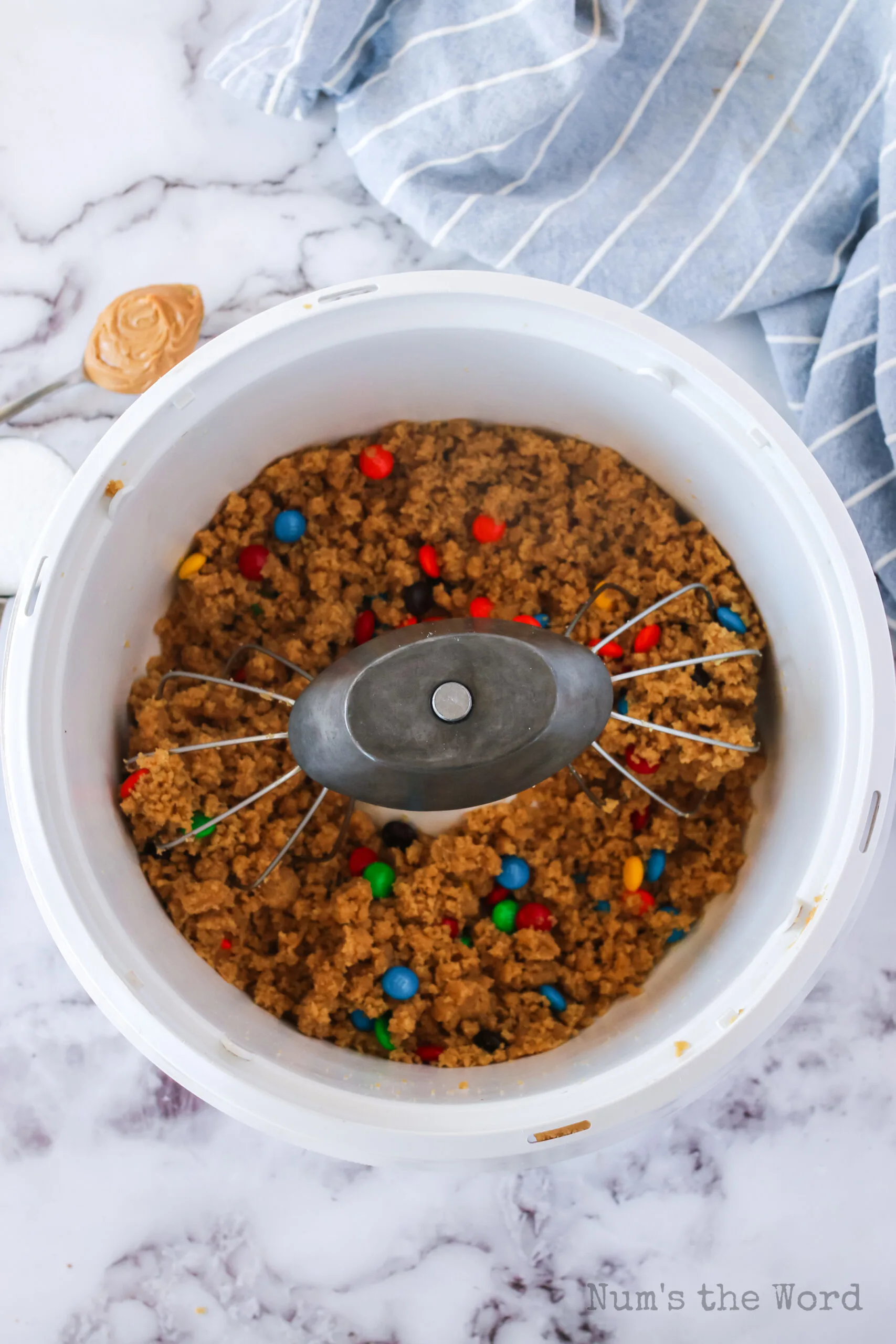 What Ingredients are in Peanut Butter M&M Cookies?
Most of these ingredients can be found in your pantry or local grocery store. The M&Ms are the star of the show, so make sure to grab a big bag of them!
Butter: Unsalted butter that has been softened to room temperature to ensure it mixes well with the other ingredients.
Light brown sugar: Light brown sugar adds a caramel-like sweetness and helps keep the cookies moist.
White sugar: Granulated white sugar adds sweetness and helps the cookies spread out while baking.
Eggs: Large eggs are used to bind the ingredients together and help the cookies rise.
Vanilla extract: Vanilla extract adds flavor and aroma to the cookies.
Creamy peanut butter – Creamy peanut butter is the star ingredient and adds richness and flavor to the cookies.
All-purpose flour: All-purpose flour is used to provide structure and texture to the cookies.
Baking soda: Baking soda helps the cookies rise and creates a light texture.
Salt: Salt enhances the flavor of the cookies and balances the sweetness.
M&Ms: M&Ms are added to the cookie dough for their chocolatey flavor and fun, colorful appearance.
Pro Tips:
Use room temperature butter. Softened butter will cream more easily with the sugar, resulting in a smoother cookie dough.
I don't recommend crunchy peanut butter but you can use whichever kind of peanut butter you prefer.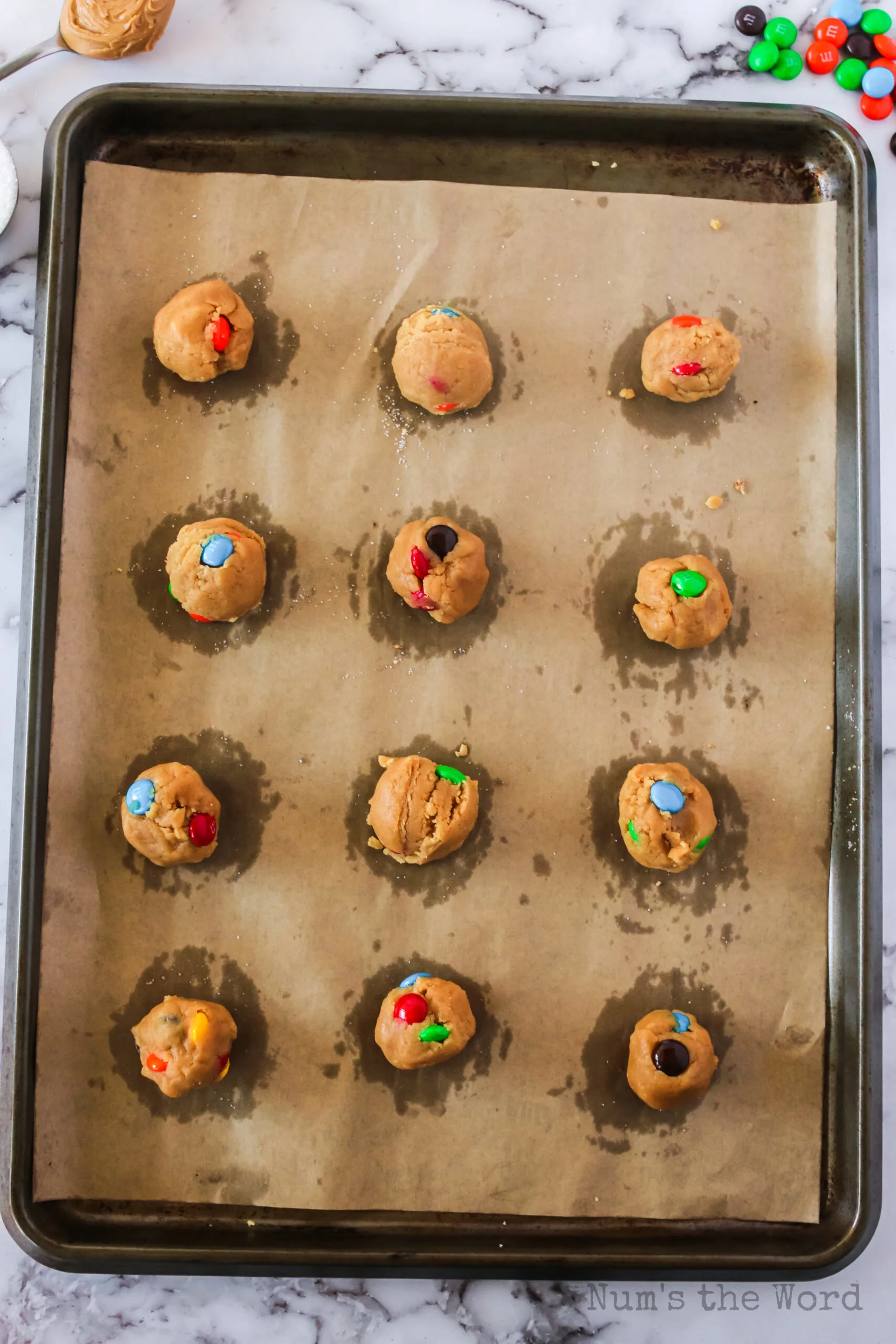 How to Make Peanut Butter M&M Cookies
Peanut butter lover and chocolate lover unite! Here's how to make this peanut butter cookie recipe.
Blend: Cream the butter and sugars together until light and fluffy.
Mix: Add in the eggs, vanilla extract, and peanut butter, and mix until well combined.
Combine: In a separate large bowl, whisk dry ingredients. Then gradually mix into the wet ingredients. Fold in the M&Ms.
Bake: Scoop the cookie dough balls and place them onto a lined baking sheet. Bake until the edges are golden brown.
Pro Tips:
Once you add the flour mixture, mix the dough until just combined. Overmixing can result in tough cookies.
Press a few extra M&Ms onto the top of each cookie dough ball before baking to make them extra pretty and flavorful.
For best results, prepare cookie sheet with parchment paper, non-stick foil, a baking mat, or cooking spray.
Use a stand mixer or electric mixer to save your arm the workout.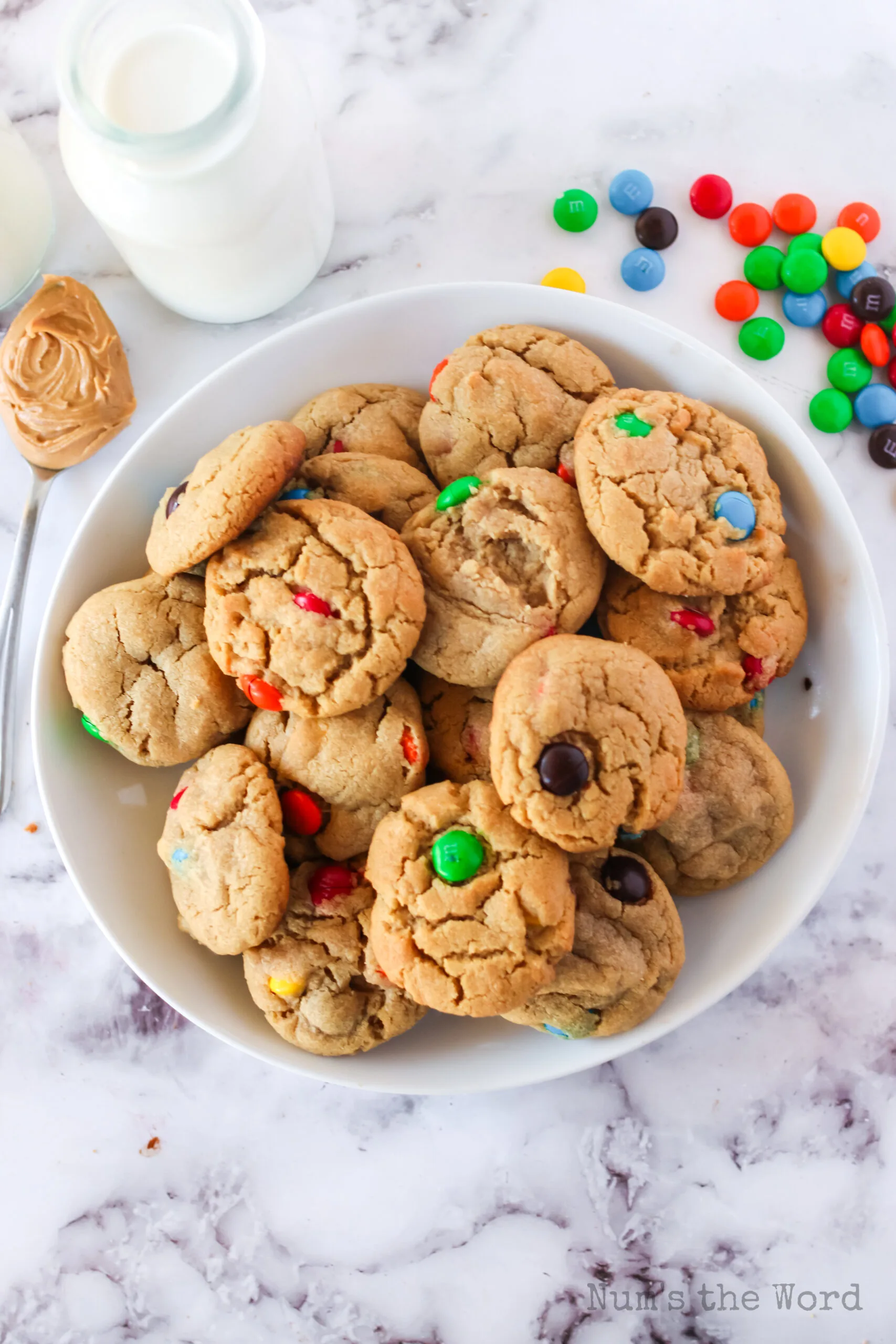 Do M&Ms Go with Peanut Butter Cookies?
Yes, M&Ms are the perfect addition to peanut butter cookies! Peanut butter fans will love the chocolate combo!
The combination of sweet and salty is irresistible, and the bright colors of the M&Ms add a fun pop of color to the cookies.
Trust me, you won't be able to resist eating just one of these fresh cookies!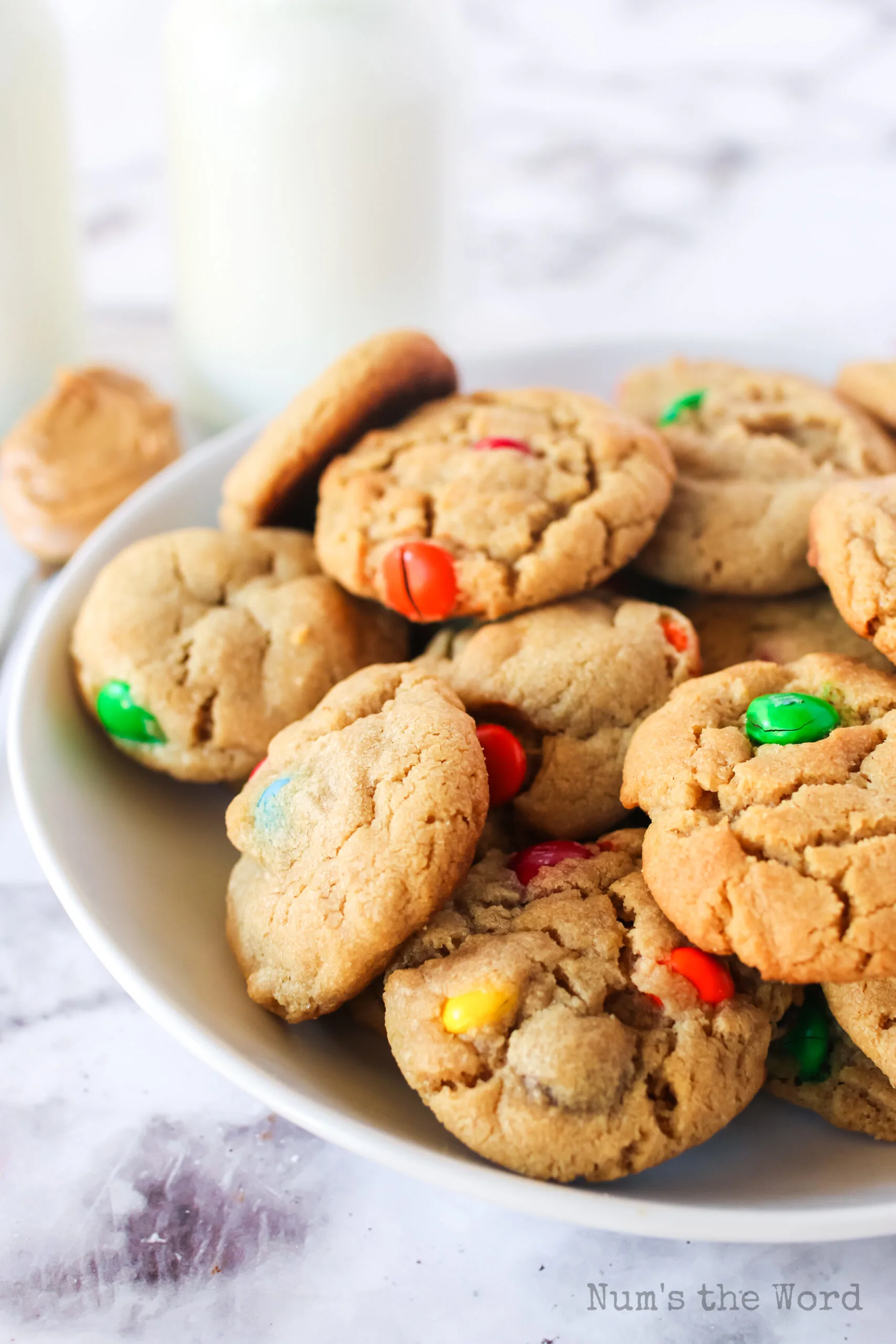 Can You Freeze Peanut Butter M&M Cookies?
Yes, you can freeze these soft cookies with chocolate candies!
To freeze them, place the cooled cookies in an airtight container or a freezer bag and store them in the freezer for up to 3 months.
When you're ready to eat them, simply thaw them to room temperature or pop them in the microwave for a few seconds to warm them up.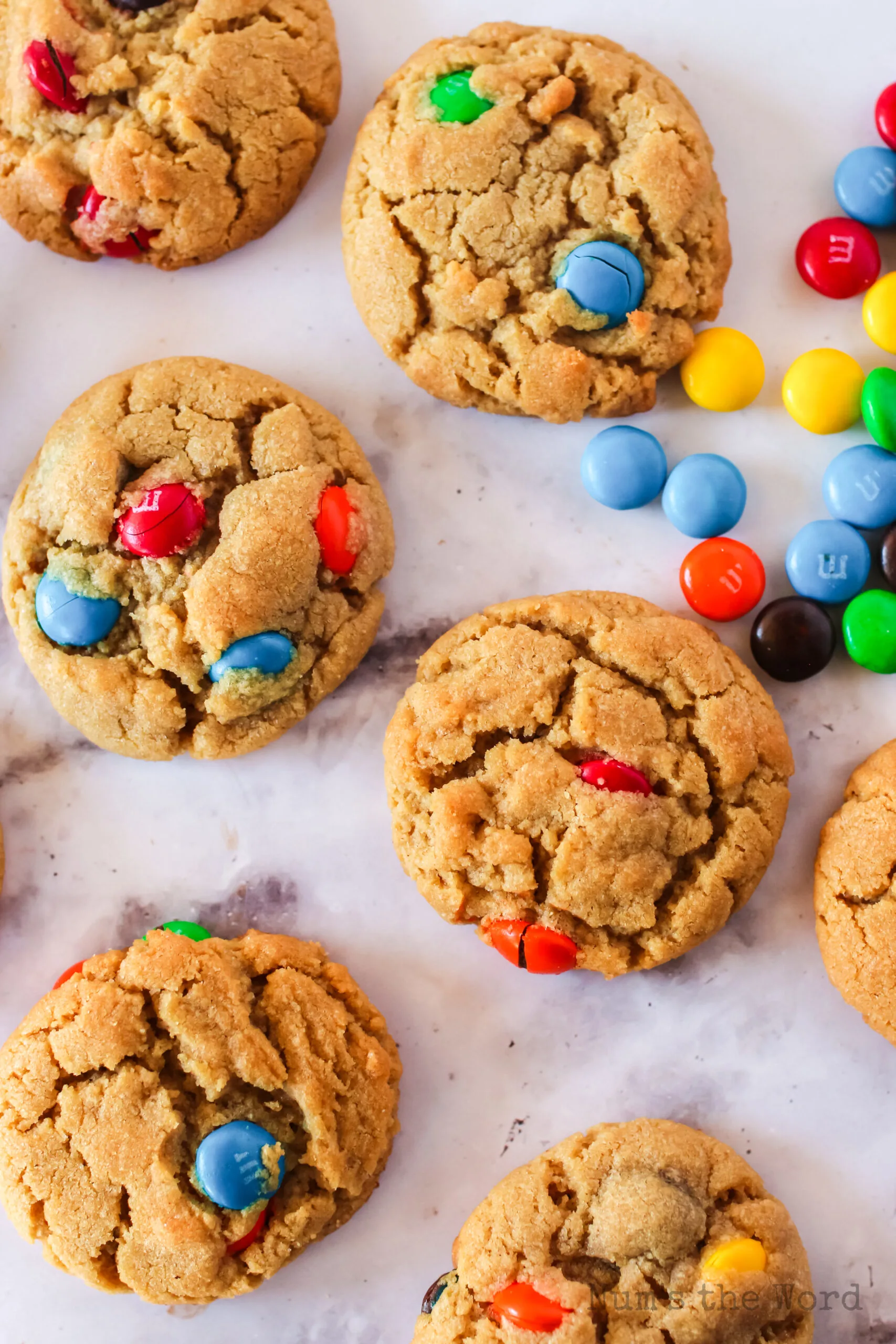 How Long Do Peanut Butter M&M Cookies Last?
These chewy peanut butter cookies will last for up to 1 week if stored in an airtight container at room temperature.
However, if you want them to last longer, you can store them in the fridge for up to 2 weeks.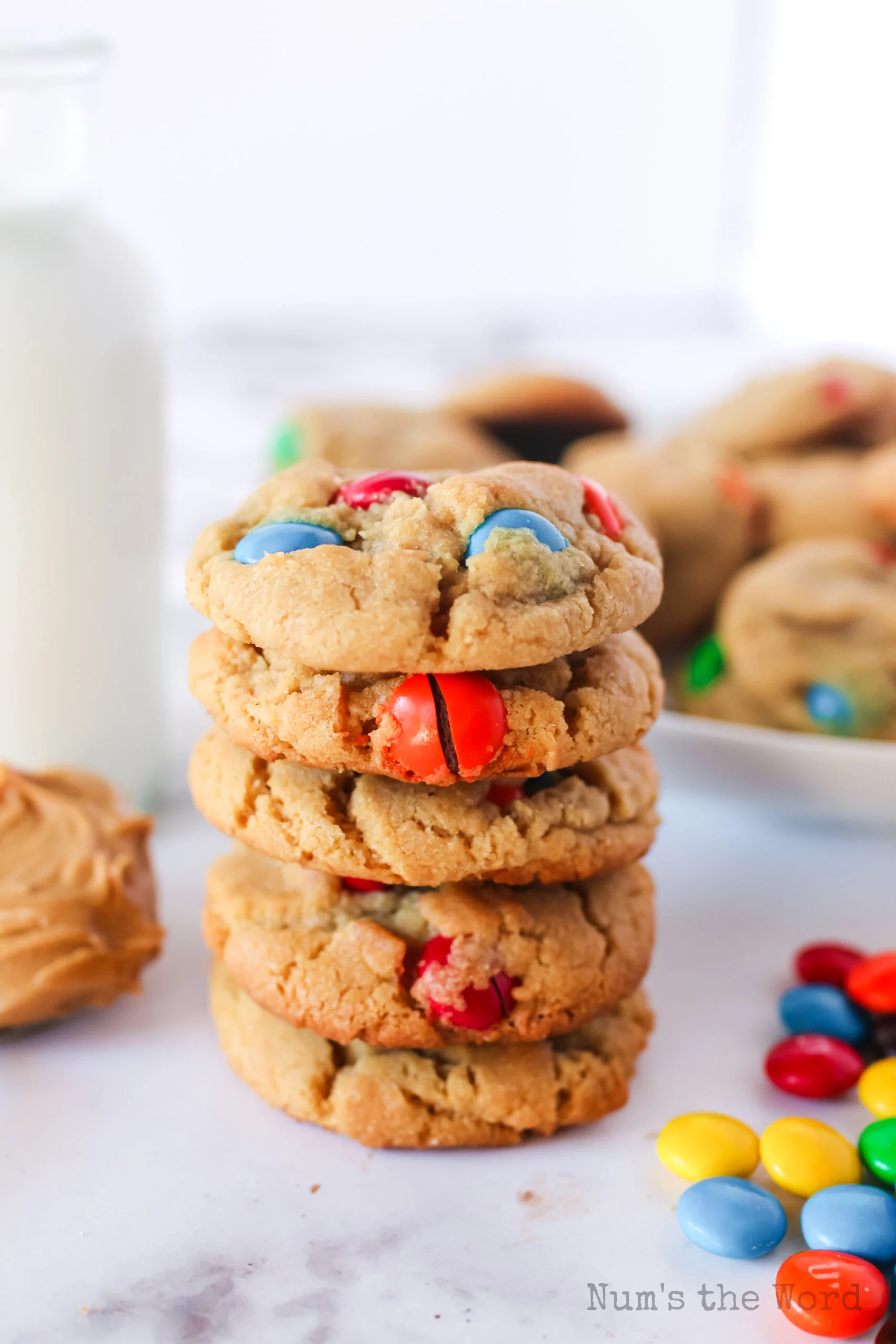 How to Store Peanut Butter M&M Cookies
The best way to store delicious Peanut Butter Cookies is in an airtight container at room temperature or in the fridge.
Make sure to separate the layers of cookies with parchment paper or wax paper to prevent them from sticking together.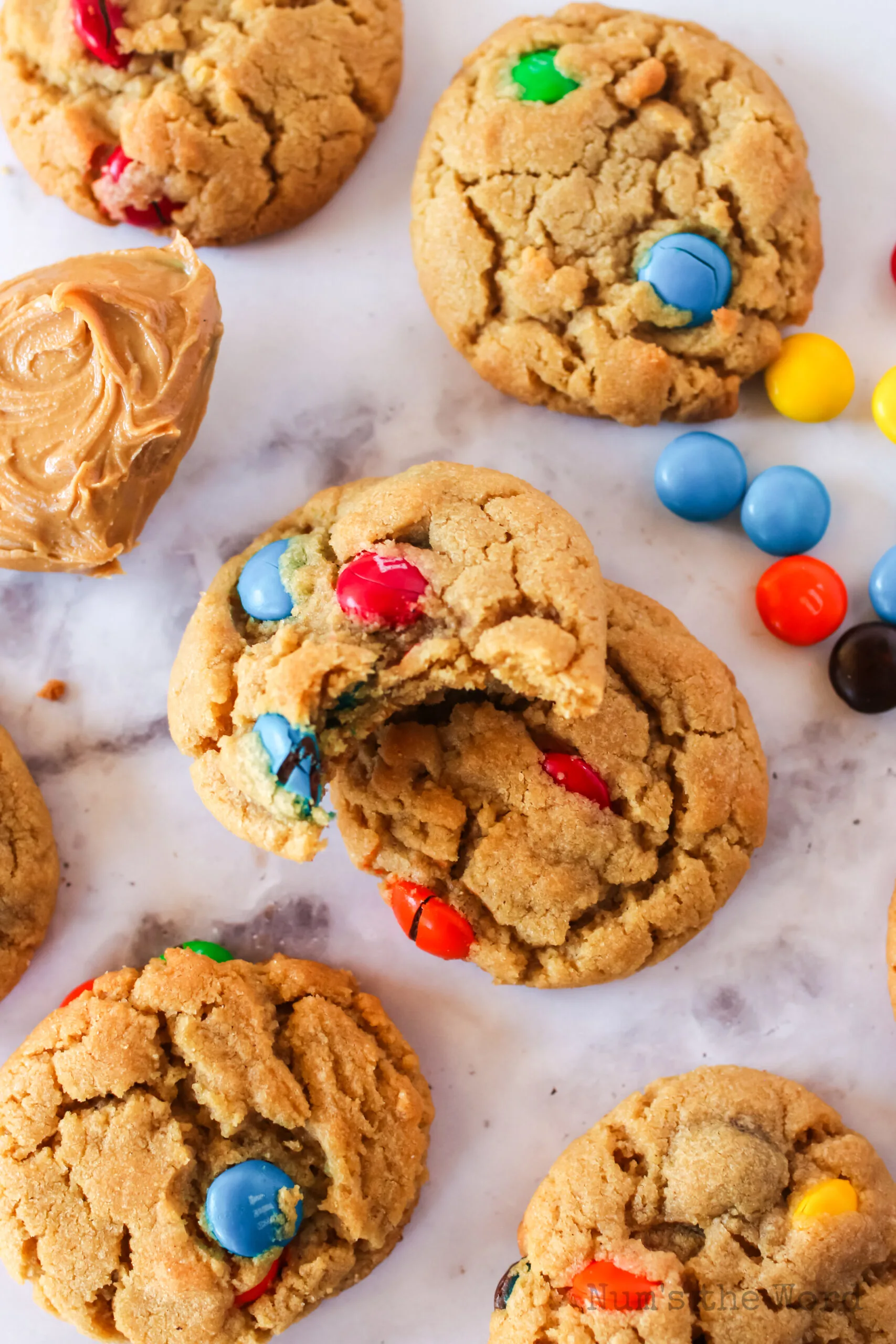 Can Dogs Eat Peanut Butter M&M Cookies?
While peanut butter is safe for dogs to eat, a chocolate m&m is not.
Chocolate can be toxic to dogs, so it's best to keep these cookies away from your furry friends.
If you want to give your dog a peanut butter treat, try making some homemade peanut butter dog biscuits instead!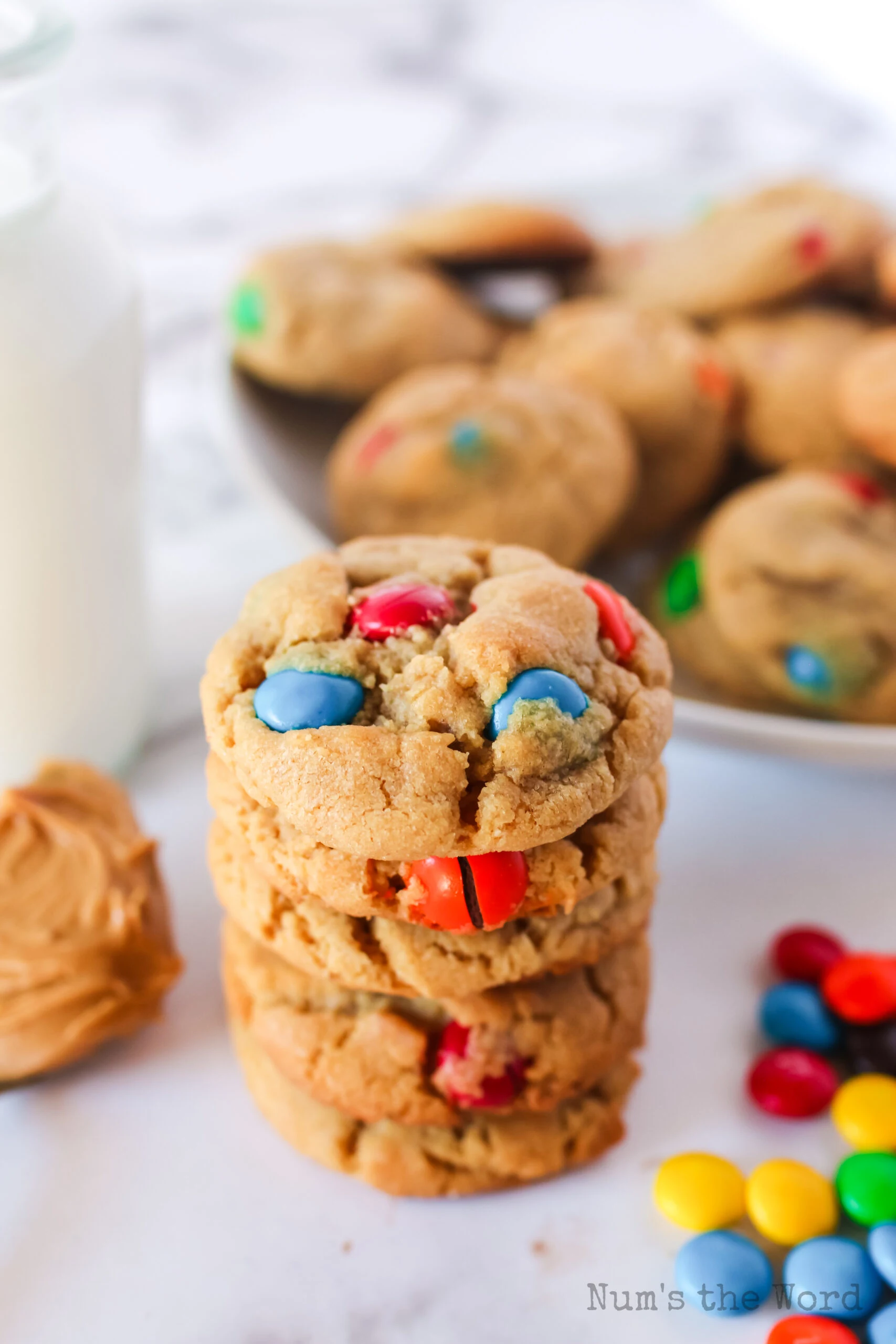 Peanut Butter M&M Cookies are the perfect combination of sweet and salty, and they're sure to be a hit with anyone who tries them.
Whether you're baking them for yourself or to share with friends and family, this recipe is easy to follow and the whole family will love them!
Yield: 36 Cookies
Peanut Butter M&M Cookies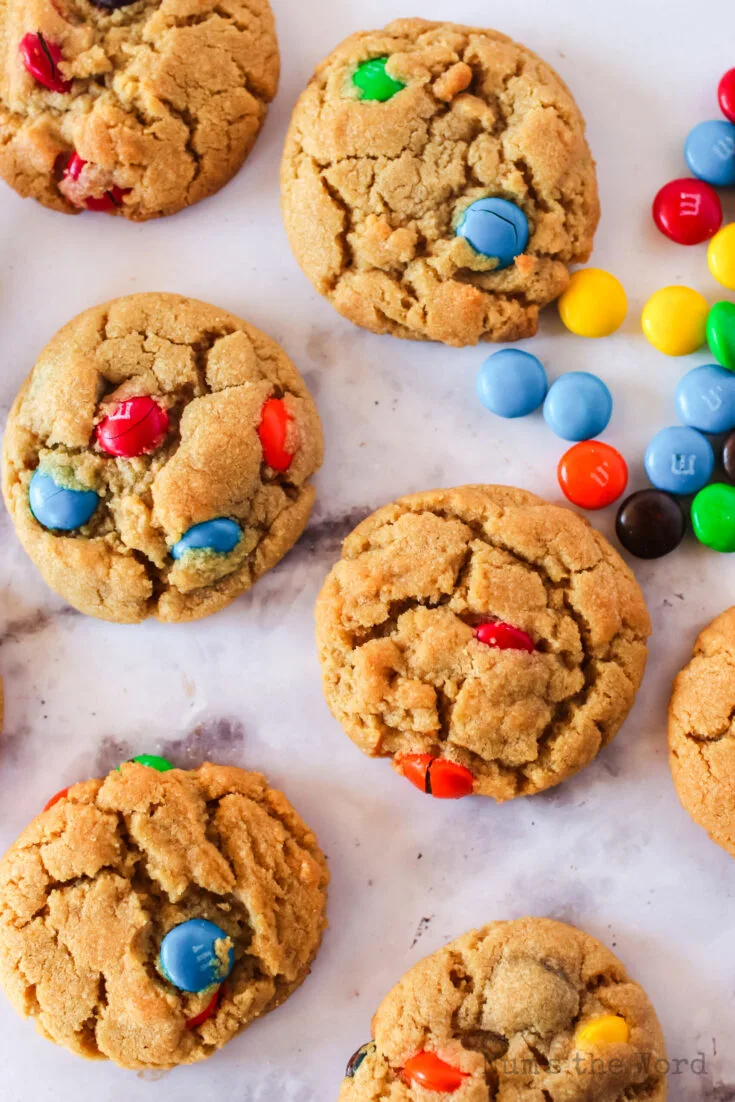 If you love peanut butter and chocolate, then you'll definitely want to try this recipe for Peanut Butter M&M Cookies!
Ingredients
Instructions
Preheat oven to 350*F
Prepare a cookie sheet with parchment paper, non-stick foil, baking mat or spray with cooking spray.
Cream butter, brown sugar and 1 cup white sugar together.
Add eggs and vanilla extract and blend well, scraping sides of bowl as needed.
Add peanut butter and blend again. Scrape sides.
Add flour 1 cup at a time, mixing between each addition.
Add baking soda, salt and m&m's - blend.
Scoop out 1 Tablespoon portions of dough and roll into a ball.
Place cookie balls onto the prepared cookie sheet.
Fill the entire sheet, leaving enough space between so cookies can expand.
Bake for 8-10 minutes, remove when edges have a hint of golden.
Let cool on the pan for 5 minutes, then transfer to a cooling rack.
Nutrition Information:
Yield:
36
Serving Size:
1
Amount Per Serving:
Calories:

227
Total Fat:

11g
Saturated Fat:

6g
Trans Fat:

0g
Unsaturated Fat:

5g
Cholesterol:

26mg
Sodium:

172mg
Carbohydrates:

28g
Fiber:

1g
Sugar:

18g
Protein:

4g