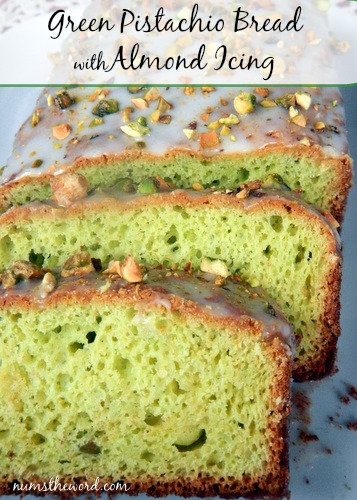 I used to work for a person who LOVED pistachio ice cream.  I myself had never had it before so I went out and got it so I could see what all the hype was about.  I ended up LOVING it.
Almond ice cream with pistachios in it is HEAVEN in your freezer.
So when I heard of Pistachio bread, no only was it a cool green color, perfect for St. Patricks Day. but it was easy to make!
However, I am a total sucker for mixing Pistachio and Almond flavors so I knew if I were to make this bread it would only be if I topped it with an almond icing.
So how confusing would it be to take a cake mix, turn it into a bread with a consistency similar to banana bread, then add icing to it and still call it bread.
Is this a cake or is it a bread?
Taste wise, I'd say it was a cake.  Cake has icing.
But my hips keep telling me to call it bread so I can justify eating more than one slice and also justify eating it for breakfast (which may or may not have happened on more than one occasion).
Some banana breads have icing…and they are still considered a bread.  So why not this?
You decide what you'll call it.  Me, I'm sticking to banana style bread (quick bread) that is light and fluffy and OH SOO GOOD.
The almond icing is a must and really takes this to the next level!
So if you like pistachios and you like almonds and you really like the two flavors combined, then try this!
Did I mention it's green and perfect for St. Patrick's Day?  Yep, it's awesome!
This post contains Amazon affiliate links as a free service to you!
Yield: 2 loaves
Green Pistachio Bread with Almond Icing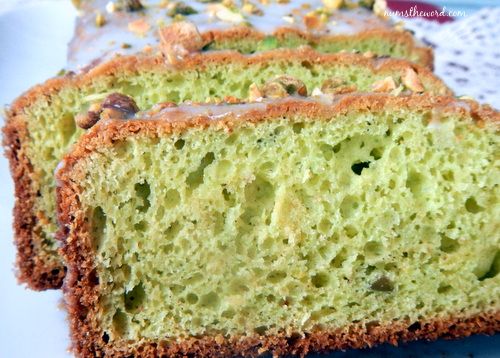 Ingredients
PISTACHIO BREAD:
1/2 cup white sugar
2 Tablespoons cinnamon
1 yellow cake mix
2 (3.5 ounce) boxes of pistachio pudding mix (dry)
4 eggs
1/4 cup oil
1/8 cup water
1 cup sour cream
1 teaspoon green food coloring (optional if you want your bread greener than mine)
ALMOND ICING:
1 teaspoon vanilla extract
1 teaspoon almond extract
3 Tablespoons milk
1 1/2 cups powdered sugar
1/2 cup chopped shelled pistachios
Instructions
PISTACHIO BREAD:
Preheat oven to 350*F
Grease two bread pans with a spray oil or butter.
In a small bowl combine white sugar and cinnamon, mix well.
Pour cinnamon sugar into loaf pan and gently shake it all around coating the bottom and sides of pan. Coat both pans..
In a medium bowl, combine cake mix, pistachio pudding mix (dry), eggs, oil, water & sour cream.
Add additional green food coloring if you wish for your bread to be a darker green. Mine is a lime green color, mix well.
Batter will be very thick. Pour half the batter into each pan. Don't worry about spreading it around, it will automatically fill in the empty spots as it cooks.
Bake for 45 minutes or until a toothpick inserted into the middle of the bread comes out clean.
Let bread rest for 5 minutes before removing from pans and allowing to fully cool on a wire rack.
ALMOND ICING:
Once cake is fully cooled, make icing.
In a small bowl with a hand whisk, combine vanilla extract, almond extract & milk. Mix well.
Add powdered sugar 1/2 cup at a time, mixing well after each addition.
After icing is mixed pour over bread.
Top immediately with chopped pistachios as icing will dry quickly.
Pistachio Bread From: Lil' Luna
Items recommended for this recipe include…
Another Recipe We Think You'll Love…