Slow Cooker Cranberry Apple Cider is the perfect way to entertain this fall! Incredibly easy and delicious, it'll be ready for drinking all day long!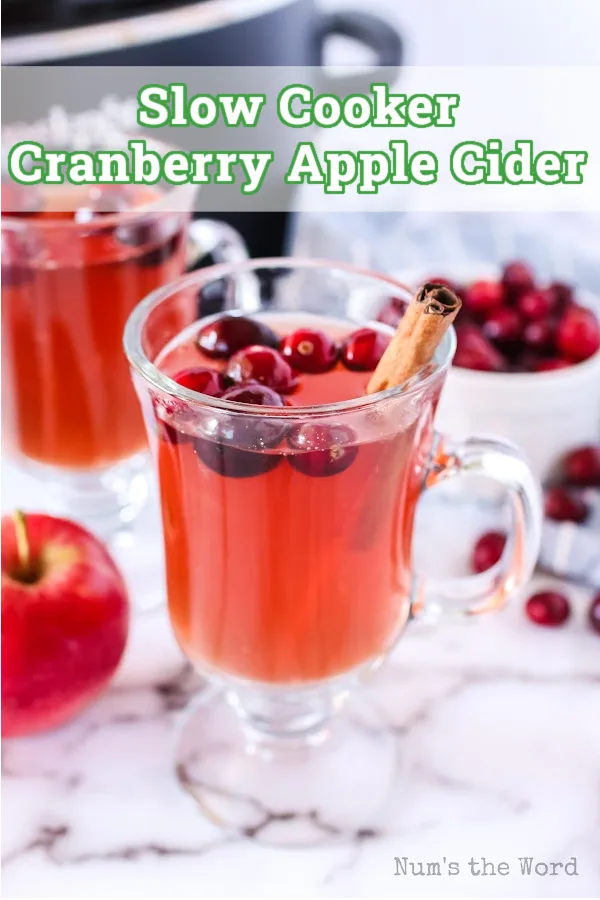 Fresh apple cider in ceramic mugs makes for the perfect dink for family gatherings. However if you want to really take your holiday drink up a notch, I recommend trying this crock pot cranberry cider.
If this is your first time making hot apple cider with cranberry juice, you're in for a real treat as it tastes like a fruity cider. It's not quite the same typical hot apple cider you grew up with.
Okay so what is so great about slow cooker cranberry apple cider? Let me tell you!
First of all, this cranberry apple cider is made in a slow cooker. which means no dirty punch bowls and fewer dishes to wash.
If you've never made cider in a crockpot, now is the time. It stays warm all day long which is perfect for gatherings or cozy Sunday afternoons. And cranberry cider makes the house smell like heaven! All. Day. Long.
We love serving this as part of a beverage bar for parties during the holiday season. We'll serve a batch of hot apple cider, this cranberry apple cider, hot chocolate, and cranberry punch just to give variety for the guests.
I love that this mulled cider recipe has just the right amount of spice flavor without dominating the drink. Plus making it in the slow cooker makes this a dump and go recipe perfect for cold nights or parties.
Next, the flavor is incredible. If you are making a warm drink and it's cold outside, you better have something this good to drink. Just imagine yourself in your jammies. With a book. And a cup of mulled cranberry apple cider. Yeah, that's a good party.
I hope you enjoy this cranberry cider drink as much as we do!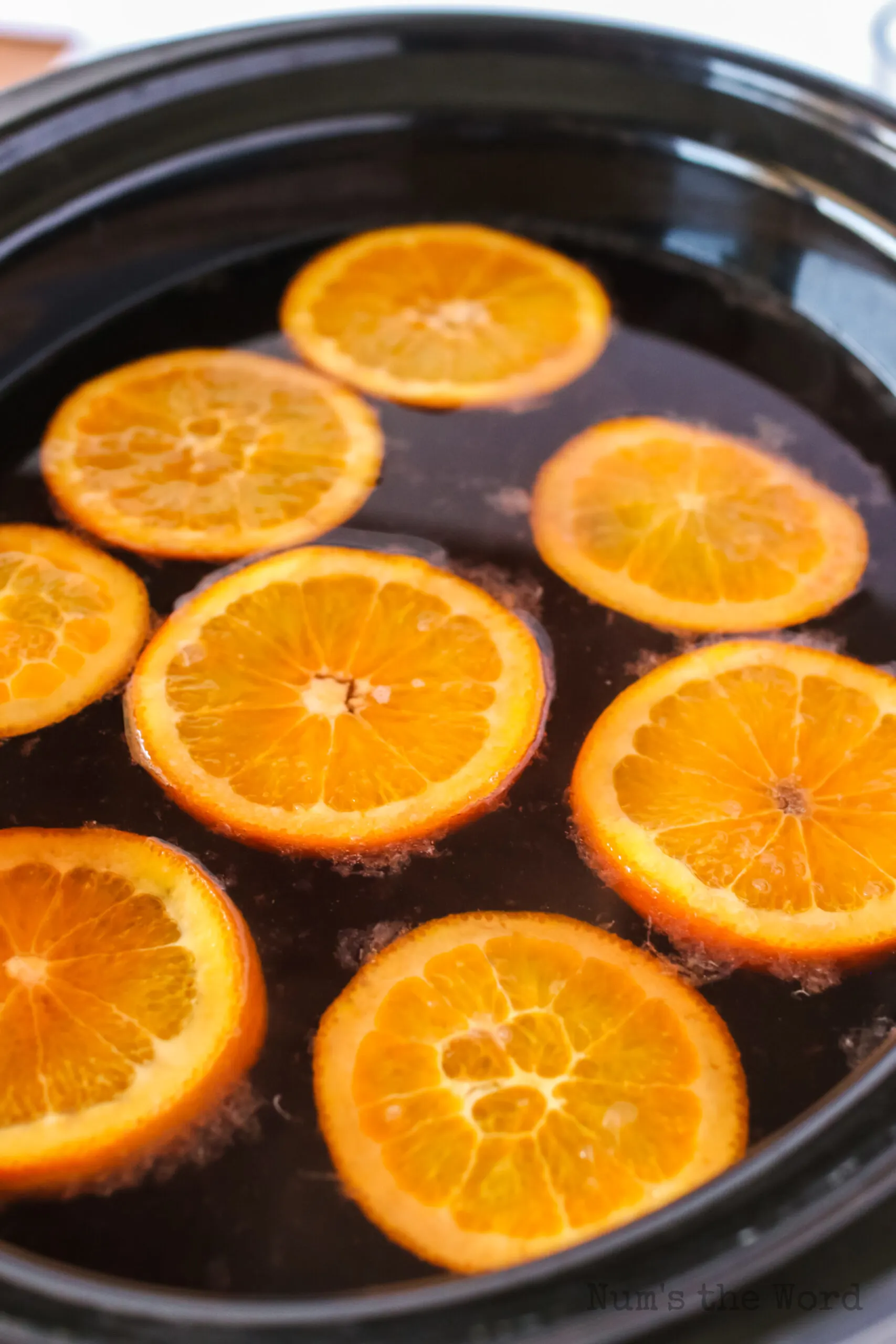 What is Slow Cooker Cranberry Apple Cider?
Most people are familiar with apple cider so there's your familiar base you know and love. What most people aren't familiar with is the cranberries.
Cranberries are actually good for lots of things, not just cranberry jelly at Thanksgiving. Like this Apple Cranberry Crisp. It's heavenly.
So what works so well here is the combination of flavors. Cranberries, apples, ginger, lemon juice, and cinnamon.
Basically throw in all the yummy fall flavors except maybe pumpkin and there you are. YUMMY.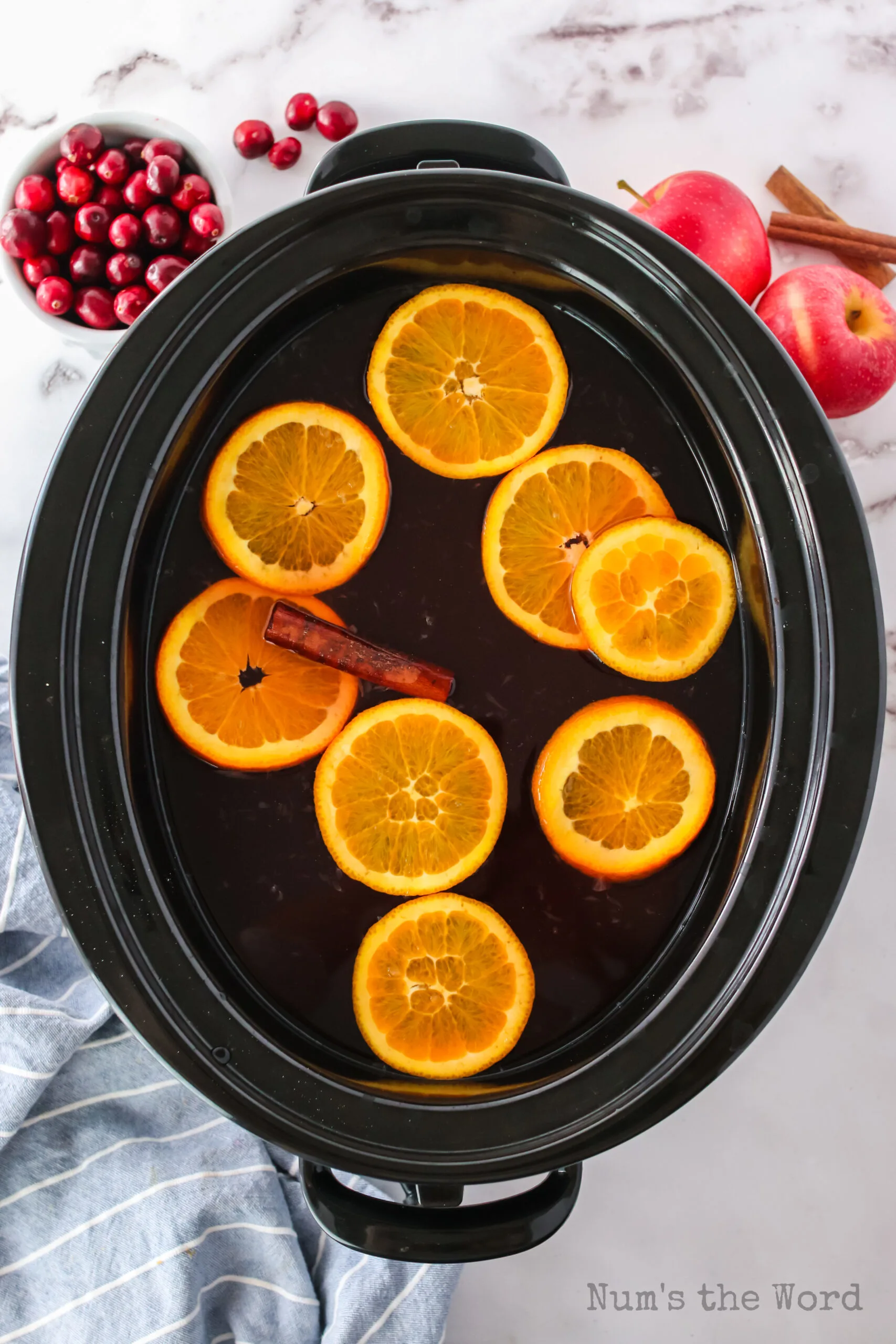 What Ingredients are in Crockpot Cranberry Apple Cider?
White Sugar: Cranberries can make things kind of tart but this sugar takes quick care of that!
Ginger: Good for flavor and also really good for you too!
Lemon Juice: I like to use fresh lemons but you could use the packaged lemon juice as well.
Apple Juice: Any brand of apple juice that you enjoy will work.
Cranberry Juice: Make sure this is 100% cranberry juice. You don't want other flavors mixed in. If you use cranberry juice cocktail you wont need as much added sugar.
Cinnamon Stick: You could also substitute with ground cinnamon if you don't have cinnamon sticks on hand.
Orange Slices: Slice fresh oranges into rings! It's the easiest and looks beautiful too!
Nutmeg: Use a pinch of ground or a quick zest of actual nutmeg!
Pro Tips:
Use fresh cranberries, cinnamon sticks or even star anise for decorating your drink.
This recipe doesn't require you to discard spice bag because we don't use one. If you wanted to, you could but would need a different combo of spices.
Use a slotted spoon to remove the cinnamon, and orange slices when desired flavor has ben reached
How Do You Make Crock Pot Cranberry Apple Cider?
This is the easiest recipe to make! That's what makes it so great! Put everything in the crockpot, set it, and walk away! It's literally that easy! If you want warm cinnamon cider, cook it for less time. If you want a batch of hot cider, cook it for the full amount of time.
Do I Have to Refrigerate Slow Cooker Cranberry Apple Cider?
As long as the crockpot cranberry cider is warm, you are fine to not refrigerate it and consume it that day.
If it's going to be any longer than that, you'll need to take it out of the slow cooker and put it in the fridge.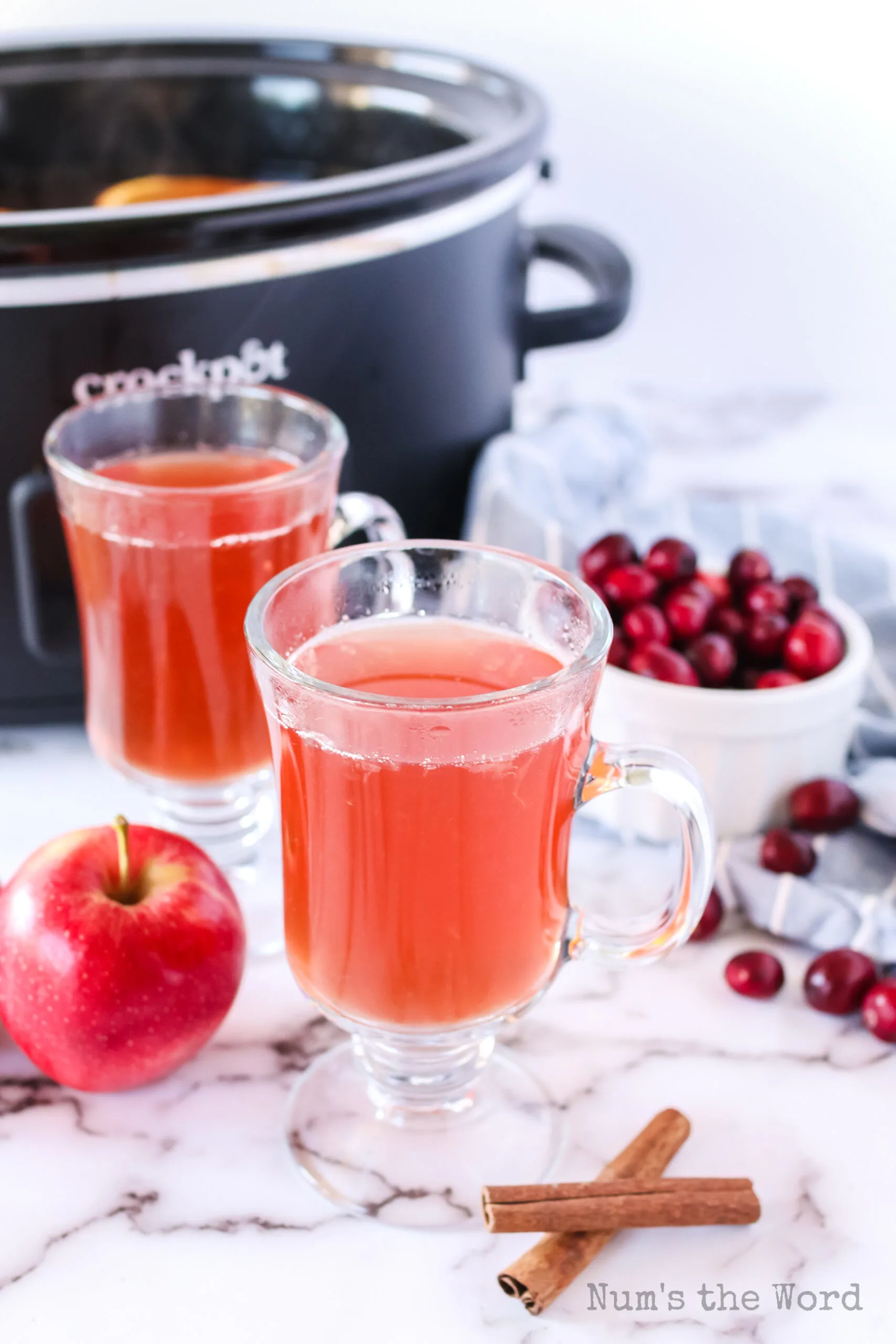 Can I Make Slow Cooker Cranberry Apple Cider Ahead of Time?
Yes! Crockpot Cranberry Cider can be made in the morning and consumed late at night with no problem! You could also make it a day before you want it.
I find that it's so easy to make it in the crockpot that I don't need to really make it the day before though. Especially because if you do make it earlier, you're just going to need to reheat it anyway.
How Long Does Slow Cooker Cranberry Apple Cider Last?
Crockpot Cranberry Cider will stay good in the fridge for up to one week. I like to store it in a covered pitcher. Then whenever we're ready for a cup we can easily pour out the amount we want.
You can drink it warm, reheat in 10 second increments in the microwave, or heat it up on the stove.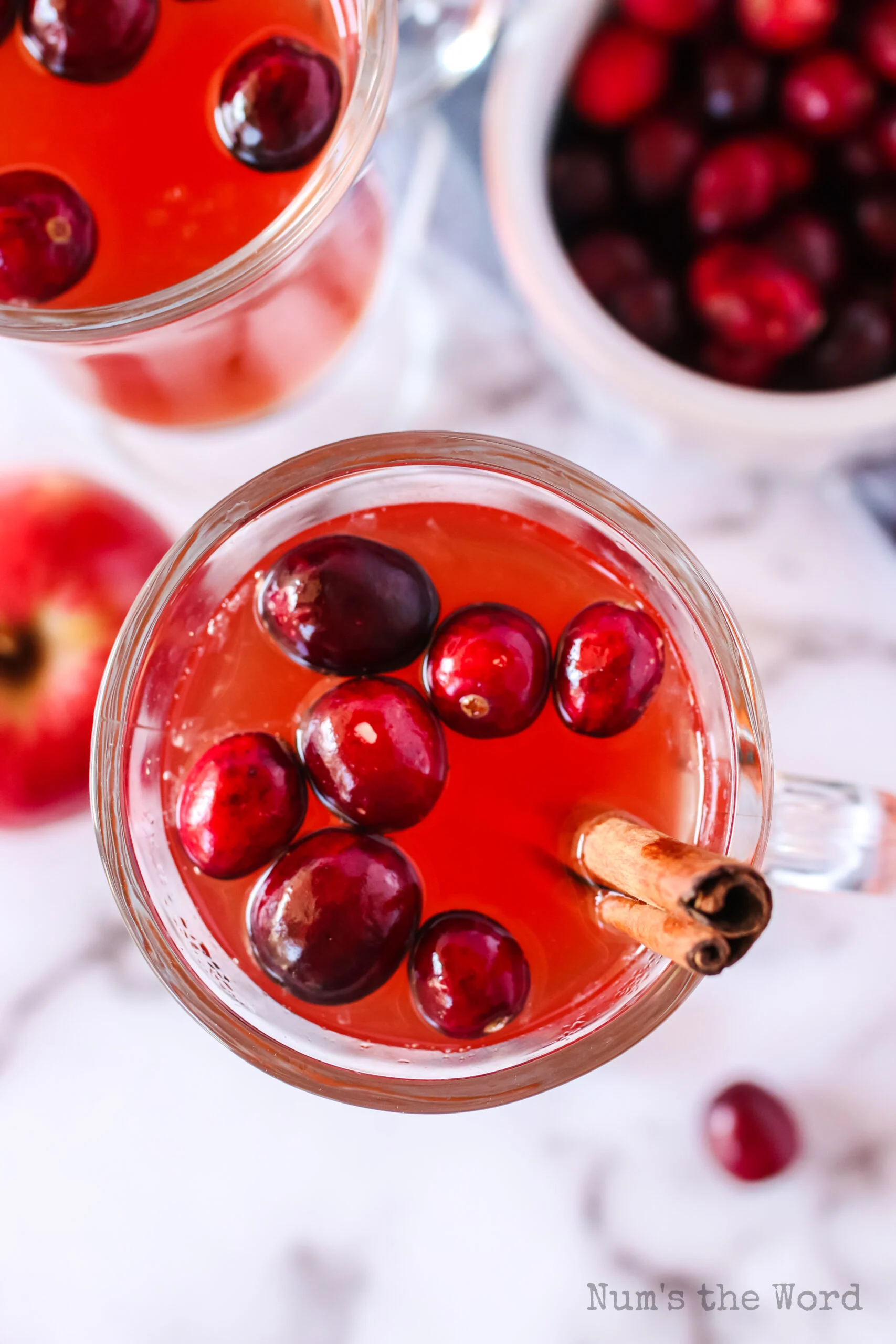 Can You Freeze Crock Pot Cranberry Apple Cider?
Yes! Crockpot cranberry cider can easily be frozen for later use! First, allow the cranberry cider to cool completely.
It needs to be completely cool when you put it into your freezer safe container. Then pour it in and done!
Cranberry cider drink will stay good for up to three months in the freezer as long as it stays covered.
Reheat on the stove or thaw in the fridge overnight.
Pro Tips:
Always list the name and date on the container of whatever you put into the freezer.
Leave an inch of headspace as liquid expands in the freezer.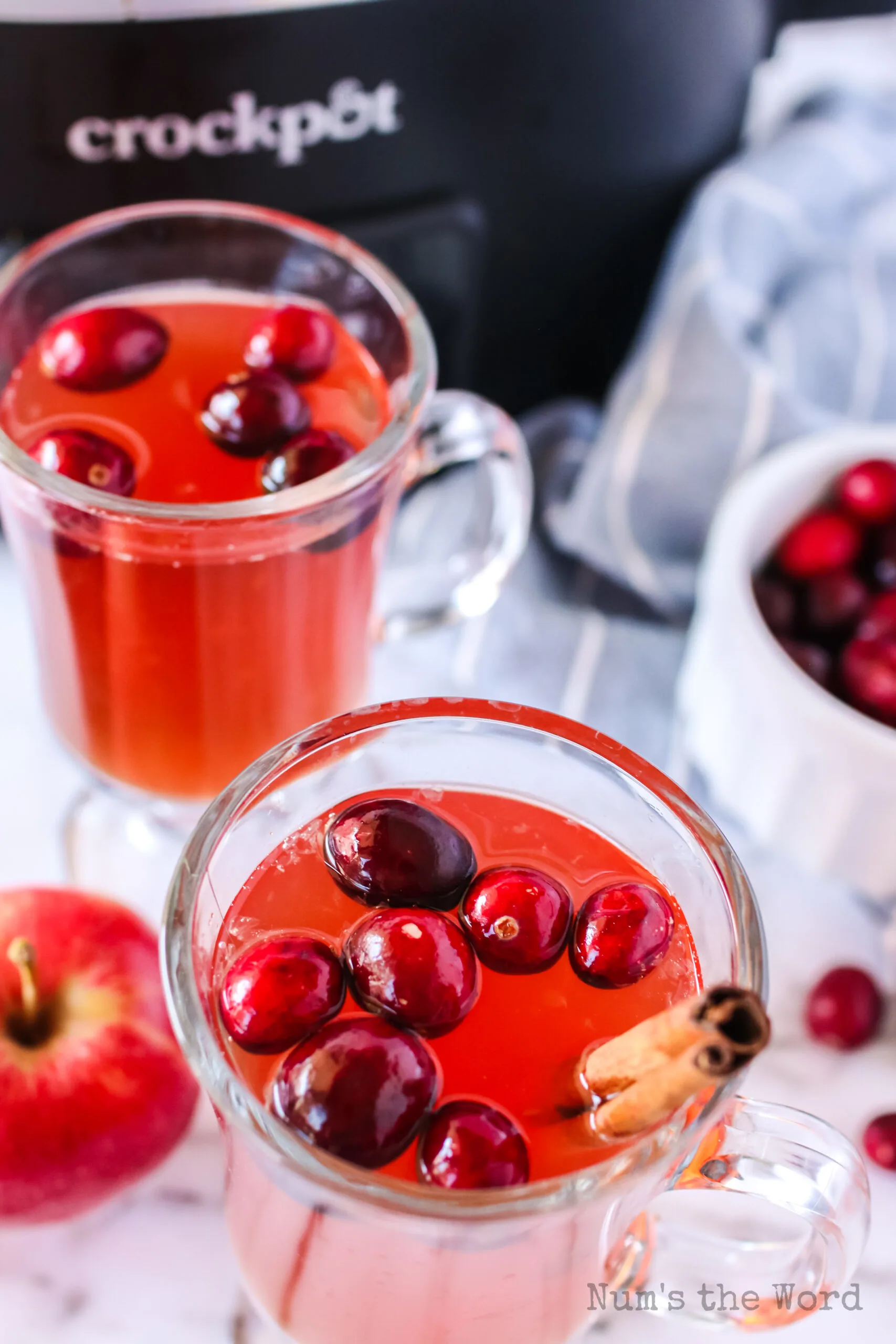 Can I use Apple Cider Instead of Apple Juice?
Apple cider isn't cooked like apple juice is during processing. That means that apple juice tends to be sweeter and apple cider tends to be more tart.
The cranberries are already quite tart so you might find that the cranberry cider drink turns out too tart. That being said, you can absolutely use apple cider instead of apple juice.
If it turns out this delicious drink is too tart, you can always add a little extra sugar to make up the difference.
Can I Make Cranberry Apple Cider on the Stove?
Yes! Crockpot cranberry cider can be made on the stove instead of in the crockpot. Add all of the ingredients to a large stockpot or one large enough to hold all of the ingredients.
I recommend cooking on a low or medium heat as high heat might burn it. That way it'll cook similarly to how you might cook it in the crockpot.
Let the cranberry apple cider simmer for about an hour. The longer the cider simmers, the more flavorful it will become. Be sure to stir it occasionally too!
Our preferred method is in the crock pot because you can keep it on warm all night without your cider getting cold.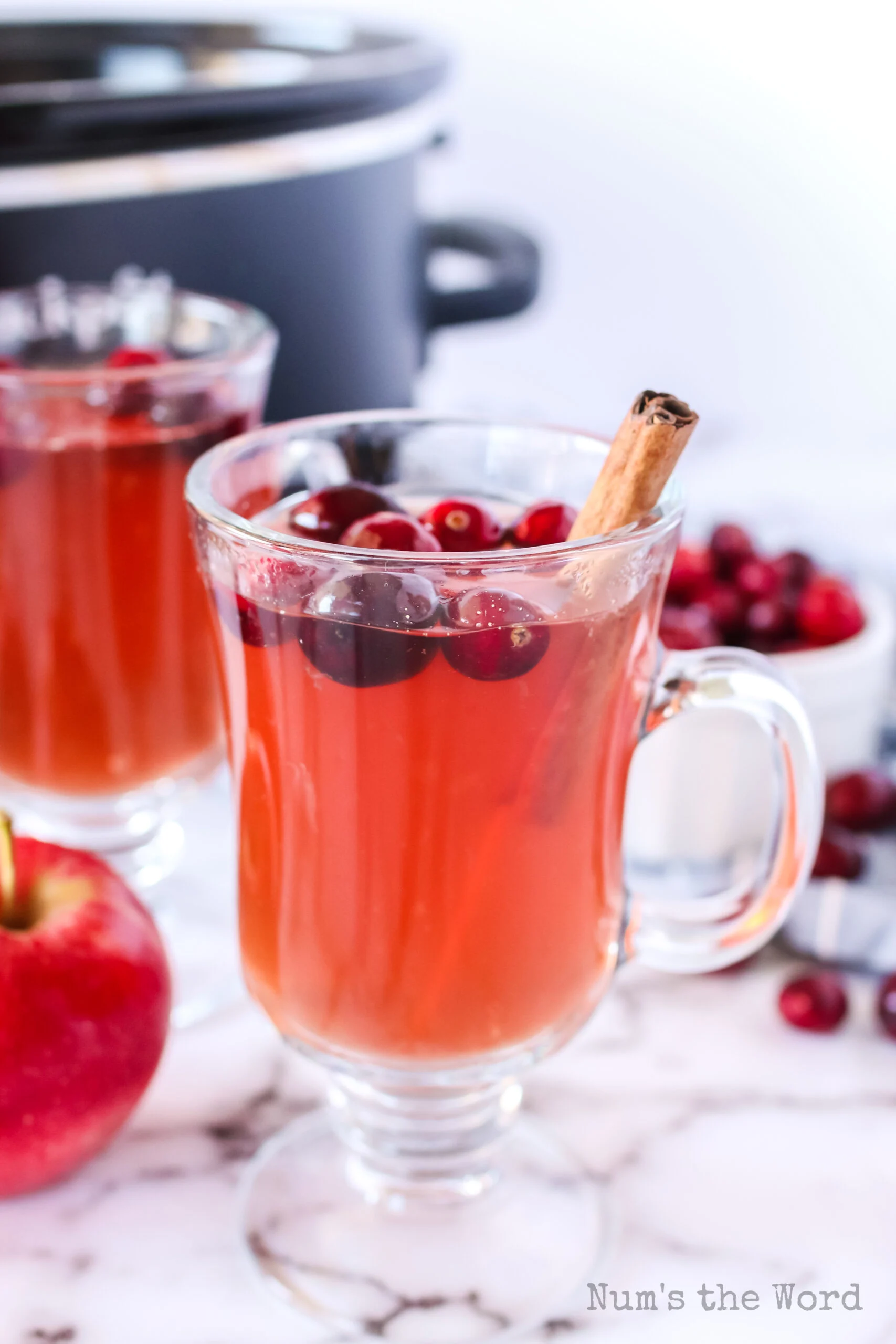 Can I Use a Different Sugar for Cranberry Apple Cider?
Sure. For a fuller flavor you can use brown sugar, however we like the white sugar. You could also do a mix of the two.
I personally have not tried sugar alternatives but if you do, let me know how it turns out.
More Cranberry Recipes You'll Love…
Slow Cooker Cranberry Apple Cider is the perfect drink for the whole family without much effort! The best part is that It stays warm all day, is great for parties, and makes the whole house smell amazing!
Yield: 8 Cups
Slow Cooker Cranberry Apple Cider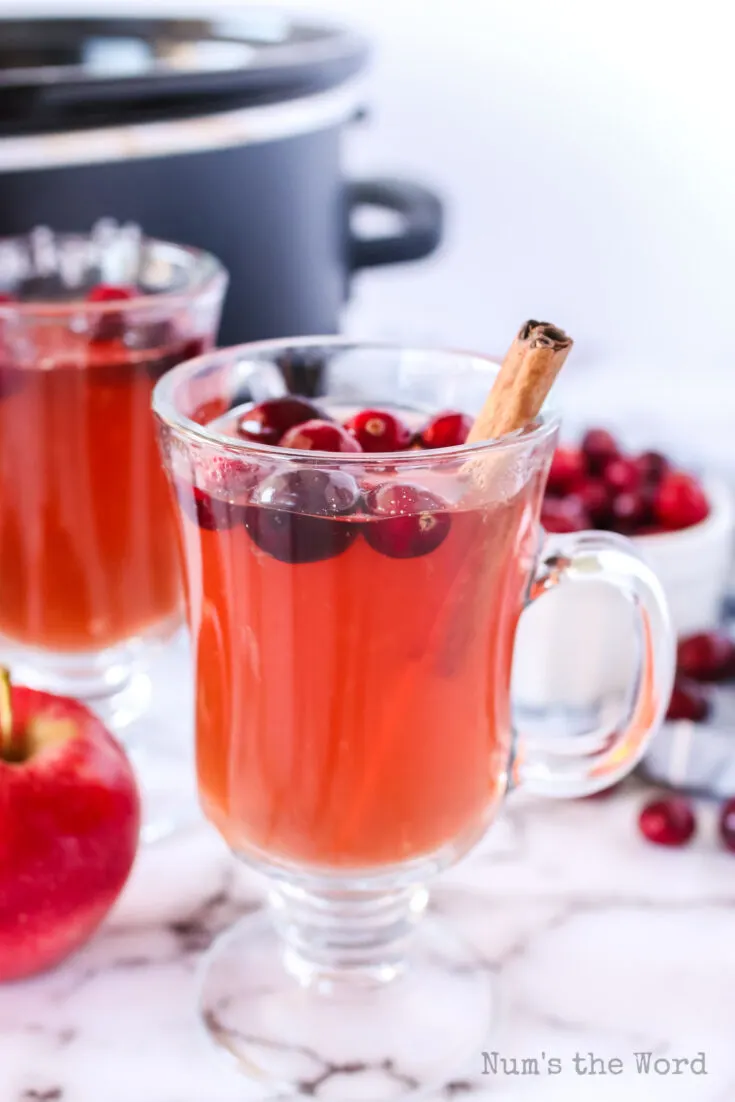 Slow Cooker Cranberry Apple Cider is the perfect way to entertain this fall! Incredibly easy and delicious, it'll be ready for drinking all day long!
Ingredients
1 1/2 cups white sugar
1 teaspoon ground ginger
1 1/2 cups lemon juice
4 cups apple juice
8 cups 100% cranberry juice
1 cinnamon stick
1 orange, sliced in rings
Pinch of nutmeg
Instructions
Toss all ingredients into a crockpot and cook on low for 4-6 hours or high for 2-3 hours.

Serve hot.
Nutrition Information:
Yield:
8
Serving Size:
1
Amount Per Serving:
Calories:

327
Total Fat:

1g
Saturated Fat:

0g
Trans Fat:

0g
Unsaturated Fat:

0g
Cholesterol:

0mg
Sodium:

31mg
Carbohydrates:

83g
Fiber:

1g
Sugar:

75g
Protein:

1g