This Creamy Coleslaw Recipe is quick, easy, and delicious! Perfect on hot dogs, pulled pork or as a side dish at your barbecue!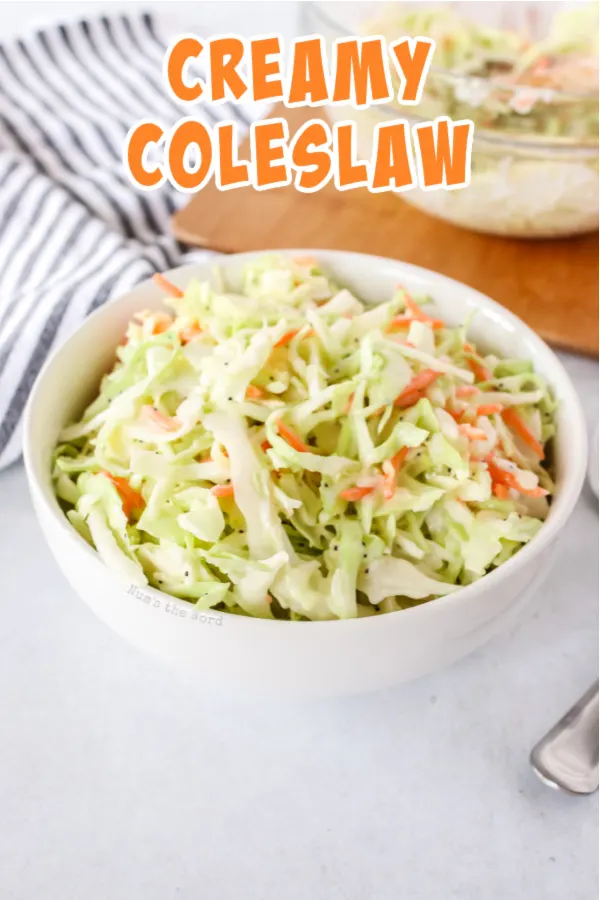 I love coleslaw as a side, but my FAVORITE place for coleslaw is on BBQ or meat sandwiches and on top of hotdogs. A slaw dog is far superior to any other topping or method of serving! Pulled pork or chicken sandwiches get a needed bit of crunch and complimentary sweetness when topped with this easy coleslaw recipe.
Whether you're bringing it to a potluck, BBQ, or serving it at home, this creamy coleslaw recipe will leave you wanting more!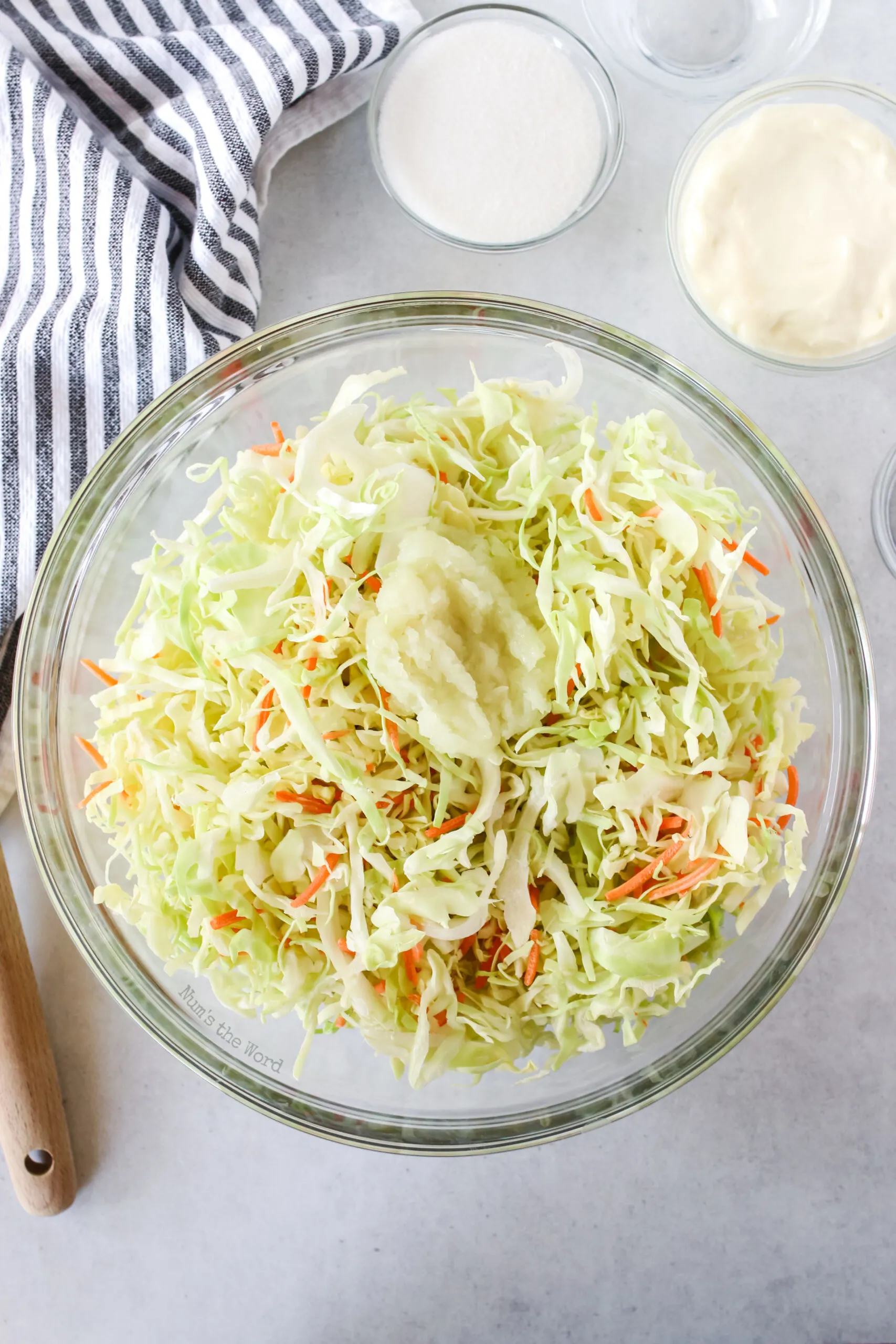 What is creamy coleslaw?
Coleslaw, also referred to as "New England Salad," "cole slaw," or "slaw," is a salad consisting mostly of shredded cabbage and either a mayonnaise- or vinaigrette-based dressing.
Sometimes other shredded vegetables are added, such as carrots, onion, peppers, apples or other fruits, or multiple cabbage varieties.
Coleslaw is one of the go-to sides for BBQ, meats, or as a topping for sandwiches (my personal favorite).
Who invented coleslaw?
Coleslaw can trace its origins clear back to the Romans, who served a similar dish made with cabbage, vinegar, eggs and spices.
More recently, the Dutch who founded New York also served a forerunner to today's modern coleslaw. They called it koosla, and it was made with shredded cabbage, butter, vinegar, and oil.
Since mayonnaise (an established ingredient of the modern coleslaw) wasn't invented until partway through the 18th century, the "traditional coleslaw recipe" we commonly see today is probably no more than 270 years old.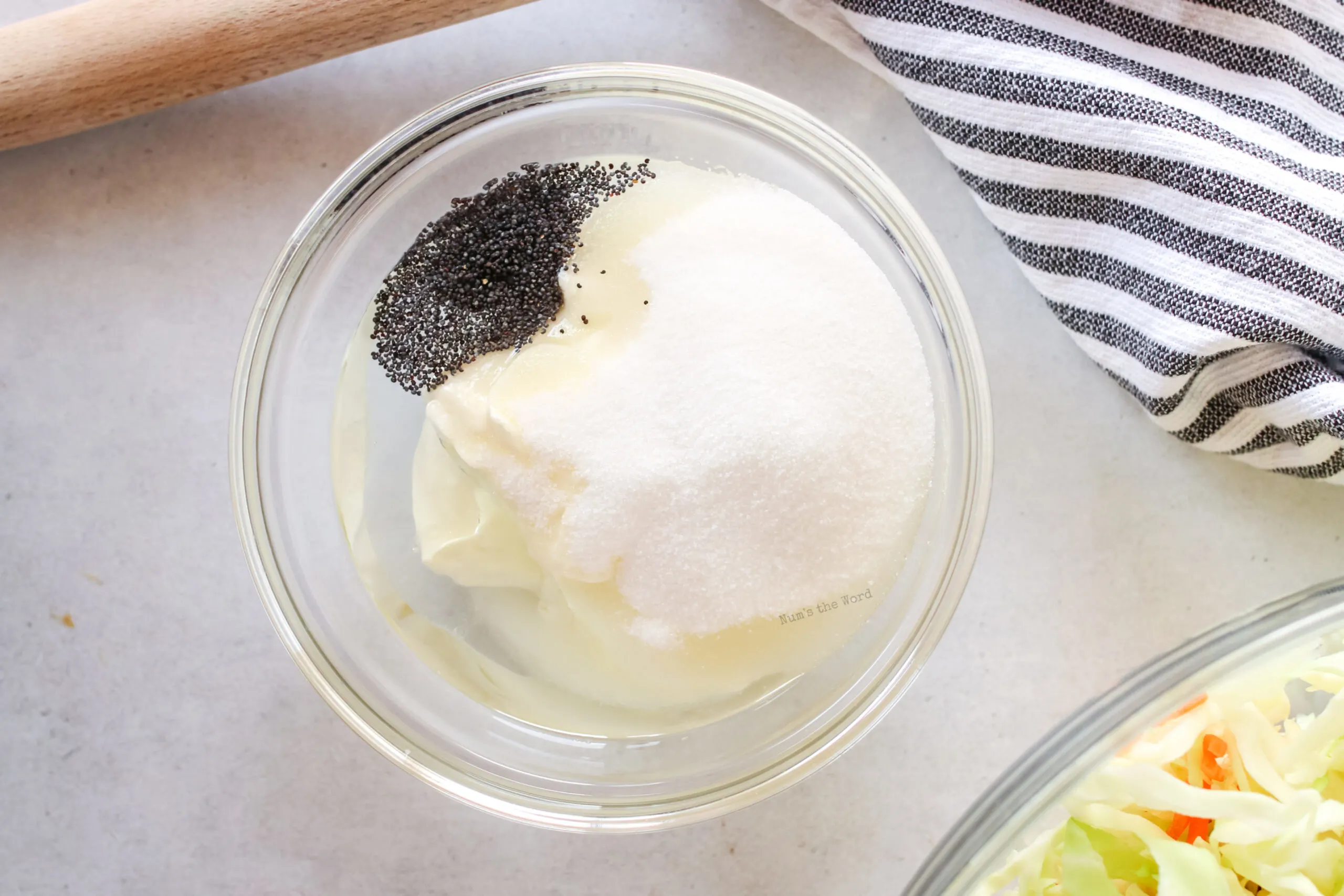 How to make coleslaw?
Homemade coleslaw is actually very easy to make, and you likely have most of the ingredients for the sauce on hand. All you need is a bag of coleslaw veggies and you can have this tasty side ready in no time.
Coleslaw mix

– we use a 16 oz bag for this recipe.

White onion

– I don't like to have large chunks of onion, so I use a cheese grater or finely dice the onions so they add lots of great flavor, but don't overwhelm individual bites.

Mayonnaise

– mayo provides the base of the "dressing" as well as the creamy component.

Vegetable oil

– another part of the dressing.

White sugar

– the sour taste of vinegar combined with the sweetness of sugar really helps to enhance the flavors of this recipe!

White vinegar

– vinegar is an important part of just about any salad dressing.

Salt

– the age-old flavor enhancer.

Poppy seeds

– these petite little morsels add a touch of flavor and lovely coloring to your dressing.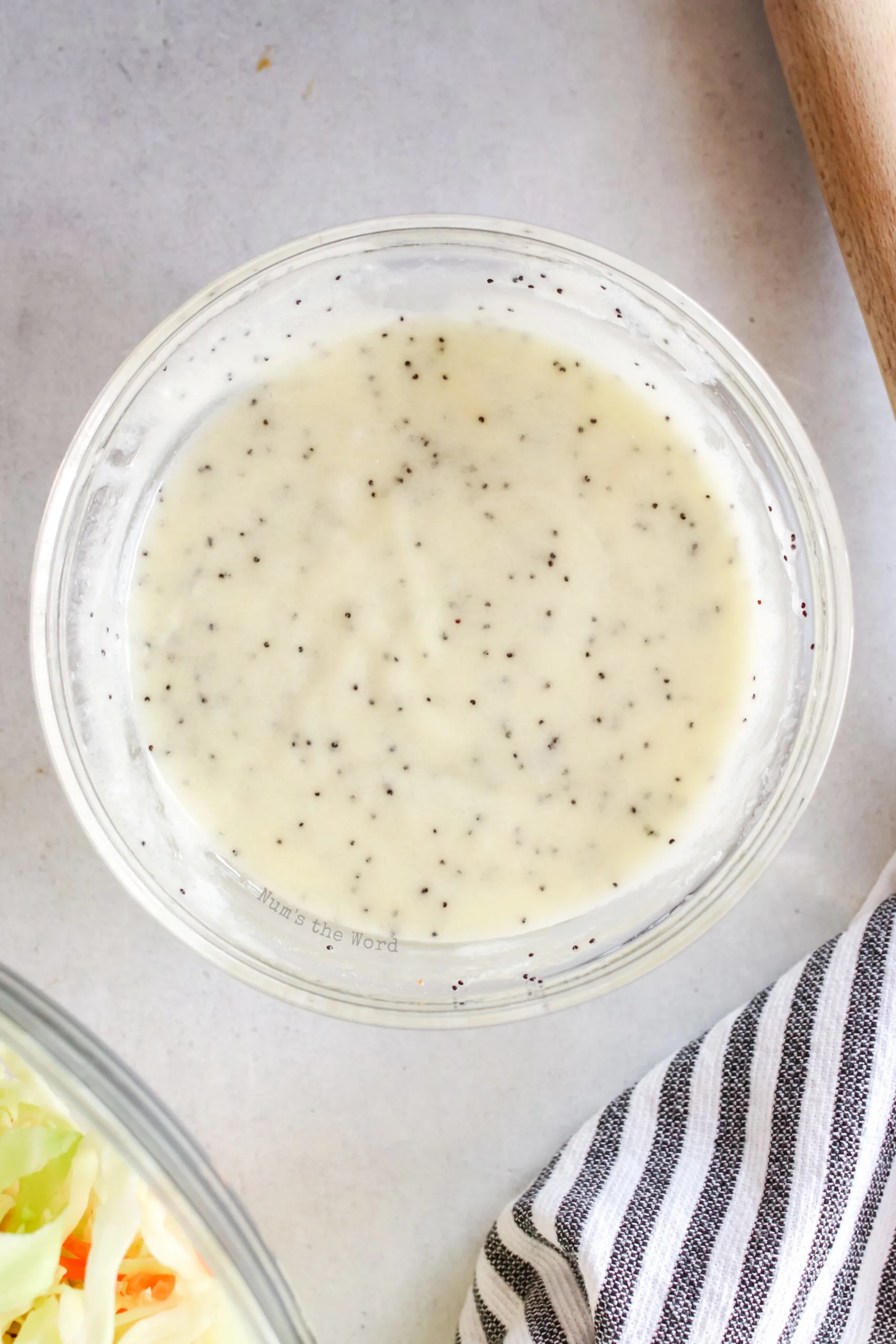 How to make coleslaw dressing?
Since this recipe uses a bagged coleslaw mix, the dressing is really the only part you need to "make!" And it couldn't be simpler:
Combine

coleslaw mix and grated onion

Mix

mayo, vegetable oil, sugar, vinegar, salt, and poppy seeds

Pour

dressing over coleslaw mix

Refrigerate

before serving
It's really that easy! I recommend refrigerating this for 2 or more hours before serving; I find that extra time to rest and chill allows the flavors to marry and merge beautifully.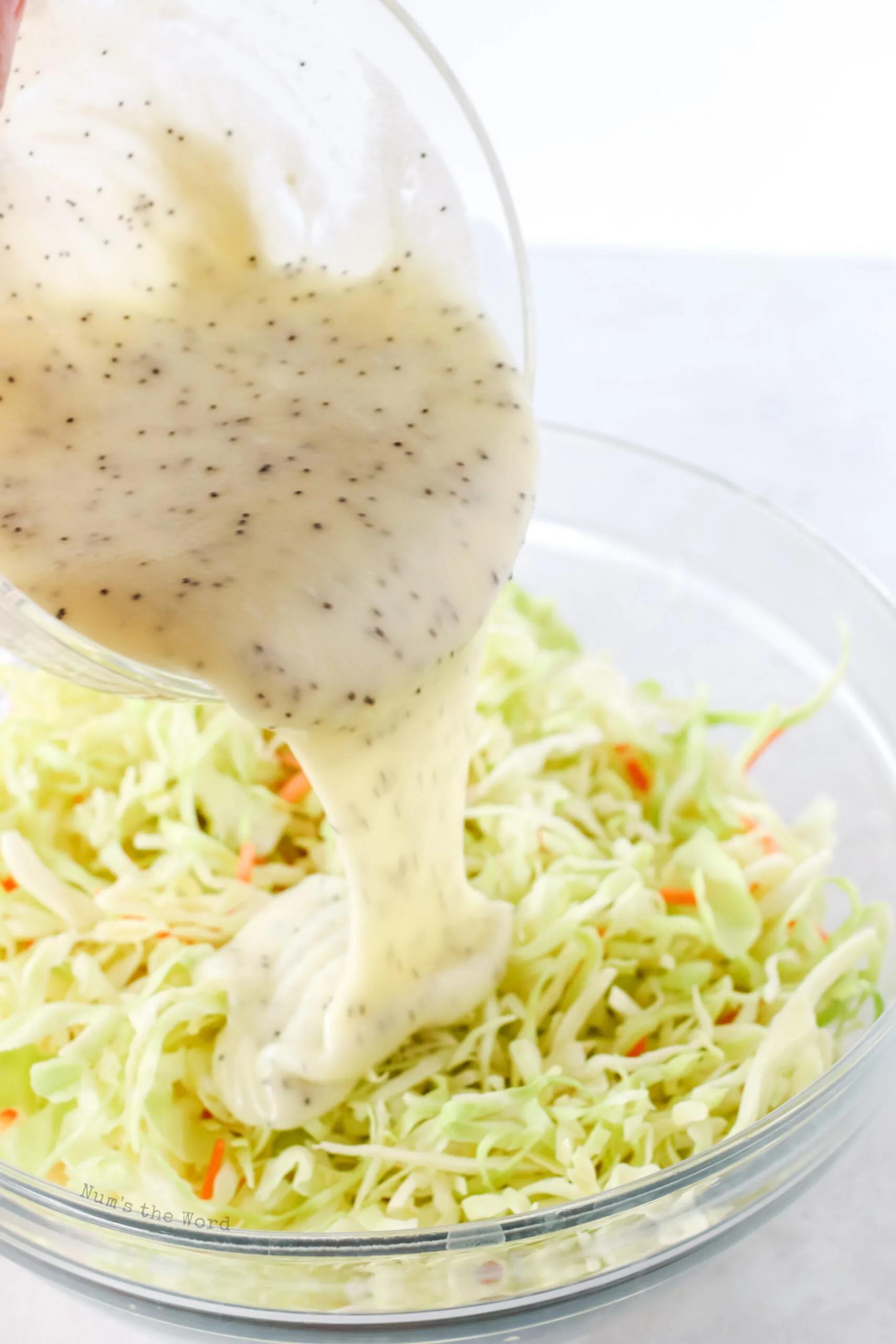 What goes with coleslaw?
I think a better question would be, "what doesn't coleslaw go with?" And that, my friends, would be a rather short list.
Coleslaw is the perfect addition to any BBQ or fried meats. I LOVE it for fish tacos, pulled pork or pulled chicken, as well as brisket or smoked turkey sandwiches – it's delicious! Are you catching my drift here? Coleslaw is not just a side, it's a layer to the entire meal!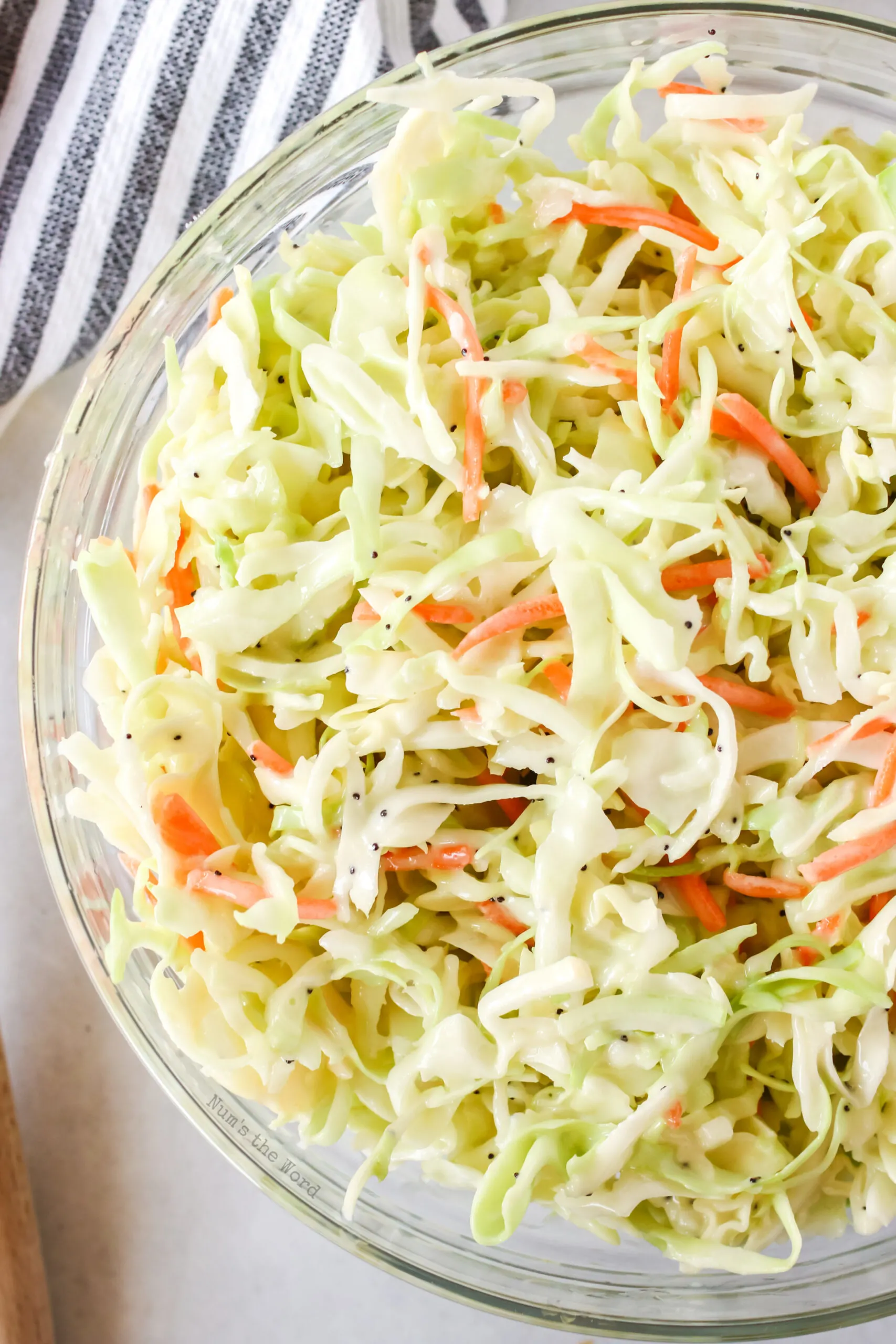 How long does coleslaw last?
This creamy coleslaw recipe will last about 3-5 days in the refrigerator (assuming it hasn't been left out in the summer sun for too many hours). Store, covered, in the refrigerator.
Can you freeze coleslaw?
Because this coleslaw recipe uses mayonnaise as part of the dressing, it does not freeze well. Mayo is not freezer-friendly.
I've also found that the freezing process is not always kind to vegetables meant to be eaten raw. They don't hold their shape or crispness well after thawing. Frozen vegetables are best when they are cooked!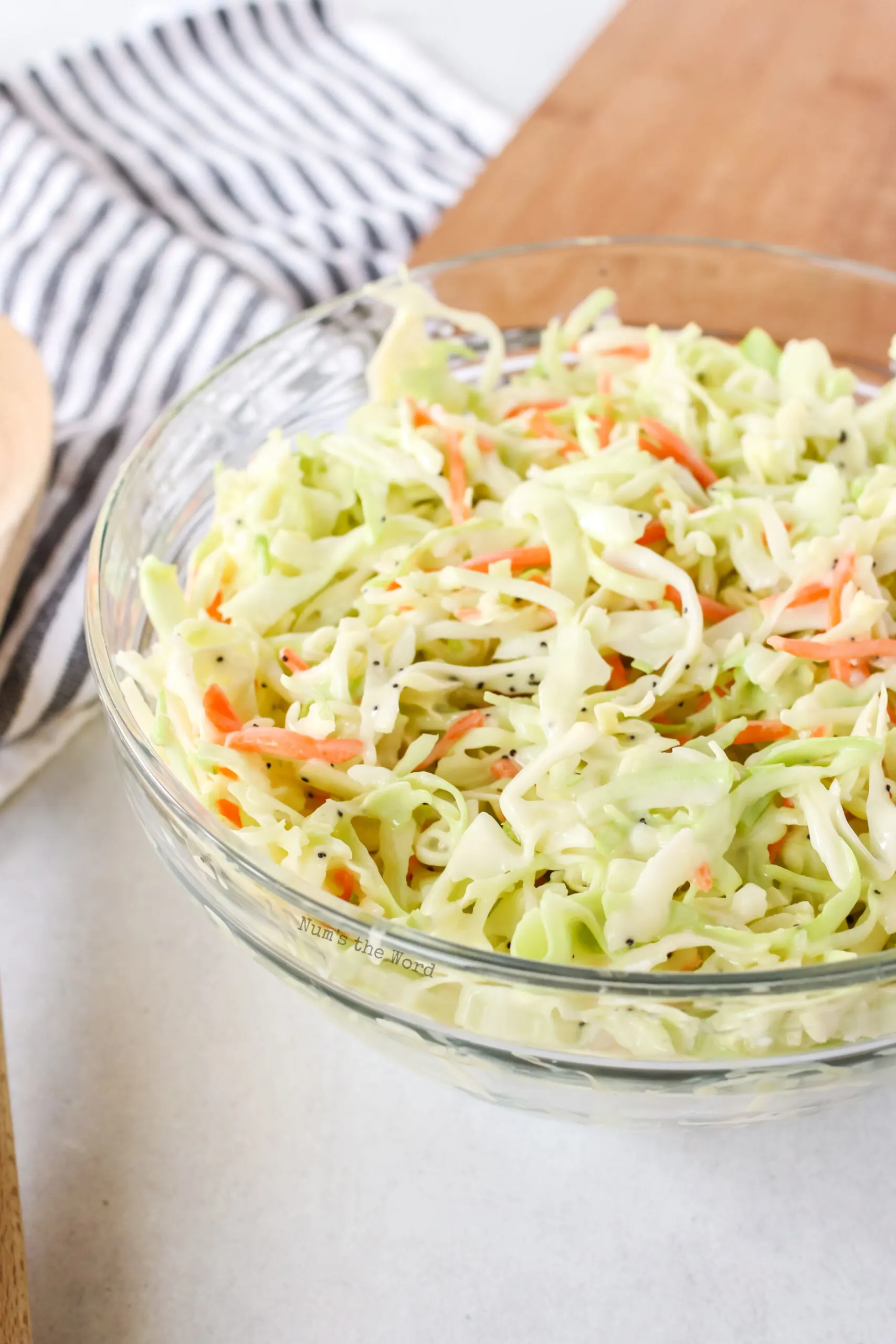 Is coleslaw keto?
While I don't claim to be a keto expert by any stretch of the imagination, I'm going to go with NO, this creamy coleslaw recipe is not keto. Since there's a bit of added sugar, I'm fairly certain it doesn't qualify as keto. But it is made with a low-carb, cruciferous vegetable!
Is coleslaw gluten free?
As always, check your ingredients and labels! But this recipe should be gluten free, as none of the dressing ingredients, nor the vegetables themselves, traditionally include gluten.
Can dogs eat coleslaw?
This recipe contains onion, which all parts of are toxic to dogs, therefore I would NOT give your dog any of this coleslaw! It also has added sugar, which most sources recommend pet owners avoid giving to their furry friends.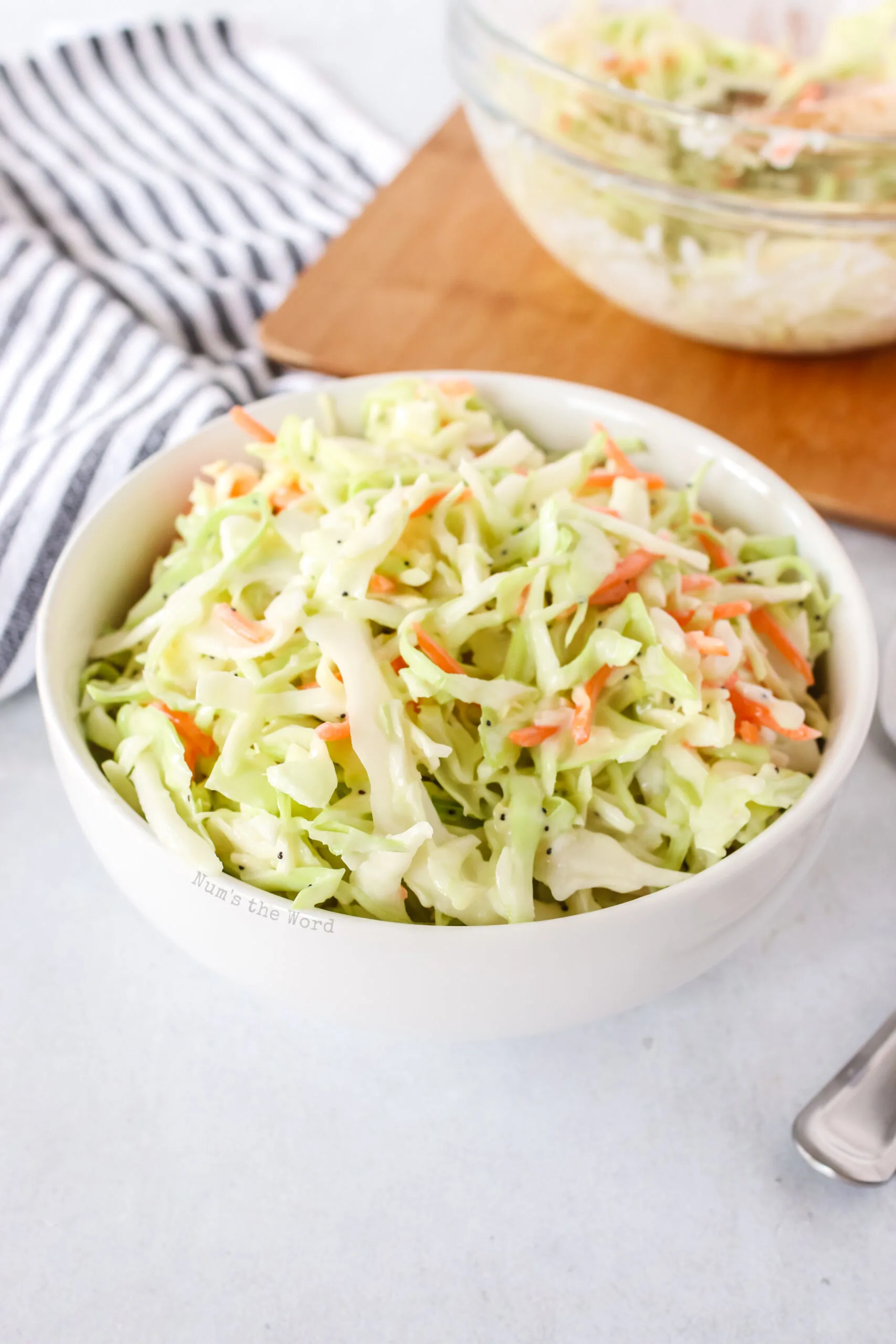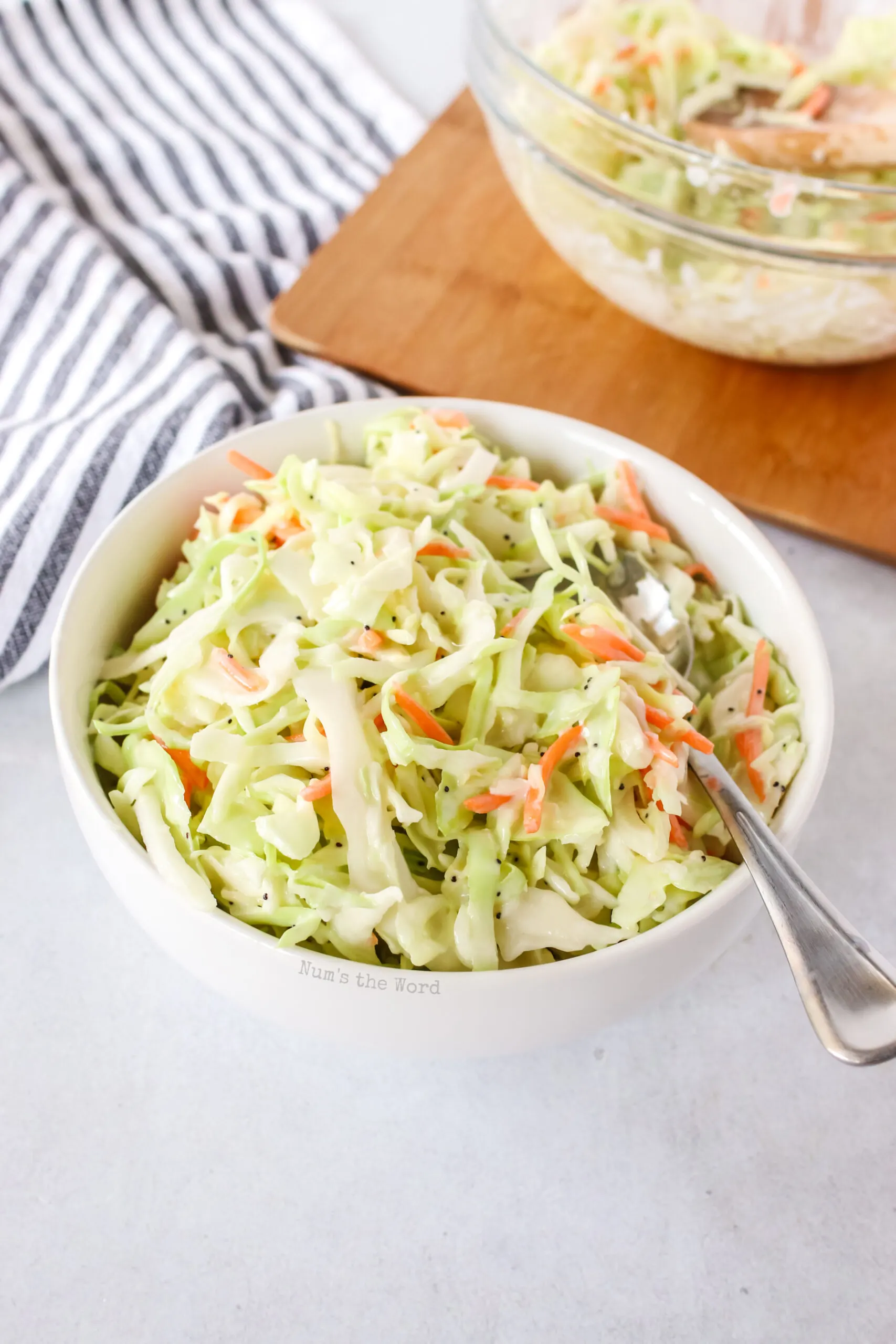 Part of what makes this the BEST coleslaw recipe is that it's creamy, sweet, but has that homemade crispness you just can't seem to get with a store bought slaw. Whether you're serving it as a side or a topping for sandwiches or hotdogs, this coleslaw recipe is sure to become your new go-to!
Yield: 8 Servings
Creamy Coleslaw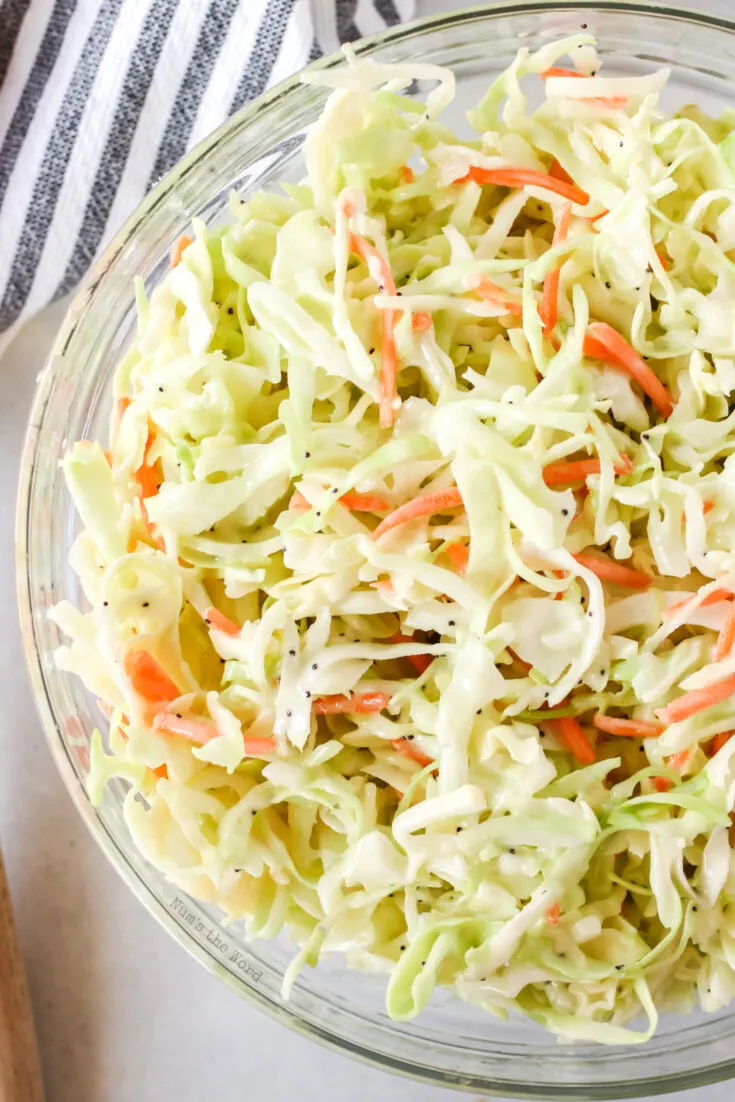 This Creamy Coleslaw Recipe is quick, easy, and delicious! Perfect on hot dogs, pulled pork or as a side dish at your barbecue!
Total Time
2 hours
10 minutes
Ingredients
1 (16 ounce) bag of coleslaw mix
2 Tablespoons grated white onion (use a cheese grater or dice onions)
2/3 Cup Mayonnaise
3 Tablespoons vegetable oil
1/3 Cup white sugar
1 Tablespoons white vinegar
1/4 teaspoon salt
1/2 teaspoon poppy seeds
Instructions
In a large bowl, mix coleslaw and onion.
In a small bowl mix mayonnaise, vegetable oil, sugar, white vinegar, salt and poppy seeds. Mix well.
Pour dressing over slaw mix and refrigerate for at least 2 hours to overnight.
Mix well again before serving.
Nutrition Information:
Yield:
8
Serving Size:
1
Amount Per Serving:
Calories:

227
Total Fat:

21g
Saturated Fat:

3g
Trans Fat:

0g
Unsaturated Fat:

17g
Cholesterol:

9mg
Sodium:

214mg
Carbohydrates:

10g
Fiber:

0g
Sugar:

10g
Protein:

0g
Originally Posted: June 24, 2015
Photos & Text Updated: June 25, 2021