Creamy, crunchy, salty, and sweet, this Snickers Apple Salad is the ultimate salad dessert! It's great for serving at potlucks, parties, BBQs, and the holidays!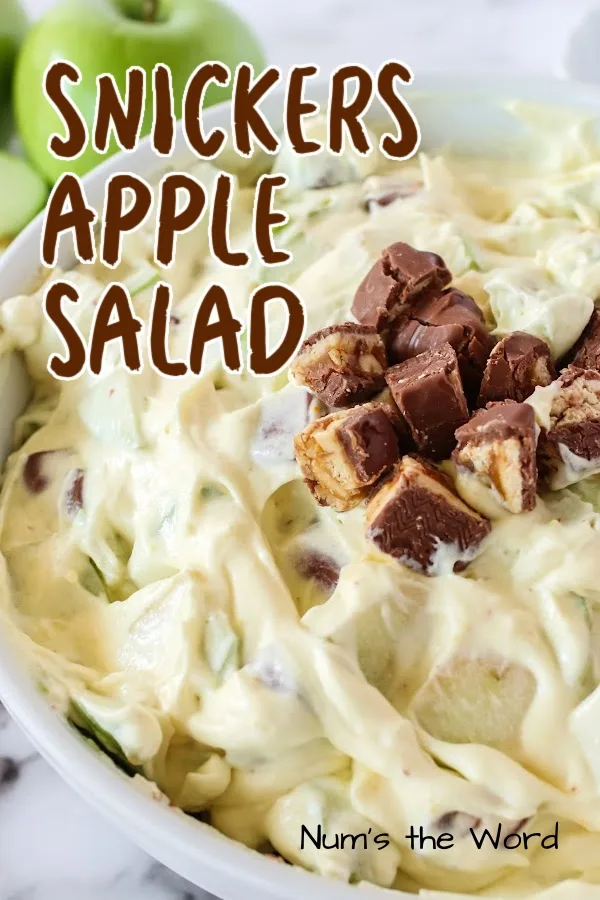 There's no question that caramel goes with apples. And chocolate goes with apples. So why not caramel, chocolate, and apple salad? Perfection!
With the creaminess of the pudding and cool whip and the delicious salty sweet flavors of the apples and snickers, it's impossible to resist.
This snickers and apple salad only takes 5 ingredients to make, only takes a few minutes to throw together. Hallelujah for easy recipes!
Plus it's a great side dish or dessert to make in advance! Since it is chilled until you want to serve it, it'll be ready when you need it.
And don't forget, since it's called a salad it can be served as either a dessert or sweet side dish! Your choice!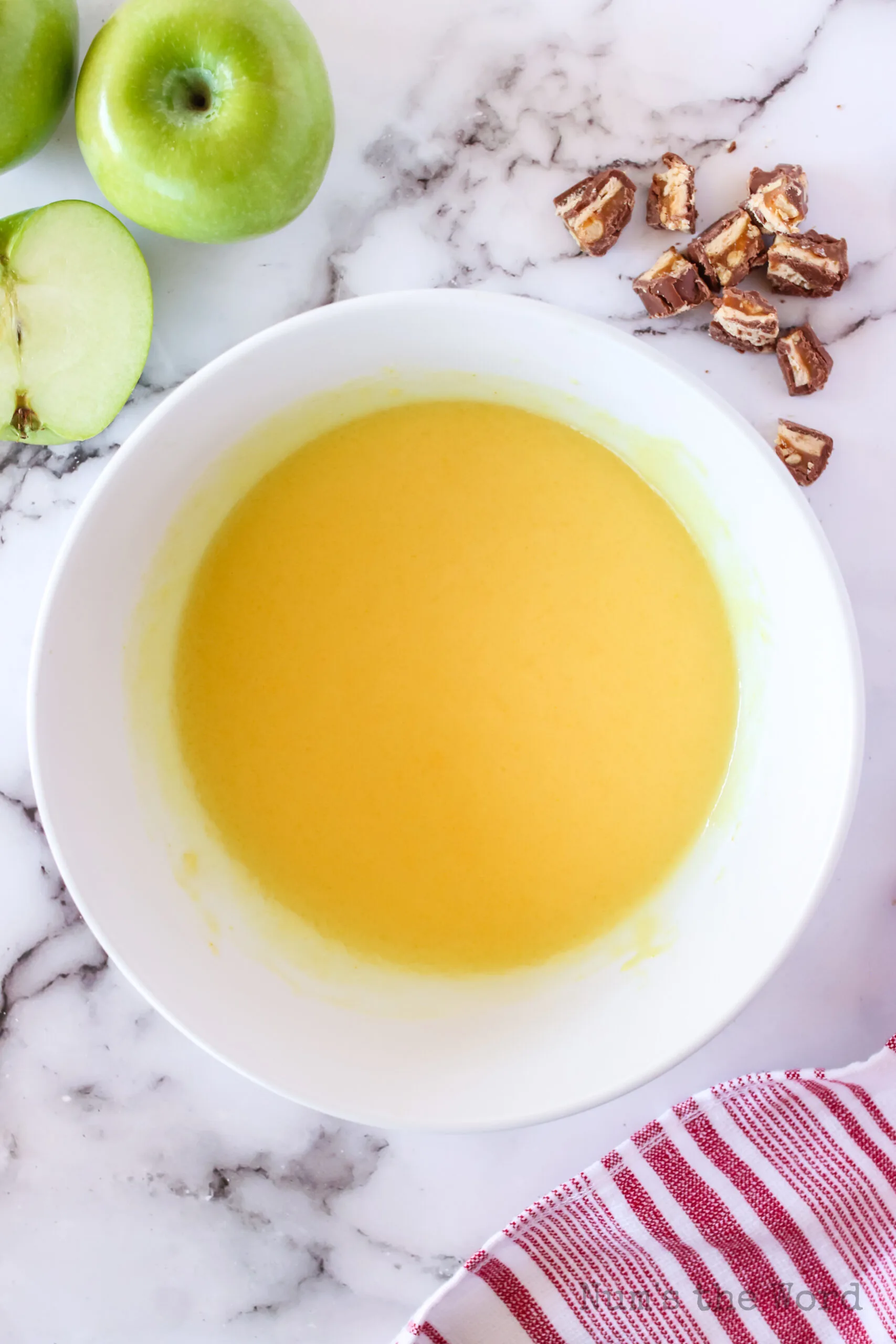 What is Snickers Salad?
Most people are familiar with dessert salads in some form or another. They're always being served at family gatherings!
Classic dessert salads include Grape Salad without Sour Cream, Fluff Salad, or Strawberry Pretzel Salad.
If you're looking to make Snickers caramel apple salad, it includes the same key ingredients except you switch out the vanilla pudding for butterscotch pudding.
In a snickers salad you'll see apples, snickers, and a creamy base as a standard.
But occasionally people like to mix in other things like:
Marshmallows
Strawberries

Drizzle of

Salted Caramel Sauce
Sliced Almonds
Bananas
Chocolate Chips
Grapes
Even the candy is swapped out occasionally and can be made with Twix, Rolos, 3 Musketeers, or Milky Way.
It's a great salad for using up leftover Halloween Candy actually! Serve it up for Thanksgiving and use all the candy up in one shot!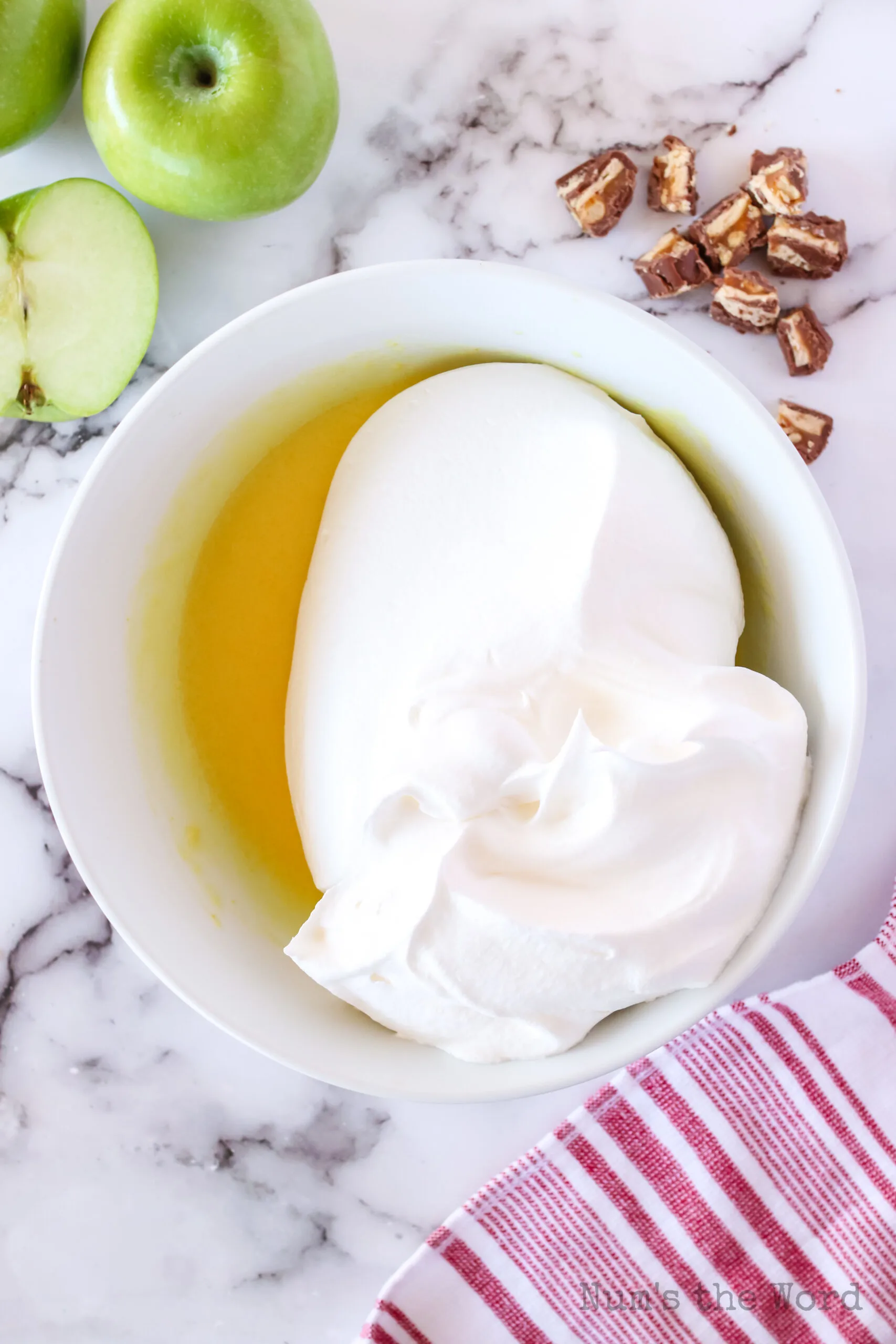 What Ingredients are in Snickers Salad?
This candy bar salad is perfect for serving at your next potluck and it makes a pretty presentation too! Grab these ingredients!
Pudding: I love this with instant vanilla pudding mix but butterscotch pudding is another popular flavor.
Milk: Whole milk will give you the creamiest pudding.
Apples: Tart apples like tart Granny Smith Apples pair well with the sweetness of the salad.
Cool Whip: Use thawed cool whip or make your own homemade whipped cream.
Snickers Candy Bars: You'll need 4 full sized snickers bars.
How to Make Apple Salad with Snickers
Enjoy this delicious snickers salad with a perfect combination of crunchy apples, chopped snickers, and creamy dressing.
Make the Pudding: Combine pudding with milk and mix until creamy.
Add: Add the rest of the ingredients to the pudding mixture!
Eat: And that's it! Eat it up or chill until you need it.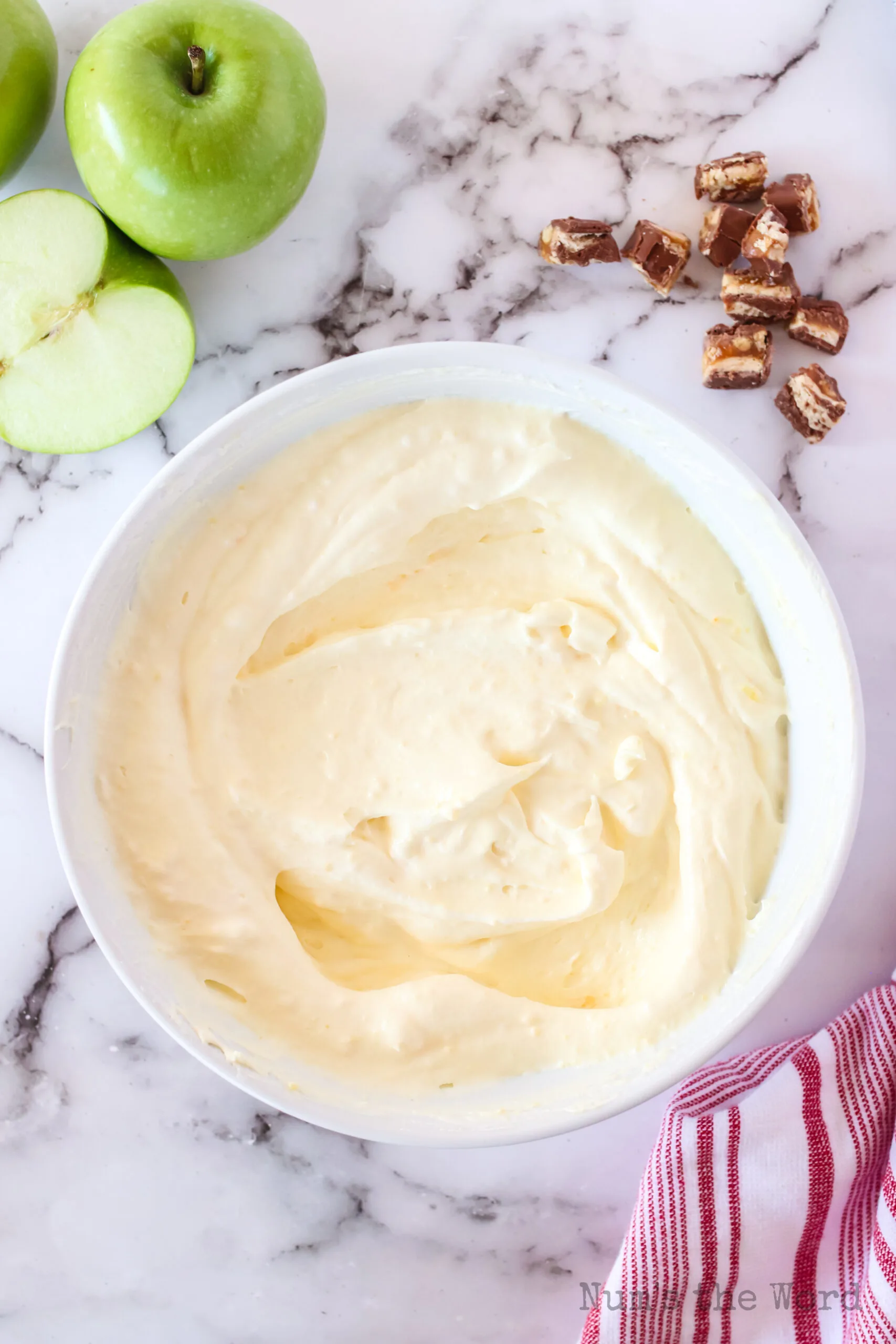 Can I Use Yellow Apples in Snickers Salad?
While green apples are most commonly used as the best apples for snickers salad because of their tartness, you can really use any apple you want!
Yellow apples, green apples, and red apples are all viable options for snicker apple salad.
Just like when biting into a big caramel apple, the kind of apples can make the sweet treat into a huge hit.
Here are some other fresh apples that would be good choices:
Gala Apples
Red Delicious Apples
Honeycrisp Apples
Pink Lady Apples
Sweeter apples will lead to a sweeter dessert. Tart apples will give you a tart dessert salad.
Do You Peel the Apples for Snickers Salad?
Only if you want to! The apples are chopped into bite sized pieces so they shouldn't bother most people.
And the skins can actually help them stay fresh a little longer so it's not necessary to peel it at all.
But if you really dislike the skin on your apples, then you do you and peel that skin right off your apple pieces!
Just be sure to peel before chopping and not after! Because that would be a lot of work!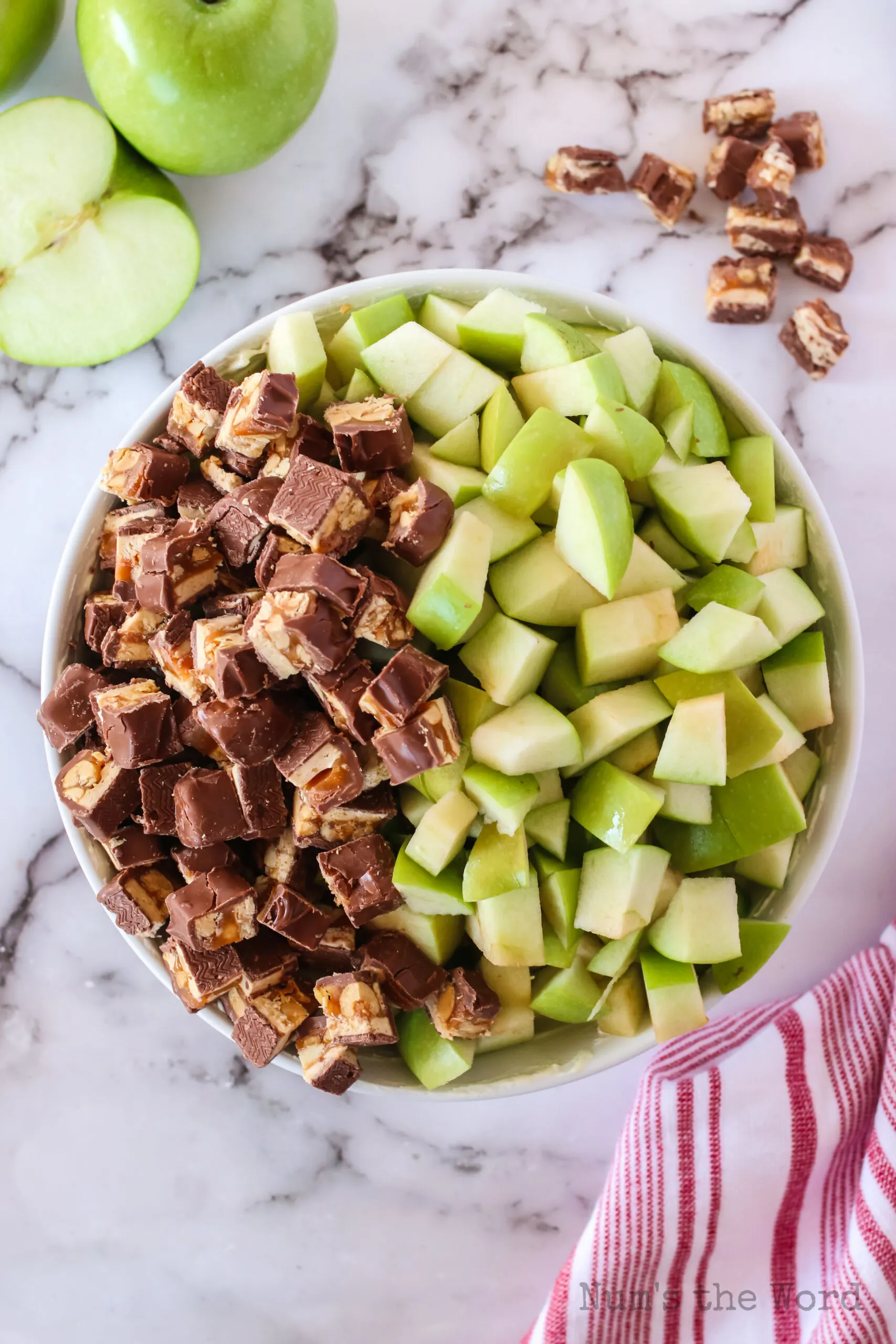 Does Apple Snickers Salad Stay Good in the Refrigerator?
Snickers salad can last up to 2-3 days in the fridge in an airtight container.
You could also leave the snickers fruit salad in the large bowl and cover with plastic wrap.
The thing that'll go bad the quickest is the apples.
So if you want to preserve the salad for a few days, try tossing the apples with a little lemon juice before adding them to the salad.
Be sure to never leave the salad sitting on the counter for longer than 2 hours however! All that dairy will go bad quickly at room temperature.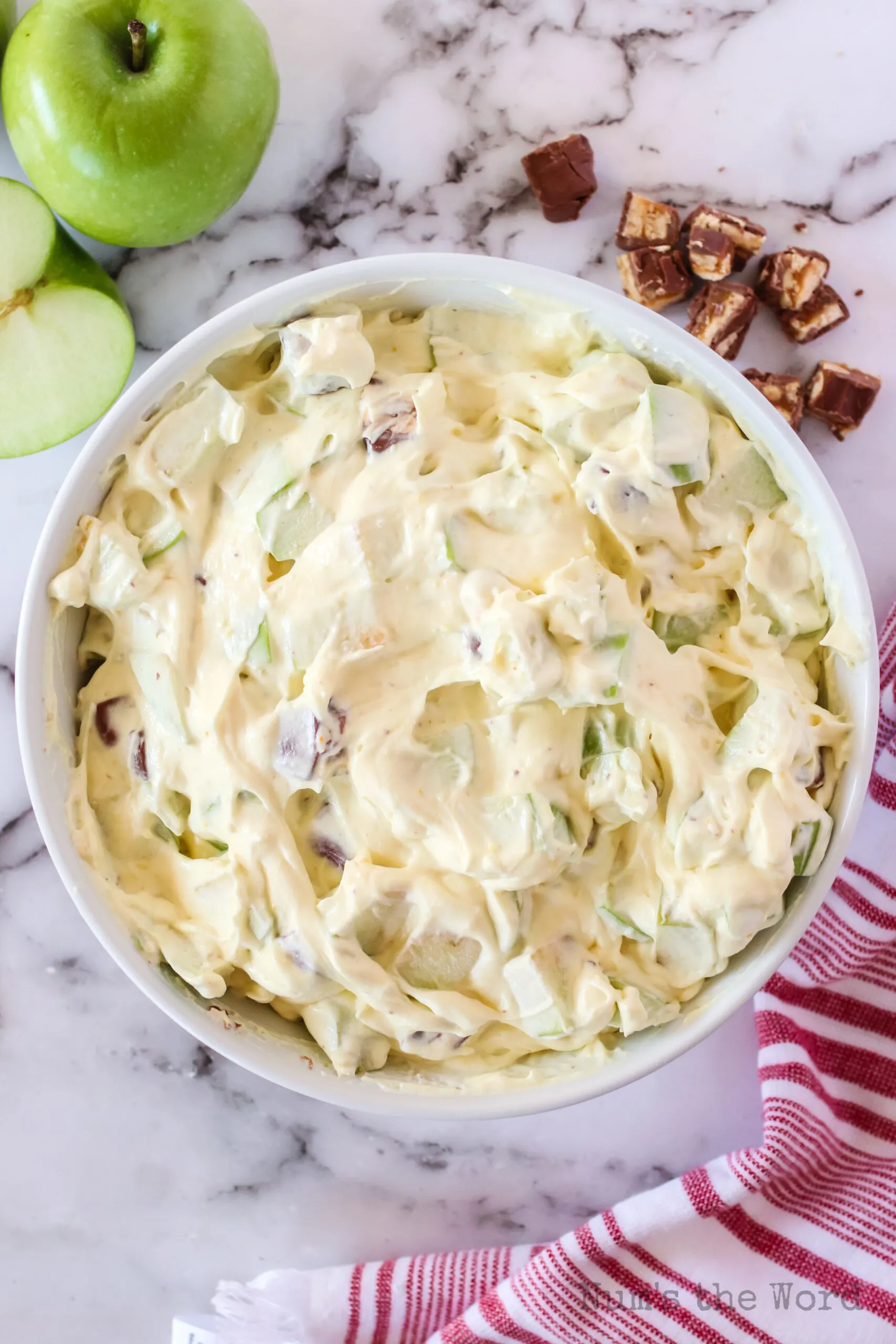 How Big of Pieces For Snickers Apple Salad?
You don't want your snickers or apples to be bigger than bite-size pieces.
So for the snickers, that's about half of a mini snickers in size, or you can chop it smaller if you want too.
And for the apples, imagine how much you would want on your fork.
I like to chop them a little smaller so that I can get apples and snickers on my fork at the same time. Which is the ultimate bite!
But don't chop them too small as you do want something to bite and the only other things in the salad are creamy.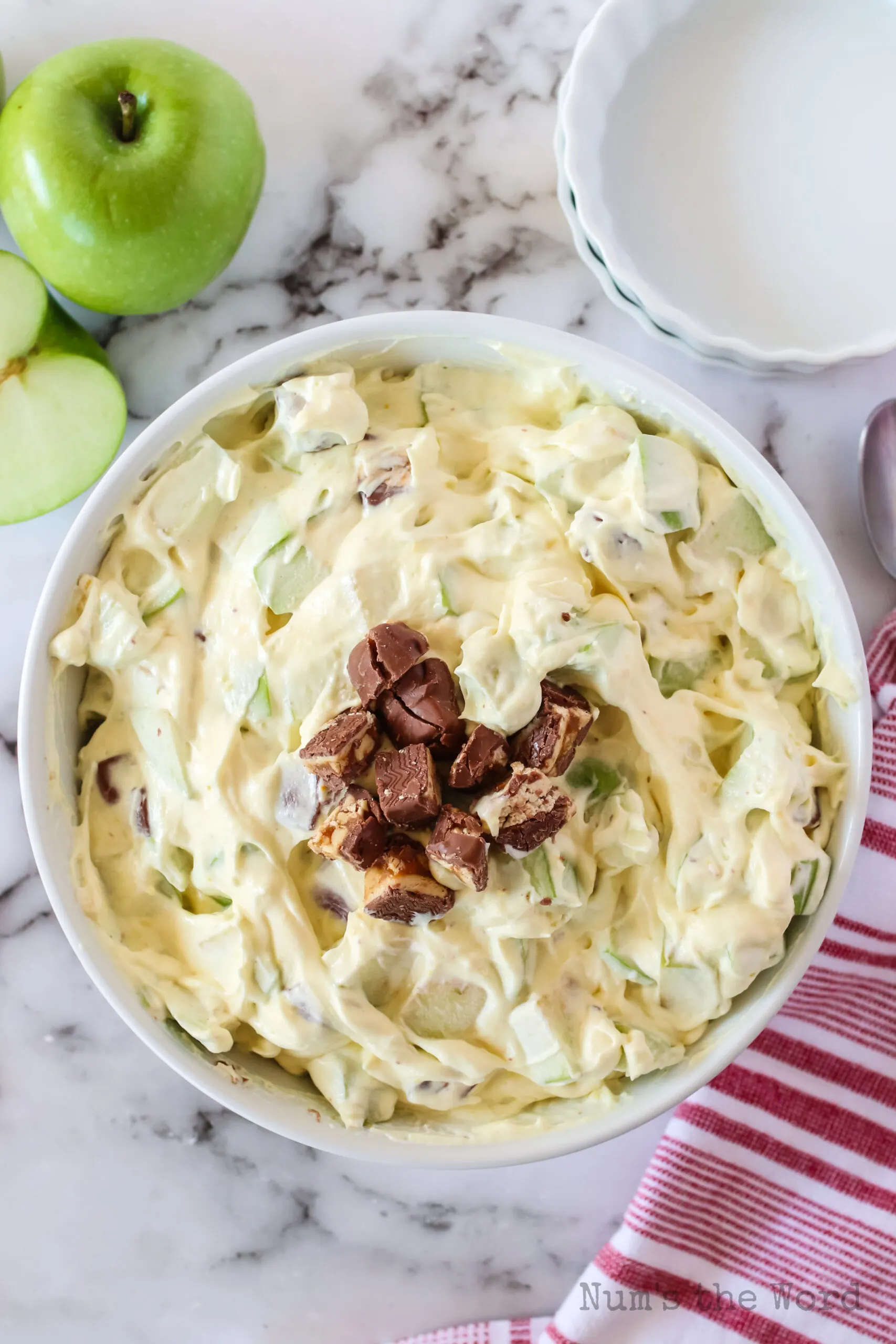 How Long Do You Chill Snickers Salad?
A Snickers Salad recipe doesn't need to be chilled at all before serving. But it definitely can be!
Since the pudding will be cold and the whipped cream is cold, it's already a cold salad.
But it should definitely be chilled until you want to serve it if you're not serving right away.
If making the caramel apple snickers salad in advance, try to serve it within 24 hours. That way your apples will still be at their freshest.
The Best

Quick Salads

You NEED to Try…
Snickers Salad is an easy and delicious dessert salad. Serve it as a summer salad or as a yummy holiday salad! Enjoy!
Yield: 8 Servings
Snickers Apple Salad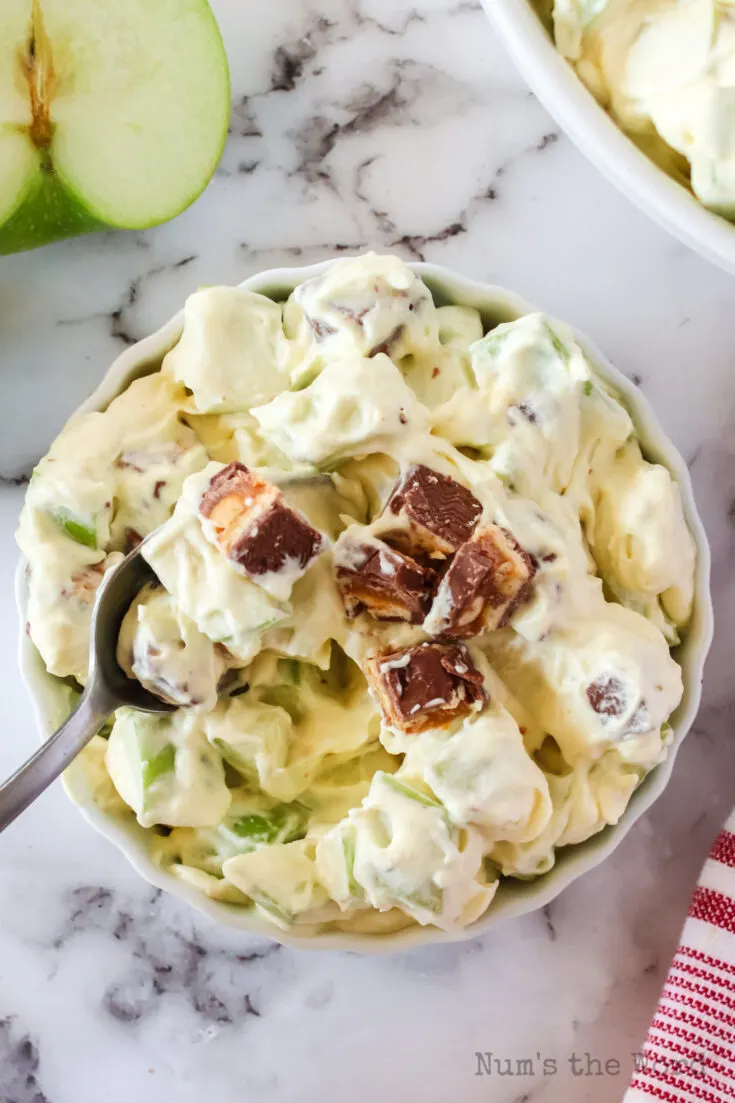 Creamy, crunchy, salty, and sweet, this Snickers Apple Salad is the ultimate salad dessert! It's great for serving at potlucks, parties, BBQs, and the holidays!
Instructions
In a bowl combine vanilla pudding and milk. Mix well
Once pudding sets (5 minutes or less), add in cool whip and mix well.
Add apples and snickers bars, mix well.
Serve immediately or chill and serve later.
Nutrition Information:
Yield:
8
Serving Size:
1
Amount Per Serving:
Calories:

190
Total Fat:

9g
Saturated Fat:

4g
Trans Fat:

0g
Unsaturated Fat:

4g
Cholesterol:

7mg
Sodium:

108mg
Carbohydrates:

24g
Fiber:

1g
Sugar:

20g
Protein:

4g