There's seriously no stew like Instant Pot Beef Stew! It's mouthwatering, hearty, delicious, and perfect for any cozy dinner!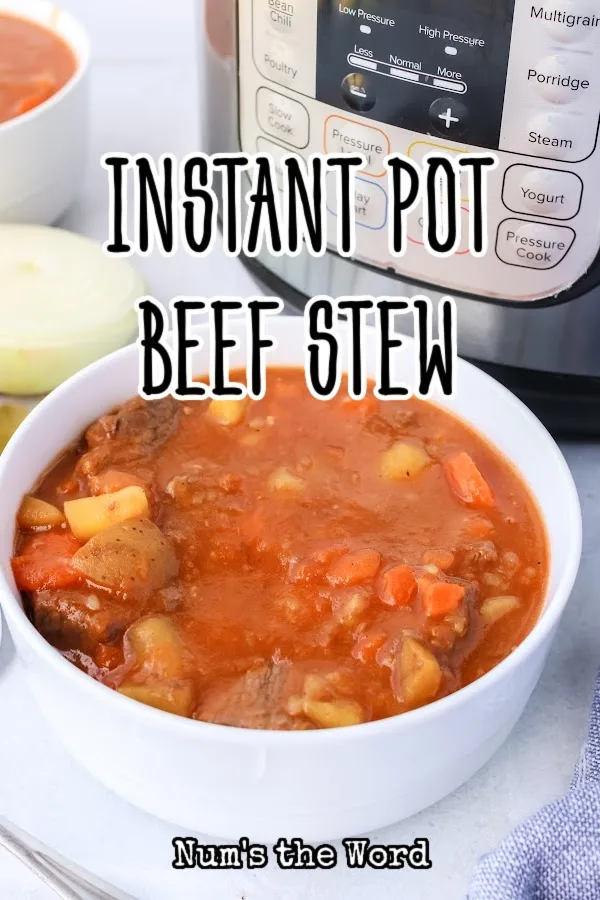 After a cold day, is there anything better than sitting down to a bowl of hearty beef stew? Yeah, probably not.
It's got tender chunks of beef that melt in your mouth and are full of robust flavors.
Honestly, it's the comfort food of your dreams!
You'll love that this dreamy stew cooks up in a fraction of the time it'd take in a slow cooker!
Beef stew instant pot is perfect for those chilly days when you want a filling meal.
Plus the ease of the Instant Pot means less hands-on cooking time.
And it's got the perfect blend of ingredients! I promise! Everyone will love it!
This instant pot stew beef recipe tastes like it's been simmering for hours, but it's ready in a snap.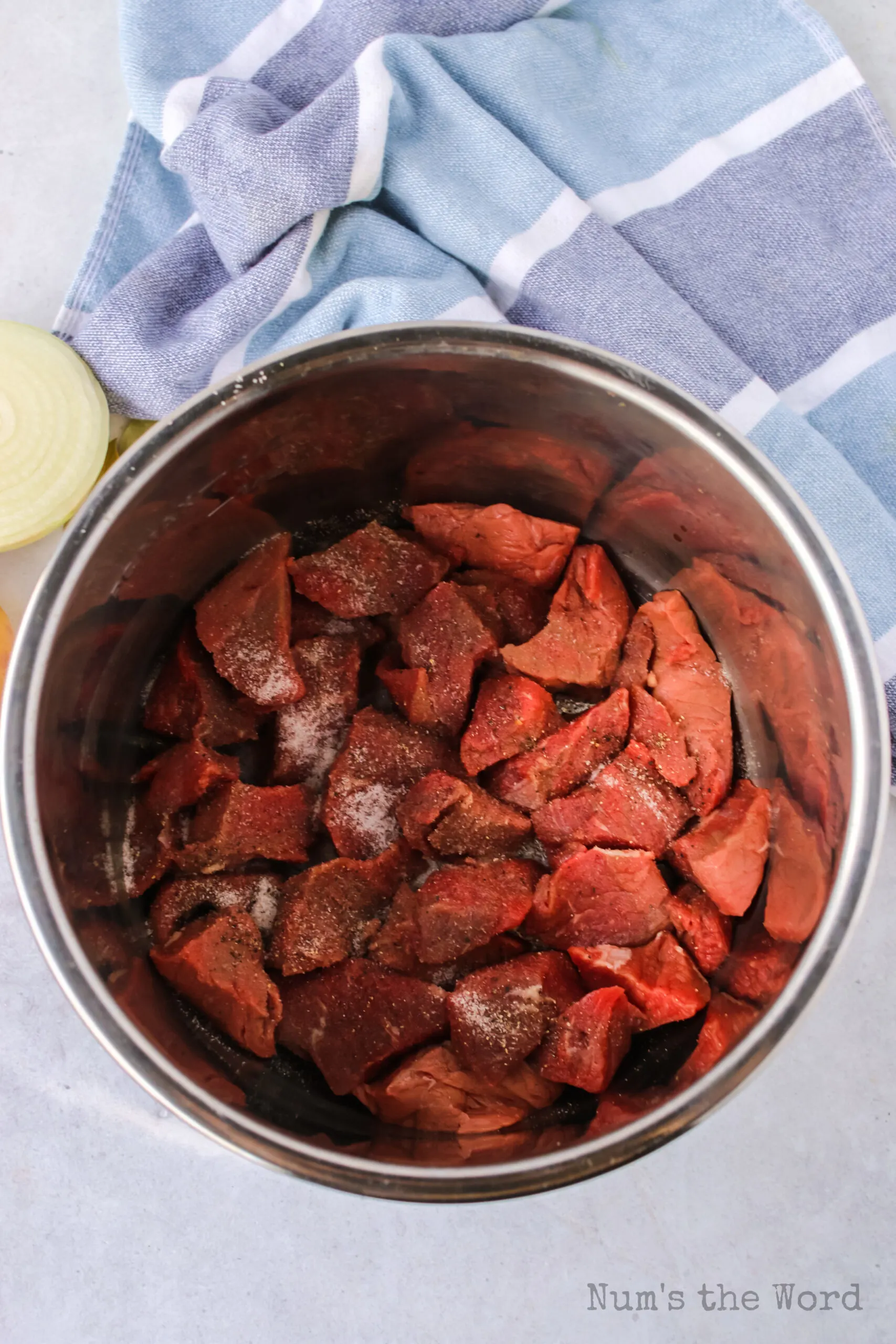 What Ingredients Are in Instant Pot Beef Stew?
This homemade beef stew is the best stew to make on a cold day! Here are the ingredients you'll need:
Olive oil: Our trusty starter for sautéing.
Beef stew meat: The star of the show, bringing meaty goodness.
Seasoned salt and black pepper: For that perfect seasoning.
Yellow onion: A flavor base every good stew needs.
Garlic: For that aromatic punch.
Beef broth: The liquid gold that binds all flavors.
Worcestershire sauce: Adding depth to our stew.
Tomato paste: Increases the flavor (and color!)
Gold potatoes: The hearty carb companion to our beef.
Carrots: Adding a touch of sweetness and color.
Bay leaves: A subtle yet delicious flavor.
Cornstarch and water: Our thickening agent to give that rich consistency.
Pro Tips:
Opt for chuck roast as your beef stew meat for the best tender results.
Use Yukon Gold or baby potatoes for a smoother texture.
If you buy meat that isn't already cut to size, be sure you do that before cooking.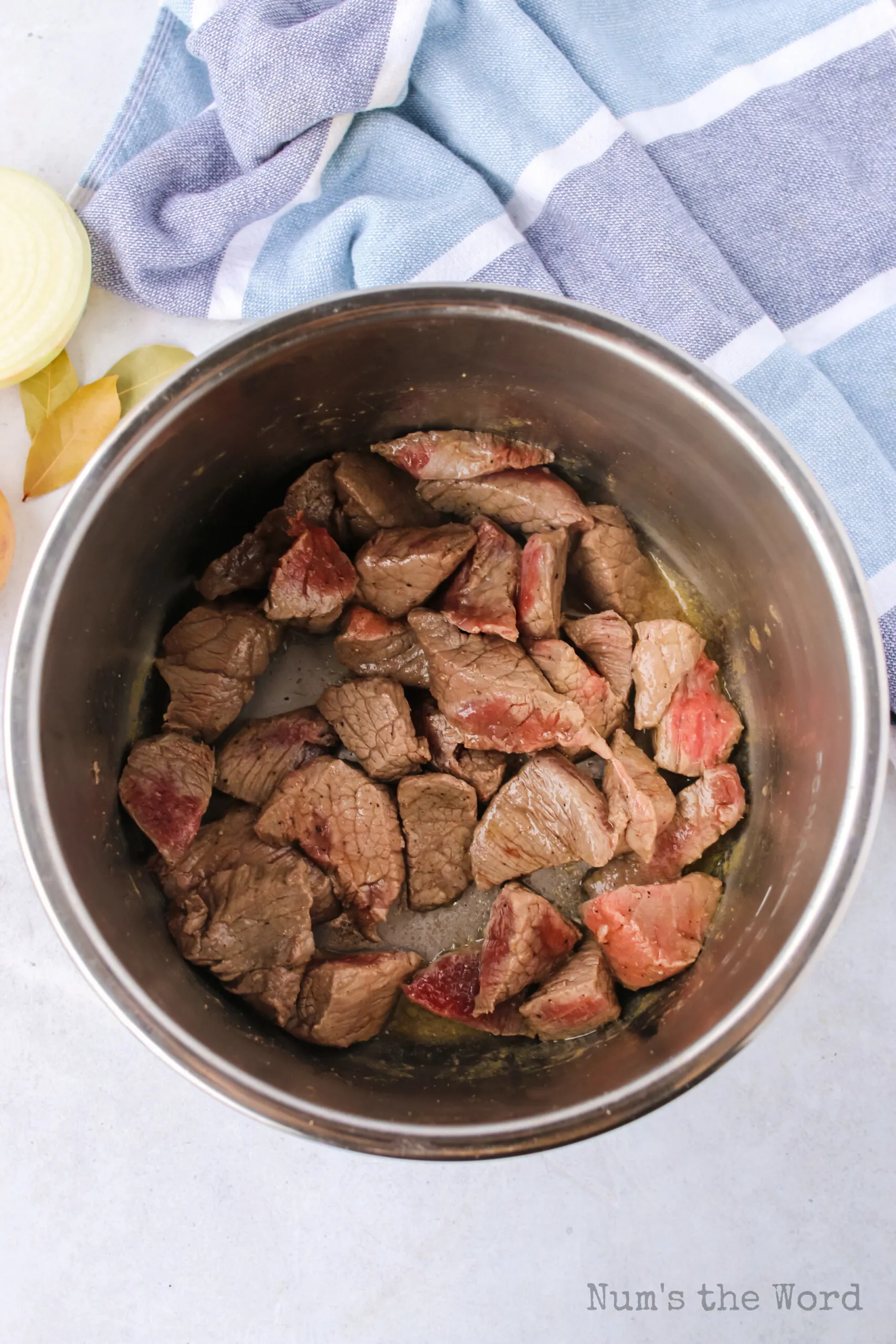 How to Make Instant Pot Beef Stew?
Want the best beef stew in just a few easy steps? Your wish is my command! Here's what you need to know:
Start by warming up the Instant Pot with the sauté function.
Brown the beef lightly for the best flavor then add the onions and garlic.
Mix in your flavorful liquids, veggies, and seasoning.
Seal, set, and let the Instant Pot work its magic (the best part!)
Finish with a cornstarch slurry to thicken.
Serve and bask in the glory of a hearty stew in record time!
Pro Tips:
Deglazing the bottom of the pot after browning the beef will prevent the dreaded burn warning.
If you fancy, try adding a splash of dry red wine. Yum!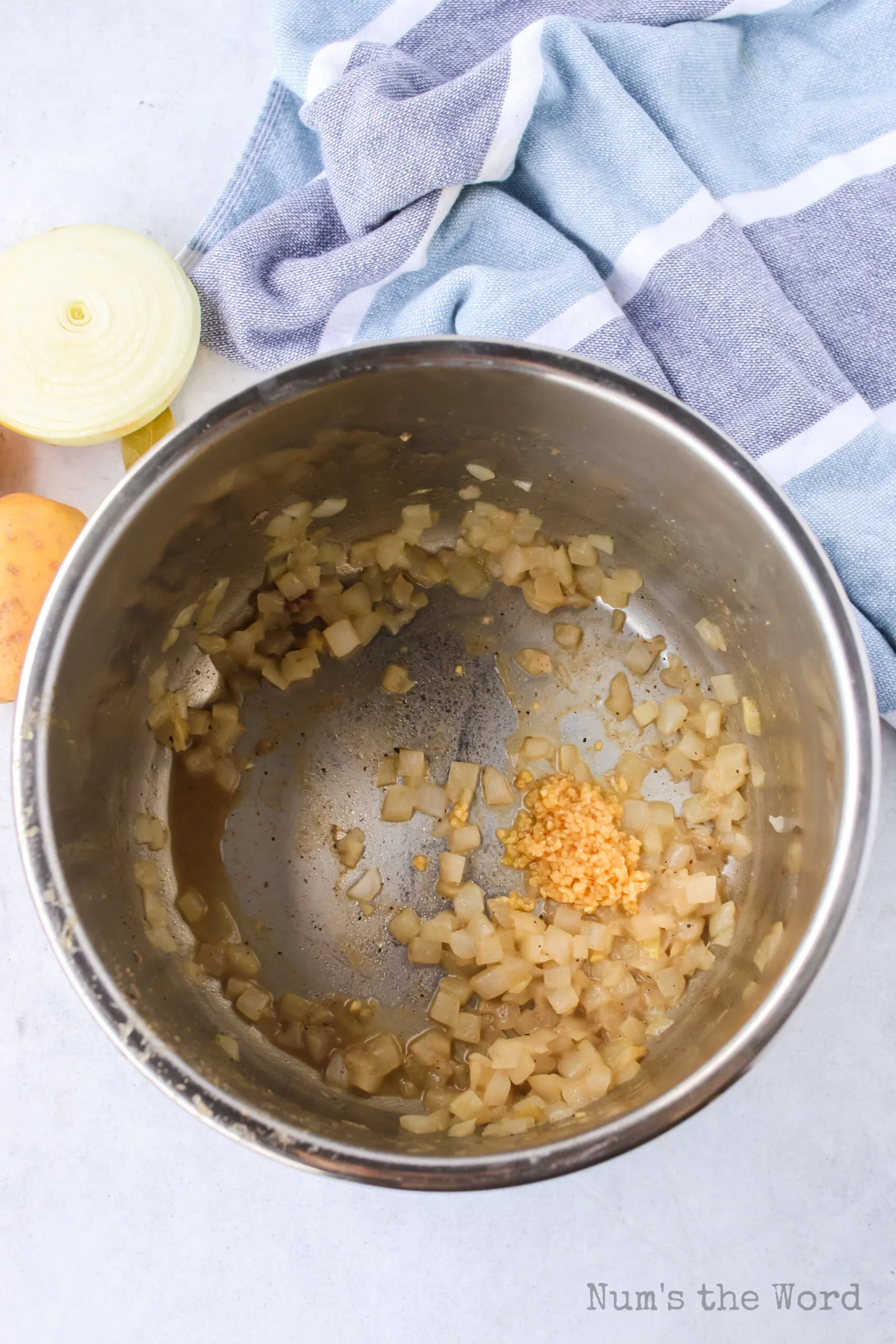 How Long to Cook Instant Pot Beef Stew?
That's one of the great things about instant pot stew! It doesn't take nearly as long as other cooking methods.
For the most tender beef, you'll need to cook your stew under high pressure for 25 minutes.
And remember, the Instant Pot will take around 7-8 minutes to come to pressure!
So if you're in a hurry or planning a very specific time for dinner, make sure you time accordingly.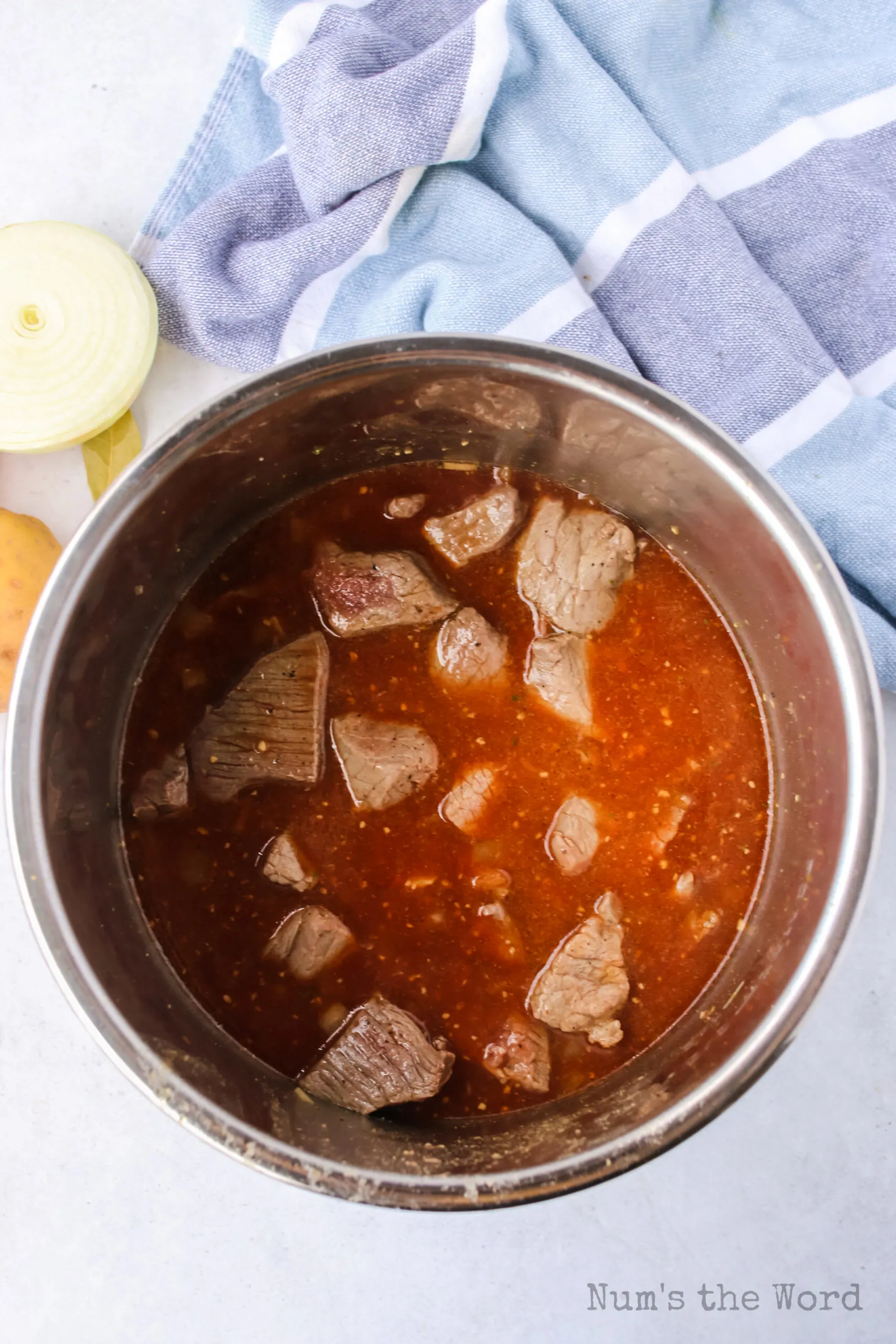 Can You Use Frozen Beef in Instant Pot Beef Stew?
You can absolutely use frozen beef in this classic beef stew!
Using frozen beef might extend the pressure cooking time a bit though, as it'll take longer to cook and get to the right temperature.
But once cooked the results are just as delicious!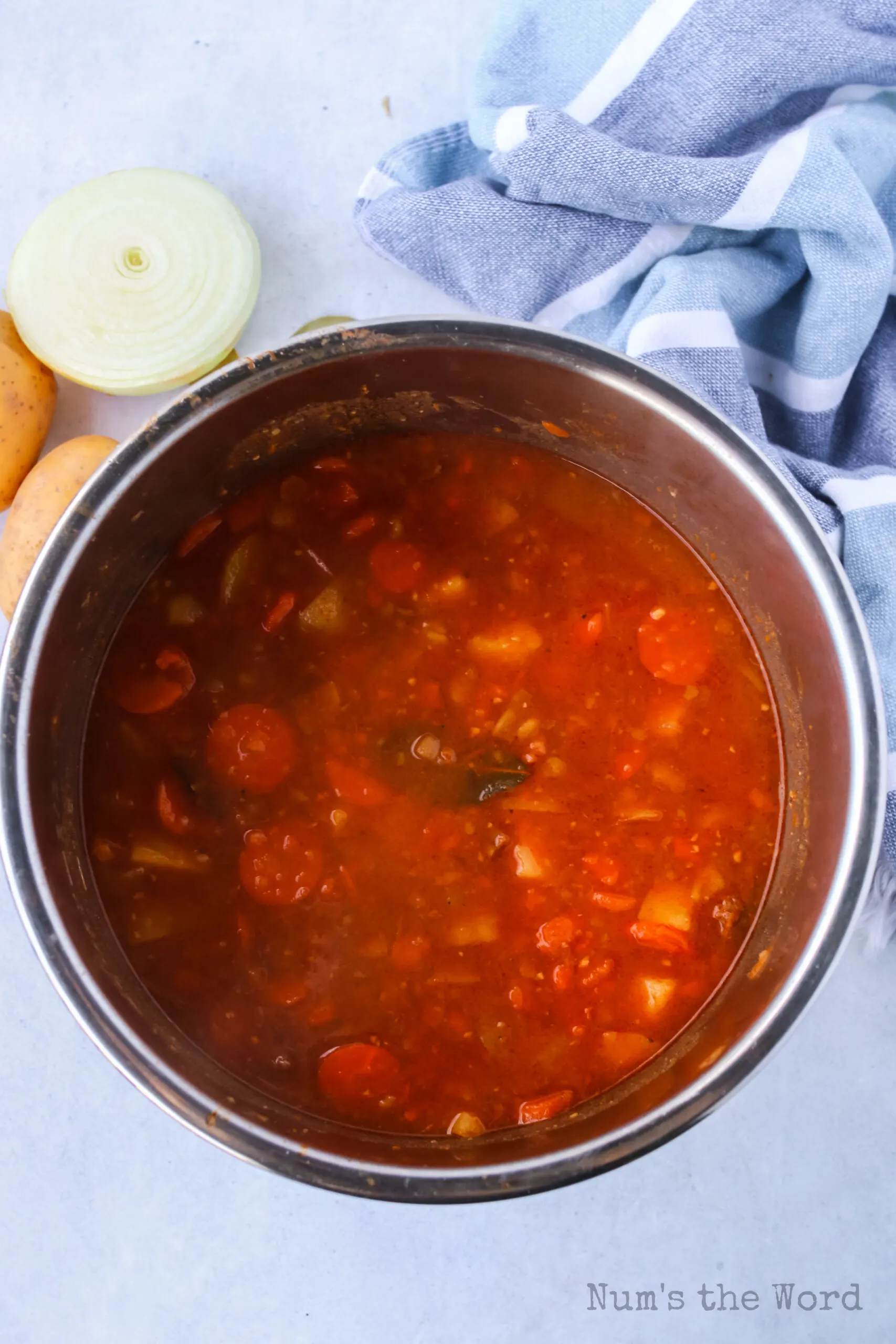 How to Store Leftover Instant Pot Beef Stew?
First, let your flavorful beef stew cool completely. This is important to help the stew last better in the fridge.
Then pop your leftover stew into an airtight container and store it in the refrigerator.
It's perfect for enjoying the next day!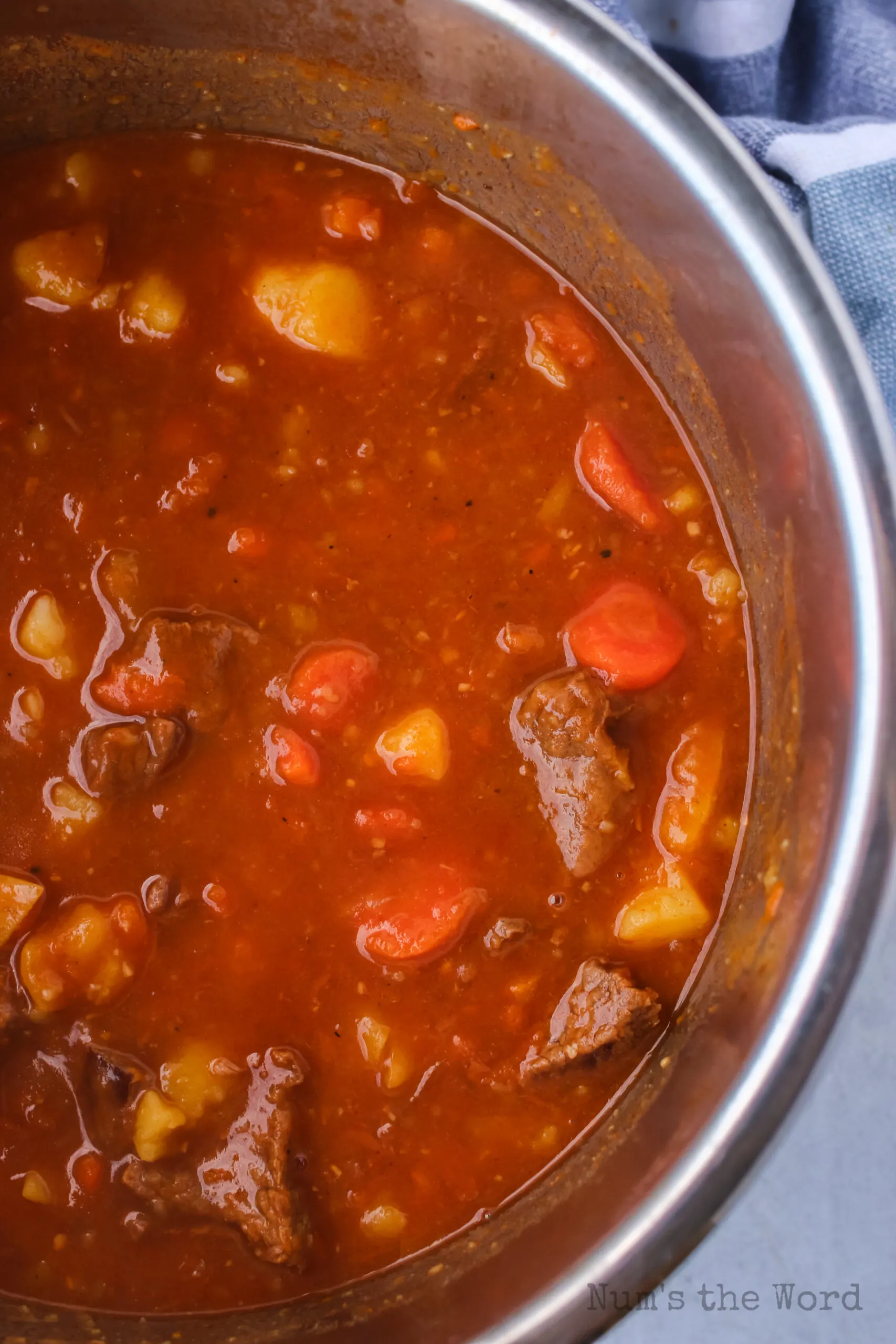 How to Reheat Instant Pot Beef Stew?
Warm your perfect beef stew up in a pot over medium heat on the stove.
Keep it at a simmer until warm. Careful not to recook it.
You don't need the food recooked, just warmed up.
You can also reheat it in the microwave in short spurts. Careful, it'll be hot.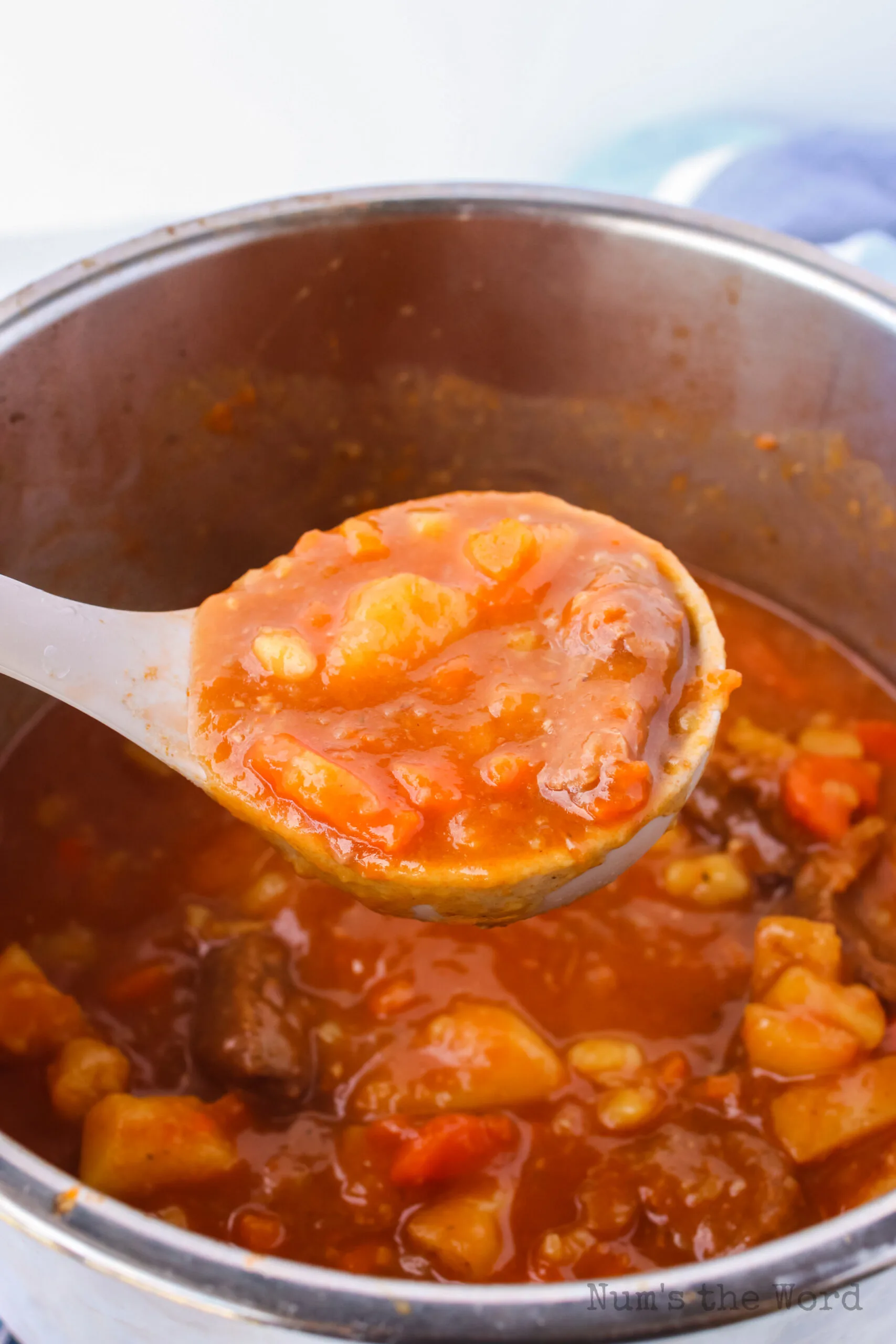 How to Reheat Beef Stew in the Instant Pot?
First, set your Instant Pot to the sauté function.
Then let the stew heat gradually, stirring occasionally.
You don't want to pressure cook it or anything as that would cook the food way too much.
So you'll basically reheat it the same way you would on the stovetop, but in the Instant Pot instead.
What Is Stew Beef?
Stew beef is meat that is often from beef chuck or short rib.
The meat cut into bite-sized pieces so it's already ready to add to soups or stews.
The cut of meat is actually really perfect for slow-cooking methods, or a pressure cooker.
It causes the meat to become really tender and delicious.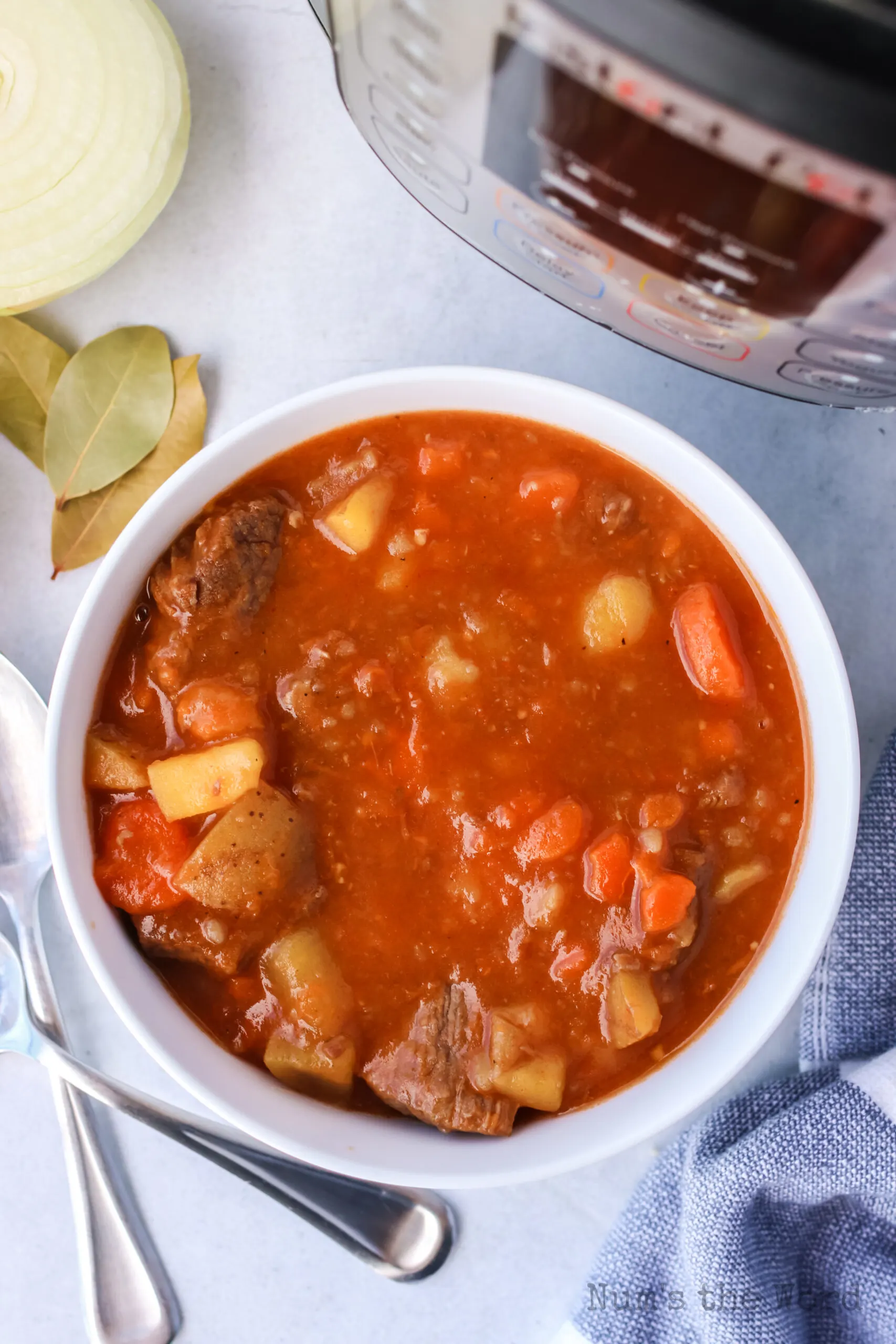 What to Serve with Instant Pot Beef Stew?
Nothing pairs better with this easy instant pot beef stew than some crusty bread.
It's perfect for mopping up that flavorful broth!
Here are some recipes you can easily throw on the table with this stew:
Can Dogs Eat Instant Pot Beef Stew?
Sorry, that's a no, dog's shouldn't eat pressure cooker beef stew.
While some ingredients are dog-friendly, not all of them are.
You should always avoid giving them dishes with onions and garlic as those can be toxic.
It's always best to stick to food may especially for them.
Though after you cook the meat, if it's just the meat without any seasonings, they should be able to eat a little of that.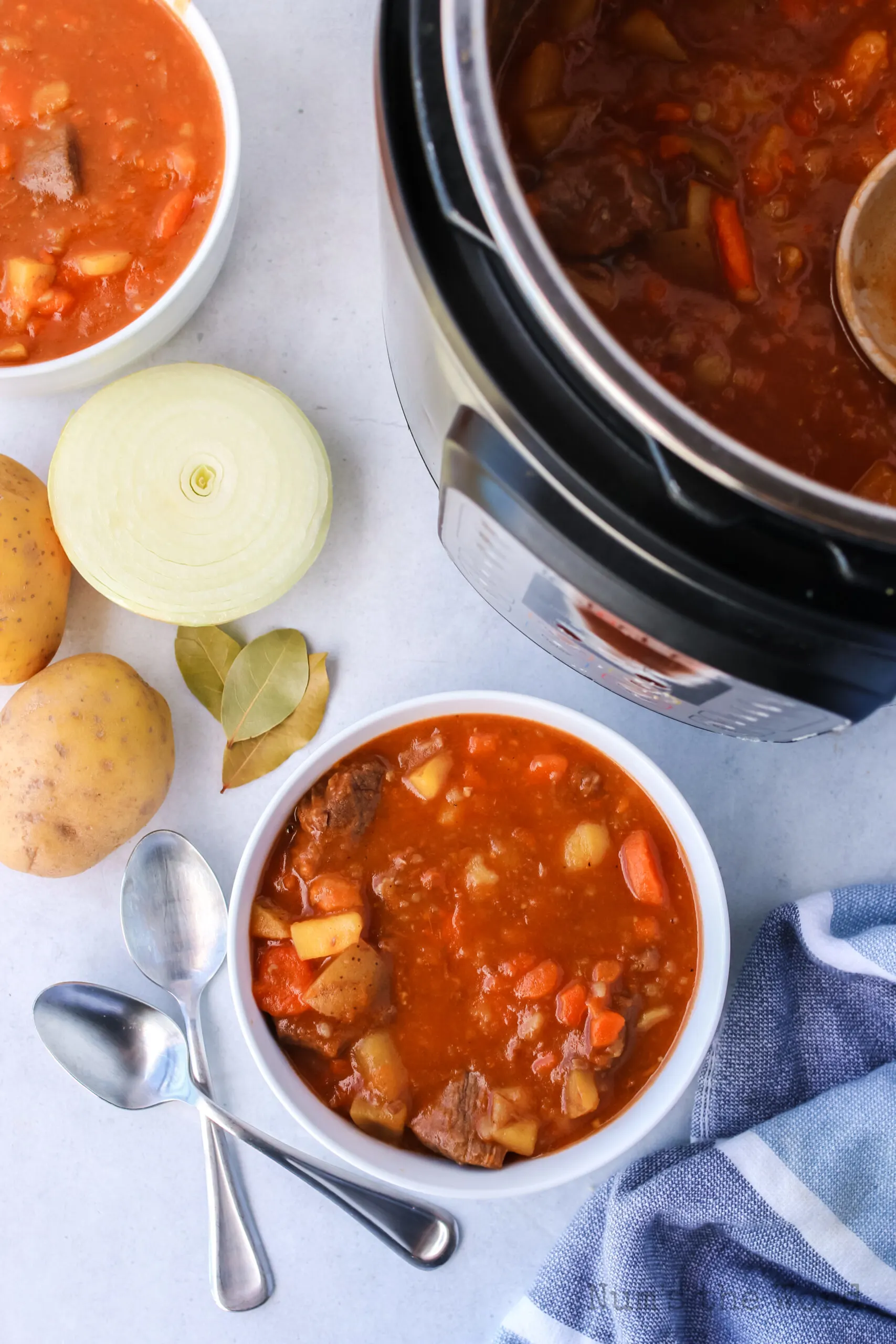 Additional Homemade Soup Recipes You'll Love…
Enjoy this easy, delicious, and hearty Instant Pot Beef Stew! The comforting flavors, combined with the ease of pressure cooking? It's a must-try recipe!
Discover the magic of Instant Pot Beef Stew! It's hearty, delicious, and ready to warm you up in a jiffy!
Yield: 6 Servings
Instant Pot Beef Stew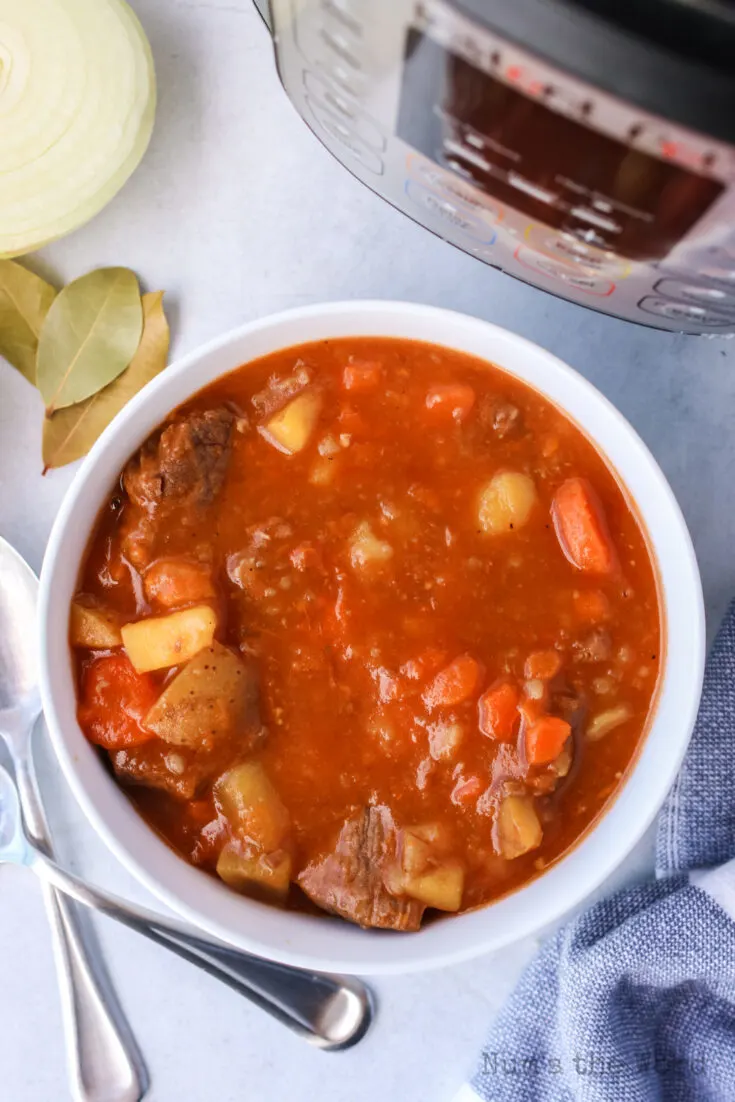 There's seriously no stew like Instant Pot Beef Stew! It's mouthwatering, hearty, delicious, and perfect for any cozy dinner!
Total Time
1 hour
30 minutes
Instructions
Turn the sauté function on instant pot.
When the instant pot says hot, add olive oil and then stew meat.
Sprinkle stew meat with 2 teaspoons seasoned salt and black pepper.
Cook for 1 - 2 minutes. Do not cook all the way through.
Remove from the pot and set aside. You may need to cook stew beef in two batches.
In the empty, but hot instant pot, add onion and additional oil if needed.
Cook onion for 3 minutes.
Add garlic and cook for 1 minute.
Hit the cancel button to stop the sauté feature.
Add beef broth, Worcestershire sauce, and tomato paste. Mix well.
Add beef back into the pot.
Add potatoes, carrots, bay leaves and 2 teaspoons seasoned salt.
Place the lid on the instant pot and close the venting valve.
Cook on high for 25 minutes. Instant Pot will take 7-8 minutes to come to pressure, then start the 25 minute clock.
When the timer goes off, carefully flip the venting valve and allow built up steam to release.
Once pressure has been released and pressure valve drops, open the instant pot.
Stir well.
Press the sauté button.
In a small bowl combine cornstarch and water. Mix well.
Pour cornstarch mixture into the instant pot and mix well.
Cook for 1-2 minutes. Then hit cancel.
Serve immediately.
Nutrition Information:
Yield:
6
Serving Size:
1
Amount Per Serving:
Calories:

667
Total Fat:

16g
Saturated Fat:

5g
Trans Fat:

1g
Unsaturated Fat:

10g
Cholesterol:

150mg
Sodium:

1577mg
Carbohydrates:

76g
Fiber:

9g
Sugar:

8g
Protein:

59g