Fettuccine Alfredo is our favorite quick 30 minute meal! This easy dinner is kid approved, college student approved and mom approved. Dare we say better than Olive Garden Fettuccine Alfredo? Yes we do!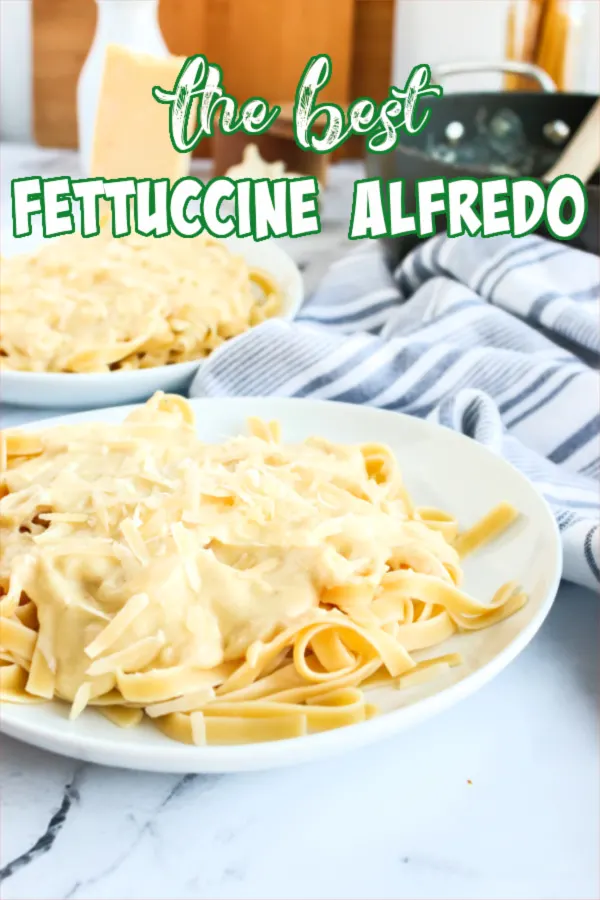 This fettuccine alfredo recipe is out of this world. The noodles are dripping with a mouthwatering sauce that has been a crowd pleaser every time I've served it.
By far my favorite thing about it is that it makes my "kid approved" list. You have one too right? If my kids will all eat it, it goes on the list. This one not only makes the list but it tops it right behind our Honey Chicken. I mean if my kids approve of it, it's GOTTA be good.
I also love that it is so quick! In 30 minutes it can be from box to table. And it only takes 7 ingredients. Most of which I almost always have in my kitchen. So wins all around.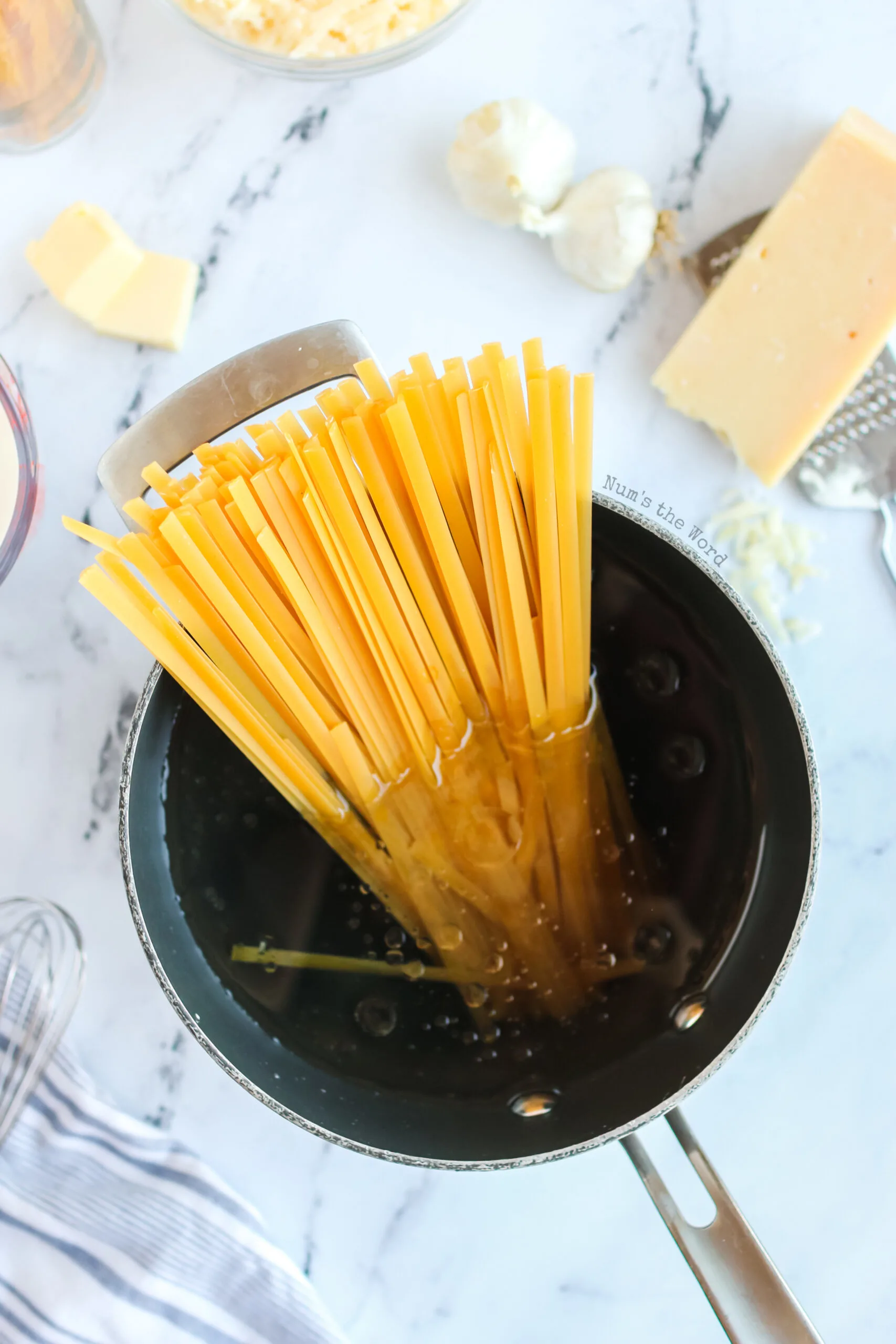 What is Fettuccine Alfredo
Fettuccine Alfredo is an Italian pasta dish made of fettuccine noodles and topped with a rich sauce made of butter, cream and Parmesan cheese.
Ingredients in Fettuccine Alfredo
Fettuccine Noodles:

The difference between fettuccine noodles and other noodles is that fettuccine tends to be a thicker, flatter pasta that can handle a thick, heavy sauce. Which is what alfredo sauce is. While you can substitute this for any other type of noodle you have, it really does pair best with fettuccine noodles.

Salt:

Table salt, sea salt, Himalayan salt, kosher salt. Sooo many options for salt nowadays. Pick one. Doesn't matter.

Oil:

You're going to be using the oil to help keep the noodles from sticking to one another. I recommend using a vegetable based oil.

Butter:

There really aren't very many ingredients in fettuccine alfredo. When you have just a few ingredients, those ingredients really matter. So stick with real butter and don't substitute for any shortening type ingredients. This is not a good recipe for that.

Garlic:

You may use garlic paste or mince whole garlic cloves.

Heavy Cream:

Heavy cream, also known as heavy whipping cream contains the highest fat content of milk and is very thick. You want the sauce to be a heavy kind of sauce so don't use regular milk. This is a stick to your ribs and feeds everyone kind of meal!

Parmesan Cheese:

The powdered parmesan cheese and actual shredded parmesan cheese are totally different. The powdered parmesan is good for shaking on top of pasta. Use the shredded parmesan in this recipe for best results.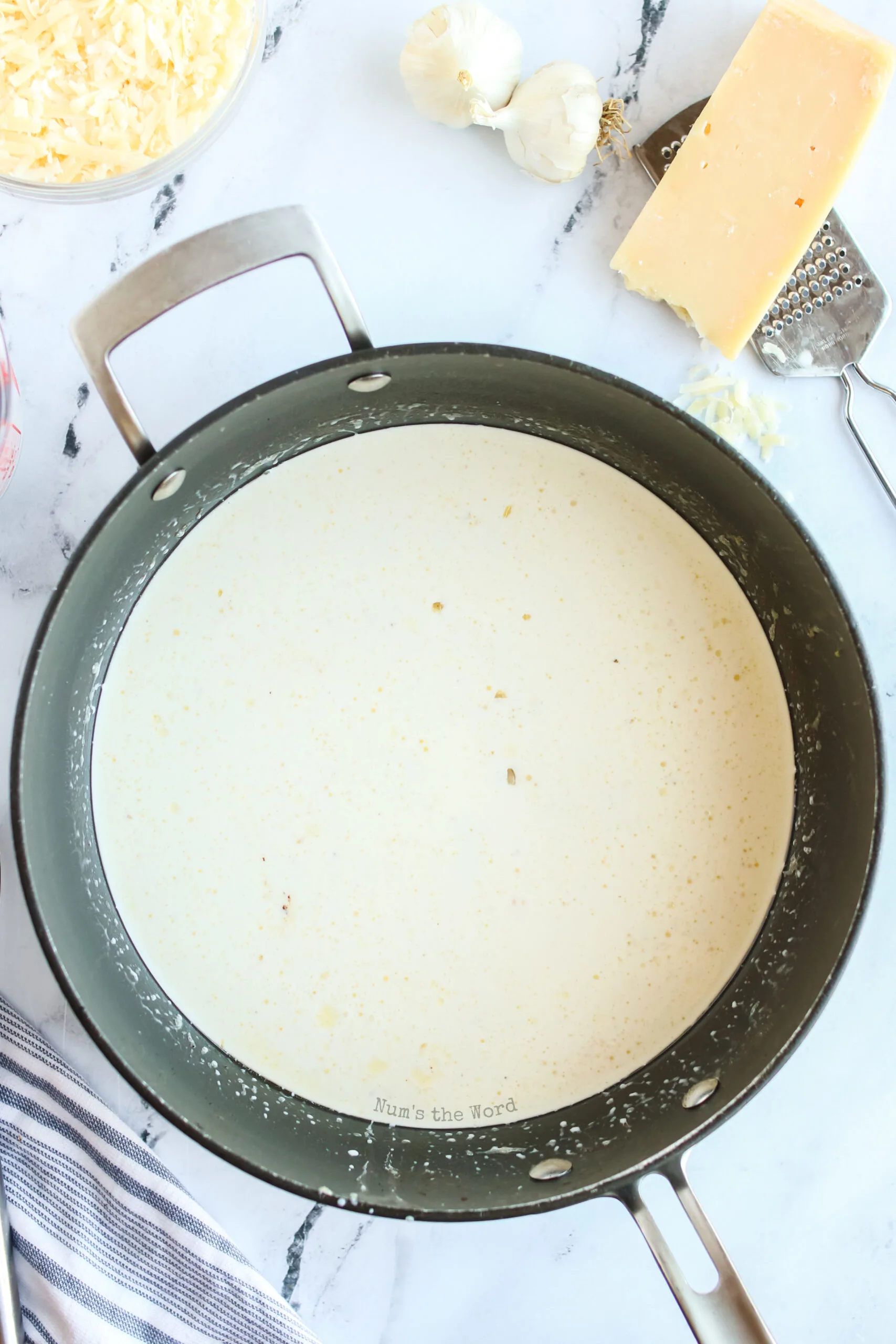 How to Make Fettuccine Alfredo
Cook:

On one side of your stove you're going to have a pot of boiling noodles. On the other side you'll have a skillet full of butter, garlic, and heavy cream. Multitasking is good but milk can also burn easily so don't try and step too far away from your stove at this time.

Mix:

Add in the parmesan cheese to the cream mixture and and stir until that cheese melts totally in. Then add in salt and pepper to taste. Feel free to taste test as much as you want. It's so yummy! But leave some for the noodles, it's worth it.

Serve:

Noodles, sauce, and topped with extra parmesan cheese. Amazing!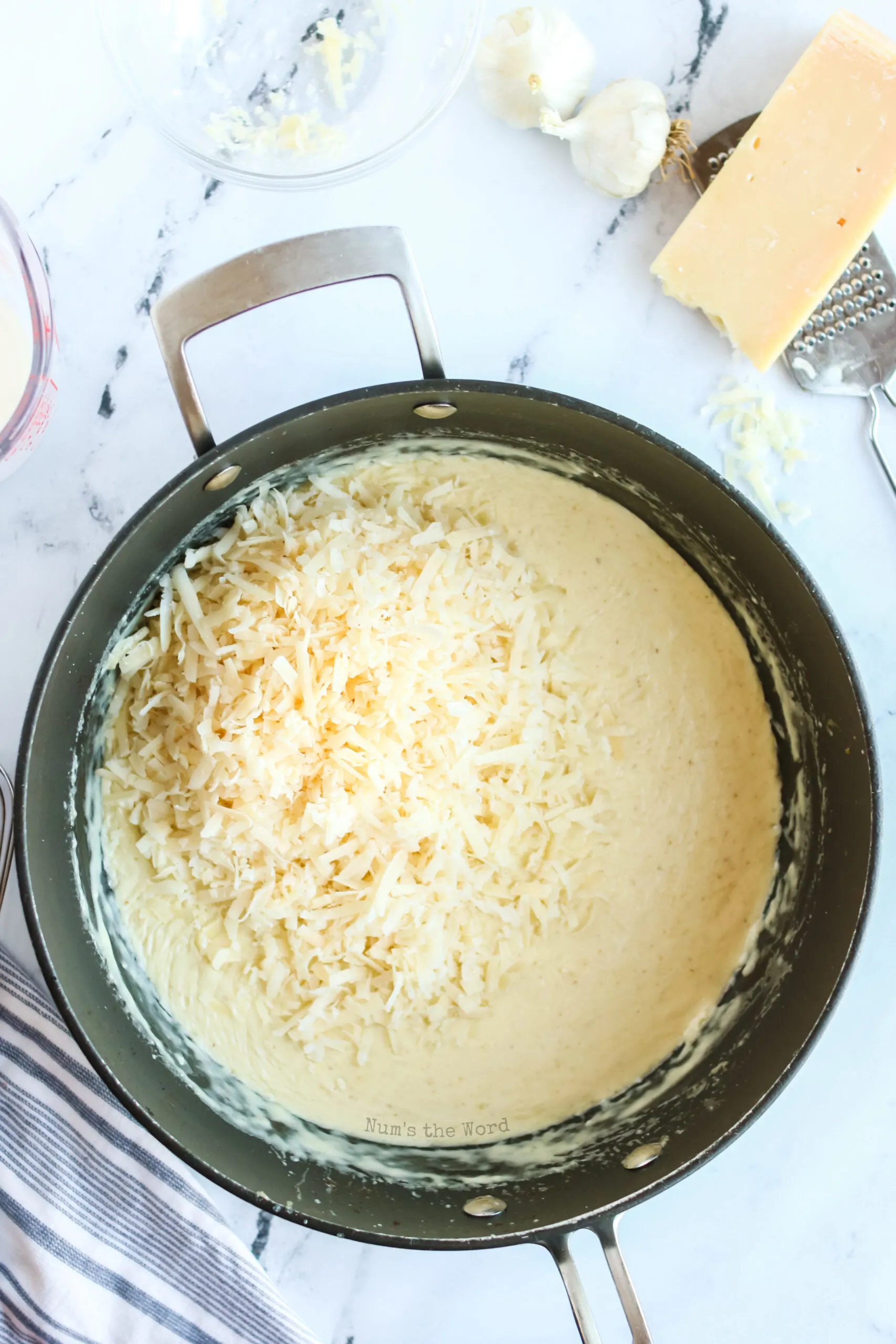 How to Reheat Fettuccine Alfredo
When reheating fettuccine alfredo sauce you may end up with an oily mess if you aren't careful. The trick is reheating slowly and adding in a little more cream. Also, since you've used cream, it has much less chance of curdling and separating during reheating! Yay!
Recommended:

Place the fettuccine alfredo sauce in a pot on the stove. Turn the stove on low and stir, slowly bringing the sauce back up to temperature. Add in a dash or two of cream to help it keep that creamy texture. It may not be as good as the day of, but it is still quite delicious.

Alternative:

Place the fettuccine alfredo sauce in a microwave safe bowl. Reheat 10 seconds at a time in the microwave, stirring between each heating time. Add a little bit of cream to bring it back to the creamy texture you know and love.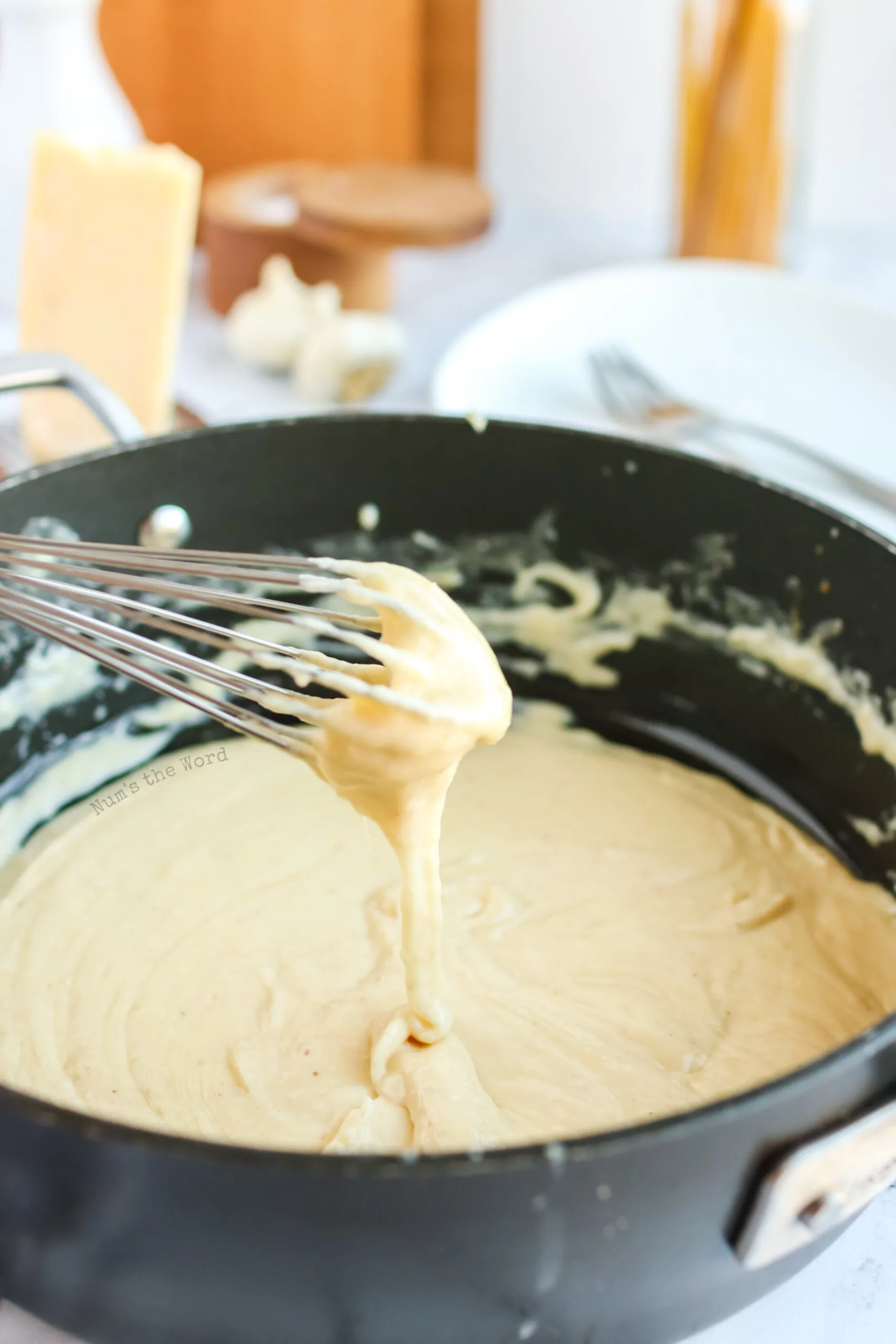 Can you Freeze Fettuccine Alfredo
Pasta tends to not do so well once frozen. It is extremely difficult to cook noodles, freeze them, recook them, and not have them turn into a mushy mess. If you are taking this route, slightly undercook the noodles before freezing.
Freeze the noodles separate from the fettuccine alfredo sauce. This way when you heat the sauce, you can cook the noodles to a done texture while not overheating them with the sauce.
Fettuccine alfredo can also be stored in the refrigerator for 3-5 days.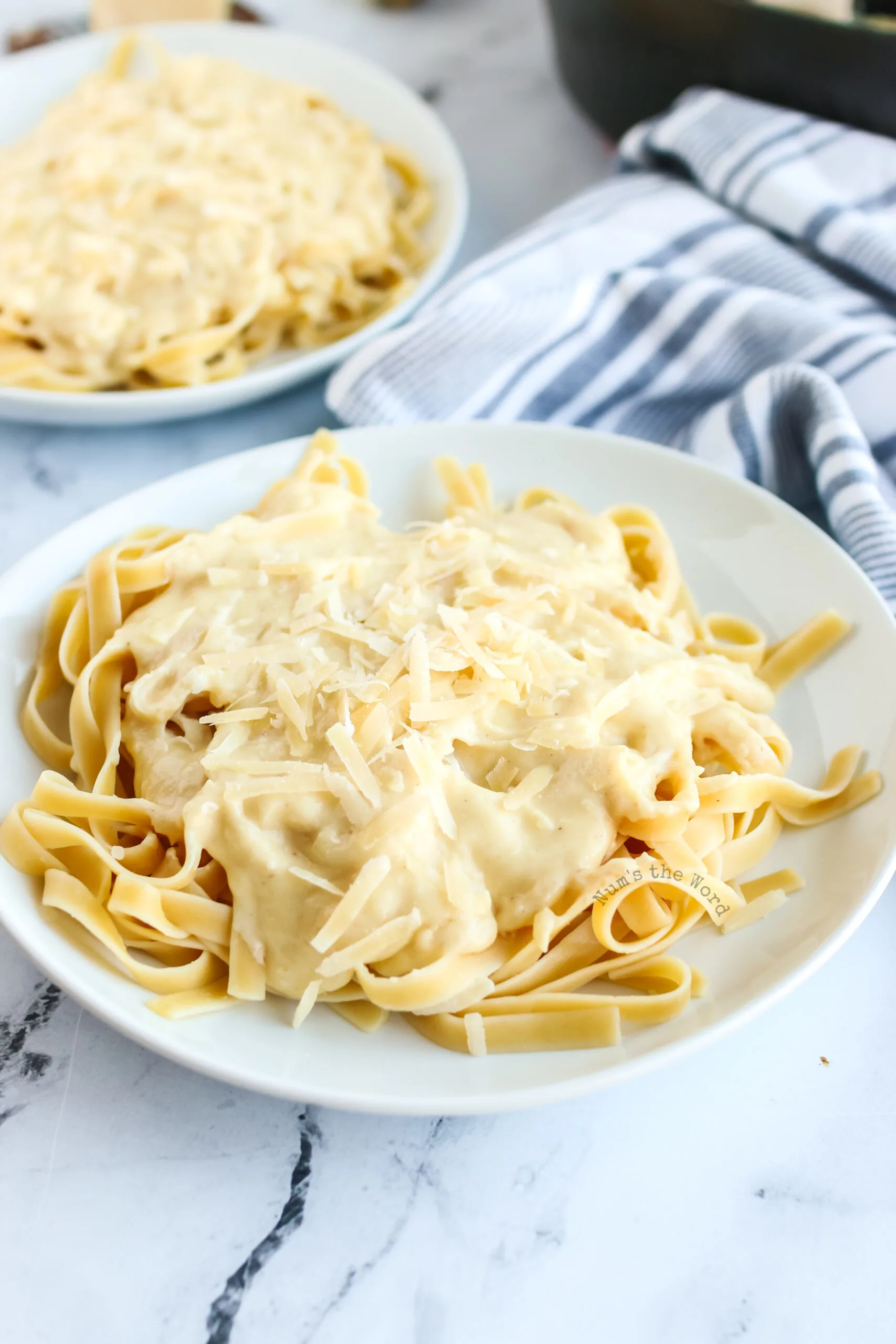 What to Serve with Fettuccine Alfredo
Chicken:

Don't try pairing a heavy alternative chicken dish with this pasta. Instead stick with plain chicken such as this

Air Fryer Chicken Breast

. Simple and perfect.

Bread:

Some

Delicious Rolls

or

Easy Garlic Bread

pair so well with this! I love the ability to dip bread in the sauce!

Veggies: Bacon Wrapped Asparagus

is my personal favorite with fettuccine alfredo. You can also just steam some broccoli or eat with some

Brown Sugar and Bacon Green Beans

.

Salad:

A classic

Bacon Lettuce Tomato Salad

! Or try any of the other

Salads

that are calling your name!

Bacon:

A little bit of bacon mixed into the sauce is terrific! This is the third time I've mentioned bacon, so obviously these pair REALLY well together. This would not be the first time I've tried a

Chicken Bacon Pasta

. They just pair so well together!

Dessert:

Really any dessert you want to serve here would work but personally I like serving

Raspberry Cheesecake Brownies

. Cheesecake and chocolate after pasta? Yep! Sounds glorious!

Nothing:

Seriously, this fettuccine alfredo recipe is excellent as is. If you want to dress it up, go for it. But it is filling enough to be eaten on it's own too!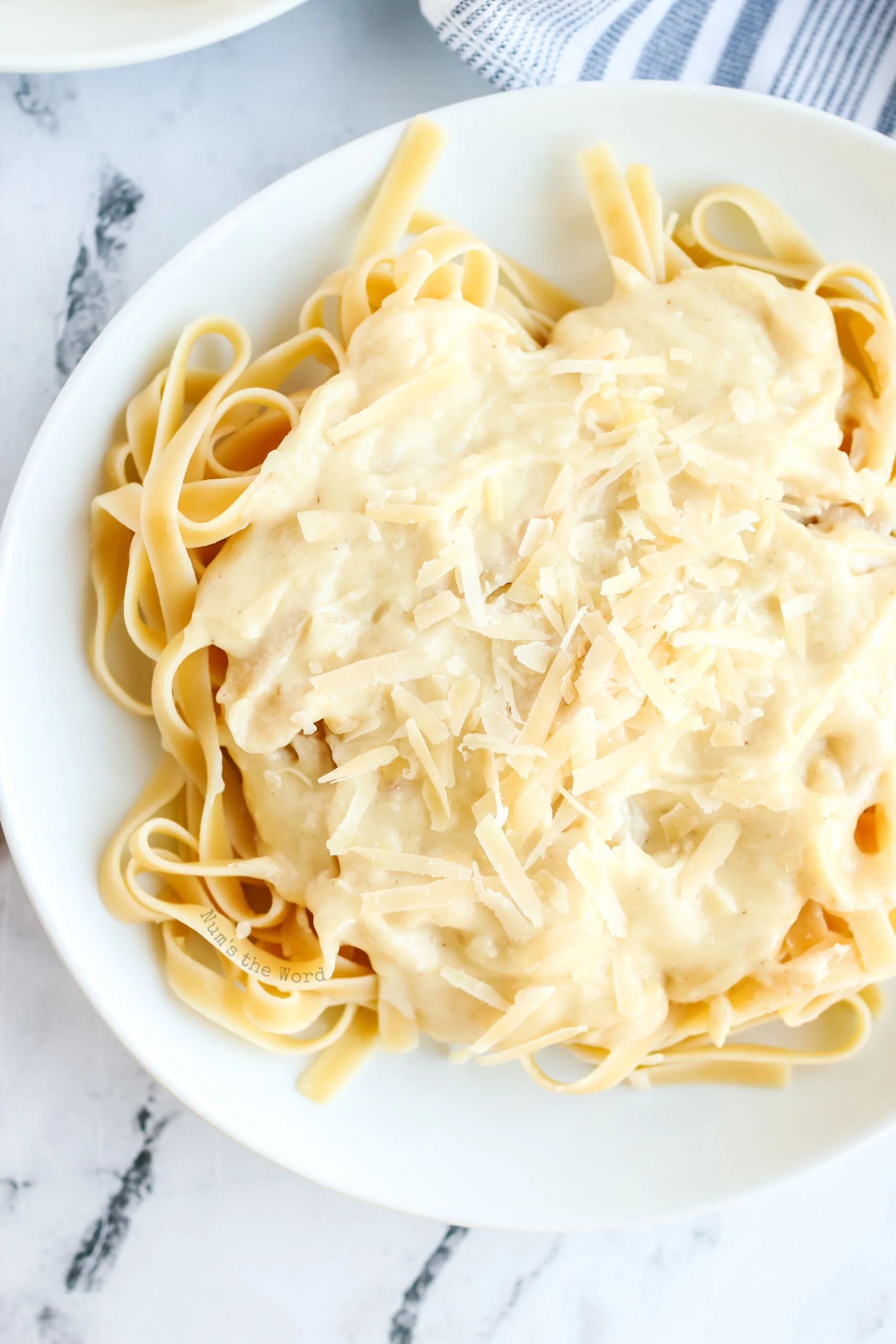 More Pasta Dishes You'll Love…
I can not wait for you to try this fettuccine alfredo! It is out of this world good. My entire family agrees and I know yours will too.
Yield: 5 Servings
Heavy Cream Fettuccine Alfredo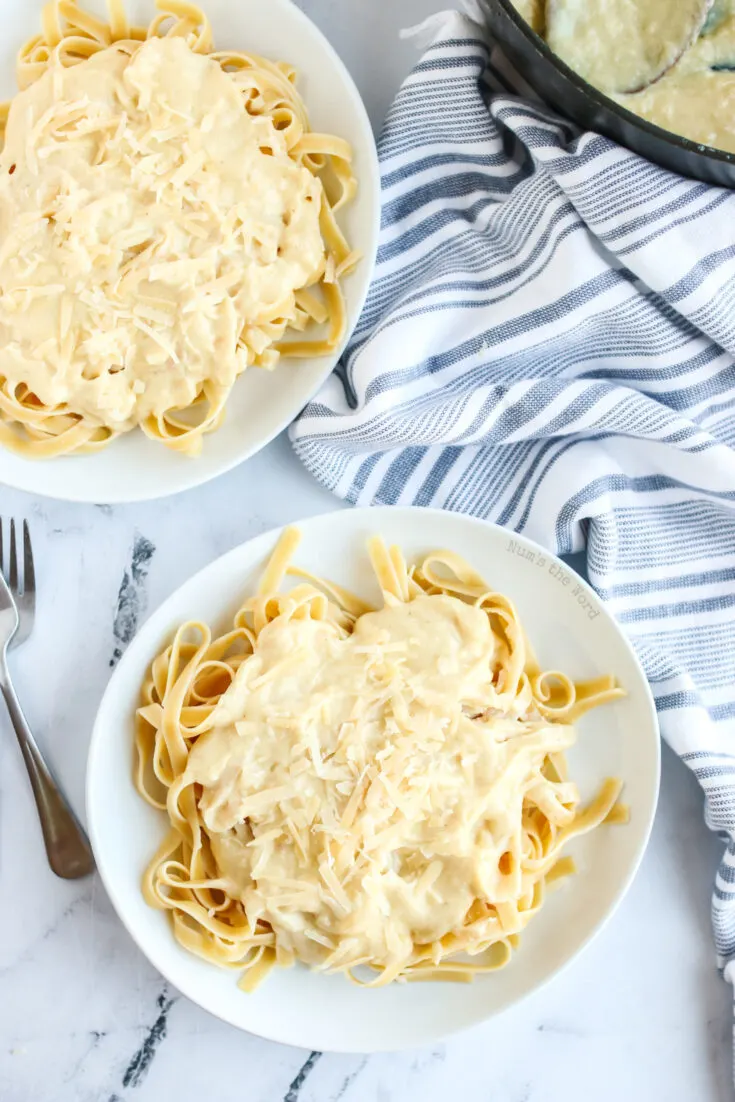 Fettuccine Alfredo is our favorite quick 30 minute meal! This easy dinner is kid approved, college student approved and mom approved. Dare we say better than Olive Garden's Fettuccine Alfredo? Yes we do!
Ingredients
8 ounces of Fettuccine noodles
1 teaspoon salt
1 Tablespoon oil
2 Tablespoons Butter
2 Tablespoons garlic paste or 4 cloves of minced garlic
2 cups heavy cream
1 1/2 cup + 1/2 cup shredded Parmesan cheese (not powdered)
Instructions
In a pot, add noodles, salt, oil and water and cook according to package directions.
In a deep skillet, add butter. Cook over medium-Low to Medium heat until butter is melted.
Add garlic and cook for 2 minutes or until fragrant.
Add heavy cream and mix well. Bring mixture to a light simmer and cook for approximately 8 minutes or until mixture cooks down until half amount.
Remove cream mixture from burner and add 1 1/2 cups shredded Parmesan cheese (not powder). Stir until cheese melts completely.
Salt & pepper according to tastes.
Serve over noodles, top with extra Parmesan cheese.
Nutrition Information:
Yield:
5
Serving Size:
1
Amount Per Serving:
Calories:

529
Total Fat:

47g
Saturated Fat:

27g
Trans Fat:

1g
Unsaturated Fat:

18g
Cholesterol:

126mg
Sodium:

833mg
Carbohydrates:

19g
Fiber:

1g
Sugar:

3g
Protein:

9g
Originally Posted: February 15, 2016
Photos & Text Updated: March 19, 2021