Whether you're looking for the perfect side dish for a potluck, picnic, or party, or you have a hankering for a "vintage" recipe, this Lime Jello Salad is the perfect recipe for you!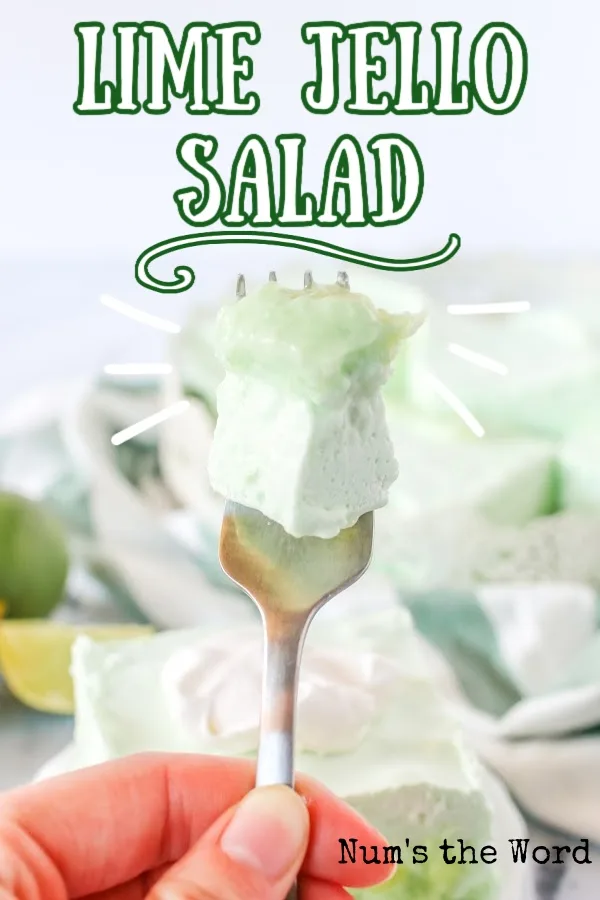 Depending on where you're from, you may have grown up eating jello salad at every family gathering or community function — it has very regional roots.
But regardless of whether you've tried jello salad before, you're bound to LOVE this one. It's the perfect blend of creaminess, tart lime flavor, and tasty texture! And it's super easy to make, and perfect for making ahead!
Not only is the color of this lime green jello salad vibrant and fun, but the flavor is fantastic! I love to serve this jello salad at gatherings, holidays, picnics — just about anywhere. I especially love that it doesn't take up valuable oven space and can be made ahead to save time on the day of a busy holiday meal.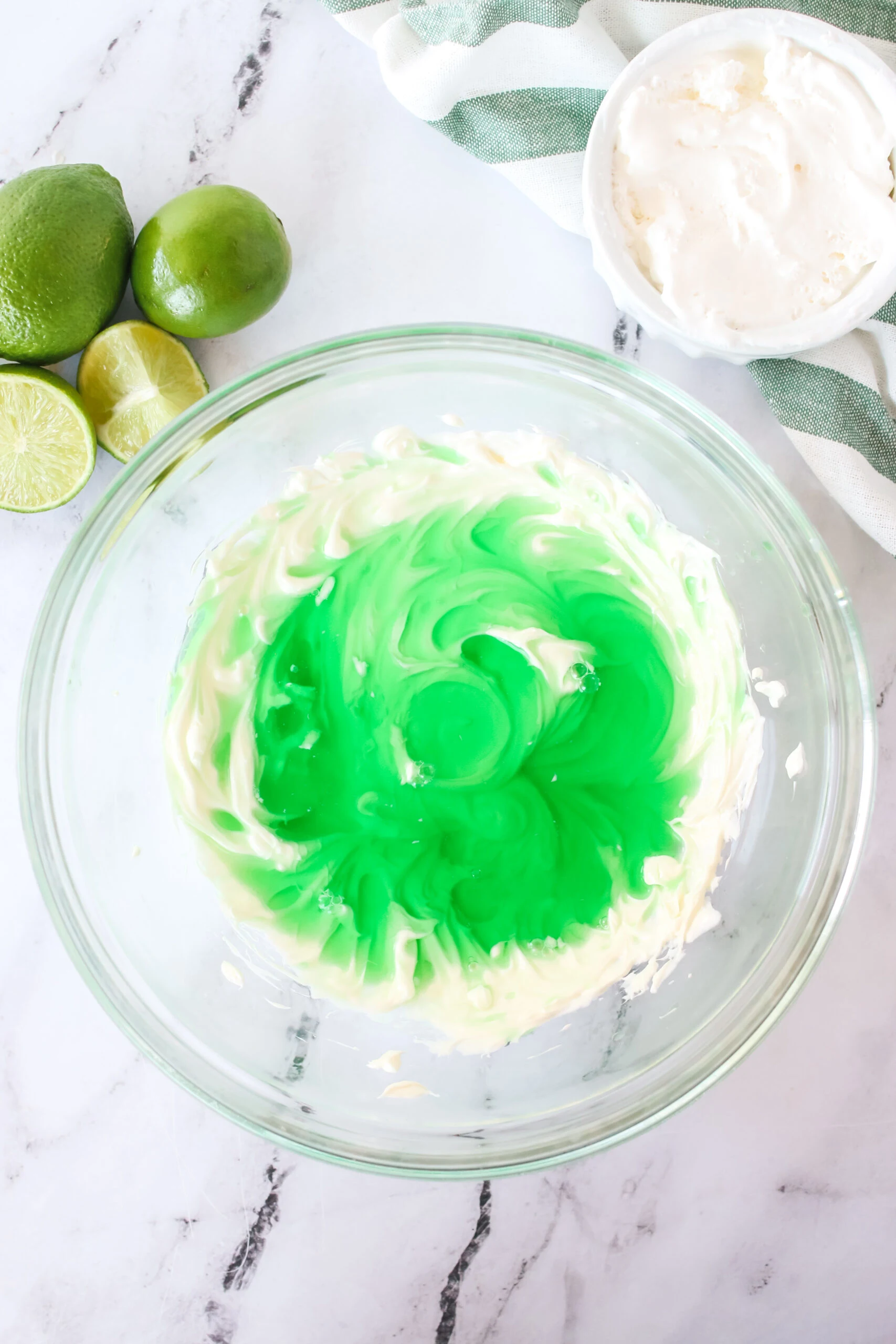 What is Lime Jello Salad?
Lime jello salad is a deliciously creamy gelatin dessert salad or side dish. It's usually made with some combination of lime jello base, a cream source (mayonnaise, cottage cheese, or in this case — cream cheese), fruit or nut mix-ins, and whipped topping.
This particular recipe, which is my personal favorite, is a lime jello salad with pineapple and cool whip, as well as cream cheese mixed for extra yummy creamy texture and rich flavor.
Vintage lime jello salad has been around for a good long while — it had its popularity hay day back in the 1960's and is now considered "vintage recipes" or a "retro recipe."
It's stood the test of time though and is a classic side dish for lots of holiday meals!
Jello salad has historically been popular at potlucks, picnics, and family gatherings and tends to have regional popularity.
Depending on where you live, you may or may not have even tried it or heard of it or it could be one of your family favorites already!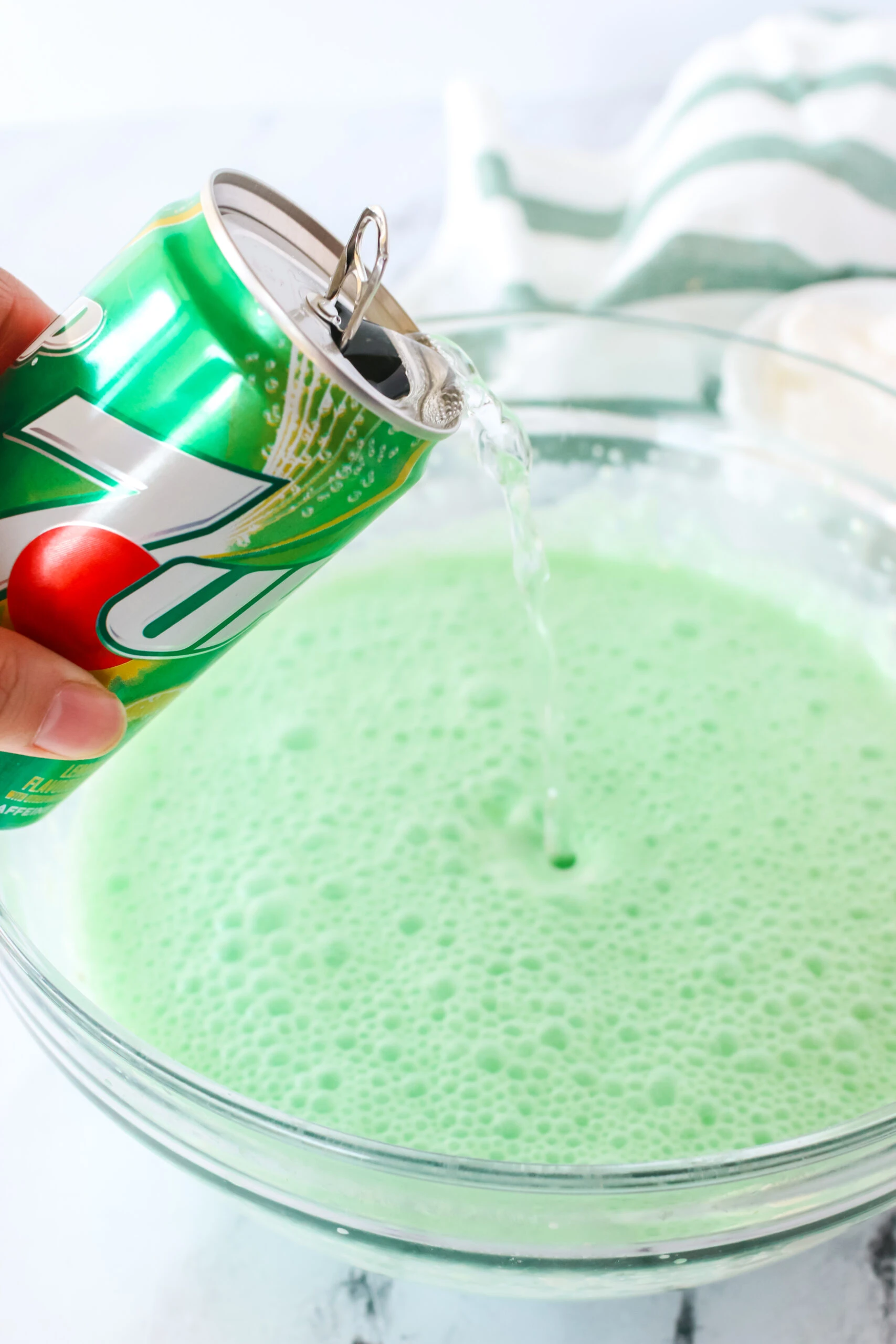 What Ingredients are in Lime Jello Salad?
One of the best things about lime jello salad is that it's super easy to make, super tasty, and can easily be made ahead! A triple win in my book. For this recipe you'll need the following ingredients:
Lime jello – this makes a fairly big batch, so you'll want a 6 oz package. Choose your favorite brand!
Boiling water – boiling water is usually used with jello recipes. I actually like to microwave water in a glass liquid measuring cup for extra easy and fast boiling and mixing.
Cream cheese – you'll want this to be room temperature before you mix it into your jello salad.
7 UP – 7up has a great lemon-lime flavor that goes perfectly with the lime jello in this recipe. You'll use this instead of cold water, so you want it to be chilled before you mix it in.
Crushed pineapple – I love the flavor and texture crushed pineapple adds to this lime jello salad with pineapple recipe!
Cool whip – Cool Whip has great texture and flavor and is the perfect choice for desserts that you are making ahead of time as it will hold its shape and not get watery like whipping cream will.
Pro Tips:
Hot water is a must! The lime gelatin salad will not set up with cold water or even warm water.
Feel free to toss in mini marshmallows if desired! I know some can't live without them!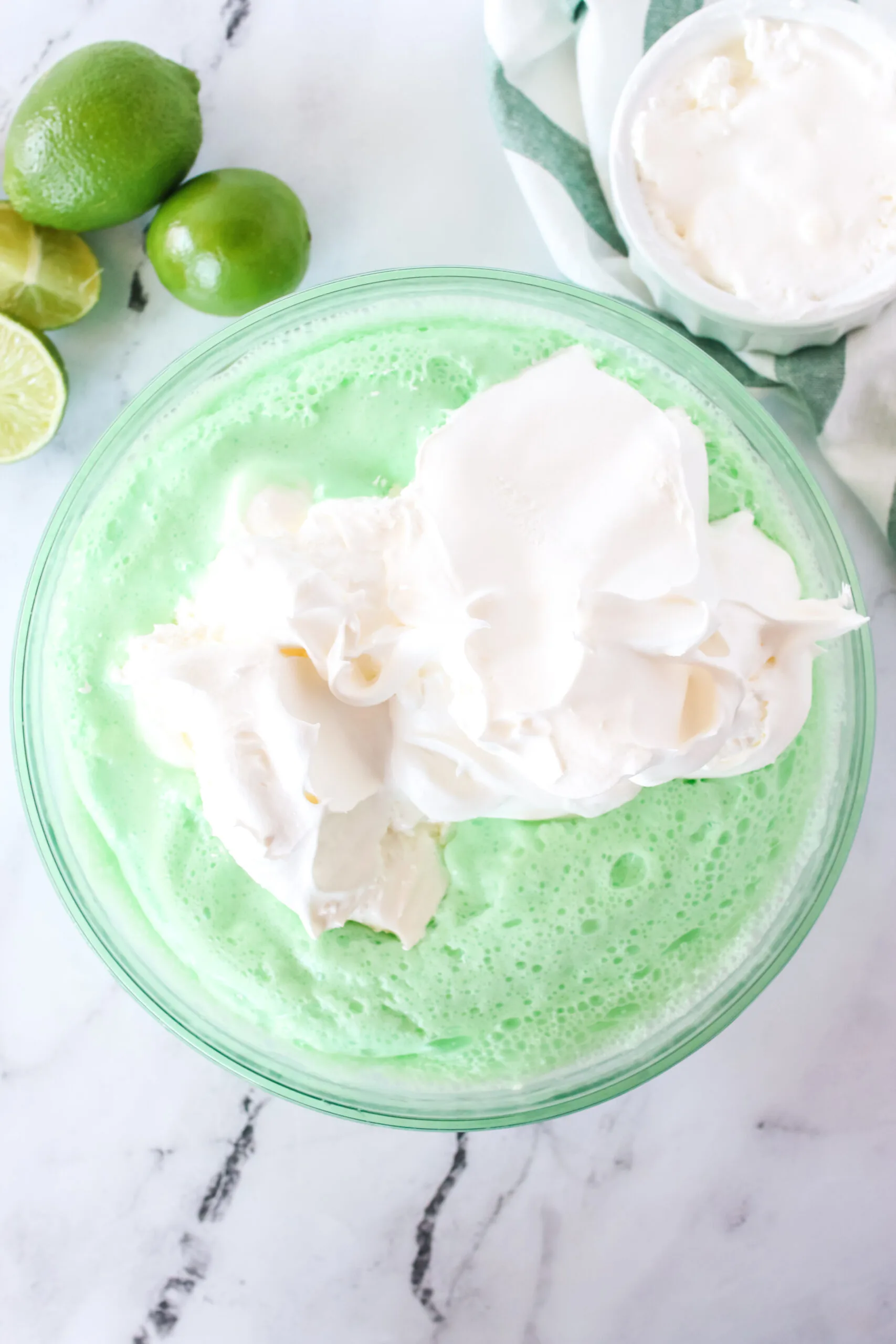 How to Make Lime Jello Salad?
Now that we've got the ingredients sorted out and ready, you can put together this delicious recipe! It really is quick and simple — and a crowd pleaser to boot!
Boil water and mix in the jello mix.
Beat cream cheese in a separate bowl with a hand mixer.
Add jello mixture to cream cheese, blending with a hand mixer.
Mix in 7up by hand.
Chill until the mixture is soupy but not set.
Stir in whipped topping and crushed pineapple.
Pour mixture into a serving dish and chill until fully set.
While the hot jello salad takes a bit of time to set, the individual steps themselves do not take much time or effort at all!
And this is a one of those great recipes to make the day before or the morning-of as it keeps great in the fridge until you're ready to serve.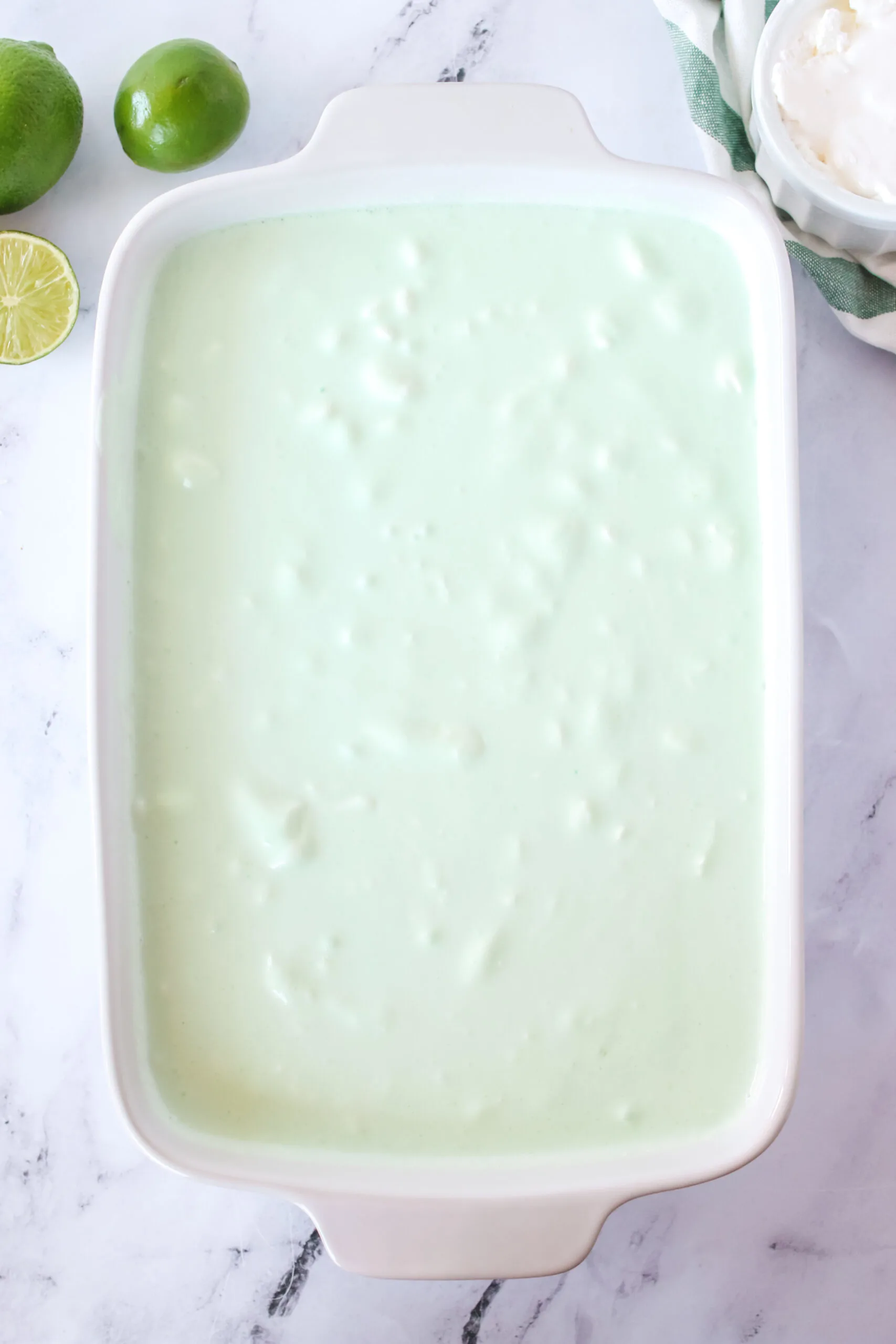 How Long Does Lime Jello Salad Last?
Stored properly (airtight container, refrigerated) your lime jello salad will last up to 5-7 days in the fridge!
That means you can enjoy this tasty treat long after the party is over (if it lasts that long!).
You can also make it ahead of time for special occasions. Your husband's mother is sure to be impressed!
It's also great for family reunions, family dinner, or even given as holiday gifts!
Be sure to keep it wrapped in plastic wrap or an airtight container for best results.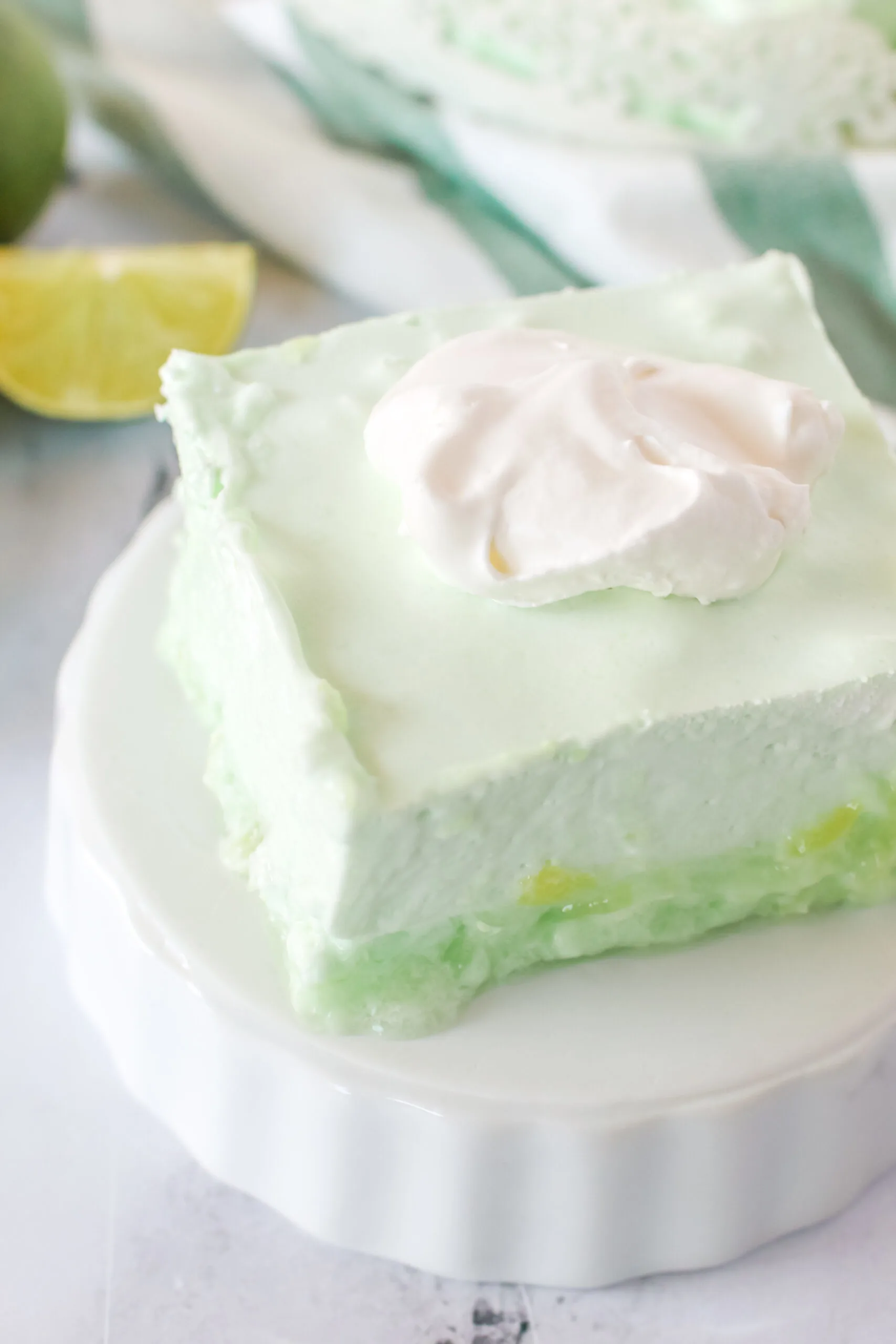 Is Lime Jello Gluten Free?
The ingredients in this classic lime jello salad, including the lime jello, are typically gluten free.
As always, be sure to check the labels of the ingredients you're using to confirm before you enjoy!
And just because this one is gluten free, doesn't meal another version of this recipe or other creamy Jello salads would be. Always read everything!
Can Dogs Eat Lime Jello?
It is not a good idea to feed this recipe to your dog. It has a lot of added sugar, which is not good for your furry friend!
Even if you make this recipe using sugar free ingredients, the artificial sweeteners are not good for dogs either.
So keep this recipe for yourself and share something else with your pooch.
Keep that in mind for any similar salads as well! Jello fruit salad is never a good idea for your dog even if it includes fresh fruit.
And if you've got a dog that can't help themselves, keep the serving plate or large bowl pushed back on the table and out of reach.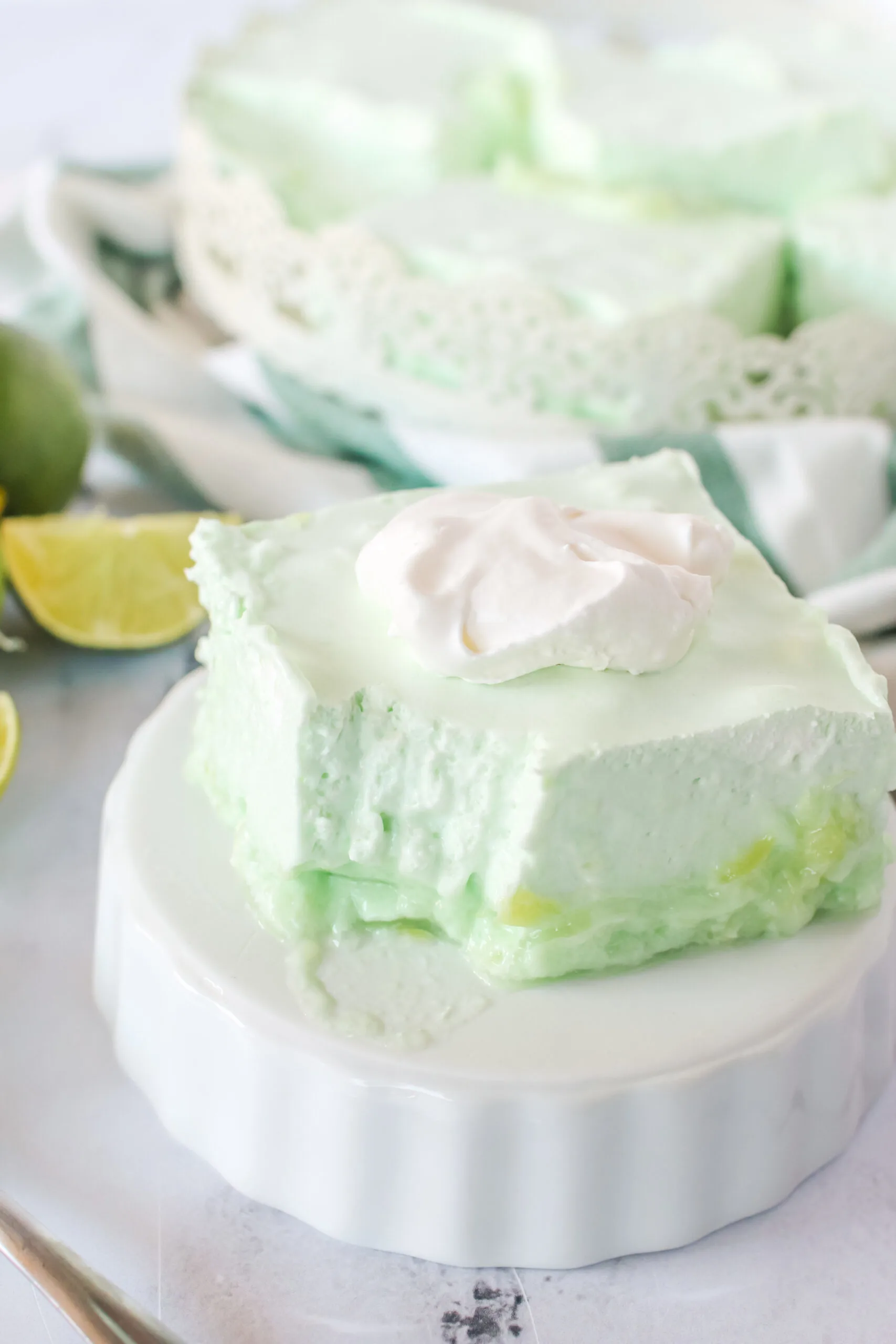 Can You Eat Lime Jello Before a Colonoscopy?
As far as I can tell, lime jello itself is fine to have before a colonoscopy. You're only supposed to have clear liquids and should not have anything with certain colors of dye.
You should definitely check with your healthcare provider before eating anything you're uncertain about before a colonoscopy.
That being said, DO NOT eat this pineapple lime jello salad before a colonoscopy.
There's a lot more in it than just jello and it would not be in accordance with the clear liquid guidelines by any stretch of the imagination.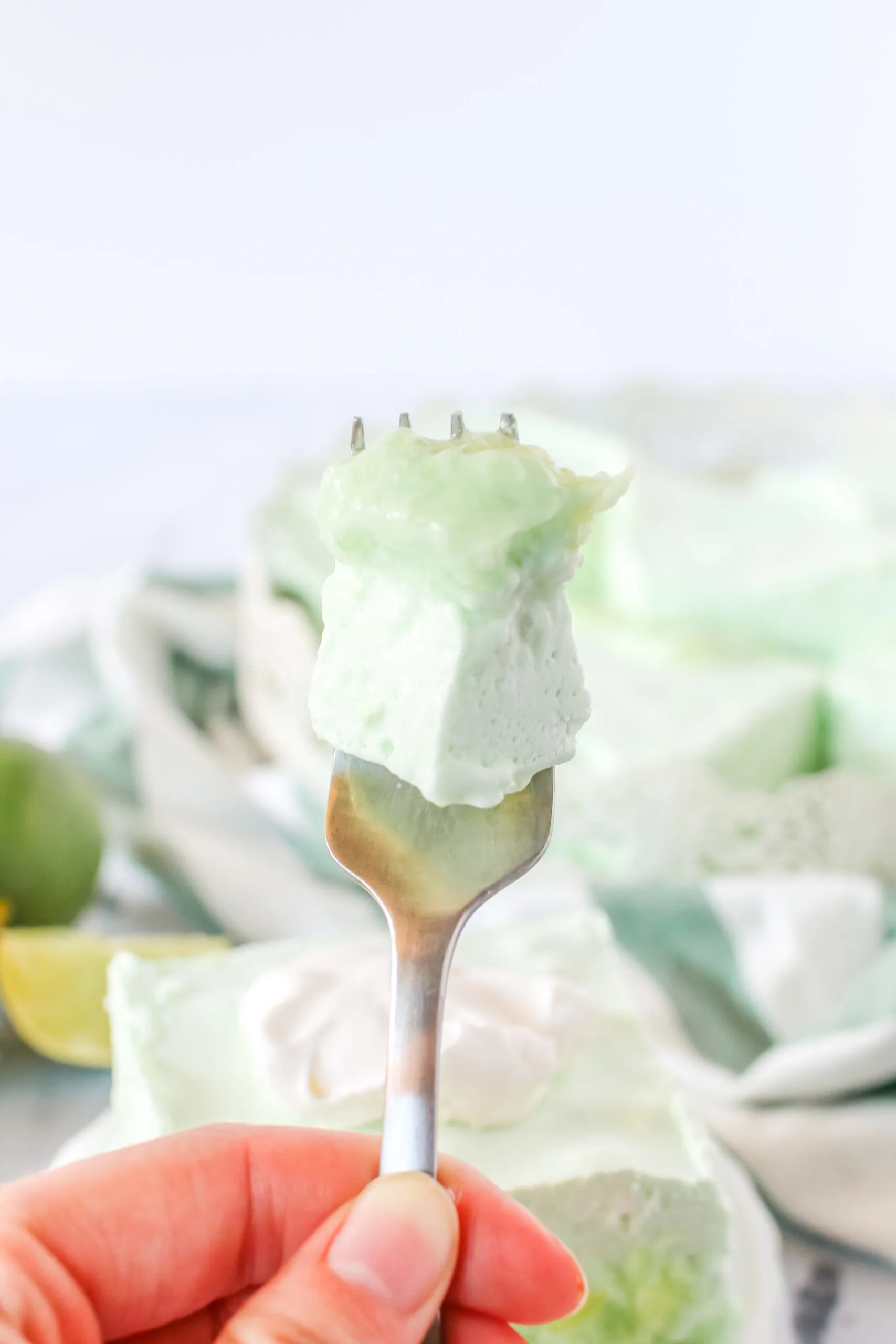 More Jello Recipes You'll Love…
Whether lime jello salad holds a nostalgic piece of your heart or you're looking for a fun recipe to try for your next potluck or party, this is the recipe for you!
The texture is great, the taste is fantastic, and the preparation is simple and easy to make ahead. This is the perfect holiday side dish, party food, or picnic addition!
Yield: 12 Servings
Lime Jello Salad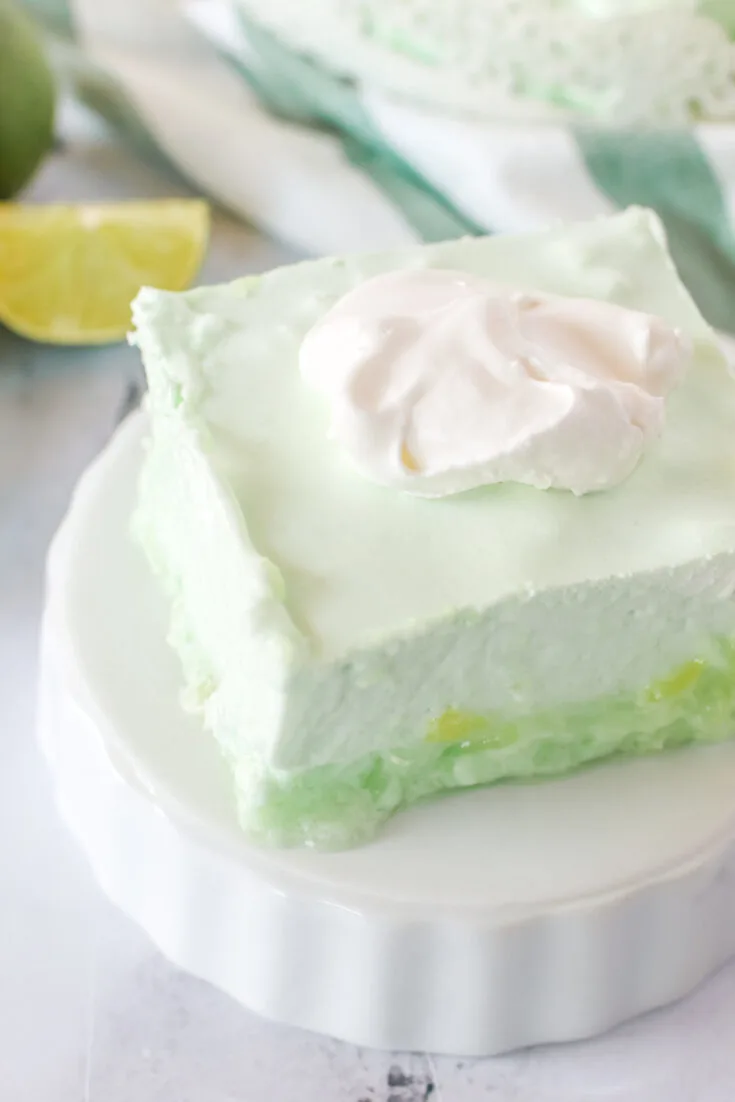 Whether you're looking for the perfect side dish for a potluck, picnic, or party, or you have a hankering for a "vintage" recipe, this Lime Jello Salad is the perfect recipe for you!
Additional Time
4 hours
30 minutes
Total Time
4 hours
55 minutes
Instructions
Bring water to a boil.
Add Jello and mix well.
In a separate bowl, blend cream cheese.
Add warm dissolved Jello mixture to cream cheese in 3 batches, blending with a hand mixer between each addition. This is to help prevent lumps.
Add 7 up and mix by hand.
Chill until mixture until it resembles egg whites. This should take 30 - 60 minutes - this will vary depending on the temperature of the fridge, so check every 15 minutes or so.
When the mixture is thick but soupy, add cool whip and mix well by hand.
Add crushed pineapple and mix well.
Pour mixture into a 9x13 serving dish or jello mold.
Chill till fully set.
Cut and serve with a dollop of cool whip, whipped cream or plain.
Nutrition Information:
Yield:
12
Serving Size:
1
Amount Per Serving:
Calories:

47
Total Fat:

1g
Saturated Fat:

1g
Trans Fat:

0g
Unsaturated Fat:

0g
Cholesterol:

2mg
Sodium:

22mg
Carbohydrates:

9g
Fiber:

0g
Sugar:

9g
Protein:

0g