Disney Grilled Cheese is a delicious twist on a simple classic that has become a fan favorite among Disney World guests.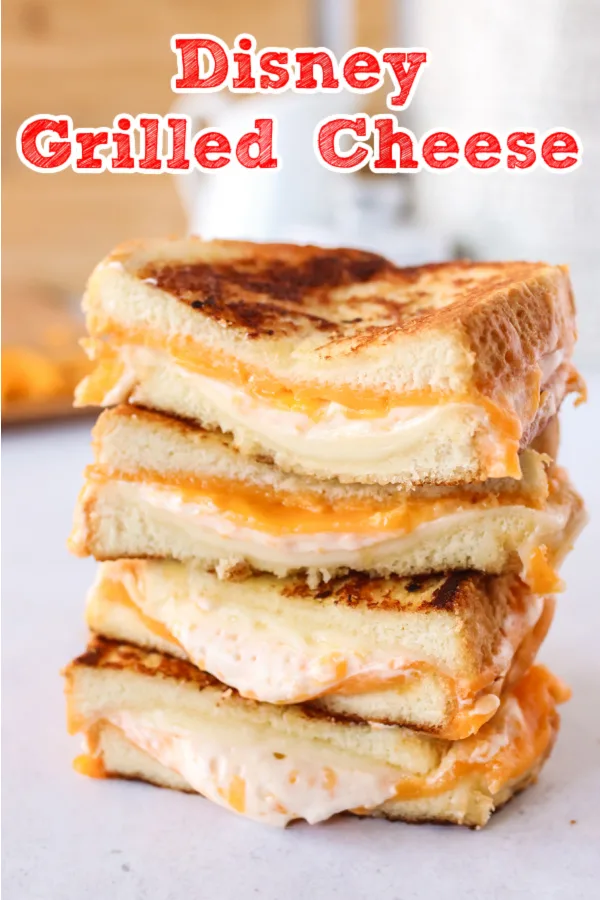 Just like many other things, Disney has somehow managed to make even something as simple as grilled cheese into something magical!
You may wonder what all the hype is about for a simple grilled cheese sandwich.
While this sandwich is fairly simple to make, there's nothing simple about the flavor and rich, gooey, cheesy goodness that you get with this recipe.
Or maybe you're already a fan you know EXACTLY where the excitement for grilled cheese comes from!
Whether you've had it before and are craving some memories to go with your cheesy meal, or you want to give it a try and see how grilled cheese can taste like magic and heaven, I guarantee you'll love this recipe.
So give Disney Grilled Cheese a whirl and thank me later!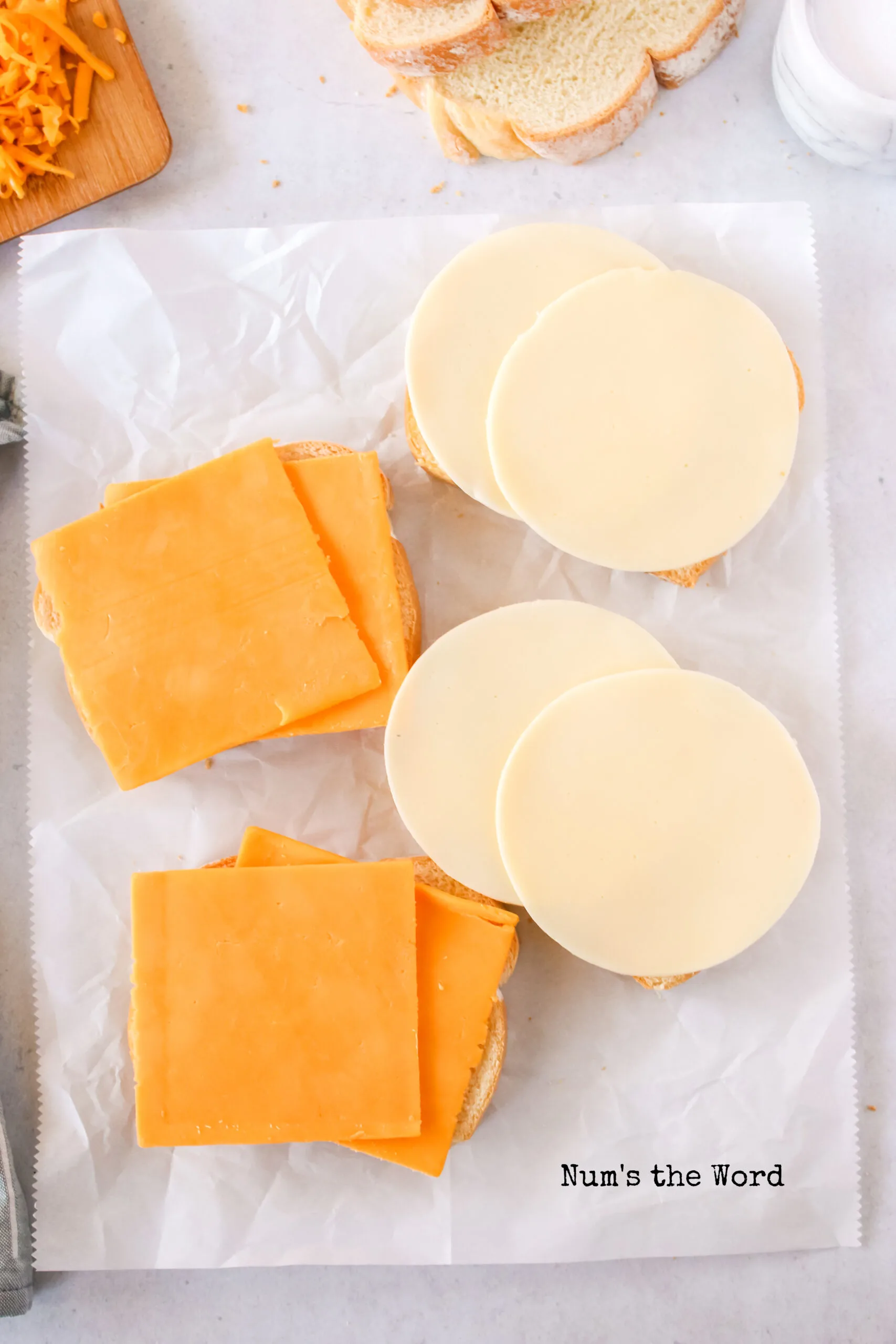 What is a Disney grilled cheese sandwich?
Disney Grilled Cheese is a gourmet twist on an old classic. You can find this sandwich at Walt Disney World's Hollywood Studios at Woody's Lunch Box.
Cheesy, flavorful, with a hint of garlic and a variety of cheeses, you've never had a grilled cheese sandwich until you've had Walt Disney World Grilled Cheese.
And did you know there's such a thing as National Grilled Cheese Day? I suppose there's a National day for just about anything, but I can definitely get on board for Grilled Cheese Day.
In case you're wondering, it's on April 12 – which sounds like a great day for this Disney Grilled Cheese recipe to me!! Of course, I think most days would be better with grilled cheese.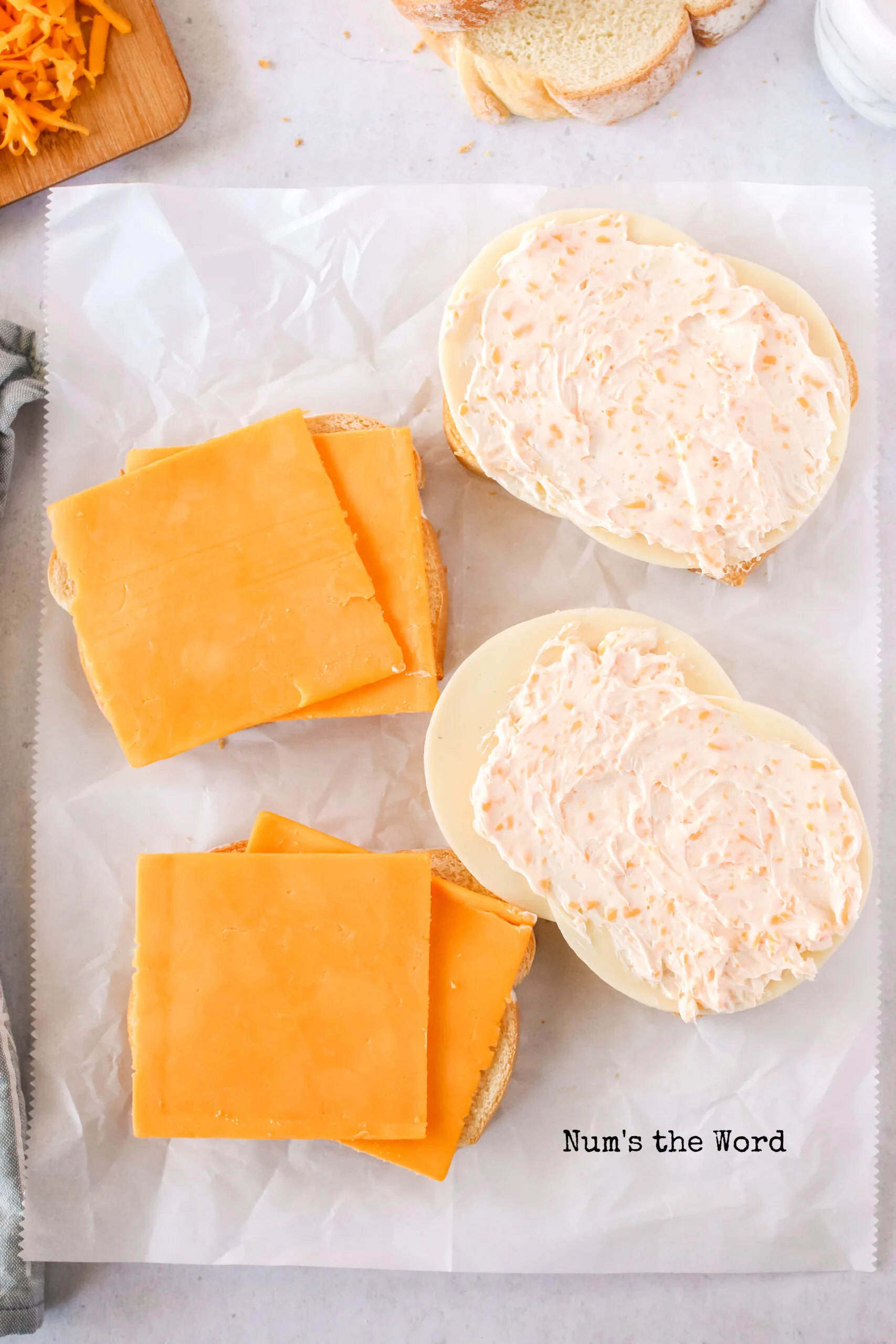 What is the best cheese for grilled cheese?
While I'm sure there are different opinions on this subject, I believe I can say with certainty that it's NOT American Cheese.
Perhaps that's why I LOVE this Disney Grilled Cheese recipe so much! It's got incredible flavor from a variety of cheeses and has the perfect texture and ooey-gooey-cheesy-goodness!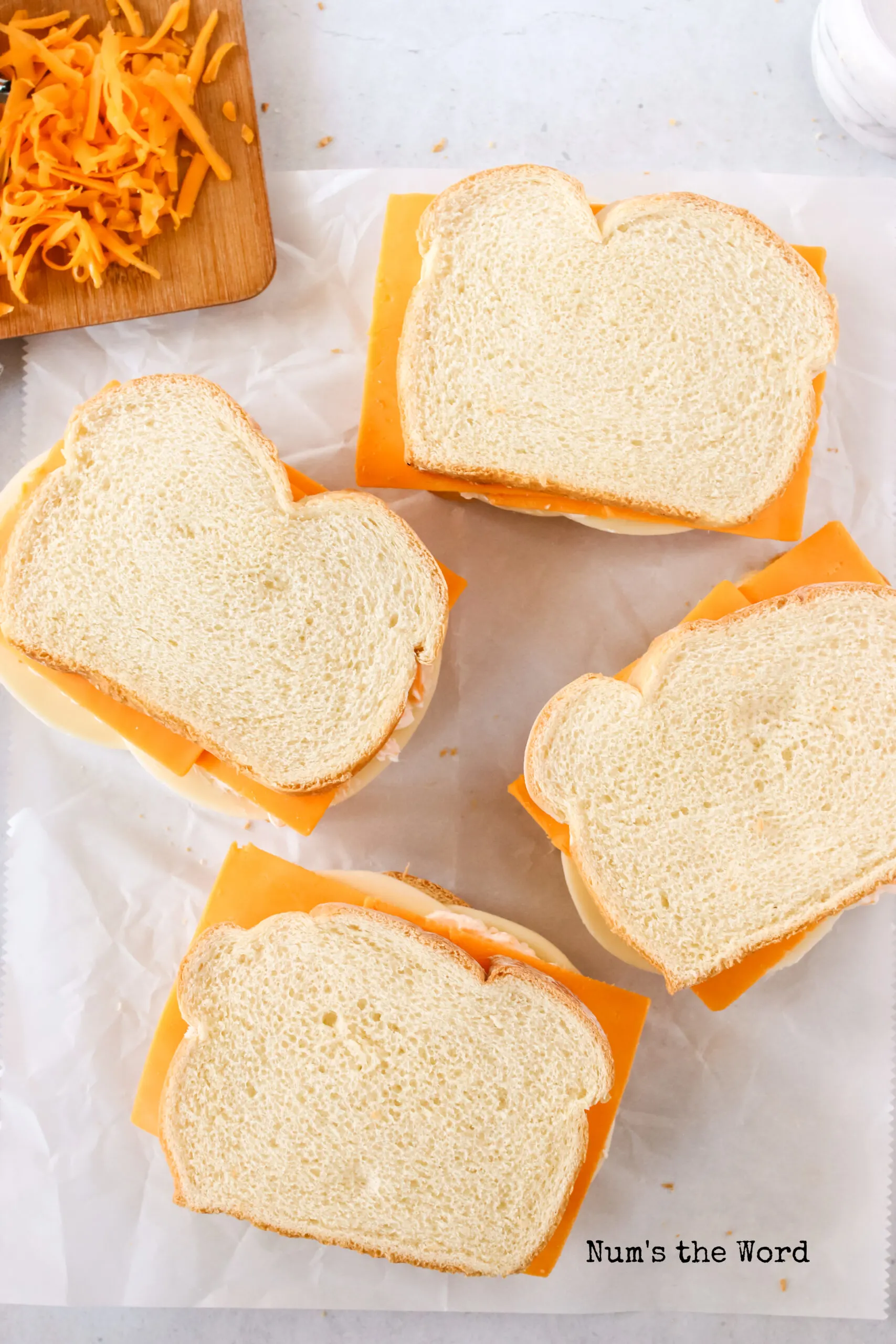 What ingredients are in this Disney Grilled Cheese Sandwich?
Cream cheese

– part of what makes Disney World grilled cheese so much better and richer than every other type of grilled cheese is the layer of cream cheese spread between the other layers of cheeses!

Cheddar cheese

– shredded cheddar will add flavor to the cream cheese spread, as well as some "sticking" power.

Heavy whipping cream

– I did mention this is the richest, most delicious grilled cheese recipe ever, right?!

Coarse salt

– the ultimate flavor enhancer.

Mayonnaise

– the surprising ingredient that will help crisp up the outside of your bread and give it the perfect golden color once it's cooked!

Minced garlic

– something about cheese and garlic just goes so perfectly together.

Artisan bread

– what we mean by this is something thick and fresh and maybe even a little bit crusty.

Cheddar cheese slices

– so much cheese! So much yumminess!

Provolone slices

– I absolutely love the blending of flavors from several different cheeses.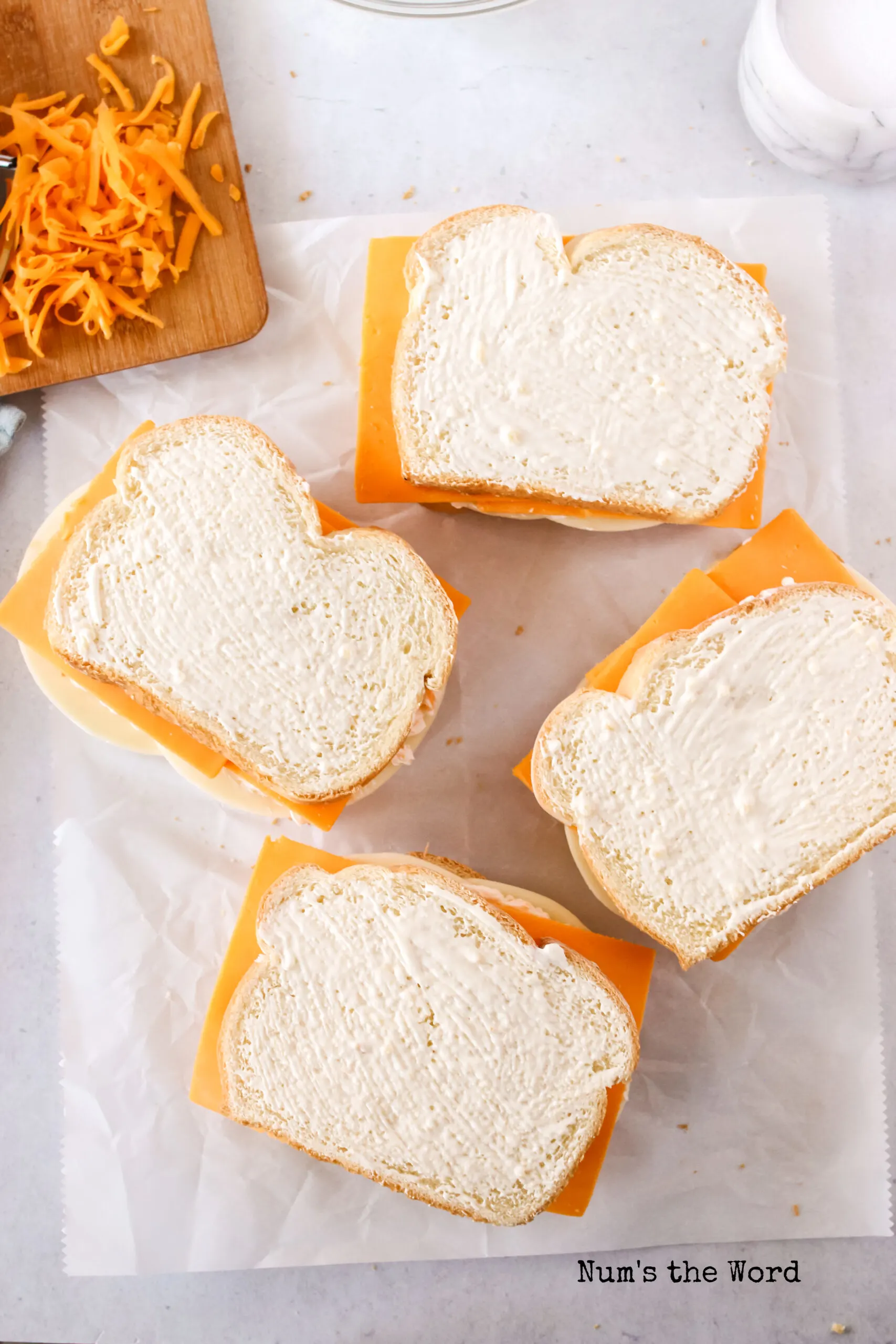 How to make grilled cheese?
Once you have your ingredients for this delicious Disney Grilled Cheese Recipe, the rest is simple – pretty much just a matter of assembling and throwing on a hot pan for a few minutes.
Let's get a brief idea of what you're in for in terms of prep:
Blend

cream cheese spread ingredients.

Combine

garlic spread ingredients.

Layer

cheeses and spread on the bread slices.

Brush

both outer sides with garlic spread.

Grill

both sides on preheated griddle or skillet.

Enjoy

!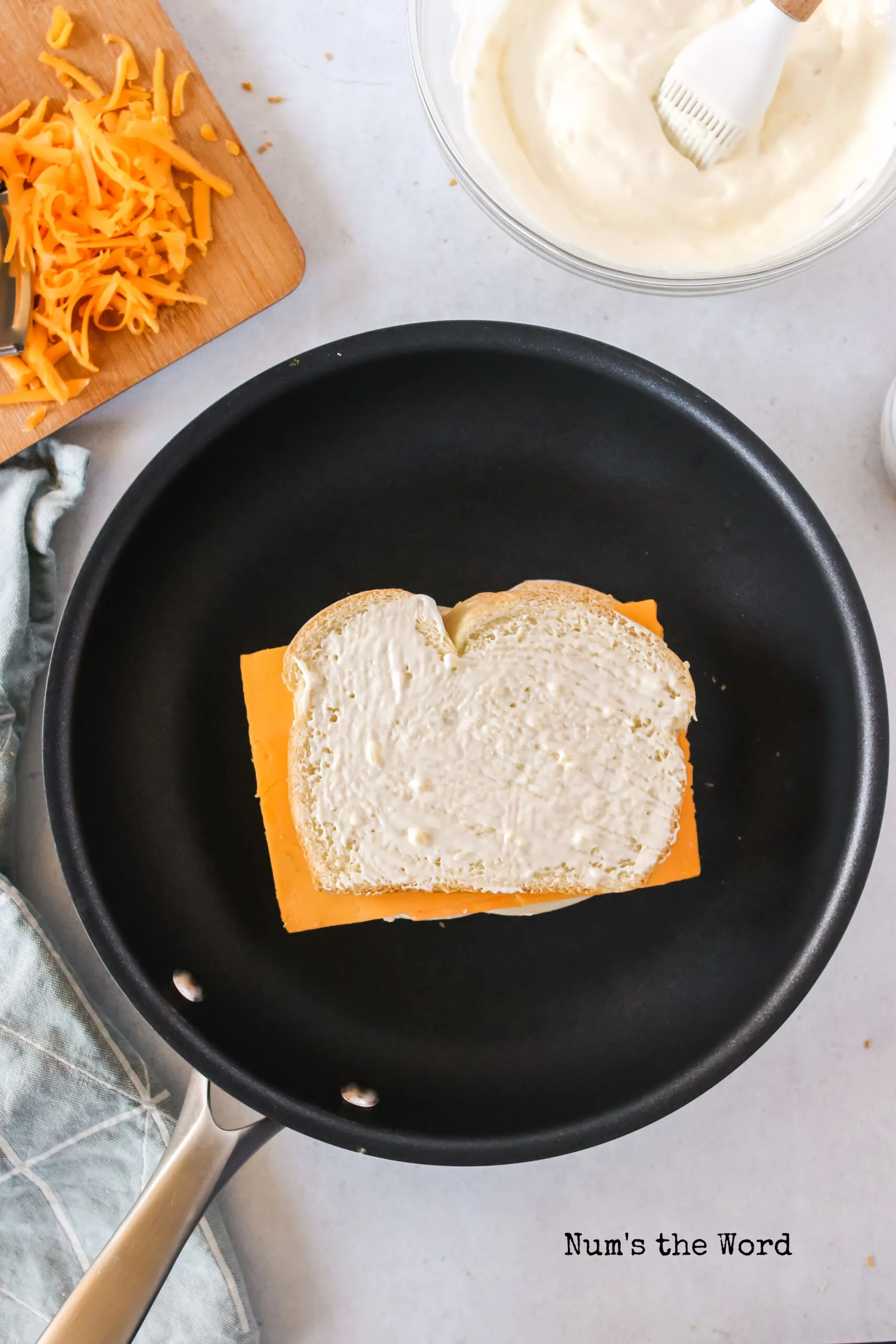 What kind of cheese for grilled cheese?
As mentioned above, there can be differing opinions on this subject.
While I absolutely love this recipe (not to mention the Disney World Nostalgia I feel with every bite), there are a lot of different cheeses that also make for delicious grilled cheese sandwiches.
Some of my favorite examples are:
Gruyere, smoked gouda, and muenster are some of my other favorites for grilled cheese sandwiches.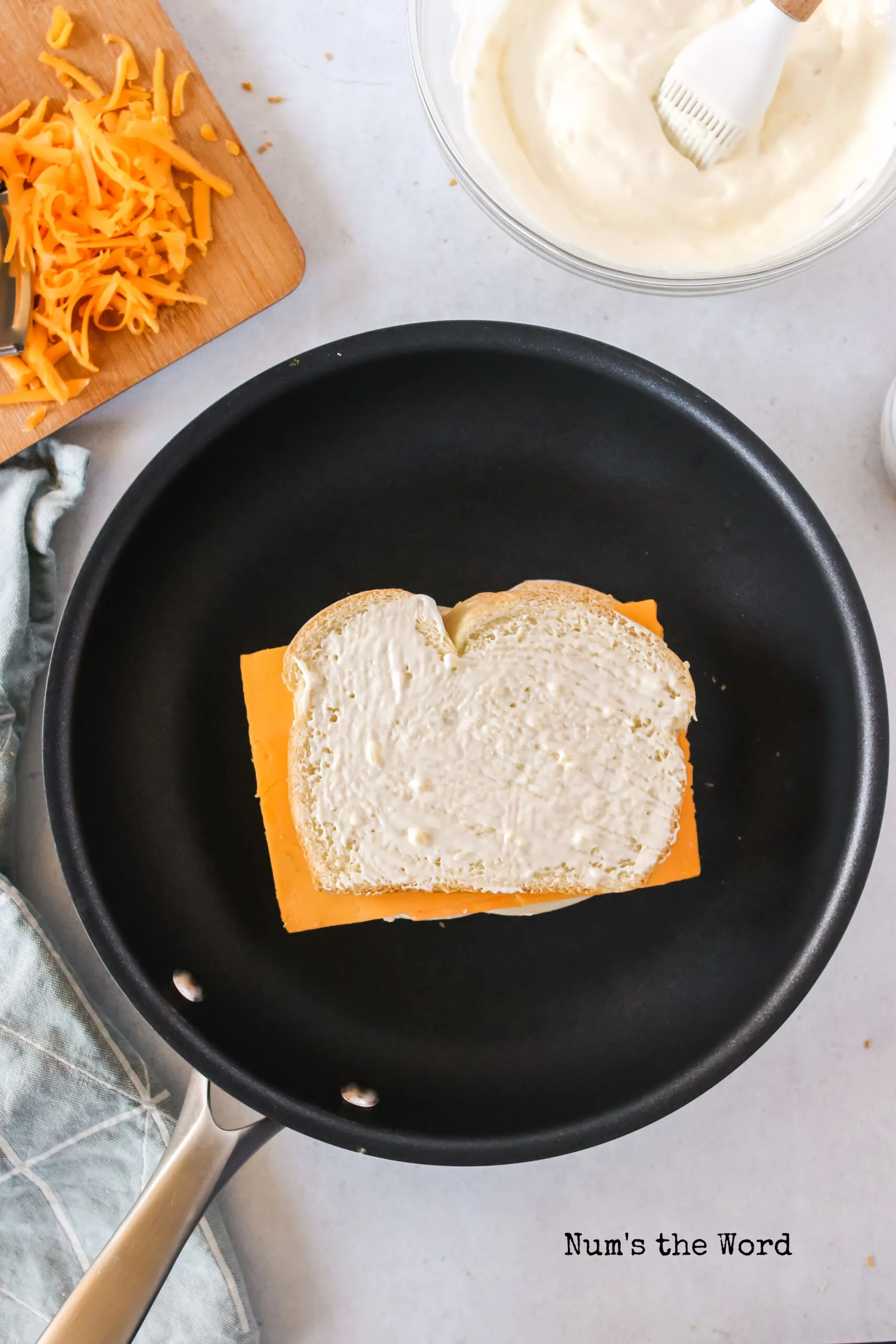 What goes with grilled cheese?
Perhaps my ultimate favorite pairing for grilled cheese is tomato soup. Fresh fruit and veggies are also a great combo.
Fries, salad – just about anything can make a delicious combination. Here are some of our favorite ideas from Num's the Word: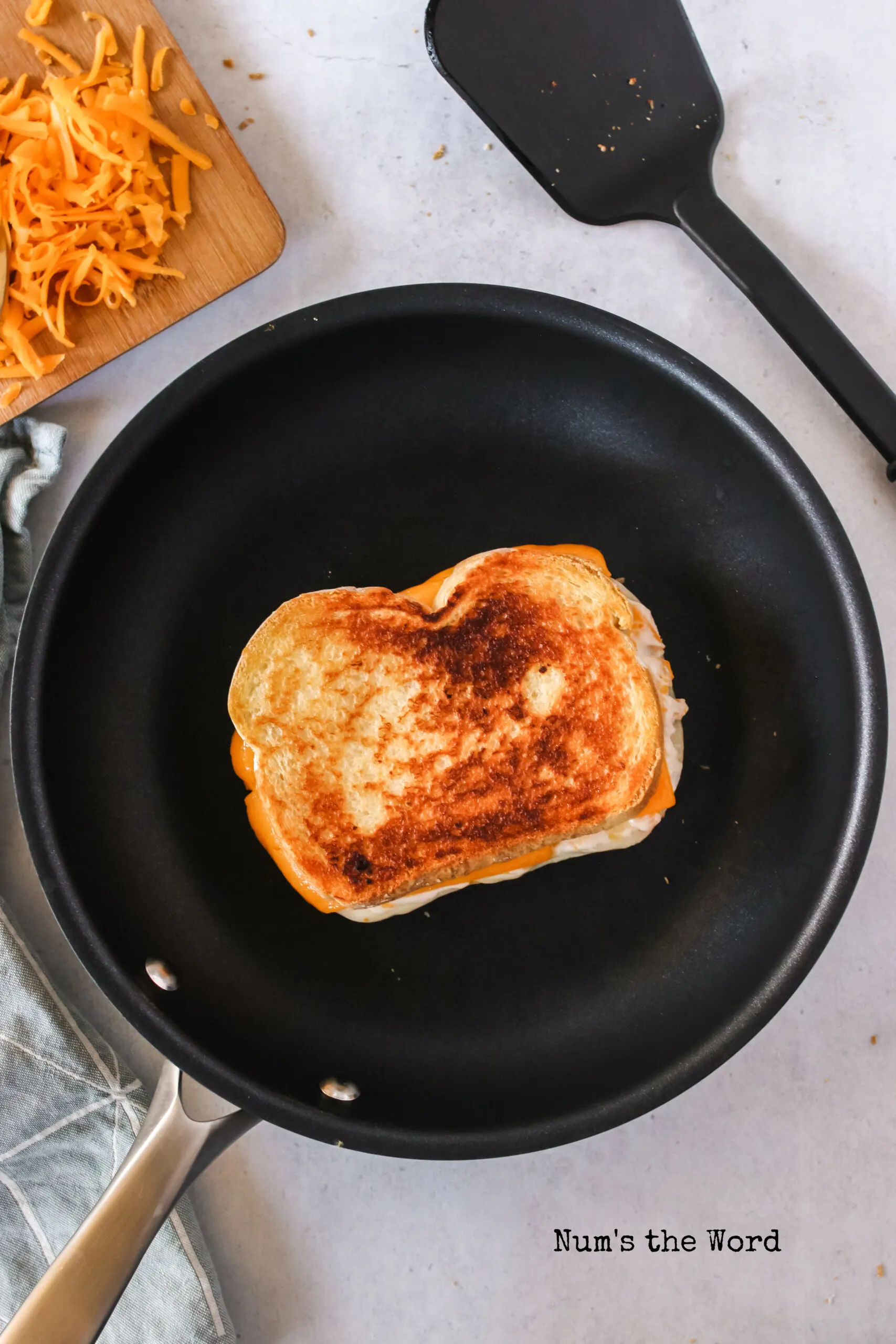 Is grilled cheese healthy?
Nope! But it's tasty and a great, savory treat to enjoy occasionally! It may not be something you should eat on the daily, but it's definitely delicious and can easily be paired with other, healthier sides or dishes.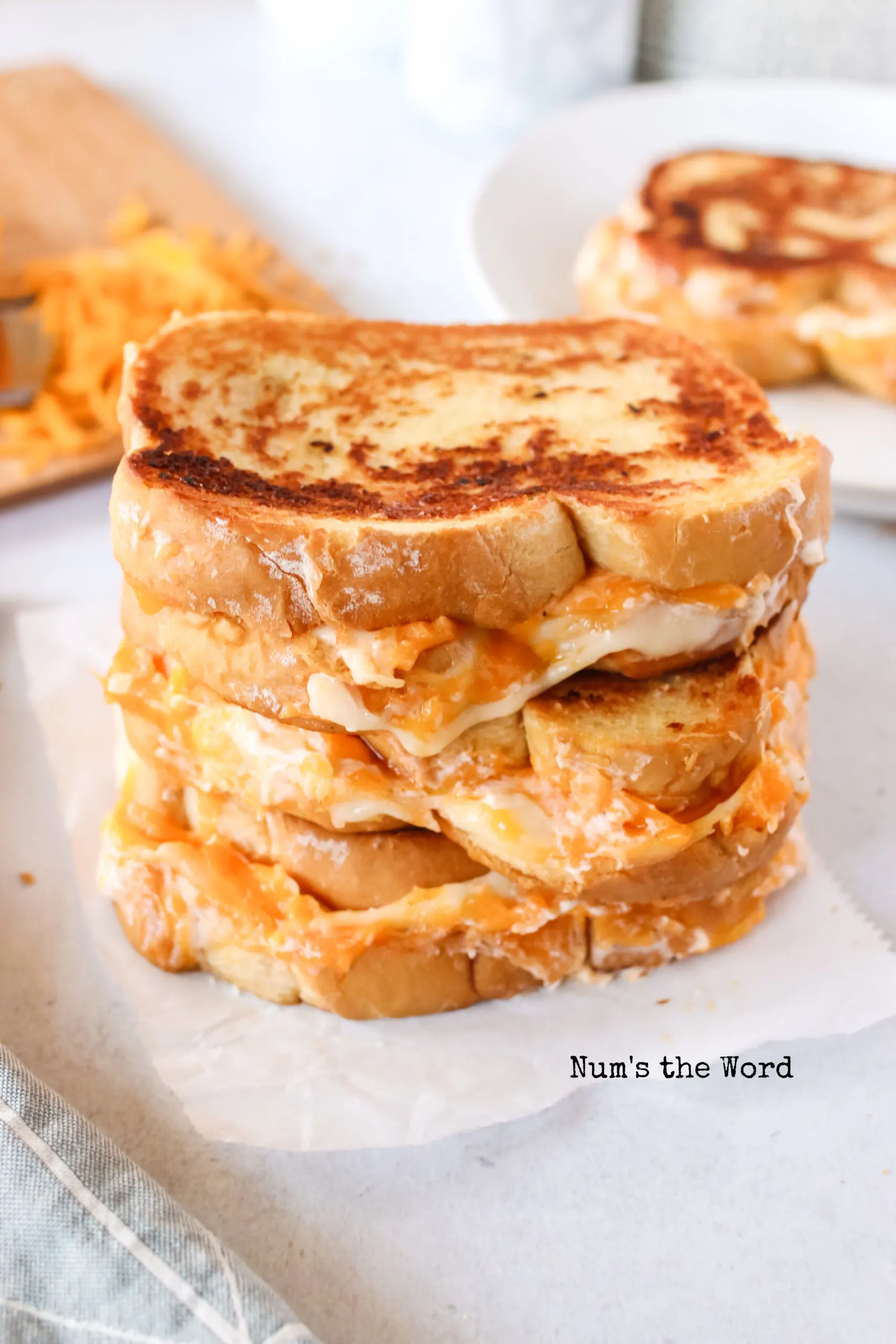 Is grilled cheese a breakfast food?
In my opinion, any food can be a breakfast food … which is why you'll find me eating leftover dessert, lasagna, soup – just about anything – for breakfast.
Grilled cheese? Definitely! Serve it up with some eggs and bacon, a bit of fresh fruit and sausage, or all by its delicious lonesome. What's not to love?!
In fact, breakfast grilled cheese is kind of a thing. Picture a breakfast sandwich, but with the eggs on the side! Or on top. Or in the middle.
With or without bacon or sausage or ham or whatever suits your fancy. The possibilities are endless, so don't feel like you can only eat Disney grilled cheese for lunch or dinner. Any time can be grilled cheese time.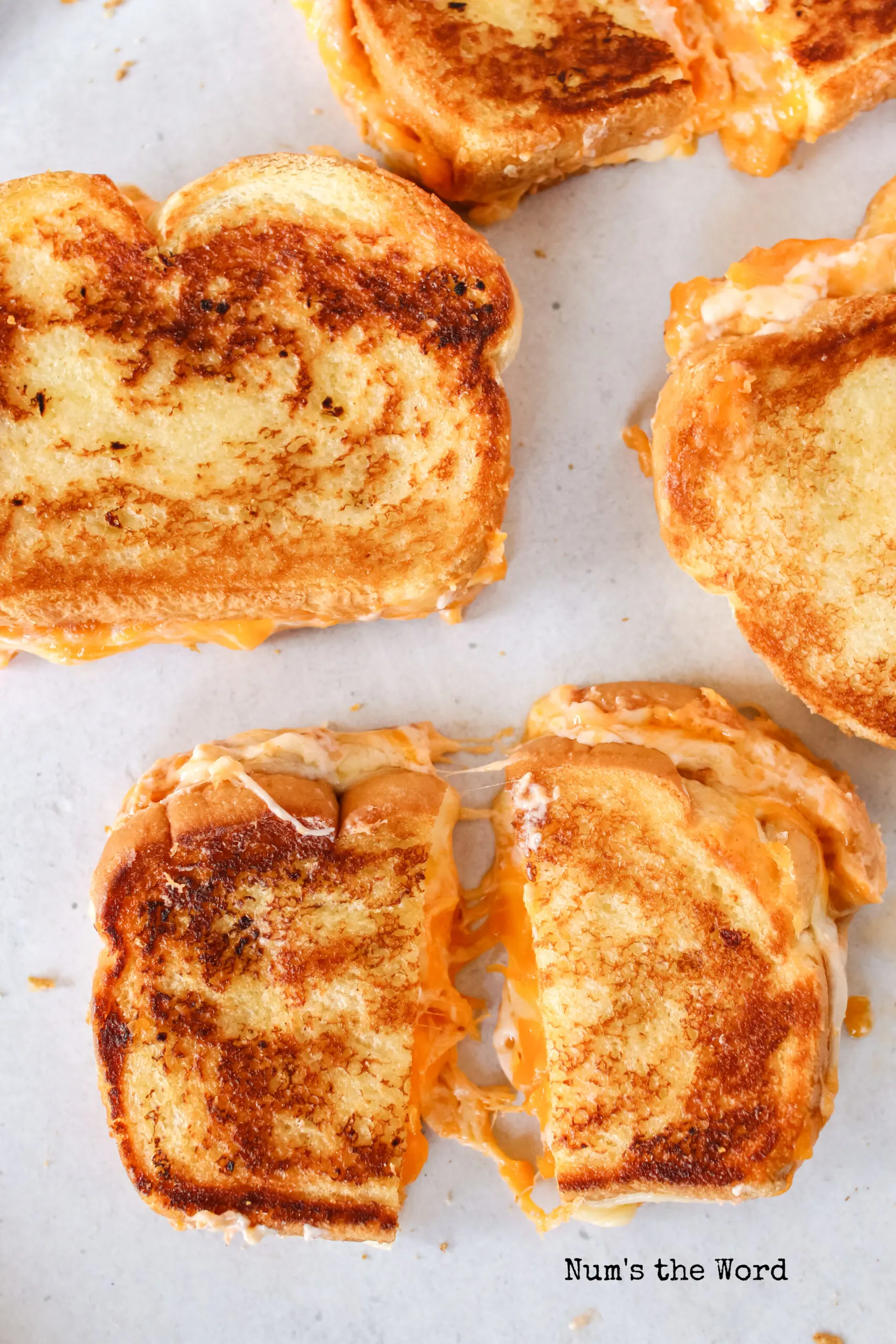 Whether it's breakfast, lunch, or dinner; whether you've had it before or are dying to try – Disney Grilled Cheese is the recipe for you! You really haven't had grilled cheese until you've had this recipe. Enjoy!
Yield: 4 Sandwiches
Disney's Grilled Cheese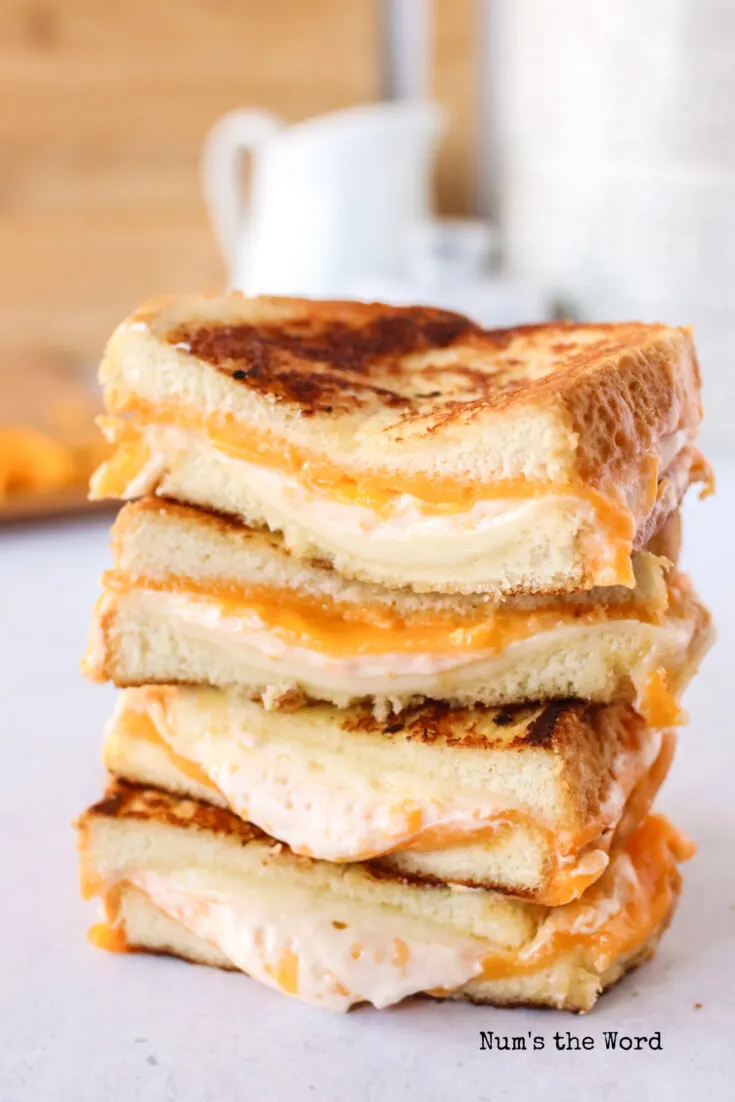 Disney Grilled Cheese is a delicious twist on a simple classic that has become a fan favorite among Disney World guests.
Ingredients
4 ounces cream cheese, room temperature
1/2 cup shredded cheddar cheese
2 Tablespoons heavy whipping cream
1/4 teaspoon coarse salt
1 cup mayonnaise
1 1/2 teaspoons minced garlic
1/2 teaspoon coarse sea salt
8 slices artisan bread
8 cheddar cheese slices
8 provolone slices
Instructions
In a small bowl combine cream cheese, shredded cheddar cheese, heavy whipping cream, salt, mayonnaise, garlic and sea salt. Set aside.
Lay out artisan bread slices on a large cutting board.
Place two slices of cheddar on 4 of the bread slices.
Place two slices of provolone on the remaining 4 bread slices.
Equally spoon and spread cream cheese mixture on slices with provolone cheese.
Press Cheddar side on top of provolone slices
Heat skillet over medium heat until hot.
Brush both sides of the sandwich with garlic spread.
Grill sandwiches for 2 minutes on each side or until cheese is melted and bread is golden brown.
Nutrition Information:
Yield:
4
Serving Size:
1
Amount Per Serving:
Calories:

1145
Total Fat:

94g
Saturated Fat:

37g
Trans Fat:

1g
Unsaturated Fat:

51g
Cholesterol:

168mg
Sodium:

2090mg
Carbohydrates:

36g
Fiber:

2g
Sugar:

6g
Protein:

38g