This no boil method of Slow Cooker Mashed Potatoes will quickly convert you to the best mashed potato recipe EVER. 100% cooked, blended and flavored in the crock pot leaving your kitchen clean and fewer dishes to wash! Make this recipe in advance and freeze it for an even easier holiday meal!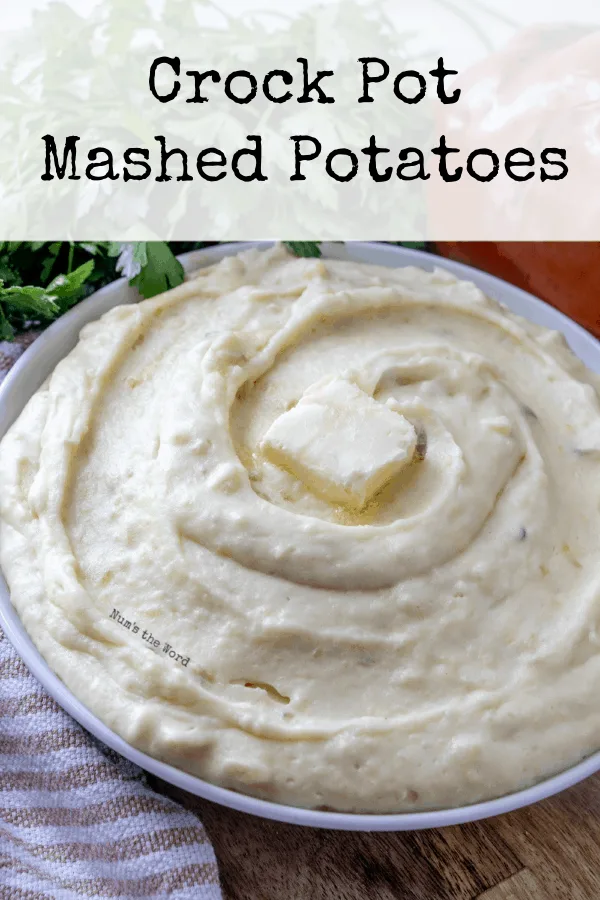 Being in charge of the Holiday meal is STRESSFUL! So make it less stressful by utilizing your crock pot! This recipe for crock pot mashed potatoes is so easy that you'll wonder why you didn't try it sooner!
We've been making these for years and love how easy they are and how there aren't 6 dirty bowls in the process of making them! Using your slow cooker to make mashed potatoes isn't just smart, it also means you're guaranteed hot mashed potatoes when it comes time to eat!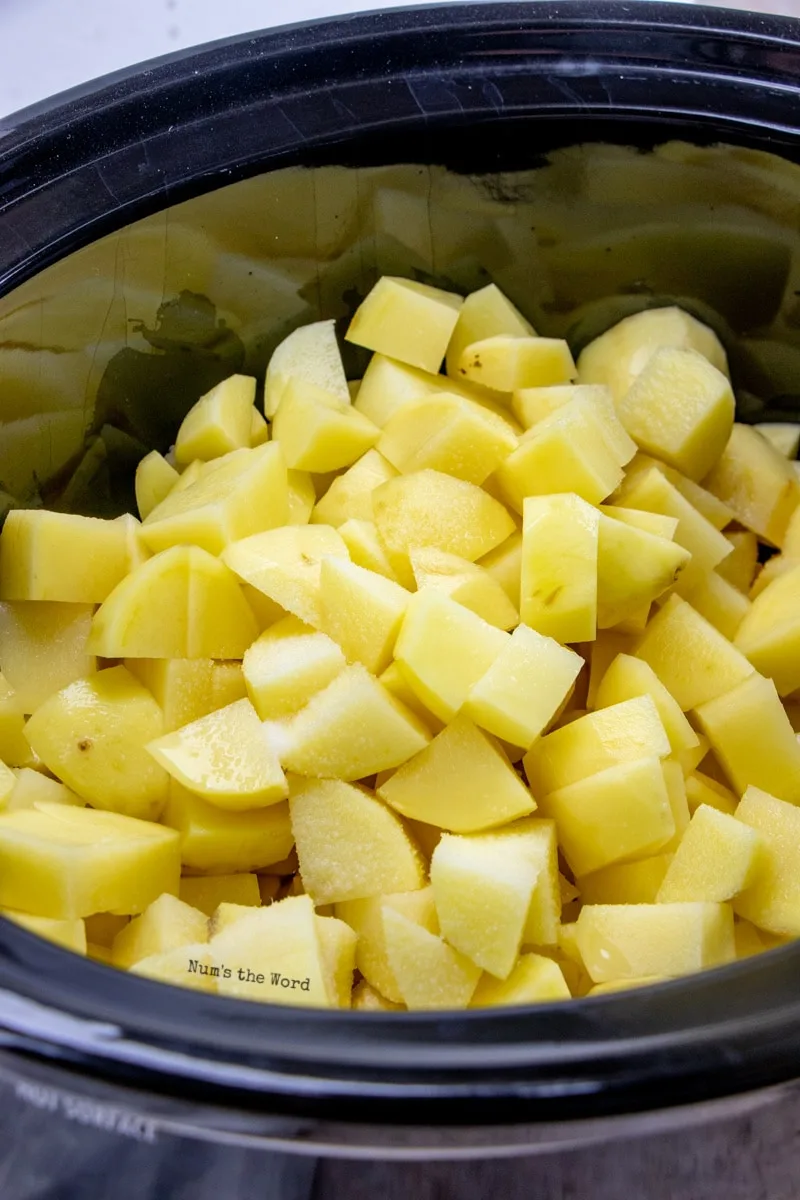 What are the best potatoes for mashed potatoes?
When it comes to fluffy mashed potatoes, the kind of potato you choose really does make a difference. Each potato is not created equal and when cooked will give a different flavor as well as texture.
Russet Potatoes

– These are the traditional potato for baked potatoes and mashed potatoes. They have a high starch content and low water content and create fluffy potatoes.

Yukon Gold

– Similar to russet potatoes, Yukon Gold potatoes have a high starch content and low water content, making them fluffy. However unique to Yukon Gold, these potatoes have a buttery taste when cooked.

Red Potatoes

– These have a lower starch and higher water content meaning they don't make the best mashed potatoes. They do however make for great roasted potatoes or potato salad though! They tend to hold their shape better and offer a creamier texture.

White Potatoes

– Similar to Red Potatoes, white potatoes offer a creamier texture and also work well for a roasted potato dish or potato salad.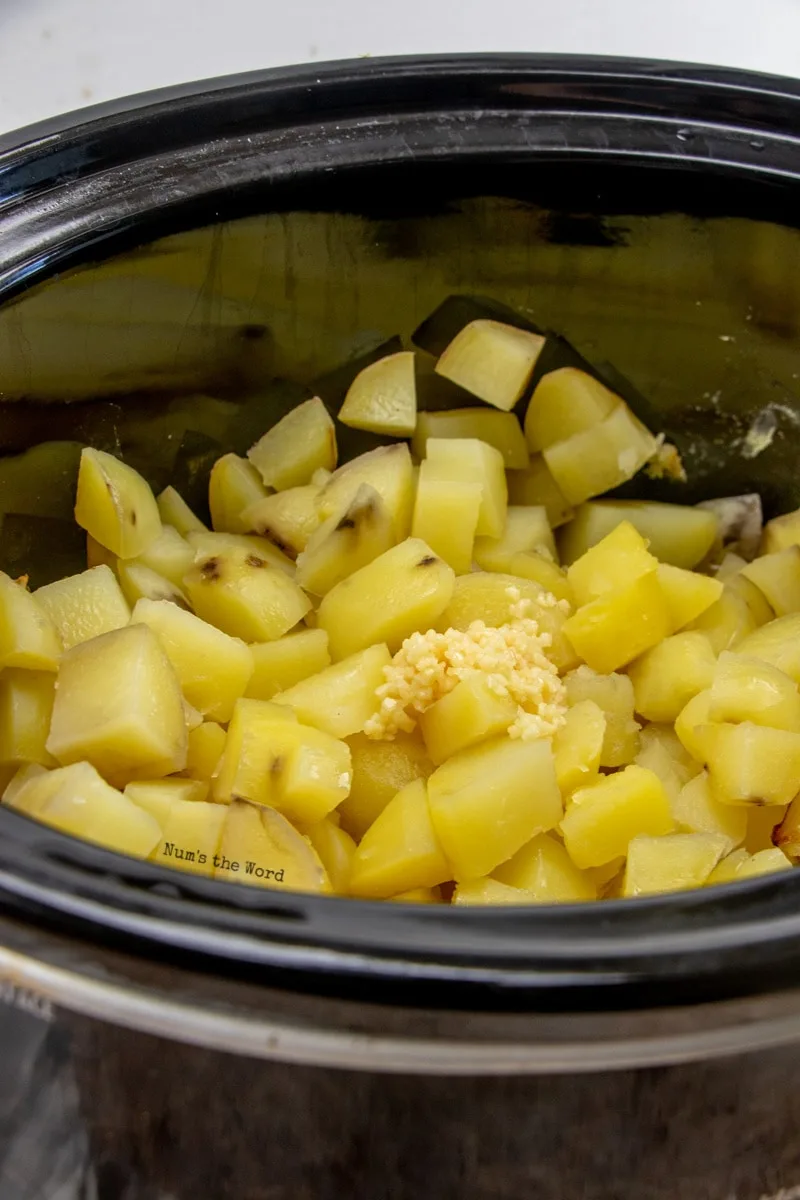 What ingredients are in these easy mashed potatoes?
Yukon Gold Potatoes

– When it comes to flavorful mashed potatoes, we've found Yukon Gold to produce the best flavor! They are naturally buttery tasting making them perfect for creamy mashed potatoes.

Chicken Broth

– you could use water, but why? Using chicken broth adds extra flavor that you wont want to miss out on.

Salt

– Whenever you make potatoes of any sort, salt is required. And so it is with this recipe too.

Minced Garlic

– You can use minced garlic or garlic paste, but either way, don't skimp. Garlic and mashed potatoes definitely go together!

Sour Cream

– So far it sounds like we're offering up all the basic ingredients you find in a traditional baked potato. And in a way we are! Sour cream makes these mashed potatoes extra creamy!

Cream Cheese

– This is our secret ingredients. It's the reason your guests will take seconds and ask for the recipe. They'll all wonder what ingredients you used to make these go from ordinary to extraordinary..

Butter

– No substitutes. 100% butter and use it all. Mashed potatoes aren't supposed to taste healthy. They are supposed to taste good – really really good.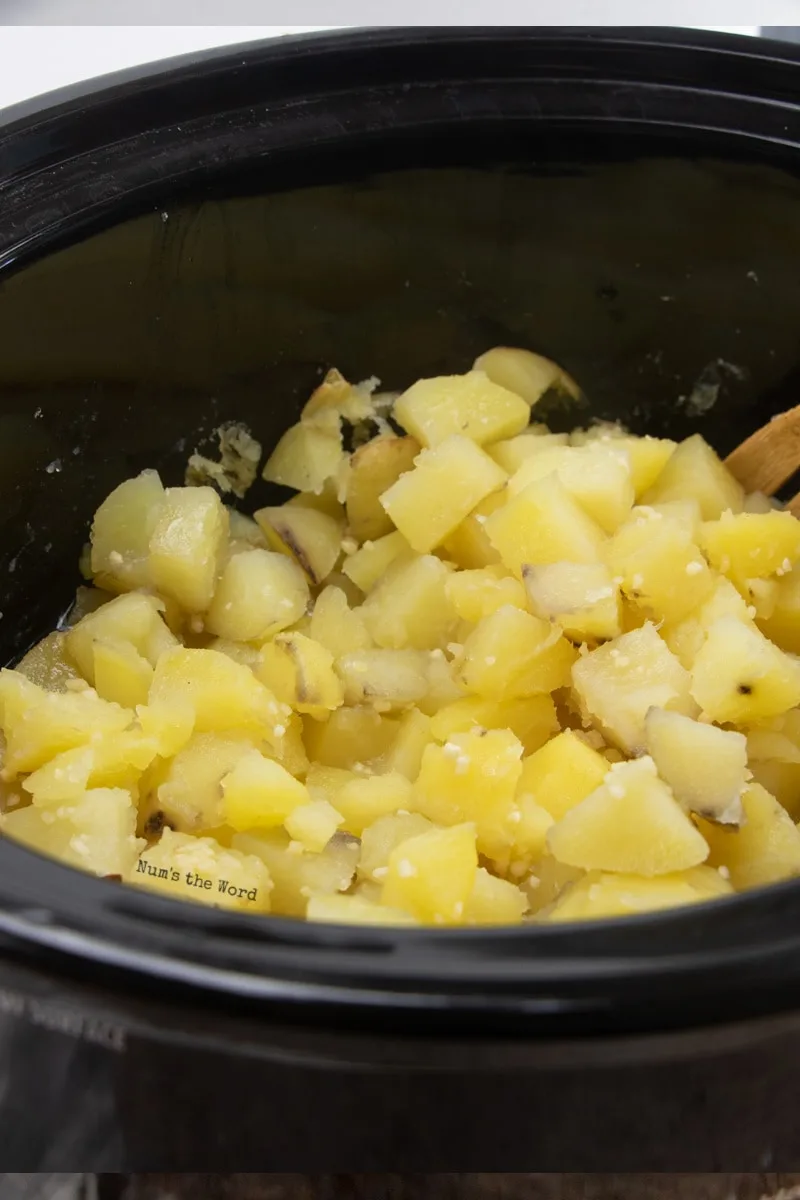 How to make homemade mashed potatoes in the crock pot?
If you're looking for the best mashed potatoes recipe, you've found it. It was my brother who first introduced me to cream cheese in mashed potatoes, and I've never looked back! It was the BEST suggestion! This recipe for crockpot mashed potatoes is the one you'll find on our table every Thanksgiving. Not only is it delicious, but it's made 100% in the crock pot.
In a 6 quart crock pot, add your diced potatoes, chicken broth and salt.

Place lid on slow cooker and cook on high for 3 hours or until potatoes can easily be pricked with a fork and are tender.

Turn crock pot off.

Using a hand held blender or potato masher (depending on how creamy and chunky you want them), blend/mash potatoes until desired creaminess. If you are worried about using a blender in your crock pot, remove potatoes to a bowl and blend, then put back in the crock pot.

Add sour cream and cream cheese to hot mashed potatoes and blend/mash again.

Serve immediately with butter on top OR leave in the crockpot on warm until ready to serve.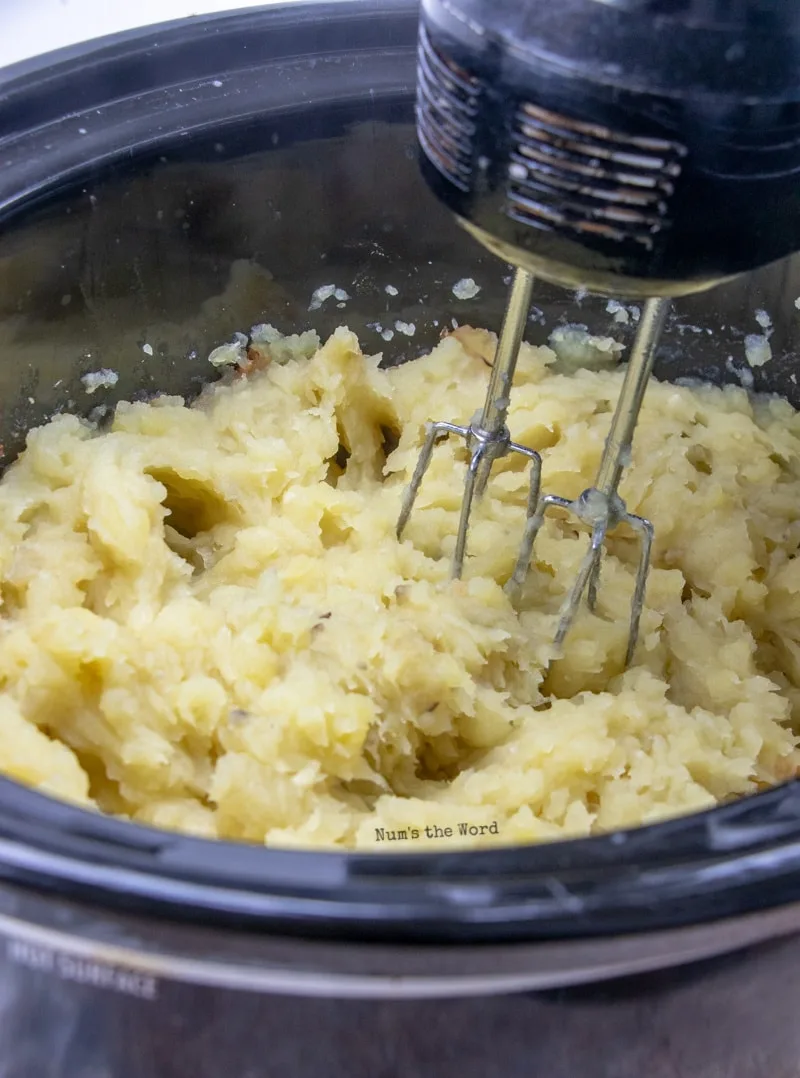 Can you make ahead mashed potatoes in the crock pot and freeze them?
Yes you can!! If you're overwhelmed about cooking Thanksgiving dinner, then don't stress ! Make these potatoes TODAY and freeze them for Thanksgiving day! Then watch all your stress melt away as you serve the EASIEST and CREAMIEST mashed potatoes at your Thanksgiving table! No one has to know you made them in advance!
Make mashed potatoes as directed. Include the broth, sour cream and cream cheese! Don't cut corners.

Now it's time to freeze. Let potatoes cool to room temperature. This will require you to stir them every once in a while or place them in the fridge to cool down.

Once cool, transfer mashed potatoes (after you've helped yourself to a tasty bowl of them) to a freezer bag.

Write the date you made them on the bag and freeze!

When ready to use them again, thaw in fridge for 24 hours.

To reheat mashed potatoes, place thawed potatoes (or mostly thawed potatoes) in your crock pot. Place lid on crock pot.

Cook on low 2 – 4 hours, then serve or turn slow cooker to warm until ready to serve.
PRO TIP: If your mashed potatoes with cream cheese seem a little dry when reheating from being frozen, add ½ cup of milk to your mixture. If still dry, add an additional ¼ cup until the right creaminess!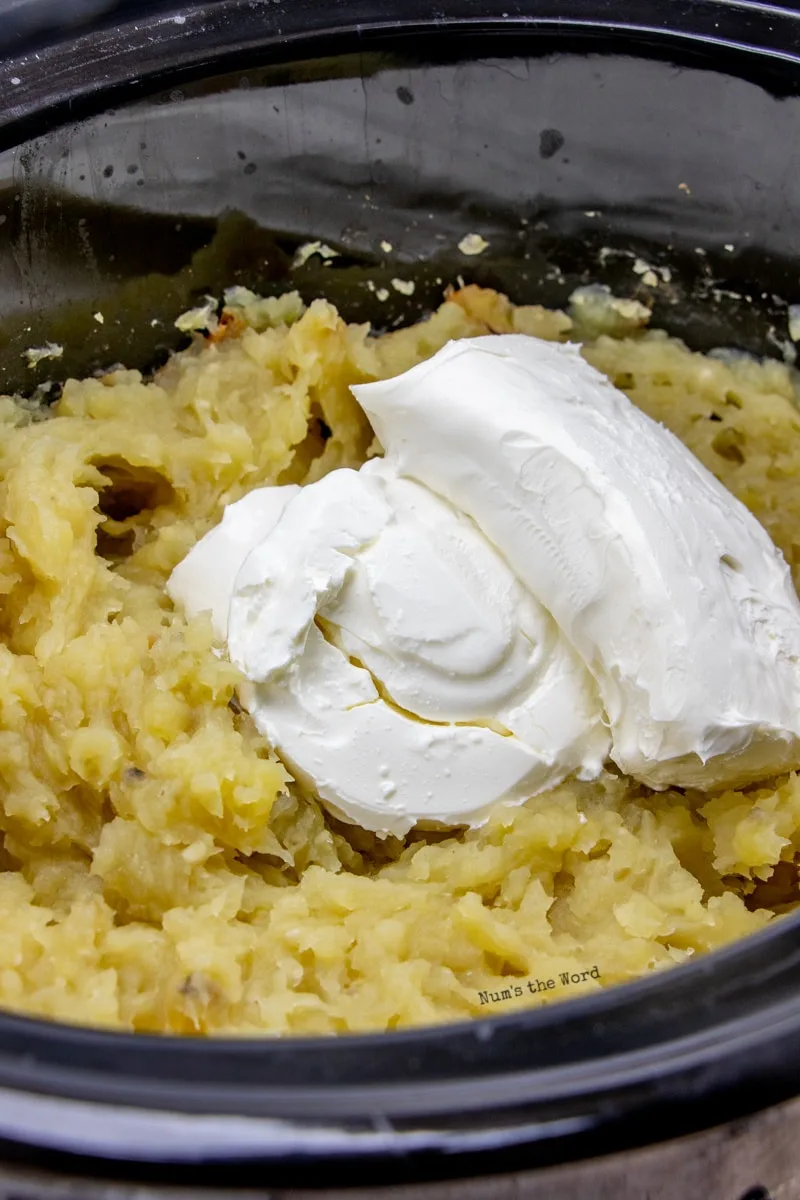 Do you need to peel potatoes for cooking in the slow cooker?
Traditionally homemade mashed potatoes are made with peeled potatoes. However it's not a set in stone requirement. However, potato skins are a bit tougher and don't tend to mash well. So traditionally people peel their potatoes before cooking them.
Unless you LOVE pieces of potato skin in your mashed potatoes, whip out your veggie peeler and get to work!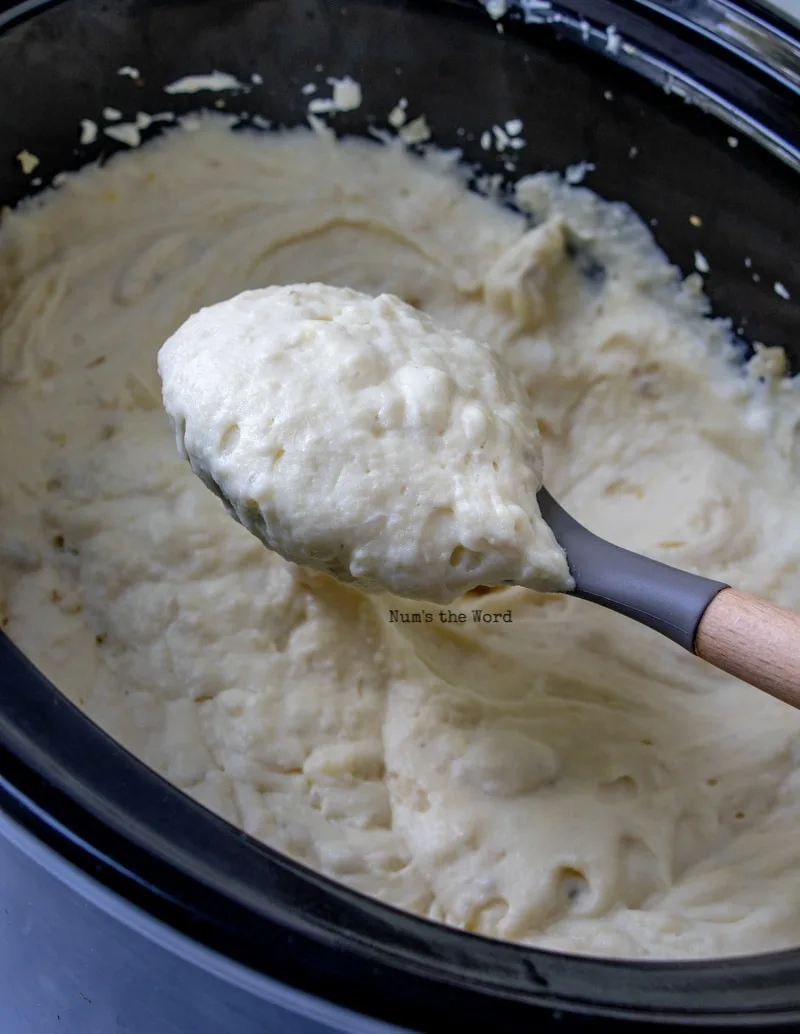 Can dogs eat mashed potatoes?
Yes. In all my research it appears that dogs can eat mashed potatoes. However they cannot eat raw potatoes. Mashed potatoes with lots of butter and cream are definitely not the healthiest for dogs and should be given in moderation if you do choose to let your dog lick your plate clean.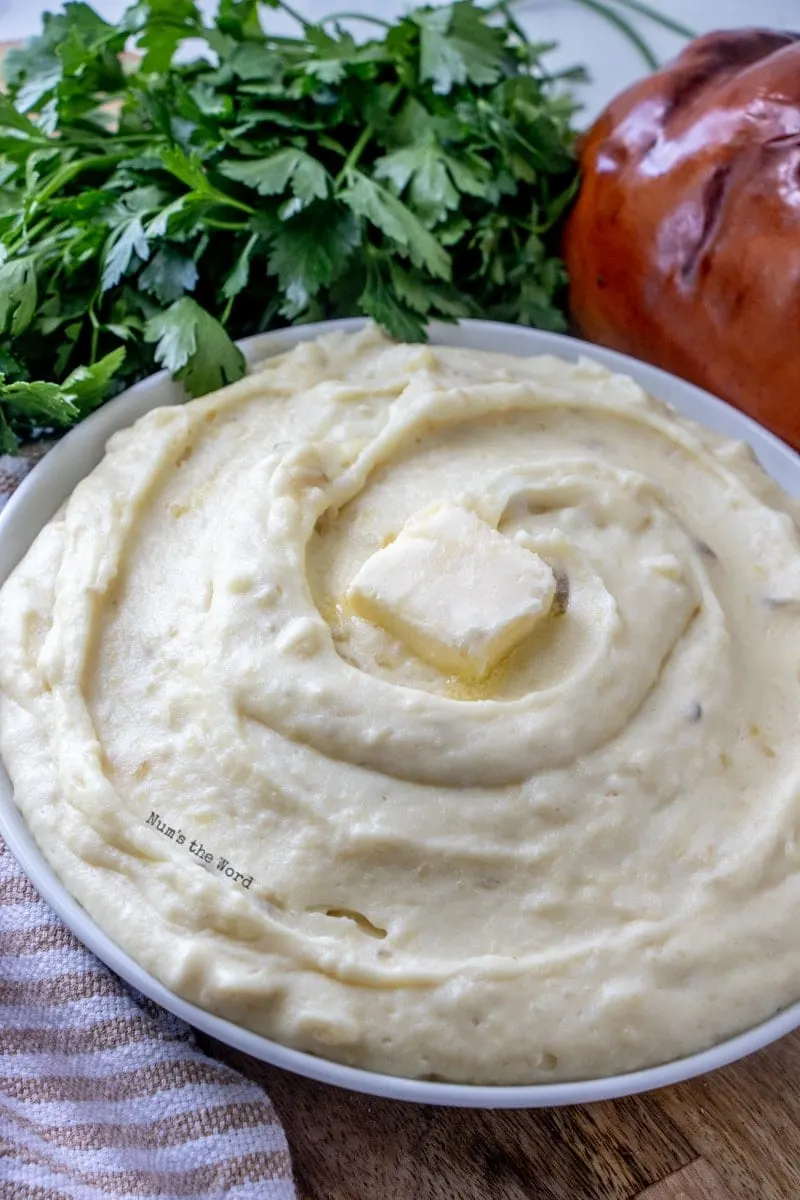 How many mashed potatoes should you make per person?
That all depends. Do you want leftover mashed potatoes? If the answer is YES then you'll need to take that into account. Trust me, my Potato Cinnamon Rolls and Leftover Mashed Potato Cakes are SOOO good!
Traditionally you want to make ½ pound mashed potatoes per person. So a 5 pound bag of potatoes will make mashed potatoes for 10 people. Or 6 if you want leftovers!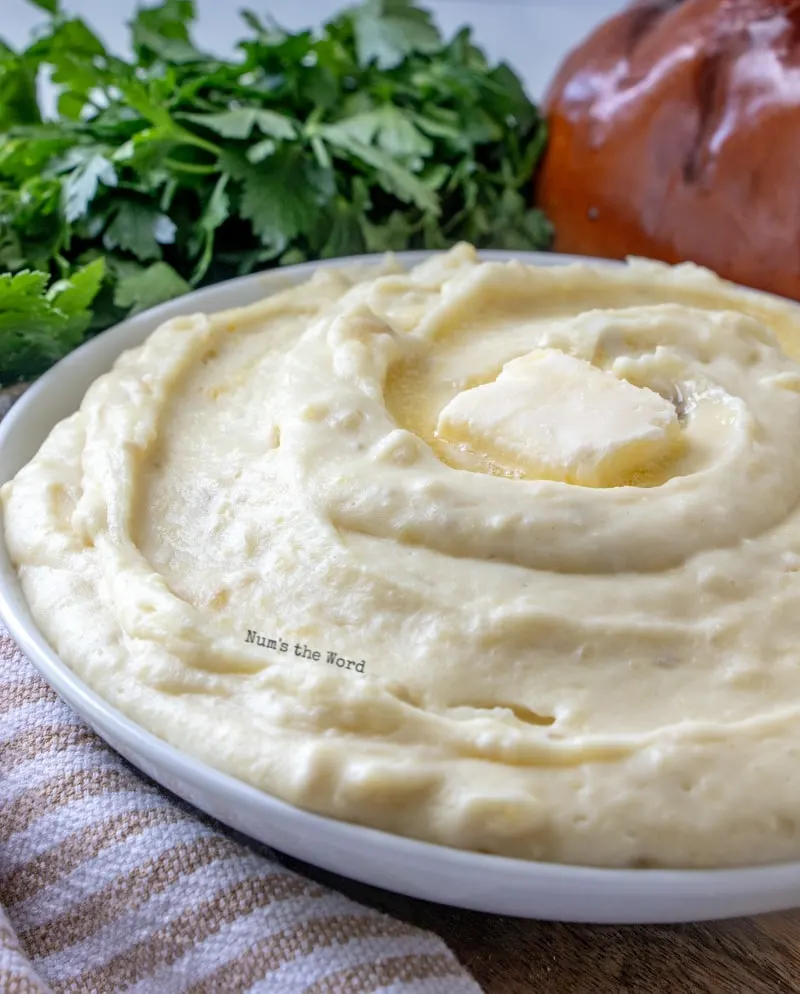 Leftover mashed potato recipes you MUST try:
Other Thanksgiving recipes you'll love:
Keep your Thanksgiving and Christmas dinner stress free by making these one pot slow cooker mashed potatoes with sour cream recipe! You'll love not having a messy kitchen and your guests will love having hot mashed potatoes served with their meal!
Yield: 12 Servings
Crock Pot Mashed Potatoes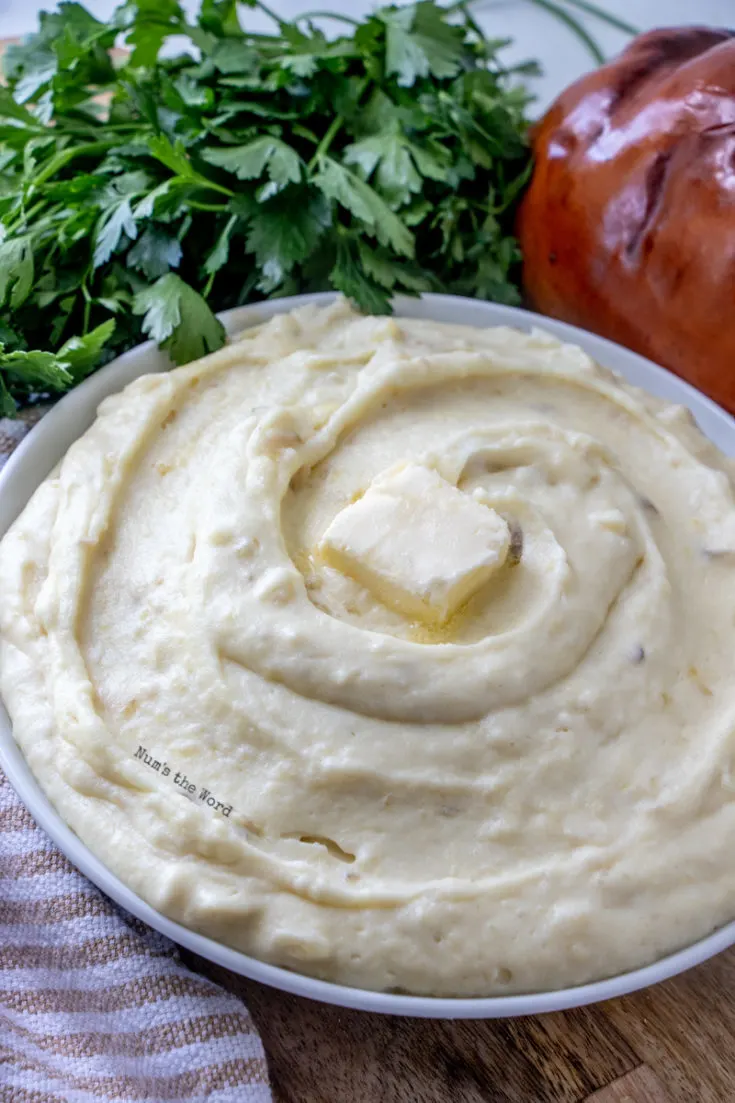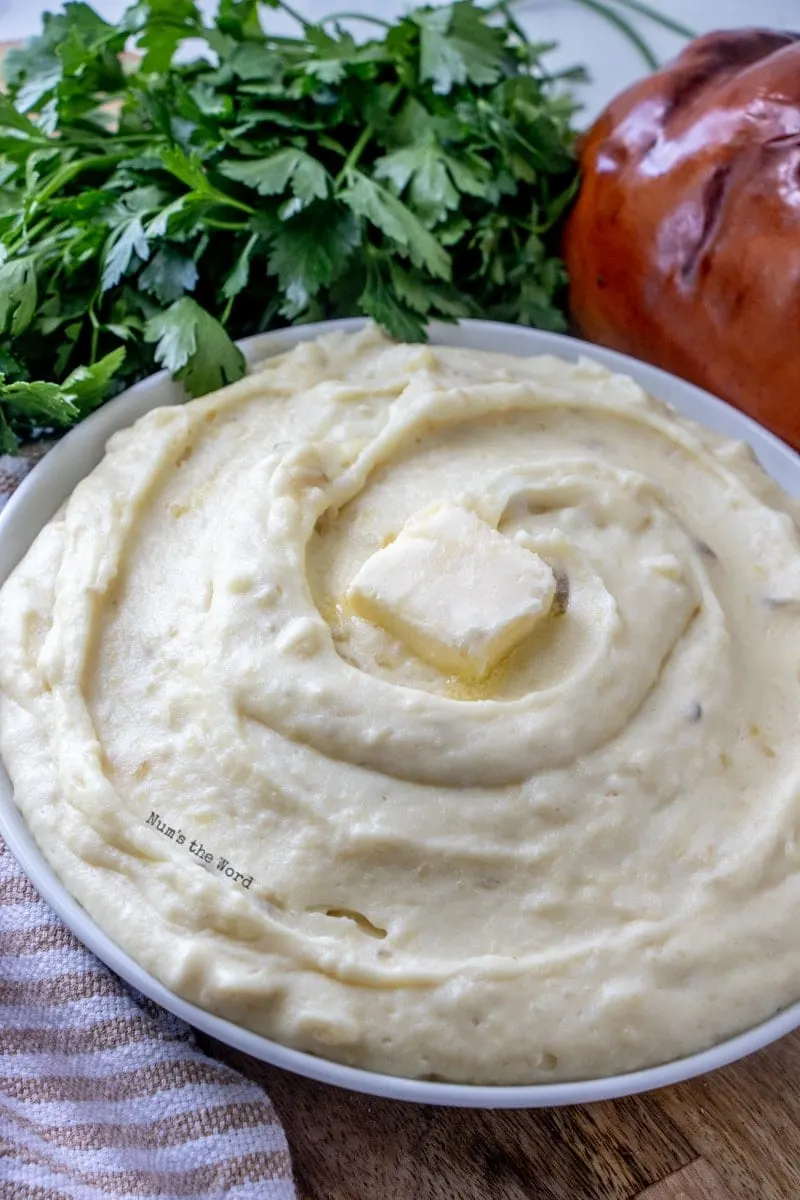 These Crockpot Mashed Potatoes make cooking for a crowd easy! From start to finish these potatoes are cooked, mashed and flavored in the crock pot! Perfect for Thanksgiving, Christmas or Easter dinner!
Additional Time
15 minutes
Total Time
4 hours
30 minutes
Ingredients
5 pounds Yukon gold or red potatoes, cut into chunks (skins on or off per your taste preference)
1 (14 ounce) cans of chicken broth
1 teaspoon Salt
1 Tablespoon minced garlic
1 (8 ounce) container sour cream
1 (8 ounce) package cream cheese
1/2 cup butter
Instructions
In a 6 quart (or larger) crock pot, add diced potatoes, chicken broth and salt. Cook on high for 3 hours.
Add garlic and cook until potatoes are easily mashed with a fork. The timing will depend on how thick you cut your potatoes. For me it generally takes another hour of cooking.
Once potatoes are fork tender, turn crock pot off.
Using a hand held blender or potato masher, blend/mash potatoes in crock pot until desired creaminess.
Add in sour cream and cream cheese and blend/mash again.
Serve immediately with 1/2 cup of butter on top.or turn crock pot to warm and let sit in crock pot until ready to use.
Notes
To make these mashed potatoes healthier, you can always use light sour cream, light cream cheese and skip the butter.
Nutrition Information:
Yield:
10
Serving Size:
1
Amount Per Serving:
Calories:

334
Total Fat:

11g
Saturated Fat:

7g
Trans Fat:

0g
Unsaturated Fat:

3g
Cholesterol:

29mg
Sodium:

413mg
Carbohydrates:

54g
Fiber:

6g
Sugar:

3g
Protein:

7g
Nutritional Information is estimated, not exact.
Originally Posted: November 5, 2014
Photos & Text Updated: November 11, 2019