Cranberry Fluff is the perfect side dish for Thanksgiving, Christmas or any great meal. A simple, easy and kid friendly recipe that has been around for generations!
This post contains affiliate links.  If you click on an affiliate link and make a purchase, I will make a small percentage on your purchase, which helps keep this website running! Thank you!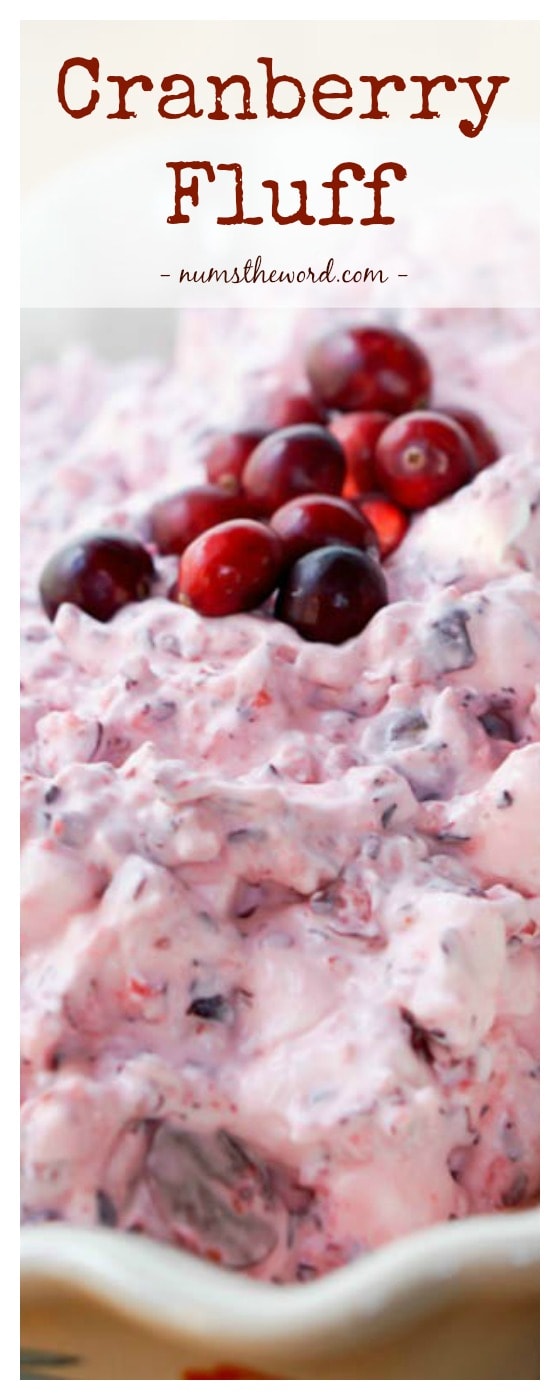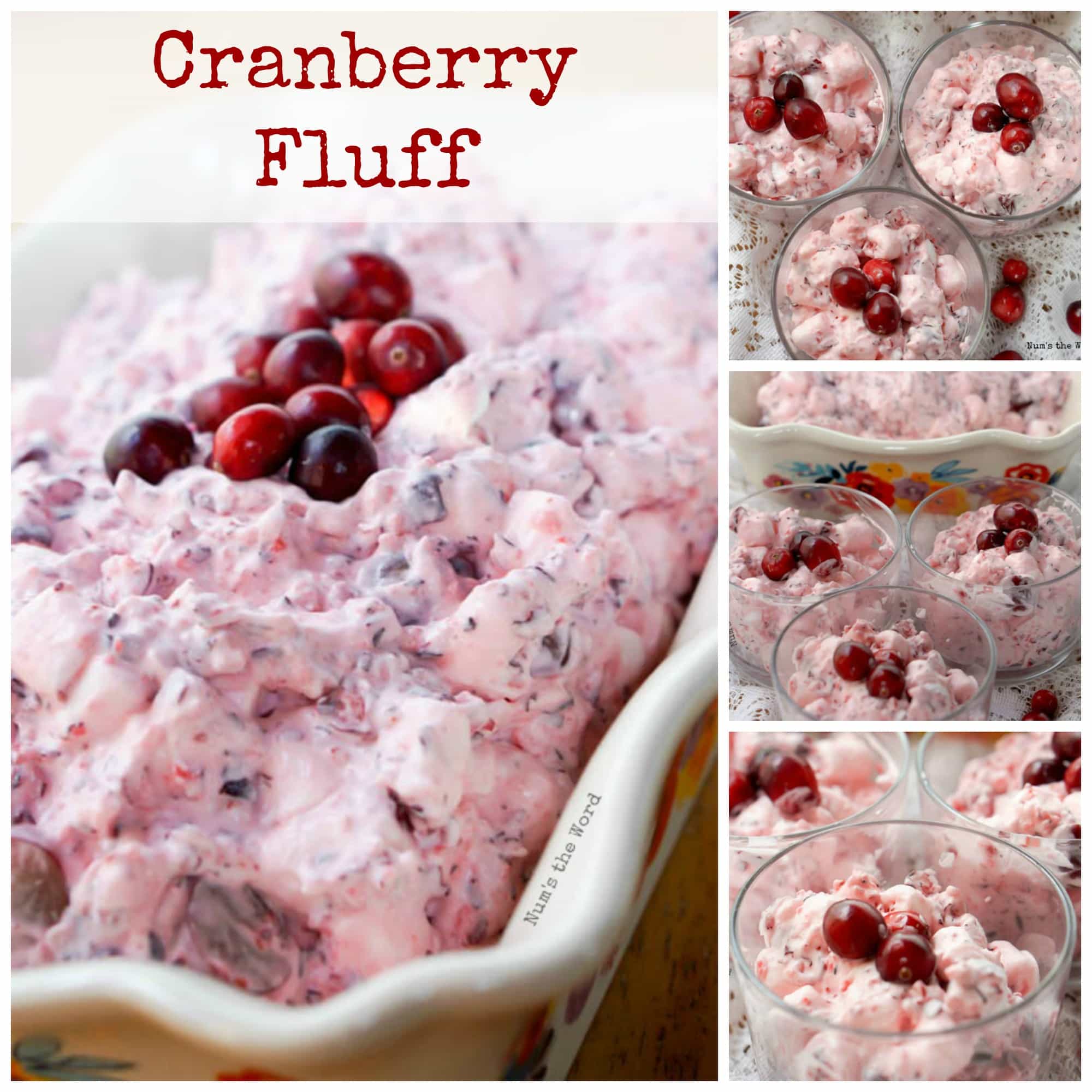 It is FRESH cranberry season!!
Many years ago, I was an anti cranberry person.
I've never been a fan of the canned cranberry sauce, and my mom never cooked with fresh cranberries that I could ever recall.
So my cranberry exposure was low.
Therefore, I assumed I hated all things cranberry.
Well, until I started up this little website of mine and started recipe experimenting with cranberries.
And now, well I'm a huge fan of them!
I don't have a lot of cranberry recipes on here, but the few I do, I REALLY like.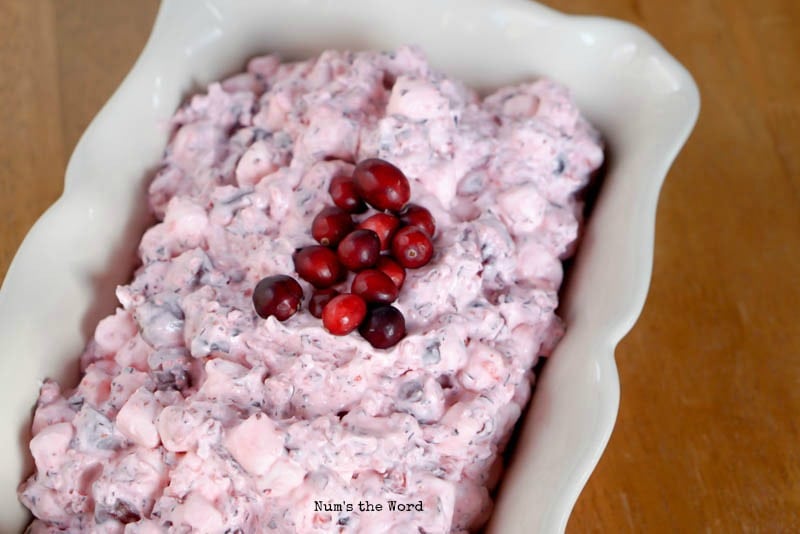 Some of my favorites are Orange Cranberry Bread & Raspberry Cranberry Sauce.
Both are so good that they are made yearly when fresh cranberries are in season!
And now I can add this Cranberry Fluff to the mix!
What I love about this Cranberry Fluff is that it uses fresh ingredients and isn't overly sweet.
It's a simple side dish that anyone can make – new or expert chef and goes great with not only Thanksgiving dinner, but Christmas dinner and any meal in between!
I decided to whip this up when some friends of our invited us over for dinner one night.
We offered to bring a side dish with the understanding that it would be a new recipe I'd be trying out on them.
This is 100% normal for me.
Whenever we go to someones house, and I can bring something, it's always some new recipe I've been tinkering with.
The same concept goes for anyone who comes to dinner at our place.
Generally, I make at least 1 new, never tried before item.
It's a simple way to get a good sampling of what people really think about a new recipe.
Sometimes it needs a tweak or two, but occasionally I get it right the first try.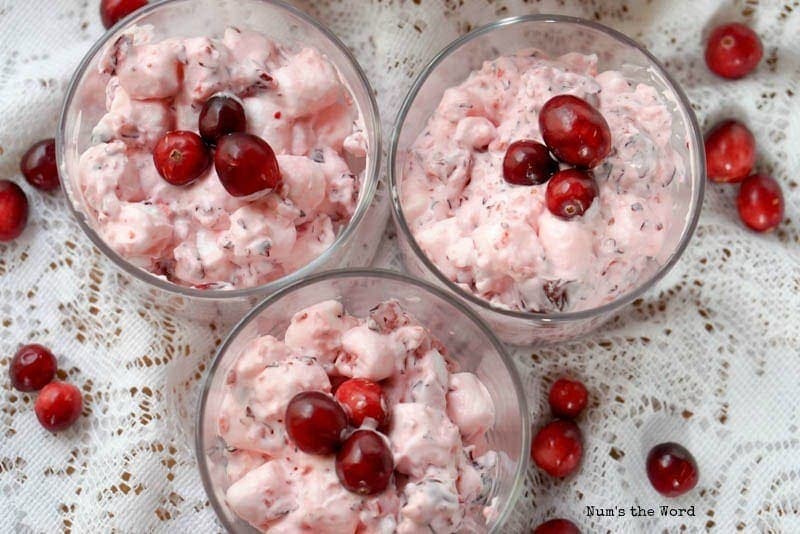 Our friends, agreed with us that this Cranberry Fluff was a delicious and simple side dish that would be welcomed at any meal.
Not only will it be on our Thanksgiving table this year, I'm going to whip up another batch tomorrow because I can't stop thinking about it!
Ingredients
1 (10 ounce) bag fresh cranberries
1 (10 ounce) bag mini marshmallows
1 cup red grapes, halved
1/2 cup white sugar
1 cups heavy whipping cream
Instructions
In a food processor, dice cranberries.
In a large bowl, combine cranberries, marshmallows.
------------------
Now there are two ways to do this Salad. The old fashioned overnight way, and the new same day way.
------------------
Old Fashioned way: Cover and place above mixture in the fridge overnight.
The next day, Add grapes to the cranberry mixture.
Blend up whipping cream with no sugar until stiff peaks form. Mix into cranberry mixture. Serve immediately or store in fridge, covered, until ready to serve.
------------------
If doing same day version: Add grapes to the cranberry mixture and mix.
Blend whipping cream and sugar until stiff peaks form and fold into cranberry mixture, until everything is well coated.
Chill for several hours until ready to serve. Mix before serving.
https://numstheword.com/cranberry-fluff/
Originally Posted: October 26, 2016
Updated: November 14, 2017
Other Cranberry Recipes You'll Love...