Leftover Turkey Casserole is the ultimate leftover Thanksgiving dish. It's a great way to use up what you already have on hand for a tasty, quick next day meal!
This flexible recipe not only repurposes your leftover turkey, but also the stuffing, gravy, and even some vegetables. The best part is, it feels like you're eating a completely different meal!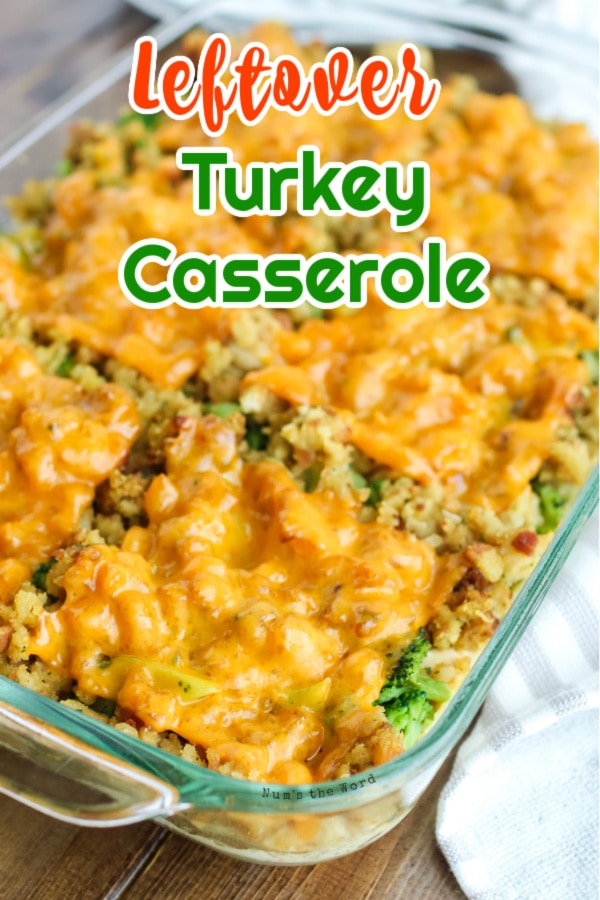 I don't know about you, but usually after Thanksgiving I end up with a fridge full of leftovers. Which is great! And sometimes a problem.
It's great because after working all day to prepare a giant, delicious Thanksgiving meal, I'm ready for a break from cooking. A long break. It's a problem because my family gets tired of plain leftovers eventually.
We eat our Thanksgiving meal at lunch time. We then eat Thanksgiving meal #2 at dinner time.
And by the time the next day rolls around, the deliciousness of Thanksgiving is looking less and less delicious. So what to do with all that leftover, delicious food? Leftover Turkey Casserole!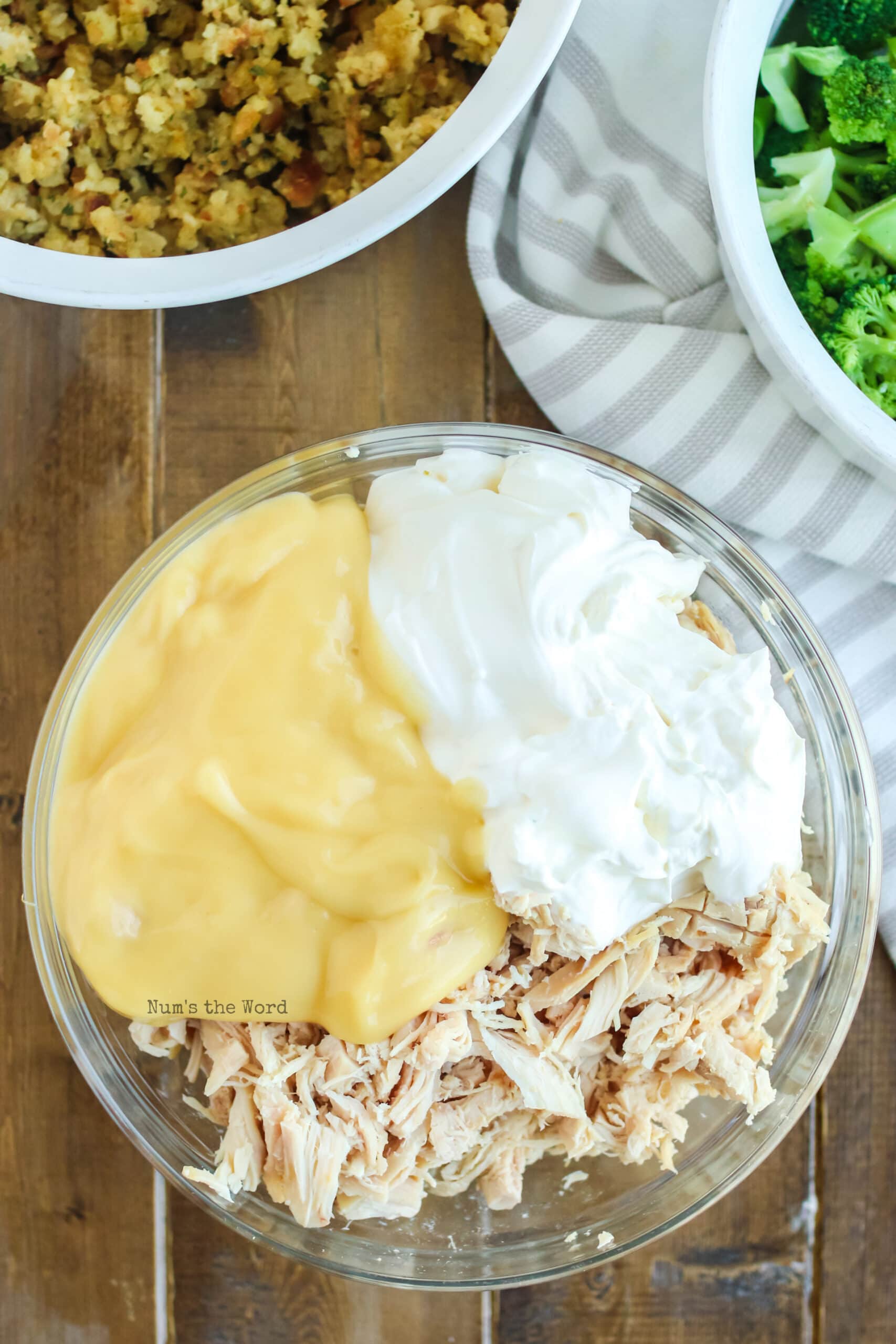 What Ingredients are in this Leftover Turkey Casserole?
The beauty of this recipe is you can make it with staple Thanksgiving leftovers and pantry/freezer items. For this recipe, you will need:
Cream of Chicken soup or leftover gravy – this is part of the creamy base for your casserole and will keep it from drying out while baking.
Sour cream or leftover gravy – again, this is part of the creamy casserole base. The awesome part is, you can just use leftover gravy if you have it! I often have far more gravy than I need after Thanksgiving dinner, so this is a great way to use it up!
Turkey (or rotisserie chicken) – diced or shredded works best.
Stuffing – don't go buy new stuffing or dressing, just use what you have! If you don't have any, then buy a box and use that!

Obviously your pre-made stuffing was delicious, no matter the flavor you picked, so use that to whip up this dish.

Fresh or frozen broccoli, cooked – for my husband's sake, I should probably put a disclaimer here: that broccoli can be optional. I prefer to have the broccoli with my turkey casserole recipe, but my husband, on the other hand, would prefer to not pick it out.
American Cheese – or your favorite cheese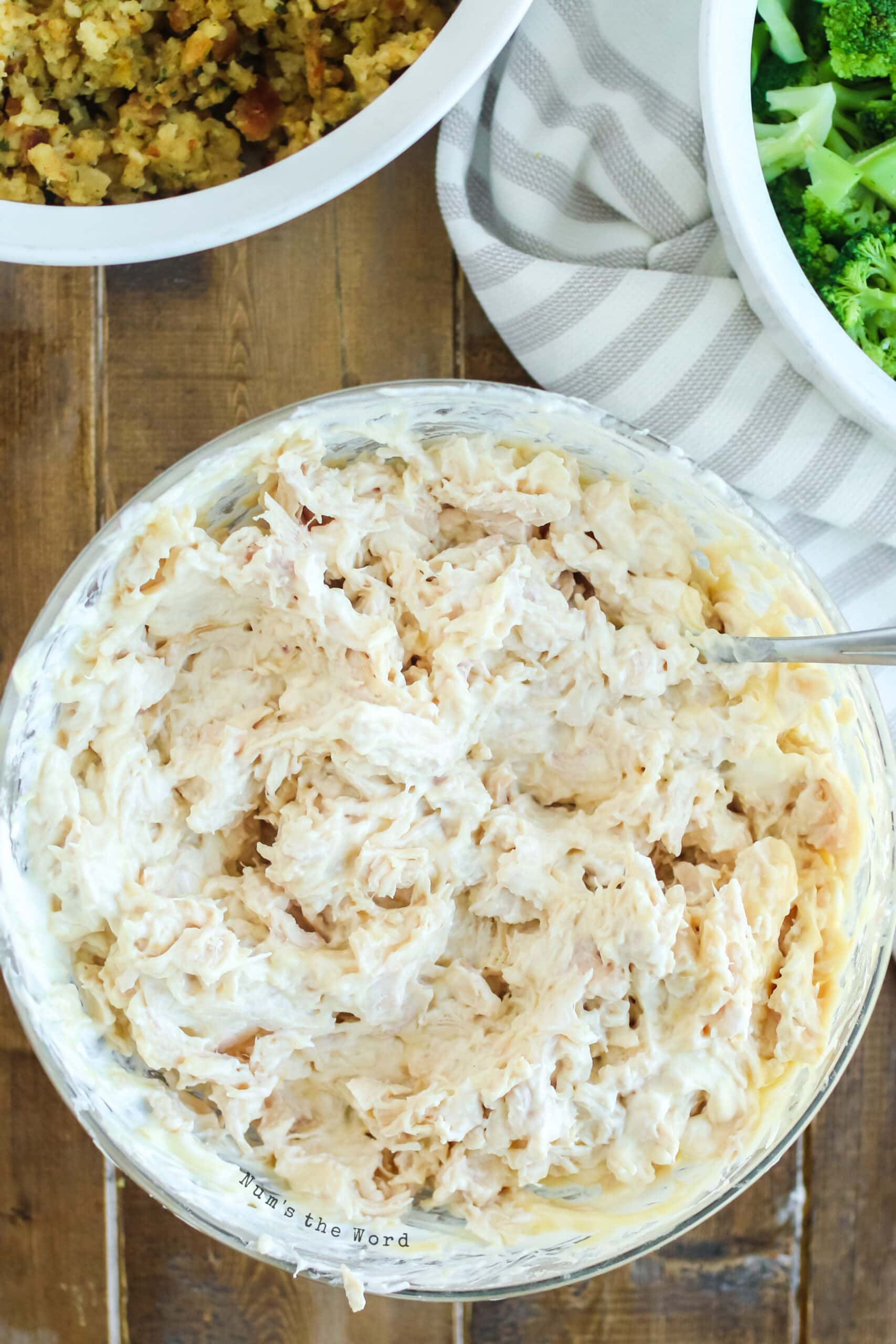 How to make Leftover Turkey Casserole?
This Leftover Turkey Stuffing Casserole is truly a breeze to make. It takes hardly any prep time, and the cook time is minimal too!
Preheat your oven to 350 degrees, combine your turkey and gravy or sauce, top with broccoli, top THAT with stuffing, and bake for 18 minutes.
Remove the casserole from the oven, cover with cheese, and bake for 2 more minutes, or until the cheese is melted. Then remove from the oven and devour!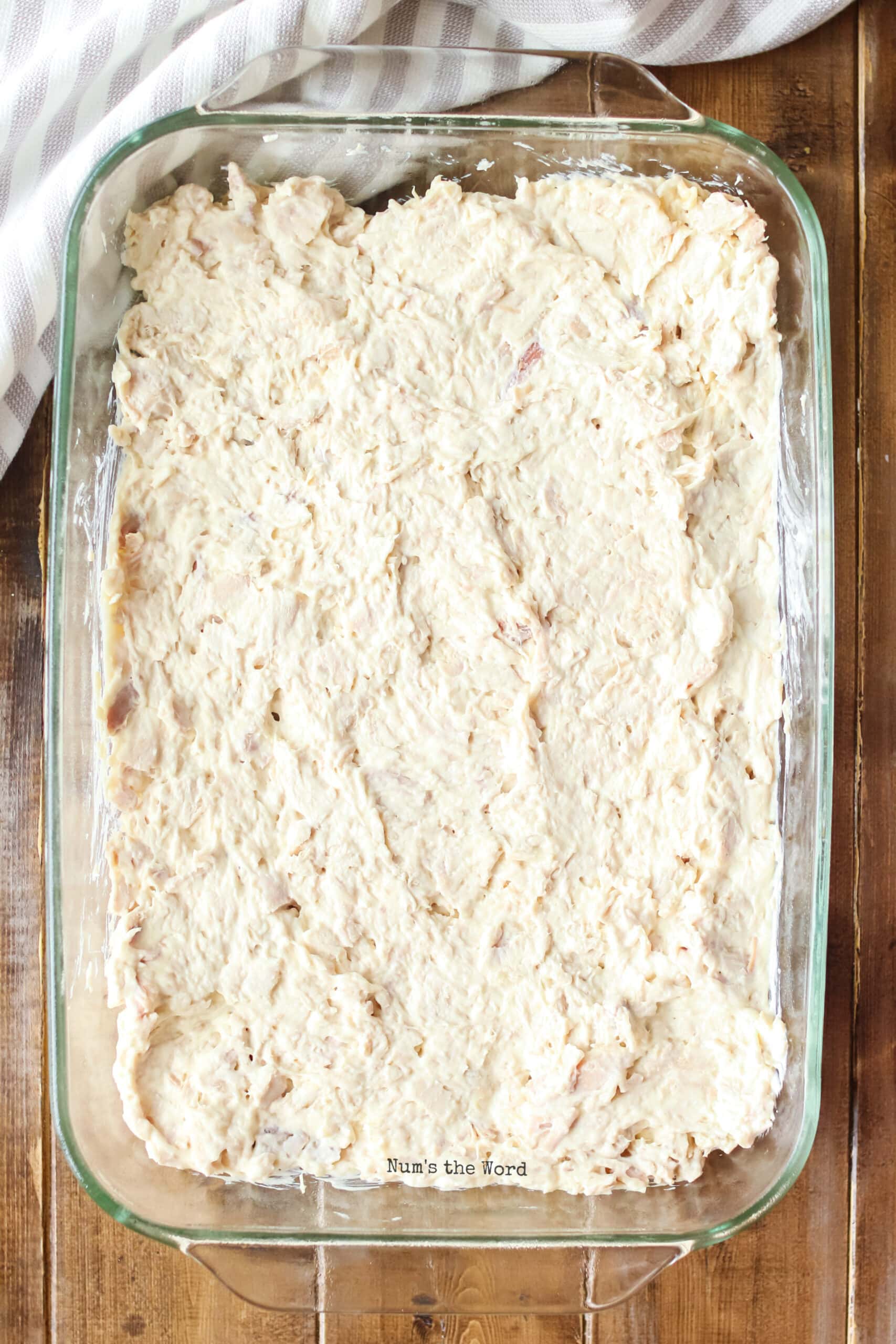 How long is leftover turkey good for in the fridge?
Your leftover, cooked turkey will be good for about 3-4 days in the fridge. Be sure to store it in an airtight container to maintain maximum freshness.
Can I freeze my leftover turkey?
Yes, you can definitely freeze your leftover turkey! If you're not looking forward to turkey-filled everything within a week of Turkey Day, simply shred your turkey and portion it into freezer bags or another airtight container.
I prefer to put mine in quart-size freezer bags because that's about how much I use for most recipes. Your leftover turkey will last about 2-3 months in the freezer. To thaw, just put the frozen meat in the fridge the day before, or add it frozen to cooking soups or sauces.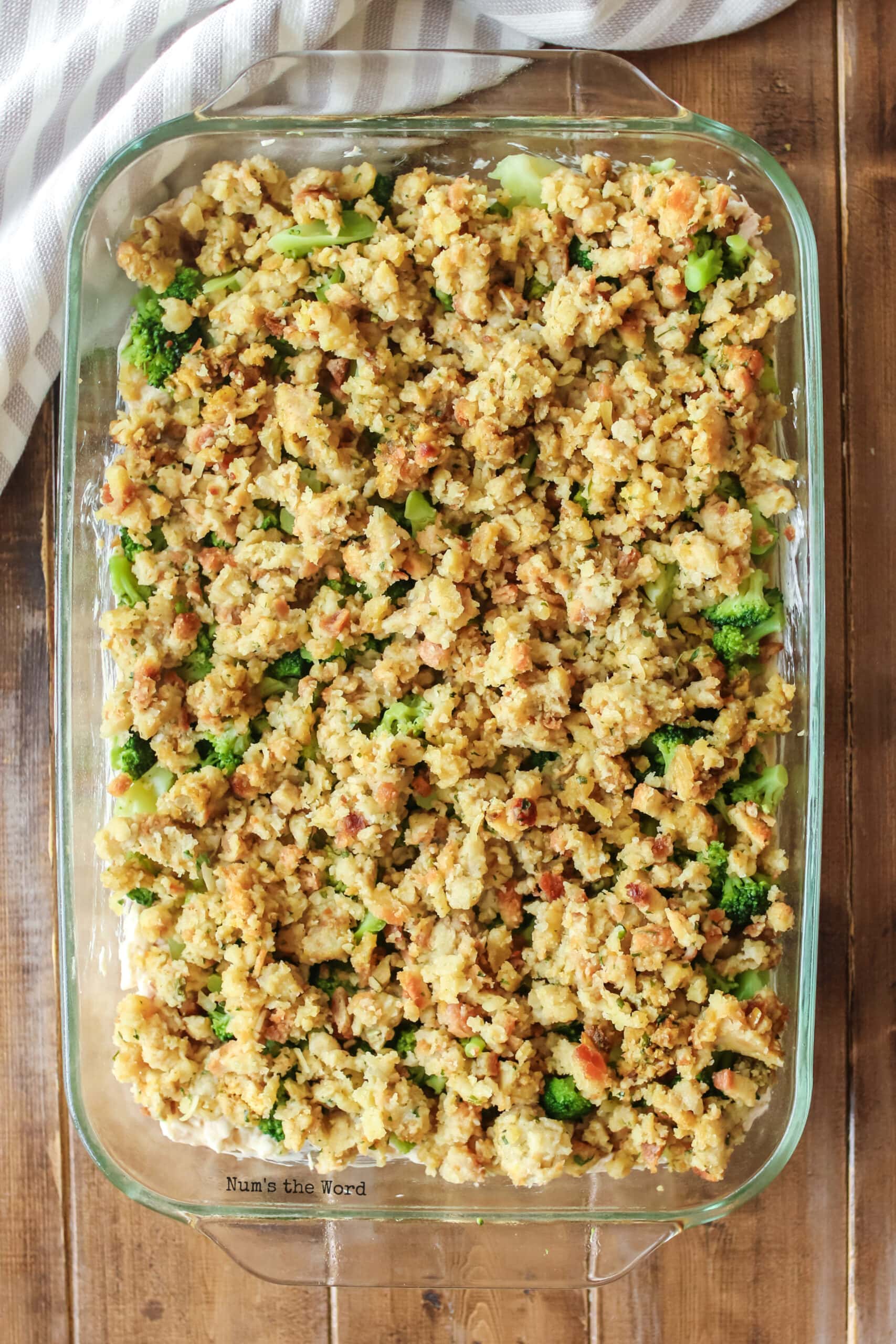 What else can I do with leftover turkey?
Generally speaking, any dish that calls for a rotisserie chicken can easily be subbed for leftover turkey. This Turkey Broccoli Casserole is no exception!
We enjoy this casserole all year; during the holidays we use leftover turkey, and the rest of the year we enjoy it with rotisserie chicken. Here are some other suggestions for your turkey: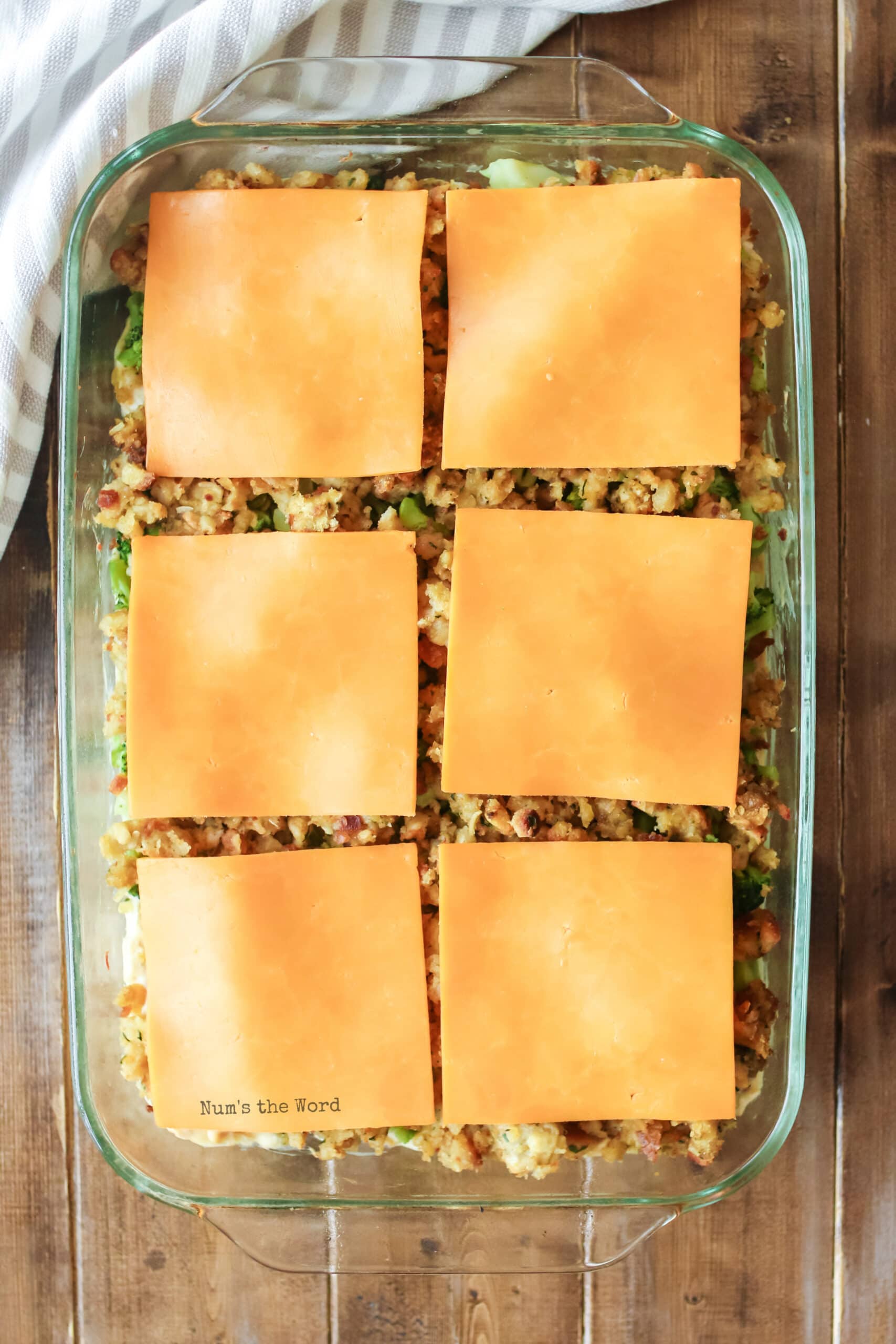 What is the best way to reheat my leftover turkey?
I have found that keeping leftover turkey from drying out or losing flavor when you reheat it can be challenging! Below are a few suggestions for reheating your leftover turkey without forfeiting flavor and texture:
In the Oven:

place leftover sliced meat in an oven-safe dish and drizzle with some leftover gravy or butter to maintain moisture and flavor. Wrap tightly in heavy-duty aluminum foil and warm in a preheated oven at 275 degrees for approximately 30 minutes.

In the Microwave:

I find it difficult to reheat turkey in the microwave without greatly compromising texture and flavor. But there are some ways to minimize the sacrifice! And you really can't beat the ease and speed of microwave reheating. Begin by cutting the meat into bite-size portions. Try to keep all the pieces a similar size for consistent heating. Drizzle the meat with butter, gravy, chicken stock, or a combination of the three. Loosely cover the meat with a plastic lid or microwave dome and proceed to microwave at low power in short bursts. Avoid overheating and stir in between microwaving bursts.

In the Instant Pot:

place slices of turkey in uniform slices in a covered container appropriate for pot-in-pot cooking methods. Pour 1 cup of water in the main pot of the Instant Pot and place the pot-in-pot container inside, on top of the water. The water should not be enough to leak into the pot-in-pot container. Set to steam setting for 5 minutes and allow for a natural pressure release. Let the meat rest in the unopened Instant Pot for at least 10 minutes.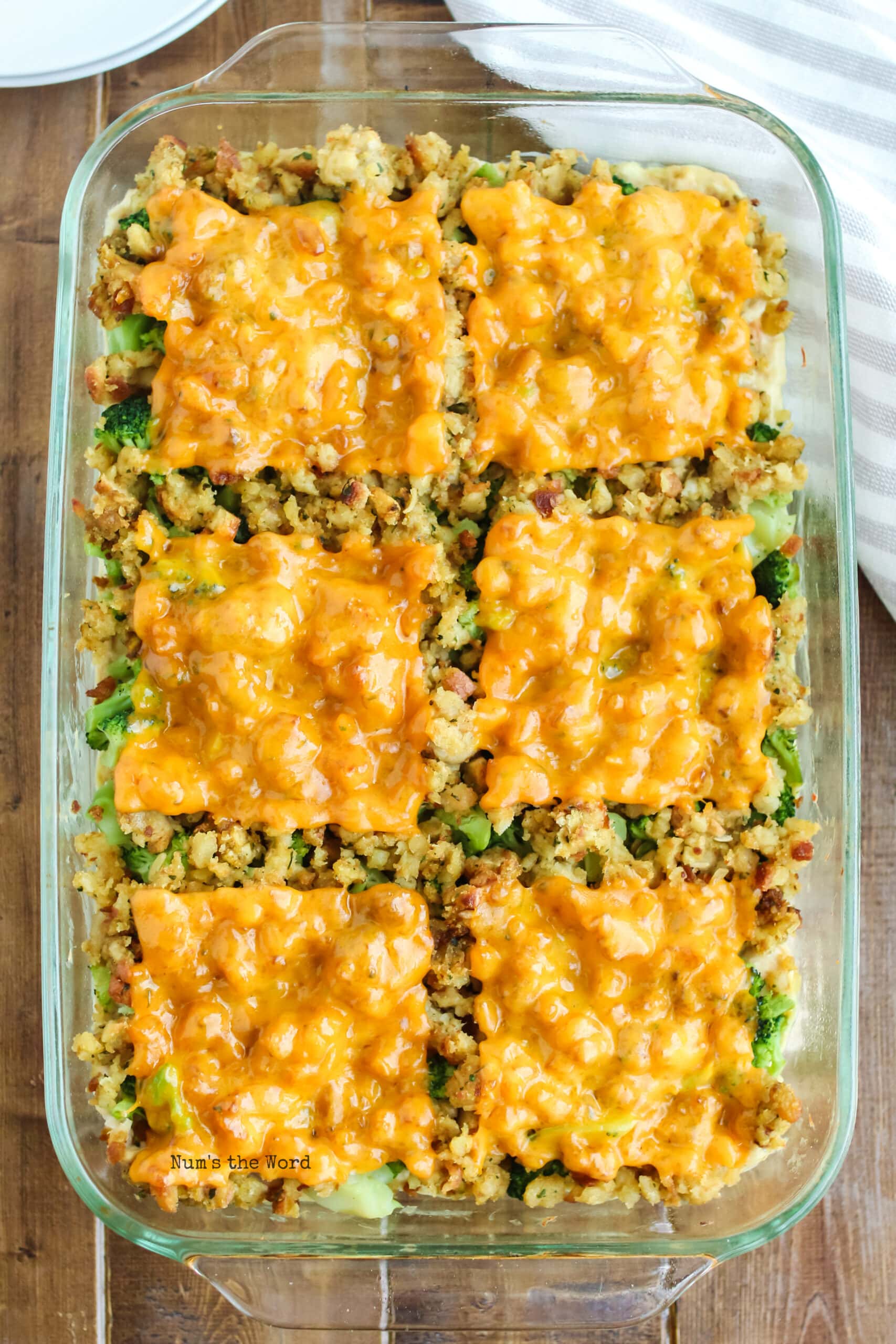 What can I do with my other Thanksgiving leftovers?
If you are anything like us, we tend to have at least 8 side dishes at our Thanksgiving meal and find it impossible to eat it all. But really, isn't that what Thanksgiving is all about? Leftovers?
I am a total side dish junkie, I can't get enough of them! That's why I have tons of recipes on Num's the Word that use up all those side dishes too!
Don't worry, if you have a leftover Thanksgiving side dish, I probably have a recipe you can use it in. Here are a few suggestions, or you can check out my Leftovers Reinvented ebook!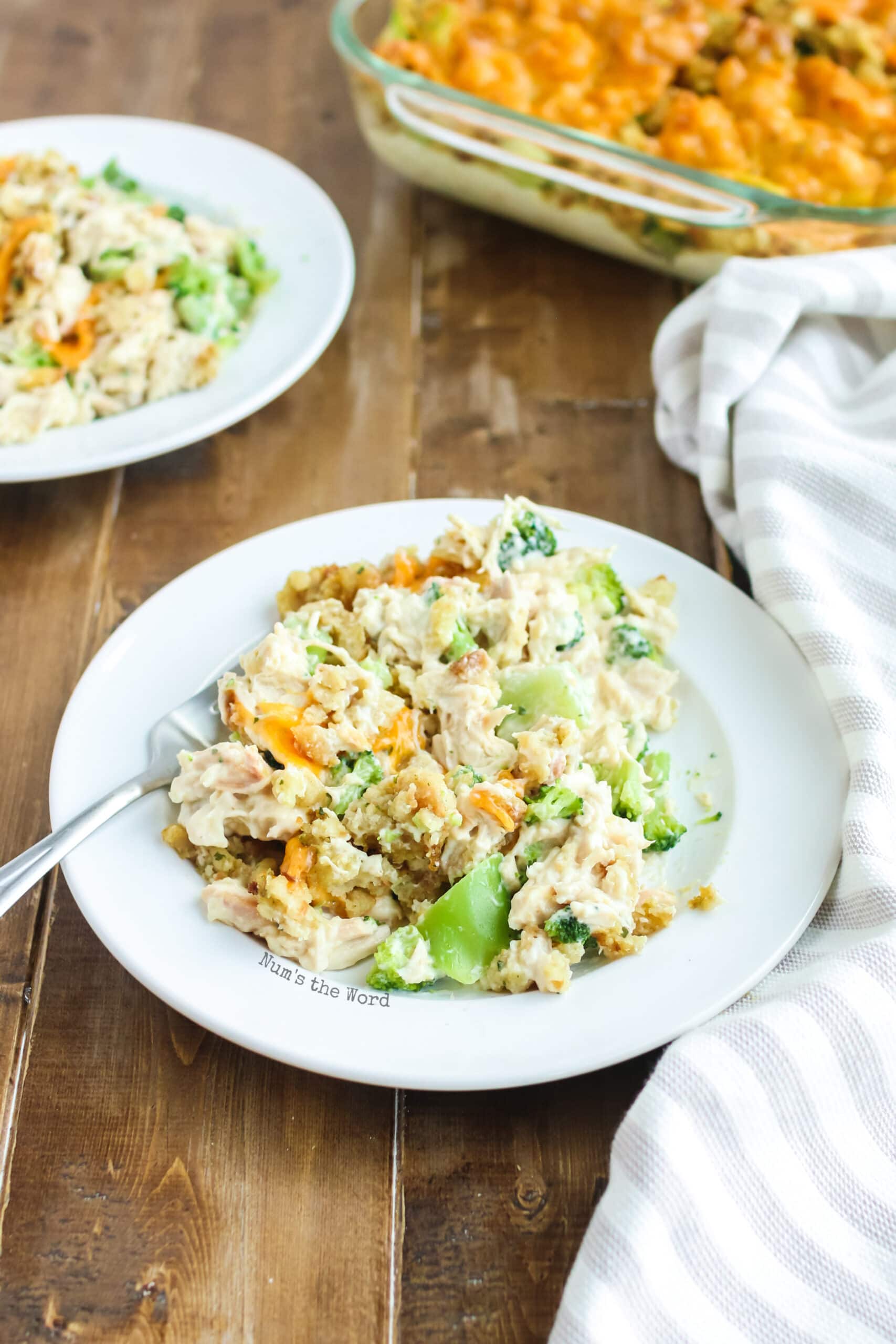 The beauty of this Leftover Turkey Stuffing Casserole is the way it uses up SO MANY Thanksgiving leftovers. It's a tasty and simple way to use up turkey, stuffing, and even gravy!
Plus it's a great way to eat Thanksgiving dinner again — without it tasting like the same Thanksgiving dinner you ate yesterday.
Do you have any favorite leftover turkey or side dish recipes?
Yield: 6 Servings
Turkey, Broccoli & Stuffing Casserole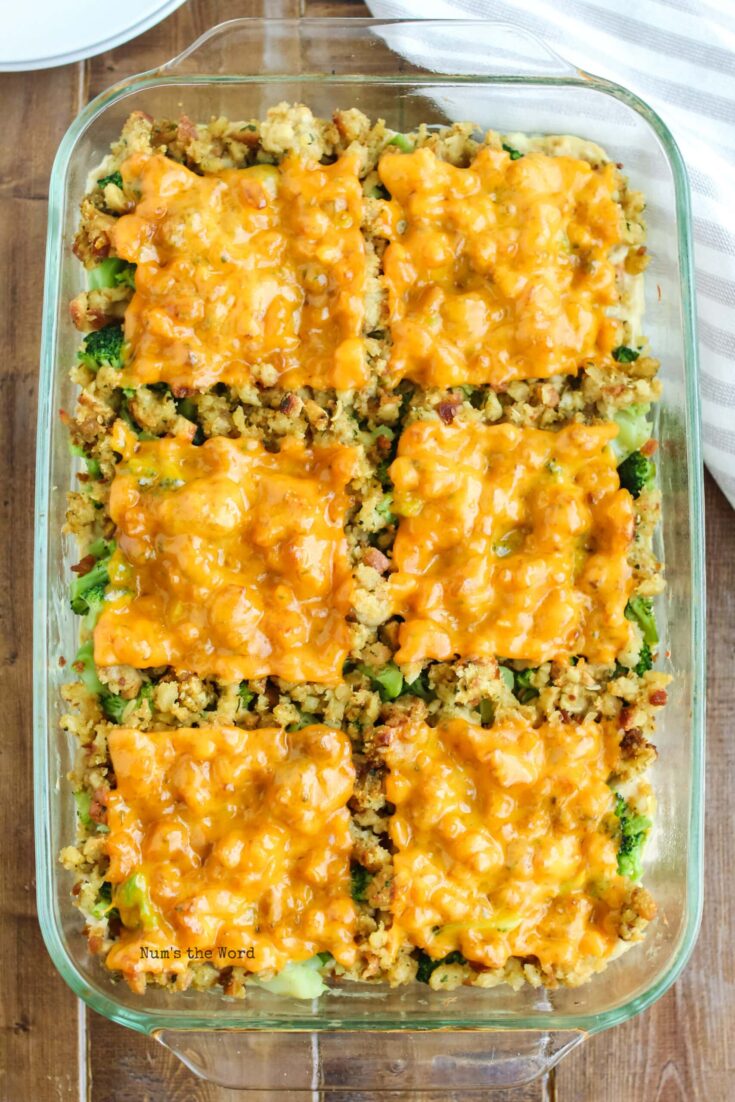 Turkey, Broccoli & Stuffing Casserole is the ultimate leftover Thanksgiving dish. A great way to use up what you already have on hand for a tasty, quick next day meal!
Ingredients
1 (10.5 ounce) can Cream of Chicken Soup
8 ounces of sour cream
3 cups cooked turkey, diced (or rotisserie chicken)
1 box of stuffing mix, prepared - or leftovers
2 cups of frozen broccoli - or fresh
6 slices American cheese
Instructions
Preheat oven to 350°F
In a bowl, mix the chicken soup, sour cream & turkey OR 2 cups leftover gravy & turkey.
Place the turkey mixture in a sprayed 8x11 casserole dish.
Microwave broccoli for 2 minutes in pouch or box. If using fresh, boil for 5 minutes, until tender.
Drain water from broccoli well. Sprinkle warmed broccoli on top of turkey.
Cover broccoli mixture with prepared stuffing.
Bake for 18 minutes.
Remove from oven and top with American cheese.
Bake for another 2 minutes or until cheese is melted.
Remove from oven and devour immediately!
Notes
Nutritional information is estimated, not exact.
Nutrition Information:
Yield:
6
Amount Per Serving:
Calories:

436
Total Fat:

20.7g
Saturated Fat:

10g
Cholesterol:

90mg
Sodium:

1105mg
Carbohydrates:

30.1g
Fiber:

1.8g
Sugar:

4.4g
Protein:

30.6g
Originally Posted: October 12, 2016
Photos & Text Updated: October 14, 2020