Brats in the Air Fryer are tender, juicy, and perfect for those days you don't want to fire up the grill! They're a snap and will cook in less than 20 minutes. With their signature *pop* and the hot-off-the-grill taste we all love, these air fryer brats will be one of your new go-to weeknight meals.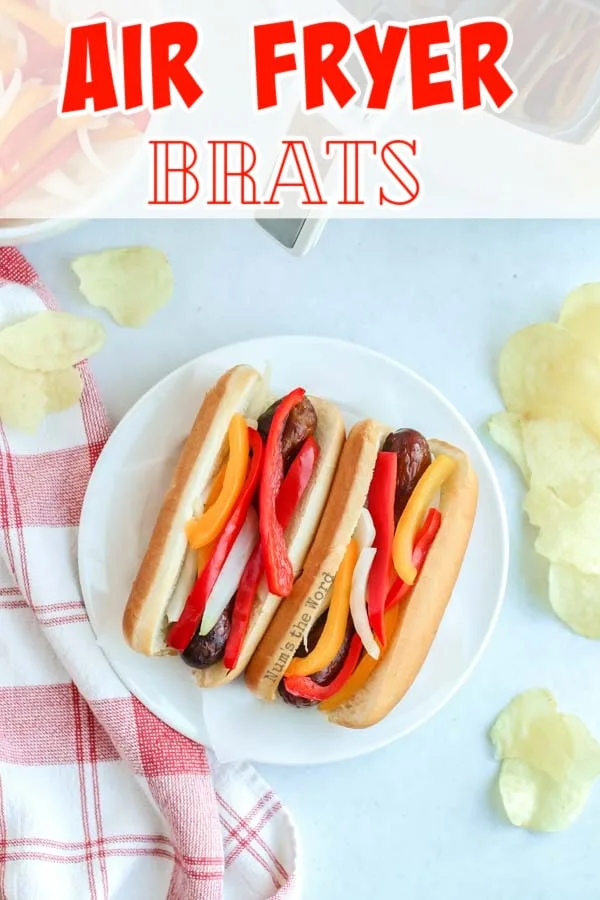 Finding quick, crowd-pleasing meals is always a weeknight win! And these air fryer brats are sure to please everyone. With customizable toppings, even your family's pickiest eaters will find something to love about these delicious brats. And that perfect, grilled taste can be achieved indoors with hardly any effort.
Whether you've lost track of time or just need a quick meal for your on-the-go kids, these brats in the air fryer are for you! Cooking in under 20 minutes, and with minimal active prep time, these brats are as simple (and tasty) as it gets. Stick them in the air fryer and let the appliance do all the hard work!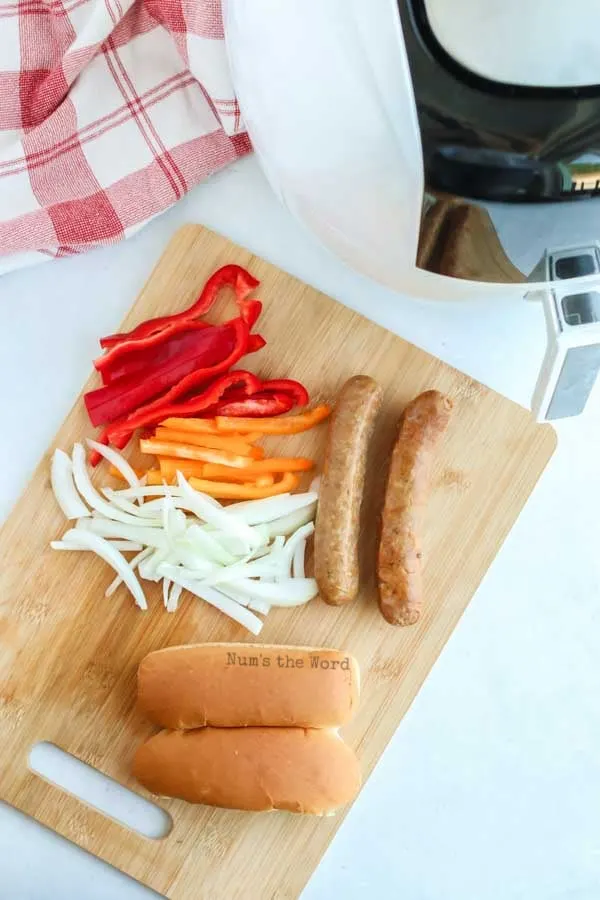 What temperature should air fryer brats be cooked at?
You'll want to cook your brats in the air fryer at 350℉. Cooking the air fryer bratwursts at this temperature ensures the insides are thoroughly heated without overcooking the outside or drying out the brat. Be sure to keep the brats in the air fryer in a single layer! Overlapping brats or touching will not brown on all sides and may not cook thoroughly.

How long should I cook my brats in the air fryer?
Air fryer brats only need 15 minutes of cooking time. The best part? That's inactive cook time!
No sitting and watching and waiting and flipping. Just set the cook time and walk away! (Or use that time to whip up our delicious fresh Mini Fruit Skewers — a fantastic complement to your meal!)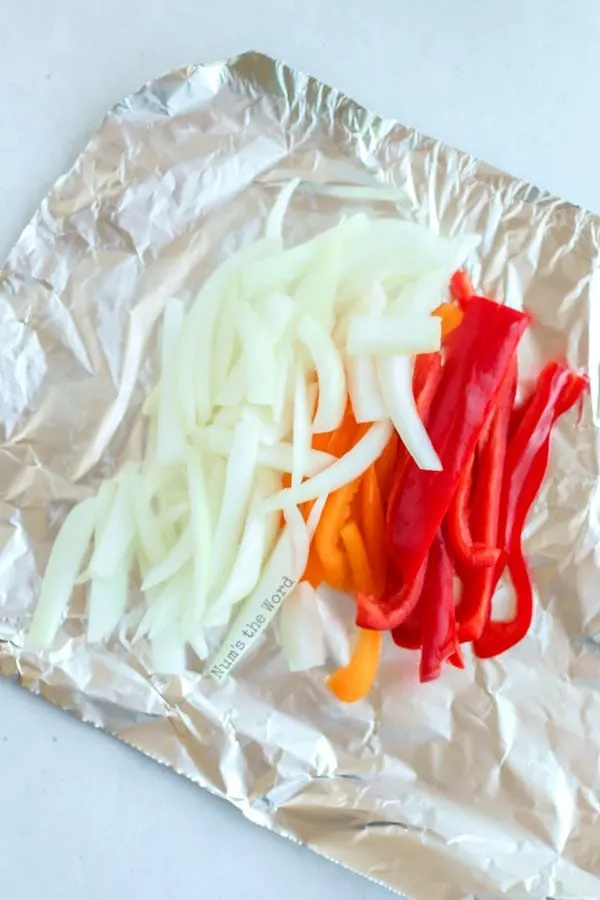 What is the internal temperature of a cooked Brat?
The internal temperature of a fully cooked and ready-to-eat brat is 160 degrees Fahrenheit. To test the internal temperature, you can use any digital meat or candy thermometer. If the internal temperature is below 160℉, cook for a few minutes longer. If the temperature is higher, then it is safe to eat — but note that next time you can cook the brats in the air fryer for less time.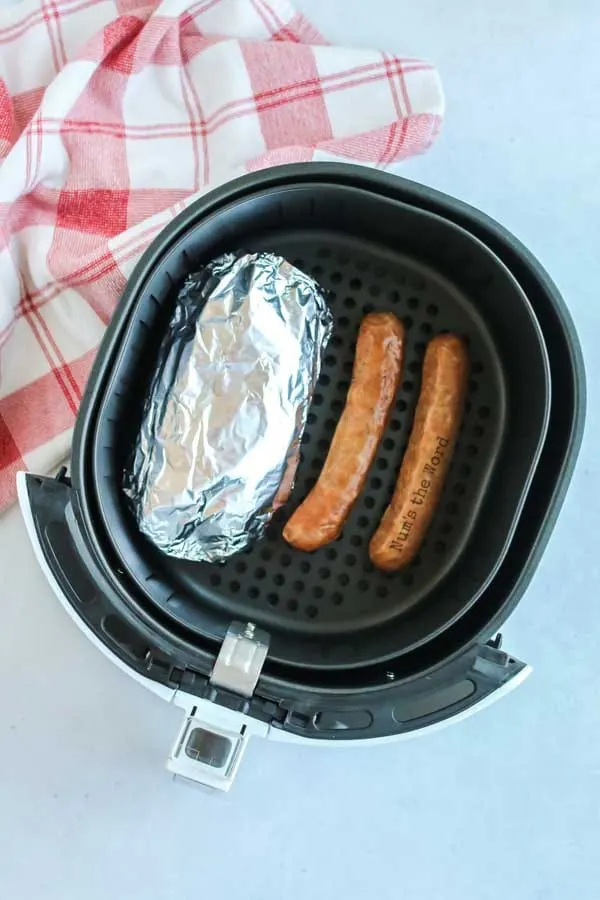 Can I toast brat buns in the air fryer?
You certainly can! Toasted buns in the air fryer can be a simple and a delicious component of your Air Fryer Brats. Set the air fryer to 400℉ and cook the buns for 2-3 minutes, depending on how toasted you prefer them. That's it!
It's super convenient to have the option of preparing the entire meal in one appliance. No need to preheat the oven and heat up the house! However, if space is an issue and you're not averse to the oven method, go ahead and place the buns on a baking sheet and pop them in the oven at the same temp for 3-5 minutes.
Pro Tip:
To really make these over the top delicious blend together butter and a clove of garlic and spread that on your buns! Toasted Garlic buns are oh so tasty!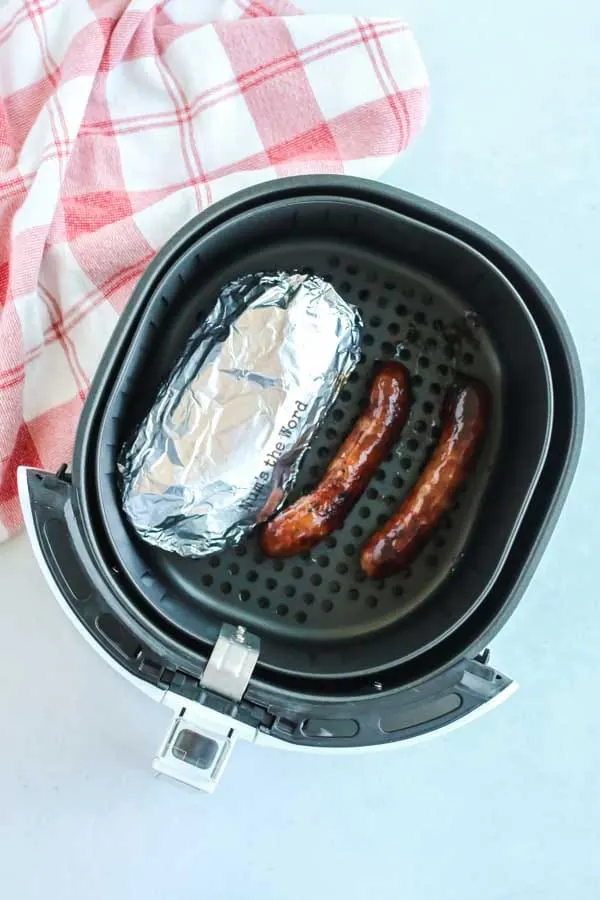 Can you put aluminum foil in an air fryer?
Yes, you can! As you can clearly see from my photos, aluminum foil in an air fryer is 100% safe to do. If you are concerned, consult your user manual.
However, for our GoWise Air Fryer, we've never had an issue with foil. We like to line the bottom cavity with foil when making recipes where fat or juices will drip off the cooking foods. Having the foil below to catch any extra liquid makes cleanup a breeze!
We also include wrapped items like these onions and peppers in foil to create a nice, sealed pocket, which helps trap moisture and allows the vegetables to cook quickly at the same time as our brats in the air fryer.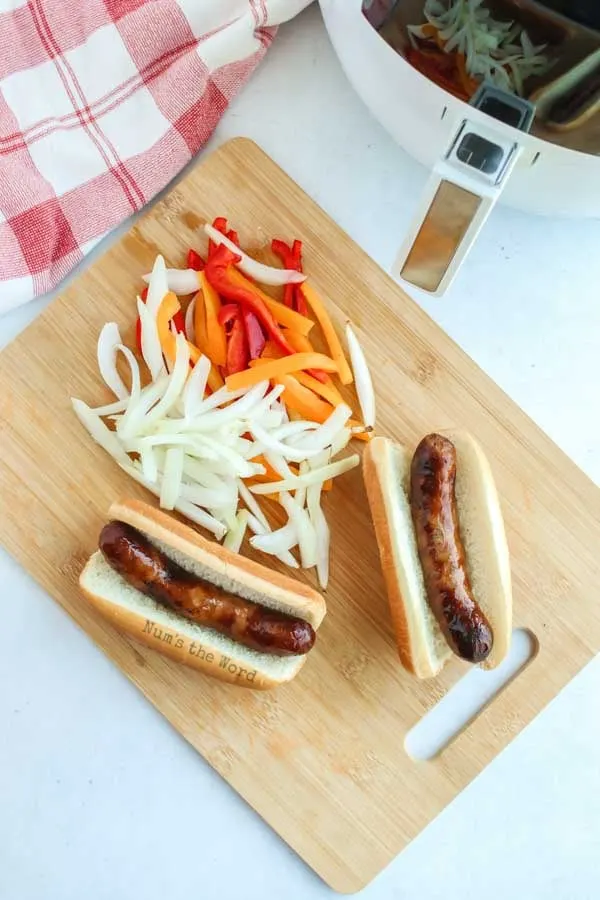 What should you put on your air fryer brats?
While the only thing you truly need to make bratwurst in the air fryer are the brats themselves, the topping possibilities are practically endless! Mix and match to create your perfect brats. Here are some suggestions:
Grilled or caramelized onions

Sauteed bell peppers and mushrooms

Sauerkraut

Ketchup

Mustard (or spice things up with a gourmet or spicy mustard!)

Barbecue sauce

Cheese

Pickles

Jalapenos or banana peppers

Nacho cheese

Chili

Sweet relish and sriracha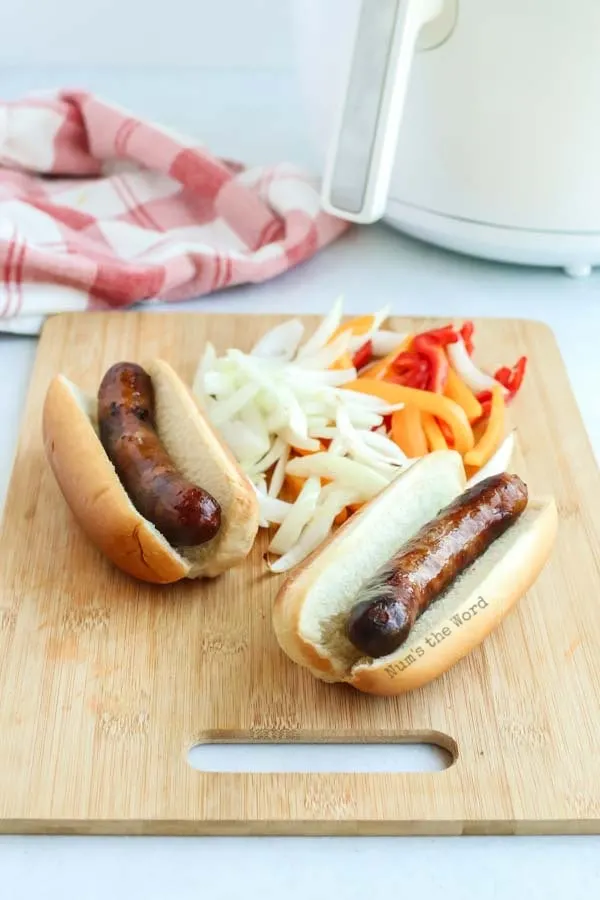 What can I serve with air fryer bratwursts?
Chips

Coleslaw

Fresh fruit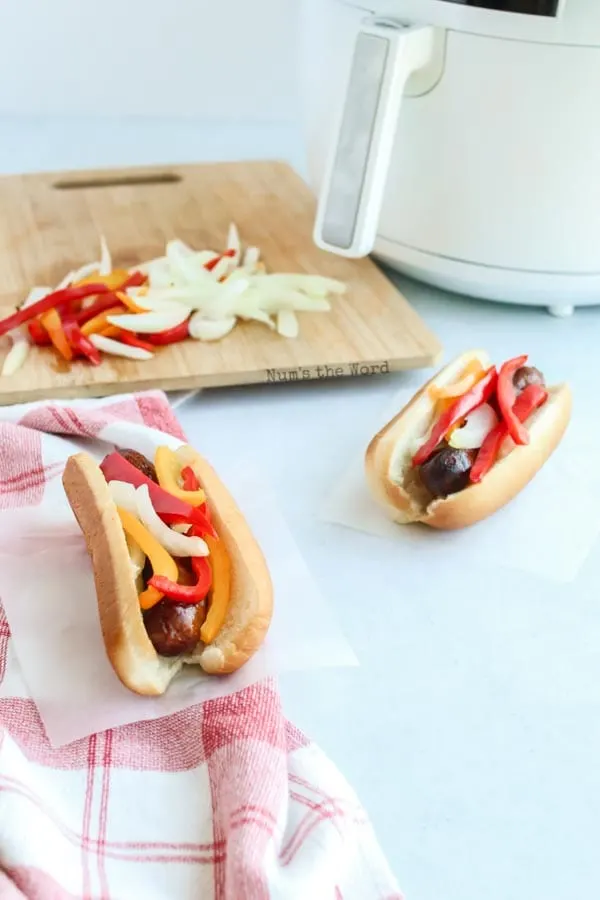 Do I need to boil brats before cooking them in the air fryer?
No, you do not! If you are cooking raw bratwursts, it isn't uncommon to boil uncooked brats in beer before grilling them or Air Frying. This recipe for brats in the air fryer starts with cooked sausages (found by the hot dogs), which do not require pre-boiling. If you are cooking raw brats, they will require extra cooking time.
There is no preparation or precooking necessary to cook brats in the air fryer, especially if making precooked brats. It really is quick and easy!
Should I pierce bratwursts before cooking them in the air fryer?
No, it is not necessary to pierce the brats before cooking them in the air fryer. Don't let all the juicy goodness inside leak out while they're cooking!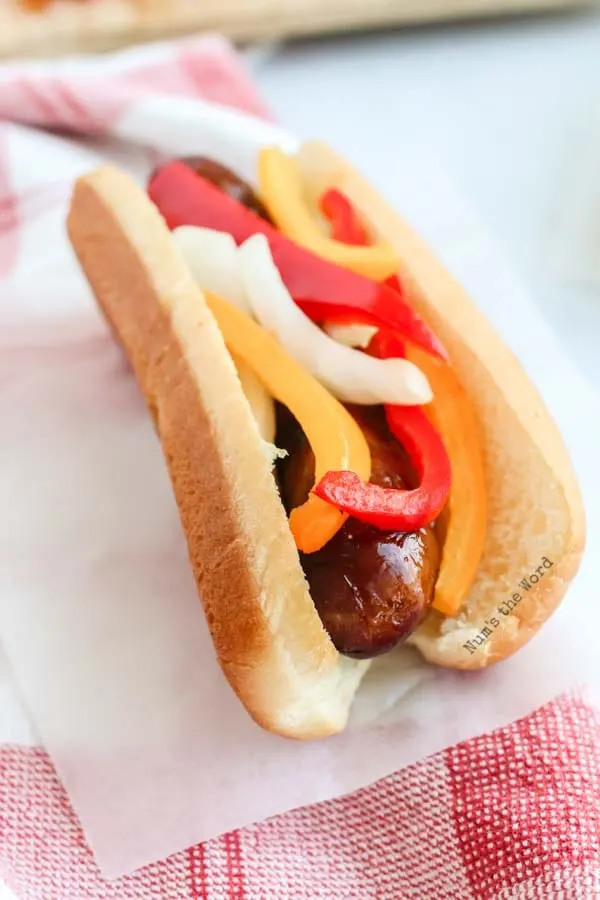 Can I cook frozen brats in the air fryer?
Yes, you can! If you've chosen to boil your brats in beer before putting them in the air fryer, never fear! Add an extra 5 minutes of boiling time and you're all set. If you're hoping to put your frozen brats straight in the air fryer, you're also in luck.
If your brats are stuck together, you'll need to get them separated before putting them in the air fryer, otherwise you'll need to flip/separate them halfway through their cook time. Tack on an extra five minutes, but be sure to check the internal temperature before eating to ensure the brats are heated to a safe temperature.
If the brats are not adequately heated, put them back in the air fryer for a few more minutes.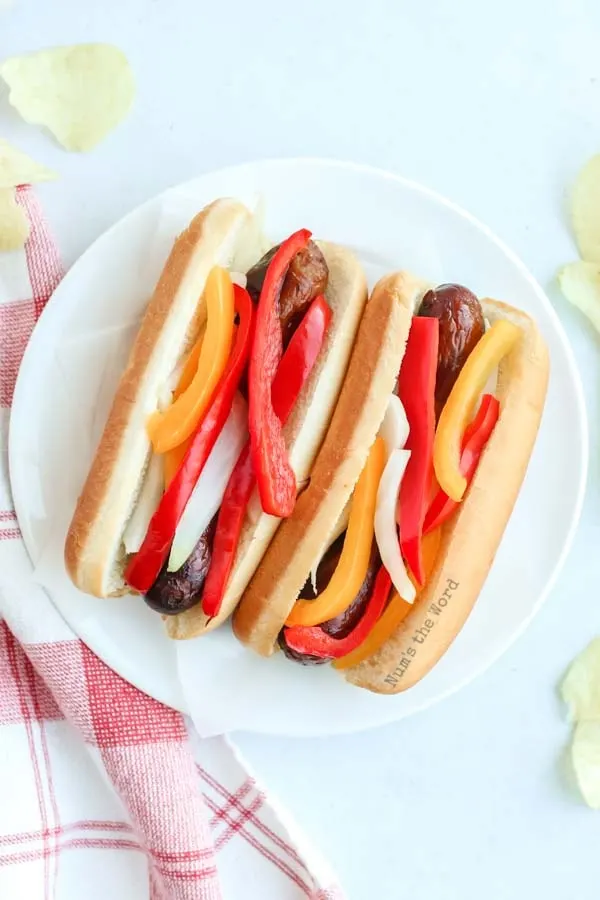 How long will my air fryer brats last?
Leftovers? No problem! If you accidentally cook too many bratwursts in the air fryer, then the extras can be stored in an airtight container in the fridge for up to 4 days. If the idea of eating brats again isn't appealing, then repurpose them and add them to a pasta dish, use as a pizza topping, or even in a Chili Dog Casserole!
Desserts to Serve with these Brats in Air Fryer: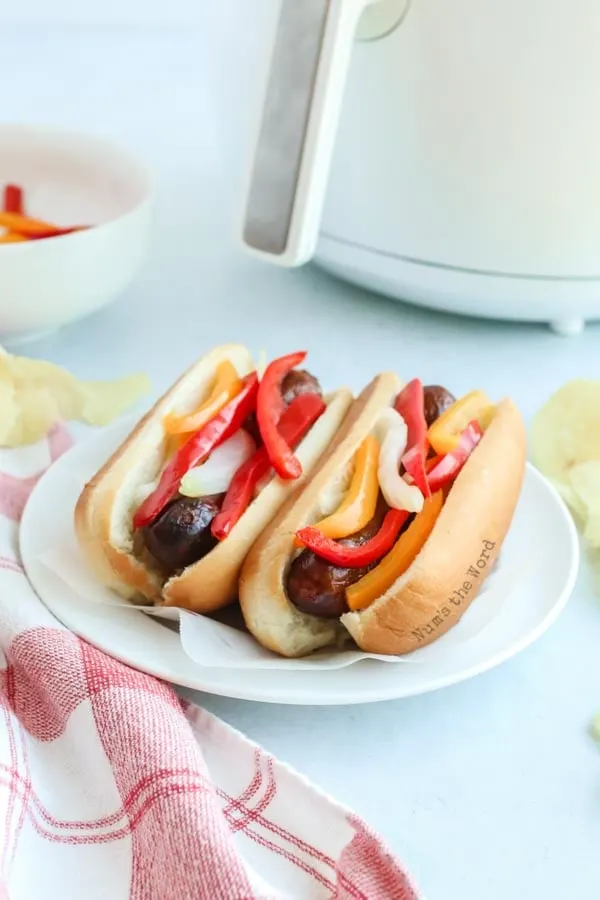 Quick, easy, and delicious are three words that I'd use to describe these air fryer brats. You really can't beat the convenience and fresh-off-the-grill taste, all without having to fire up the grill!
Rainy day? Too hot or too cold outside? No problem. Pop some brats in the air fryer, toast yourself some buns, and enjoy a delicious dinner you didn't have to work too hard for, but tastes like you did. This air fryer recipe is a regular in our home and I hope yours too!
Yield: 2 or more brats
Air Fryer Brats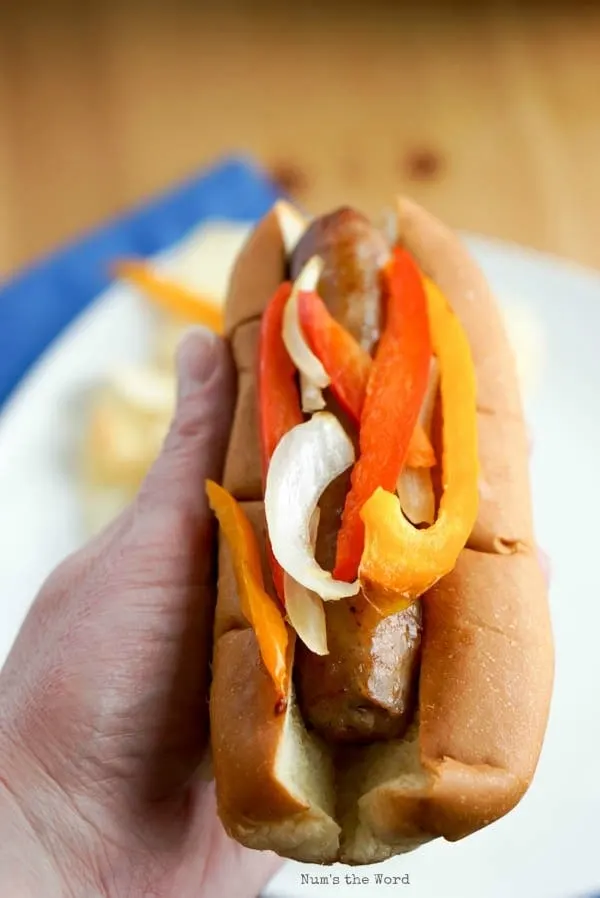 Tender, Juicy Brats can be made entirely in the Air Fryer taste just like they were made on a grill. Cooking in less than 20 minutes, you'll have perfectly cooked brats that will give that signature pop with each bite. Perfect for a rainy day or when you don't want to heat up the grill!
Ingredients
2 precooked brats
1/4 white or yellow onion sliced
1 bell pepper - any color
Cooking Spray
2 hot dog buns
Ketchup - optional
Barbecue Sauce - optional
Instructions
Place sliced onions and sliced bell peppers in foil. Spritz with oil and seal up foil to create a little packet.
Place foil packet in air fryer.
Place precooked brats into air fryer. Ensure that brats are not touching each other so they can properly cook on all sides.
Place air fryer basket into air fryer.
Cook at 350* for 15 minutes.
Remove from air fryer and place brats in a bun. Top with cooked onions and peppers. Add ketchup or barbecue sauce if desired.
Eat and enjoy!
Notes
Brats are sold in uncooked and precooked packages. Uncooked brats will be pink/red and require longer cooking times. Precooked brats are usually a light color and will darken up upon cooking.
Precooked brats cook faster which is why we this recipe is for precooked brats.
Nutrition Information:
Yield:
2
Serving Size:
1
Amount Per Serving:
Calories:

147
Total Fat:

8g
Saturated Fat:

3g
Trans Fat:

0g
Unsaturated Fat:

4g
Cholesterol:

15mg
Sodium:

495mg
Carbohydrates:

14g
Fiber:

3g
Sugar:

8g
Protein:

5g
Originally Posted: April 19, 2019
Photos & Text Updated: September 5, 2020