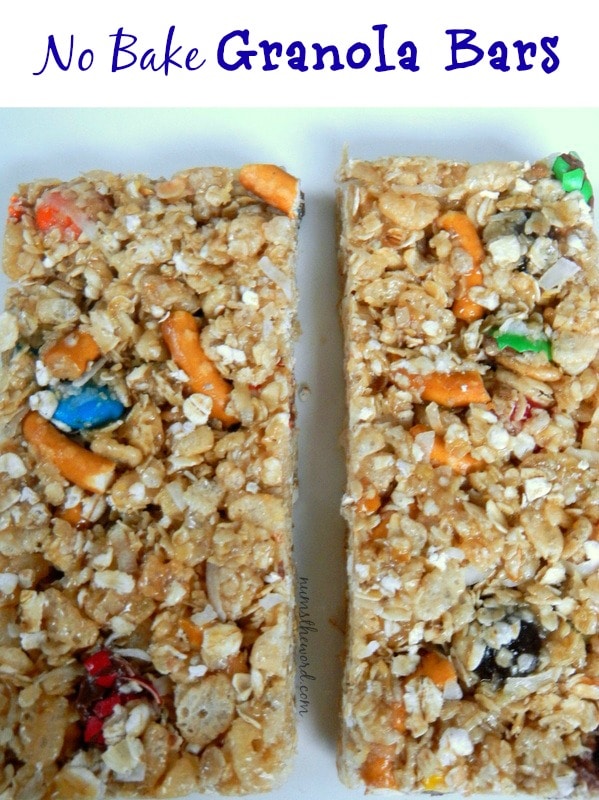 This shop has been compensated by Collective Bias, Inc. and it's advertiser. All opinions are mine alone. #FuelTheirAdventures #CollectiveBias
Every day when I pick the kids up from school, it seems to be a competition as to who can ask the "what's for snack?" question first.
I don't know about your kids, but mine are STARVING as soon as they get in the car. And every day it's a mystery as to what Snack will be.
Overall though, my goal when it comes to after school snacks is to give them something that is healthy and filling. I need a snack that can hold them over until dinner. And for us the snack MUST be mobile.
Not only do I have to think about after school snacks, but like many of you my daughter has after school activities. One of which is gymnastics. And lucky for us, Gymnastics just happens to occur from 5:15 – 6:15. By the time she gets home for dinner it's almost 6:45. That makes for a very long day for her.
This my friends is why I LOVE the idea of homemade granola bars. I used to think they were complicated and time consuming.
However I am here to tell you they are NOT. These No Bake Granola Bars take less than 20 minutes to make and your kids will gobble them up.
Add a Dannon Danimals smoothie with your granola bar and you have an unbeatable kid friendly, mom approved snack! The combination of these no bake granola bars and Dannon Danimals Smoothie will provide your kids the energy they need without spoiling their appetite!
My kids have tried almost all the flavors of Dannon Danimals Smoothies and every one has come back with two thumbs up. Dannon Danimals Smoothies are the perfect on-the-go options that helps fuel kids' adventures any where they are – school, home, or on the go.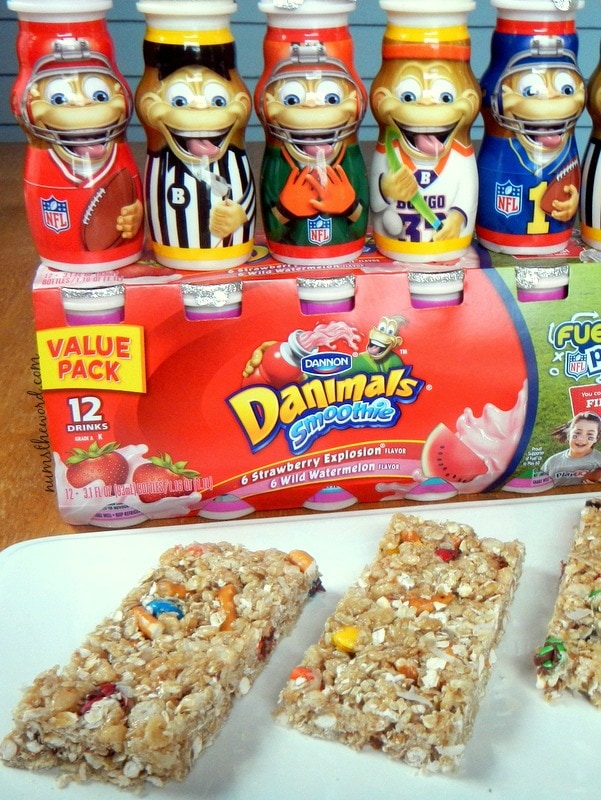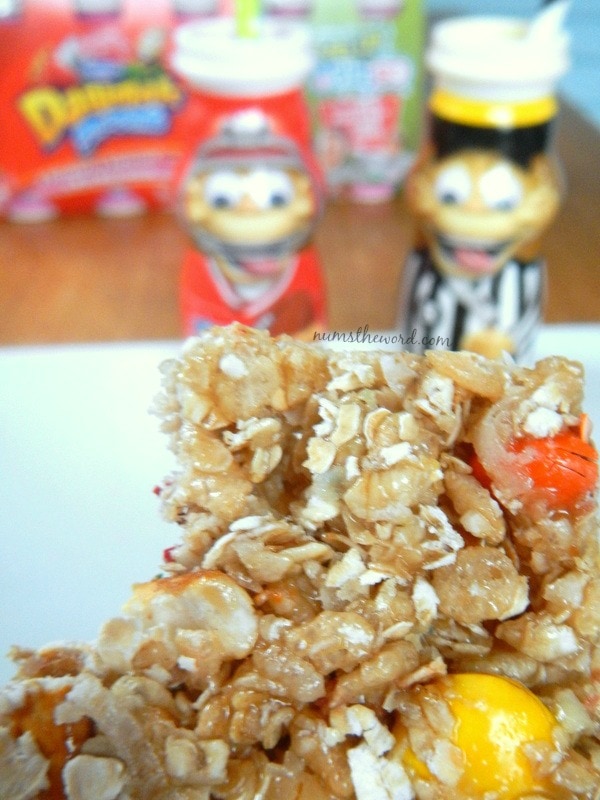 When purchasing, note the special packaging on some
Dannon Danimals Smoothie Boxes
. If you find a "Golden Bongo" bottle (located on specifically marked packages), you could win a Play60 Field Day for your school with NFL pros! How amazing would that be?! For more information visit the
Fuel Up to Play Site
.
Don't worry about these snack combo being packed with junk. These No Bake Granola Bars and Dannon Danimals Smoothes contain zero high fructose corn syrup or artificial flavors. They are both packed with only the "good stuff."
So where can you find all of the ingredients for these No Bake Granola Bars as well as the Dannon Danimals Smoothies? Walmart of course!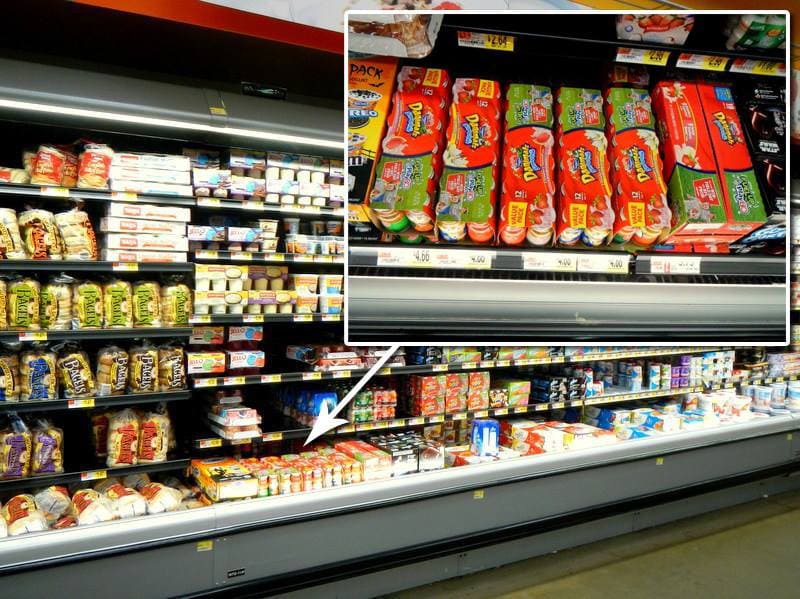 So tell me, what snack will you pair with your Dannon Danimals Smoothie?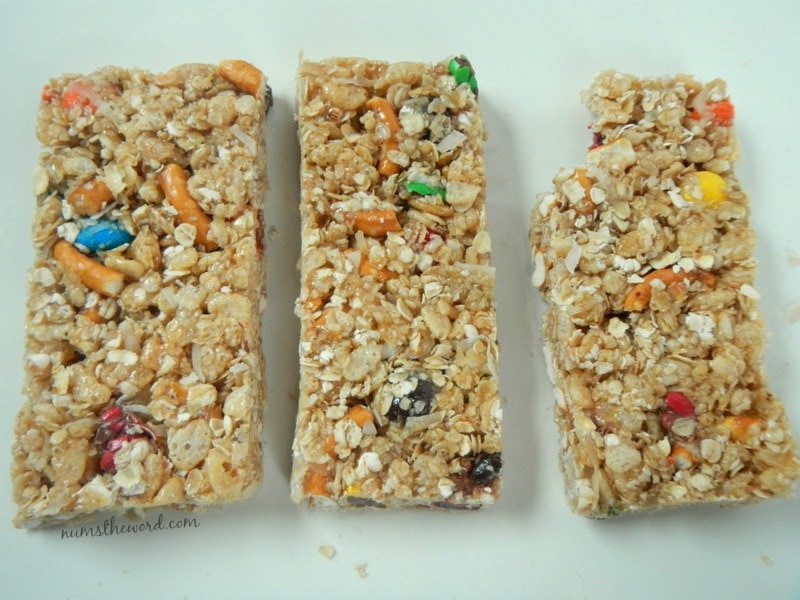 Yield: 16 bars
No Bake Granola Bars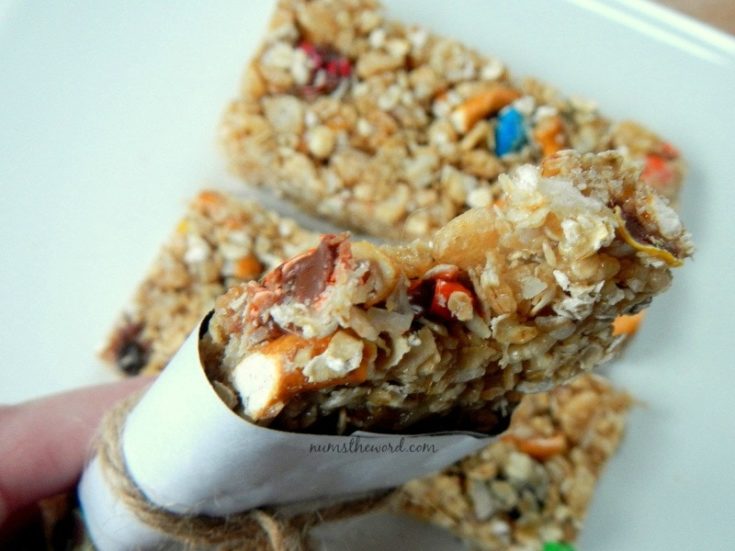 Ingredients
1/4 cup butter
1/4 cup honey
1/2 cup brown sugar
1/2 teaspoon salt
2 cups quick cooking oats
1 cup rice crispy cereal
1/4 cup shredded coconut
1/2 cup M&M's (or favorite granola bar mix in)
1/4 cup broken up pretzels (optional)
1/2 teaspoon vanilla
Instructions
Line a 9x13 pan with non stick foil, parchment papper or spray, set aside.
In a saucepan over medium heat, add butter, honey, brown sugar and salt. Cook over medium heat until mixture comes to a slight boil. Allow to boil for 2 minutes and 15 seconds.
While mixture is coming to a boil, in a separate bowl combine oats, crispy cereal, coconut, m&m's and prezels.
Once butter mixture has boiled for 2 minutes and 15 seconds add vanilla and pour over oat mixture. Stir quickly and place in prepared pan. Press mixture firmly down. If mxiture is loose then it will crumble and not set.
Refrigerate for 20 minutes. Remove and slice into bars.
Store in an airtight container with parchment paper between the layers.
Recipe By: My Kitchen Escapades
Another Recipe We Think You'll Love…
Special K Bars Scotcharoo Bars